These Apple Cinnamon Muffins are the perfect way to take advantage of apple season. Full of big pieces of apple, cinnamon and spices, these muffins are topped with a cinnamon streusel for extra flavor and texture.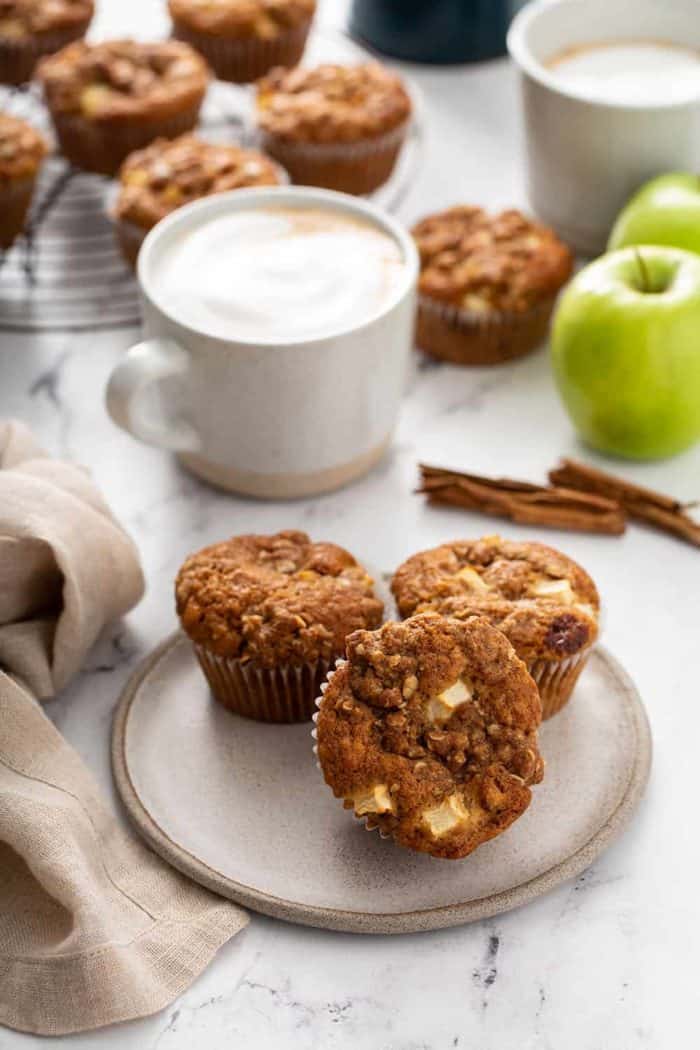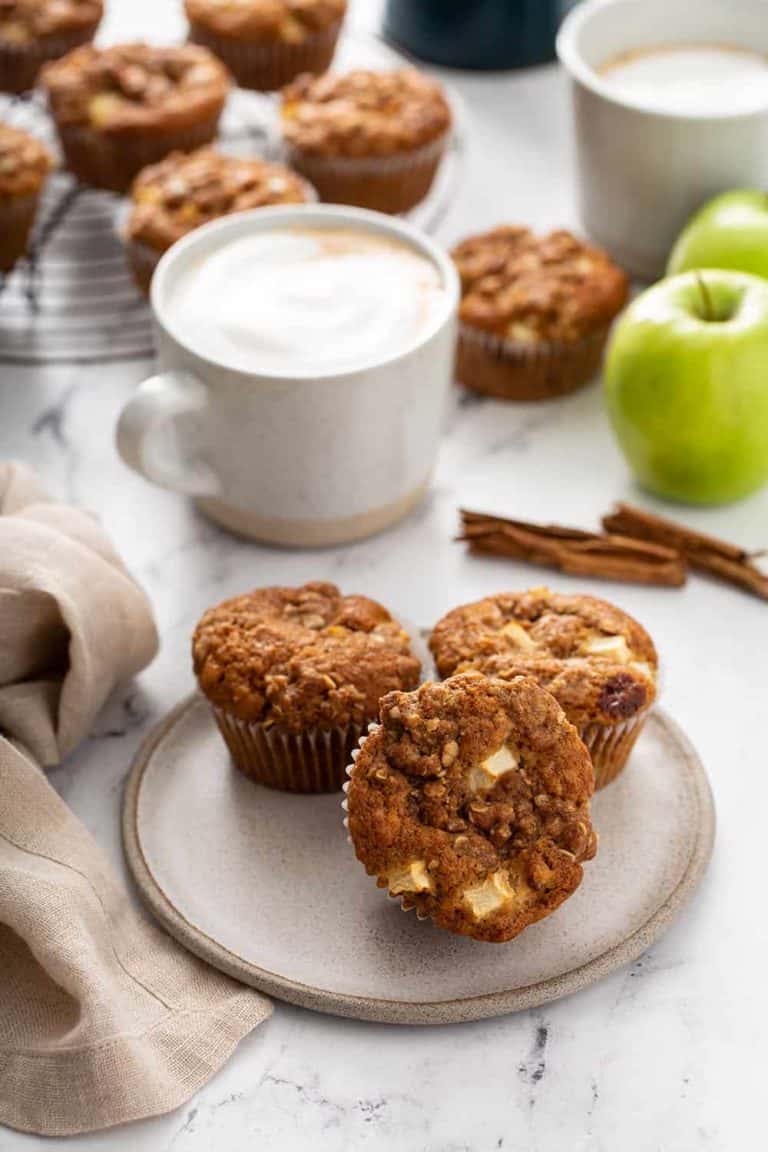 Yesterday I placed an Instacart order which included multiple cans of pumpkin puree. And I didn't specify not to substitute it for pumpkin pie mix.
You know where this is going right?
Yep, FOUR 30-ounce cans of pumpkin pie mix. Apparently the store was out of pumpkin puree.
I thought maybe it was a fluke, but then my friend Stephie texted me that her stores were all out as well. She did a little researching and apparently we may have another pumpkin shortage on our hands. Seriously, I am so over 2020.
Guys, pumpkin puree is gold for food bloggers during the fall months and luckily I have numerous cans in my pantry from last year. So I can at least get started with some recipe testing because this girl is not paying Amazon $36 for 4 cans of pumpkin. I'd much prefer grabbing a $2 sugar pumpkin to make my own.
Good thing we still have apples galore so we can whip up delicious fall desserts like these simple Apple Cinnamon Muffins.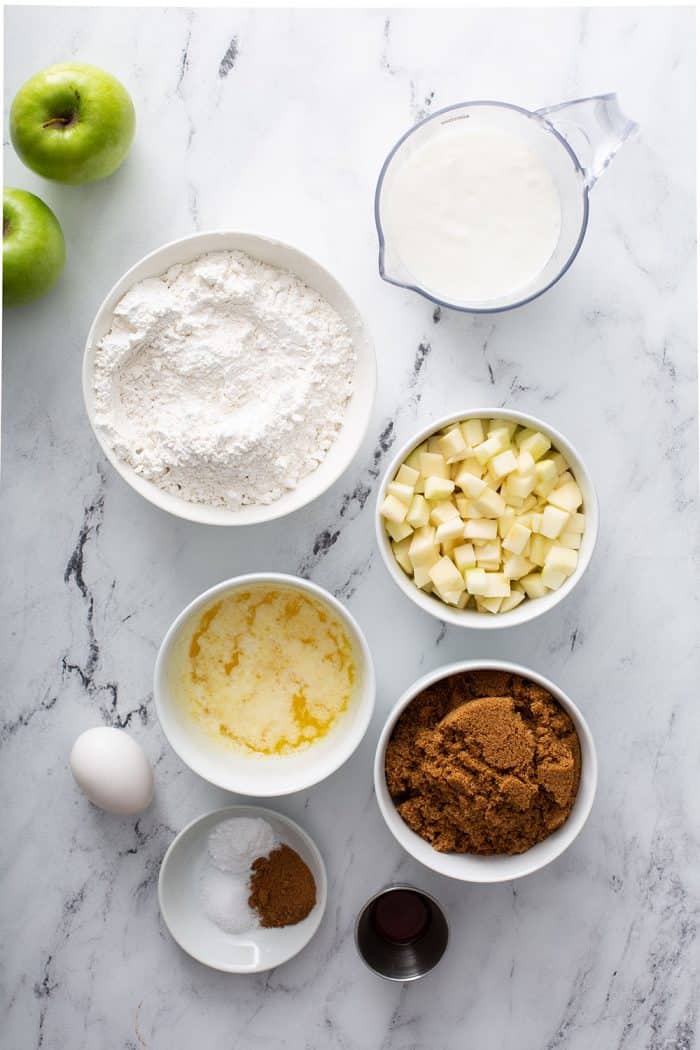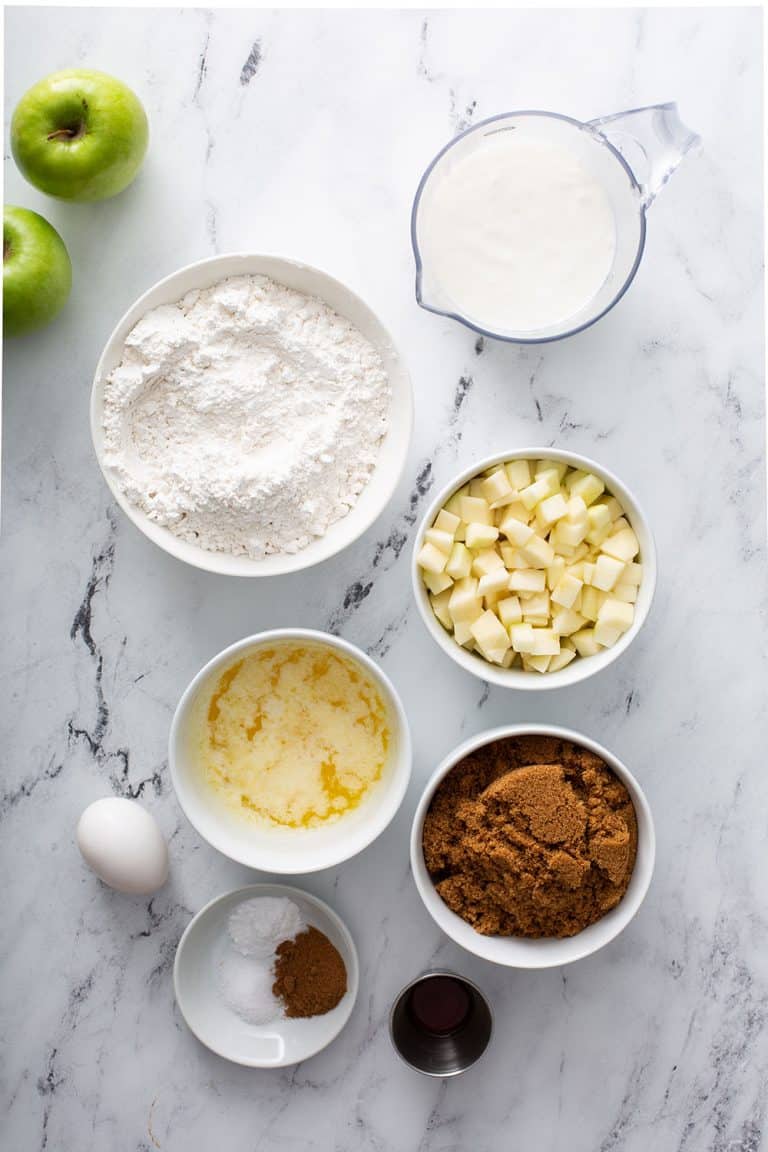 HOMEMADE APPLE CINNAMON MUFFINS
You may recall that I have a minor muffin obsession. I like to bake them almost as much as I like to eat them.
Doesn't matter if it's Pumpkin Muffins, Banana Crumb Muffins, or Glazed Donut Muffins. I want to make (and eat) them all.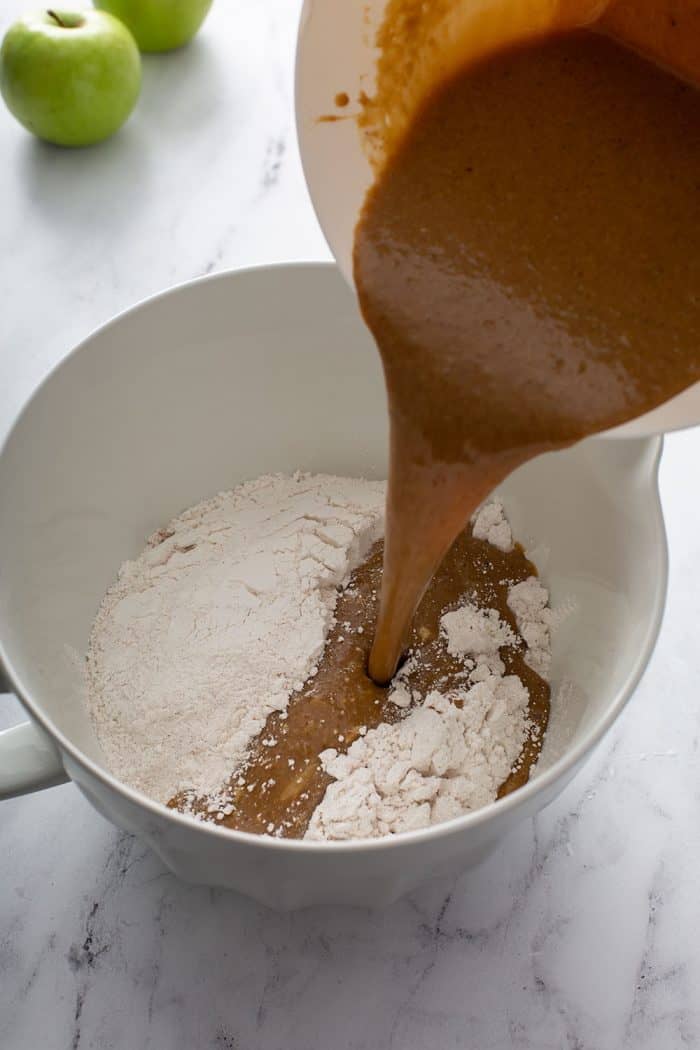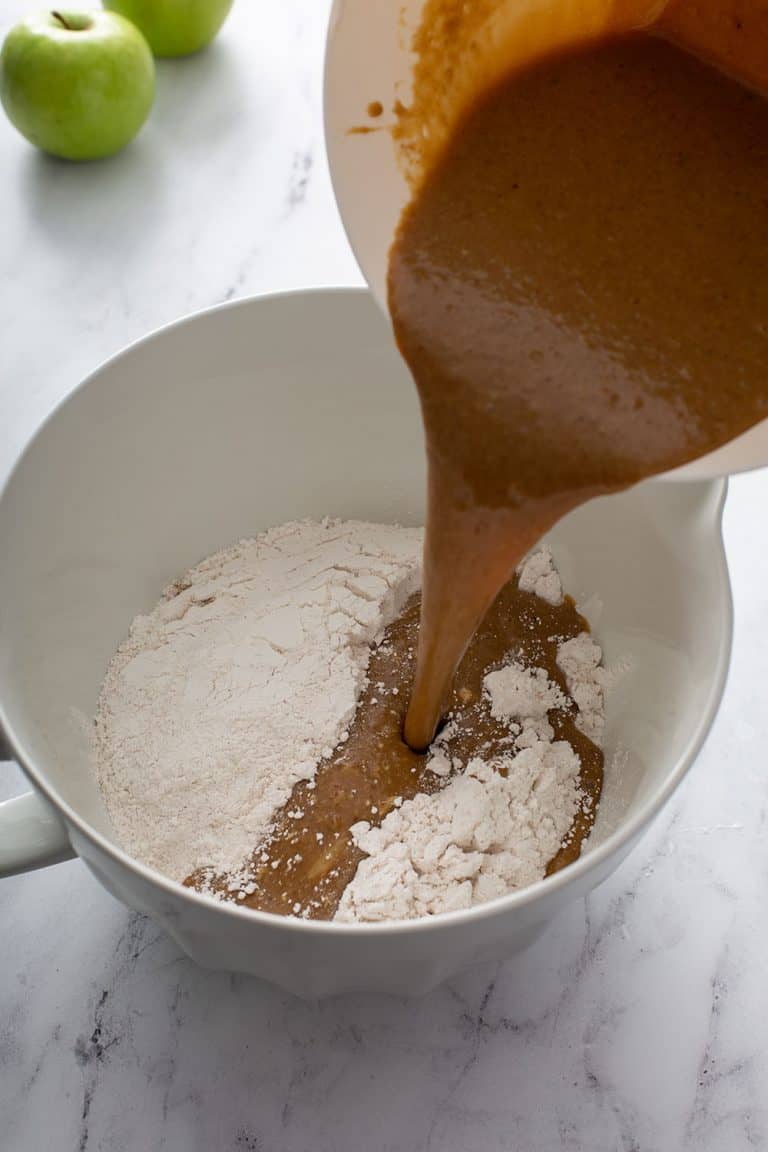 But when the weather finally started to cool off and I got that first whiff of fall this week, I found myself wanting – no, needing – to make apple muffins.
I didn't want these to be typical muffins with barely recognizable pieces of apple and a little spice. I wanted these to be hearty, enthusiastically spiced apple muffins with big chunks of Granny Smith apples and a sweet and buttery streusel topping.
Honestly – who doesn't love a streusel topping. I could eat the stuff with a spoon. (Okay, I may have actually eaten the stuff with a spoon.)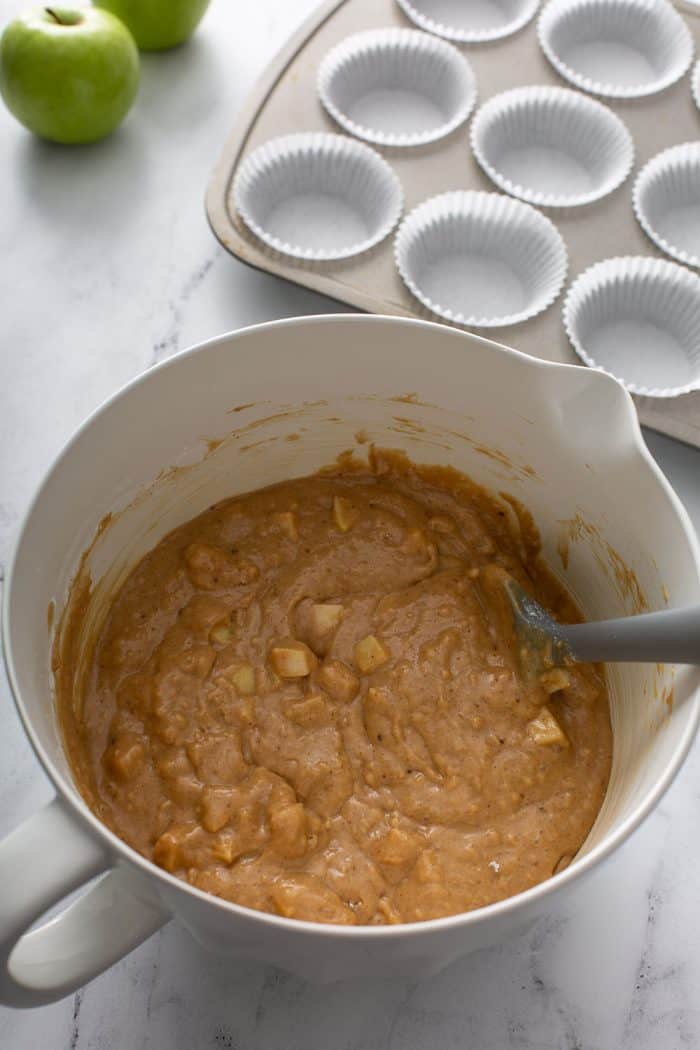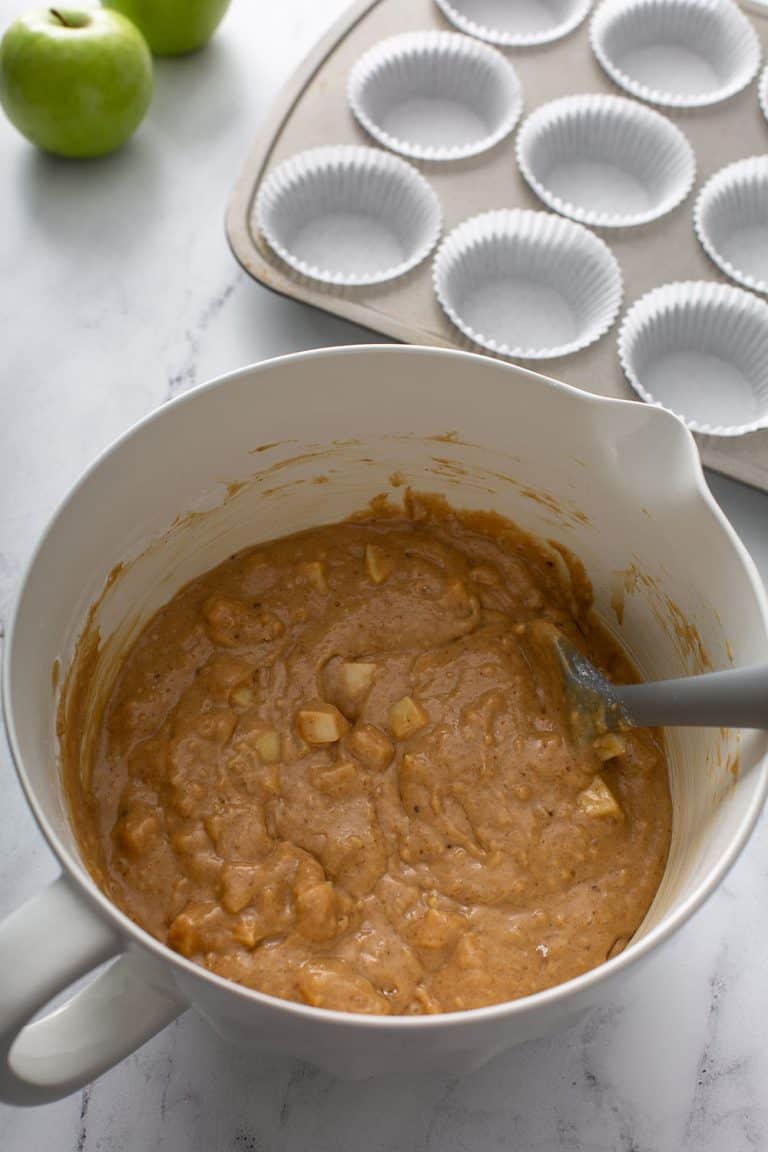 These are quite possibly my favorite muffins ever. Or at least until I come up with a new favorite recipe next month.
Similar to my Apple Pie Bread, they have all the goodness of apple pie – including the goodness of crust, thanks to that crumb topping. And they are completely portable, which means you can nosh on them for breakfast on your way to work, during school drop-off, or as you wander the house with a cup of coffee in your other hand (though watch out for the crumbs!).
Although these Apple Cinnamon Muffins may not have the same puffy look of beautiful muffins from the bakery, they taste incredible and are the perfect way to take advantage of apple season. As an added bonus, these apple muffins taste even better the next day.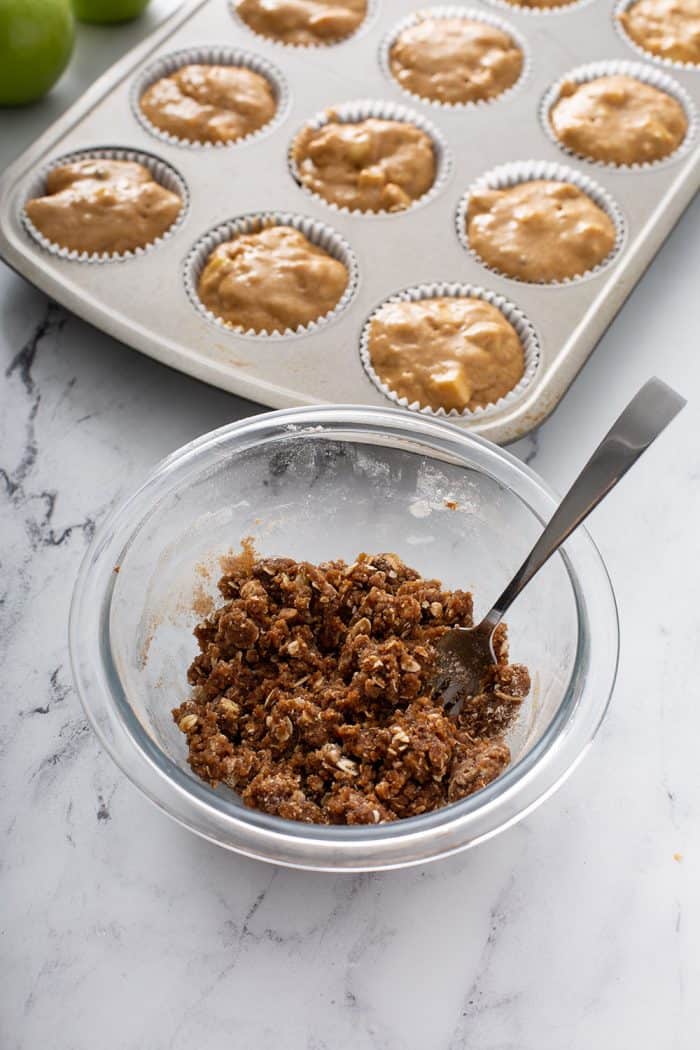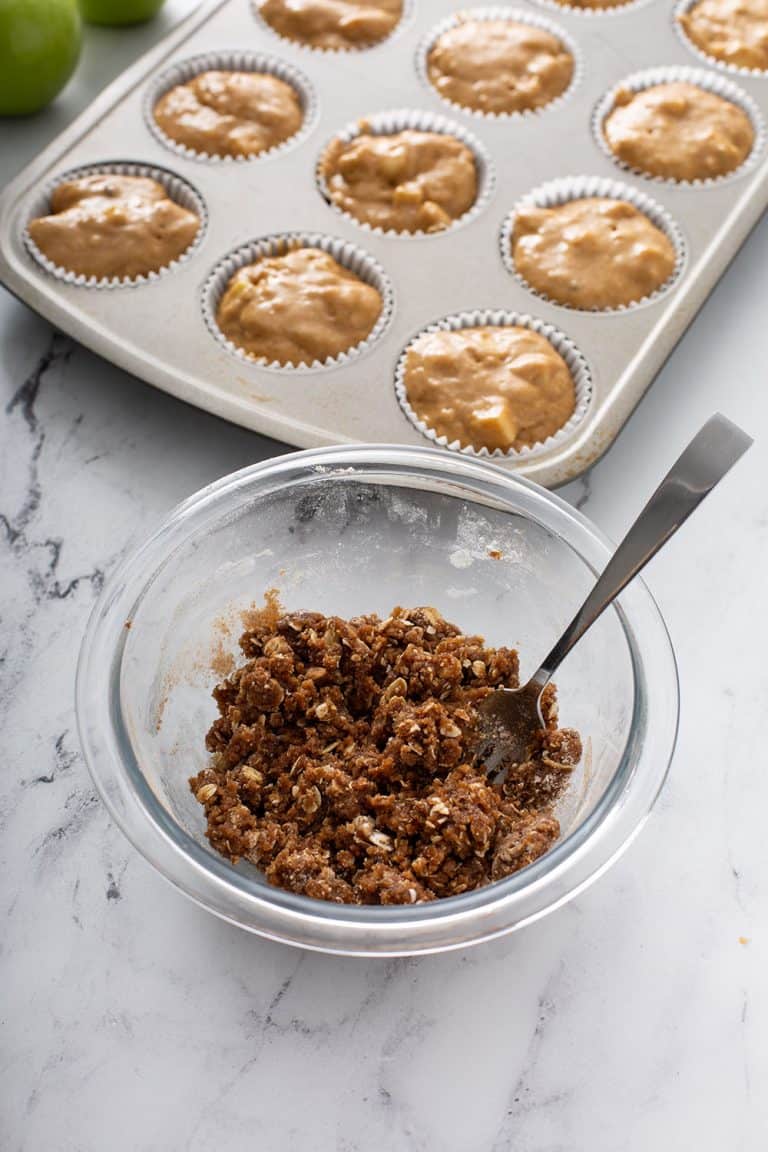 HOW TO MAKE APPLE CINNAMON MUFFINS WITH STREUSEL TOPPING
If you've made any of my quick bread recipes, you can make these Apple Cinnamon Muffins.
Whisk the dry ingredients together in a large bowl. In a separate bowl, whisk together the wet ingredients.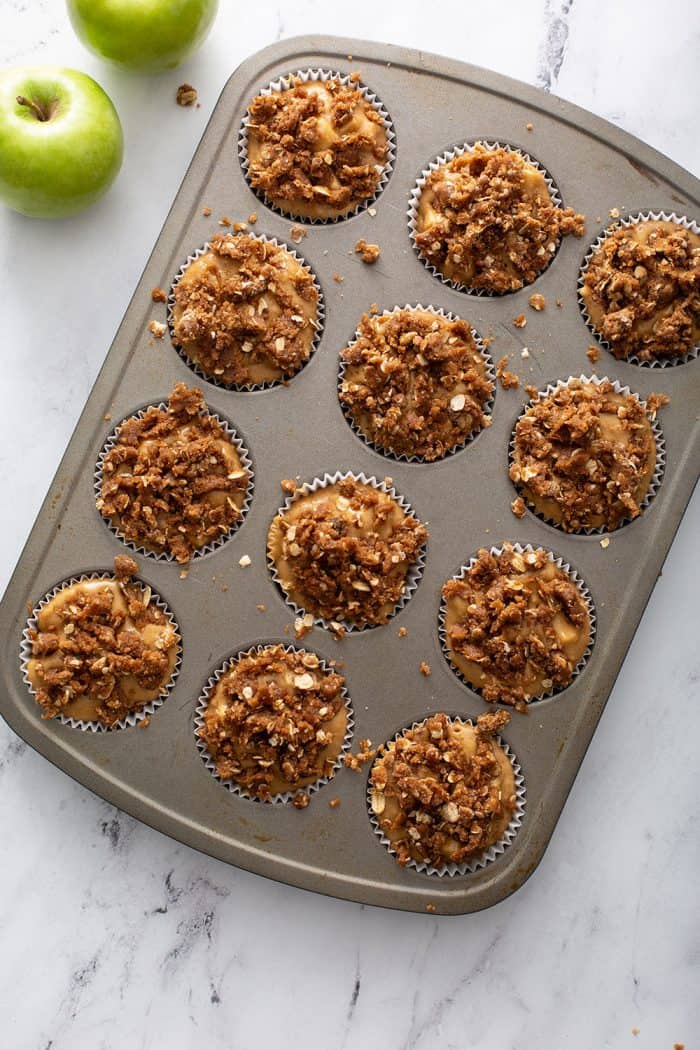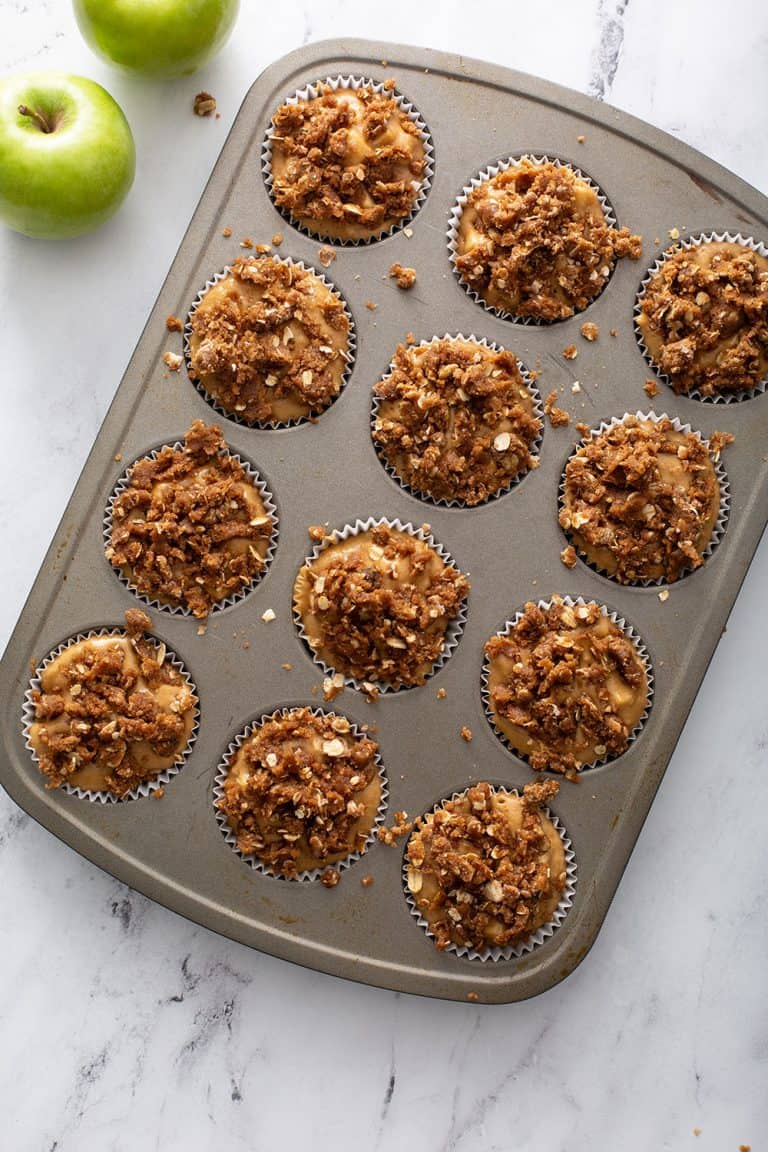 Add the wet ingredients to the dry ingredients, and then fold in the diced apple.
You can dice your apple into whatever size chunks you like. But if you finely dice them, the apple pieces will kind of disappear into the baked muffins.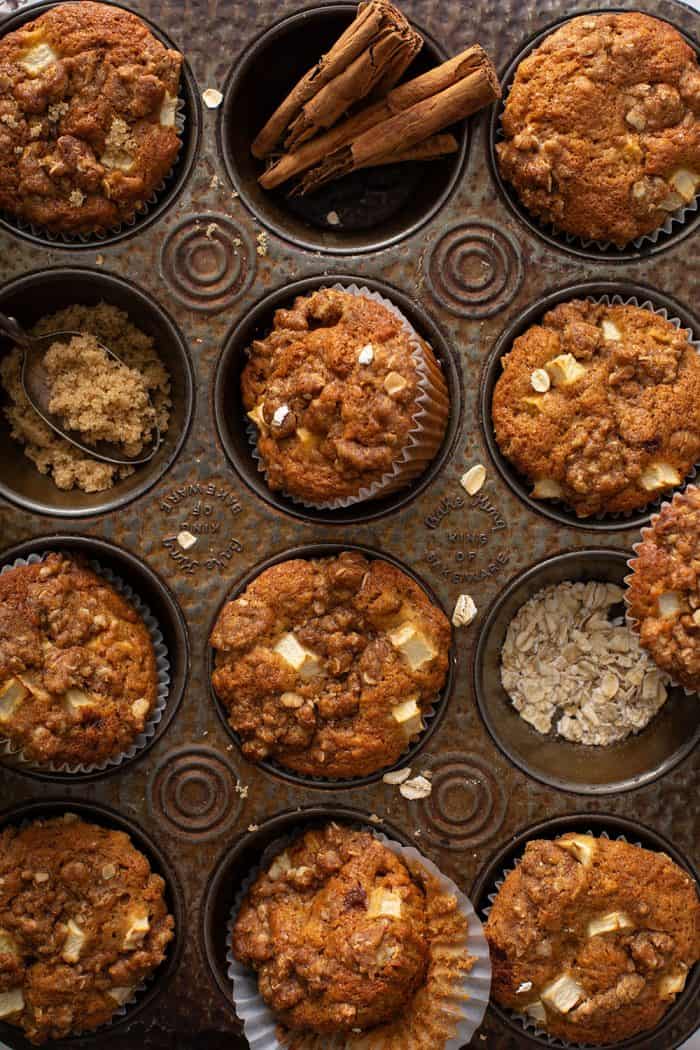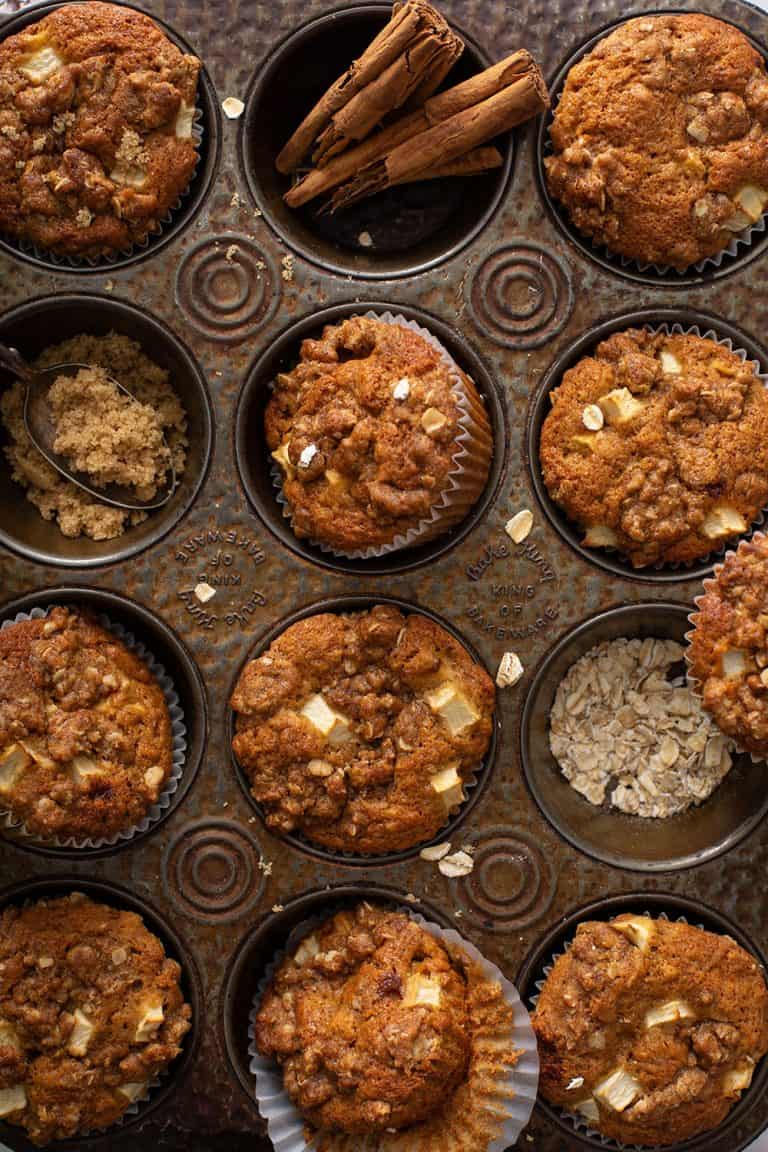 I like to have big pieces of appley goodness running throughout these muffins, so I like to go with a larger dice on my apples.
After you divide the batter into your muffin tin, grab another bowl and mix together the ingredients for the streusel topping. Sprinkle this over the tops of the muffins before baking.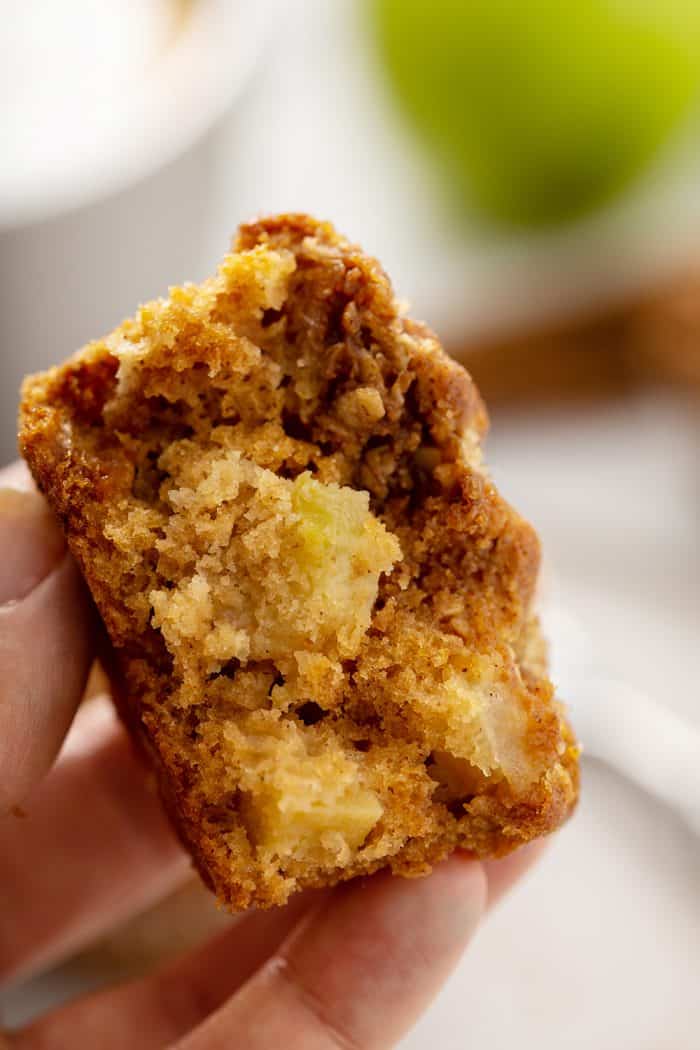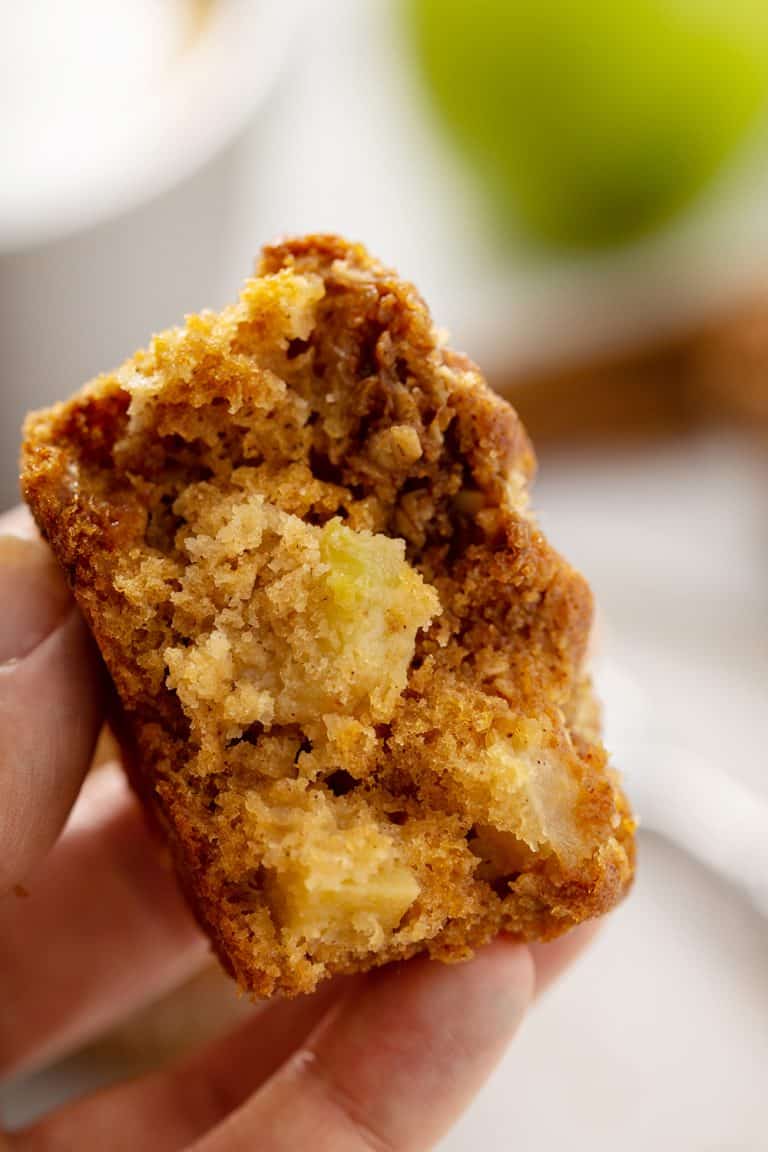 CAN YOU FREEZE APPLE MUFFINS?
These Apple Cinnamon Muffins freeze beautifully!
If you plan to eat all of these muffins within 3 days (and I wouldn't blame you), go ahead and keep them in an airtight container at room temperature.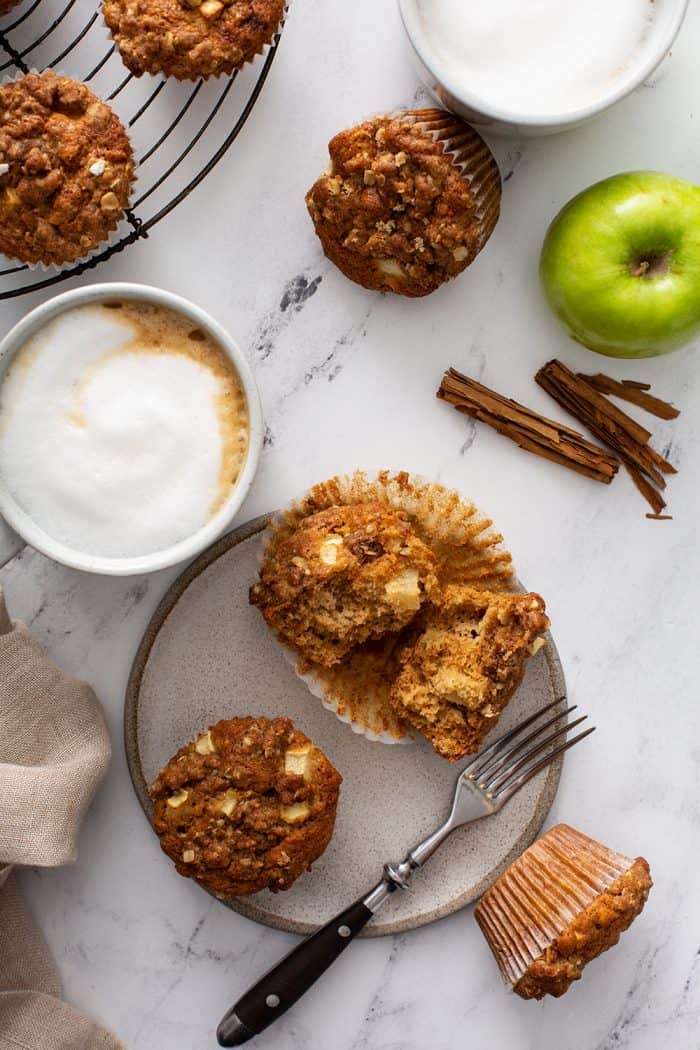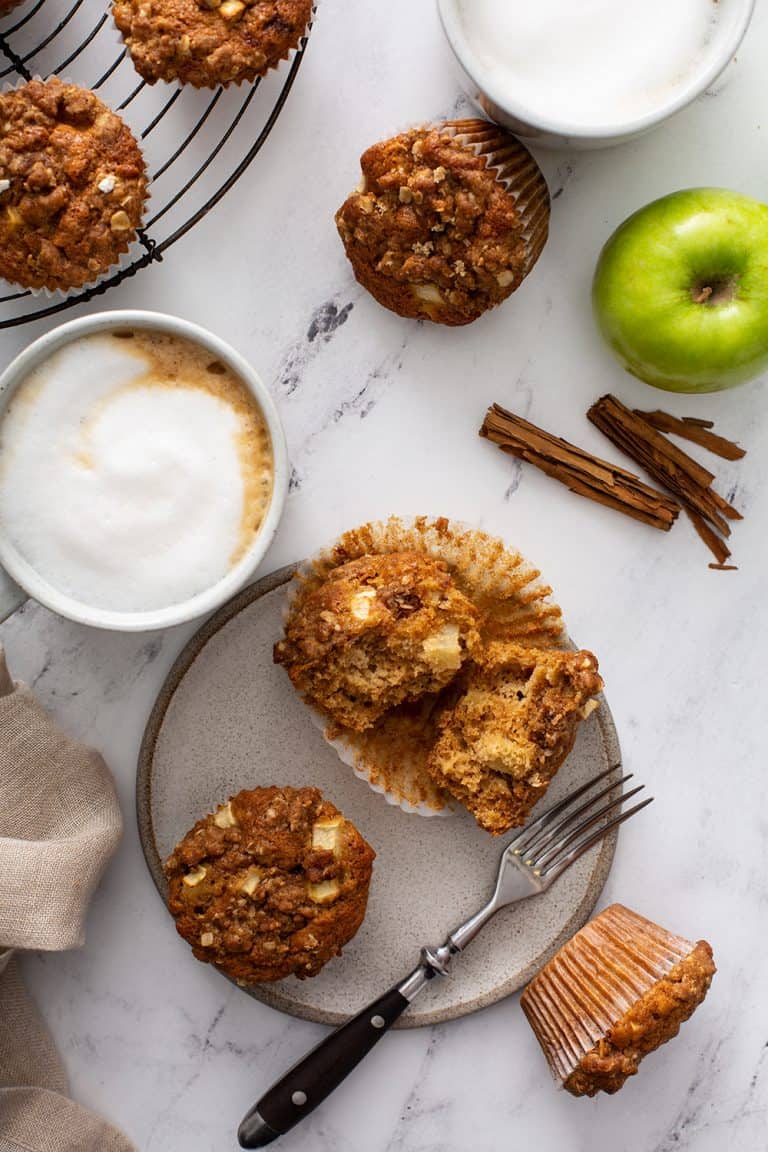 But if you're looking for a longer-term storage solution, perhaps for breakfasts over the next few weeks, pop the cooled muffins into an airtight, freezer-safe container or a freezer bag.
The muffins will keep for up to 3 months in the freezer. When you're hungry for an Apple Cinnamon Muffin, just grab one and warm it in the microwave for 30-60 seconds!