Apple Pie Muffins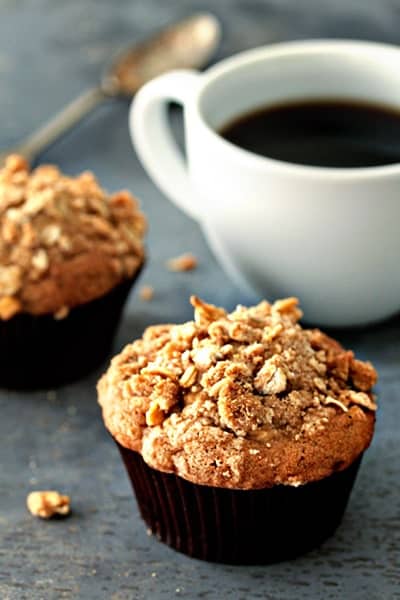 Yes, you read that title correctly – Apple Pie Muffins. You may recall that I have a minor muffin obsession. I like to bake them almost as much as I like to eat them. My obsession with those big bakery style muffins took over a recent baking related conversation that I had with Amber and we've both been on the search for muffin perfection ever since. When I stepped outside last week after a brief rainfall and got my first official whiff of fall – the only thing on my mind was apple muffins.
I didn't want these to be typical muffins with barely recognizable pieces of apple and a little spice. I wanted these to be hearty, enthusiastically spiced apple muffins with big chunks of Granny Smith apples and a sweet and buttery crumble topping. Honestly – who doesn't love a crumb topping. I could eat the stuff with a spoon. (Okay, I may have actually eaten the stuff with a spoon.)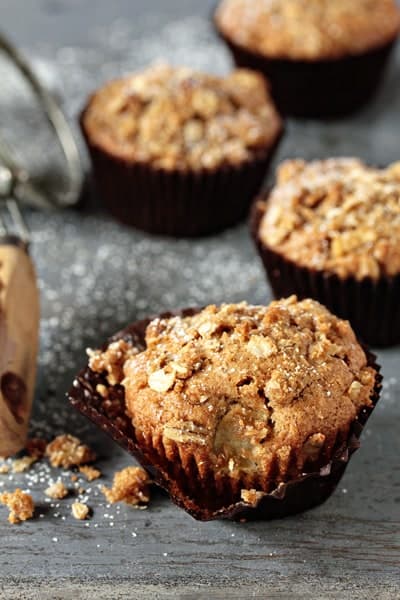 These are quite possible my favorite muffins ever. They have all the goodness of apple pie – including the goodness of crust, thanks to that crumb topping. And they are completely portable, which means you can nosh on them for breakfast on your way to work (though watch out for the crumbs!).
Although these muffins may not have the same puffy look of beautiful muffins from the bakery, they taste incredible and are the perfect way to take advantage of apple season. As an added bonus, these apple muffins tasted even better the next day.
Apple Pie Muffins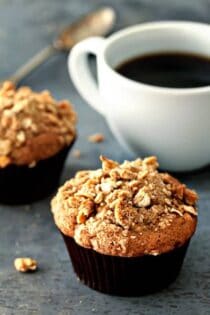 Ingredients:
2 1/4 cups all-purpose flour
2 teaspoons pumpkin pie spice
1 teaspoon baking soda
1/2 teaspoon kosher salt
1 egg
1 cup buttermilk
1/2 cup butter, melted
1 teaspoon vanilla extract
1 1/2 cups packed brown sugar
2 cups peeled, chopped Granny Smith Apples
For the Topping
1/2 cup packed brown sugar
1/3 cup all-purpose flour
¼ cup rolled oats
1 teaspoon ground cinnamon
3 tablespoons butter, melted
Directions:
1. Preheat the oven to 375 degrees F. Line 12 cup muffin cups with paper liners. Set aside.
2. In a large bowl, whisk together 2 1/4 cups flour, pumpkin pie spice, baking soda, and salt. In a small bowl, whisk together the egg, buttermilk, 1/2 cup melted butter, vanilla and 1 1/2 cups of brown sugar. Stir until sugar has dissolved.
3. Pour butter mixture into the flour mixture and stir until just combined. Gently fold in apples. Use a large scoop to fill each muffin well, filling the cups to the top.
4. In a small bowl, stir together 1/2 cup of brown sugar, 1/3 cup flour, rolled oats, and cinnamon. Drizzle in 3 tablespoons of melted butter, mixing until well blended. Sprinkle this over the tops of the muffins.
5. Bake in preheated oven for 25 minutes, or until the tops of the muffins spring back when lightly pressed.
6. Cool on wire rack. Store at room temperature.
Notes:
- If you choose to finely dice your apples, take not that they will disappear into the muffin. I left my pieces a little bigger to ensure nice bites of appley goodness.
- If you don't have pumpkin pie spice, you can make your own, or simply substitute 2 teaspoons of cinnamon.
-Recipe adapted from allrecipes.com
All images and text ©
Follow Jamie on Instagram. We love to see what you're baking from MBA! Be sure to tag @jamiemba and use the hashtag #mbarecipes!
This post may contain affiliate links. We are a participant in the Amazon Services LLC Associates Program, an affiliate advertising program designed to provide a means for us to earn fees by linking to Amazon.com and affiliated sites.