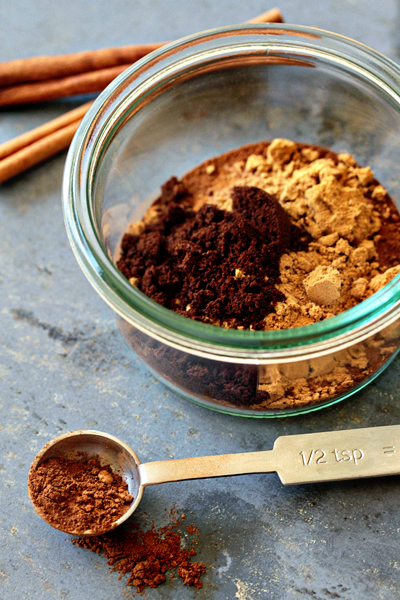 I have an addiction to spices. No matter how many times I obsessively organize and consolidate my stash, it turns into a ridiculous mess within days. Sometimes it gets to the point where I can barely close the cupboard door. Which means that we must exercise caution when opening the door because it's quite possible that 5 spice jars will leap from the cupboard in full on attack mode.
Come on, you know you've been there. Buying particular spices for one dish and never opening the container again – let alone remembering that you actually have it buried somewhere on you pantry shelves. Yep, that's me – I'm the girl with the 3 containers of Garam Masala, but will totally run out of something common like chili powder.
I'm also a little lazy, so if there's a way to cut a couple of corners without sacrificing the end result, I'm all about it! Last year, I found myself in the middle of a fall baking marathon and realized I was out of Pumpkin Pie Spice. My first instinct was to head to the store – but then that aforementioned laziness kicked in and I figured – wait a sec, I bet I can make this myself. And I did and it was splendid. I also make my own chili/taco seasoning that is pretty darn rocking and this is equally as fantastic!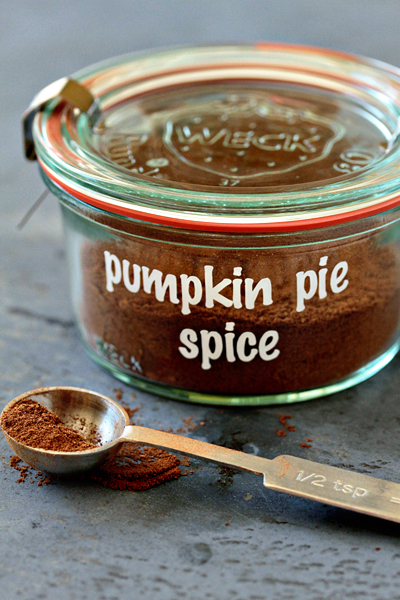 Now whenever a recipe calls for the typical blend of fall spices like cinnamon, nutmeg, etc. I toss in a couple of teaspoons of this homemade pumpkin pie spice. It's better than any premade version that I have found and since you probably have all the spices on hand, it's a little thrifty. And we all like thrifty, right?
I measure all of the ingredients into a small Weck jar, seal it up and give it a good shake to ensure it's well incorporated. Then you can smack a label on it and you're good to go. Or if you're momentarily obsessed with adhesive vinyl (that'd be me), you can go that route and cut out a nice font for your homemade pumpkin pie spice. Just store it in your pantry as you would any other spice and you'll have all the flavors of fall at your fingertips.
Pumpkin Pie Spice
Yield: about 5 tablespoons
Prep Time: 5 minutes
Total Time: 5 minutes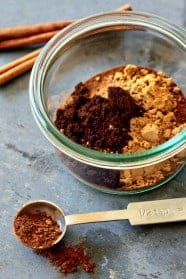 Ingredients:
3 tablespoons ground cinnamon
2 teaspoons ground ginger
2 teaspoons nutmeg
1 ½ teaspoons ground allspice
1 ½ teaspoons ground cloves
Directions:
Combine spices in a small bow, mix well to combine. Store in a small jar or spice container.
Copyright © My Baking Addiction
124 Responses to "Pumpkin Pie Spice"

Trackbacks/Pingbacks

Leave a Comment