No bake pumpkin cheesecake is an easy, creamy dessert for the holidays! Full of pumpkin and spice flavors, these mini cheesecakes are perfect for entertaining.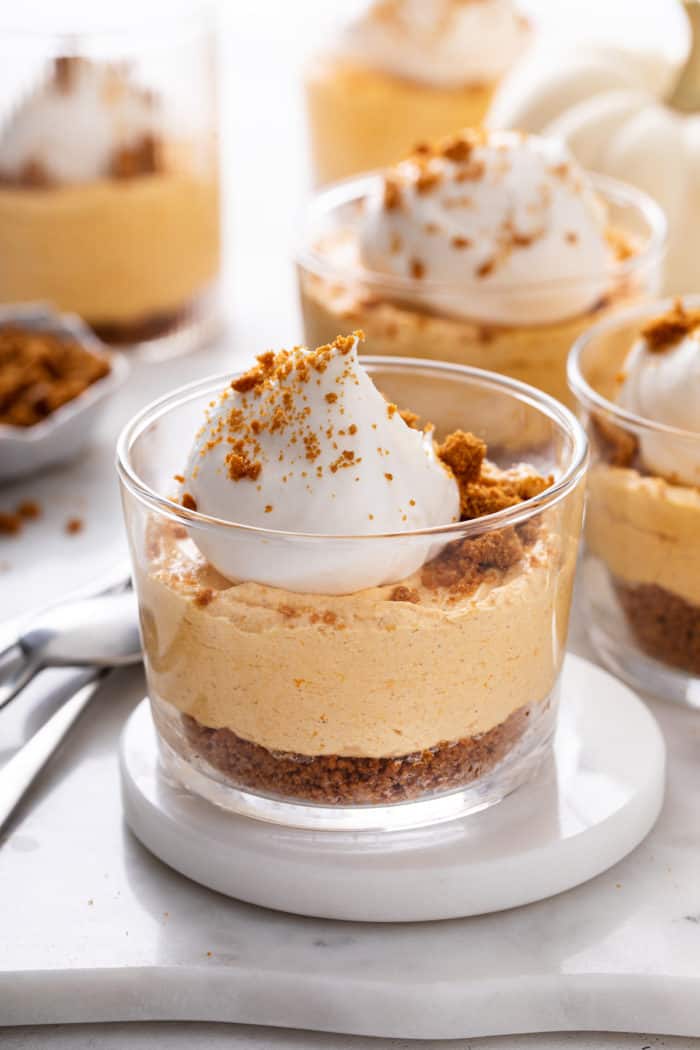 When it comes to the holidays, the last thing I want to do is be fussing around in the kitchen.
Don't get me wrong, I love a good meal. But give me quick and easy dishes so I can spend time with my family, not focused on the oven.
That's why I absolutely love no bake cheesecakes. Yes, I love all my cheesecake recipes, but with no-bake cheesecake you get the luscious, creamy flavors you expect with a fraction of the time.
No bake cheesecakes are just as customizable as regular ones too, so you can make no-bake peach cheesecake in the summer and this creamy pumpkin spice cheesecake in the fall and winter.
This no bake pumpkin cheesecake is a little different from my classic no-bake cheesecake because pumpkin puree is folded into the batter in place of some of the cream cheese.
We also amp up the flavor with classic pumpkin pie spice and a Biscoff cookie crust. Honestly, I might like this dessert even better than baked pumpkin pie!
Plus, because these cheesecakes are made in individual servings, they're great for serving at parties or part of a dessert spread.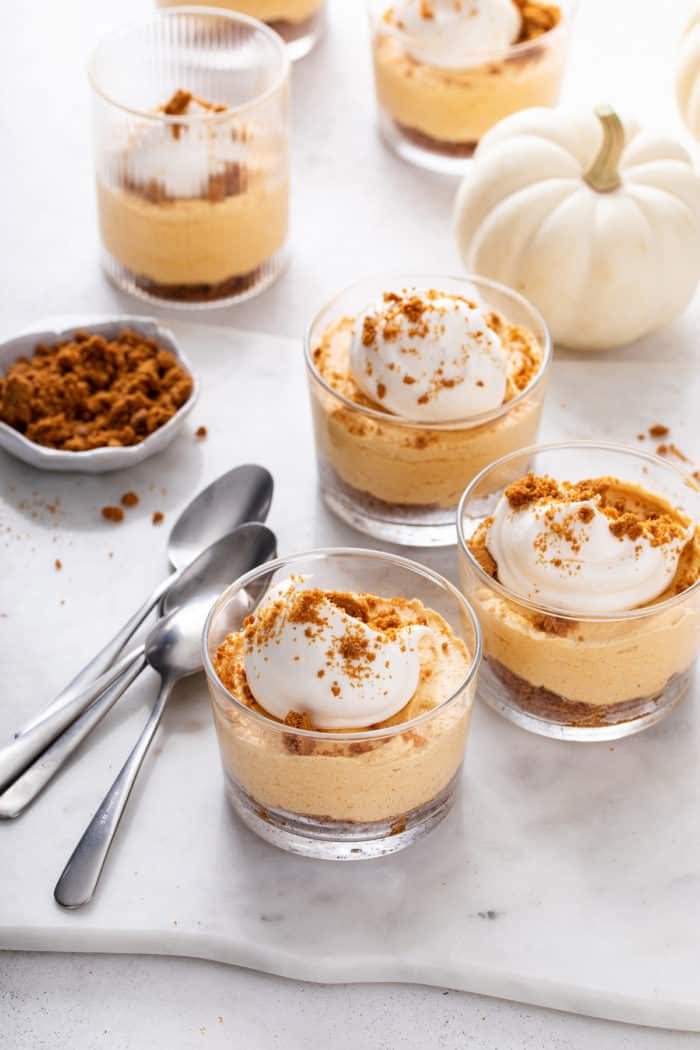 Ingredients you'll need
This recipe comes together quickly when you have everything prepped. Take note of anything that needs softening!
Biscoff cookies, or gingersnaps
Unsalted butter, melted
Softened cream cheese
Powdered (confectioners') sugar
Pumpkin puree (not pumpkin pie filling)
Whipped topping such as Cool Whip, thawed
You'll also need eight dessert cups. Small ramekins or glass jars will also work.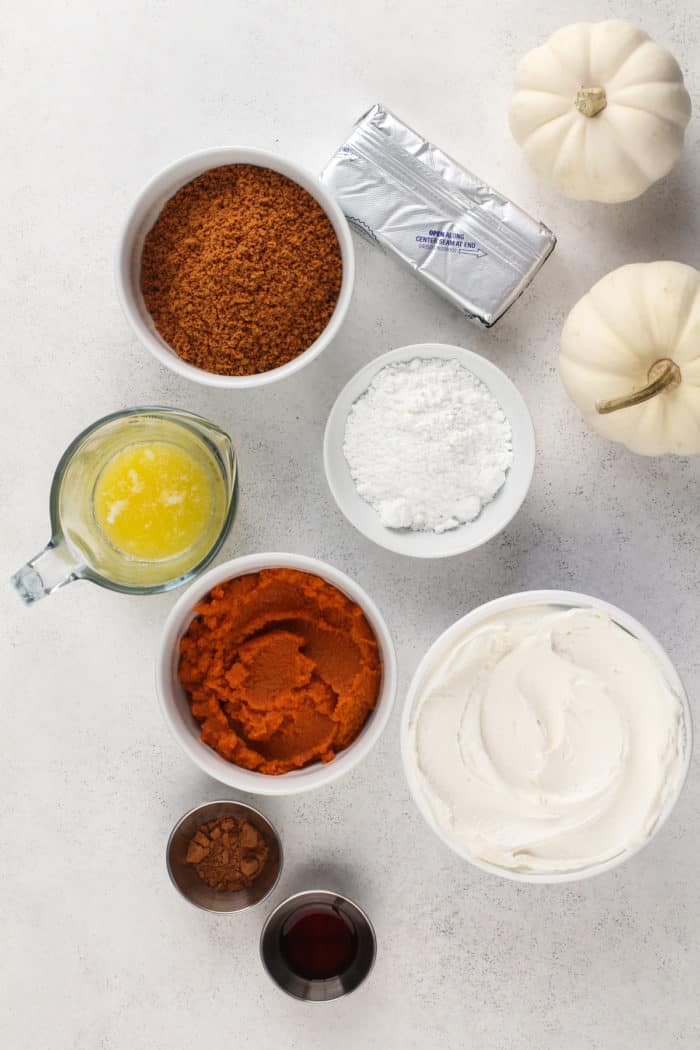 How to make mini no bake pumpkin cheesecake
The first thing we need to do is prepare our crust. Similar to graham cracker crust, this crust is made with crushed cookies and melted butter, but we're using Biscoff cookies!
Biscoff cookies are those little spiced cookies you get sometimes when flying, and luckily they're now available in many grocery stores.
Crush 16 Biscoff cookies in a food processor, then stir in melted butter until it is evenly coated and looks like wet sand.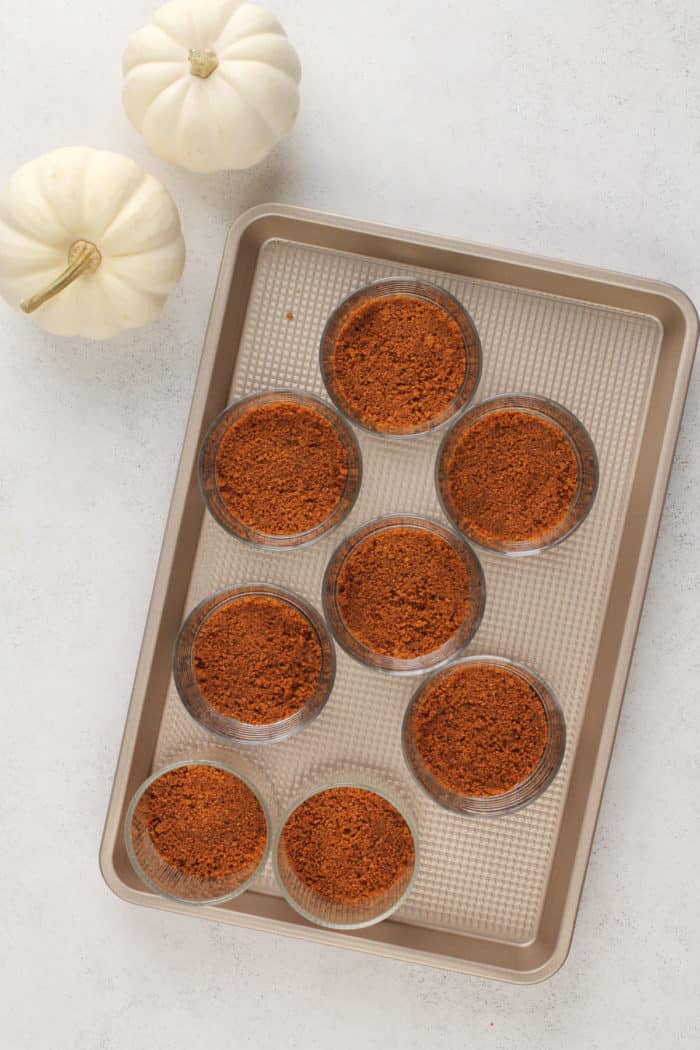 Divide the mixture evenly between your dessert cups. If you're using 8 cups, this will be just about 2 ½ tablespoons for each. Press the crust firmly but gently into the bottoms to form a crust.
Now, take your softened cream cheese and powdered sugar and combine them in a large bowl.
Use an electric mixer to beat them together until smooth and creamy. There shouldn't be any lumps from the cream cheese after blending.
Beat in the pumpkin puree, vanilla extract, and pumpkin pie spice until completely incorporated and even in color. Make sure to scrape the sides and bottom of the bowl to get every last bit mixed.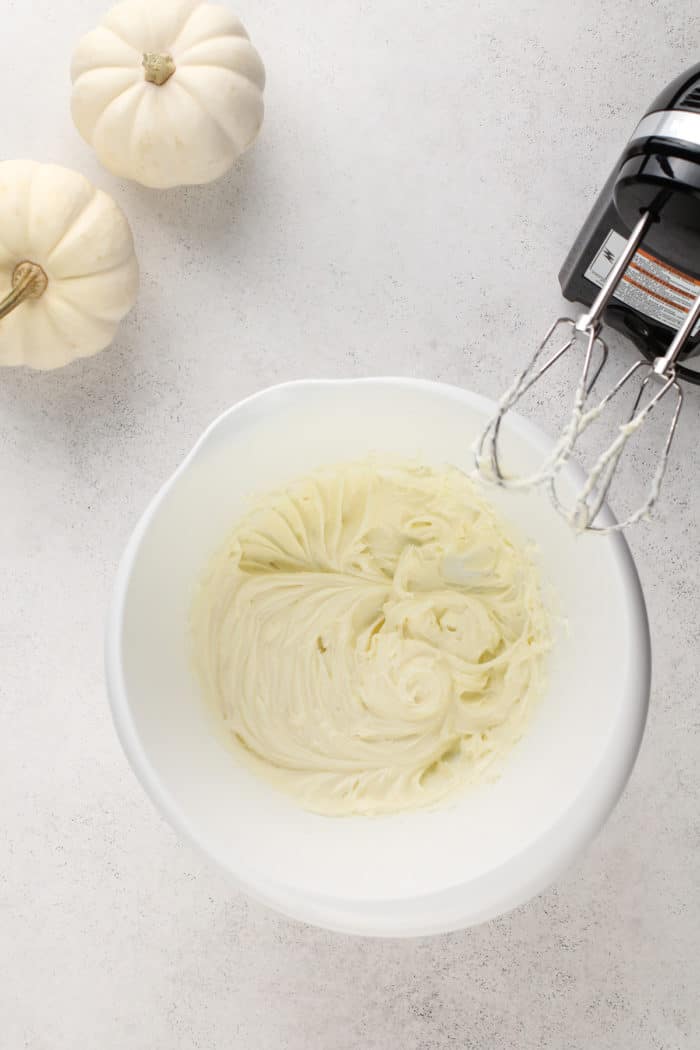 Now, take your thawed whipped topping and fold it into the cream cheese mixture.
Folding is done by running your spatula around the side of the bowl, then along the bottom, and folding the mixture over itself. Turn the bowl as you fold, and the whipped topping will be lightly incorporated without losing its air.
Divide the batter among the dessert cups. You can use a spoon for this, or fill a piping bag with the cheesecake filling and pipe it in.
Cover each cup with plastic wrap, then place in the refrigerator to chill for at least 3 hours before serving. Because of the chill time, these are perfect to make the day before serving.
When ready to serve, add more whipped topping, Biscoff crumbs, or salted caramel sauce!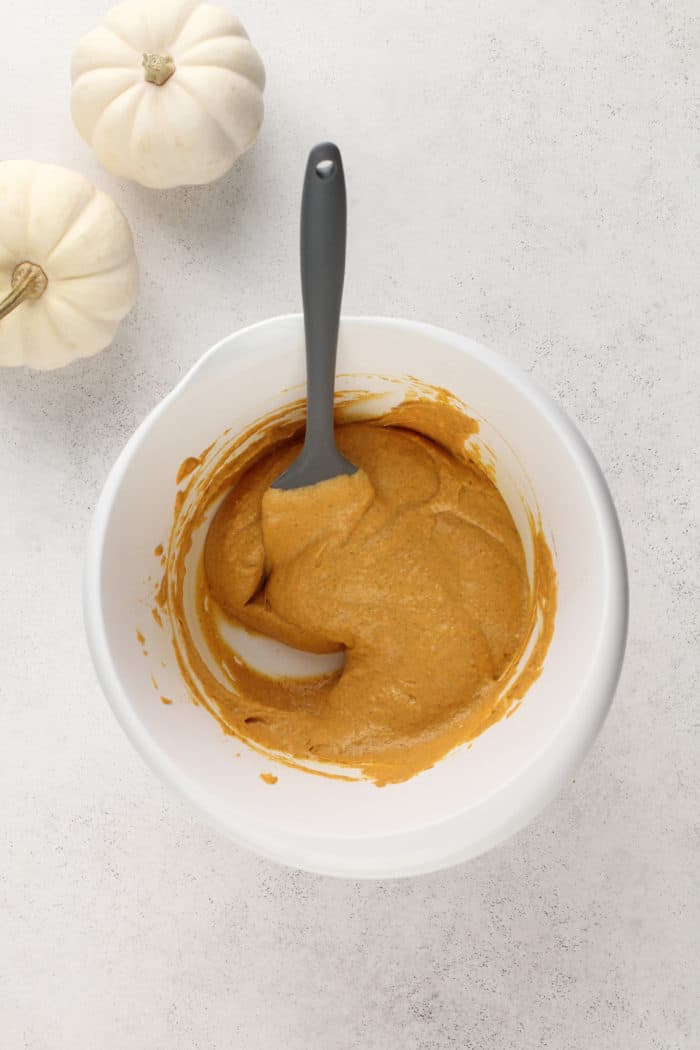 Recipe customizations
These no bake pumpkin cheesecakes are so delicious they don't really need anything else, but if you get a wild hair, try one of these additions!
Add crushed nuts to the crust, or sprinkled on top for garnish. Pecans are the perfect paring for pumpkin.
Use chocolate cookies for the crust for a tasty pumpkin-chocolate combination like in my baked mini pumpkin cheesecakes.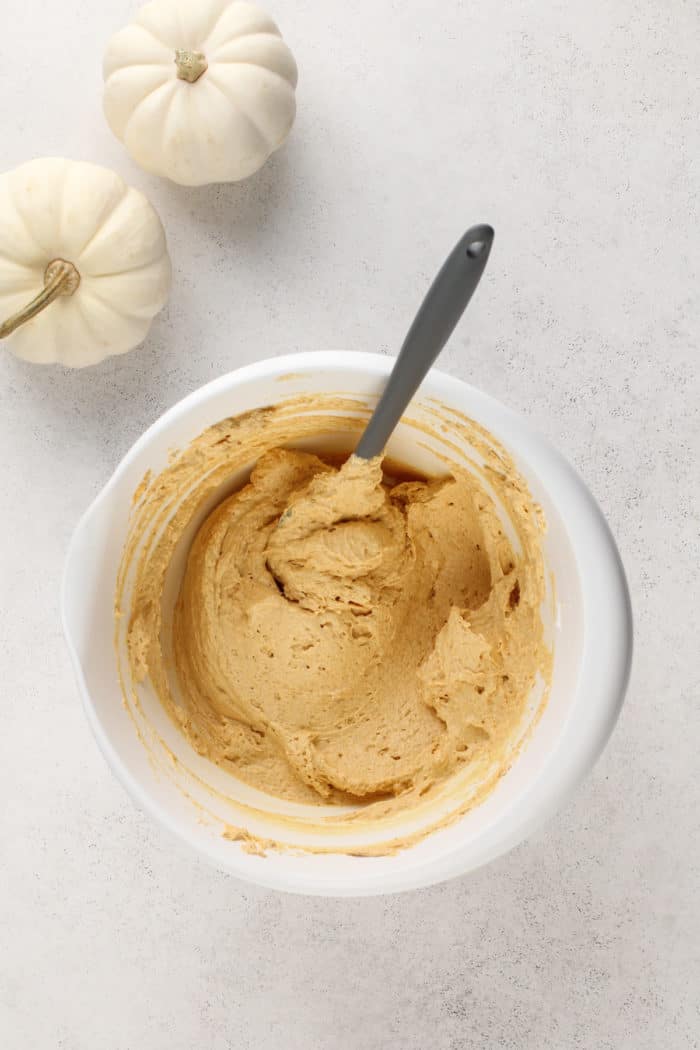 Top with a buttery streusel like on maple streusel cheesecake bars. Or keep with that maple inspiration and drizzle on maple syrup.
You'll love how easy these no bake pumpkin cheesecakes come together. Add them to your Thanksgiving dessert menu ASAP!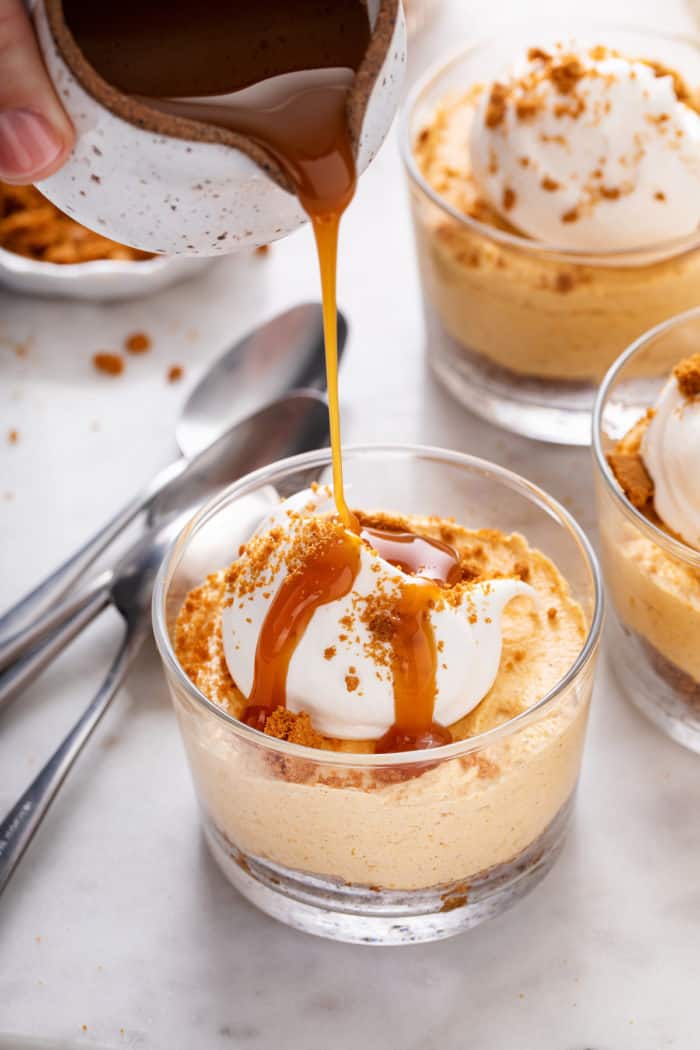 More no-bake cheesecake recipes
In search of more delicious no-bake cheesecake recipes? I've got you covered!