No-Bake Strawberry Lemonade Cheesecakes are a burst of summer in one sweet bite. Delectable berry and citrus flavors make these individual desserts impossible to resist!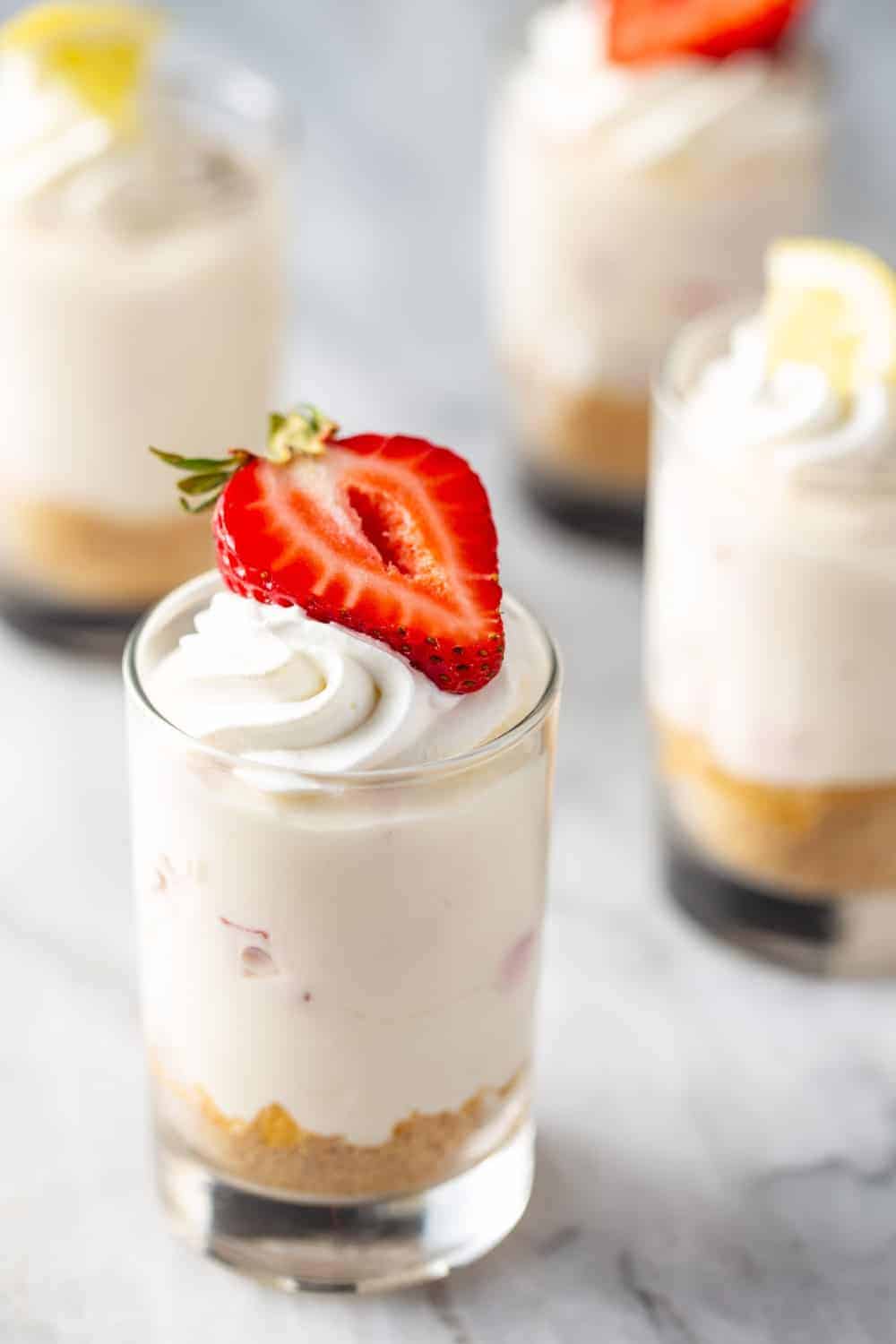 I've officially reached the point during this strange time in our lives that not only do I have no idea what day it is, I'm also now losing track of what month it is. Yesterday, I wrote two checks dated March 2nd. It wasn't the 2nd of the month and definitely was not March.
Between working and homeschooling from home, every single day just jumbles together into a big blob of days. I've actually resorted to setting reminders on our Alexa because I can't seem to even follow a calendar anymore.
One thing we are really good at right now is making desserts. From chocolate cake and brownies to more loaves of banana bread than I can count, Elle and I have been busy in the kitchen.
And with a slight taste of summer weather this past weekend, it was time to whip up one of our favorite sweet treats – No Bake Cheesecake!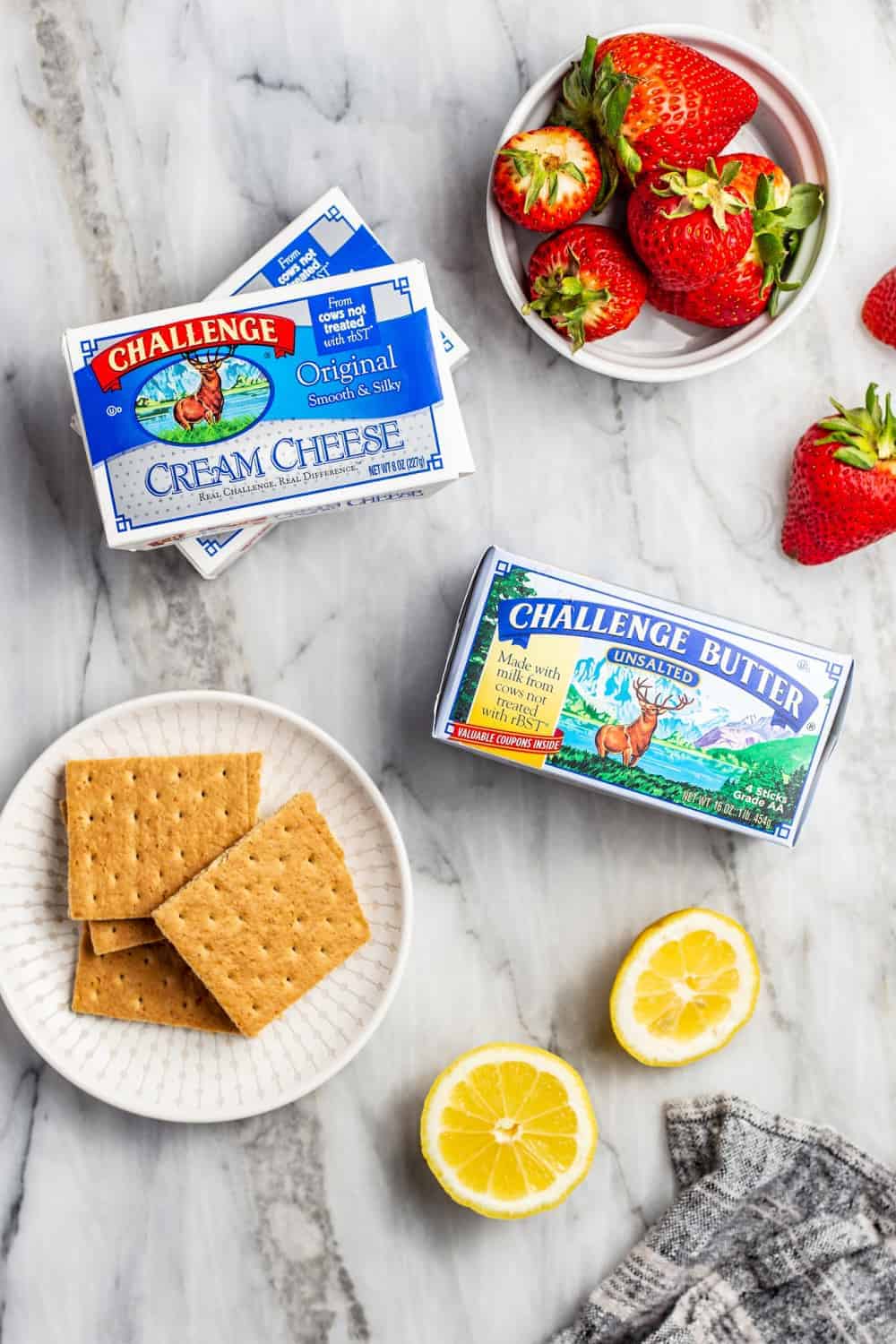 EASY STRAWBERRY LEMON CHEESECAKE
I hope you're not rolling your eyes at yet another no-bake cheesecake recipe.
Admittedly, I'm pretty obsessed with them. And I'm not even remotely sorry about it.
In my mind, no-bake cheesecakes are synonymous with summer – they're pretty much the adult equivalent of Screwballs from Mr. Softie.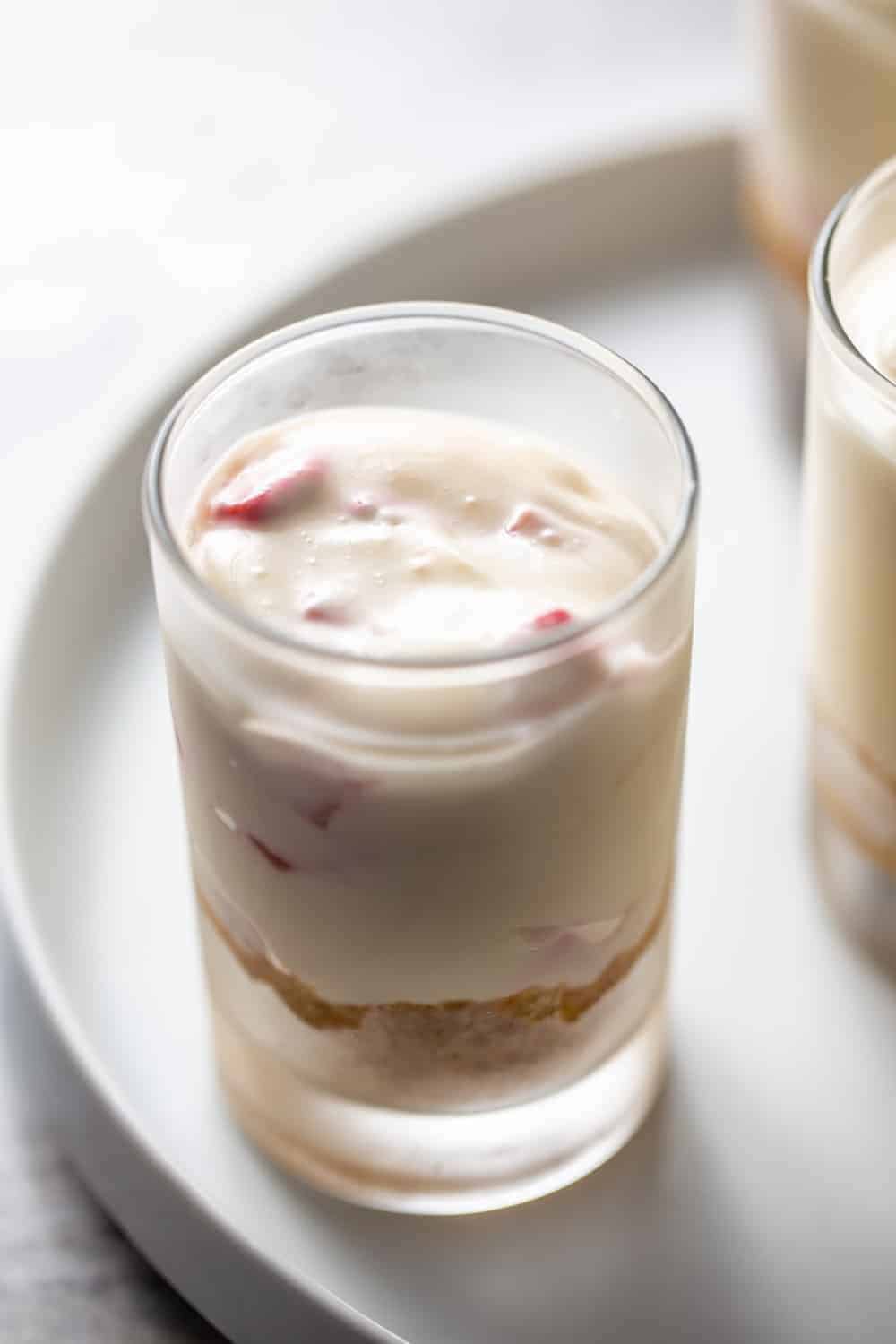 If I'm completely honest, Screwballs from Mr. Softie are still amazing as an adult. I would totally nosh on one every. single. day. if I could.
The beauty of no-bake cheesecakes is that they only require a handful of ingredients and they come together in minutes. And, hello – it's cheesecake that didn't require you to turn on your oven – how could you possibly resist?
For this strawberry-lemon version, I used fresh strawberries and lemon juice to really give these cheesecakes an absolutely huge pop of flavor.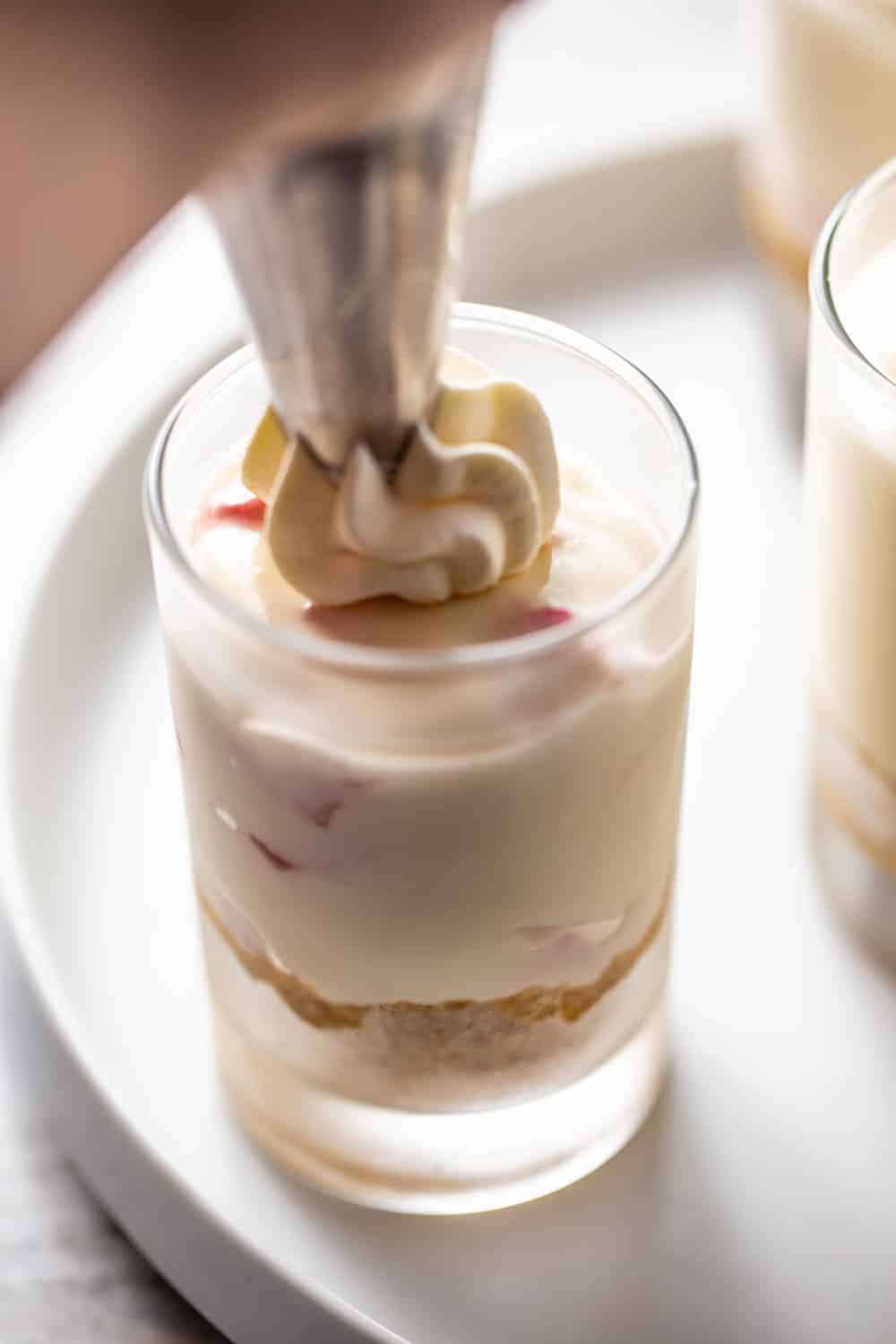 When I say you're gonna love these No-Bake Strawberry Lemonade Cheesecakes, and make them more than once this summer, I mean it.
We already have them on the menu for a second time this week. Strawberry and lemon is a flavor combination my family can't get enough of.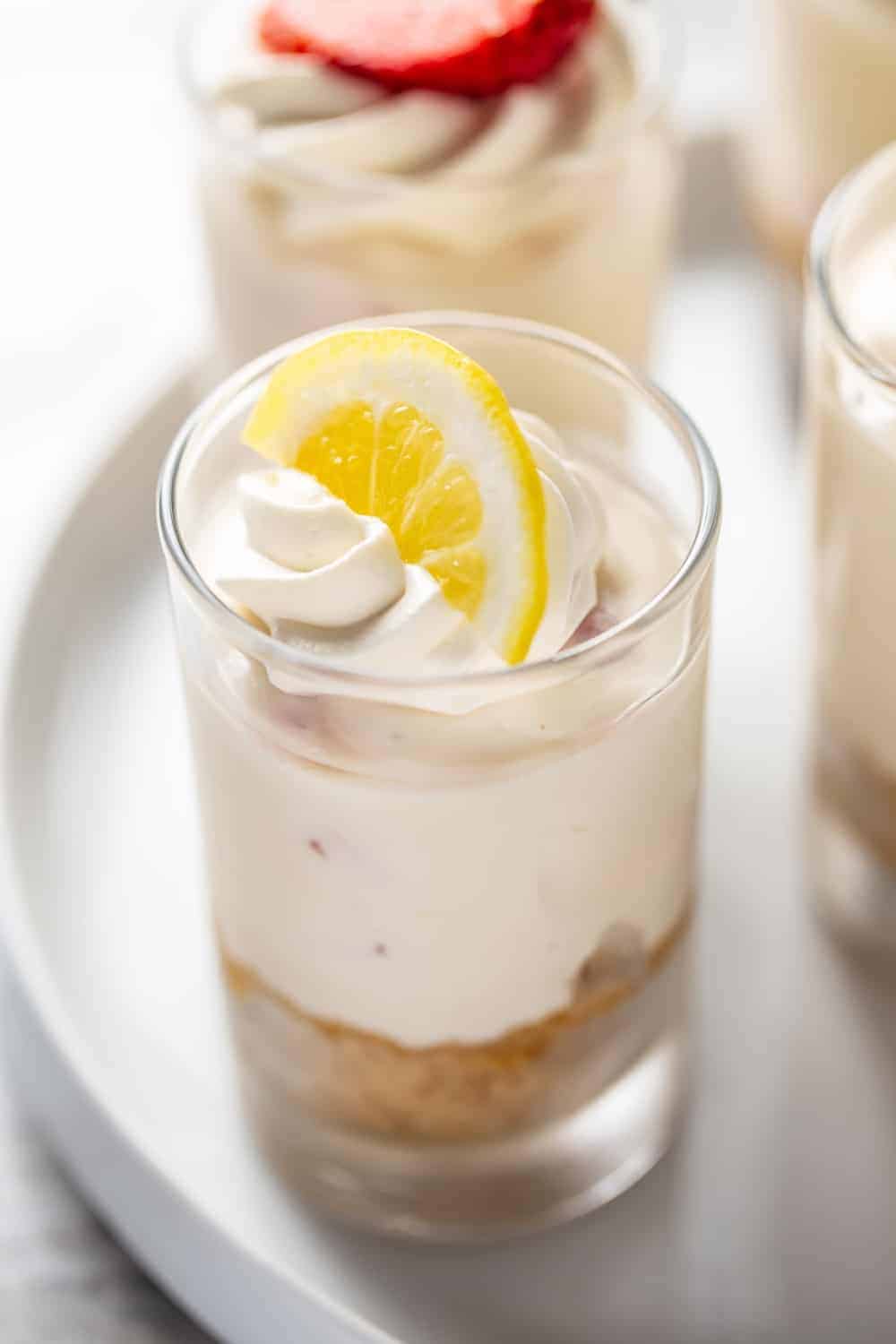 HOW TO MAKE NO-BAKE CHEESECAKE FILLING
The star of the show for these No-Bake Strawberry Lemonade Cheesecakes is, of course, the sweet and tangy no-bake cheesecake filling.
I've made a lot of no-bake cheesecakes with a variety of different types of fillings. Some of them, like No-Bake Oreo Cheesecake, use frozen whipped topping. Others, like No-Bake Pineapple Cheesecake, use ingredients like Greek yogurt.
For this recipe, I add sweetened condensed milk to my favorite Challenge cream cheese for the creamiest, dreamiest filling. Challenge makes my favorite cream cheese by far; I've trusted their dairy products for years and know their quality and flavor will always be top notch.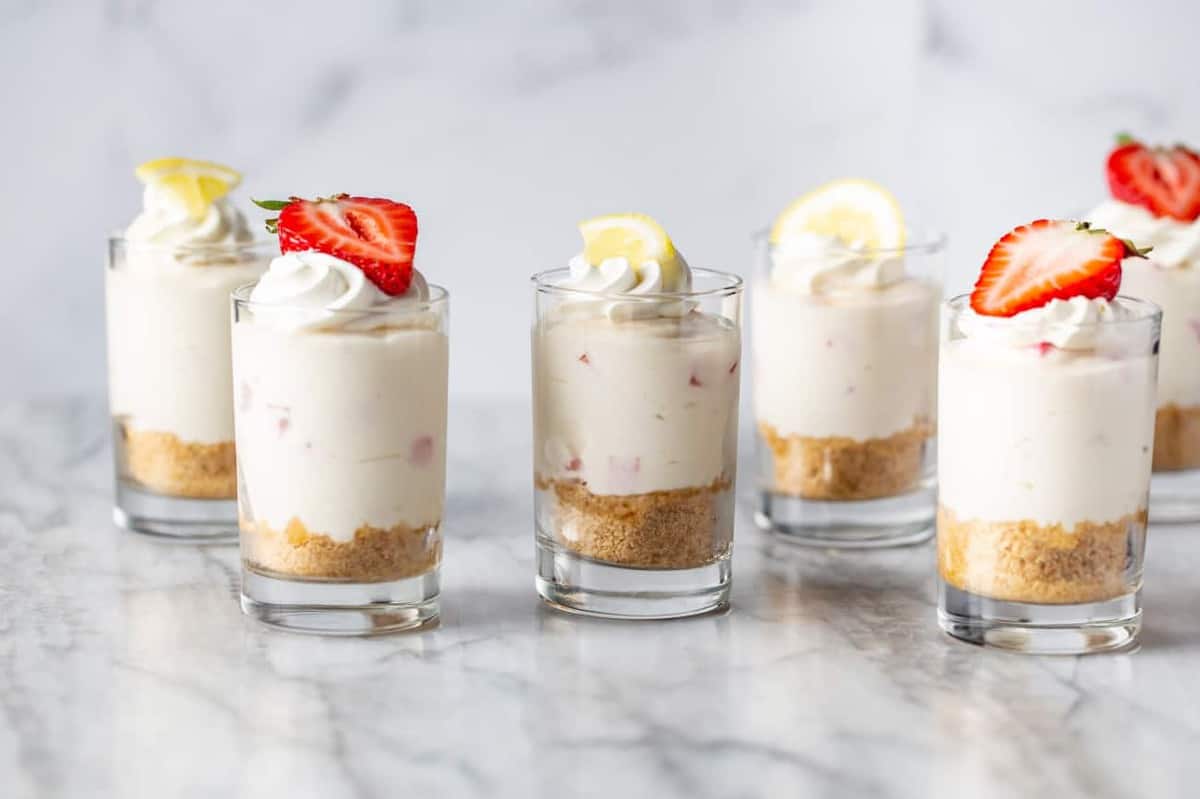 Not only does the sweetened condensed milk help create that silky texture, it provides all the sweetness in the recipe.
Just make sure you use sweetened condensed milk and NOT evaporated milk!
To make this luscious filling:
Beat the Challenge cream cheese with a mixer for 2-3 minutes.
Add the sweetened condensed milk until everything is smooth and silky.
Beat in the lemon juice and vanilla before gently folding in the chopped strawberries.
Once the filling is done, spoon it over your no-bake graham cracker crust – made with Challenge unsalted butter, of course – before chilling for at least 4 hours.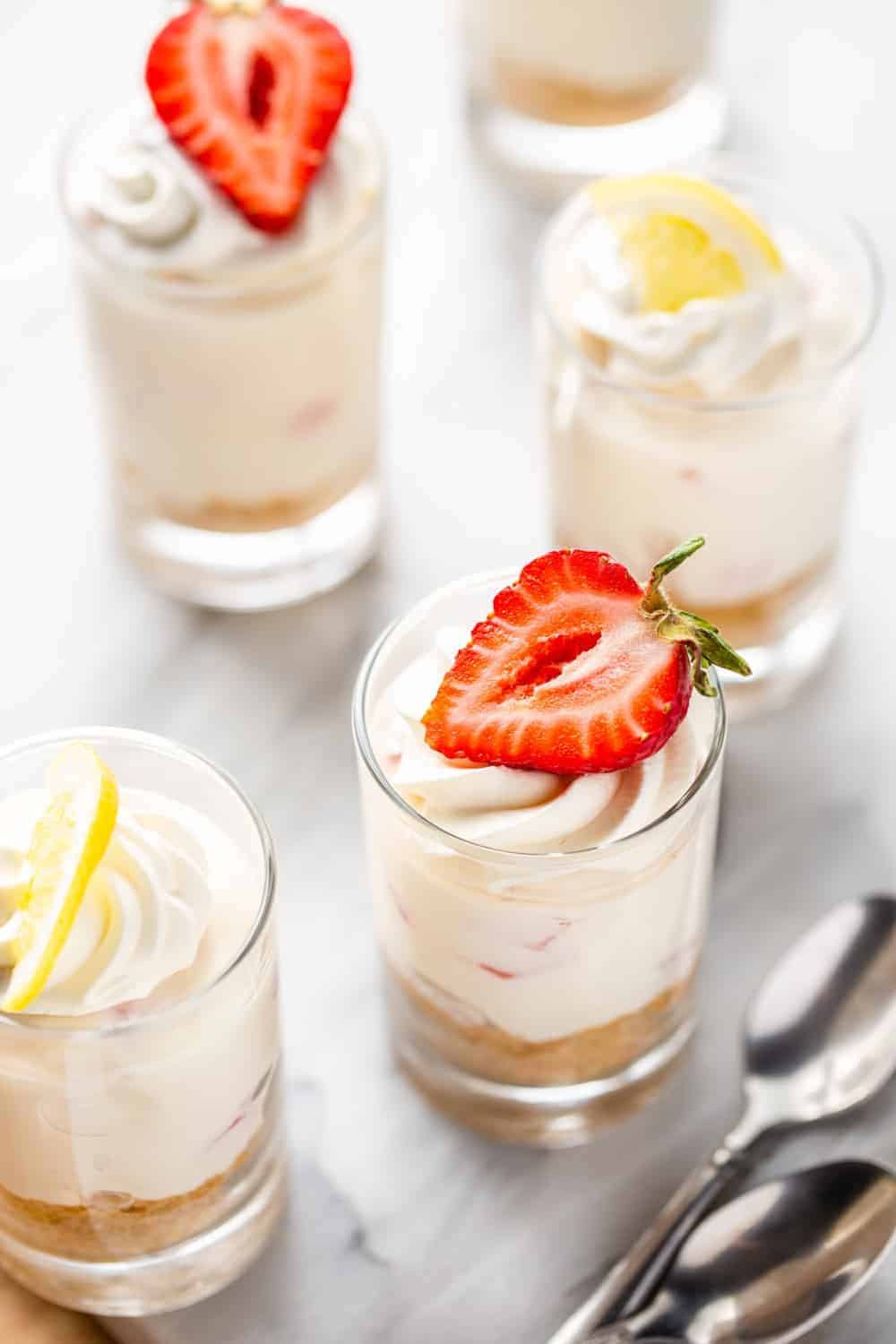 CAN I MAKE THESE CHEESECAKES AHEAD OF TIME?
One of the best things about this recipe is that these treats can be made ahead of time.
You can dish these individual cheesecakes into small mason jars, then just slap lids on and stick them in the fridge until you're ready to eat.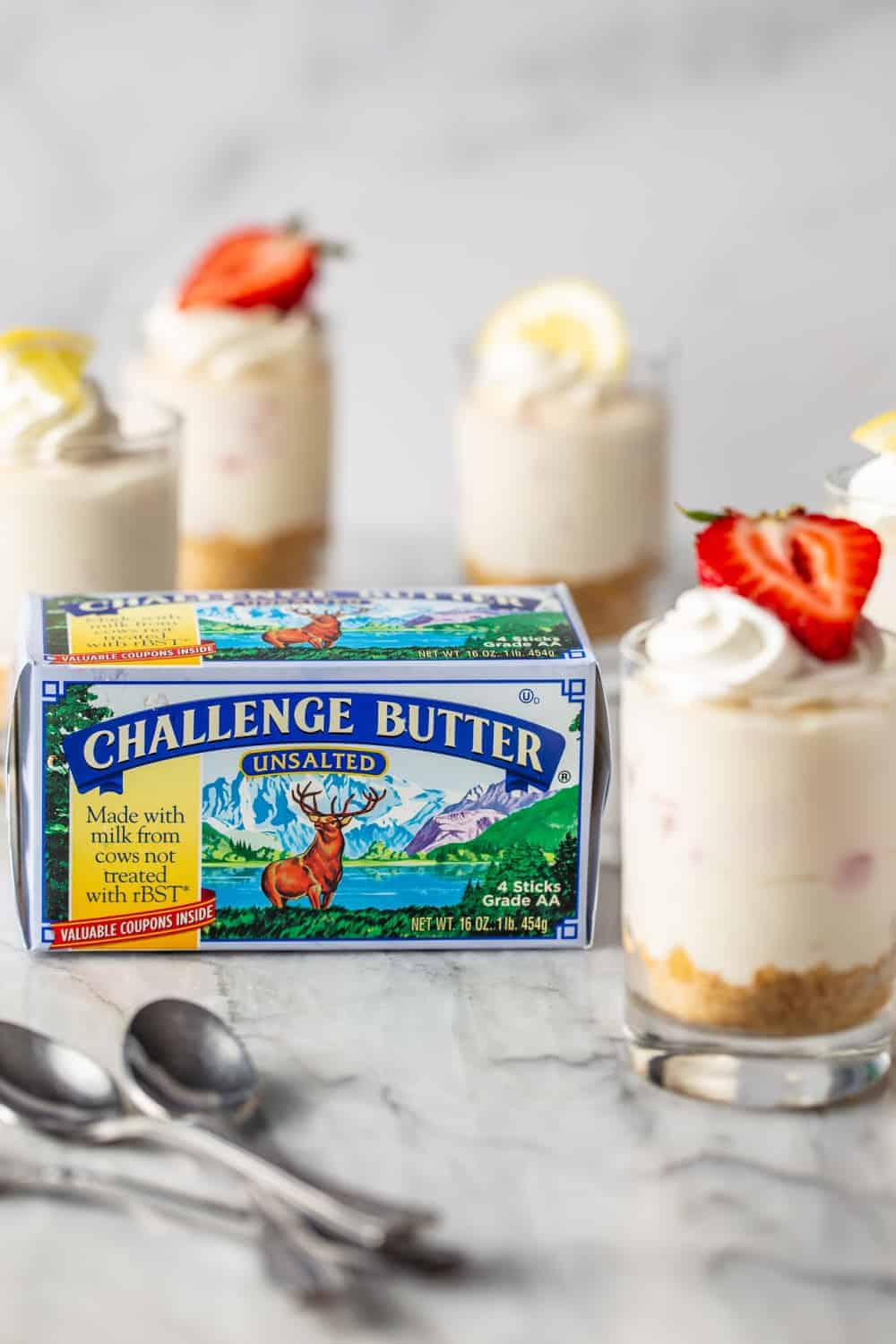 HOW MANY SERVINGS DOES THIS RECIPE MAKE?
Because these individual cheesecakes don't need to be baked, you can really put them in any size serving dish you like. How many servings you get will depend on the size of the dishes, bowls, or jars you use.
I typically get anywhere from 6 to 8 servings when I make these No-Bake Strawberry Lemonade Cheesecakes.
I've served them in everything from small glass dishes to ramekins to tiny Mason jars. The 4-ounce jars are perfect for individual picnic portions!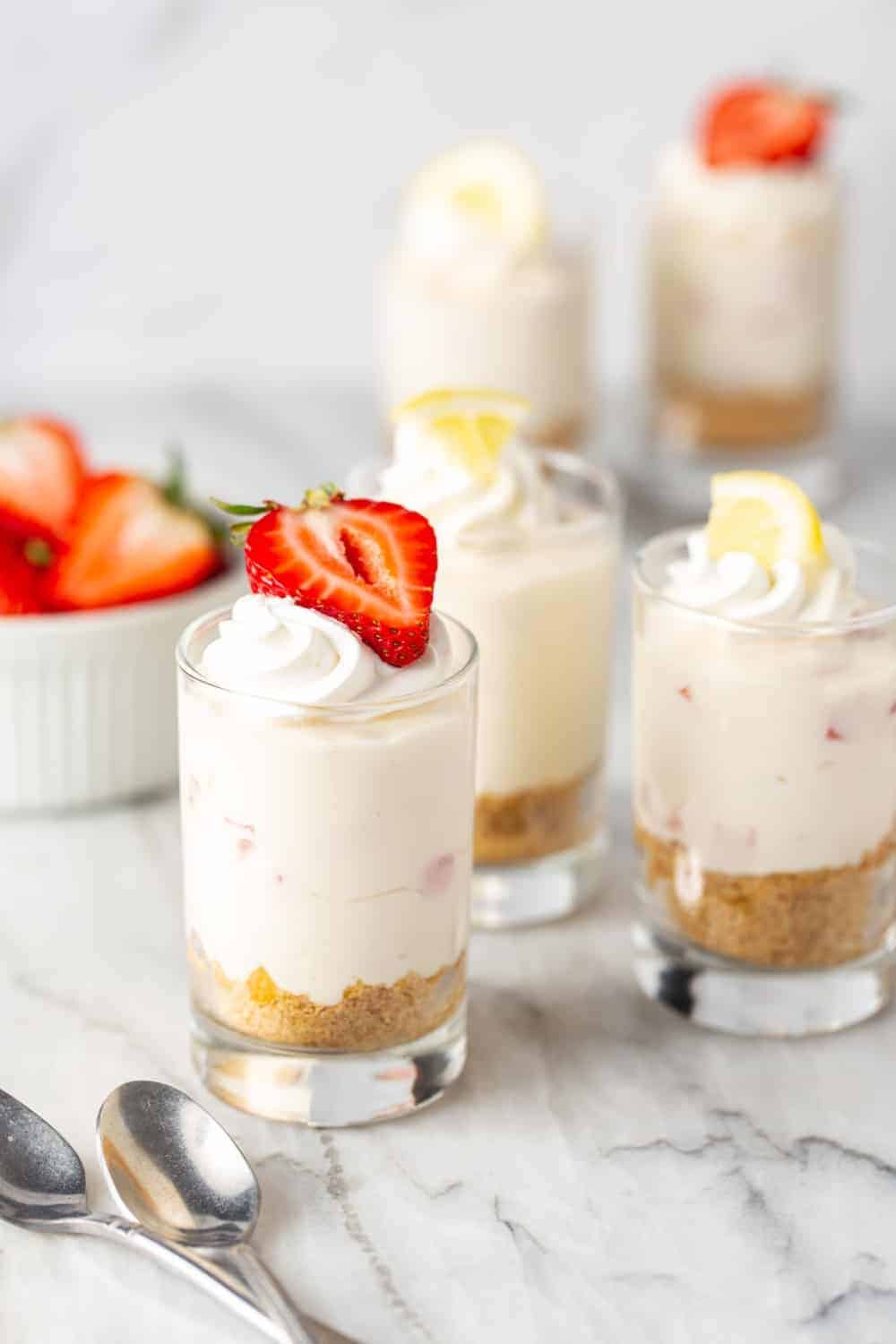 CAN I MAKE A FULL-SIZE CHEESECAKE WITH THIS RECIPE?
You can absolutely put the no-bake filling into a full-size cheesecake crust if you'd like.
Simply spread the strawberry-lemon filling into a prepared 9-inch graham cracker crust.
If you aren't opposed to turning on the oven for a few minutes, you could use my classic graham cracker crust recipe – just put it into a 9-inch pie plate instead of a springform pan.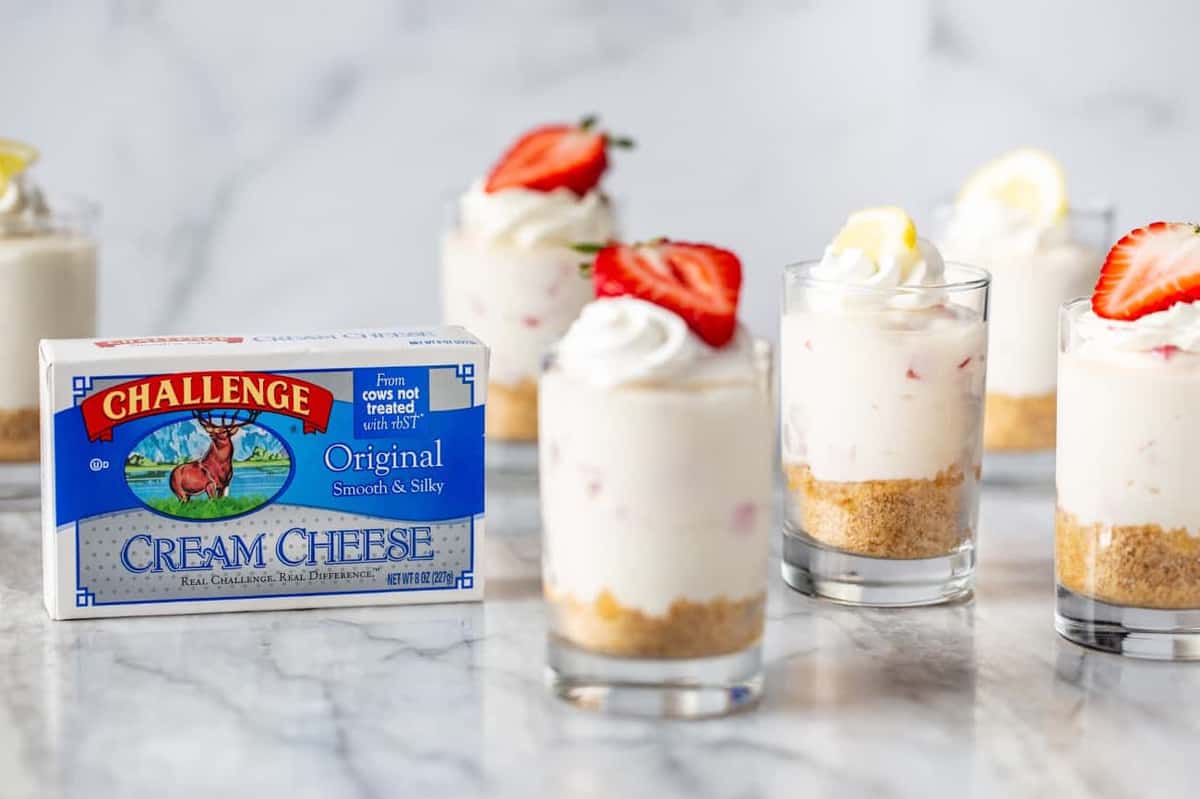 CAN THESE NO-BAKE CHEESECAKES BE FROZEN?
One of the most common questions I see asked about most no-bake cheesecake recipes is: Can this be frozen?
Honestly, this recipe is really best when eaten fresh.
If you absolutely must, you can freeze these Strawberry Lemonade Cheesecakes. Make sure to cover the tops with plastic wrap and wrap them tightly with an additional layer of foil or in dishes with tight-fitting lids.
Allow to thaw overnight in the refrigerator before eating. The texture will not be quite as creamy as when eaten before freezing, but they will still taste ok.