No-Bake Strawberry Lemonade Cheesecakes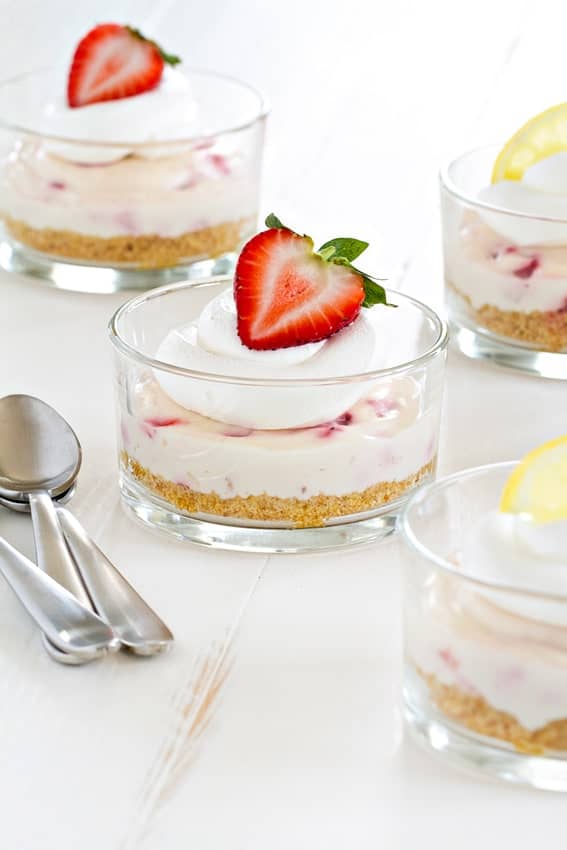 No-Bake Strawberry Lemonade Cheesecakes are perfect for a princess birthday party or your next barbecue. Delectable berry and citrus flavors make these individual desserts impossible to resist!
This post is sponsored by Challenge Butter. The views and opinions expressed on My Baking Addiction are my own, and based upon my experiences with Challenge Butter products.
I hope you're not rolling your eyes at yet another no-bake cheesecake. Admittedly, I'm pretty obsessed with them. And I'm not even remotely sorry about it. In my mind, no-bake cheesecakes are synonymous with summer – they're pretty much the adult equivalent of Screwballs from Mr. Softie.
If I'm completely honest, Screwballs from Mr. Softie are still amazing as an adult. I would totally nosh down on one every. single. day. if our ice cream man didn't smoke cigarettes as he drove through the neighborhood. There's something about the familiar sound of the ice cream truck followed by a trail of smoke that can squash cherished childhood memories – immediately.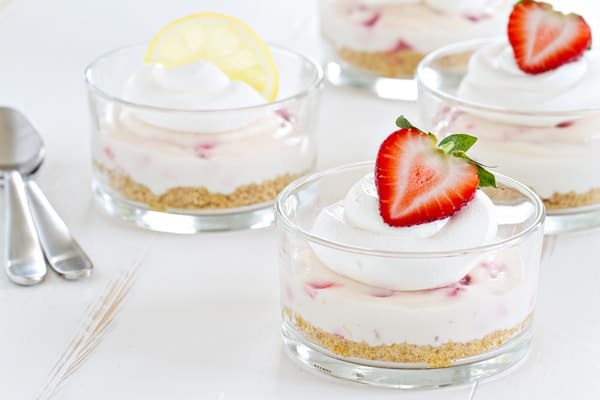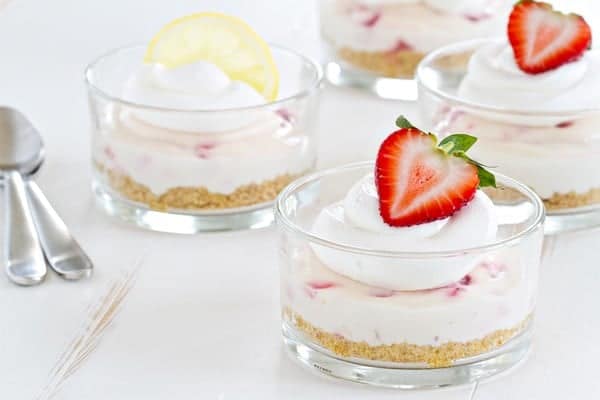 The beauty of no-bake cheesecakes is that they only require a handful of ingredients and they come together in minutes. And, hello – it's cheesecake that didn't require you to turn on your oven – how could you possibly resist?
I used fresh strawberries and lemon juice to really give these cheesecakes an absolutely huge pop of flavor. When I say you're gonna love these, and make them more than once this summer, I mean it. We already have them on the menu for a second time this week. Strawberry and lemon is a flavor combination Eric can't get enough of.
Best of all, these treats can be made ahead of time. You can dish these individual cheesecakes is small mason jars, then just slap lids on and stick them in the fridge until you're ready to transport them to the neighborhood barbecue or a picnic.
These No-Bake Strawberry Lemonade Cheesecakes are made with Challenge butter and cream cheese. I'm excited to partner with Challenge Butter as part of their ambassador program. If you've never tried Challenge Butter – you most definitely should. It's made with 100% real cream, so there is nothing artificial about it. And it's made from cows not treated with the Growth Hormone rbST. I can feel good about eating it, and so can you.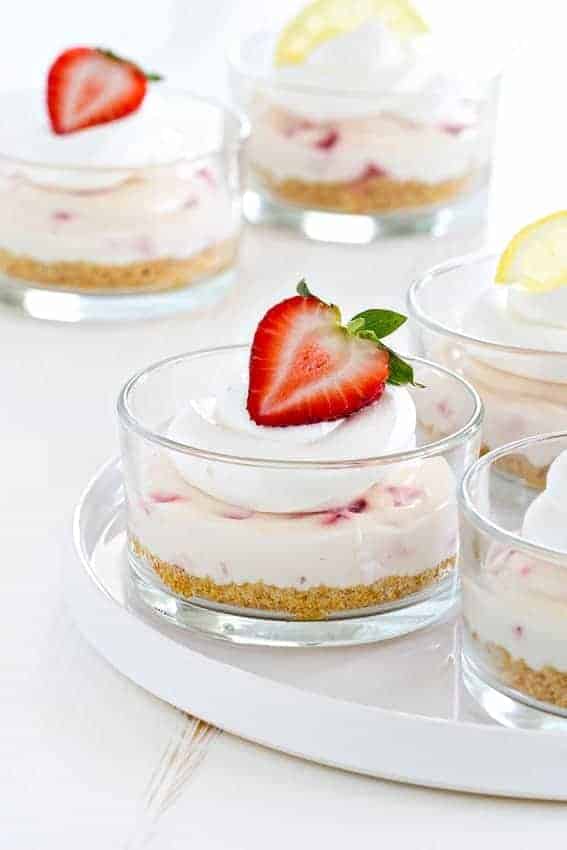 From No Bake S'mores Cheesecake to No Bake Cookies and Cream Cake, I've got a no bake cheesecake recipe for just about everyone. This Strawberry Lemonade version has shot straight to the top of my favorites list. I hope you love it!
This post may contain affiliate links. We are a participant in the Amazon Services LLC Associates Program, an affiliate advertising program designed to provide a means for us to earn fees by linking to Amazon.com and affiliated sites.