No-Bake Pineapple Cheesecakes
No-Bake Pineapple Cheesecakes are fun to make and are a refreshing twist on the traditional Pineapple Upside Down Cake, merging two favourites in one delicious dessert!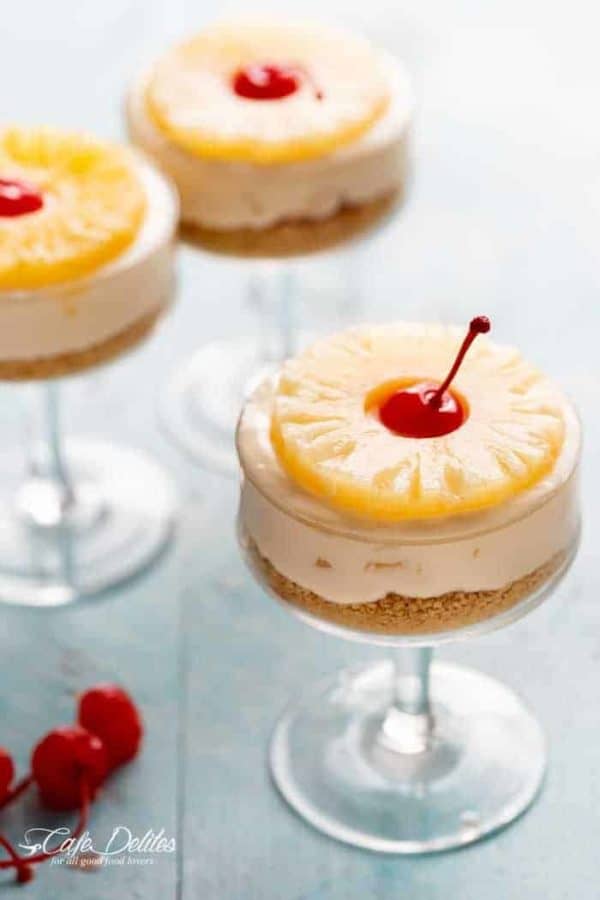 I've done it again. I created a hybrid of two favourites into one. Like that Blueberry Lemon Cheesecake Cake and the Carrot Cake Cheesecake, only this one is much more simple and in a glass with zero baking.
It's no secret how much I love cheesecake. Everything about the flavour of cheesecake completes my soul with every bite. But sometimes, I don't have the time to be baking and then waiting around all night to HAVE my beloved cheesecake. Which explains all of the No Bake Parfaits I have on this blog.  And also explains why so many people are constantly making them and sharing them with me over on Instagram.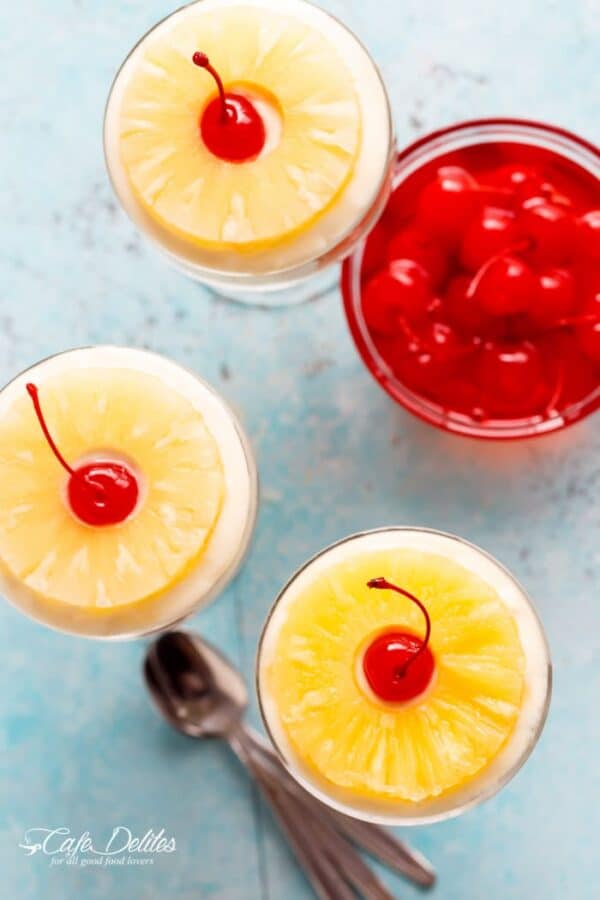 This is one of those recipes you can have in 30 minutes — including chill time — from start to finish. And perfect for warmer weather and Summery nights!
Everything you love about cheesecake in an individual serving glass, with each spoonful delivering a buttery graham cracker base, a creamy 'cheesecake' centre filled with juicy pineapple pieces, and a pineapple ring with a maraschino cherry to complete the Upside Down Pineapple craving.
The first time we tried a Pineapple Upside Down Cake was at an end of year work party, and from there I was hooked. I understood then the popularity of that cake. My husband didn't get it, which is no surprise since he doesn't really get any of my food affairs. 
BUT! To make that cake into a cheesecake-like dessert? Well, he liked this so much that he ate them all, which meant I had to make them all again for everyone else. Not that we minded.
To be honest, the second time around it landed in a big parfait bowl, which we shared while watching Friends. Don't judge me.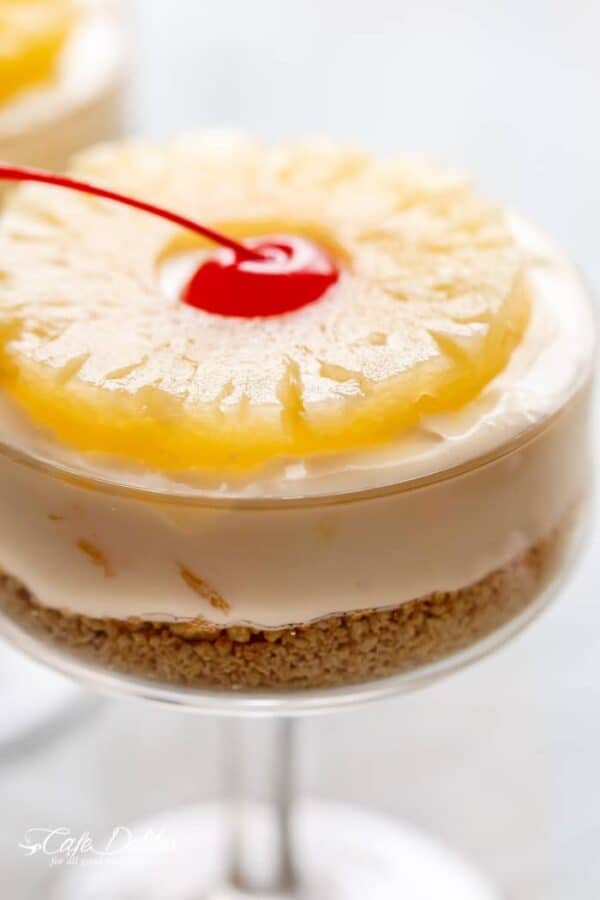 I think these no bake cheesecakes are, dare I say, even better than the actual cake! Don't shoot me.
If you're on the hunt for a quick dessert and can't for the life of you figure out what you want, (or need. Either one, really), then this is a dream come true. If you like pineapple. And cheesecake.
For more delicious no-bake cheesecake recipes, be sure to check out this No-Bake Nutella Cheesecake and No-Bake S'mores Cheesecake from My Baking Addiction.

No Bake Pineapple Cheesecakes
Yield: 4 servings
Prep Time: 10 minutes
Total Time: 40 minutes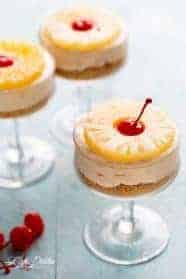 Ingredients:
For the Base:
1 cup graham cracker crumbs
1/4 cup butter, melted
1 tablespoon granulated sugar
For The Filling:
1 8-

ounce

 block cream cheese, softened

1/2 cup heavy cream
1/2 cup plain Greek yogurt
1/4 cup granulated sugar
1 teaspoon pure vanilla extract

8 ounces 

canned pineapple, crushed or finely diced and drained

extra pineapple slices, to garnish
Maraschino Cherries, to garnish
Directions:
Combine together the graham cracker crumbs with the melted butter and sugar. Set aside.
In a larger bowl, beat the cream cheese, cream and sugar with an electric mixer on medium-high speed setting until smooth and creamy. Fold in the yogurt, pineapple, and vanilla and mix well to combine.
Divide the crust mixture among 4 individual serving glasses and press into the base of each glass.
Repeat with the cream cheese mixture; cover and refrigerate for 15-30 minutes to chill.
To serve, garnish with the additional pineapple and a maraschino cherry in the centre of the pineapple ring.

24 Responses to "No-Bake Pineapple Cheesecakes"