No Bake Nutella Cheesecakes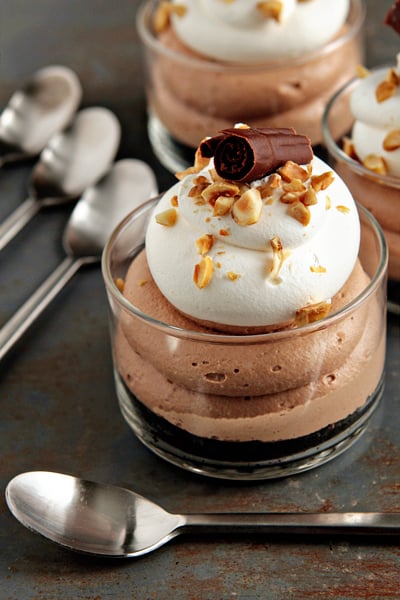 If you happened to catch my post on How To Skin Hazelnuts, you may remember me saying that I have reawakened my obsession with Nutella. You may also recall me stating that my pantry was in absolute disarray from the holidays. When I finally reorganized it, I happened upon a brand new jar of Nutella that had fallen behind my baking drawer – jackpot!
This little find rekindled my love affair with all things Nutella in a big way. The entire weekend turned into a pretty ridiculous Nutella recipe marathon. And I'm also a huge fan of no bake desserts, especially my No Bake Cookies. First in queue are these incredibly delicious and ridiculously simple No Bake Nutella Cheesecakes.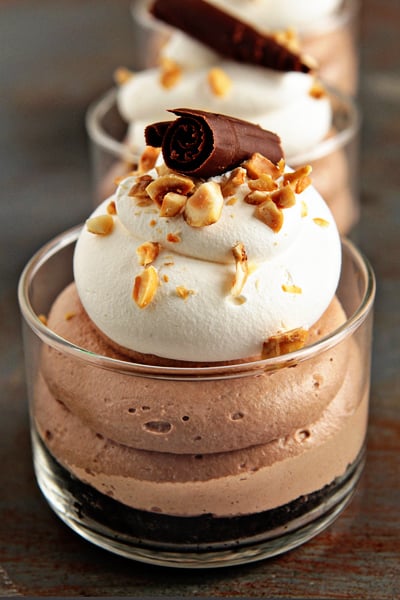 We invited friends over for a football game coupled with grilled cheese sandwiches and chili. This is definitely not the norm when we have guests, but it's what they requested – according to Dave, I make one hell of a grilled cheese. While Dave didn't request dessert, you simply can't come to our house for dinner without getting one. I used what I had on hand and created No Bake Nutella Cheesecakes.
Oreo cookie crumbs create the foundation for a creamy, fluffy Nutella and cream cheese mixture that you'll want to eat with a spoon straight from the mixing bowl with reckless abandon. Try to hold yourself back, though, because finished with chocolate curls and toasted, chopped hazelnuts, you'll have a quick, delicious dessert perfect for any meal – even weeknight grilled cheese!
[pinit]

This post may contain affiliate links. We are a participant in the Amazon Services LLC Associates Program, an affiliate advertising program designed to provide a means for us to earn fees by linking to Amazon.com and affiliated sites.