This classic no-bake cheesecake boasts a thick layer of light, fluffy filling on top of a classic graham cracker crust.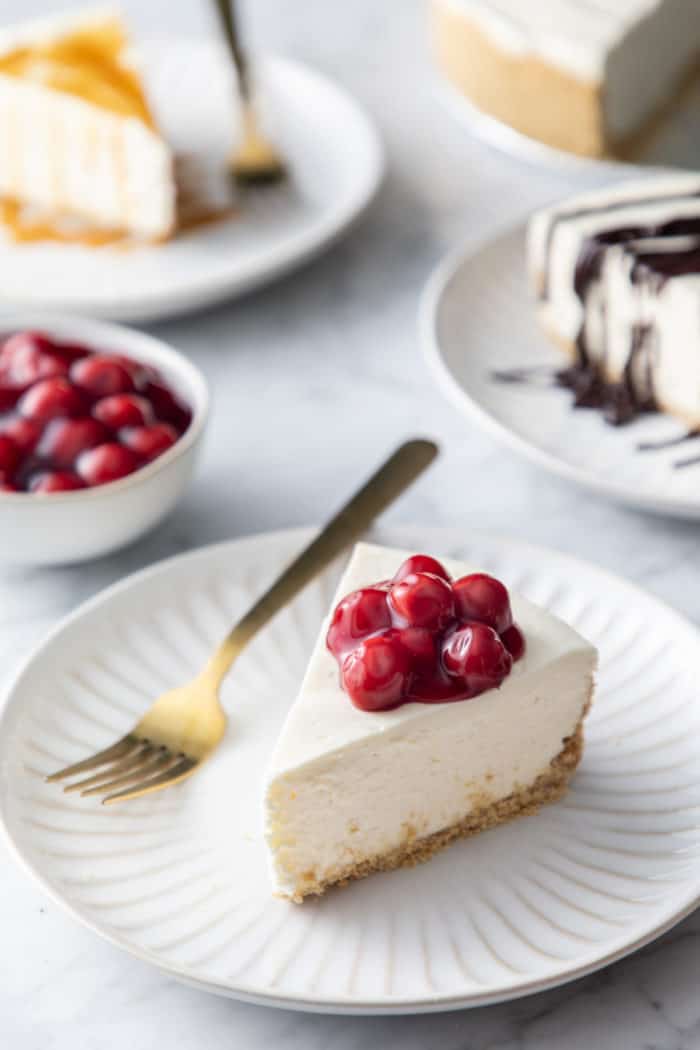 One of the absolute easiest recipes you can make for summer entertaining is No-Bake Cheesecake.
It's super easy to throw together, requires simple ingredients, and is perfect if you make it the night before you plan on serving.
I'm all for dessert recipes that need a little time to marinate overnight – like this brownie trifle and homemade lemon bars. I can whip them together the night before and then I don't have to worry about making a dessert the day we're hosting family or friends.
You can serve no-bake cheesecake plain, with fresh summer berries, or put out a variety of toppings to create a little cheesecake topping bar!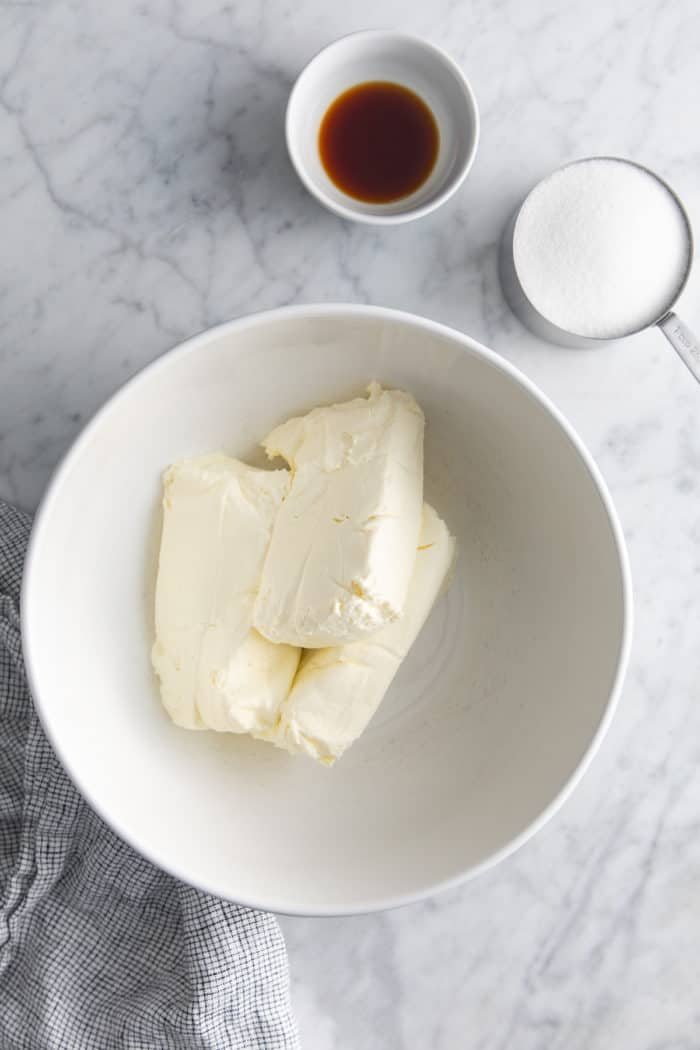 MY CLASSIC NO-BAKE CHEESECAKE RECIPE
I've made so many cheesecake recipes over the years that you would think eventually I would run out of variations on my favorite dessert.
But it hasn't happened yet and honestly, I don't think it's going to any time soon.
As much as I love making different types of cheesecake, sometimes I just keep coming back to the classics: recipes like vanilla cheesecake, classic cheesecake bars, chocolate cheesecake, and this no-bake cheesecake.
No-bake cheesecake is one of the best inventions ever. I mean, what's better than a fluffy, creamy cheesecake without ever having to turn on the oven?
That also means that it's a great recipe for kids or beginner bakers to make.
And because the filling is so classic, you can top this cheesecake however you like to make it your own!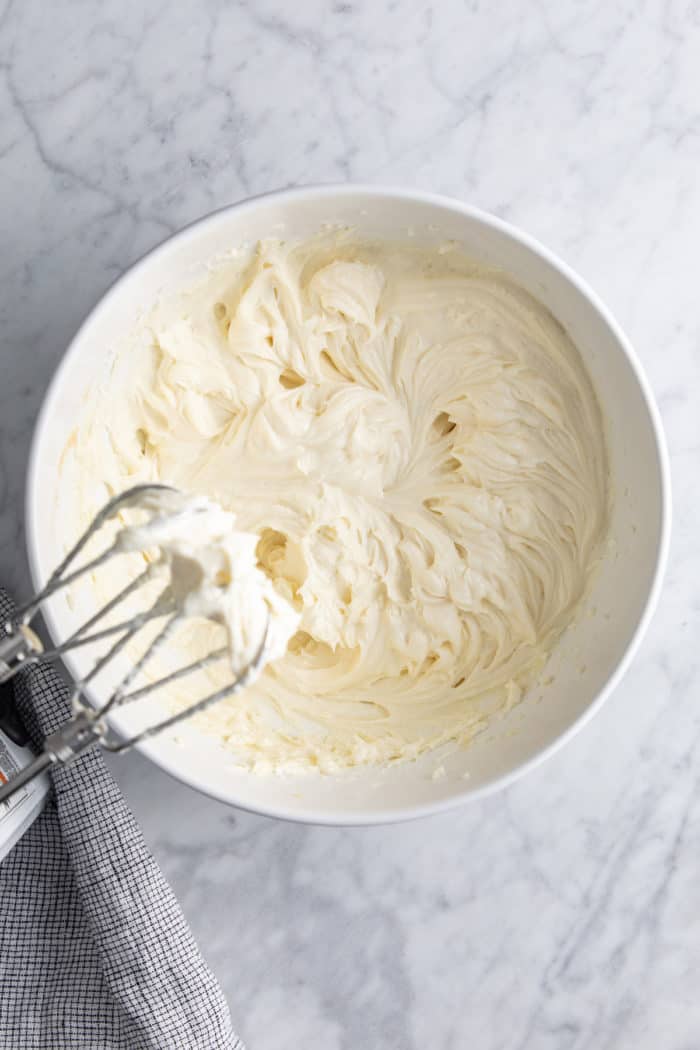 HOW TO MAKE NO-BAKE CHEESECAKE
Where baked cheesecake is dense, rich, and super creamy, no-bake cheesecake is light and fluffy. They're both delicious, but so different from each other!
Let's talk through how to make this no-bake wonder.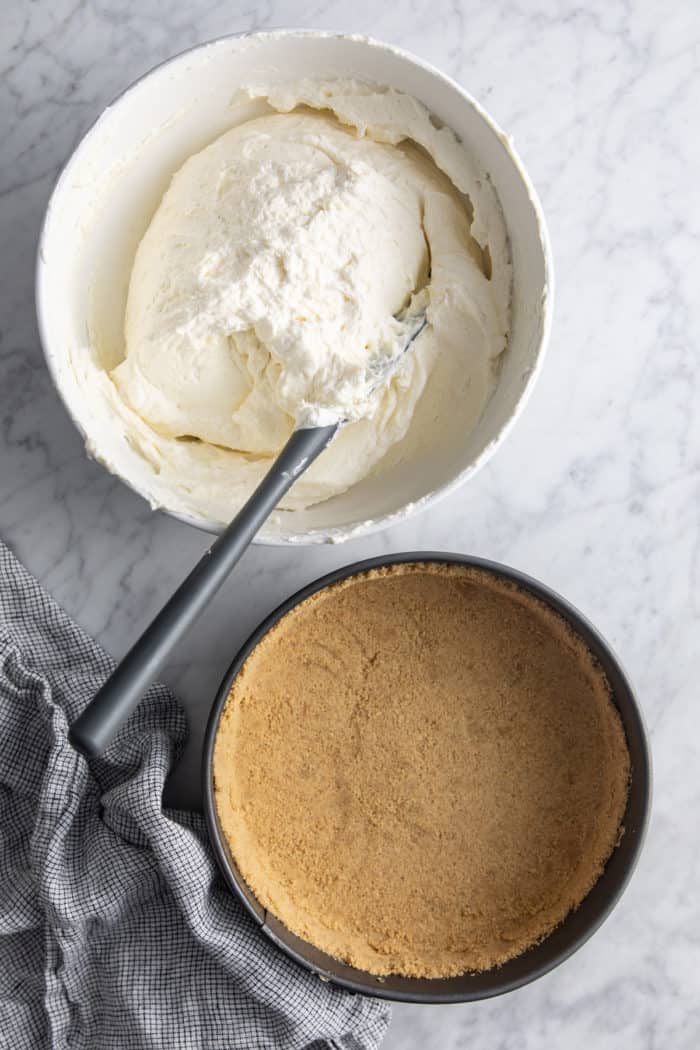 Ingredients you'll need
Another benefit of this no-bake cheesecake recipe (besides being able to avoid using the oven) is that it only requires a small handful of ingredients.
To make your no-bake cheesecake filling, you'll need:
24 ounces cream cheese, room temperature
1 cup granulated sugar
2 teaspoons vanilla extract
1 1/2 cups heavy whipping cream
Yeah, you read that right. The filling has just 4 ingredients!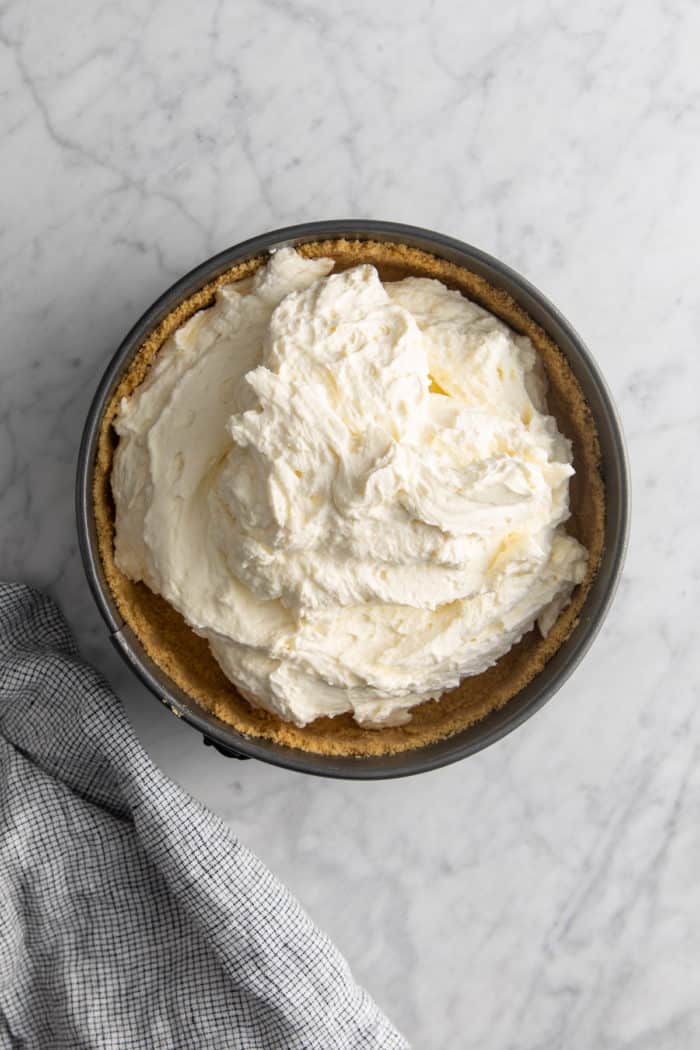 I throw together a simple no-bake graham cracker crust, but you could swap that out for any cheesecake crust you like.
Try the pretzel and pecan crust from my strawberry pie or even the almond-graham cracker crust from my lemon cheesecake.
You could even just use a store-bought graham cracker crust if you want!
Make sure the cream cheese is nice and soft before you start on this cheesecake. If you forget to set it out ahead of time, you can check out my tips for how to soften cream cheese to speed up the process.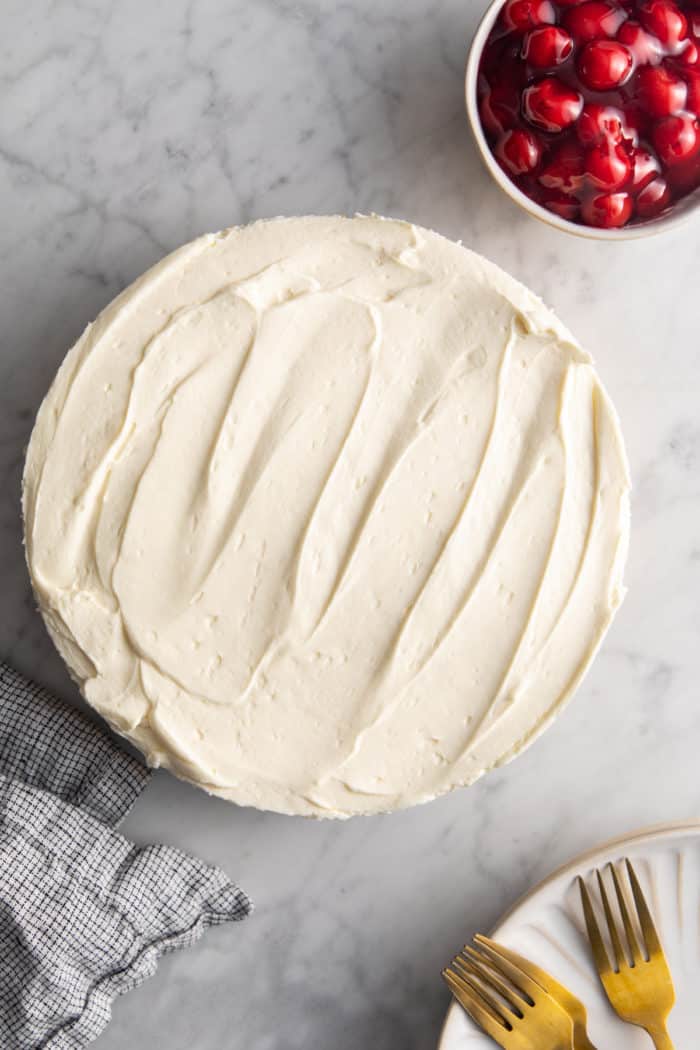 Making this recipe
If you're making the crust as written in this recipe, you'll mix together the graham cracker crumbs, melted butter, and 3 tablespoons of sugar.
Press this mixture into a 9-inch springform pan. I like to use the flat bottom of a glass or measuring cup to help make sure the crumbs are really evenly distributed and nicely packed.
Pop the pan into the refrigerator to chill while you prepare the filling.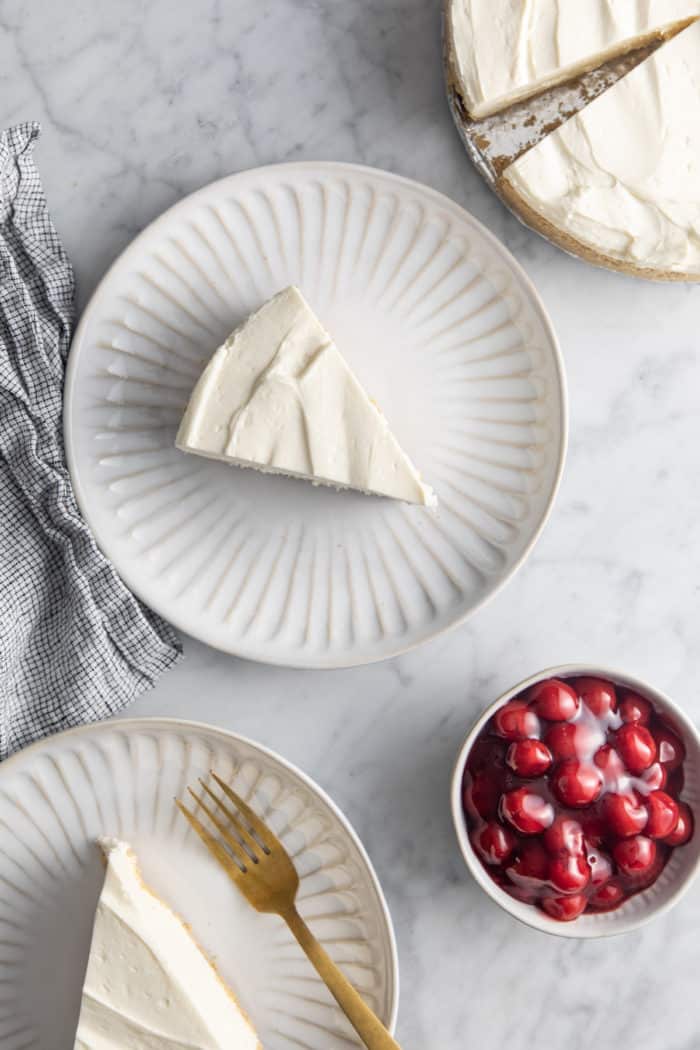 Use an electric mixer to beat together the cream cheese, 1 cup of sugar, and the vanilla extract. Make sure this is nice and smooth.
Grab another bowl and use the mixer to whip the cream until stiff peaks form. Use a rubber spatula to gently fold the whipped cream into the cream cheese mixture.
Once the filling is well combined, gently spread it into the crust and refrigerate the cheesecake for at least 4 hours before serving. This will give the filling time to set up so you can cut perfect slices!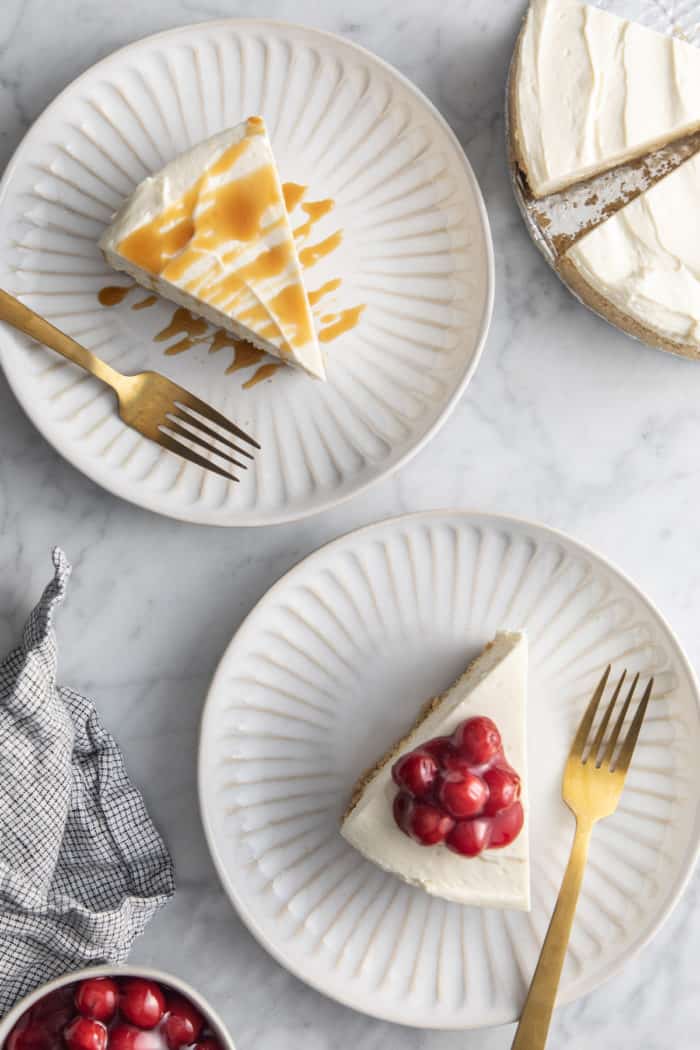 TOPPING SUGGESTIONS
There are so many ways to top this no-bake cheesecake. You can add a topping to the entire cheesecake just before serving or let everyone pick the topping they'd like for their individual slices.
Some of my favorite options are:
This cheesecake is also delicious enough that you can dig into it without any topping at all. It's all up to you!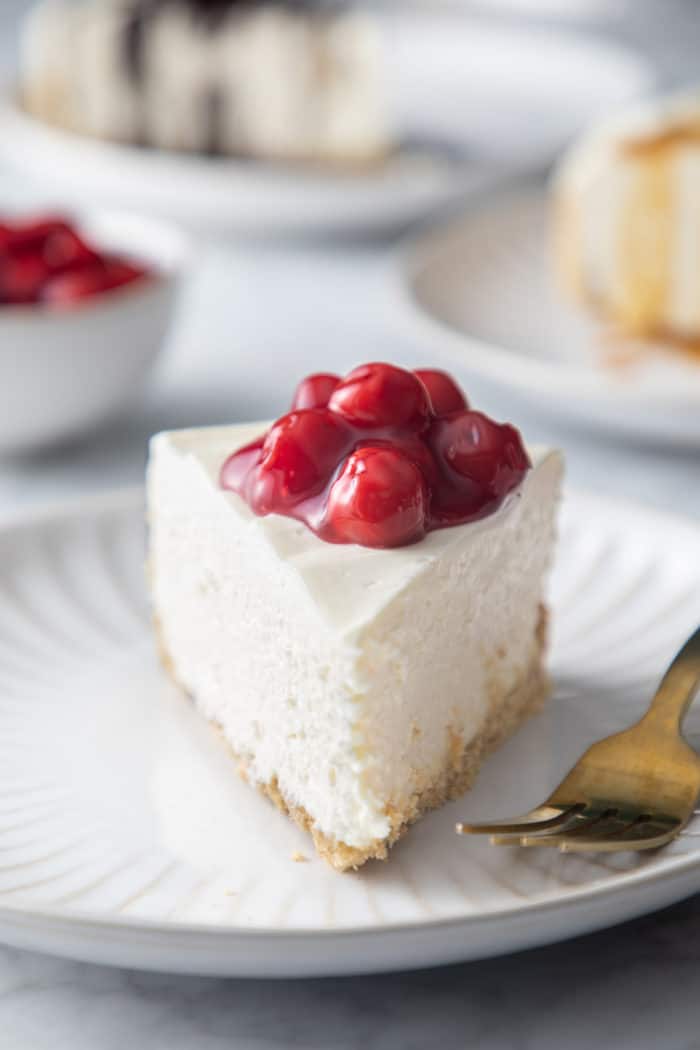 MORE NO-BAKE CHEESECAKE RECIPES
If this easy no-bake cheesecake is one that you love, try branching out and trying other flavors! Below are some of my favorite no-bake cheesecake recipes to get your creativity flowing – there's a little something for everyone here!