No bake cheesecake a.k.a. easy deliciousness. One of the few co-workers of mine that knows of my blog asked me about a "thick, fluffy, creamy cheesecake…like the kind you get at Mediterranean diners." I had absolutely no idea what she was taking about. I love Mediterranean food, but never order dessert from my favorite place… I order hummus. I love hummus!
Also loving a challenge, I hit up twitter. If you follow me, you may remember me posing this question. If you don't follow me, please do so, that way you can assist with my cooking conundrums in the future. Believe me, I have many of them! My twEATers didn't really have answers, so I turned to my good friend, google!
The google search also left me sort of empty handed and I decided to just get in the kitchen and whip something up loosely following a recipe from allrecipes. I quickly snapped a couple of photos with my iphone and sent them to the original co-worker that asked me about the recipe. She responded and said it looked very similar – needless to say I was quite happy that it at least somewhat mimicked her description.
Unfortunately, Danielle never got to taste the cheesecake to make the comparison, but I am sure she will try whipping up this easy recipe in the future! In my opinion,the result was pretty damn good. Thick? Check! No Bake? Check! Fluffy? Check! Creamy? Oh yeah! I felt as though this was a successful dessert and will definitely make it again.
Have a fabulous day, thanks so much for stopping by!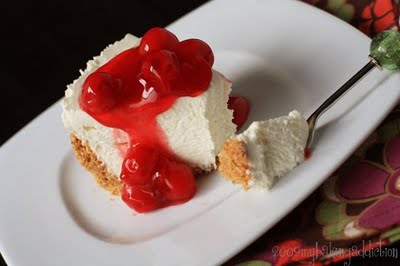 No Bake Cheesecake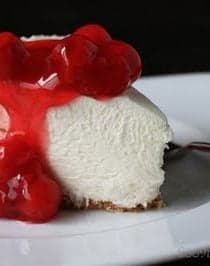 Ingredients:
1 1/2 cup finely ground graham cracker crumbs
3 tablespoons butter
3 tablespoons white sugar
12 ounces cream cheese; room temperature
1/3 cup plus 3 tablespoons *vanilla sugar (see notes below)
3/4 cup heavy whipping cream, whipped
Directions:
1. In a bowl, mix together the graham crackers with melted butter and the 3 tablespoons sugar.
2. Press into a *6 inch springform pan (botton and sides). Place in refrigerator until ready for use.
3. In another bowl, beat cream cheese, 1/3 cup plus 3 TBS of vanilla sugar.
4. Whip cream, and fold into cream cheese mixture.
5. Spread into pan.
6. Refrigerate at least 4 hours before serving.
7. Top with fruit topping and enjoy.
Notes:
- I made vanilla sugar using 2 1/2 pounds regular sugar and 2 vanilla bean pods. I mixed the sugar and vanilla bean pods in a sugar canister and let the flavors meld for a couple of weeks. Give it it a stir every so often and add more sugar as you use you supply! This easy concoction is awesome in coffee, sprinkled on berries or cereal! If you do not have vanilla sugar, use regular sugar and simply add a teaspoon on pure vanilla extract to the batter.
- I used a 6 inch spring-form because I wanted a thick cheesecake. If you use a larger pan, your cheesecake will obviously be thinner than the one pictured.
All images and text ©
Follow Jamie on Instagram. We love to see what you're baking from MBA! Be sure to tag @jamiemba and use the hashtag #mbarecipes!
[pinit]