Sweet, creamy no-bake vanilla cheesecake with a cookie crust and topped with cracked sugar topping is reminiscent of creme brulee, but without any baking required! No-Bake Cheesecake Bars with Cracked Sugar Topping is a dessert you'll want to make throughout this holiday season.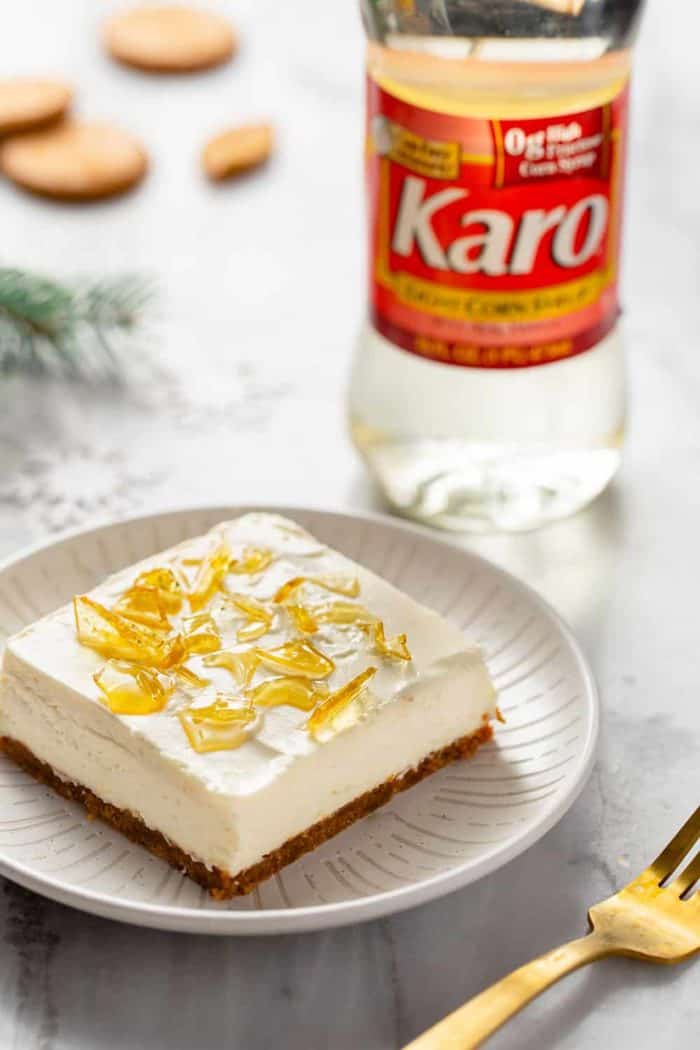 Maybe you've noticed by now…I have a little obsession with cheesecake recipes.
My family has noticed this about me as well. Even long before I was sharing recipes with you on this site, I was bringing some sort of cheesecake to nearly every family get-together. It didn't take long for my cheesecakes to become something of a family tradition.
In fact, I think by now my family asks me to bring dessert because they're craving cheesecake. From classic Vanilla Cheesecake to Key Lime Cheesecake and everything in-between, they know I'm going to have a cheesecake recipe for every season of the year.
So I couldn't disappoint everyone by not having a new cheesecake recipe to share this holiday season!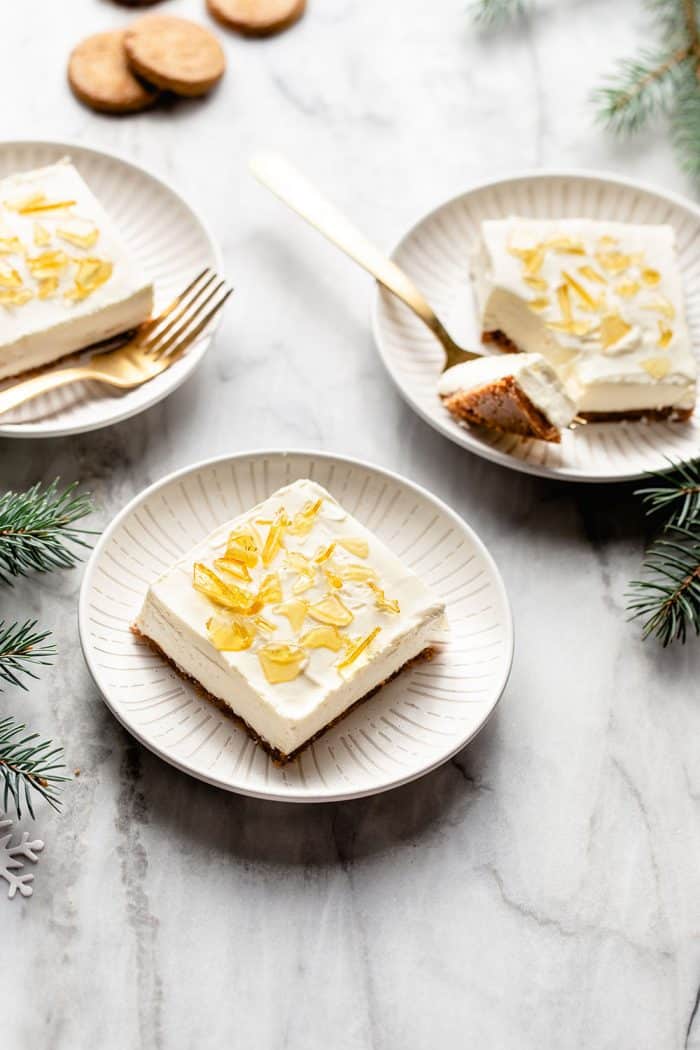 NO-BAKE CHEESECAKE BARS
Since the oven is pretty much always in use from mid-November through New Year's around here, I decided that a no-bake recipe was the way to go this year.
That way, I can be baking up a batch of Granola Cookies or Peanut Butter Blossoms to share with the neighbors or Garlic & Herb Parker House Rolls for dinner and STILL have cheesecake in the works.
It's all about multitasking over here. And making sure we can have cheesecake at the end of the day.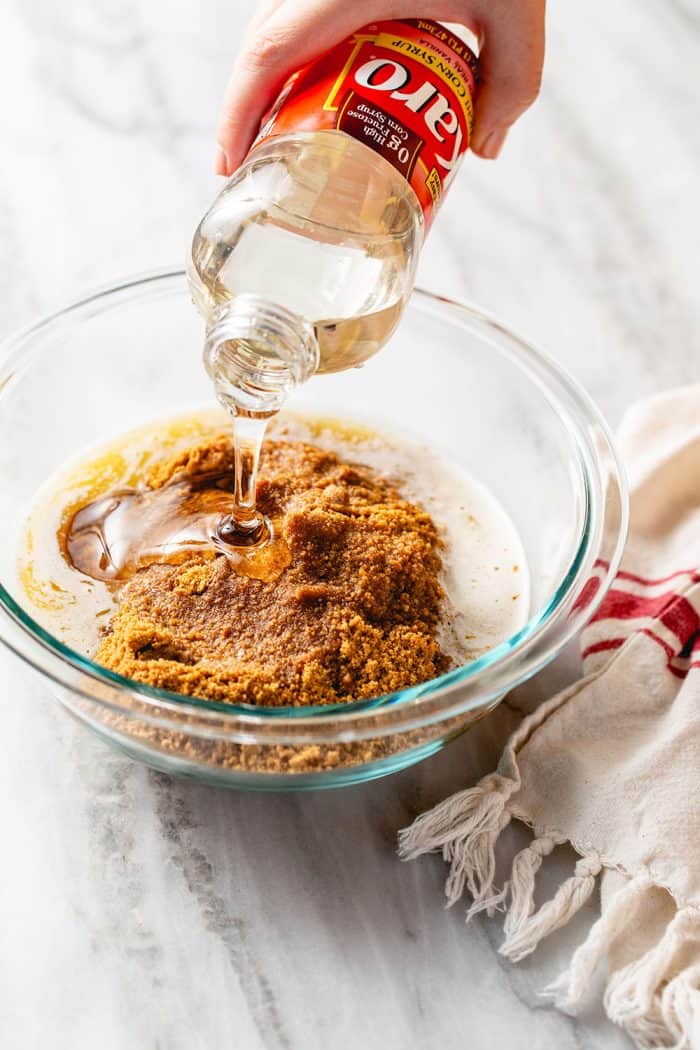 To make these No-Bake Cheesecake Bars extra luscious for the holidays, I used a bit of Karo® Corn Syrup in all three parts of the recipe: the crust, filling, and topping.
Instead of a traditional graham cracker crust, I decided to use a gingersnap cookie crust. The gingersnaps add a rich flavor, and a touch of Karo® Corn Syrup helps bind the crust together, which is especially important since we won't be baking the crust.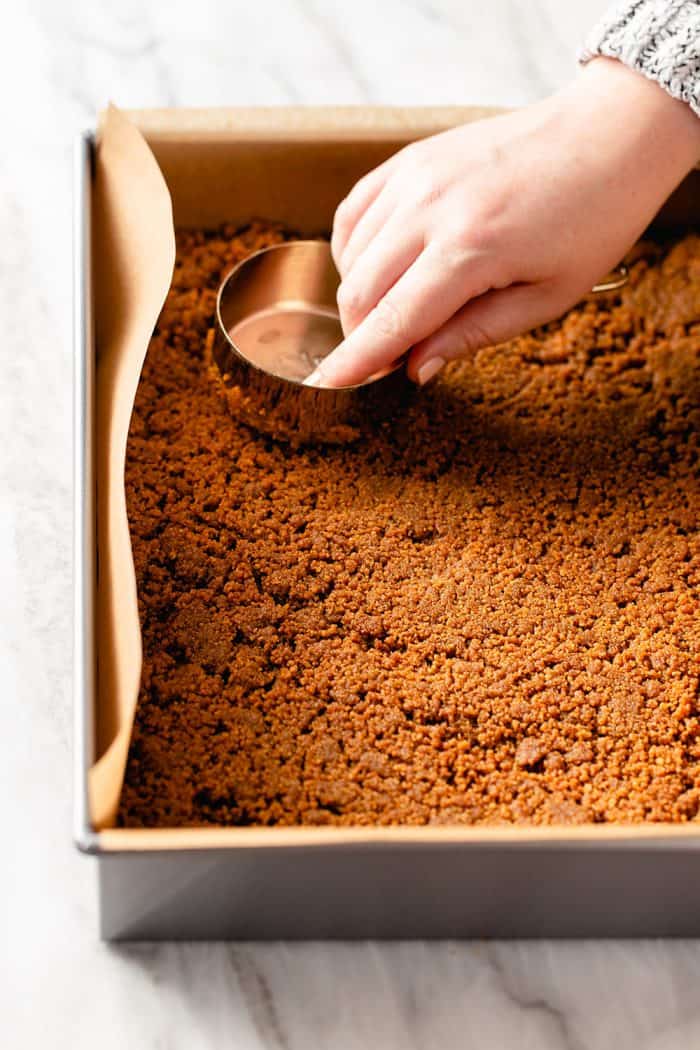 For the filling, a combination of powdered sugar and Karo® Corn Syrup sweetens the cheesecake without leaving a gritty texture. By using this combo, we'll be sure to have a silky-smooth filling.
In my opinion, cheesecake has to have a perfectly sweet and perfectly smooth filling, and these No-Bake Cheesecake Bars absolutely meet both of those requirements.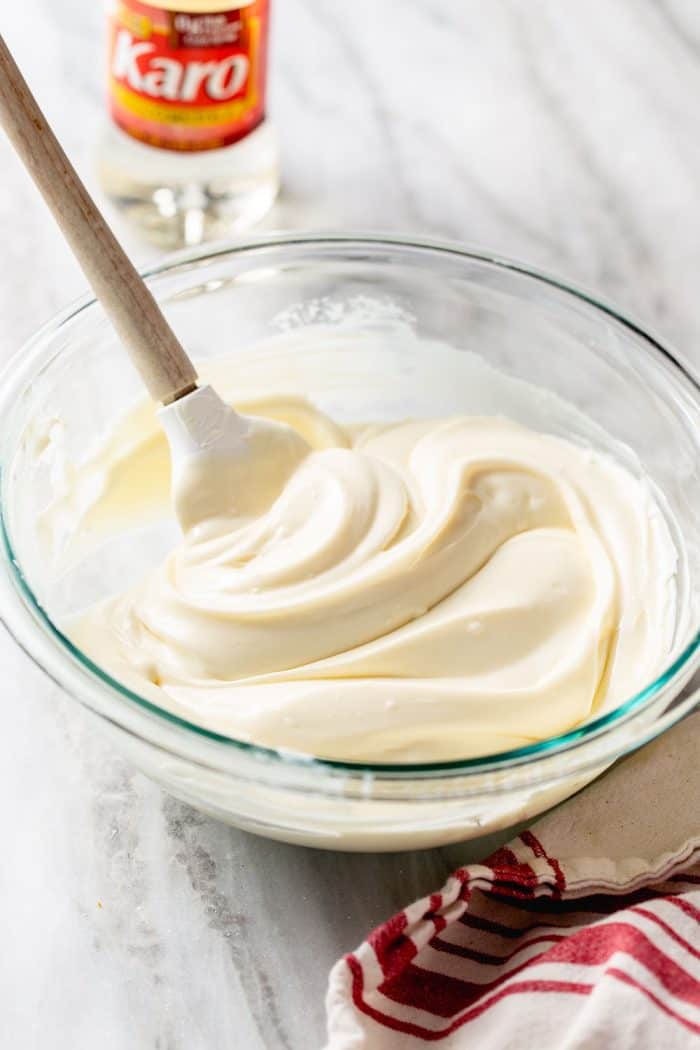 WHAT IS CRACKED SUGAR TOPPING?
But what really makes these cheesecake bars stand out from the crowd is the cracked sugar topping.
This topping is magical stuff, you guys.
We're essentially going to make a caramel that we then break into pieces for the top of the cheesecake. The cracked sugar topping itself tastes like the top of a creme brulee.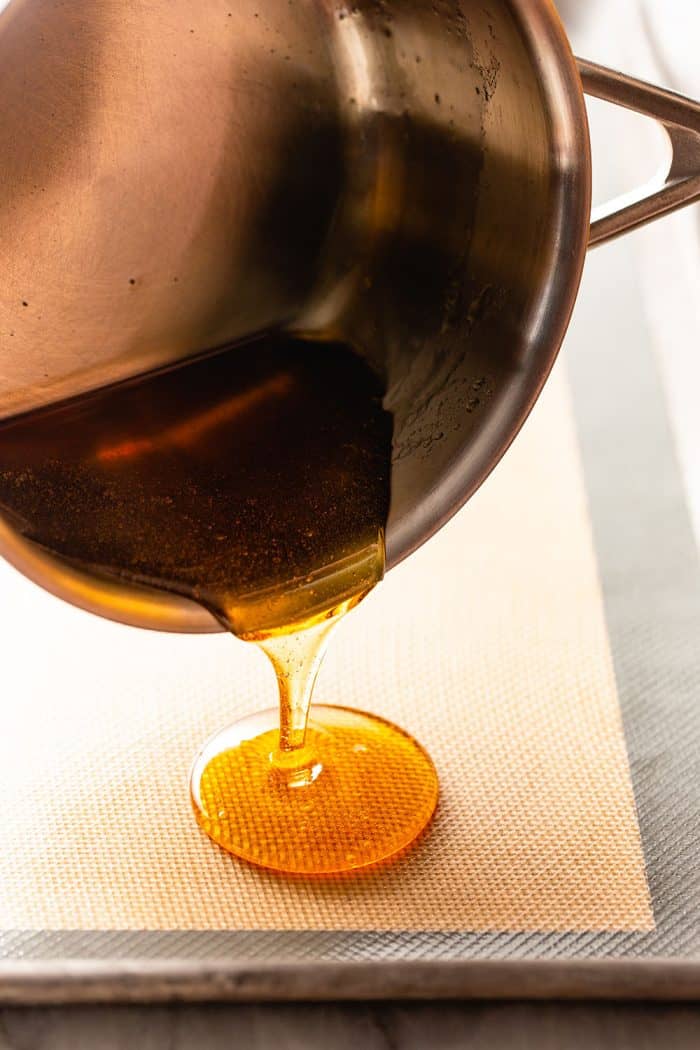 When it's added to the top of the bars, they taste just like a creme brulee cheesecake.
Caramel can be kind of anxiety-inducing to make, which is why I used Karo® Corn Syrup here as well. Using just a bit of Karo® Corn Syrup helps keep the sugar from crystalizing, making the whole process much less fussy.
Plus, the topping almost sparkles, which is perfect for the holiday season, right??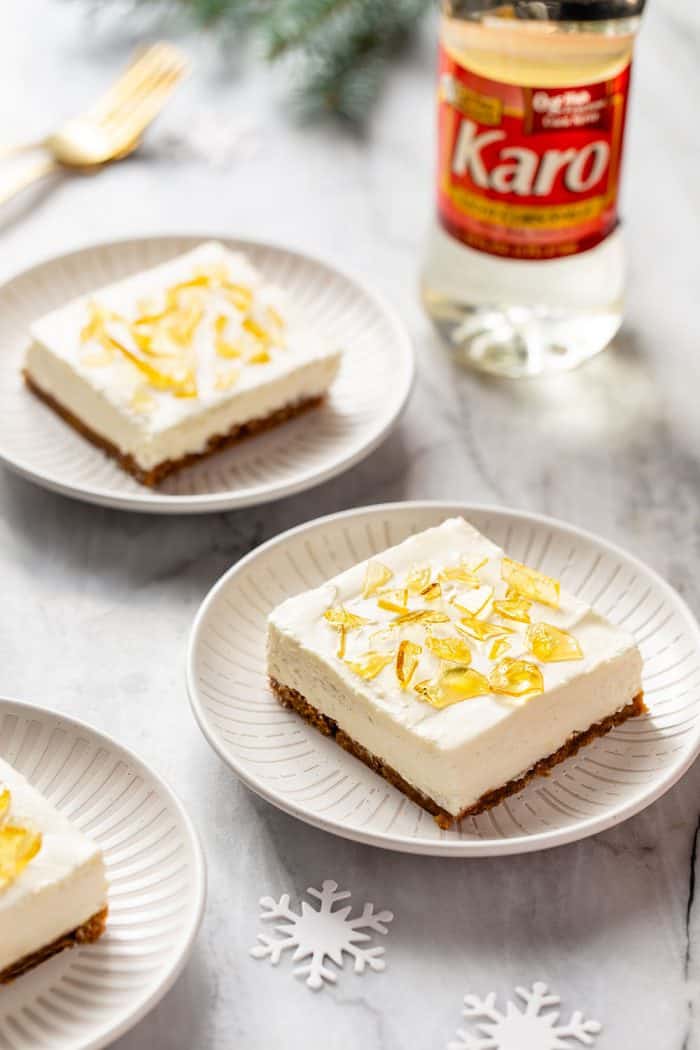 HOW TO MAKE THESE NO-BAKE CHEESECAKE BARS
Even though the cracked sugar topping and the creme brulee flavor of these No-Bake Cheesecake Bars make them seem like they were hard to make, in reality they're totally easy.
How easy? To make No-Bake Cheesecake Bars, all you have to do is mix together the crust and press it into a 13×9-inch pan.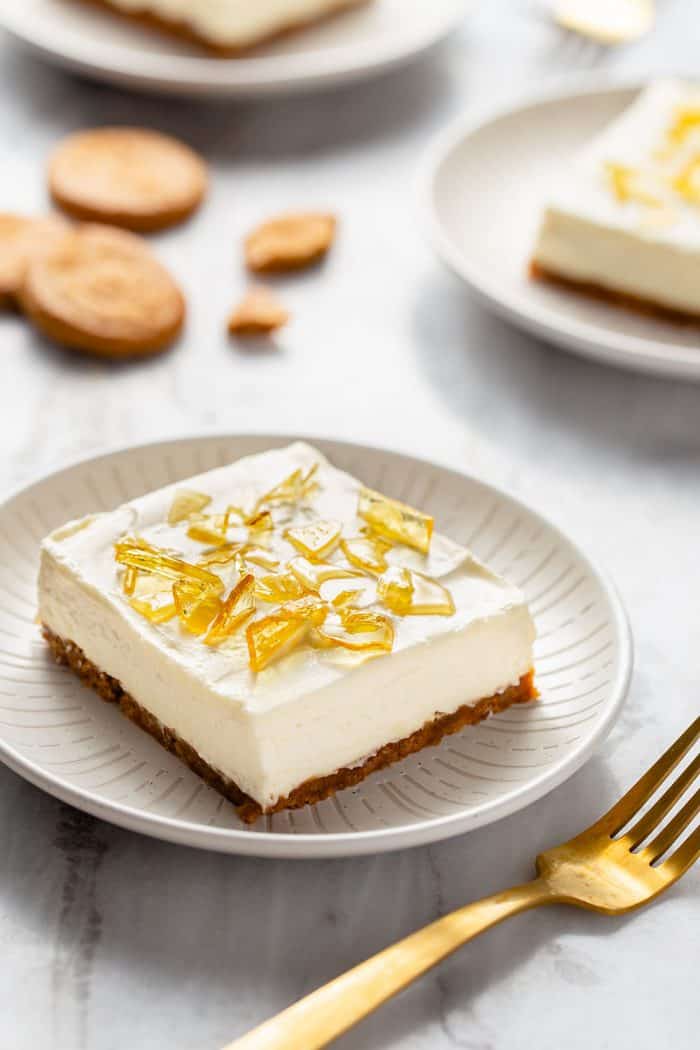 Then beat together the filling ingredients and spread the filling evenly over the crust. Cover and chill the cheesecake bars for at least 8 hours.
Before serving, make the cracked sugar topping by cooking the ingredients in a saucepan over medium heat until golden amber in color.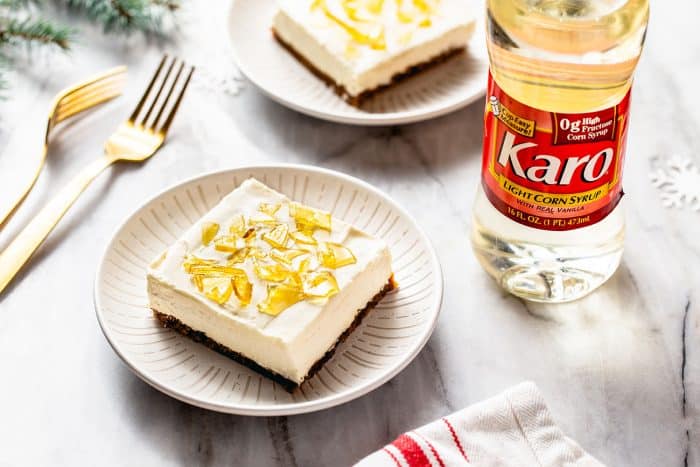 Pour the sugar topping onto a lined baking sheet and let it cool, then crack with the back of a spoon and add to the top of the cheesecake!
A few tips for making sure these bars come out perfect every time:
Use parchment paper to make a "sling" across the bottom of the pan. This will help you lift the bars out after they're chilled and make cutting them so much easier.
Wait to top the bars with the cracked sugar topping until just before serving. If you plan to serve all of the bars at once, you can add the topping before slicing. Otherwise, I recommend slicing the bars and topping only those you plan to eat right away.
If you don't love the flavor of gingersnaps, try using graham cracker crumbs in the crust instead!