Coconut graham cracker crust topped with Key Lime Cheesecake filling and a swirl of whipped cream creates a simple and delicious dessert for every summer occasion.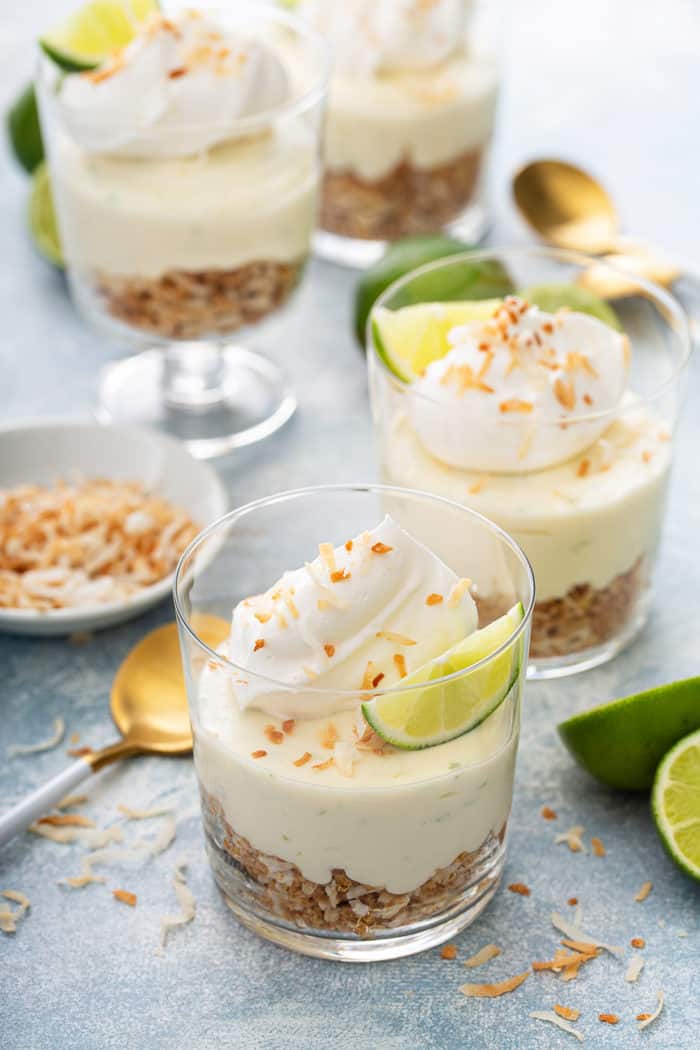 In my opinion, there is really no flavor combination that screams summer quite like key lime and coconut.
These Key Lime Cheesecakes are the perfect quick dessert for a backyard barbecue or just a random Monday night sweet treat!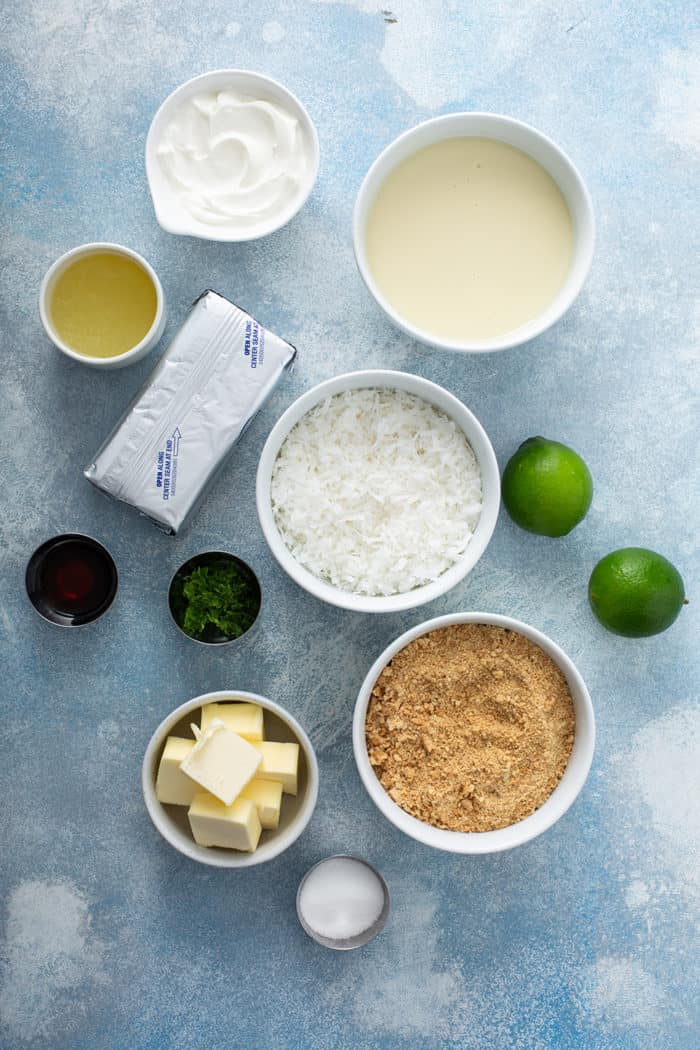 KEY LIME CHEESECAKE WITH COCONUT GRAHAM CRACKER CRUST
I first discovered this recipe in the cookbook Glorious Layered Desserts by my friend Glory of Glorious Treats.
I love key lime anything – I could eat Key Lime Pie Ice Cream all summer long – and really love when it's combined with coconut.
This Key Lime Cheesecake reminds me a lot of my Key Lime Pie Bars, but with the added bonus of being cheesecake. You know my love of cheesecake recipes.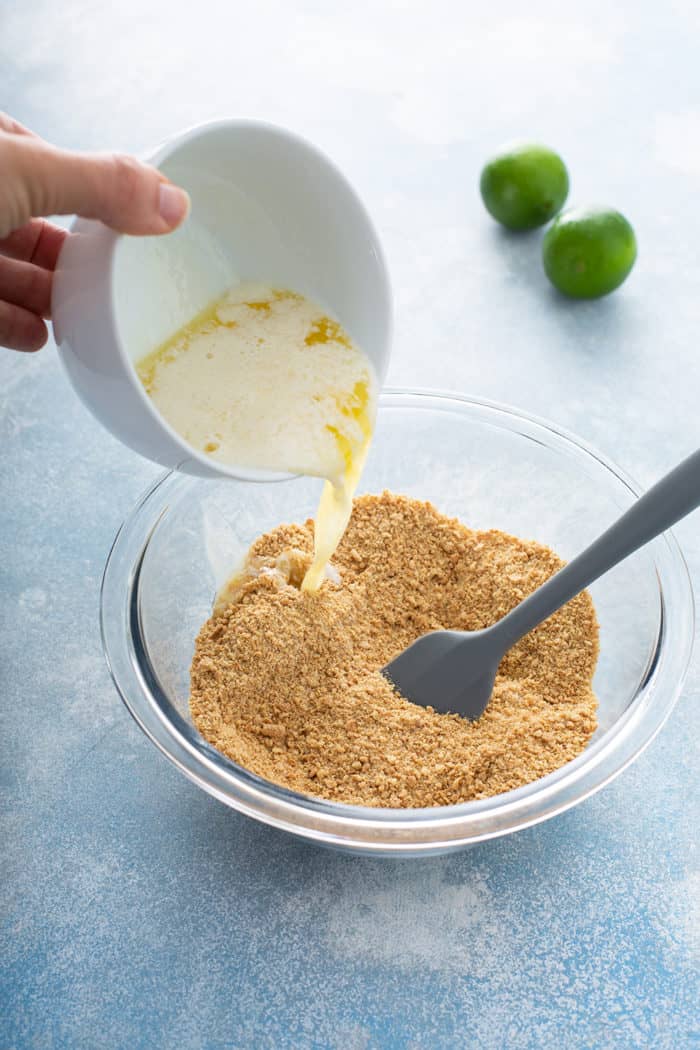 The crust for this recipe is a twist on the classic graham cracker crust: it's got the addition of coconut and is baked into a yummy crumble. Actually, this crumble would be amazing over ice cream.
Even though the crust is baked, this is a no-bake cheesecake filling. If you really don't want to turn on the oven, you could use the crust from my No-Bake Raspberry Lemon Cheesecake.
But for me, that added coconut flavor is everything with the tart key lime filling, so I'll stick with this coconut graham cracker crumble.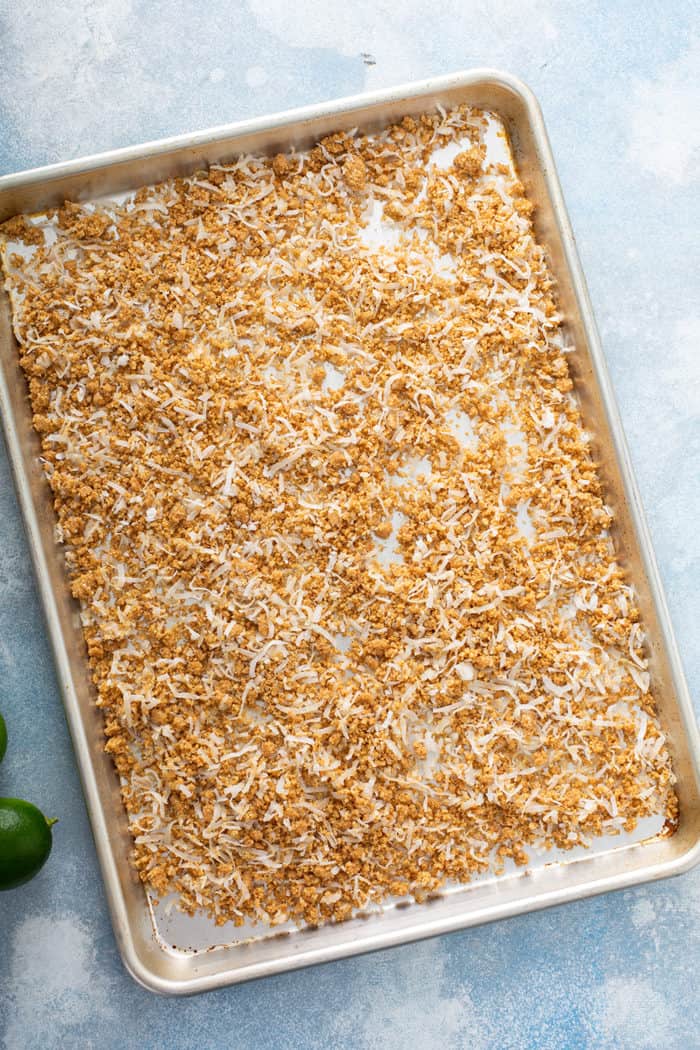 WHAT IF I CAN'T FIND KEY LIMES?
Finding fresh key limes at the store can be hit or miss. And honestly, those little key limes are kind of a pain to juice anyway.
So here's my secret: I buy key lime juice instead of fresh key limes.
My grocery store carries Nellie & Joe's key lime juice, but any brand you find should work just fine. I usually find it in the produce section at my store.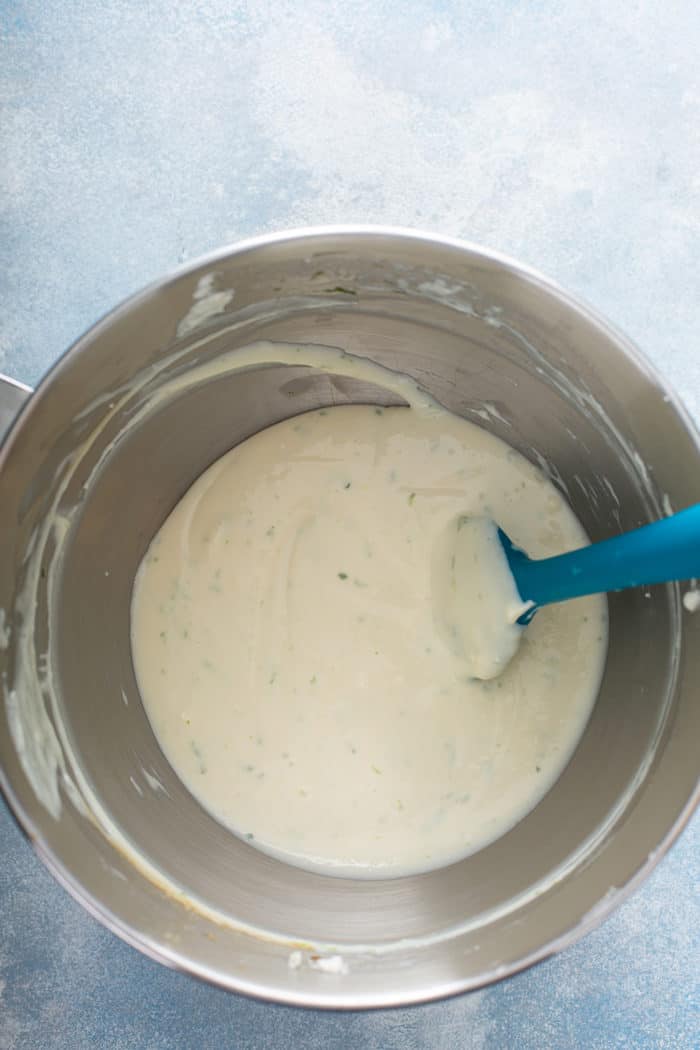 If you do want to use fresh key limes, here's a tip for juicing them: Use a (clean) garlic press to juice those tiny little suckers!
If you still can't find key lime juice, regular fresh lime juice will work in this recipe. You'll probably need about 3-4 limes to get the ¼ cup of juice for this cheesecake.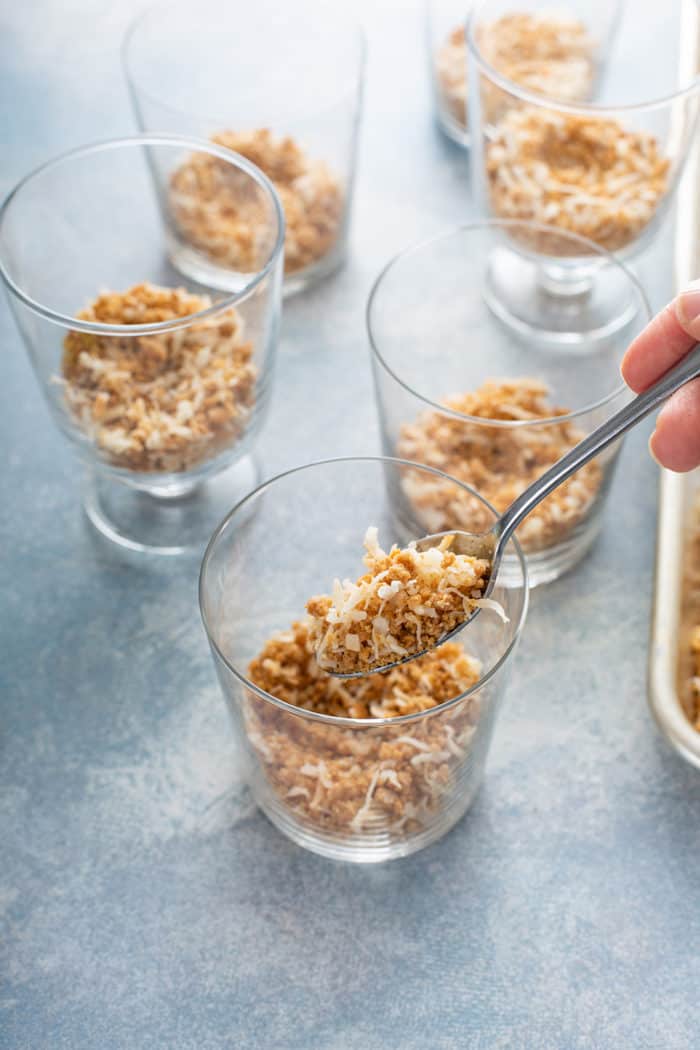 HOW TO MAKE KEY LIME CHEESECAKE FILLING
This tangy key lime filling uses a lot of the same ingredients as a traditional key lime pie, but with the added tanginess of cream cheese:
1 (8-ounce) block cream cheese
1 (14-ounce) can sweetened condensed milk
1/4 cup fresh lime juice (you'll need 3-4 limes on average), or key lime juice
1 teaspoon lime zest, finely chopped
3 tablespoons Greek yogurt or sour cream
1 teaspoon vanilla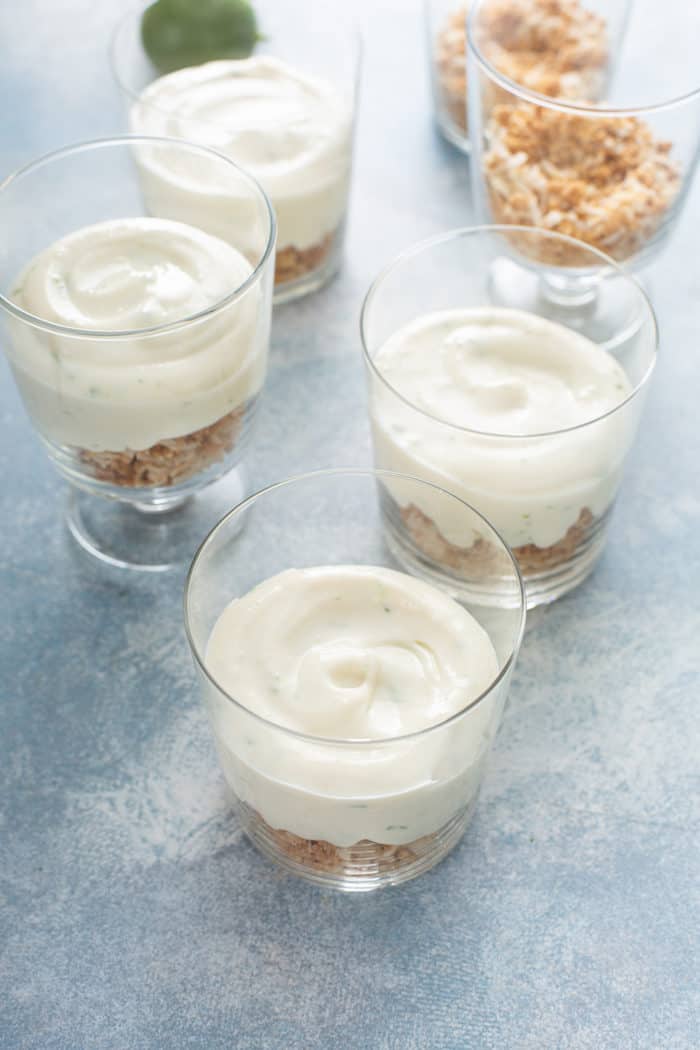 You can use sour cream or Greek yogurt interchangeably in the filling, so use whichever you prefer or have on hand. Just make sure you use Greek yogurt because it is thick like sour cream.
To make the cheesecake filling, beat the cream cheese until smooth, then slowly add in the sweetened condensed milk while mixing. Mix until everything is fully combined and smooth.
Add the key lime juice and continue to blend. Add the yogurt or sour cream and the vanilla, then mix until everything is well combined.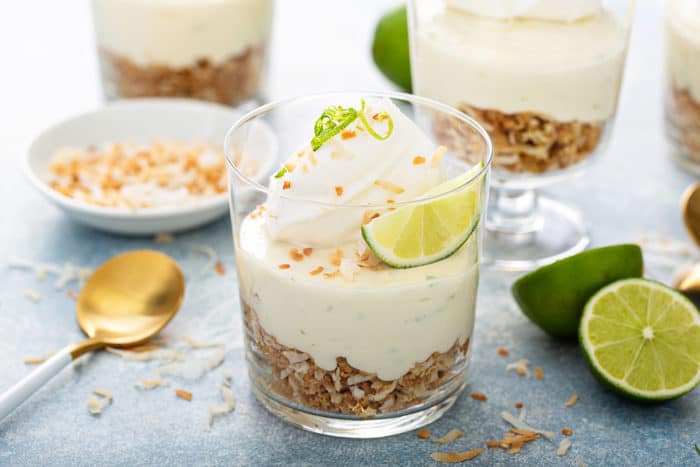 If you want to make individual cheesecakes, divide the coconut crumble into your desired containers and then top with the key lime cheesecake filling. If you don't have small containers, large bowl or even a trifle dish would work well!
Chill the cheesecake for at least 3 hours. Before serving, I recommend topping it with homemade whipped cream and some toasted coconut for extra coconut flavor.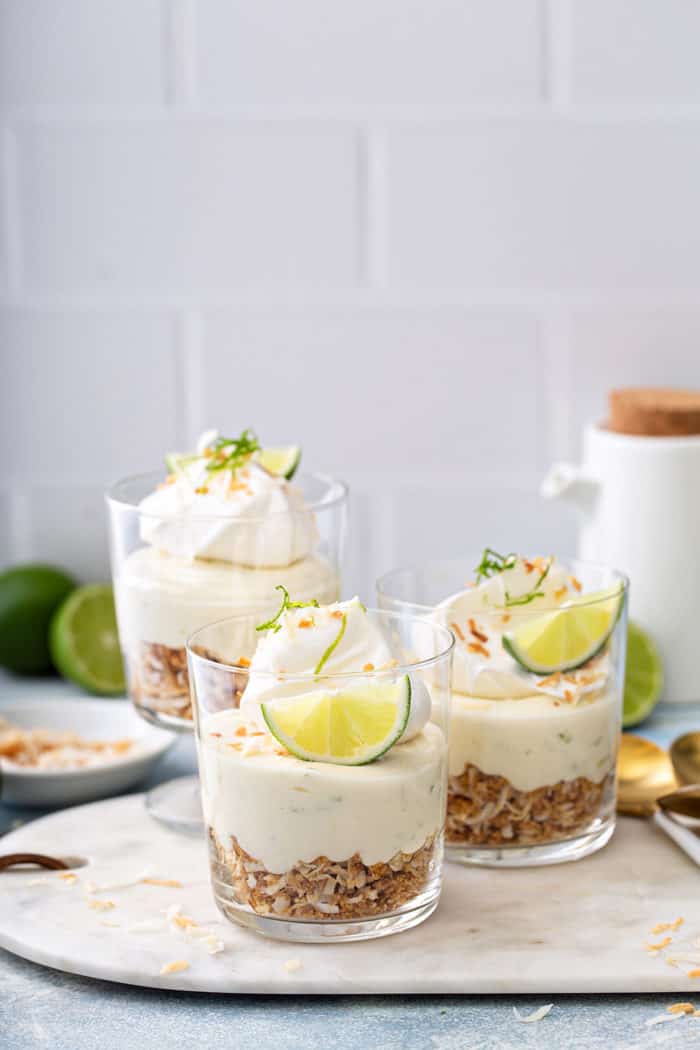 CAN I MAKE THIS CHEESECAKE AHEAD OF TIME?
This Key Lime Cheesecake is perfect for making ahead. The coconut graham cracker crumble will keep in an airtight container for up to a week, so you can prep that several days ahead of time.
The filling needs to chill for at least 3 hours but you could easily make it the night before if you wanted to.
Just wait to top the cheesecakes with the whipped cream until just before serving. With that fresh whipped cream, no one will know you didn't make the cheesecakes just minutes before!