Lip Smacking Lemon Bars…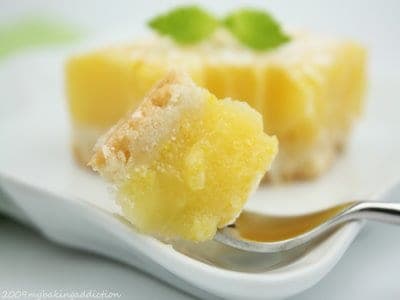 I am a big fan of lemon desserts…I love the twang it leaves in your mouth and the look it can leave on your face! I will eat rich chocolate desserts, but I would forgo them any day of the week for something fresh and fruity! However, I rarely eat more than a few bites of what I bake and the rest gets passed on to co-workers, friends and family. Most of those food consumers are not big on the fruit especially lemon…they want chocolate, cheesecake, peanut butter, etc. This can pose a problem for me when I am craving something tart and fruitastic. Most of the time a few Starburts will do the trick, but sometimes they will not cut it! While at the market on Tuesday a big bag of bright yellow lemons caught my eye and I knew exactly what my plan was!
If you read Em's blog, The Repressed Pastry Chef you know she has a slight obsession (yes, Em, you are obsessed) with lemons and recently posted two lemon bar variations. After talking to her she told me to try the shortbread crust from this post along with Ina's filling recipe. Well that is exactly what I did and let me tell you…the results were freaking amazing! Even my lemon dessert hating boyfriend ate these and thoroughly enjoyed each morsel! So if you love lemon and have a hankering for something fresh and delicious make these lip smacking lemon bars!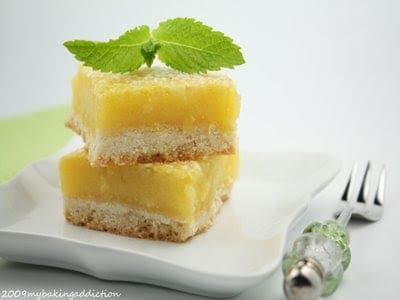 Lemon Bars
Adapted from Ina Garten and Cook's Illustrated Magazine, May, 1998
Ingredients
The Crust
1 3/4 cups all-purpose flour
2/3 cup confectioners' sugar — plus extra to
decorate finished bars
1/4 cup cornstarch
3/4 teaspoon salt
12 tablespoons unsalted butter — (1 1/2 sticks) at
very cool room temperature, cut into
1-inch pieces, plus extra for greasing pan
The Filling
6 extra-large eggs at room temperature
3 cups granulated sugar
2 tablespoons grated lemon zest (4 to 6 lemons)
1 cup freshly squeezed lemon juice
1 cup flour
Confectioners' sugar, for dusting
Note:
The lemon filling must be added to a warm crust. The 30-minute chilling and 20-minute baking of the crust should allow plenty of time to prepare the filling. If not, make the filling first and stir to blend just before pouring it into the crust. Any leftover bars can be sealed in plastic wrap and refrigerated for up to two days.
Directions
1. For the crust: Adjust oven rack to middle position and heat oven to 350 degrees. Lightly butter a 13-by-9-inch baking dish and line with one sheet parchment or wax paper. Dot paper with butter, then lay second sheet crosswise over it.
2. Pulse flour, confectioners' sugar, cornstarch, and salt in food processor workbowl fitted with steel blade. Add butter and process to blend, 8 to 10 seconds, then pulse until mixture is pale yellow and resembles coarse meal, about three 1-second bursts. (To do this by hand, mix flour, confectioners' sugar, cornstarch, and salt in medium bowl. Freeze butter and grate it on large holes of box grater into flour mixture. Toss butter pieces to coat. Rub pieces between your fingers for a minute, until flour turns pale yellow and coarse.) Sprinkle mixture into lined pan and press firmly with fingers into even, 1/4-inch layer over entire pan bottom and about 1/2 inch up sides. Refrigerate for 30 minutes, then bake until golden brown, about 20 minutes.
3. For the filling, whisk together the eggs, sugar, lemon zest, lemon juice, and flour. Pour over the crust and bake for 30 to 35 minutes, until the filling is set. Let cool to room temperature.
4. Dust with Confectioners' sugar and cut into squares.

This post may contain affiliate links. We are a participant in the Amazon Services LLC Associates Program, an affiliate advertising program designed to provide a means for us to earn fees by linking to Amazon.com and affiliated sites.