Homemade Lemon Bars are the quintessential spring dessert! You'll love the shortbread crust and the tangy lemon filling of these classic lemon squares.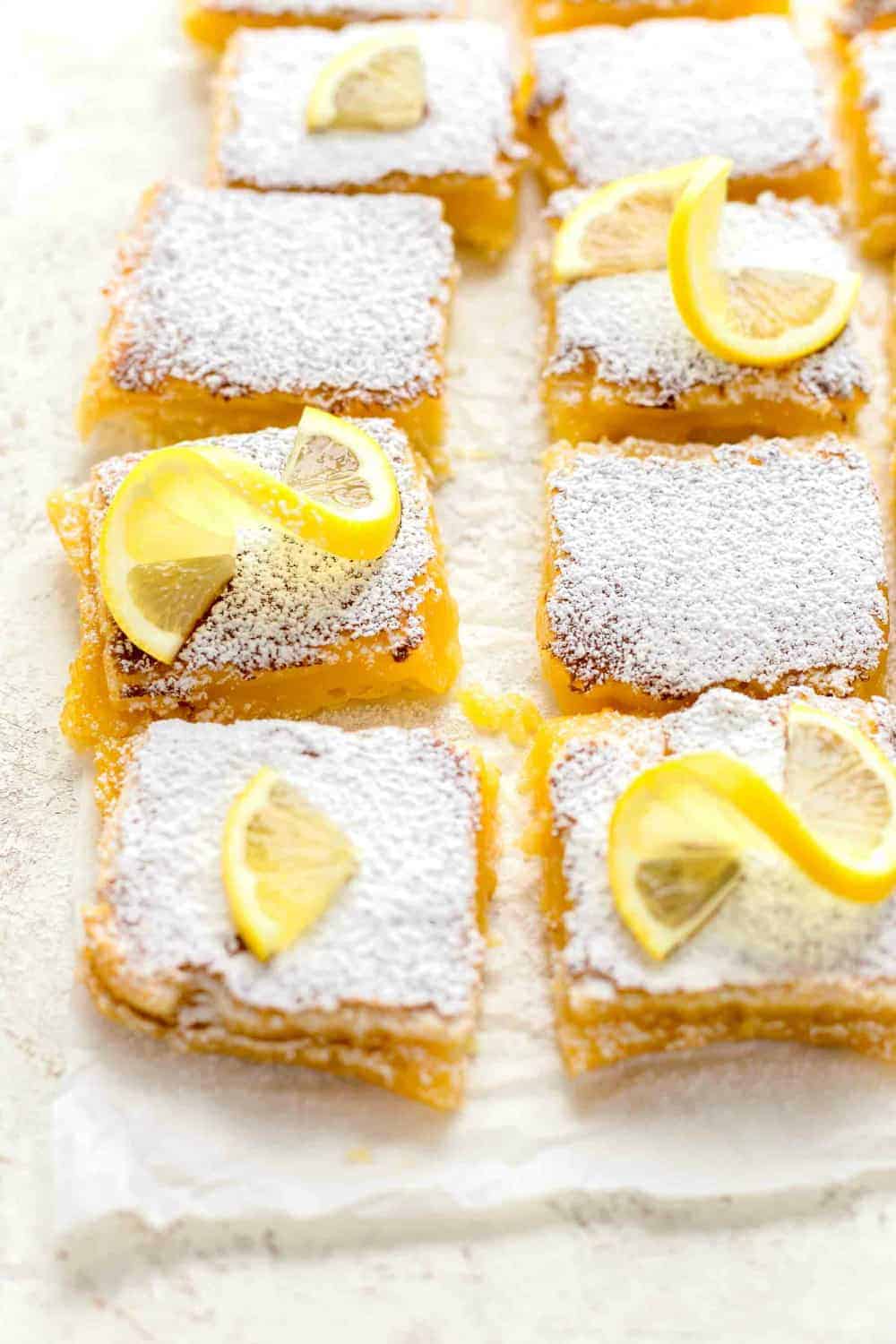 I don't know what the weather is like where you live, but things have been crazy in Ohio. With temps varying almost 30 degrees from one day to the next, we're pretty happy that we've been hanging out in sunny Florida for the past week.
I've mentioned before that we visit Gasparilla Island and the small town of Boca Grande a couple times per year. It's become our very favorite vacation spot.
Let's just say that if I had a vision board, this place would be front and center on it.
It's seriously a life goal to retire here some day. Even though I don't have a vision board, this is my way of throwing that goal out into the universe.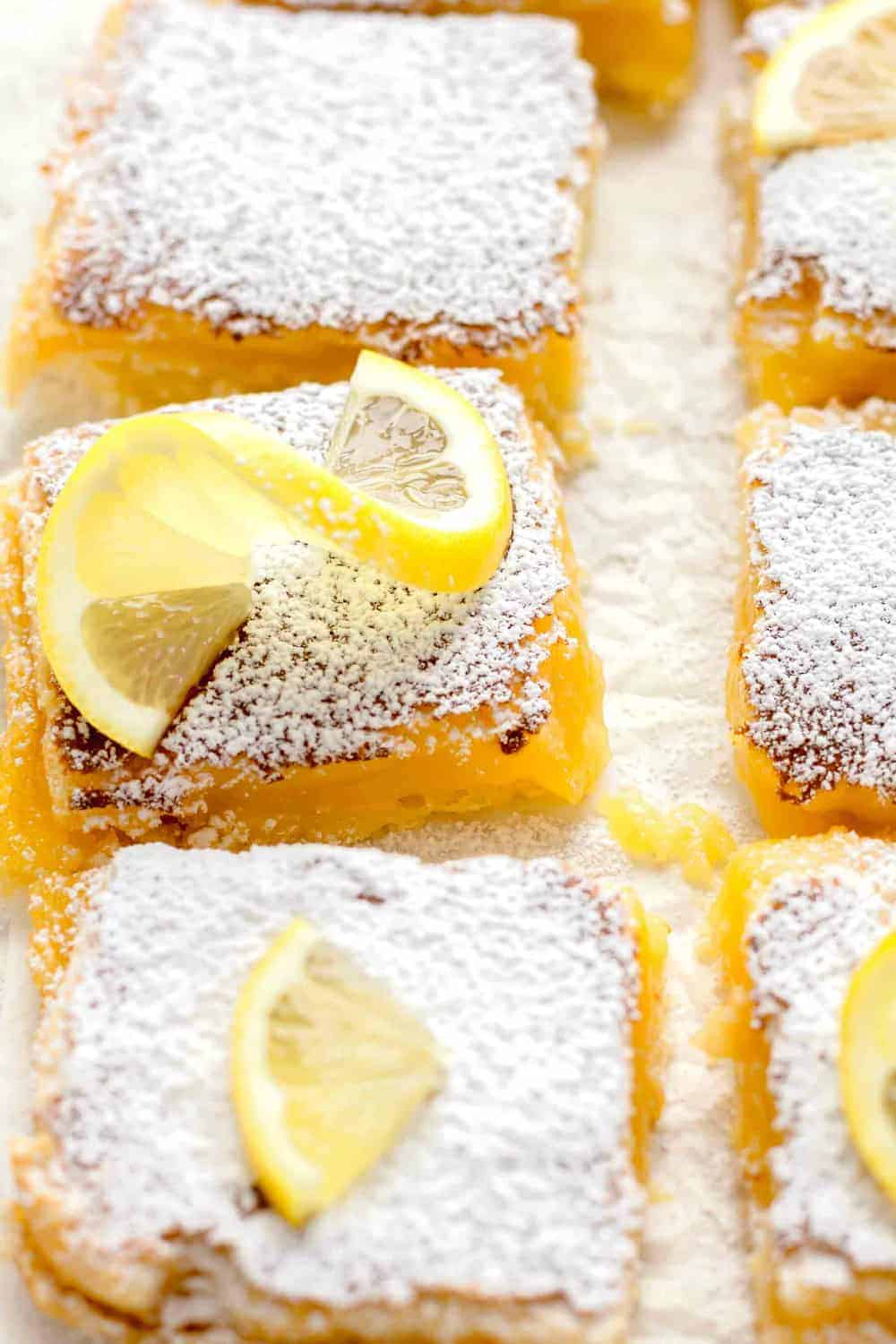 The weather on the little island is perfection. Sunny, blue skies coupled with temps in the 80's and the most perfect island breeze.
We've spent our days swimming, shelling, and eating plenty of ice cream at a little shop called the Pink Pony. If you ever visit Boca Grande, promise me you'll stop at the Pink Pony and get at least 2 scoops of their Toasted Coconut ice cream. It's the best ice cream flavor I've ever tasted!
Since I've been basking in the sunshine, I thought I'd share a little sunshine with you in the form of these Lemon Bars.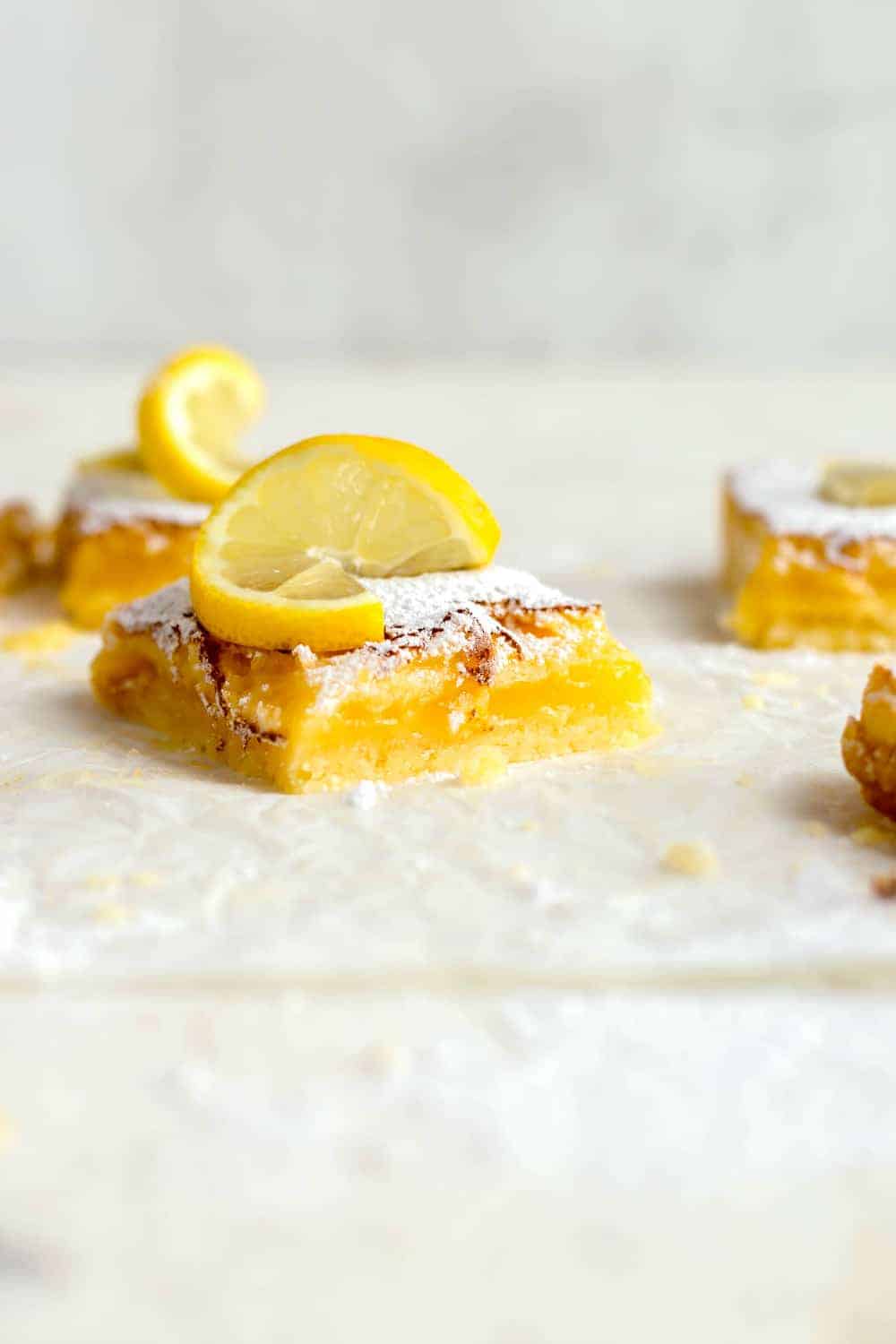 THIS LEMON SQUARES RECIPE
I'm not a huge chocolate dessert fan. Sure I'll indulge in a piece of the Best Chocolate Cake, or Chocolate Zucchini Cake, but I would forego them any day of the week for something fresh and fruity. Especially if it is a lemon dessert.
Tart desserts are definitely my jam, just like tart, sour candy is.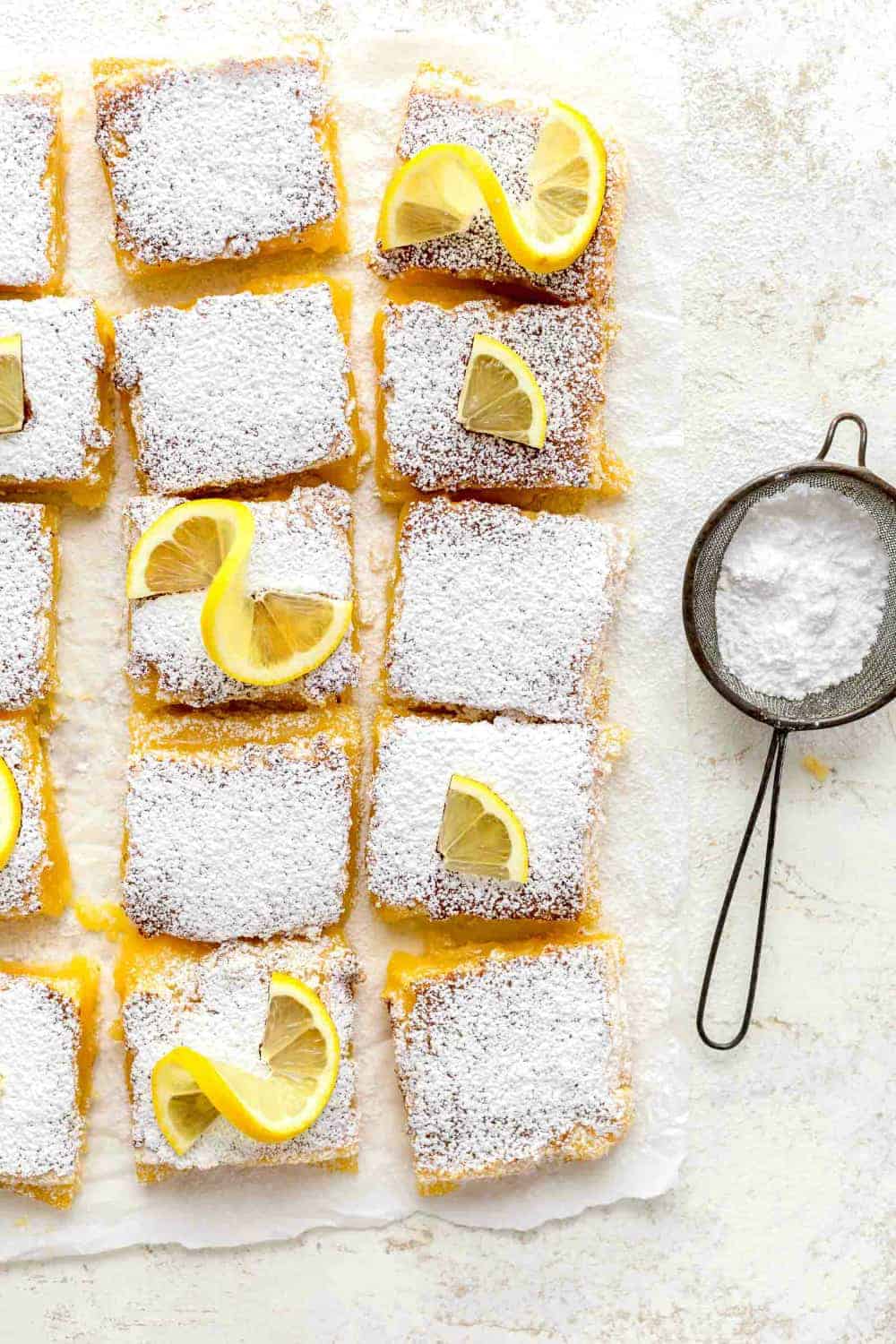 Whether it is topping cheesecake with my Microwave Lemon Curd or making No-Bake Layered Lemon Pie or No-Bake Lemon Oreo Cheesecake, I can't get enough of tart lemon flavor.
I once had a friend recommend that I try combining a shortbread crust from Cook's Illustrated with Ina Garten's lemon bar filling. I did it immediately and let me tell you…the results were freaking amazing!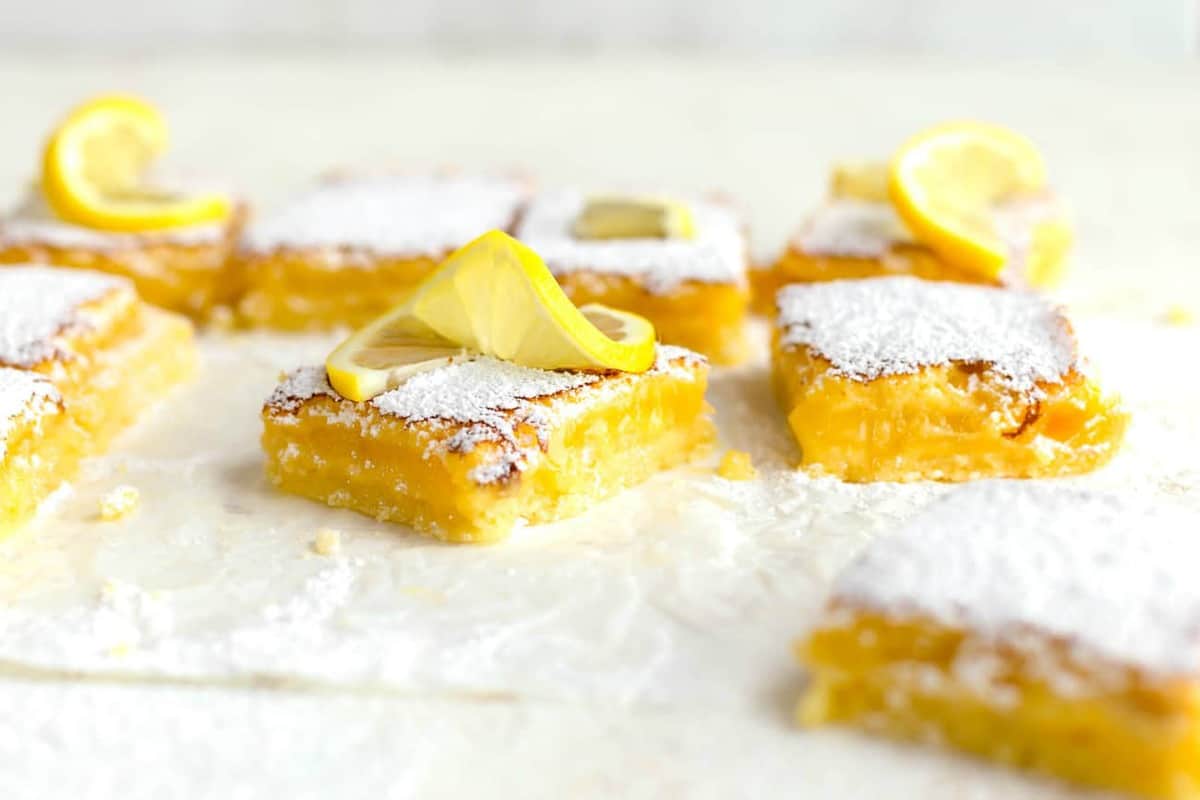 This has been my favorite lemon bar recipe ever since, and are loved by everyone I've shared them with.
Especially if they crave tangy lemon desserts the way I do.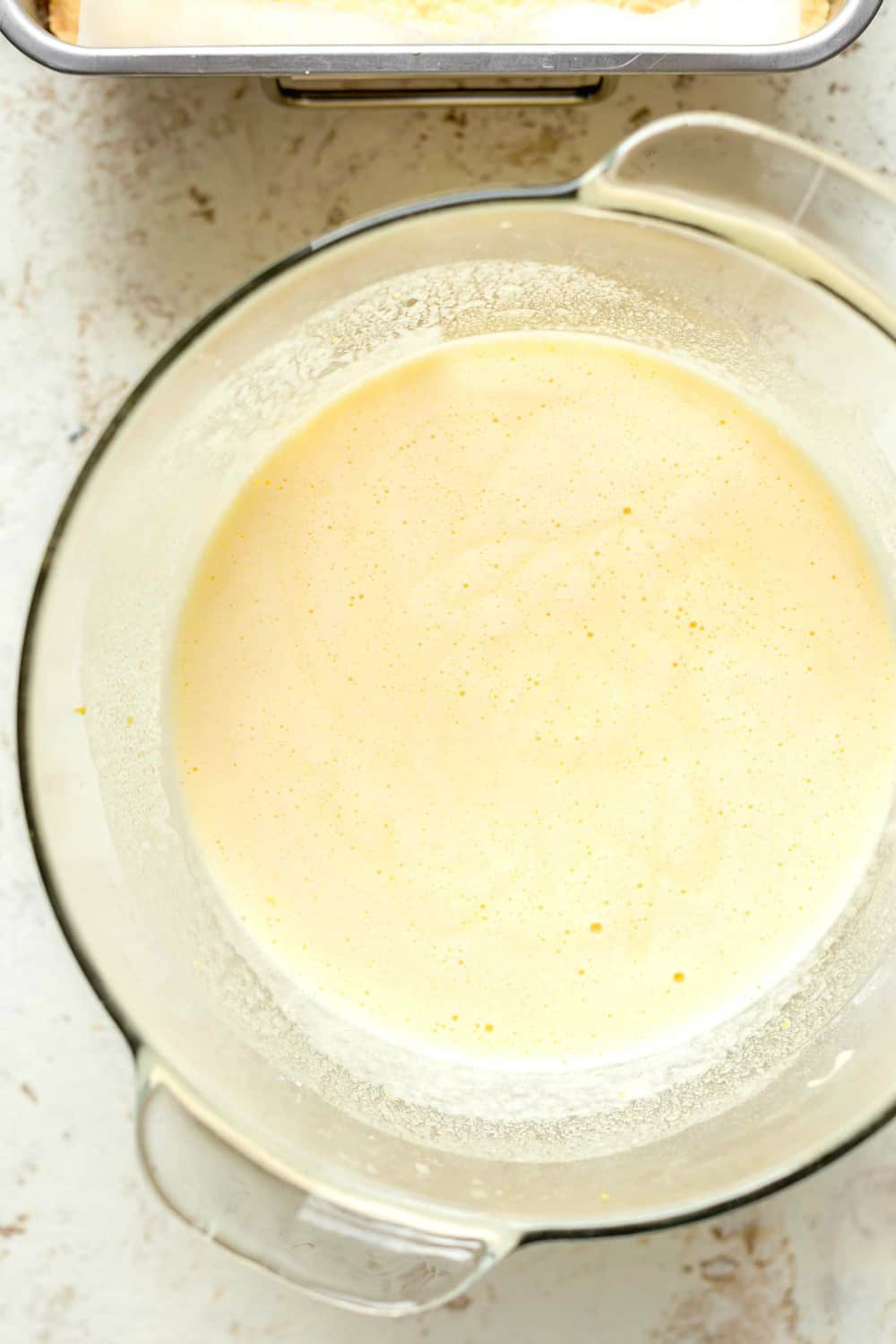 HOW TO MAKE LEMON BARS
If you have a food processor, the shortbread crust for these Homemade Lemon Bars is super easy to make.
I have also included instructions for making the crust by hand, but I always choose to make it the easy way.
Mama's got stuff to do, after all!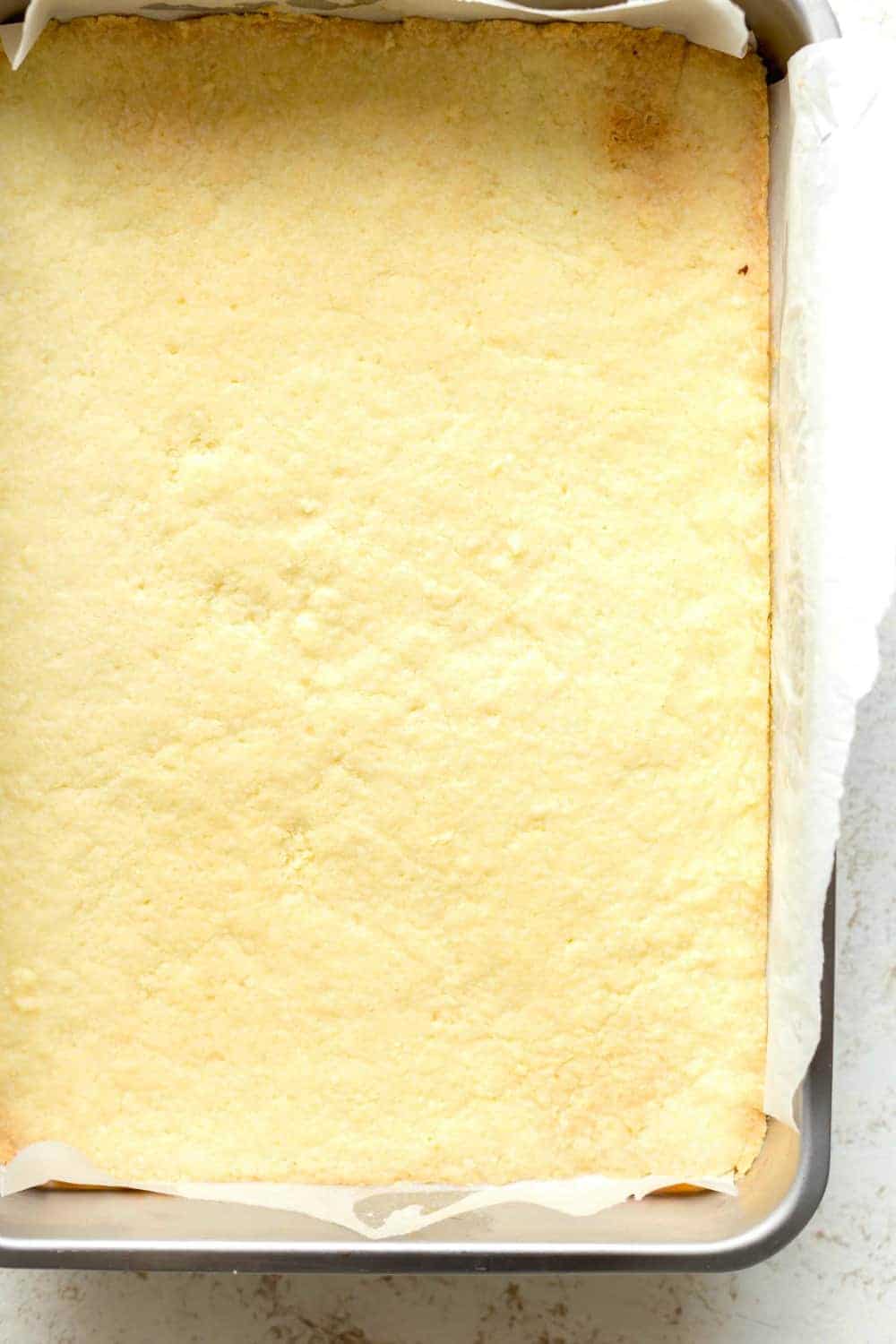 The dough for the crust will resemble a coarse meal, and you'll probably think there's no way it's going to turn into a real crust. Once you press it into the pan and it bakes, it magically becomes a perfectly buttery crust.
One of the most important things about this recipe is that you must add the filling to the crust while it is warm from the oven.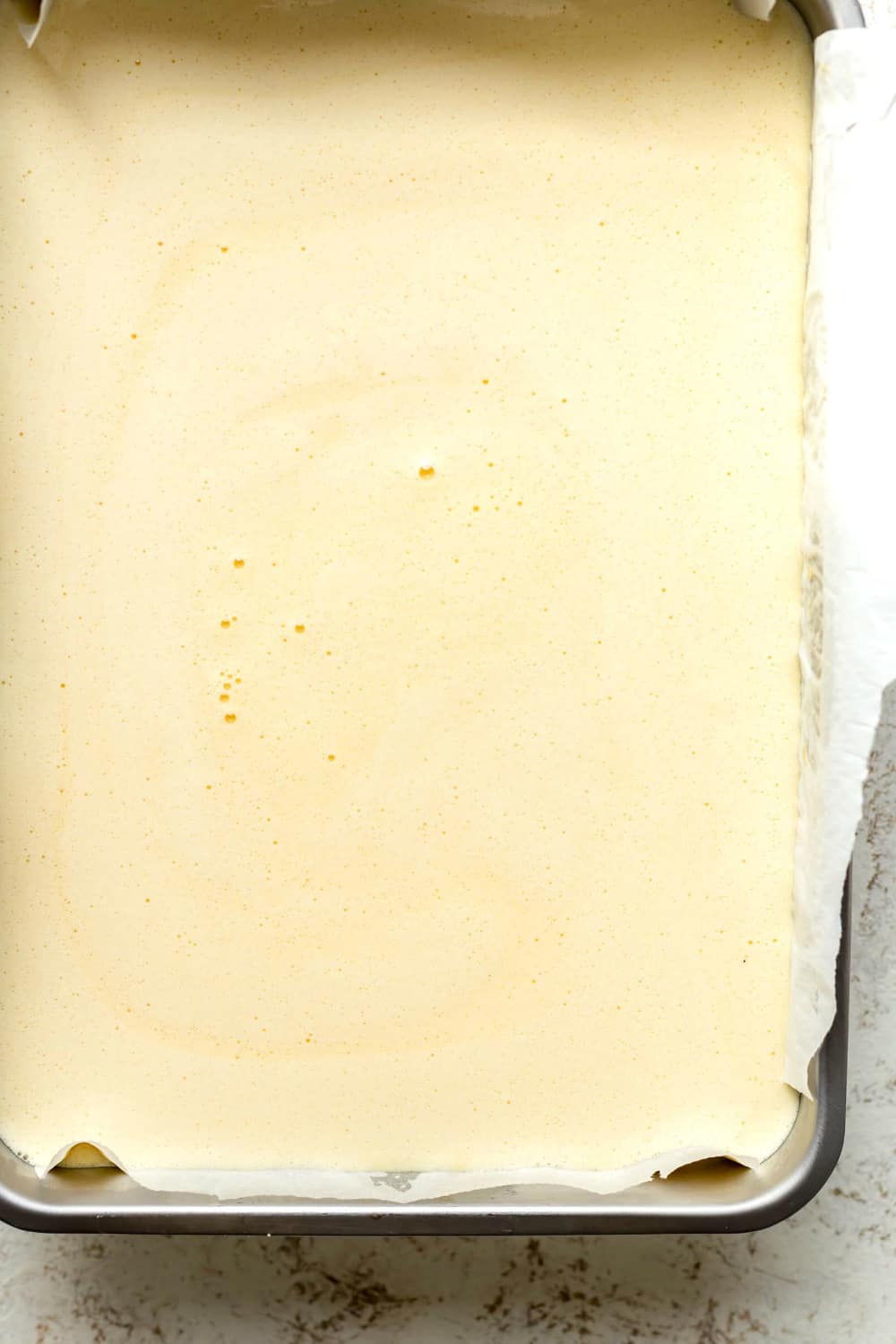 After making the crust, it needs to chill in the fridge for 30 minutes before baking for 20 minutes.
This should give you plenty of time to make the lemon filling and have it waiting when the crust comes out of the oven.
Simply give the filling a quick stir before pouring it over the hot crust and then bake for another 30-35 minutes.
Once the bars have cooled to room temperature, don't forget to dust the tops with powdered sugar before serving!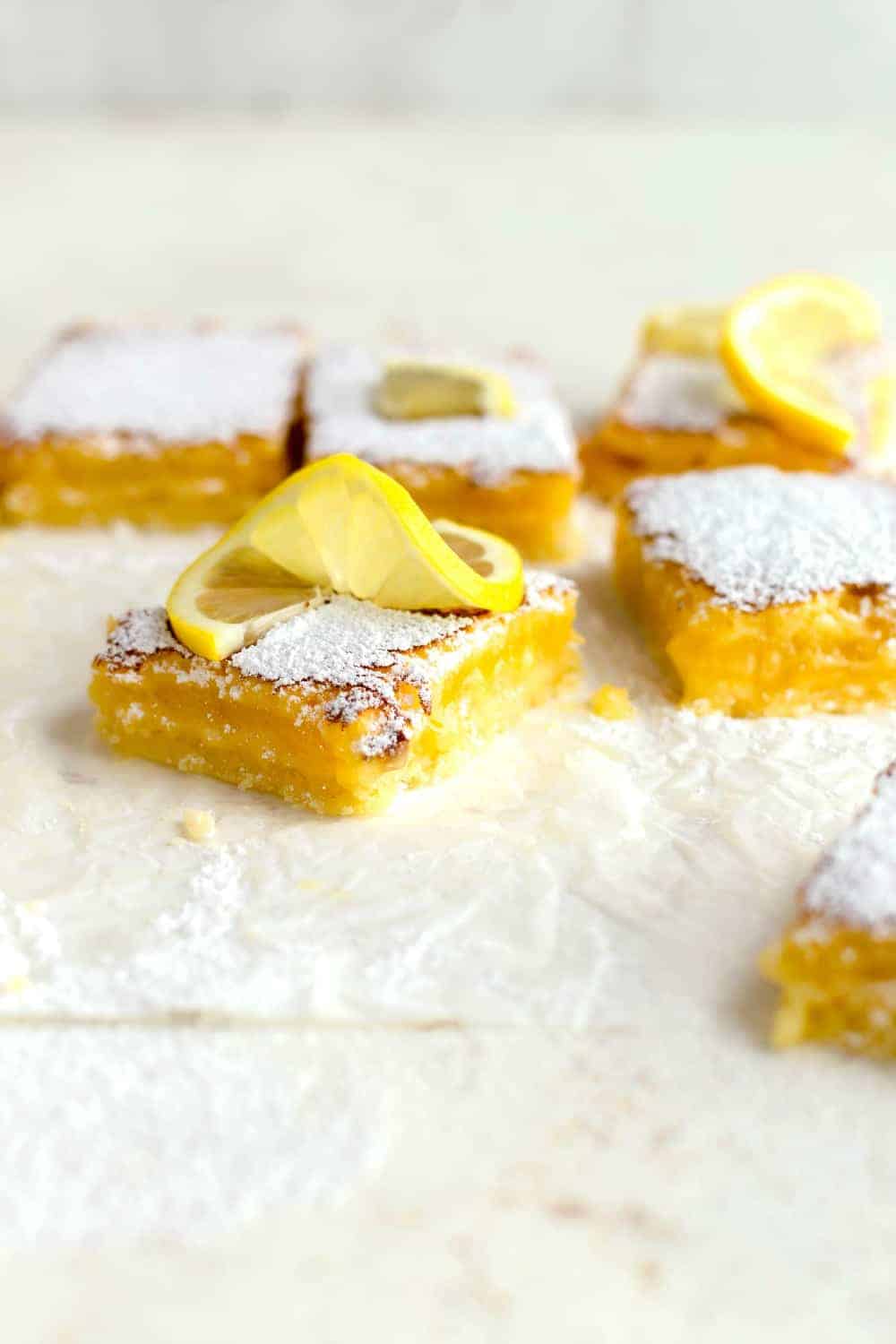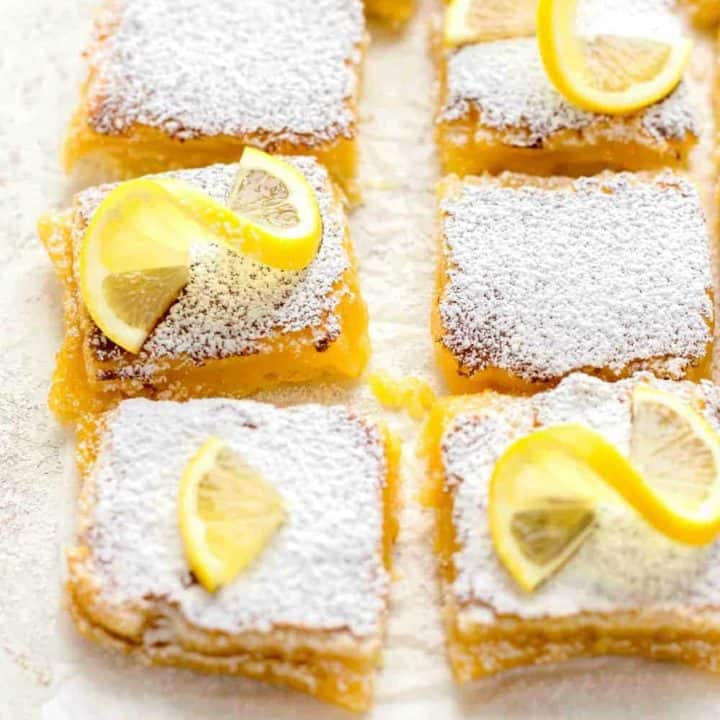 Homemade Lemon Bars
Yield:
1 13x9-inch pan, about 16 bars
Total Time:
1 hour
35 minutes
Homemade Lemon Bars are the quintessential spring dessert! You'll love the shortbread crust and the tangy lemon filling of these classic lemon squares.
Ingredients
For the crust:
1 3/4 cups all-purpose flour
2/3 cup confectioners' sugar
1/4 cup cornstarch
3/4 teaspoon salt
12 tablespoons (1 ½ sticks) unsalted butter, softened and cut into 1-inch pieces, plus extra for greasing pan
For the filling:
6 extra-large eggs, room temperature
3 cups granulated sugar
2 tablespoons grated lemon zest (4 to 6 lemons)
1 cup freshly squeezed lemon juice
1 cup flour
Confectioners' sugar, for dusting
Instructions
Make the crust:
Adjust oven rack to middle position and heat oven to 350 degrees.
Lightly butter a 13x9-inch baking dish and line with one sheet parchment paper. Dot paper with butter, then lay a second sheet crosswise over it.
Pulse flour, confectioners' sugar, cornstarch, and salt in the work-bowl of a food processor fitted with steel blade. Add butter and process to blend, 8 to 10 seconds, then pulse until mixture is pale yellow and resembles coarse meal, about three 1-second bursts.
To make the crust by hand: Mix flour, confectioners' sugar, cornstarch, and salt in medium bowl. Freeze butter and grate it on large holes of box grater into flour mixture. Toss butter pieces to coat. Rub pieces between your fingers for a minute, until flour turns pale yellow and coarse.
Sprinkle crust mixture into lined pan and press firmly with fingers into an even, 1/4-inch layer over entire pan bottom and about 1/2 inch up sides. Refrigerate for 30 minutes, then bake until golden brown, about 20 minutes.
Make the Filling:
Whisk together the eggs, sugar, lemon zest, lemon juice, and flour.
Pour over the warm crust and bake for 30 to 35 minutes, until the filling is set. Let cool to room temperature.
Dust with confectioners' sugar and cut into squares.
Notes
The lemon filling must be added to a warm crust. The 30-minute chilling and 20-minute baking of the crust should allow plenty of time to prepare the filling. If not, make the filling first and stir to blend just before pouring it into the crust.
Any leftover bars can be sealed in plastic wrap and refrigerated for up to two days.
Adapted from Ina Garten and Cook's Illustrated Magazine, May, 1998
Recommended Products
As an Amazon Associate and member of other affiliate programs, I earn from qualifying purchases.
Nutrition Information
Yield

16
Serving Size

1 bar
Amount Per Serving
Calories

311
Total Fat

2g
Saturated Fat

1g
Trans Fat

0g
Unsaturated Fat

1g
Cholesterol

71mg
Sodium

131mg
Carbohydrates

69g
Fiber

1g
Sugar

50g
Protein

5g