Homemade Lemon Bars are the quintessential dessert for lemon lovers! You'll love the shortbread crust and the tangy lemon filling of these classic lemon squares.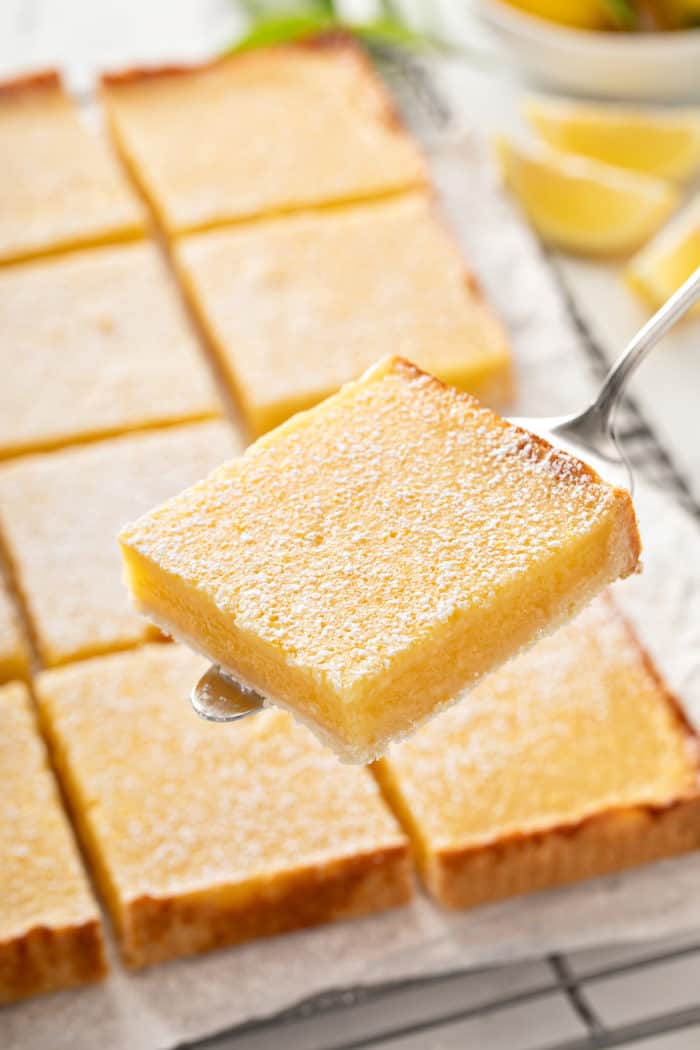 This post contains affiliate links.
It's finally starting to feel like summer here in Ohio, which typically means two things: The pool is officially open for the season, and you can find me in the kitchen whipping up all of my favorite summer desserts like strawberry tart, s'mores pie, and these lemon bars.
Not all of the recipes here on My Baking Addiction immediately become a household favorite, but this lemon bar recipe has been one of my go-to summer desserts for over 10 years!
The buttery crust, tart lemon filling and sweet sugar dusting is a match made in summer dessert heaven. Serve them chilled for the perfect ending to any summer meal!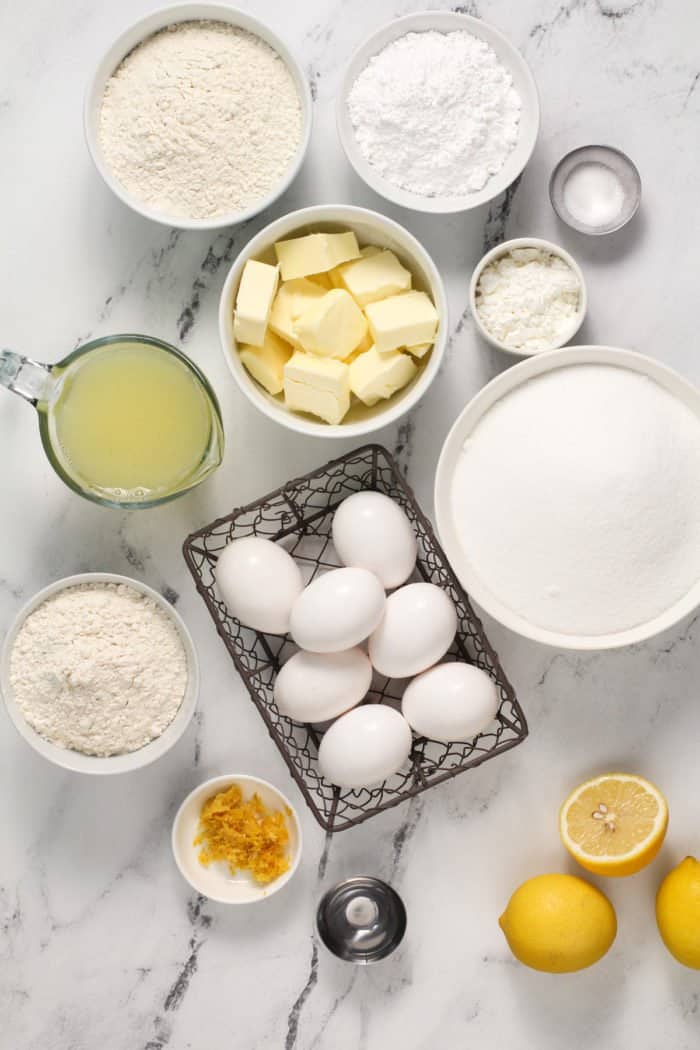 THE BEST LEMON BAR RECIPE
I'm not a huge chocolate dessert fan. Sure I'll indulge in a piece of the best chocolate cake or chocolate zucchini cake, but I would forego them any day of the week for something fresh and fruity. Especially if it is a lemon dessert.
Tart desserts are definitely my jam, just like tart, sour candy is.
Whether it is a slice of lemon cheesecake or making lemon icebox cake or lemon whipping cream cake, I can't get enough of tart lemon flavor.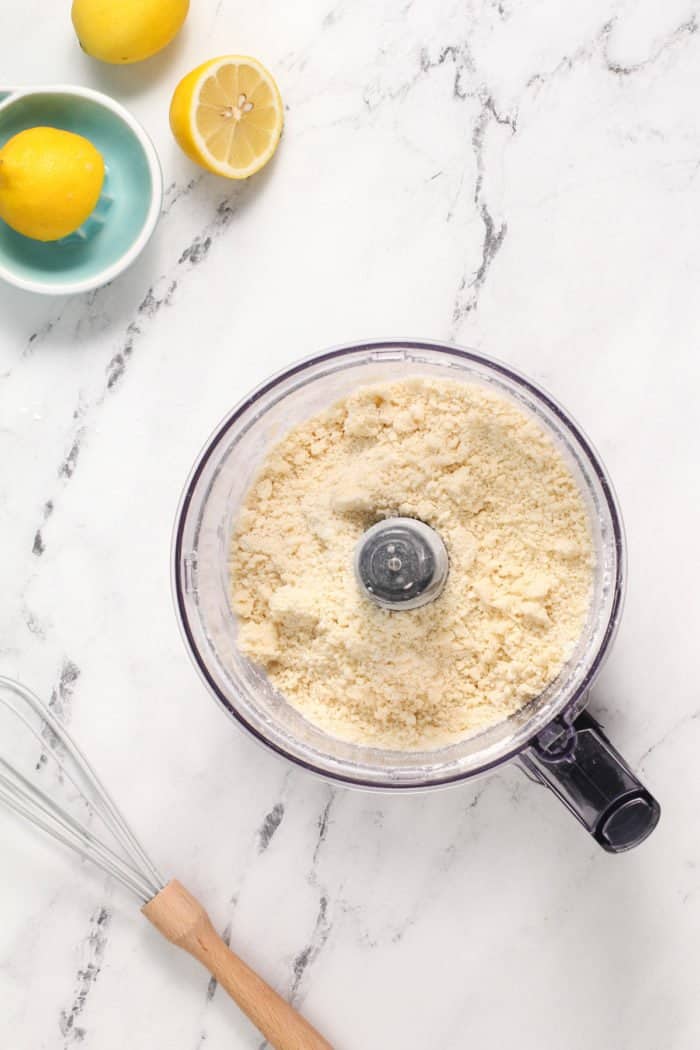 I once had a friend recommend that I try combining a shortbread crust from Cook's Illustrated with Ina Garten's lemon bar filling. I did it immediately and let me tell you…the results were freaking amazing!
I've made a few tweaks to the recipe over the years, but I still think this is the best lemon bar recipe.
They're loved by everyone I've shared them with! Especially if they crave tangy lemon desserts the way I do.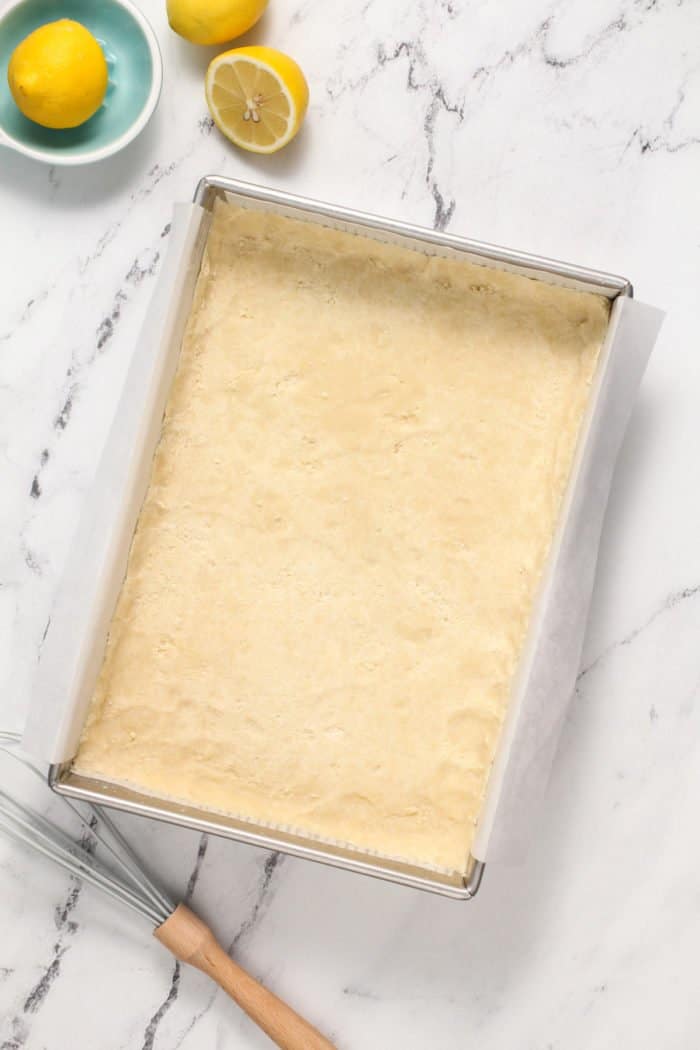 HOW TO MAKE LEMON BARS
This recipe is a smidge more work than some other bar desserts, such as my key lime pie bars, but the steps themselves aren't difficult at all.
Ingredients you'll need
You'll need to set aside ingredients for both the shortbread crust and the lemon filling.
For the crust, you will need:
1 3/4 cups all-purpose flour
2/3 cup confectioners' sugar (aka powdered sugar)
1/4 cup cornstarch
3/4 teaspoon salt
12 tablespoons cold butter
For the filling, you will need:
3 cups granulated sugar
1 cup all-purpose flour
7 large eggs, room temperature
2 tablespoons grated lemon zest (4 to 6 lemons)
1 cup fresh lemon juice (around 8 lemons)
Confectioners' sugar, for dusting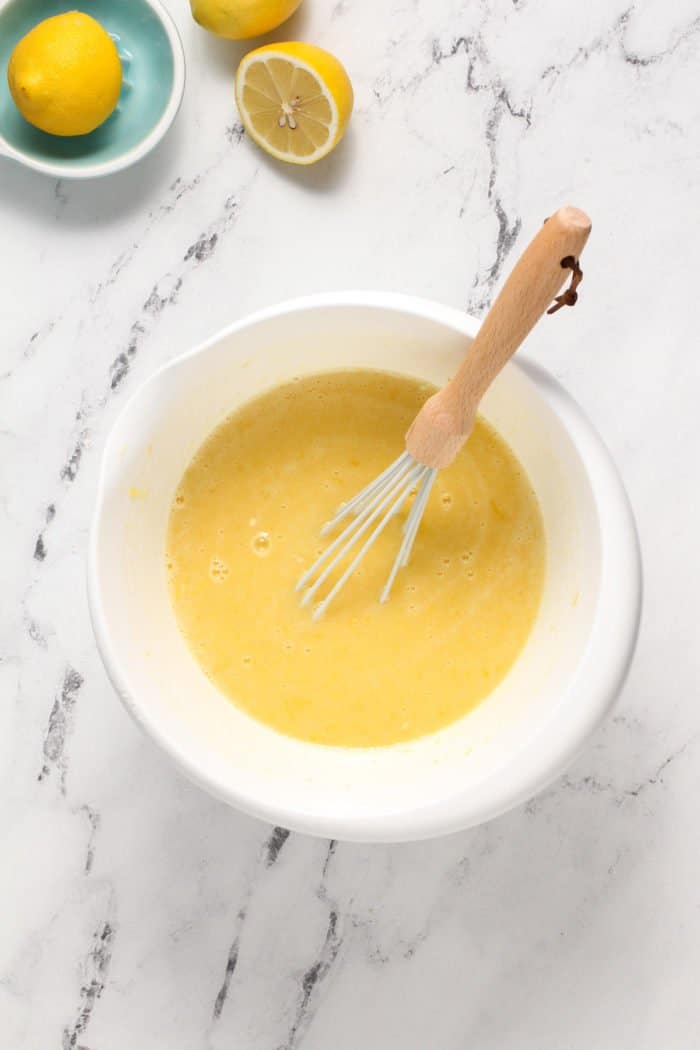 The original filling recipe calls for extra-large eggs, but I have tweaked the recipe to use large eggs instead. Large eggs are much more common and easier to find.
If you'd like to use extra-large eggs, refer to the notes in the recipe card.
(Psst! Learn how to bring eggs to room temperature quickly!)
Are you thinking, "That's a lot of lemon"?? Well, you're right. The filling on these bars is super thick and nice and tart compared to other recipes with a thin layer of overly sweet lemon filling.
They really are the best lemon bars for lemon lovers!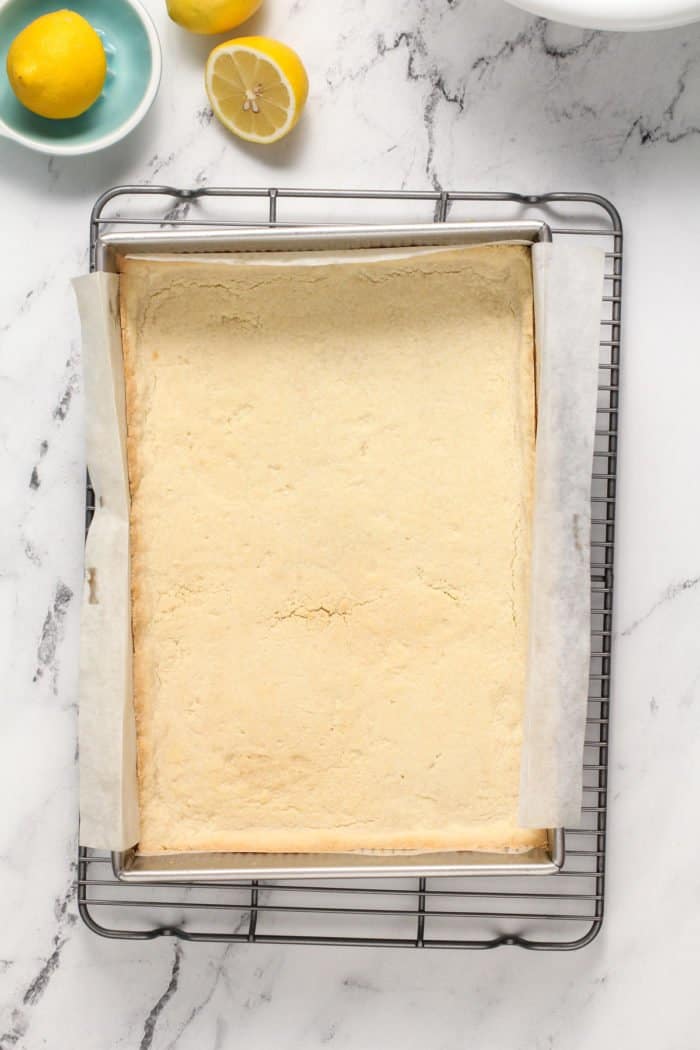 Tools you'll need
Most of the equipment you'll need is pretty standard stuff:
Mixing bowls
Measuring cups
Whisk
13×9-inch baking pan
Parchment paper
One tool that I highly recommend having to make the crust super simple to throw together is a food processor. I've included instructions in the recipe card to make the crust by hand as well, but I always use the food processor method!
Mama's got stuff to do, after all!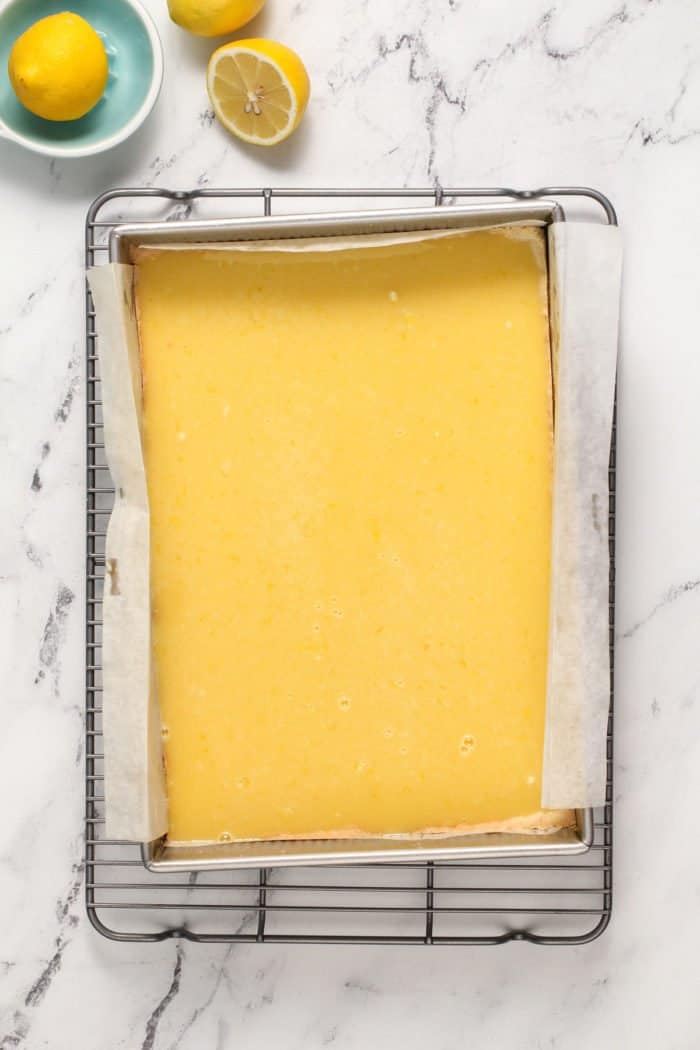 Making this recipe
You'll start by making the shortbread crust. Unlike the shortbread crust in my apple pie bars, this one will resemble a coarse meal.
You'll probably think there's no way it's going to turn into a real crust, but trust me!
Pulse the dry ingredients for the crust together in the food processor, then add in the butter and pulse until a coarse meal forms. Press the crust firmly into the pan; once it bakes, it magically becomes a perfectly buttery crust.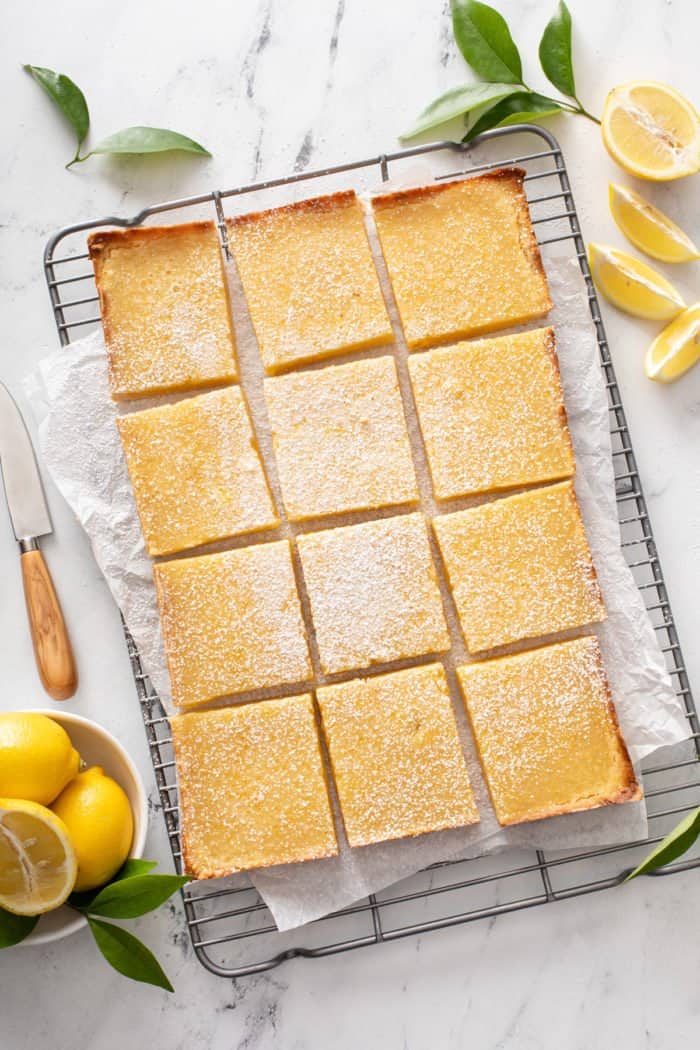 One of the most important things about this recipe is that you must add the filling to the crust while it is warm from the oven.
After making the crust, it needs to chill in the fridge for 10 minutes before baking for 20 minutes.
This should give you plenty of time to make the lemon filling and have it waiting when the crust comes out of the oven.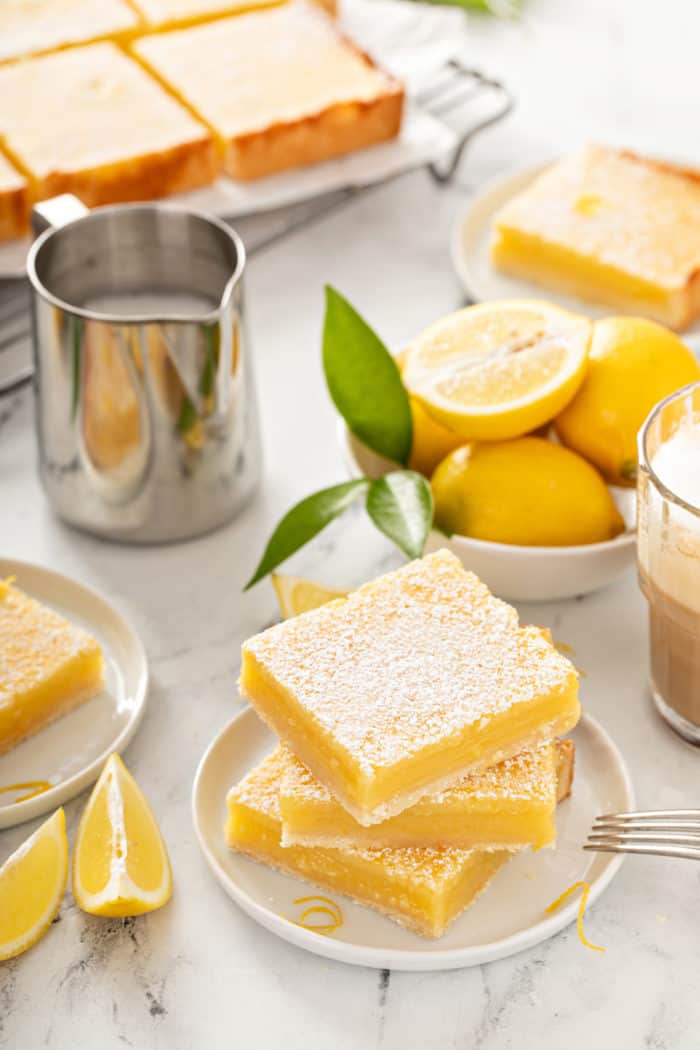 Whisk together all of the filling ingredients and give the filling a quick stir before pouring it over the hot crust.
Bake the bars for another 30-35 minutes. You'll know the lemon bars are done when the center is just set.
Once the bars have cooled to room temperature, don't forget to dust the tops with powdered sugar before serving!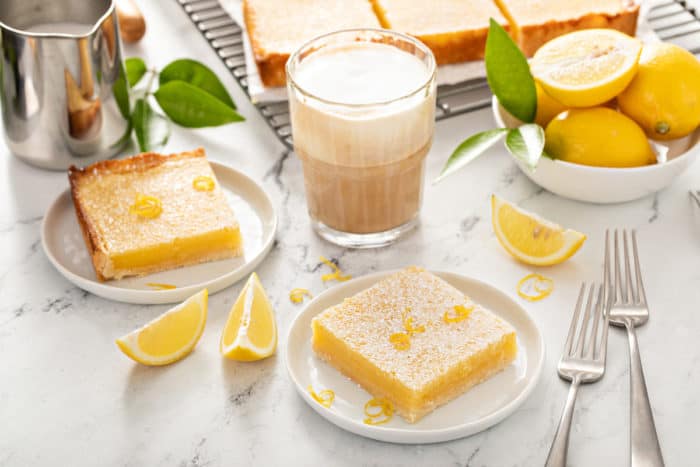 STORAGE & FREEZING
Lemon bars contain a lot of eggs. So just like lemon curd, lemon bars do need to be stored in the refrigerator if you don't plan to eat them all within a few hours.
If you are making these the day before you plan to serve them, I would wait to dust them with powdered sugar until just before serving. Otherwise the powdered sugar tends to dissolve a bit in the refrigerator.
Can you freeze lemon bars?
Want to know something cool? Lemon bars freeze really well!
If you want to make a whole pan of the bars ahead of time and freeze them for later:
Allow the lemon bars to cool completely, then use the parchment paper to remove them from the pan.
Wrap the entire slab of bars in plastic wrap, then in a layer of heavy-duty foil. Freeze for up to 1 month.
To thaw, let the bars thaw in the refrigerator overnight. Dust generously with powdered sugar before cutting and serving.
If you want to freeze individual lemon bars:
Wrap each cut lemon bar in a layer of plastic wrap. Place the wrapped bars in a zip-top freezer bag in a single layer.
To thaw, remove as many bars as you wish and let them thaw in the refrigerator overnight (or even enjoy them frozen!). Don't forget to give them a fresh dusting of powdered sugar before eating!