This elegant Strawberry Tart features a thick layer of cream cheese filling and an easy press-in crust crowned with fresh summer strawberries. Use the alternate instructions to make this tart gluten free.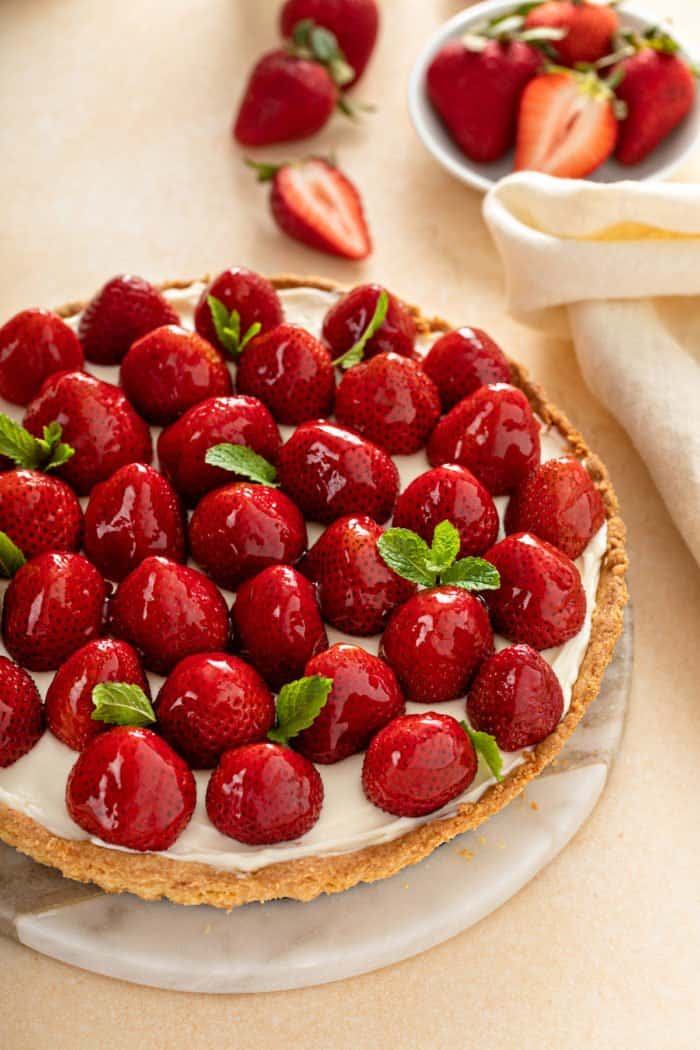 This post contains affiliate links.
It's that time of year where I can't go to the grocery store without picking up one (or several) containers of fresh strawberries.
They're just so sweet and perfect right now!
So I've been digging into my archives and making all of the strawberry things, from fresh strawberry bread to homemade strawberry lemonade.
This Strawberry Tart recipe came from my friend Erin from Texanerin Baking. After sharing it with you several years ago, I was reminded of how delicious it is and decided it was time to bring it back to your attention as well.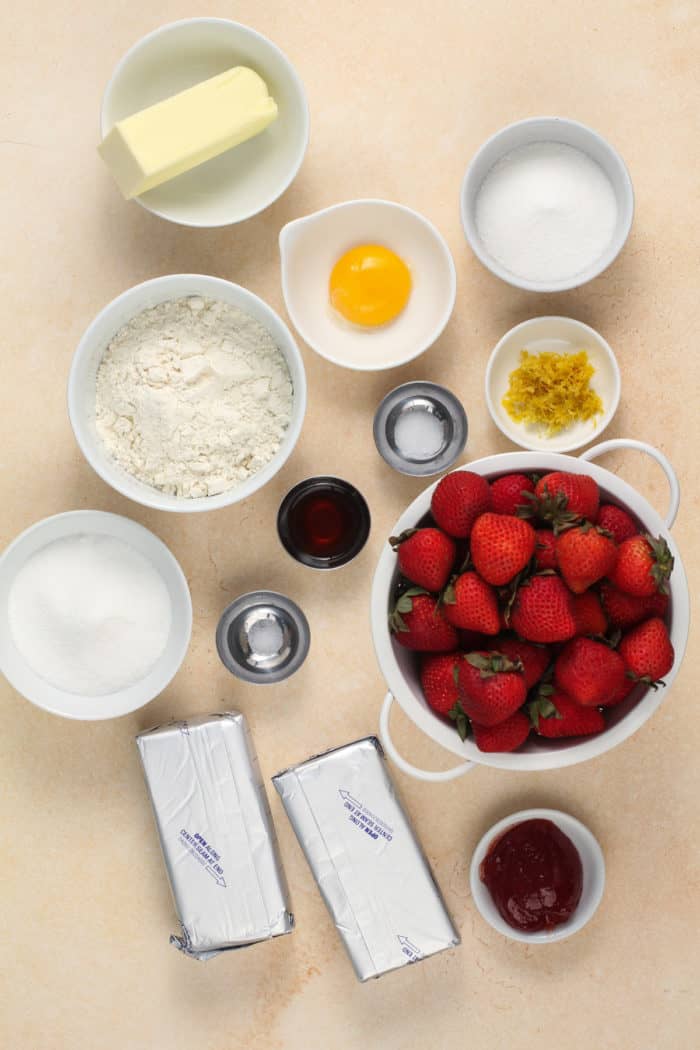 ERIN'S SIMPLE STRAWBERRY TART
Tarts are one of my favorite desserts. They're usually pretty easy to throw together and for me at least, the whole process is so much less stressful than making a traditional pie, such as pecan pie.
I like my dessert filling layers to be nice and thick, like in my key lime bars. So my Strawberry Tart has twice the amount of filling that similar tarts have!
The crust is quite thin which means there's more space for the filling. The crust, by the way, has some sugar in it and a little lemon zest to give it some flavor. I don't know about you, but one thing I don't like is a bland and almost flavorless crust!
I'm also not a fan of roll-out crusts. They just seem kind of fussy, which is why I always opt for press-in crusts. They're so much simpler and totally fool proof.
And topping the tart with whole fresh strawberries is not only beautiful, it couldn't be easier!
This is one recipe that will impress all of your friends, but you don't have to tell them how easy it was to make.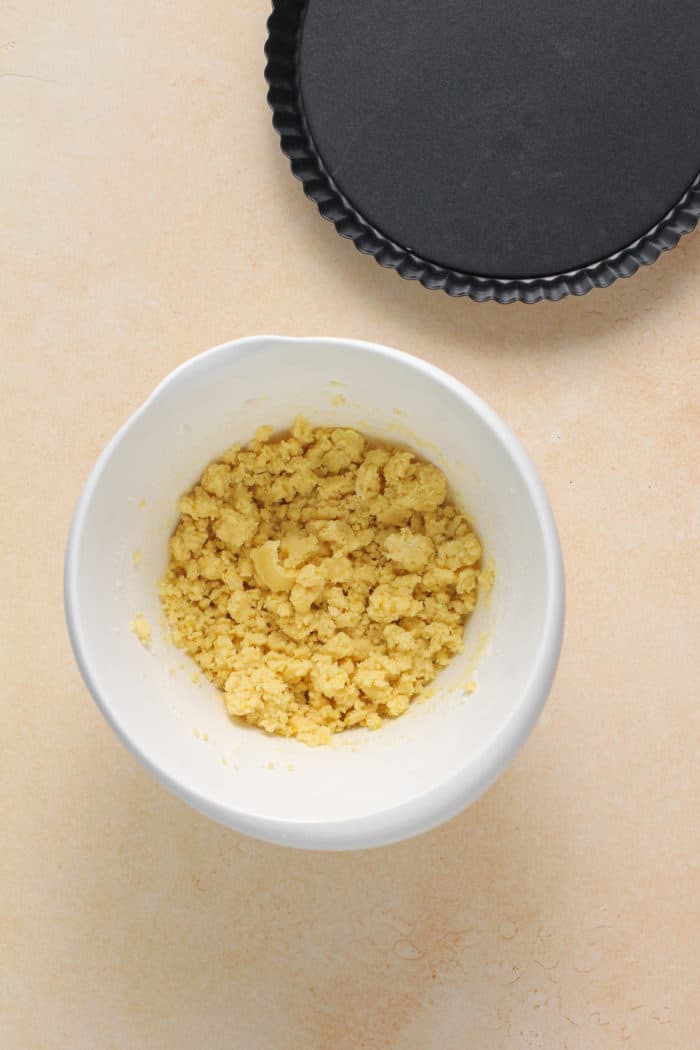 HOW TO MAKE THIS STRAWBERRY TART
If you don't believe that this Strawberry Tart is simple to make, I'll show you just how easy it is!
Gluten-free tart crust ingredients
This recipe includes an option for a traditional crust or a gluten-free crust.
For most of my gluten-free recipes, like my M&M Cookies, I like to use a mix of flours. But for the gluten-free version of this recipe, it made the crust too fragile.
So I used a 1-to-1 gluten-free baking mix and it worked much better! The crust is still more fragile than the all-purpose version, so be careful when removing it from the tart pan.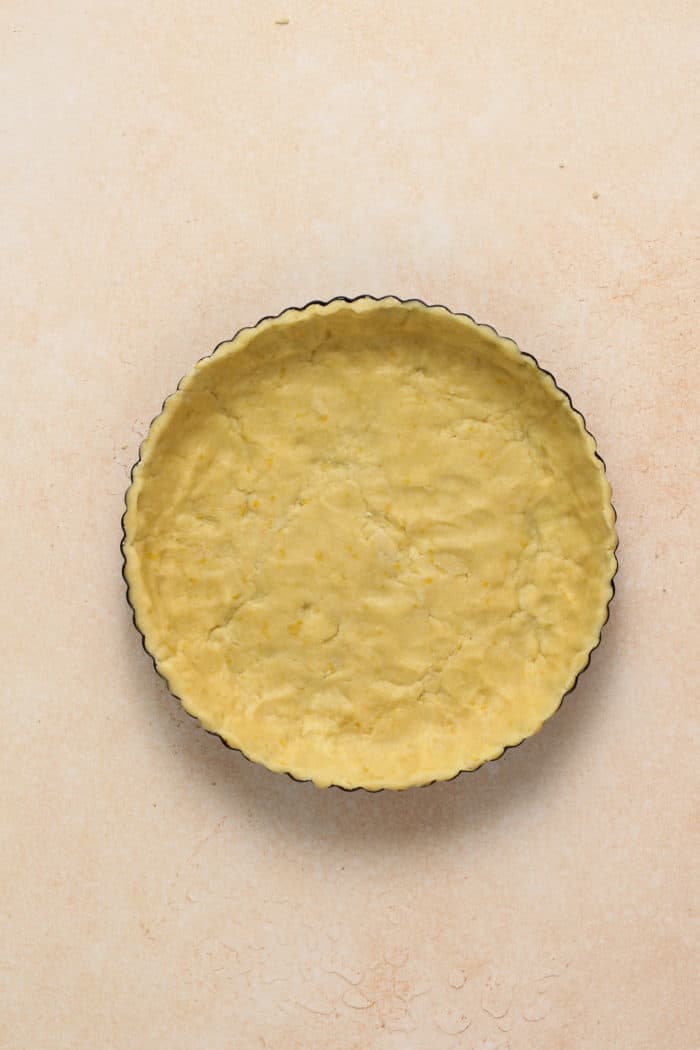 Picking the correct pan
This Strawberry Tart recipe calls for freezing the crust in the tart pan for one hour and then baking.
Be sure to use a pan that's safe going straight from the freezer to a hot oven. Non-stick, aluminum and steel tart pans with removable bottoms are ideal.
Stay away from ceramic or glass pans for this recipe. They won't hold up to going from the freezer straight to the oven well, and you don't want the pan to break in the oven.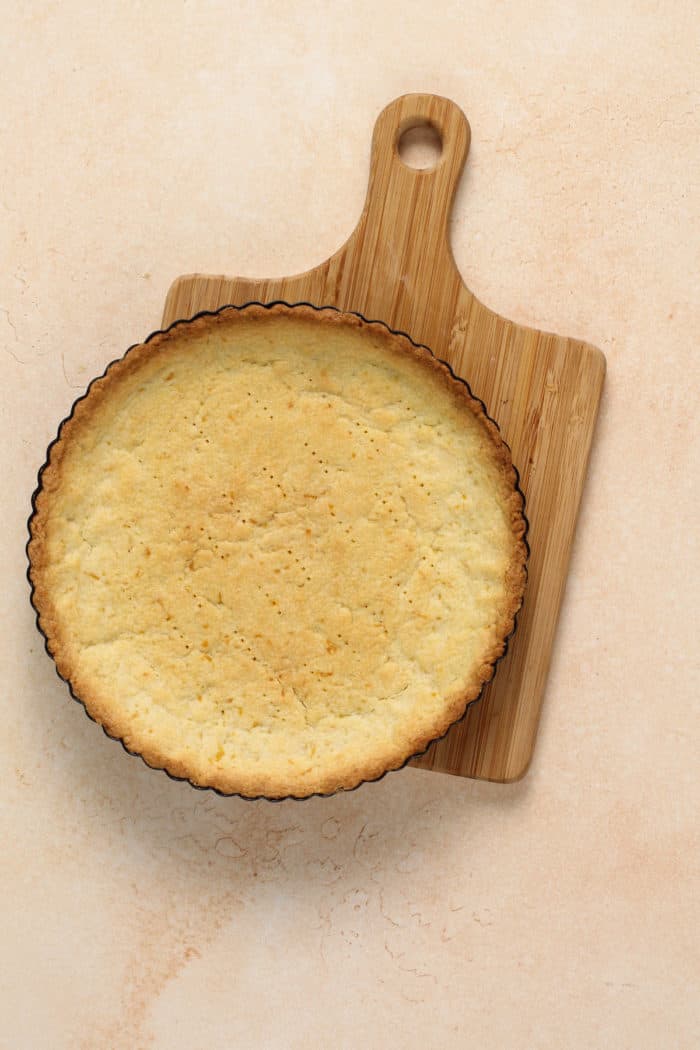 Making this recipe
The first step to making this tart is preparing the crust.
Use an electric mixer to beat the butter and sugar together, then add the egg yolk and beat until everything is well combined.
Add salt, lemon zest, and either the all-purpose or gluten-free flour. Beat on low just until the flour is incorporated; it will look like coarse crumbs, but should stick together when you pinch it with your fingers.
Pat the dough across the bottom and up the sides of the tart pan, then cover with plastic wrap and freeze the crust for at least one hour.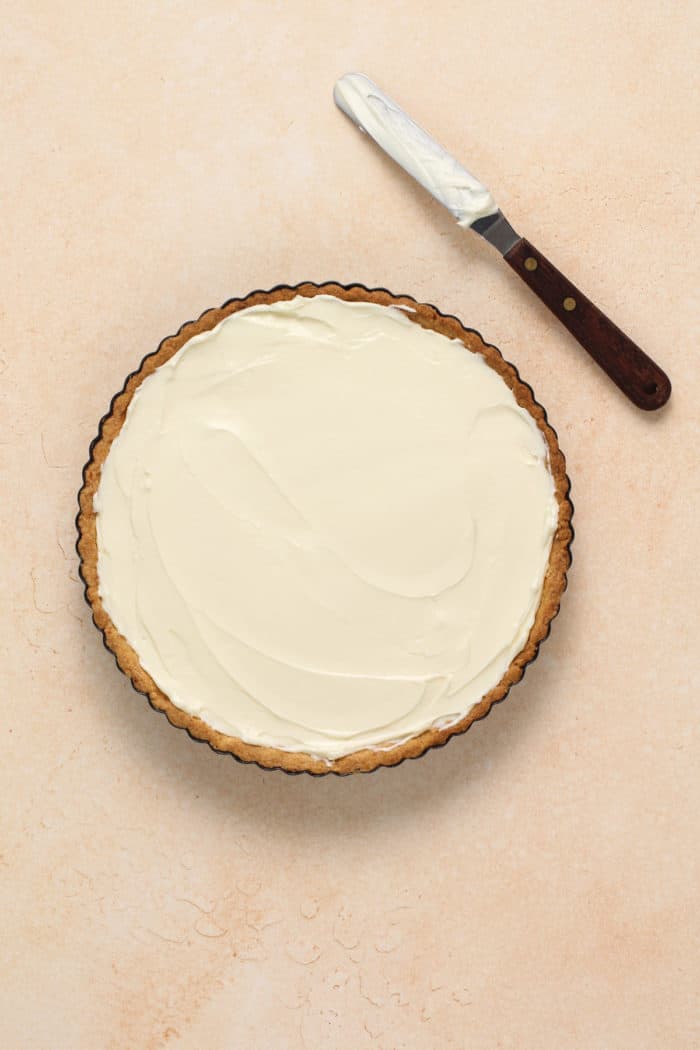 After the crust has frozen, take off the plastic wrap and use a fork to poke holes across the bottom of the crust before baking.
Let the crust cool completely – you want it to be at room temperature when you add the cream cheese filling.
The filling is incredibly easy to make: Simply beat together cream cheese and sugar, then add in some vanilla extract and a pinch of salt.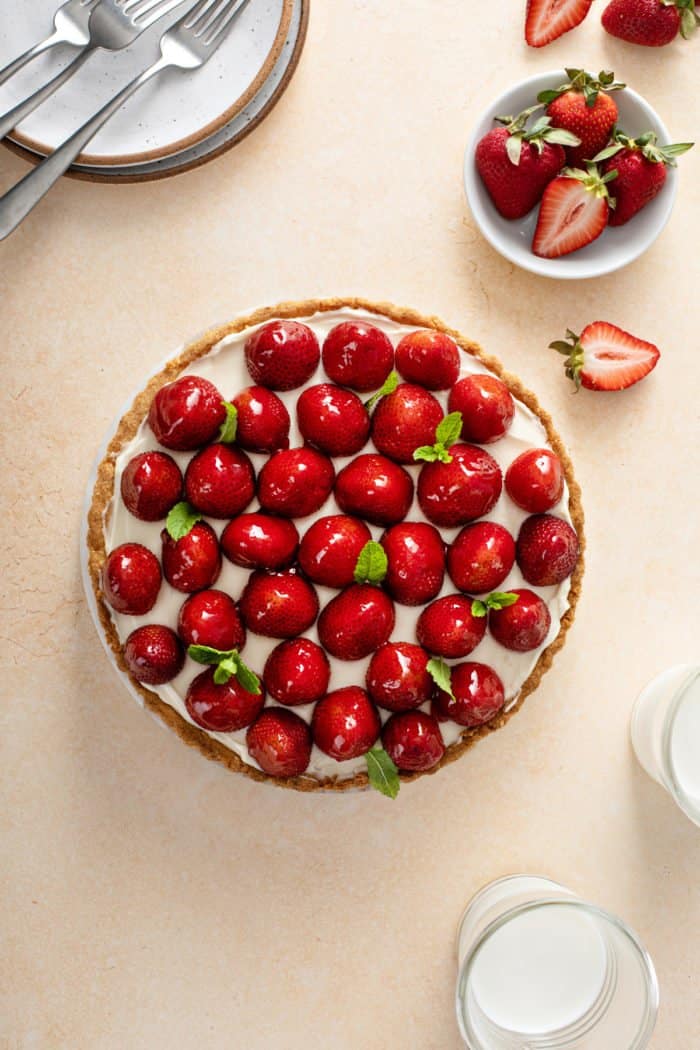 Spread the filling over the cooled crust, then decorate the top with hulled strawberries.
Strawberries are usually sweet enough on their own and don't require any extra sugar, but I ended up brushing a little warm strawberry jam over the tops of the berries for a bit of added flavor.
If you've got really sweet strawberries, feel free to omit that step!
Cover and chill the tart until you're ready to serve. Because of the fresh berries on top, just like strawberry pie, this tart is best served on the day it is made.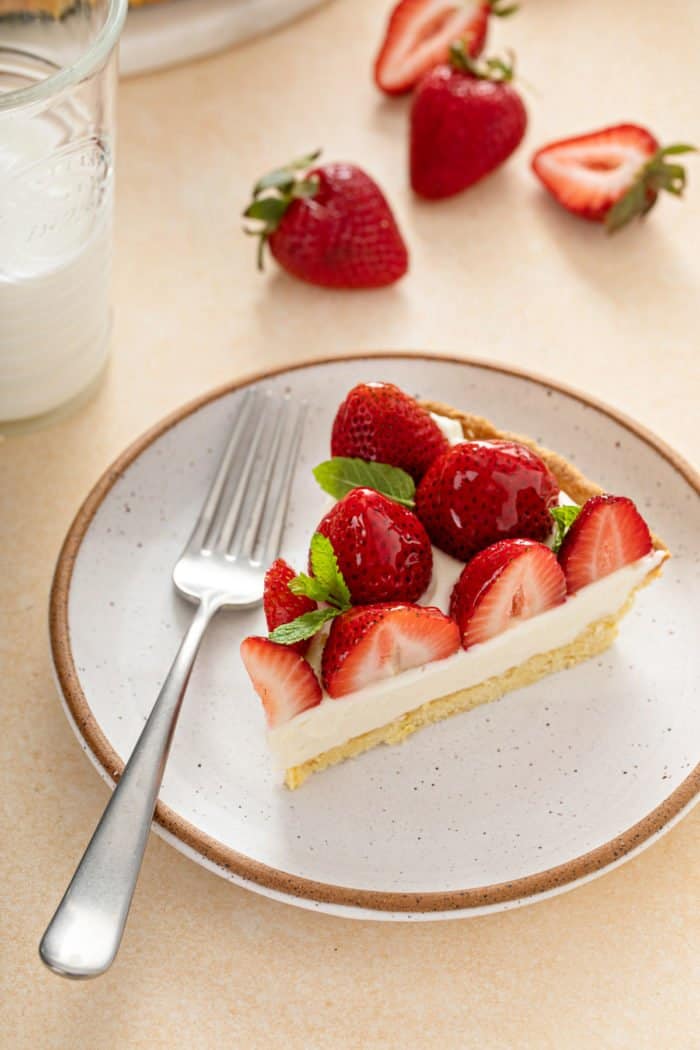 MORE DECORATION OPTIONS
When making this tart, I like to look for strawberries that are on the smaller size so I can put them on the tart whole.
If you can only find larger strawberries, feel free to cut them in half or even in quarters or slices to decorate the top of the tart.
And as long as you serve this tart on the day of making, it'd be great with any fruit you like! Give it a try with raspberries and blueberries for Memorial Day or July 4th.
If you make the tart with different fruits on top, I recommend using apricot jam as your glaze instead of strawberry jam.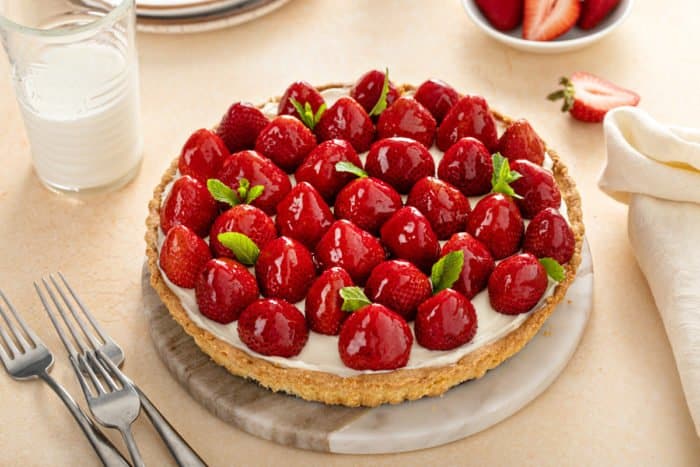 MAKE AHEAD
Even though you should serve your Strawberry Tart the same day it's assembled, there are a couple of tricks for preparing some of it ahead of time.
After the crust has been in the freezer for 1 hour, you can wrap it more tightly and keep it in the freezer for up to a week before baking.
You could even prepare the cream cheese filling the day before. Make it according to the directions, then place it in an airtight container in the refrigerator.
On the day you're ready to assemble the tart, bake the crust and let the filling come to room temperature. If necessary, whip the filling with your electric mixer for a minute before spreading it into the cooled crust and topping with the fresh fruit.
Whether you make this Strawberry Tart with the traditional or gluten-free crust, or change up the topping with different summer fruits, you'll love this simple recipe!