Key lime pie bars with a thick, creamy filling and a coconut cookie crust. With a gluten-free option.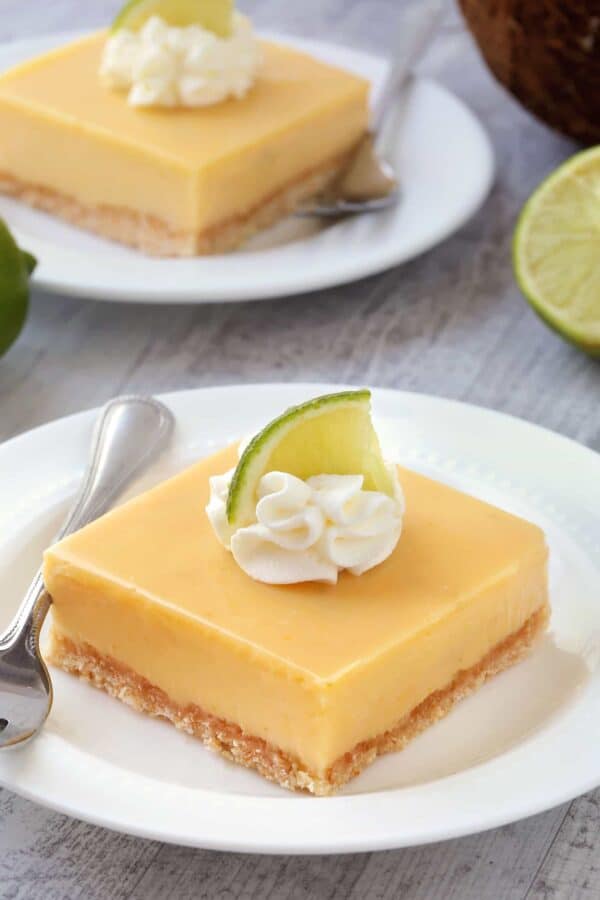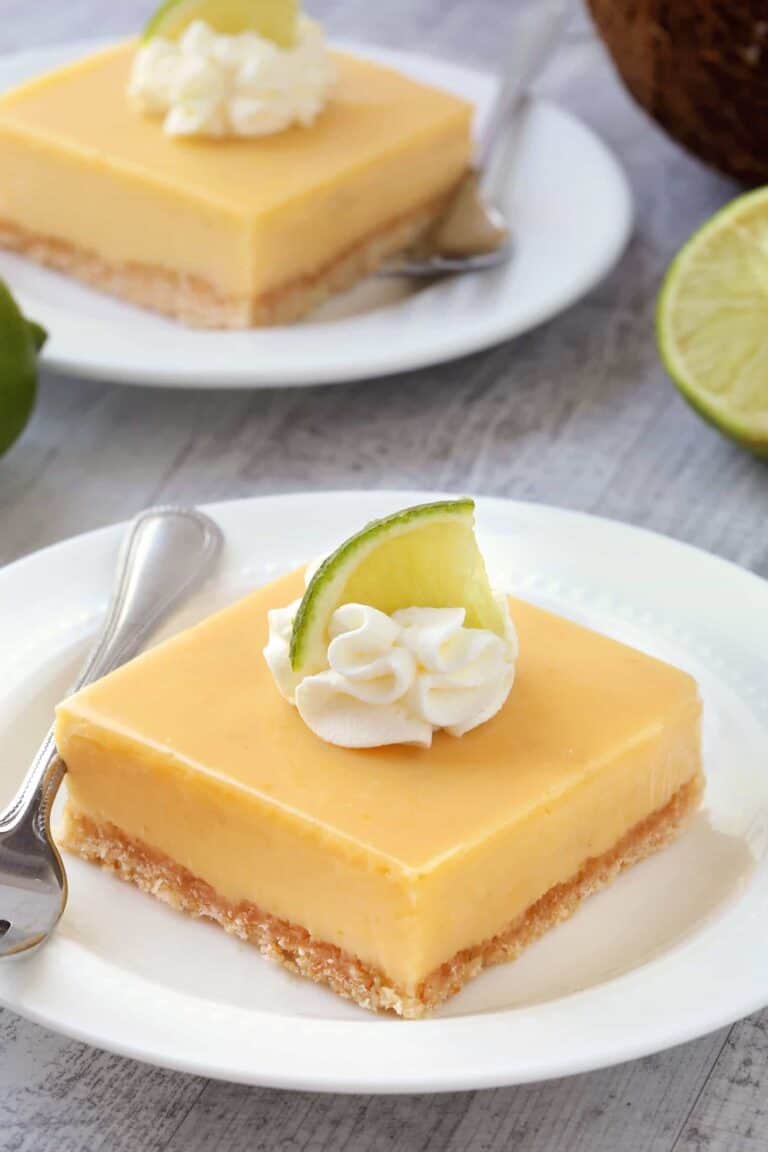 When I started working on this recipe, I figured that the world already had enough key lime pie recipes with graham cracker crusts. It's definitely a delicious combination but I thought I'd try something different, which is how this coconut cookie-like crust came about! If a graham cracker crust is more your speed, use the crust in these cookie dough cheesecake bars.
The crust is super easy to put together but it does require one extra step you don't typically find in other crust recipes, which is to toast the coconut before mixing it in with the other ingredients. It's so worth taking the extra few minutes to do that! Unsweetened coconut tastes almost like nothing, at least in my opinion, until you toast it and then it's transformed into something heavenly.
I also added some coconut extract to the crust but if you don't want a noticeable coconut taste, you can use vanilla extract instead for a much more subtle coconut flavor. By the way, if you're a coconut lover like I am, you have to try this coconut rum cake!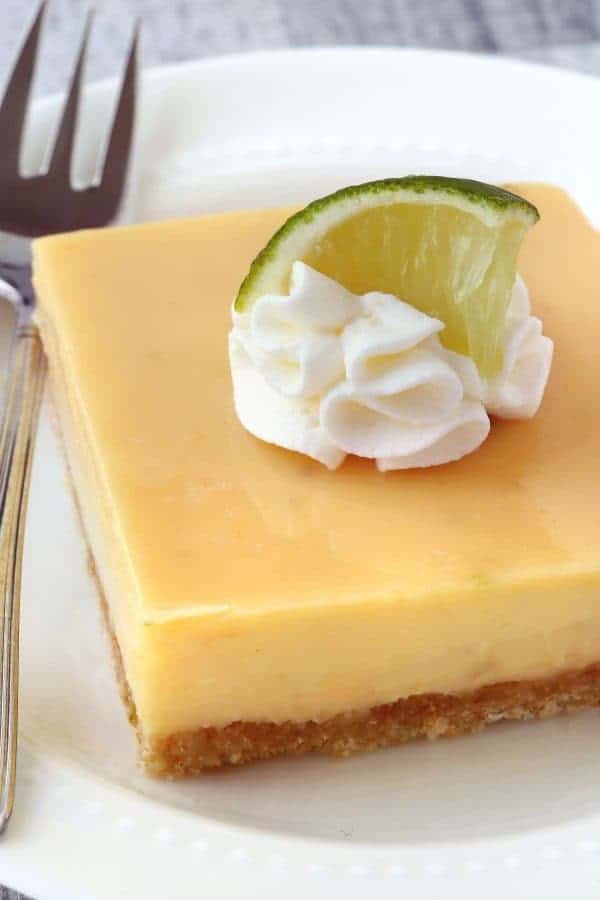 Key lime pie is probably my favorite dessert ever and I don't like to be stingy when it comes to the filling. That's why my version has double the amount of filling that most key lime bar recipes call for. I've been using the same recipe since I was in high school and it's always such a crowd pleaser.
If key limes aren't available locally, regular limes work just as well! It's what I use. I've also made these bars with lemon juice and they taste oddly similar and just as delicious!
These key lime pie bars call for a whole cup of lime juice. It'll depend on the size and the juiciness of your limes, but you'll likely need about 8-11. That's quite a bit so I have to admit that I often use bottled lime juice or a mix of freshly squeezed and bottled. Freshly squeezed does taste better but sometimes I want a quick dessert and juicing a full cup of lime juice just isn't going to happen.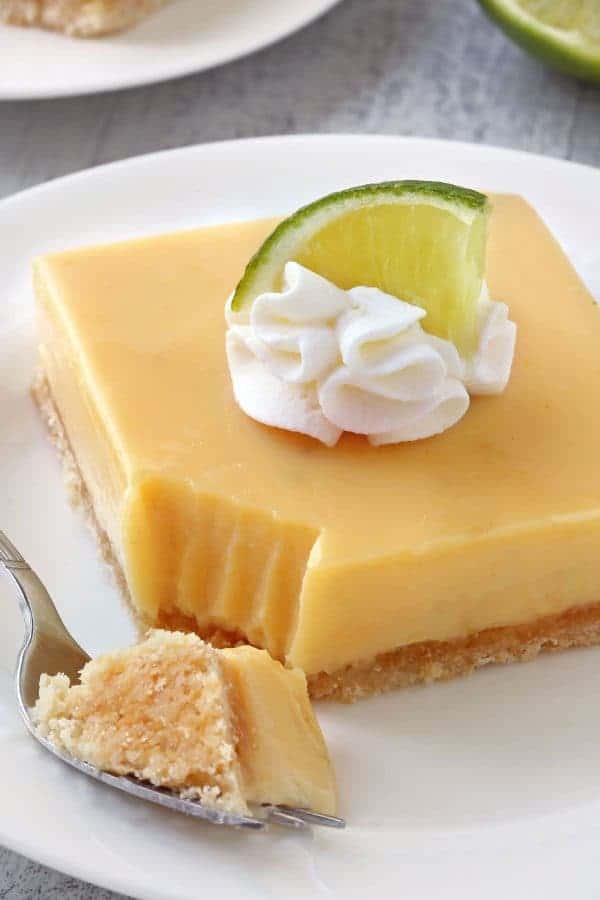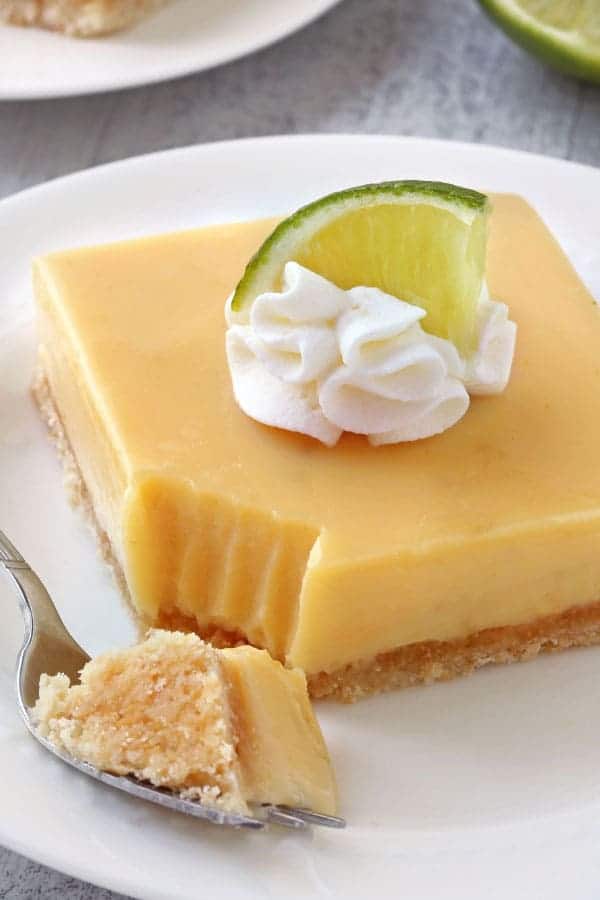 If you go the bottled route, make sure to get something that's 100% lime juice. I don't recommend using lime juice from those small, green, plastic squeeze bottles, though. Believe me – I've tried and the result is terrible.
These key lime pie bars are perfectly zingy and great for warm summer days but if you're not in the mood for something so rich, try Jamie's chewy lime sugar cookies. I've made them several times and they're just as delicious as they look!
For more key lime desserts, be sure to check out these Chocolate Dipped Key Lime Pie Marshmallow Treats and this Key Lime Coconut Cheesecake!
Key Lime Pie Bars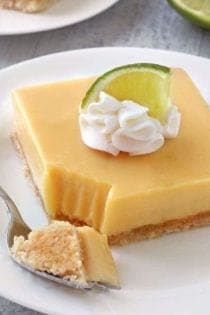 Ingredients:
For the crust:
2/3 cup unsweetened shredded coconut (not flaked coconut)
1 cup all-purpose flour or 1-to-1 gluten-free baking flour*
1/3 cup granulated sugar
1/4 teaspoon salt
1 teaspoon coconut extract
6 tablespoons unsalted butter
For the filling:
2 (14-ounce) cans sweetened condensed milk
4 large egg yolks
1 cup lime juice
1 1/2 teaspoons lime zest
pinch of salt
* If you need these bars to be gluten-free, make sure all your ingredients are certified gluten-free. I used this gluten-free baking flour in this recipe.
Directions:
Preheat the oven to 350 degrees F and line an 8″x8″ pan with a piece of parchment paper.
Place the coconut on a baking sheet and bake for 4-6 minutes. Keep a close eye on it and stir as soon as you see it start to brown. Continue cooking for another minute or two until most of the coconut is lightly browned. Remove from the oven and cool completely.
In a medium mixing bowl, stir together the toasted coconut, flour, sugar, and salt. Sprinkle the coconut extract over the top and use your hands to incorporate the butter until thoroughly combined. When pinched, it should hold together. You can alternatively pulse everything together in a food processor until well combined.
Pat the dough firmly onto the bottom of the prepared pan and bake for 15 minutes or until lightly browned.
While the crust is baking, prepare the filling. In a large mixing bowl, stir together all the filling ingredients until thoroughly combined.
Remove the crust from the oven, let it sit for 2 minutes and then pour the filling over the crust. Bake for 15 minutes or just until set. Little pinholes or bubbles may form on the surface.
Remove from the oven and let cool to room temperature, about 2 hours, before chilling in the refrigerator for another 2 hours before serving.
Store in the refrigerator for up to 5 days.
Follow Jamie on Instagram. We love to see what you're baking from MBA! Be sure to tag @jamiemba and use the hashtag #mbarecipes!