Classic Pecan Pie is a must for any Thanksgiving table. Packed with toasty pecans and a silky smooth, sweet filling, this is a recipe you'll return to year after year.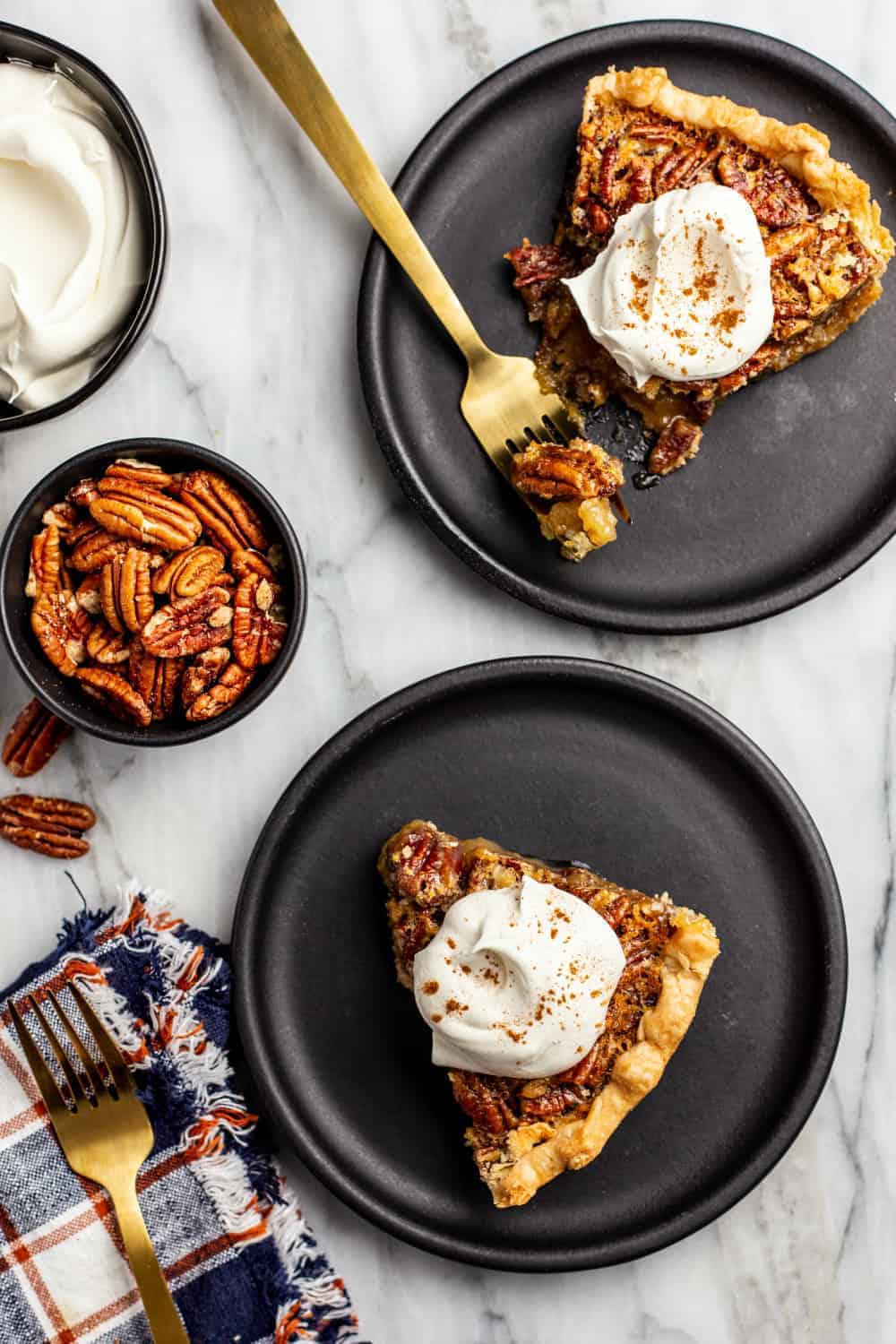 I cannot believe that Thanksgiving is just around the corner.
Our family usually vacations to Florida in November. We thought we might not go this year and then decided to head down after all, sort of at the last minute.
We'll be getting home only a handful of days before Thanksgiving, so my meal-planning window is going to be way shorter than normal.
Since things are going to be a little rushed, I've decided that I'm sticking with the classics this year. My Pumpkin Roll, Sweet Potato Casserole, and this Classic Pecan Pie.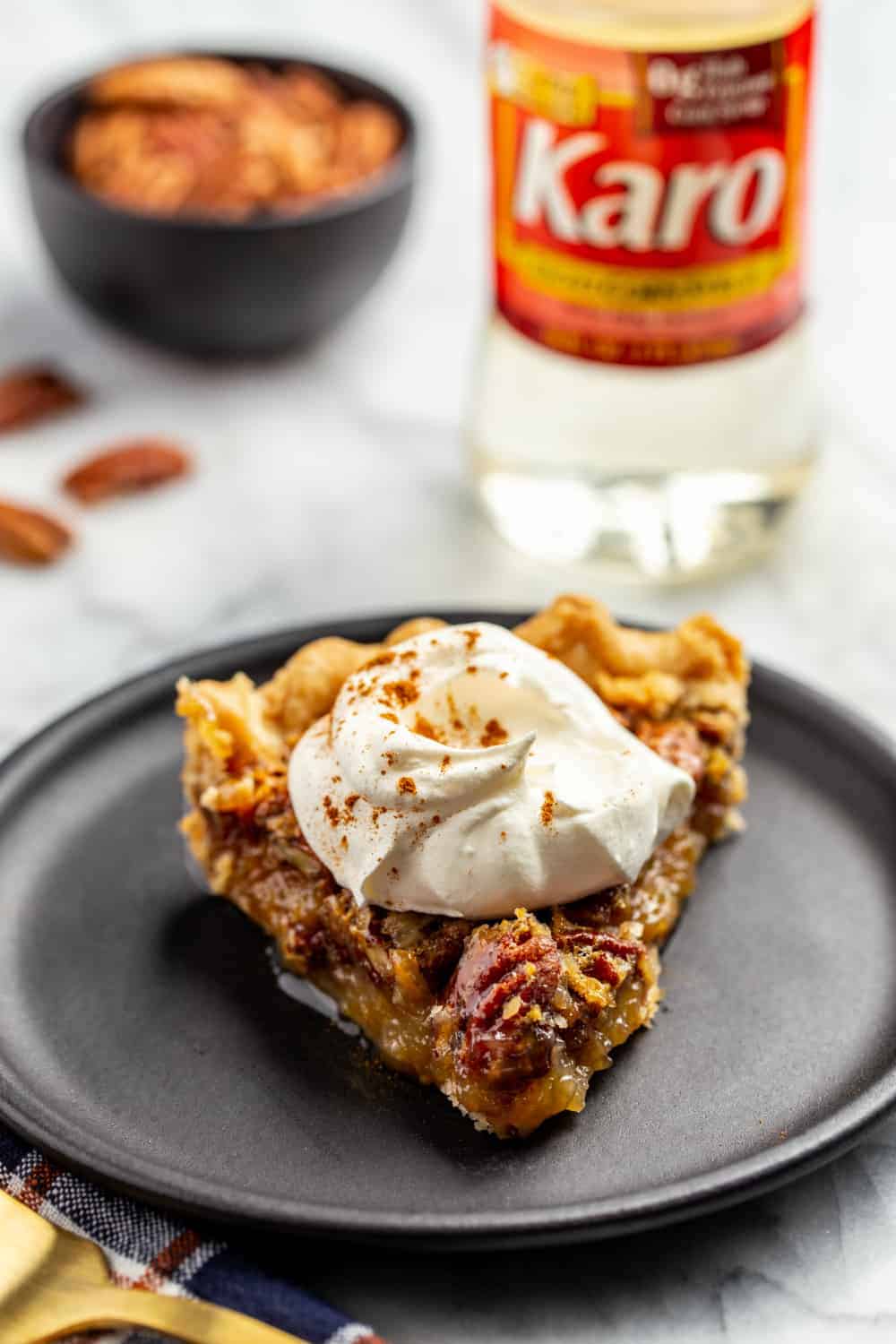 CLASSIC PECAN PIE INGREDIENTS
You may have noticed that I'm really into classic recipes these days.
From Old Fashioned Apple Crisp and Parker House Rolls to Rum Balls and my favorite Vanilla Cheesecake, I am really appreciating solid recipes and the straightforward ingredients used in them.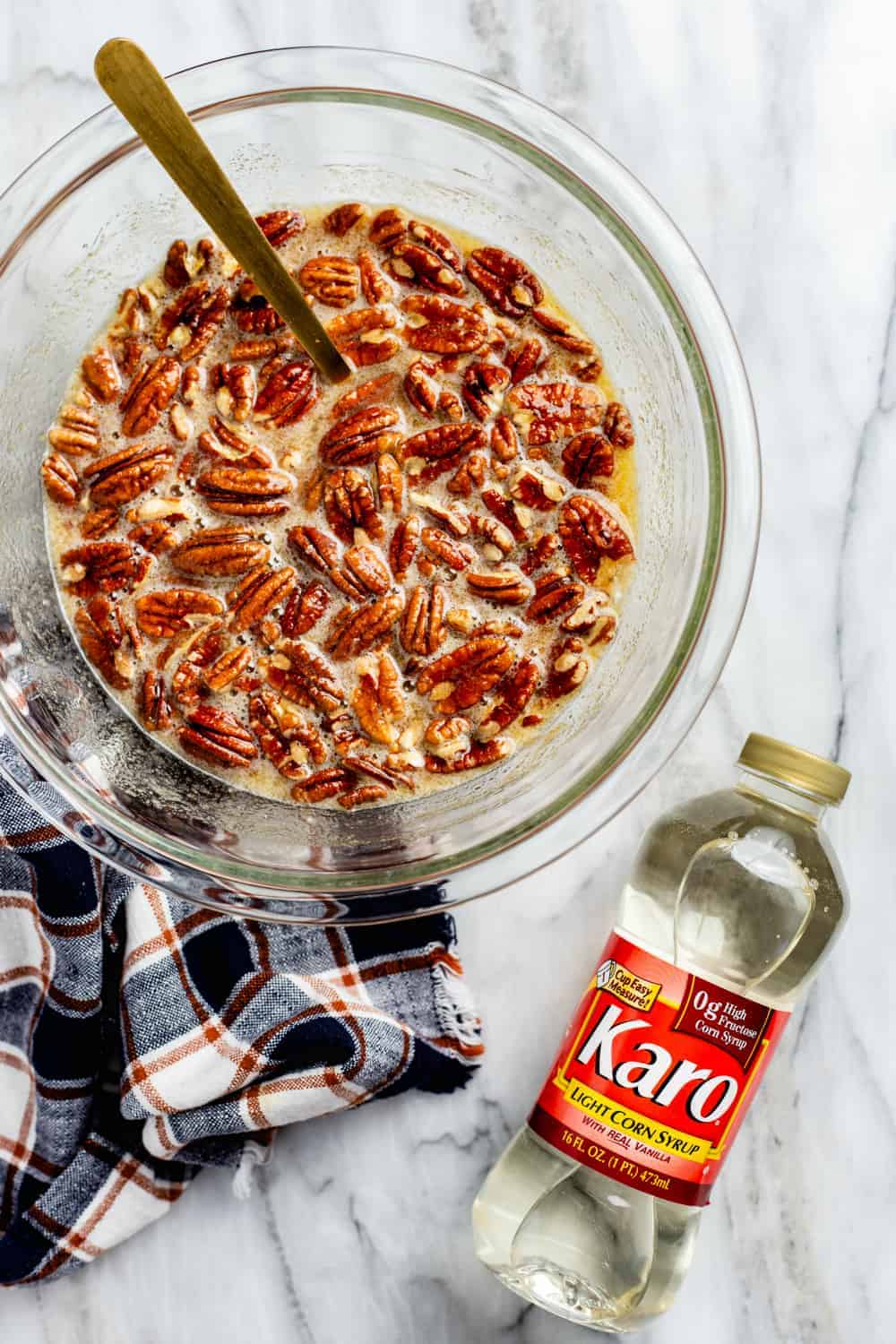 This Classic Pecan Pie recipe is no different.
I've made Pecan Slab Pie and Chocolate Bourbon Pecan Bars. I've even made Pumpkin Pecan Bars!
But sometimes you just want to enjoy a bite of the classic: flaky pie crust topped with a silky filling and nutty pecans.
Making Classic Pecan Pie requires just a handful of ingredients:
Pecans
Eggs
Sugar
Melted butter
Vanilla
Karo® Corn Syrup
Karo® Corn Syrup is the secret ingredient for a perfect pecan pie. It's been used in southern cooking and baking for over 100 years, so you know it's a brand to trust.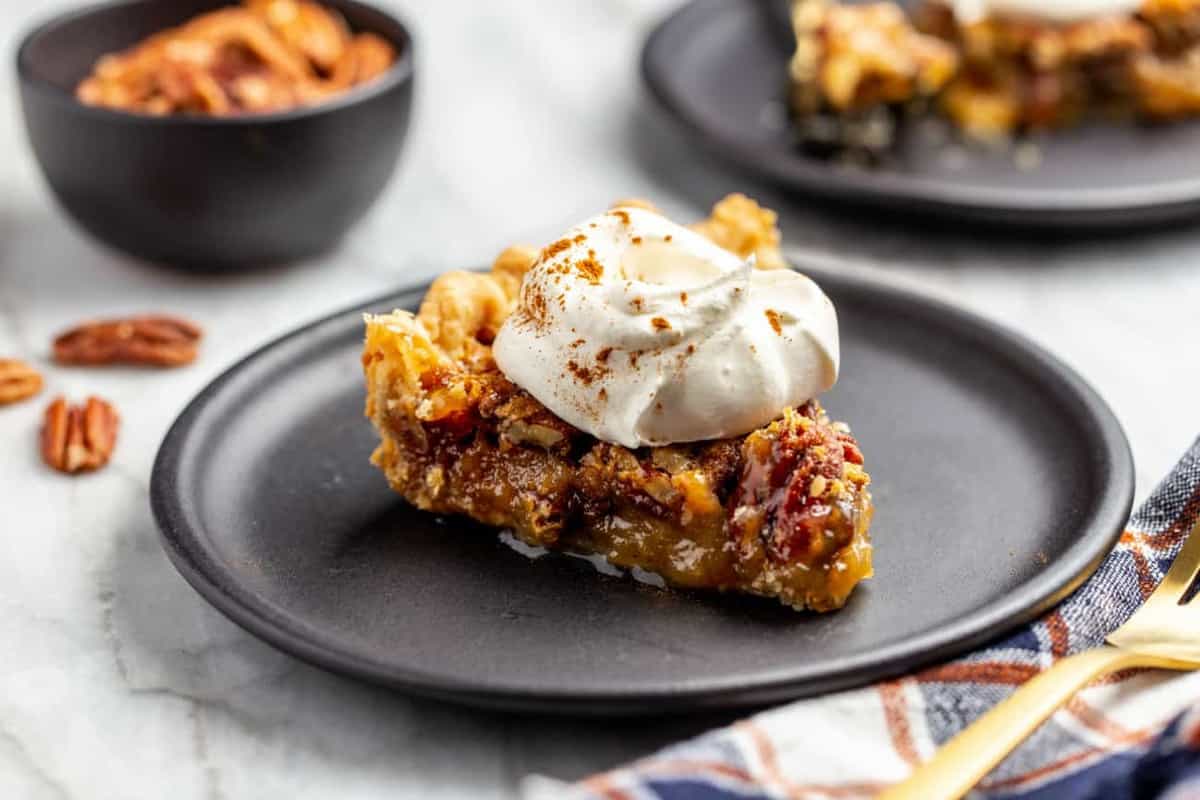 Corn syrup is useful in all kinds of recipes, such as Salted Caramel Sauce and Homemade Peanut Brittle, to help keep sugars from crystalizing. Using Karo® Corn Syrup in your pecan pie filling keeps it from crystalizing in the oven and ensures a silky smooth filling every time.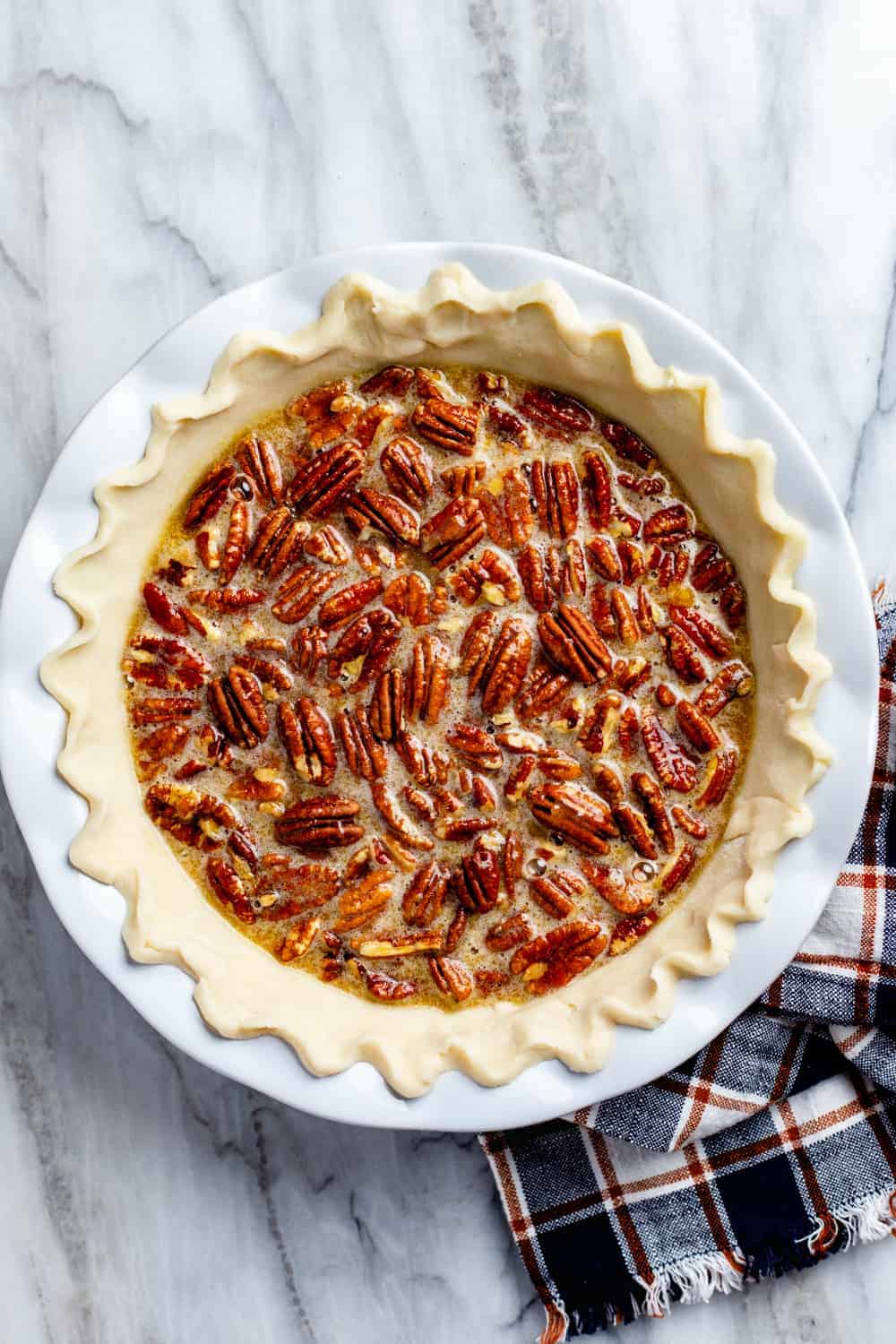 HOW TO MAKE PECAN PIE FILLING
Because the filling for our pecan pie uses Karo® Corn Syrup, it is insanely easy to whip together and will have just the right amount of sweetness.
Just whisk together the corn syrup, eggs, sugar, melted butter and vanilla. Stir in the pecans and pour the filling into your unbaked pie crust.
That's it! All you have to do is bake, cool, and enjoy.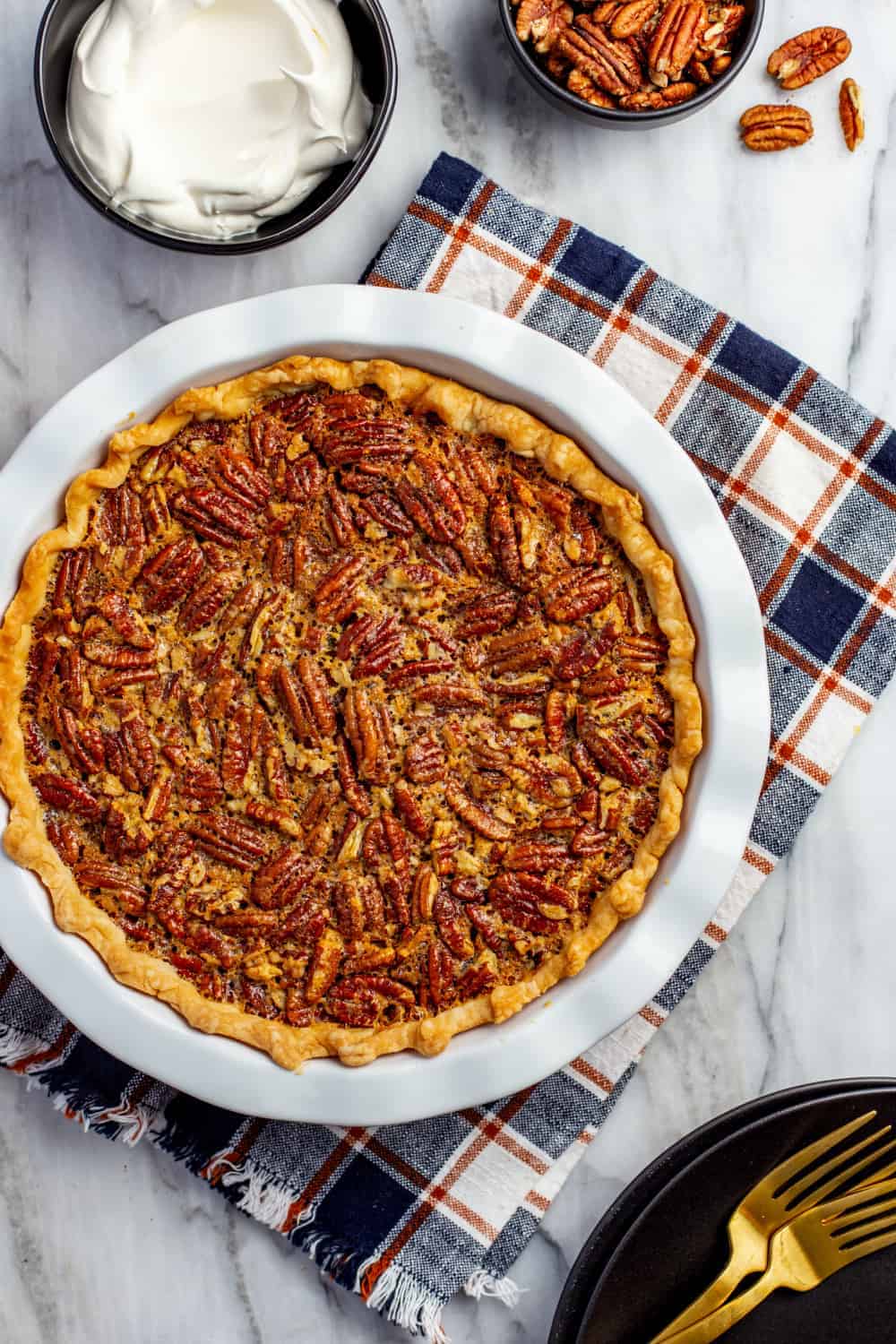 HOW TO TELL WHEN PECAN PIE IS DONE
Because the pecans form a bit of a crust on the top of the pie, it can be tricky to know exactly when pecan pie is done.
The best way is to use an instant-read thermometer. The pie is done when the center reaches 200°F.
If you don't have an instant-read thermometer, tap the center surface of the pie lightly – it should spring back when done. The center might still jiggle a little bit when you take it out of the oven, but the edges should be stable and set.
Another thing to look for: The edges of the pie should appear a little puffy, right by the crust.
The pie will continue to set as it cools. Make sure to leave plenty of time for it to cool before serving – at least 2 hours!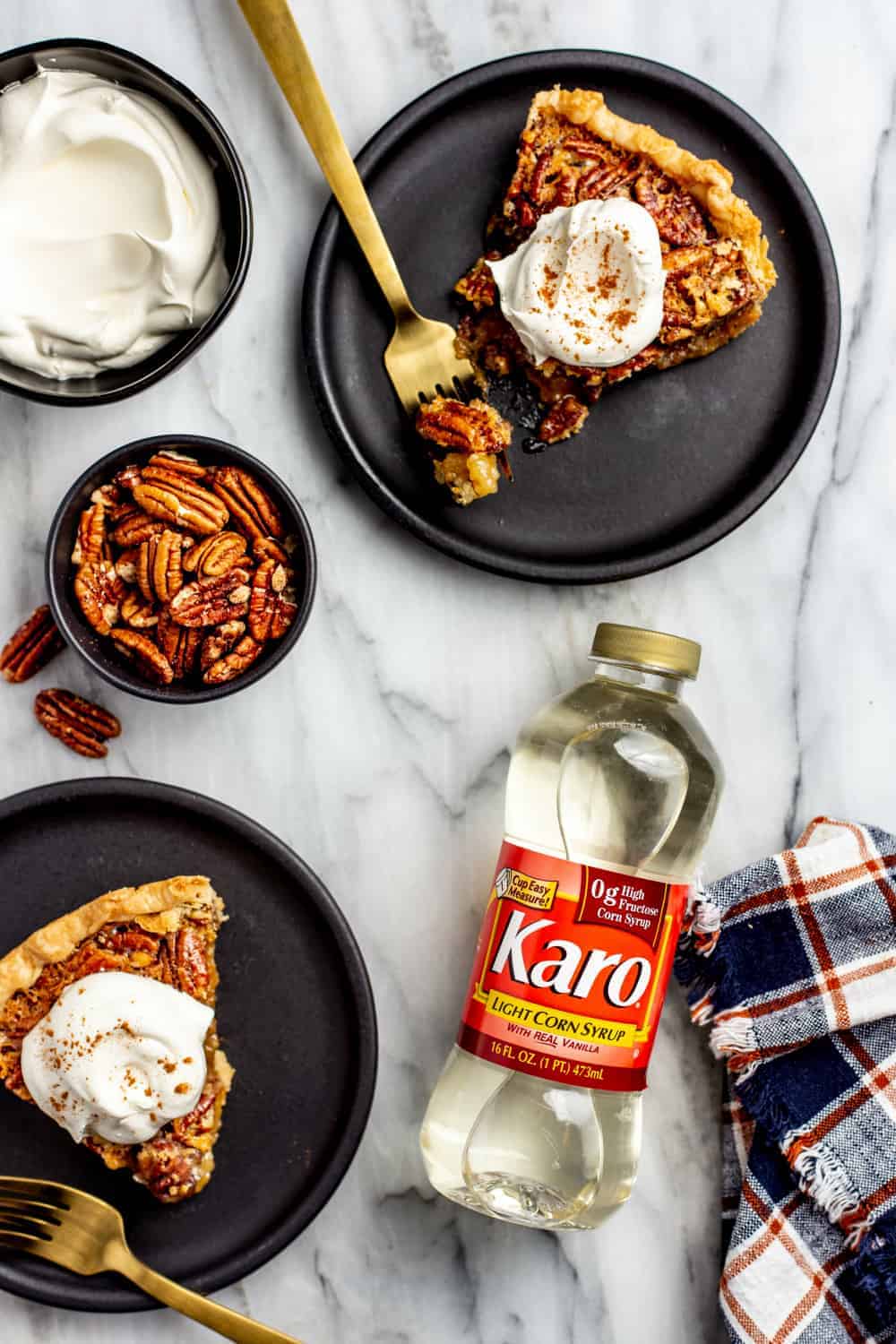 HOW TO STORE PECAN PIE
Since this pecan pie filling uses eggs, if you aren't planning to serve your pie within a couple of hours of baking it, you should plan to store it in the refrigerator.
Classic Pecan Pie will last, covered, in the refrigerator for up to 3 days.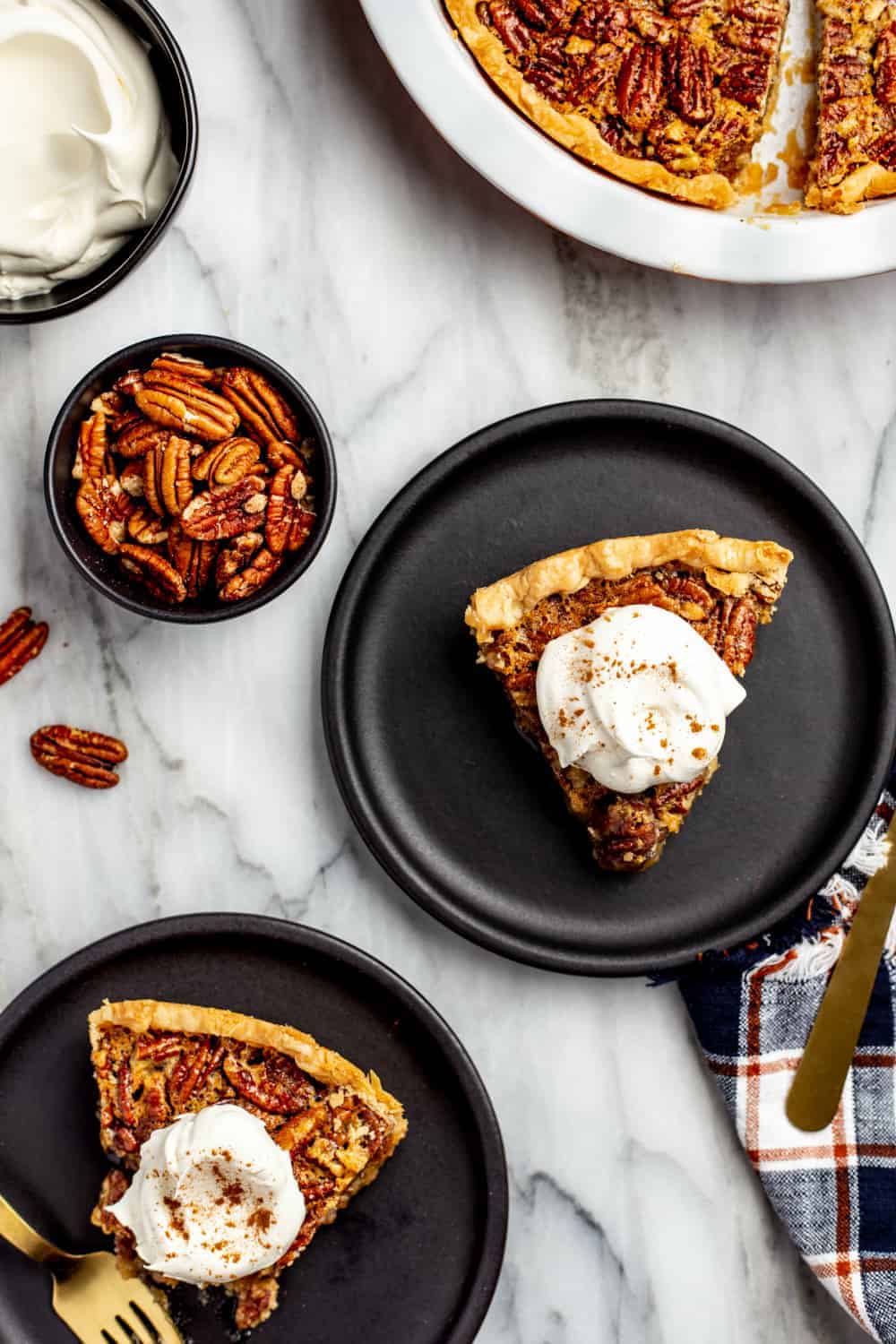 CAN PECAN PIE BE FROZEN?
If you love to prepare early for the holidays, you're in luck! Pecan pie can absolutely be frozen and enjoyed later.
To freeze, wrap the cooled pie tightly. I'd recommend wrapping it in foil and then placing it in a zip-top freezer bag, or sealing in a vacuum sealer.
Then freeze! The pecan pie will last at least a couple of months in the freezer.
To enjoy it, simply thaw, unwrap and reheat for about 20 minutes in a warm oven (around 350°F).