Chocolate Bourbon Pecan Bars are a fun twist on Karo's original Pecan Pie Bars. They're the perfect bar dessert for the holidays!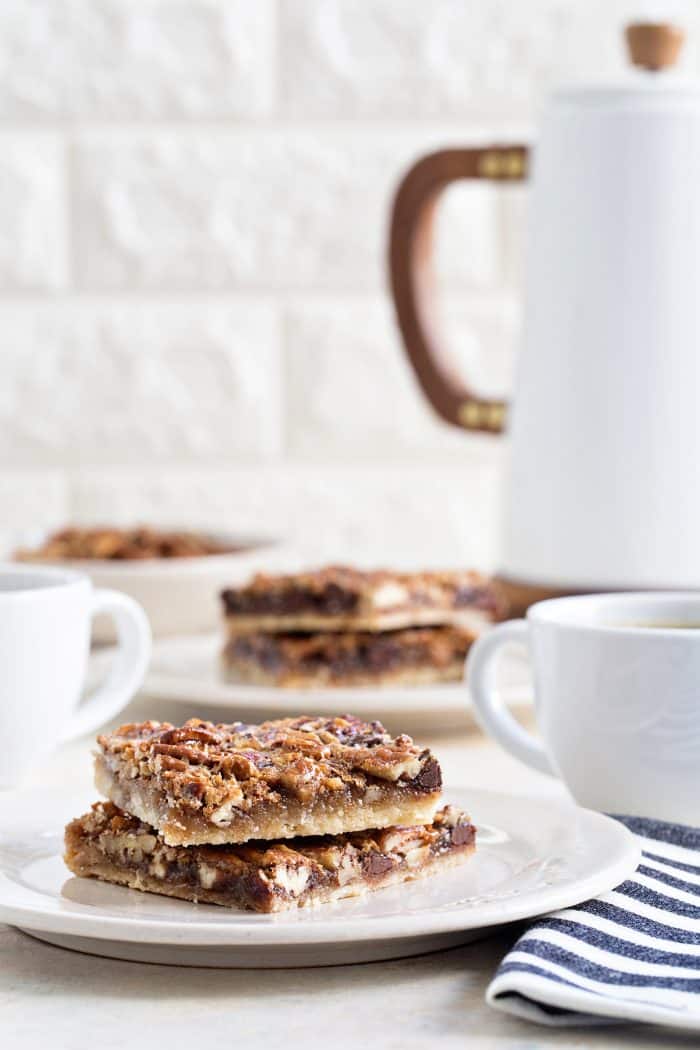 I have a confession. I'm a bit of a control freak – especially when it comes to holiday meals.
I have an amazing family that always offers to bring dishes to pass for Thanksgiving dinner. And I'm like, "Awesome, can you bring soda, ice and perhaps some corn?" I mean, corn is corn, right?
I'm not gonna lie, when people start asking if they can bring mashed potatoes, stuffing, or dessert, I smile, get all awkward, and tell them I have everything under control. And I totally don't.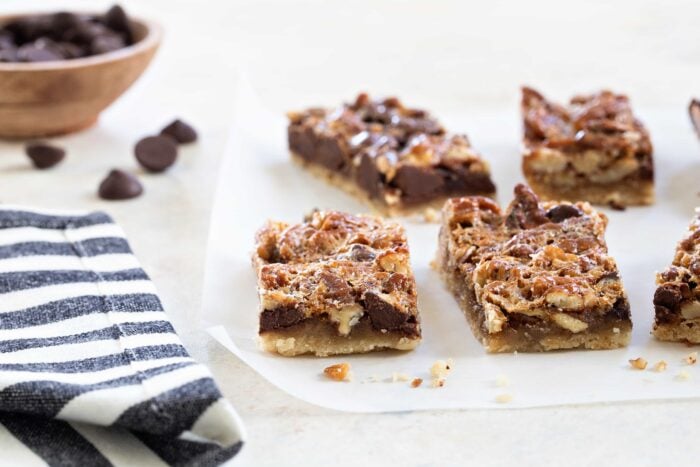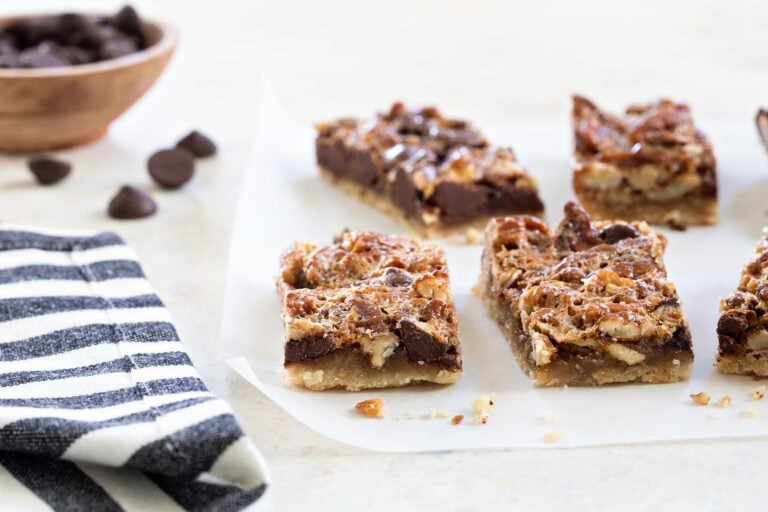 As weird as it may sound, I've always sort of thrived under pressure and sometimes I kind of enjoy it.
And let's be real, no one is messing with my mashed potatoes, stuffing, or dessert. I make all the carbs. Even if it mean I'm up until 3:00 AM the night before Thanksgiving.
This year, I'm feeling slightly ahead of the game. I've already picked up our turkey and ham and have all the rest of the ingredients scheduled for delivery. Yes, I'm totally going the delivery route this year.
Although I'm one of those people that sort of loves to grocery shop (as long as it's before 9:00 AM), I have zero love for holiday grocery shopping.
Or in-store holiday shopping in general, which our lovely UPS guy will totally attest too. Bless his heart. And back.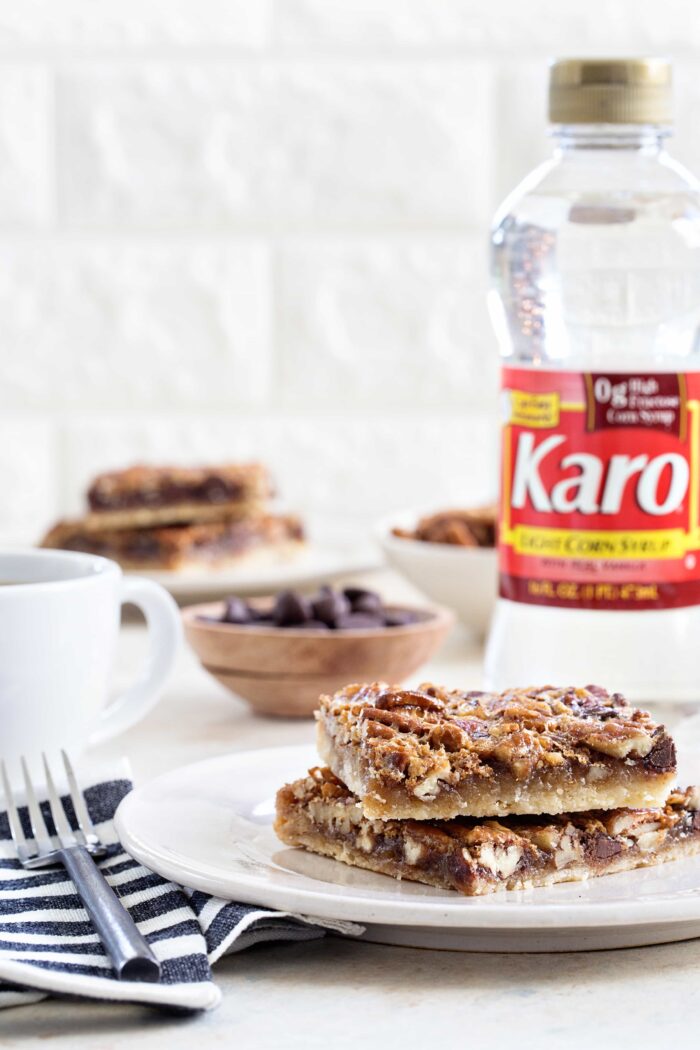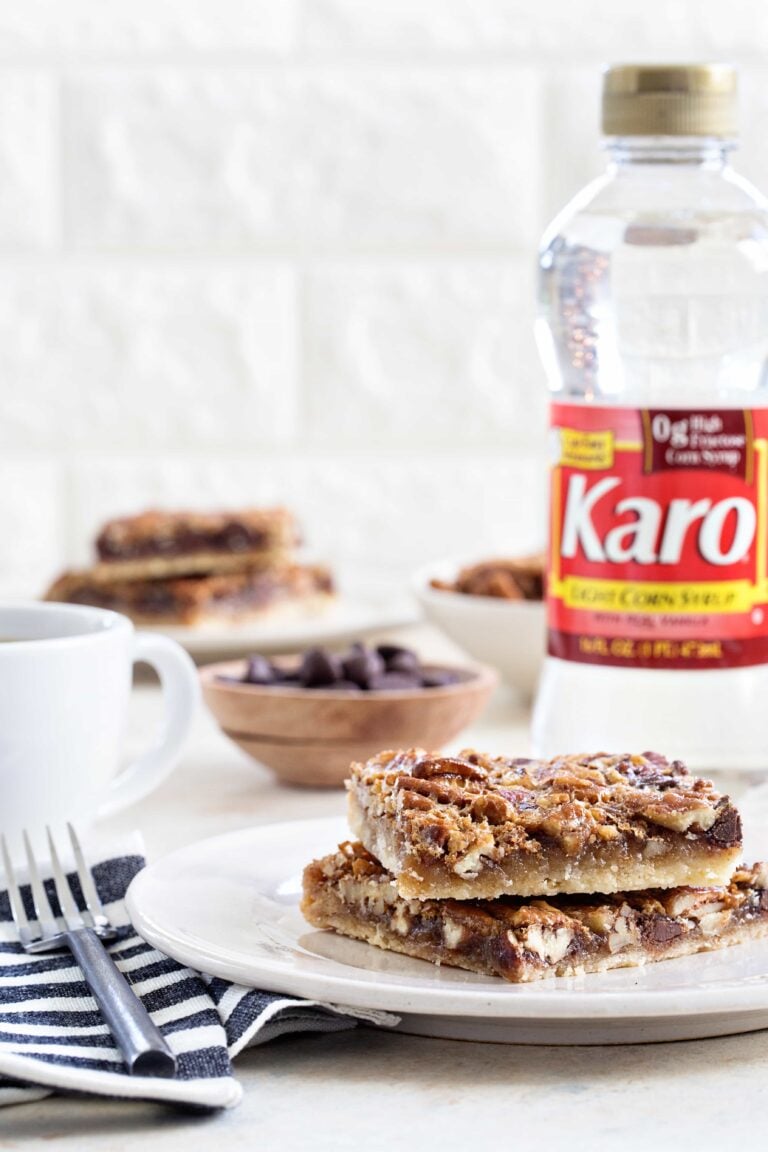 Tis' the season of sweetness! The time to get into the holiday spirit with decorating, gifting and, most importantly, treating the ones you love with something sweet, delicious and homemade.
Thanksgiving is just not Thanksgiving without Pecan Pie. But this year, I decided to kick it up a notch with a splash of bourbon and dark chocolate. Sounds pretty incredible, right?
And instead of pie, I'm going the bar route because I love having a pick up and enjoy option. No fork required! Which means less dishes too!
These Chocolate Bourbon Pecan Bars have just the right amount of sweetness and perfect texture thanks to Karo® Syrup. It creates the best texture! Smooth and gooey, and oh-so-good.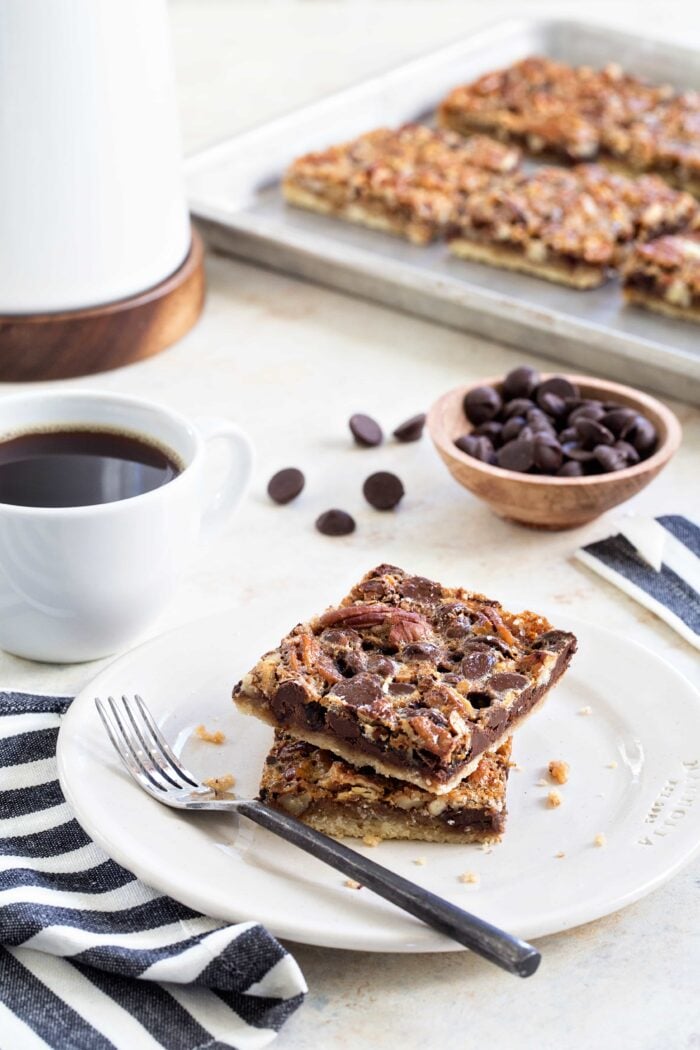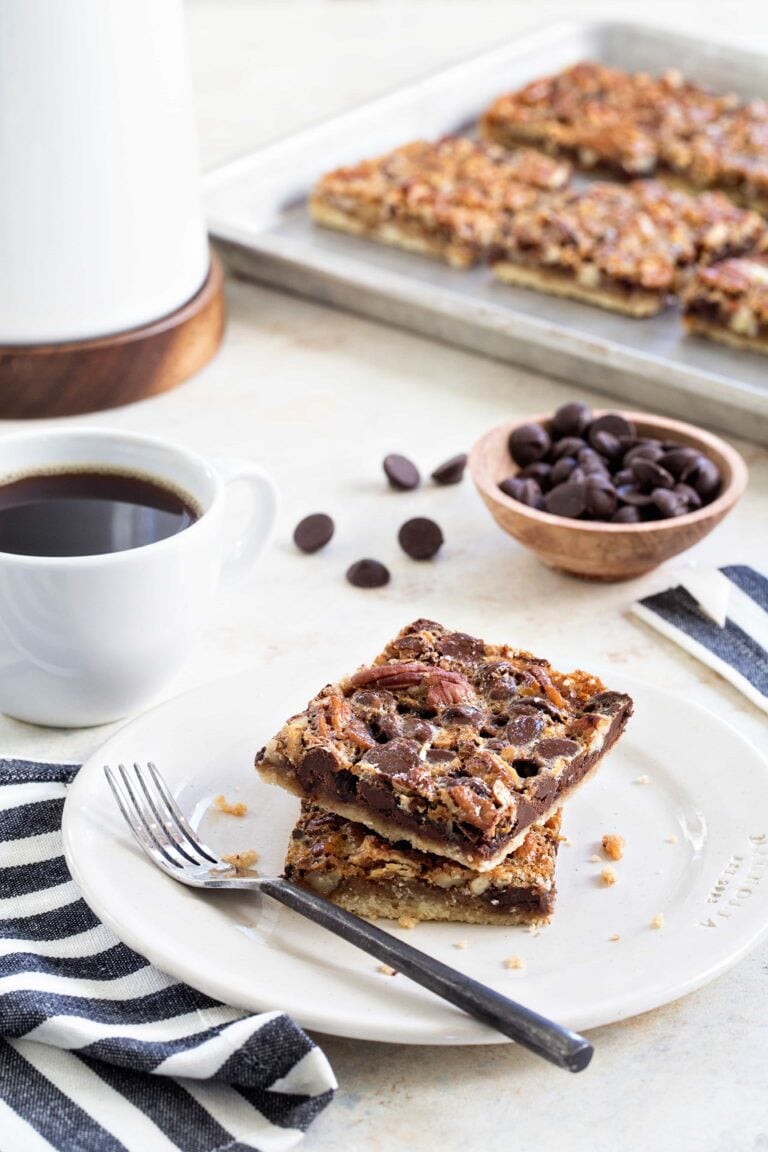 Plus, this recipe makes a lot of Chocolate Bourbon Pecan Bars, so there's plenty to share with everyone you love. Which is a great thing, because my family pretty much sustains life on leftovers for a solid week after Thanksgiving.
My only leftover rule: bring your own containers.
Of course, these bars would be great at any family event, spring, summer, fall or winter. Take them along to soccer practice or a potluck for New Year's. They're going to be the talk of the party, I can guarantee you that.
Oh man. It's holiday season, y'all. Who else is ready to sing while bopping around the kitchen to Bing Crosby and The Chipmunks Christmas? With a Chocolate Bourbon Pecan Bar in hand, of course.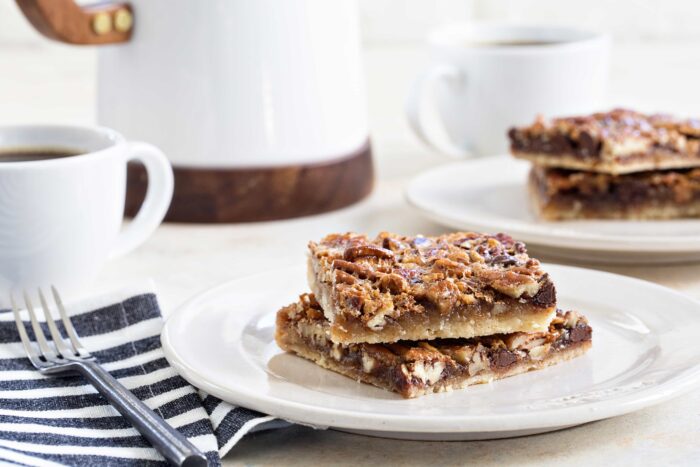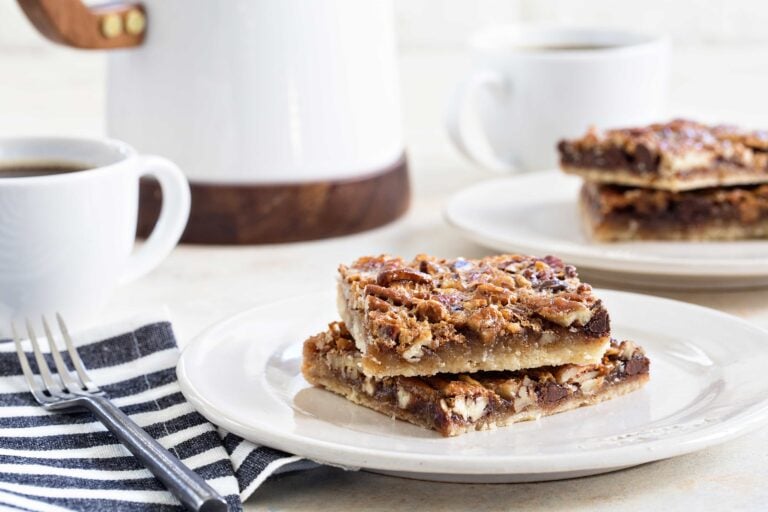 For more delicious desserts using Karo® Syrup, be sure to check out these Mini Chocolate Pecan Cheesecakes and these Chocolate Scotcheroos.