Apple Pie Bars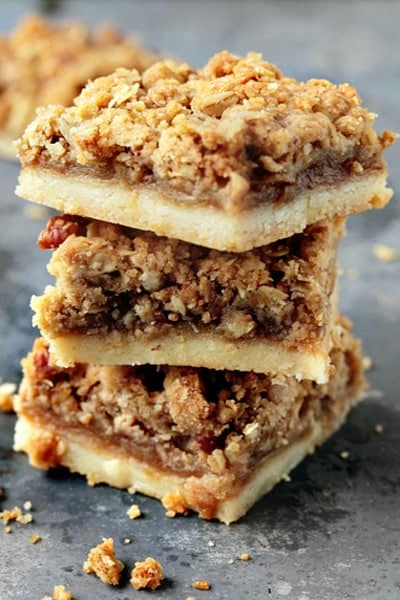 I'm going through a bit of an apple phase – more specifically an apple pie phase, but not in the traditional sense. I'm all about the warm and cozy taste and texture of America's favorite pie, but I'm having fun reworking those flavors into other desserts. First gorgeous Apple Pie Muffins, then Homemade Apple Butter and now these lovely Apple Pie Bars.
We are lucky enough to have an amazing apple orchard just minutes from our house. Nestled in front of the orchard is a charming general store filled with smells of cider and freshly baked apple pie. The store also sells a terrific assortment of pantry items like country jams, jellies, syrups and also a variety of locally grown produce.
I may have picked up half a bushel of Granny Smith apples from the orchard on a whim – and I needed to find a plan fast. Having been enlisted to bake a dessert for a staff luncheon, I knew sweet Fall flavors in abundance would work well, but I also needed a recipe with a yield large enough to feed a room full of sweet-toothed coworkers. After a brief Google search, I came across this recipe for Apple Pie Bars and it is simply perfect.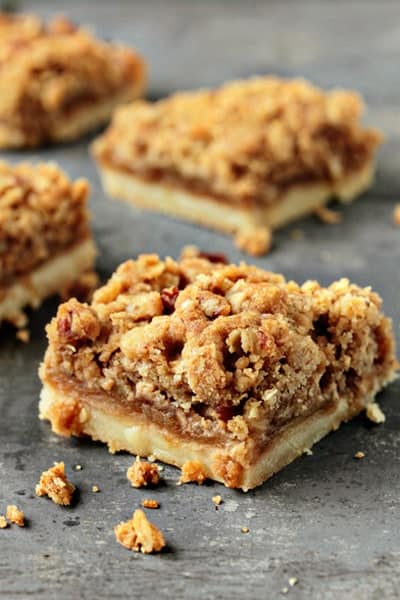 Apple Pie Bars start with a rich, buttery shortbread crust that is topped with a layer of tart apples that are beautifully accentuated by a perfect blend of autumnal spices. To make these already incredible bars even better, a layer of sweet and nutty crumble adds just the right amount of crunch.
Although these Apple Pie Bars definitely fit into the dessert category, we couldn't help indulging in them with our morning coffee for a delicious breakfast.
This recipe makes a huge batch of these bars which makes them perfect for potlucks, holiday cookie swaps or holiday parties.

This post may contain affiliate links. We are a participant in the Amazon Services LLC Associates Program, an affiliate advertising program designed to provide a means for us to earn fees by linking to Amazon.com and affiliated sites.