Apple Pie Bars combine a rich, buttery shortbread crust with tart apples and a nutty crumble topping for a hand-held version of apple pie that is perfect for everything from potlucks to holiday parties.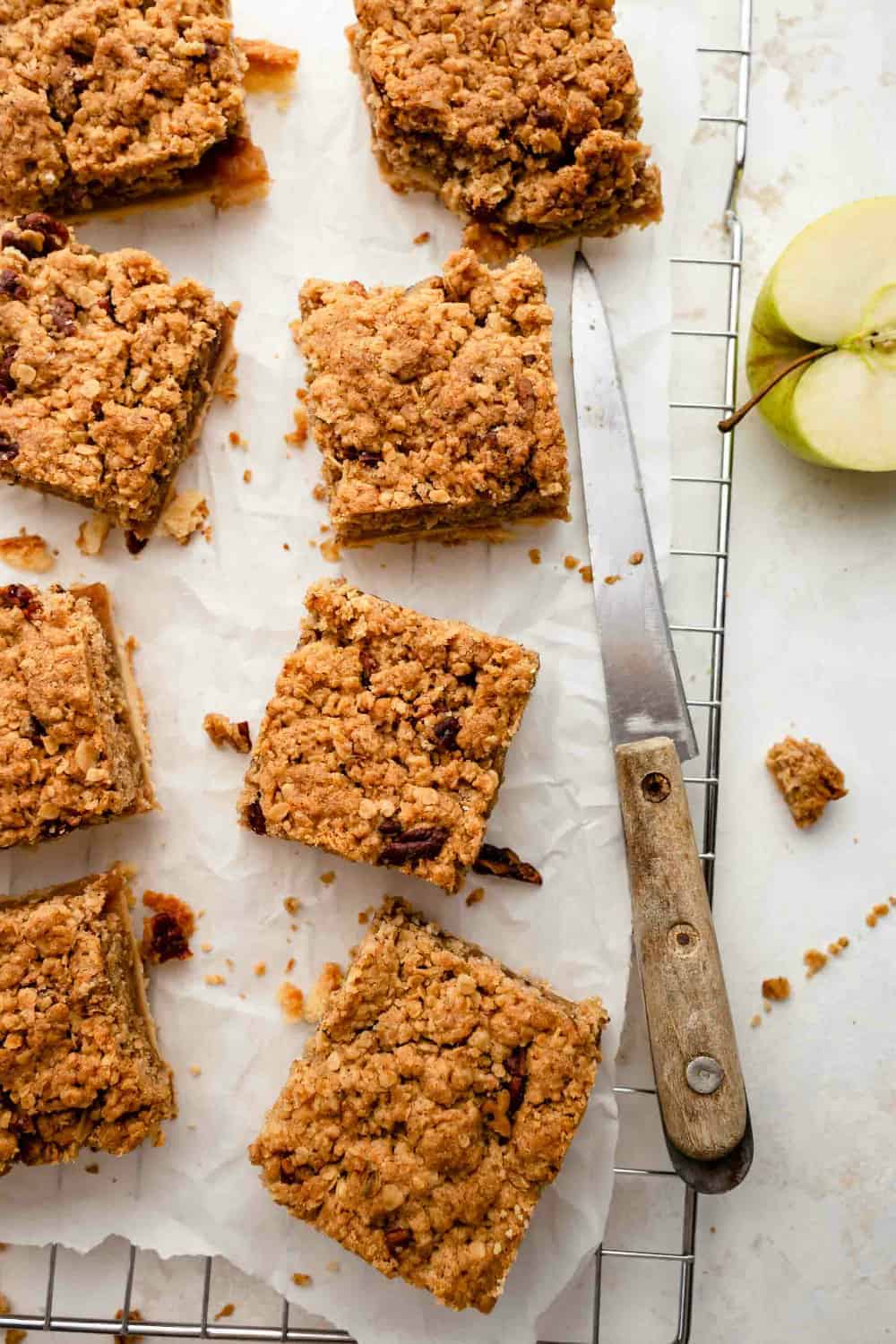 I feel like I reached a new level of adulthood yesterday.
While at Home Depot on the hunt for mums in a specific color and size – yes, I am already decorating for fall, judge away – I somehow ended up in the toilet seat aisle.
Well, I kind of know how I ended up there – I was browsing bathroom vanities because ours are falling apart after 4 years.
Gotta love builder grade products. Insert mega eye roll here.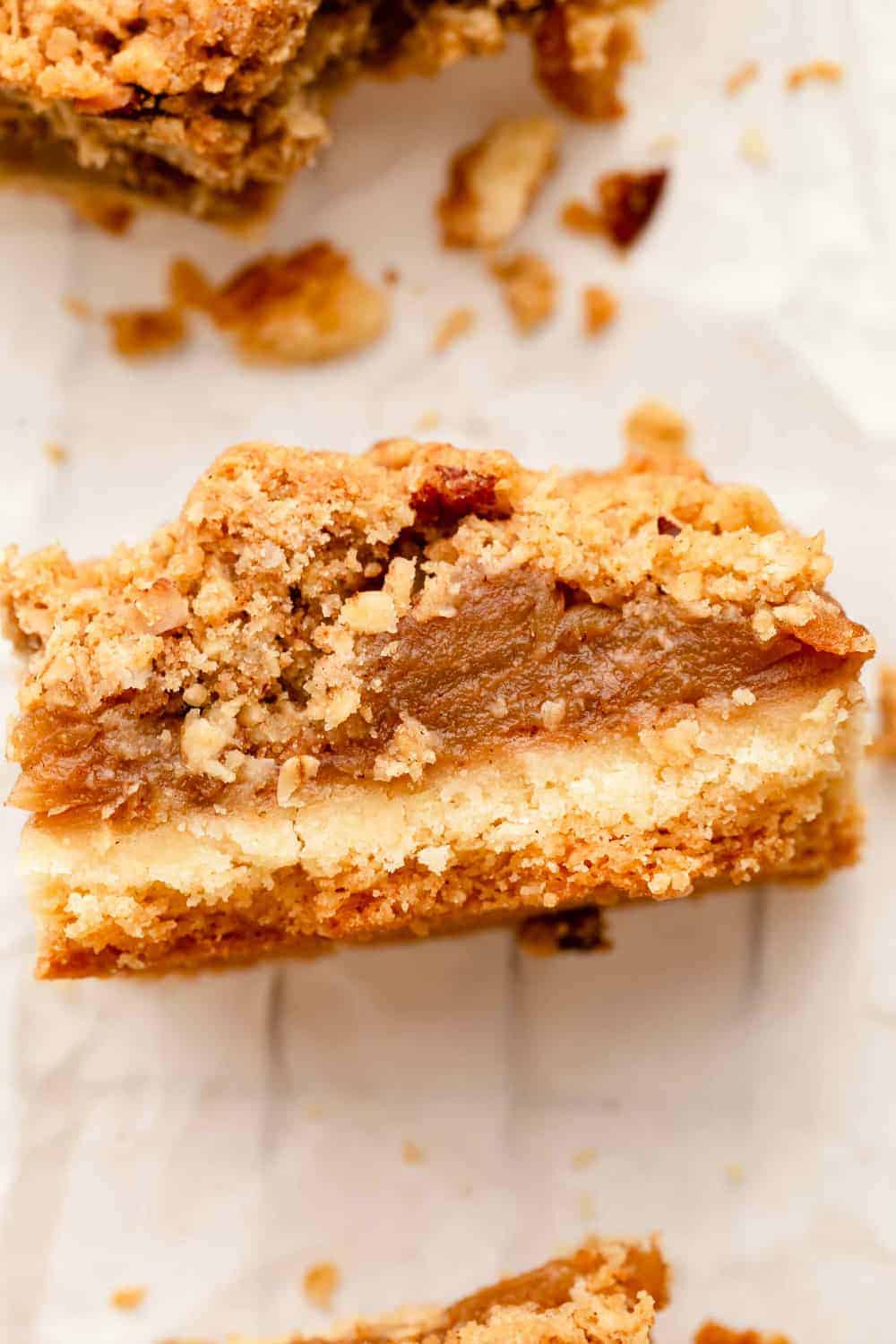 I came across a soft-close toilet seat and decided that I needed to have it, but that's not necessarily the new level of adulthood part.
Sure a new toilet seat that doesn't wiggle and get slammed by my 5-year-old is awesome, but guys, I removed the old one and installed the new one myself.
I am sure some of you are rolling your eyes right now because toilet seat installation is not that serious, but I am the most unhandy of people on the planet, so this was quite the Thursday afternoon accomplishment.
In fact as soon as I'm done decorating for fall, I'm thinking of trying my hand at installing some vertical shiplap in my laundry room.
Wait, is shiplap still a thing?
Maybe I should stick with what I'm decent at and that's making desserts, especially fall desserts like these apple pie bars.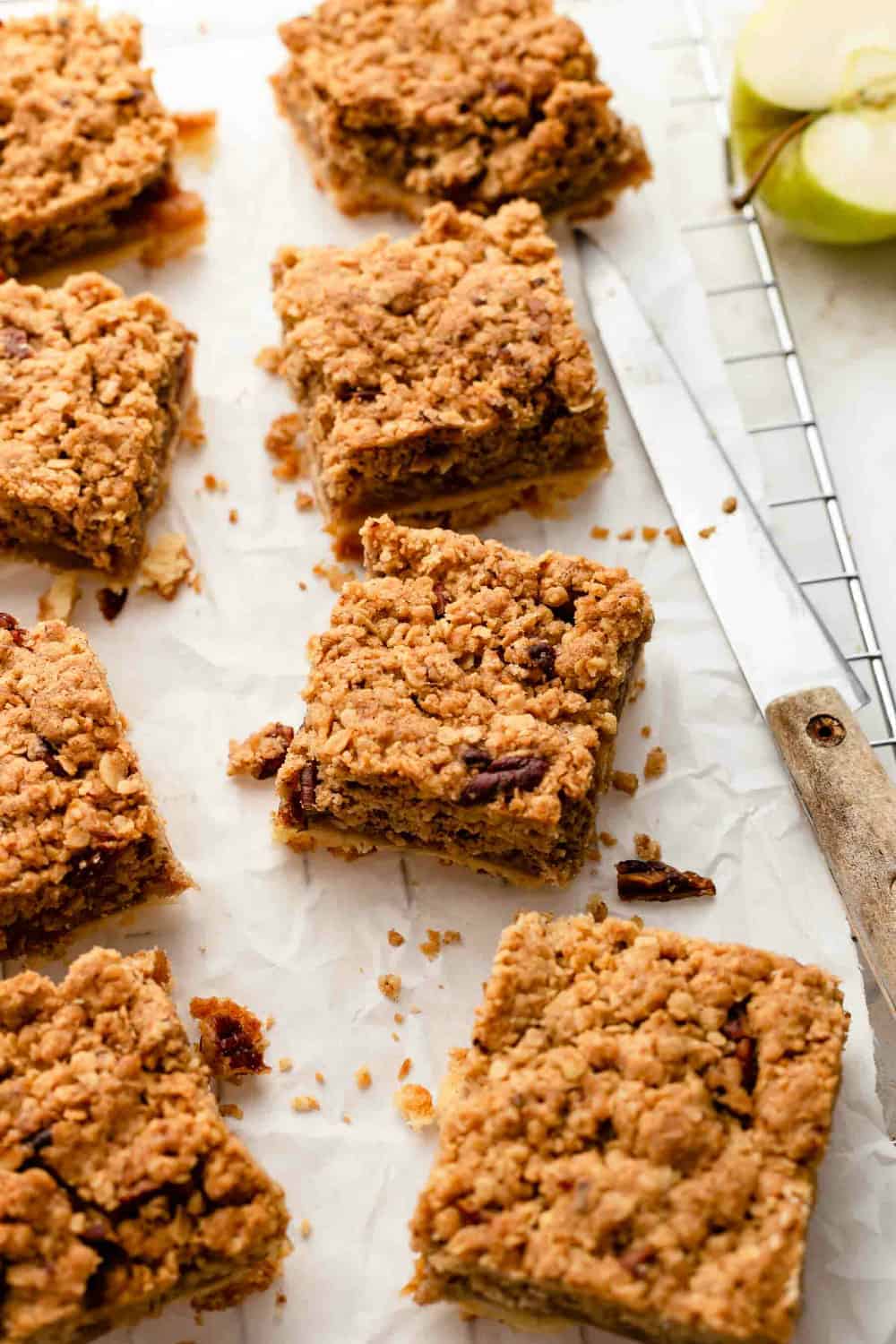 APPLE PIE WITH A TWIST
I'm going through a bit of an apple phase – more specifically an apple pie phase, but not in the traditional sense.
I'm all about the warm and cozy taste and texture of America's favorite pie, but I'm having fun baking those flavors into other desserts.
I've been revisiting recipes like my Caramel Apple Crisp, gorgeous Apple Pie Muffins, luscious Slow Cooker Apple Butter and now these lovely Apple Pie Bars.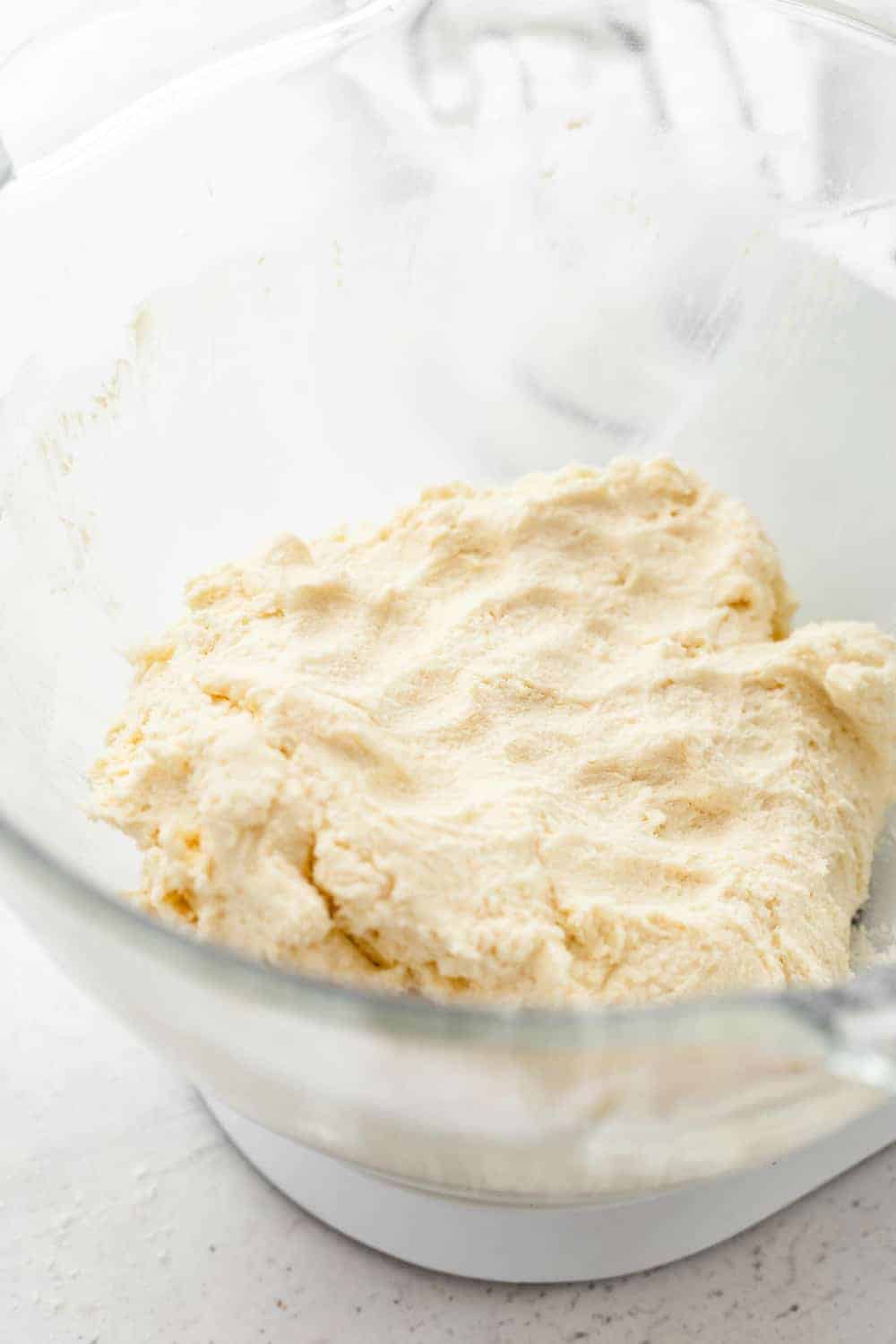 Don't get me wrong, I enjoy a traditional apple pie every now and again, even if it's in mini version like my Mini Apple Pies. But pie crust is not my favorite thing to work with and honestly, I think some of these other recipes are more fun (and easier) to make.
HOW TO MAKE APPLE PIE BARS
In the case of Apple Pie Bars, pie crust is swapped with a shortbread crust. After mixing the dough together, it gets pressed into the bottom of a rimmed baking sheet – zero chilling or rolling necessary.
The "hardest" part of this recipe is the filling. I use the word "hardest" loosely because if you can cook anything in a pan, then you can make this filling.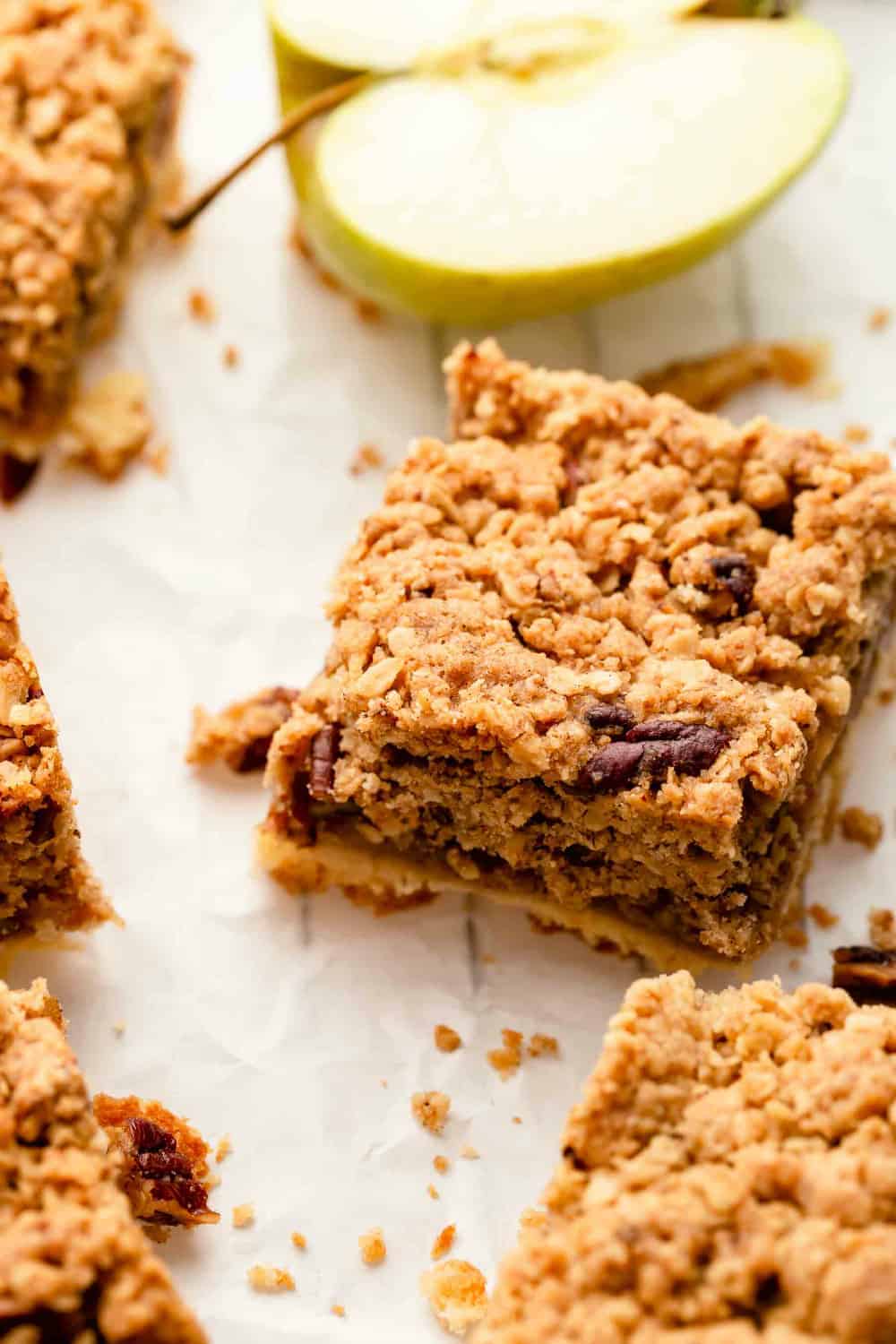 Because you want the apples in these Apple Pie Bars to be nice and soft, they need to cook for a bit before the bars go in the oven.
I also nixed a top crust on these bars in favor of a crumble topping. Oats, cinnamon, and pecans make this crumble so good, it might be my favorite part of this recipe.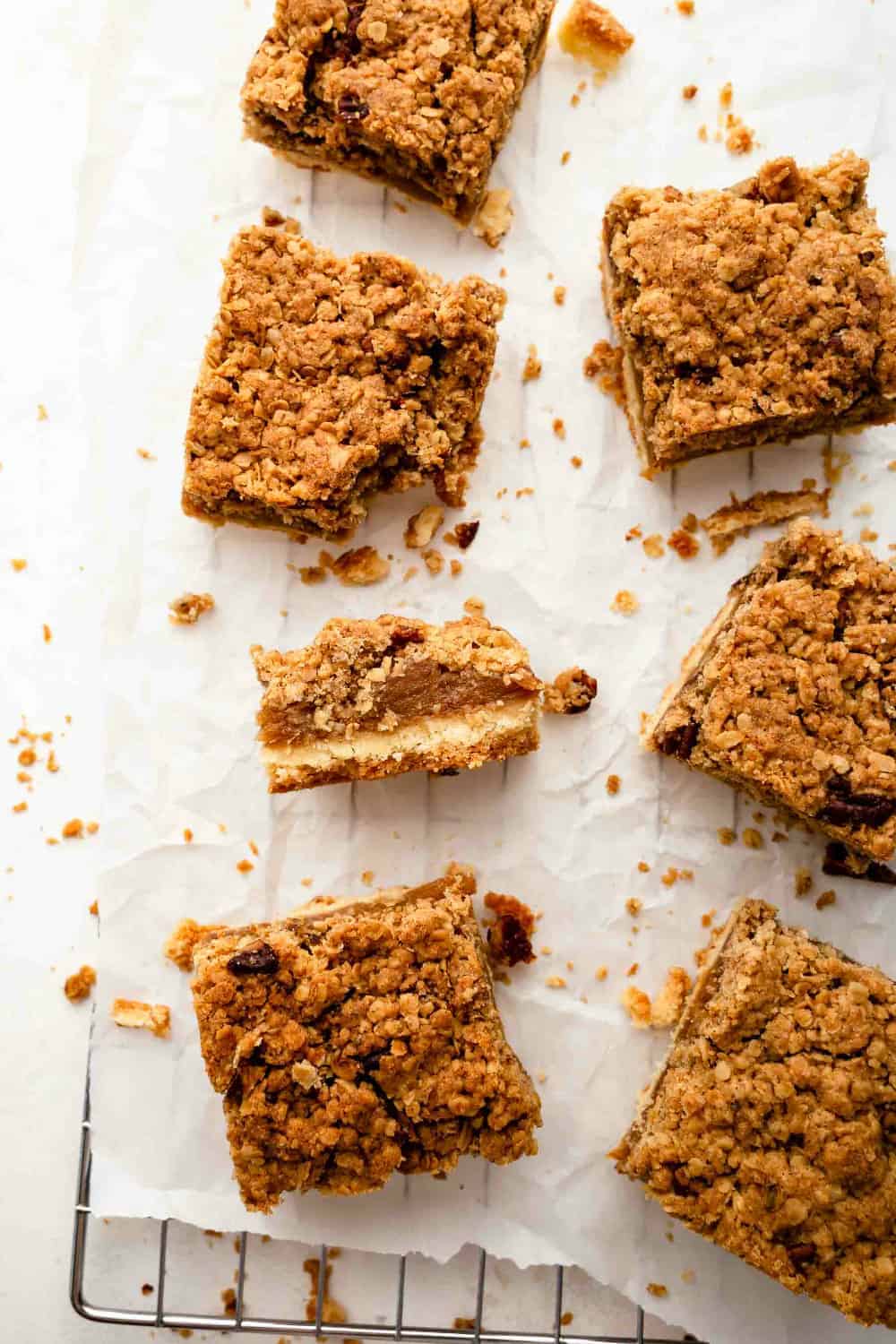 Although these Apple Pie Bars definitely fit into the dessert category (they're amazing with a scoop of homemade vanilla ice cream), we can't help indulging in them with our morning coffee for a delicious breakfast.
This recipe makes a huge batch of these bars which makes them perfect for potlucks, holiday cookie swaps or holiday parties. You'll find yourself making them for just about every occasion!