Mini Apple Pies are an individual twist on everyone's favorite classic apple pie. Filled with caramel apple filling and topped with crumbs, these mini pies are simple to make but deliver big flavor.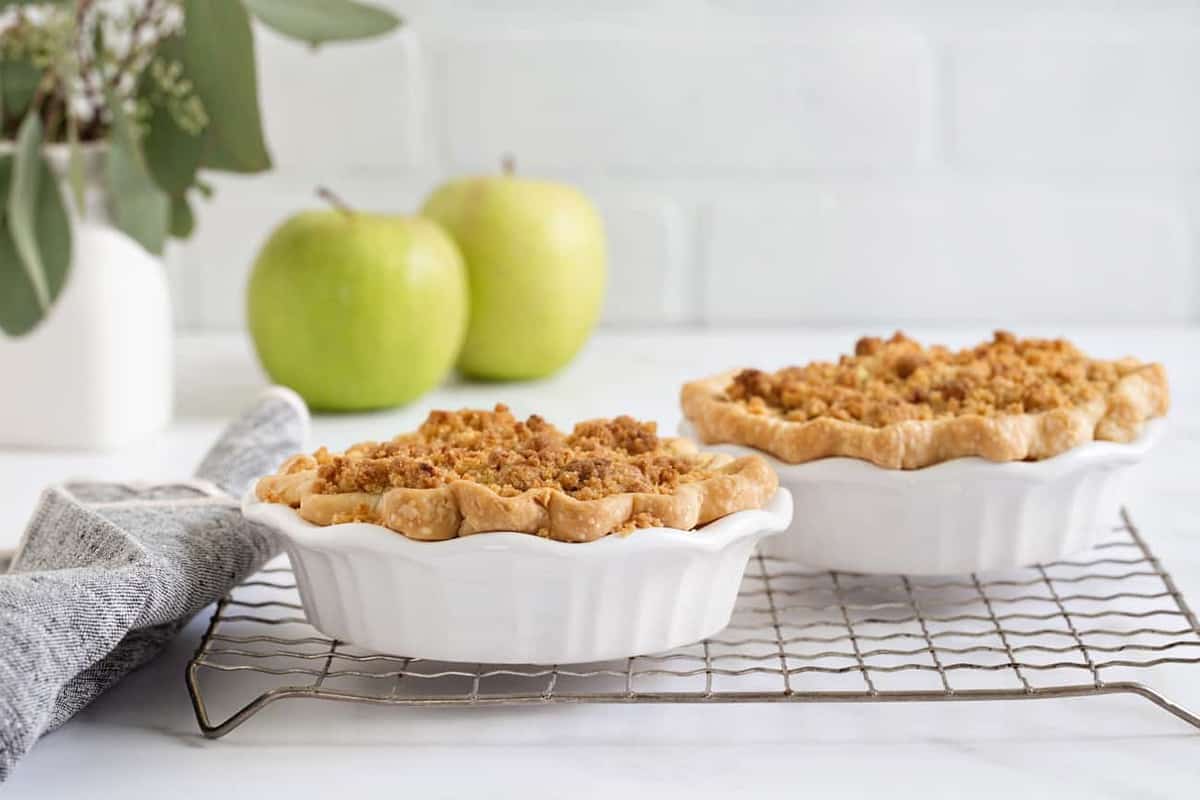 Guys, I have a confession to make.
I am not great at making pies. If you've been around for awhile, this little tidbit of knowledge might be quite apparent. Especially if you happen to search for pie in the archives.
Oddly enough, I have so many memories from my Nana's kitchen that involve pie making. And not just simple pies, she made beautiful pies with stunning lattice work and intricate leaf cut-outs.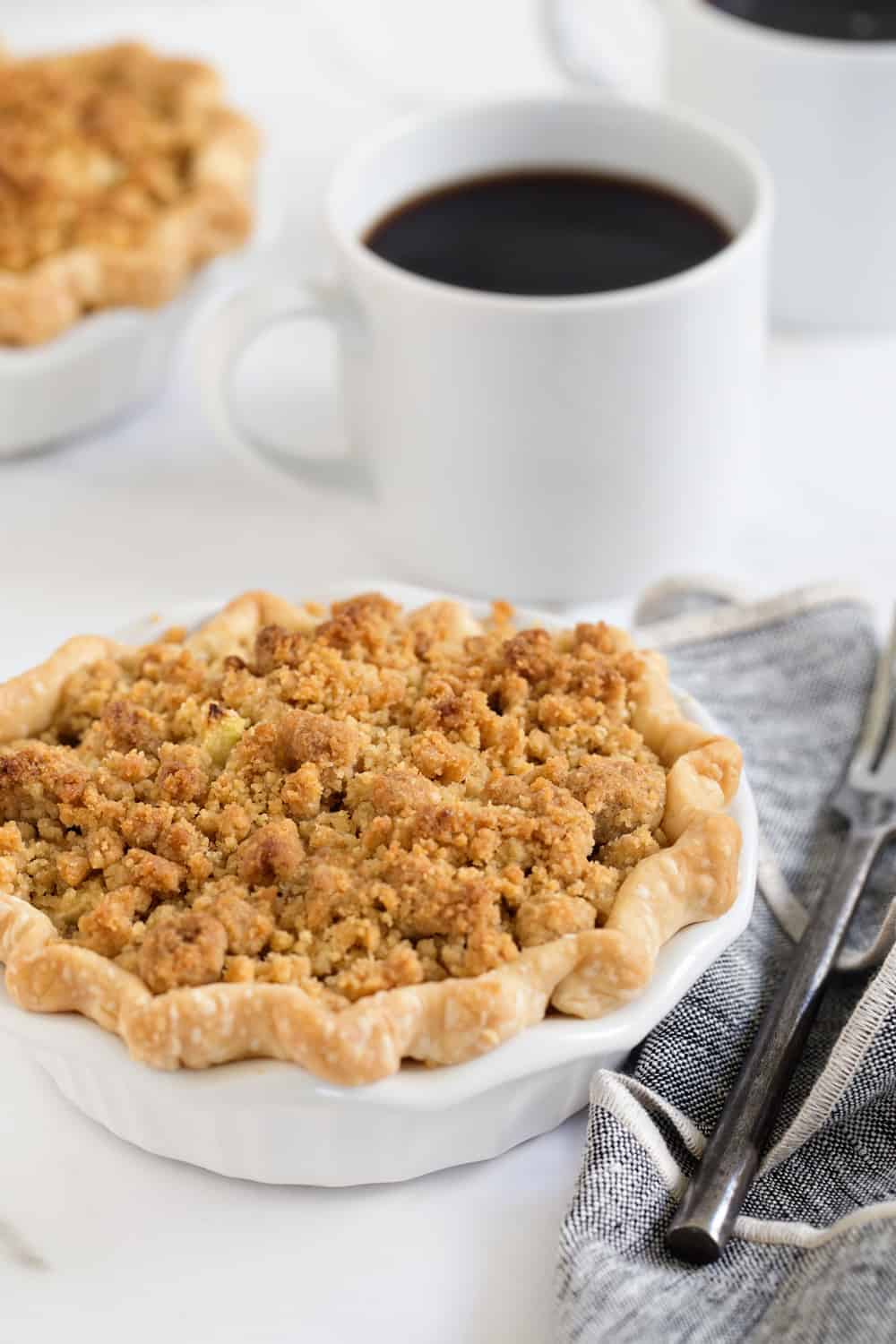 Yet here I am, struggling to crimp an edge after watching no less than 5 video tutorials.
I may have inherited my love for baking from my Nana, but I most certainly did not inherit her pie making skills.
If you're looking for cheesecake, or a pumpkin roll, I'm totally your girl. Pies, ehhh let's just say I'm a work in progress.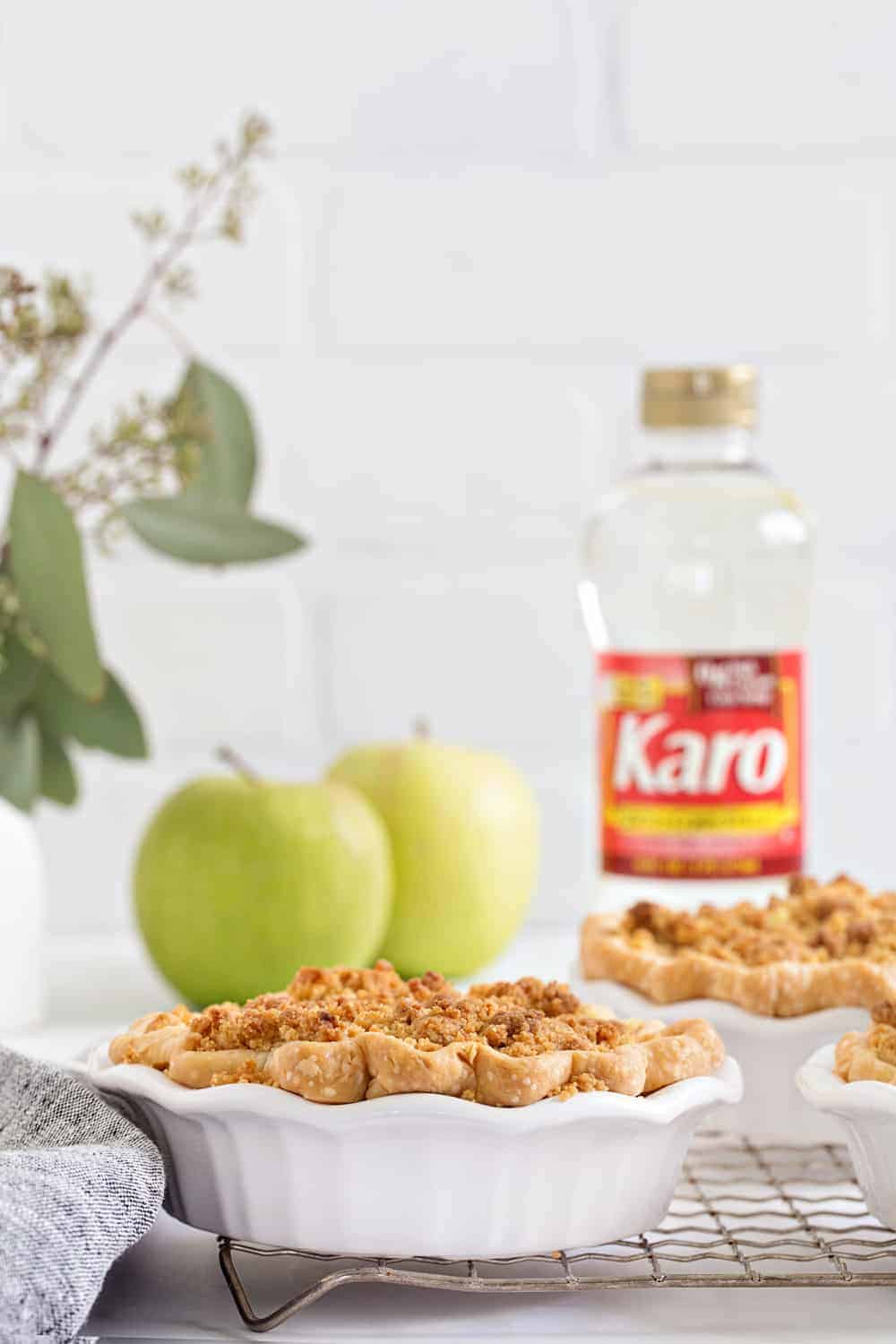 When my friends at Karo® Syrup asked me to add a fun twist to their Caramel Glazed Apple Pie I was kind of stumped because what's better than caramel and warm, spiced apples?
Then I got thinking about these cute mini pie dishes that I picked up last year (and never used) and the idea for these adorable Mini Apple Pies was born.
MINI APPLE PIES
Let's be real, turning a full size pie into four minis isn't really that much of a twist, right? So I decided to swap out a top crust for a crumb topping. Because if I'm being honest, I've never met a crumb-topped dessert that I didn't love.
In fact, I may or may not have a history of eating just the crumbs.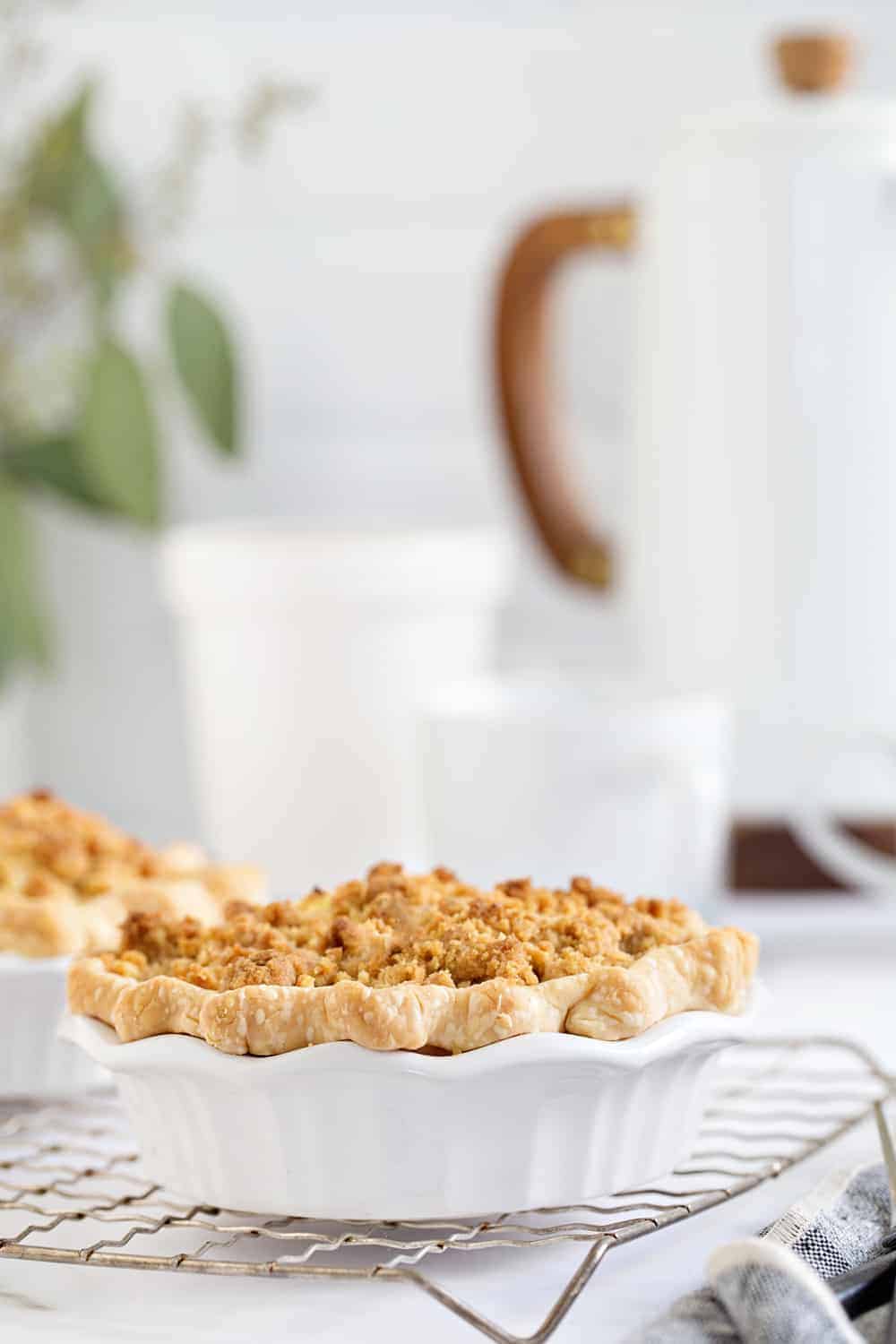 These Mini Apple Pies are super simple to make, especially if you decide to go with pre-made pie crust. If homemade pie crust is your thing, you go! Whichever route you take, you'll just need 2 9-inch pie crusts.
You'll obviously also need apples, which we happen to have a plethora of thanks to a preschool field trip to the orchard.
For these Mini Apple Pies, we chop up the apples and place them in a bowl. In a separate bowl, we'll mix together Karo® Syrup with melted butter, sugar, Argo® Corn Starch and spices. We'll pour this sweet goodness over the apples and fill our mini apple pie crusts before adding the crumb topping.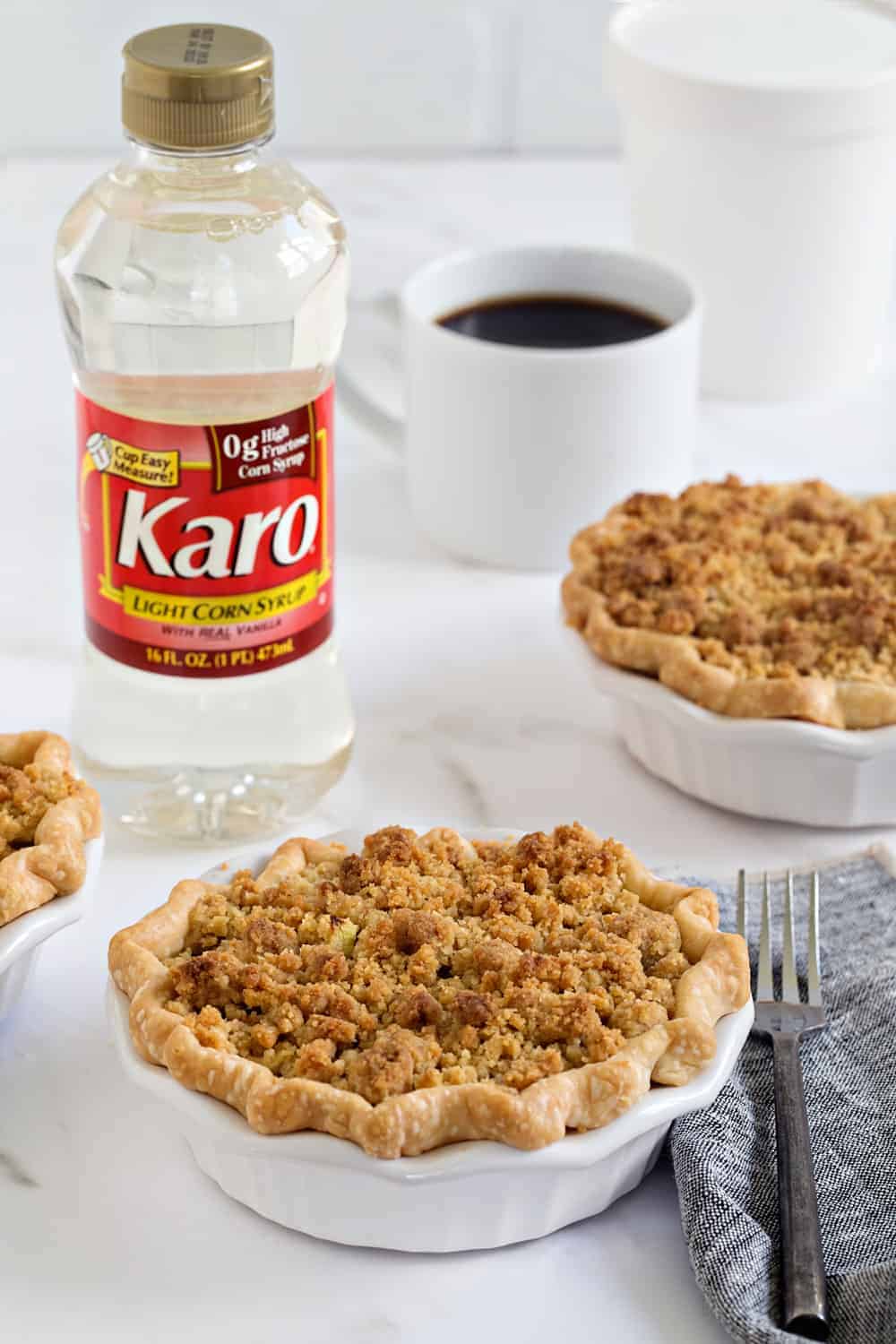 As the pies bake, the syrupy mixture will thicken up into a sweet caramel-like sauce that will coat the apples. Using Karo® Syrup provides just enough sweetness to the filling and really brings home that caramel-y flavor to the finished pies.
And just because we can and there's nothing wrong with being a little extra, I suggest serving these adorable Mini Apple Pies with a bit of vanilla ice cream, or a drizzle of caramel sauce.
I may not love math, but I do know that Mini Apples Pies + a crumb topping = Mini Apple Pie perfection.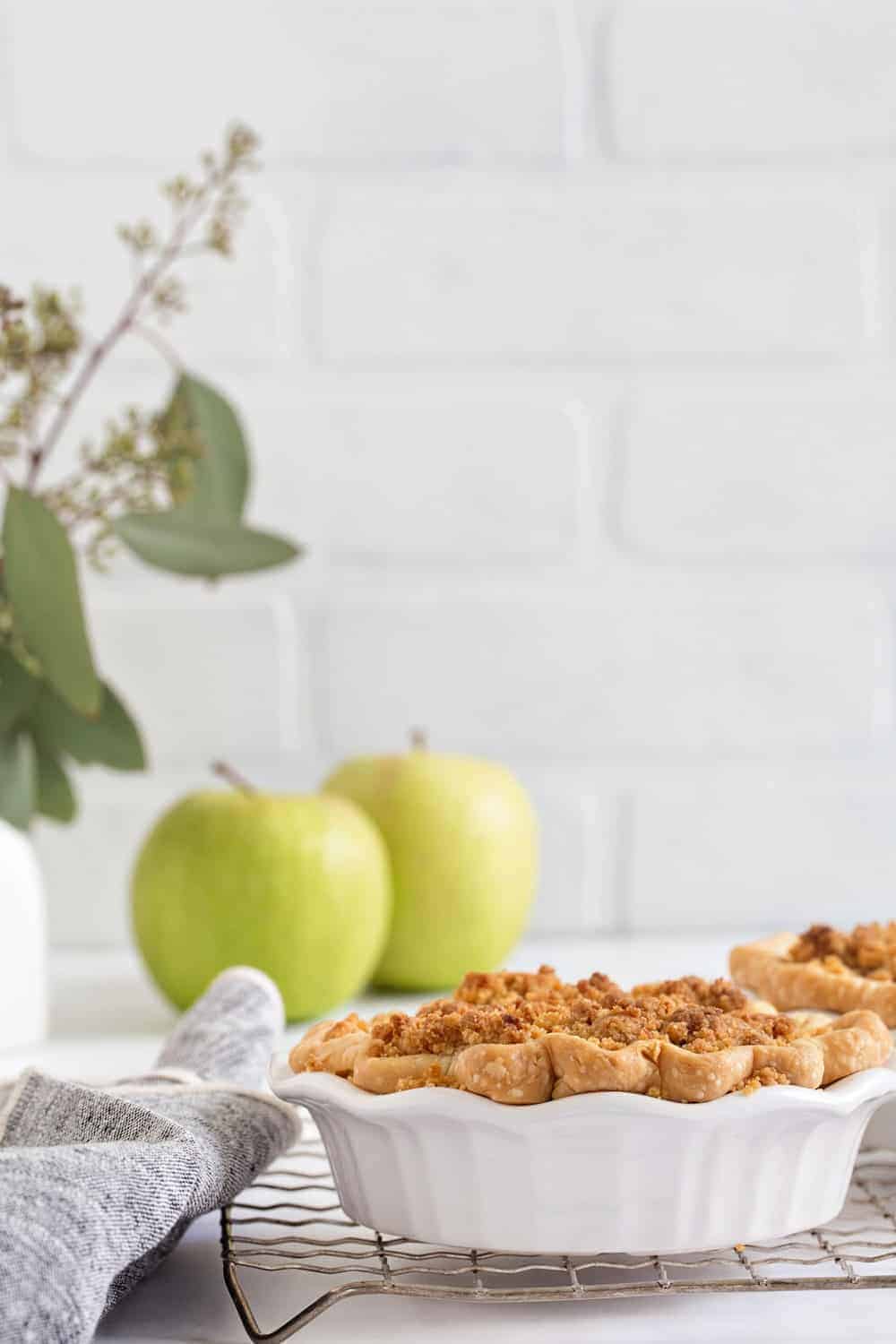 WHAT ARE THE BEST APPLES FOR PIE?
When making apple pie, I always like to reach for so-called "cooking" apples.
This means apples that hold up well and maintain their structure and flavor even after they've been cooked.
Granny Smith apples are probably the most famous cooking apple, but you can also use varieties like Honeycrisp, Golden Delicious, Cortland, Jonathan, Jonagold, or Braeburn.
I actually think it's a good idea to mix varieties of apples in pies. They all have different flavors, so mixing two or three varieties makes for even better Mini Apple Pies.
MORE APPLE PIE RECIPES
If you're anything like us right now, you've got an abundance of apples from the orchard just waiting to be baked into something magical.
If you're craving more, be sure to check out these Caramel Apples, these Caramel Apple Cinnamon Rolls and this Cinnamon Apple Galette!
Whip up a batch of these Mini Apple Pies this weekend. Between the caramel apple filling and how easy they are to make, you'll find yourself in apple pie heaven.