This apple galette is easier than pie, but just as delicious. Drizzled with a salted maple glaze and served with a scoop of vanilla ice cream, this is the tastiest way to eat the season's best apples.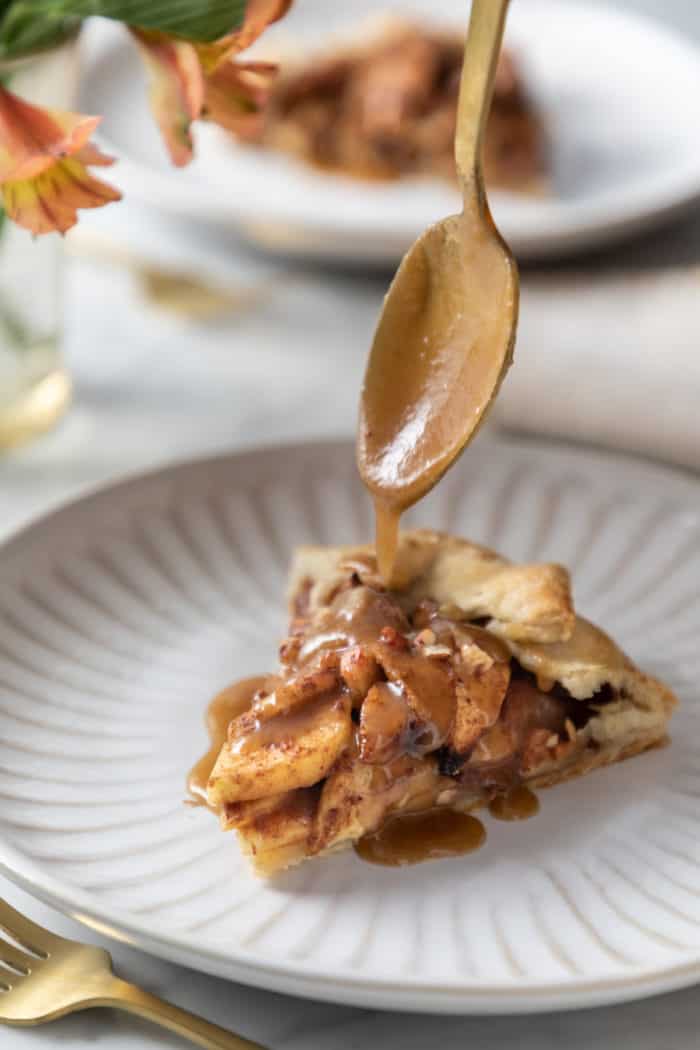 As much as I love a fancy dessert, this time of year what I love even more is a dessert that seems fancy but is actually really easy to make.
Galettes are perfect for this! They are meant to look rustic and are quick to throw together, but somehow end up looking really pretty when sliced and served up with a scoop of ice cream.
This apple galette recipe originally comes from my friend Allison over at Some the Wiser. It is so simple to make, but when paired with the salted maple glaze, is a real stunner!
If you haven't yet settled on a Thanksgiving dessert, I think this should be it. It will definitely be a hit!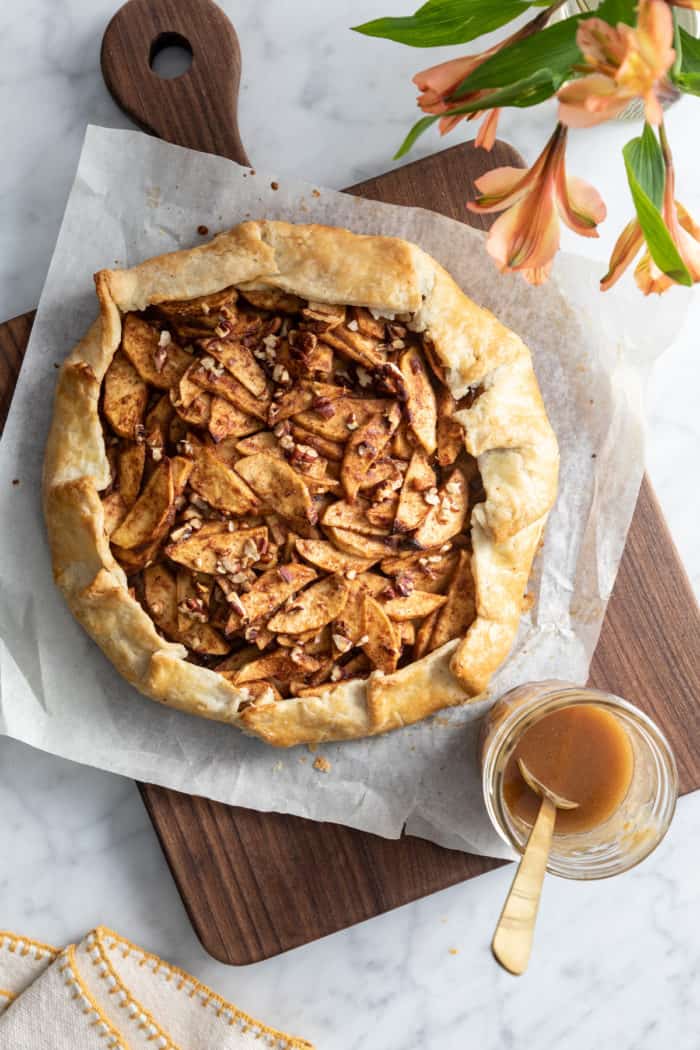 WHAT IS A GALETTE?
A galette is a tart with a pastry base that is filled, then the edges of the pastry are folded over, creating a rustic, free-form look. Galettes can be sweet, like this apple galette, or savory, like three cheese tomato galette.
I am a huge fan of galettes! They are everything I love about pie, but without all the fuss.
You still get that crispy, flaky pie crust with a galette, but it's easier to work with and it looks fancy without all the pressure and effort required of a traditional pie.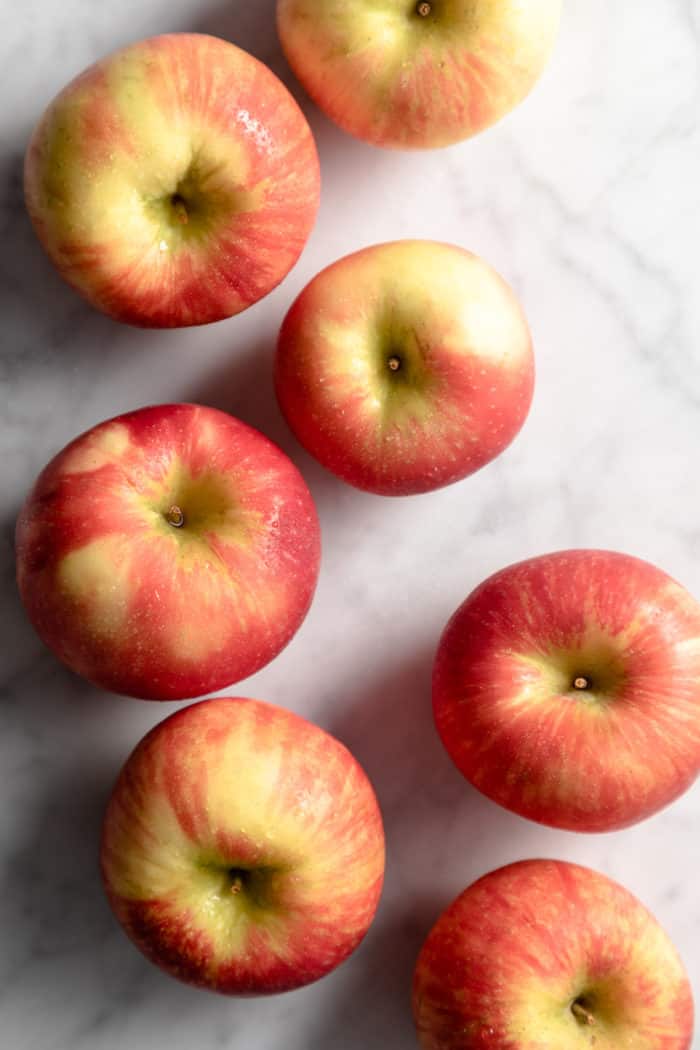 Galettes also tend to take less time to cook, which means an easier dessert overall. Which is especially a win during the busy holiday season!
Don't get me wrong, I love everything from pecan pie to apple crumb pie. But it's like the difference between jeans and leggings.
There's a time and a place for those jeans, but if you can get away with wearing leggings…the choice is obvious, right?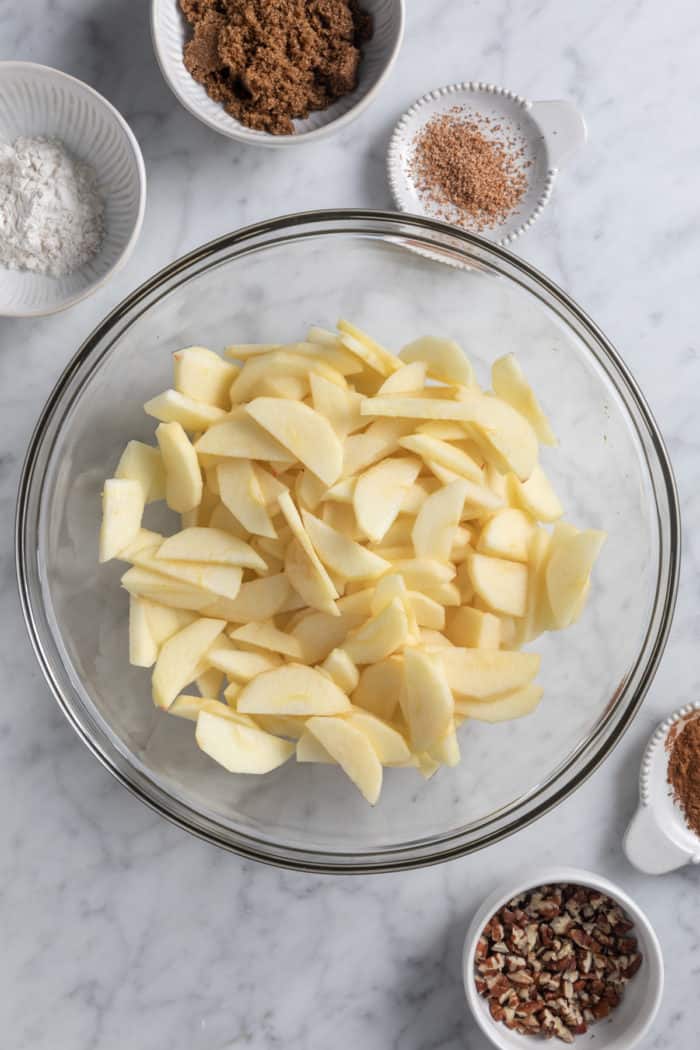 This apple galette with salted maple glaze is absolutely delicious. Sweet, tart, juicy apples baked into a flaky, buttery crust and topped with a sweet and salty glaze.
Well, it's easy to see why this is such a winner, right?
HOW TO MAKE AN APPLE GALETTE
Allow me to show you just how easy this apple galette is to make. In fact, I think it's so easy and delicious that it should have a place on your holiday table this year!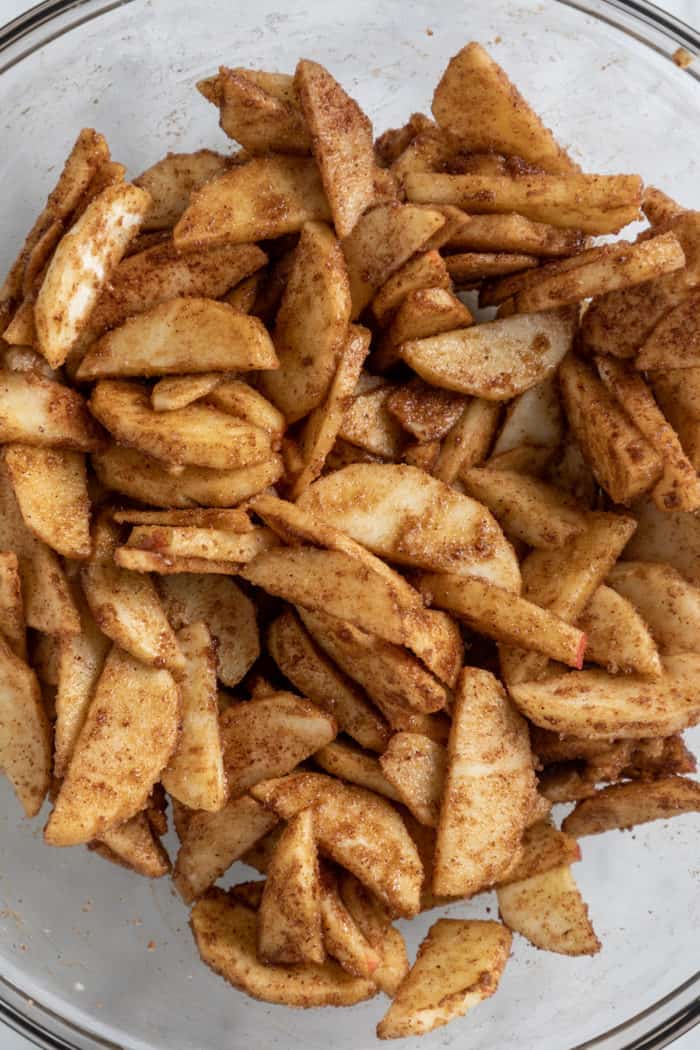 What apples should you use?
This time of year, I'm head over heels for honeycrisp apples, which are so crispy, so juicy, and so sweet that they are almost a dessert all by themselves.
Baked into a buttery pie crust, those honey crisp apples are a dream come true.
Other apples that cook up nicely in this recipe are gala, jonagold, and pink lady.
Any combination of these apples works, too. Using a combination of different apples is a nice way to get a variety of flavors and textures in your galette.
This is a good recipe to experiment a bit with apple-wise because it's hard to get it wrong!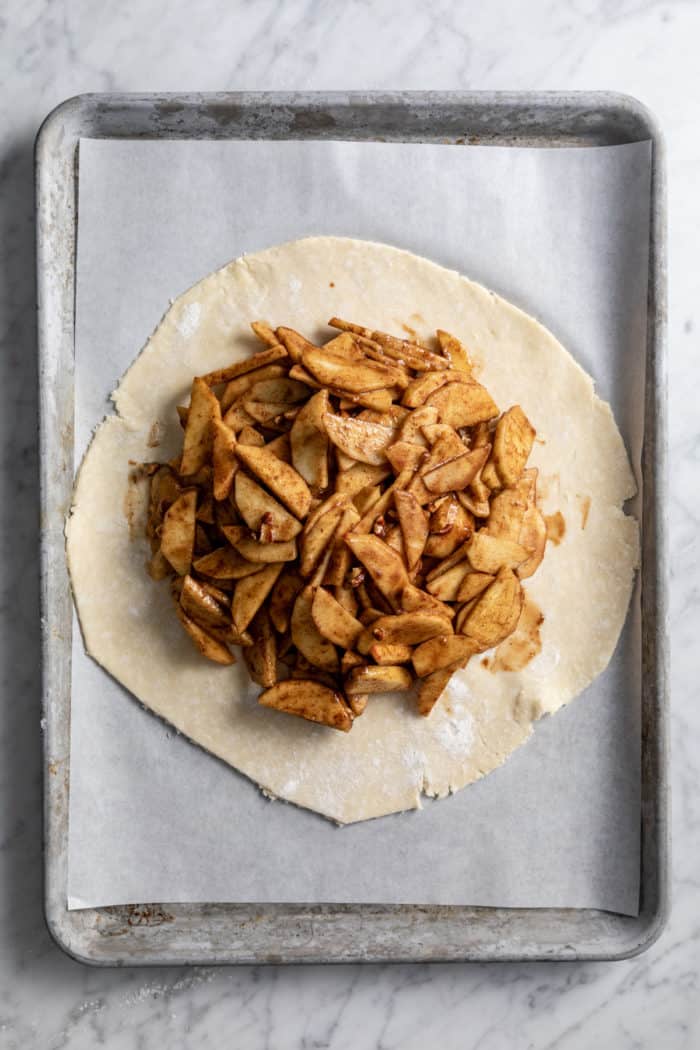 What pie crust should you use?
One of the nice things about making this apple galette is that you can use any pie crust you like.
If you want to try your hand at a homemade pie crust, this is a great way to get started! Since the end result is supposed to be rustic, it's totally ok if your homemade crust doesn't look perfect.
Don't have time to make your own crust? That's ok! A store-bought refrigerated pie crust is great here, too.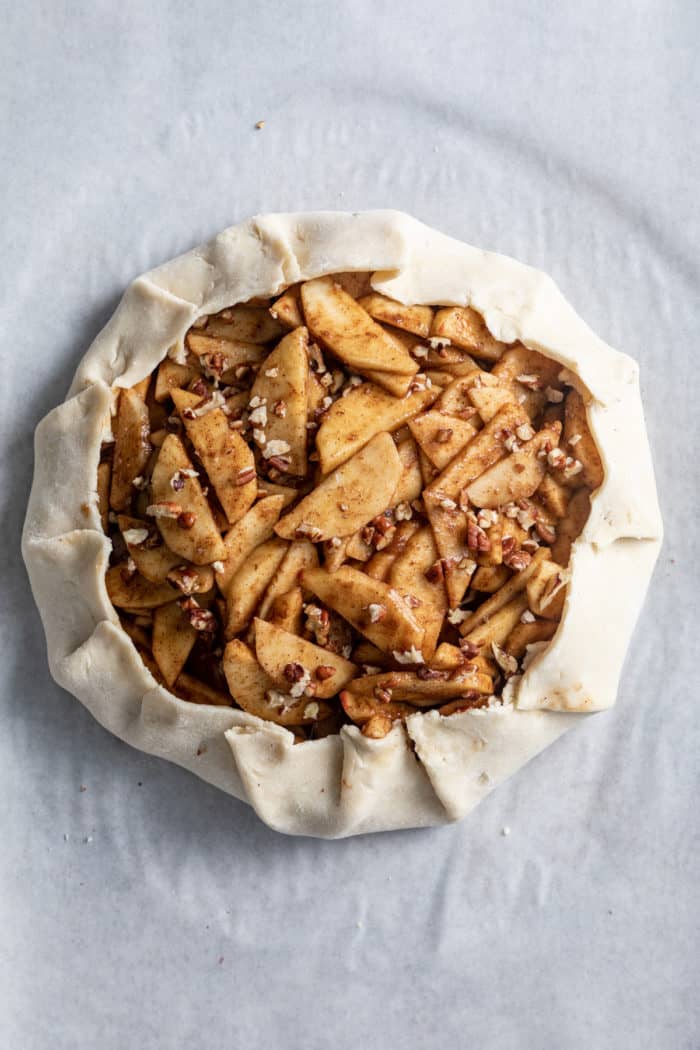 Making this recipe
To make your apple galette, start by mixing together the filling.
Toss together the peeled, cored, and sliced apples with the brown sugar, flour, cinnamon, and nutmeg.
Now roll out the pie crust on a well-floured surface. You want about a 12-inch circle; trim the edges smooth as needed.
Transfer the pie dough to a parchment-lined baking sheet. Add the apples to the center, making sure to leave a 2-inch border of pie crust all the way around.
If you'd like, sprinkle the apples with chopped pecans or walnuts. But it's totally ok to leave those out if you can't have or don't like nuts!
Now fold the edges of the pie crust over the filling, pleating the dough as needed as you go around. Again, don't worry if it's not perfect – it's supposed to be rustic!
Whisk together the egg yolk and water, then brush this egg wash over the crust.
Bake for 35-40 minutes, or until the apples are tender and bubbly and the crust is golden.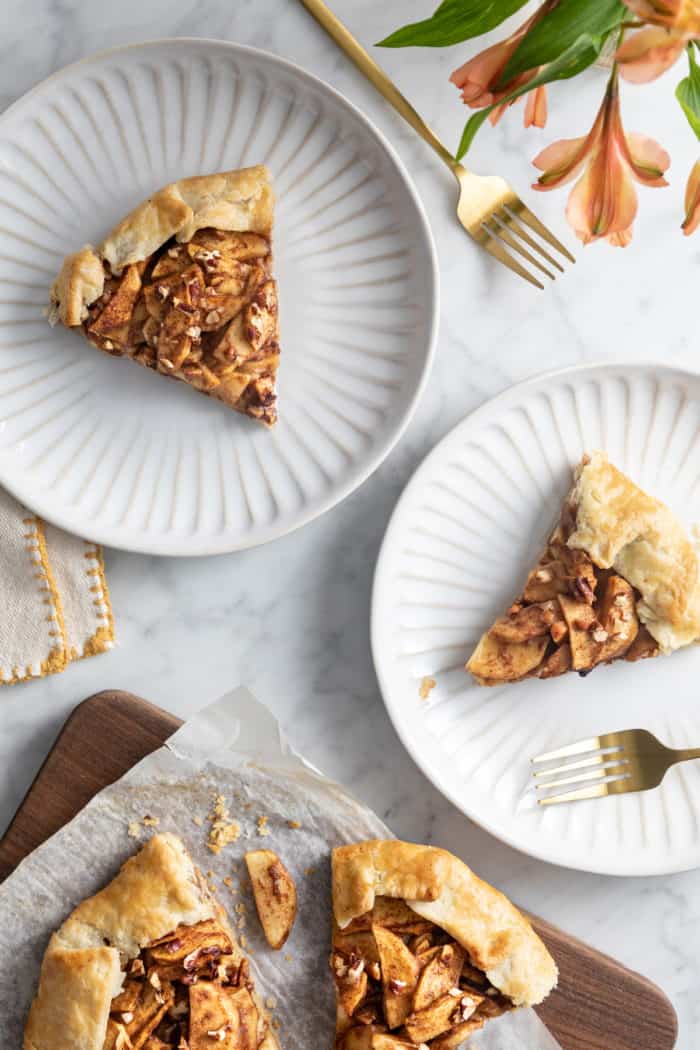 SERVING SUGGESTIONS
One of my favorite ways to serve this apple galette is with the salted maple glaze.
Since we already know how to brown butter, this glaze is really simple to throw together! Just whisk together some browned butter, maple syrup, powdered sugar, and vanilla with a big pinch of flaky sea salt and drizzle it over the baked galette.
A scoop of vanilla ice cream is perfect here, too. Make some no-churn ice cream for an easy homemade vanilla ice cream!
And a dollop of homemade whipped cream is never a bad choice!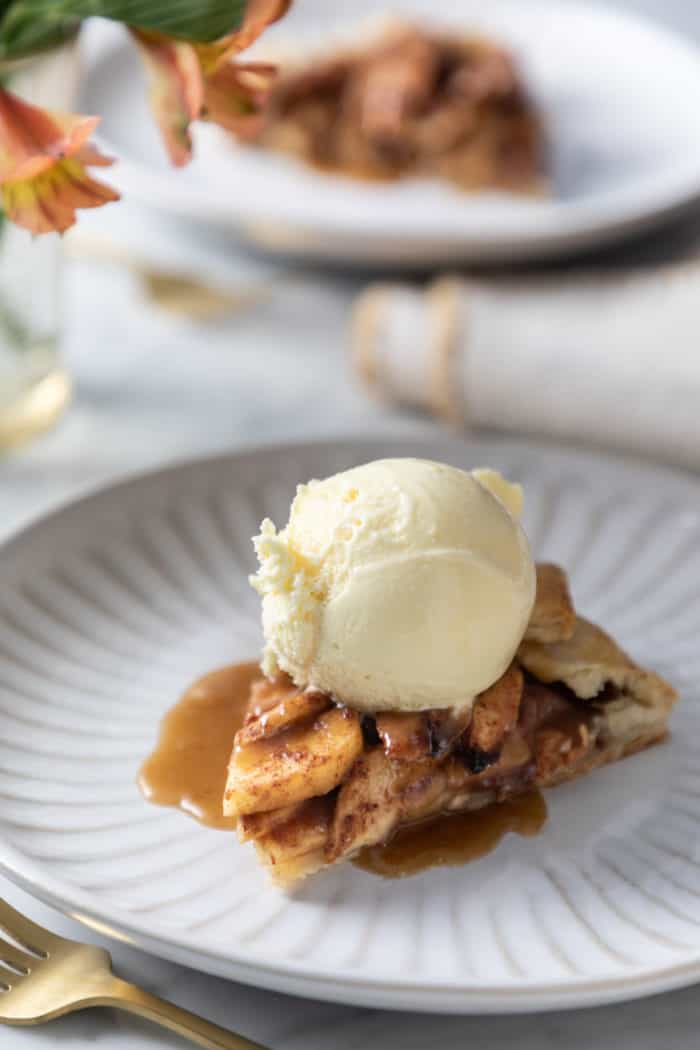 MAKE-AHEAD AND STORAGE
You can make this apple galette the night before you plan to serve it. Store it covered at room temperature until ready to slice and serve.
If you make the salted maple glaze ahead of time, store it in an airtight container in the refrigerator. Before serving, reheat the glaze in a saucepan over gentle heat.
Any galette leftovers can be stored at room temperature for up to 3 days.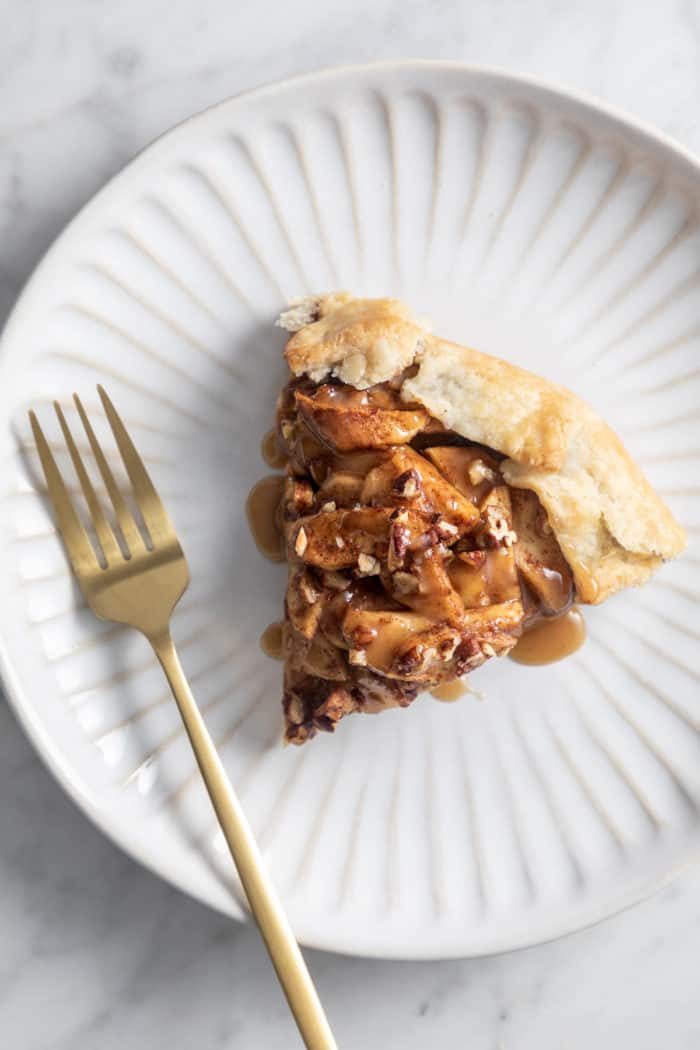 Freezing apple galette
If you'd like to make the galette more than a day in advance, I'd recommend freezing it.
Place the baked and cooled galette on a parchment-lined baking sheet and place it in the freezer for a couple of hours.
Once the galette is frozen through, either vacuum seal it or wrap it tightly in a layer of plastic and then a layer of heavy duty foil.
To thaw, unwrap the galette and let it thaw at room temperature. You can reheat the galette in a toaster oven or in a warm oven before serving.