Excited to make a recipe only to discover that your brown sugar is hard as a rock? Learn how to soften brown sugar with 4 simple methods, plus a tip for keeping your brown sugar soft so this never happens again.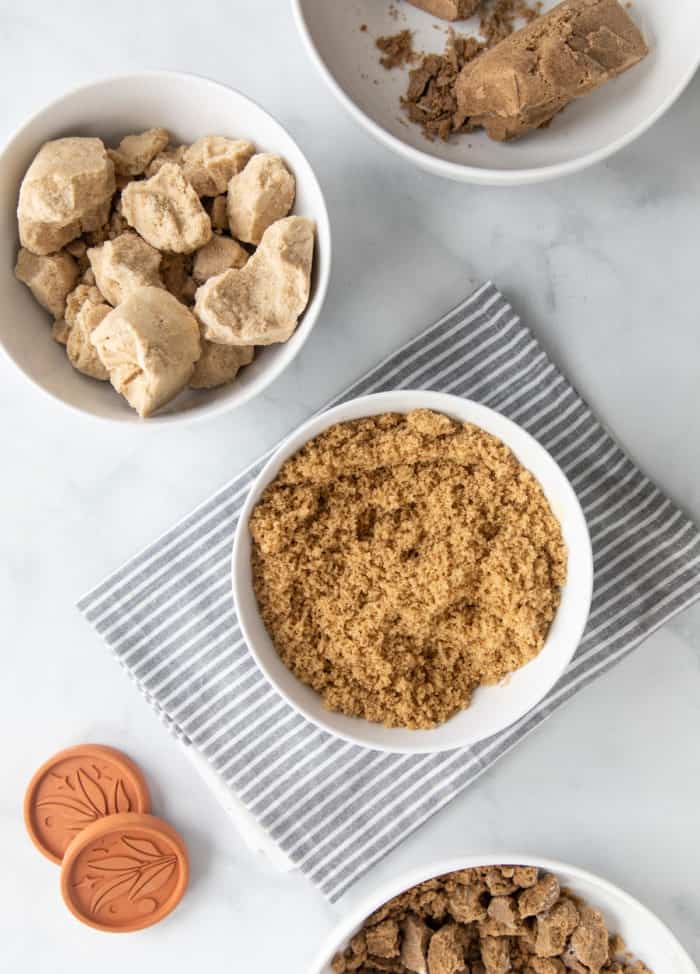 This post contains affiliate links.
If you think that being a full-time baking blogger means that I always have things together in the kitchen, please think again.
I can't tell you how often I have to throw together a buttermilk substitute because I forgot to pick up buttermilk at the store, or how often I need to reference my own post on how to make self-rising flour.
Knowing some simple baking tips and tricks has saved me a trip to the store more times than I can count.
I recently used my brown sugar substitute to throw together a batch of brown sugar after forgetting to buy some. As I was mixing it together, I realized that I've never shared with you how to soften brown sugar.
Give these tricks a try next time you find yourself staring at a bag of rock-hard brown sugar.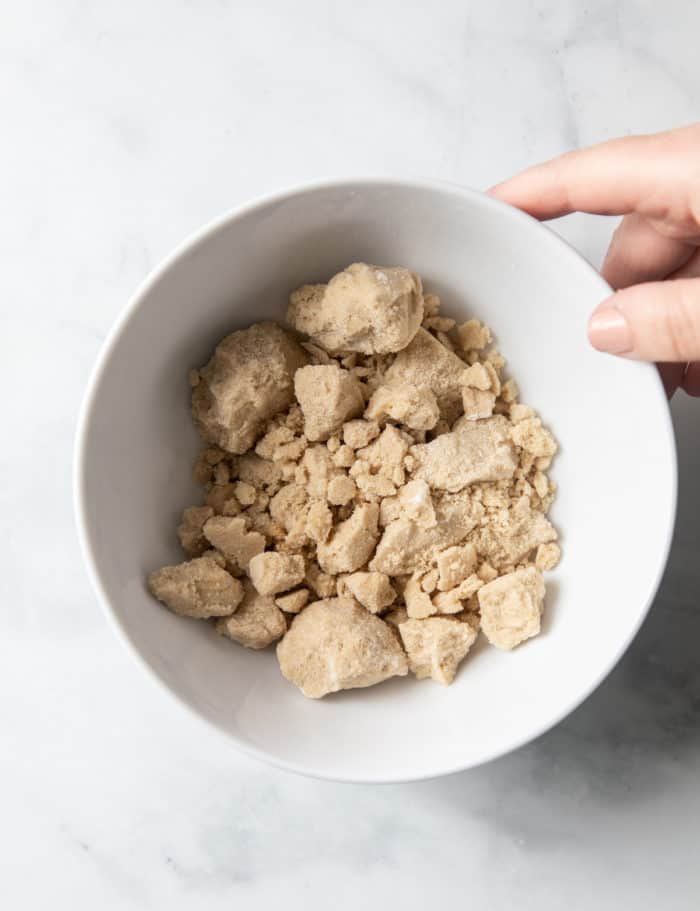 BAKING PREDICAMENT: HARDENED BROWN SUGAR
I think we've all probably been in this situation. You are excited to be making banana oat muffins or grilled peaches, but when you open up your container of brown sugar, you find that it is lumpy and hard as a rock.
Brown sugar needs moisture to stay often. It hardens when the moisture in the sugar evaporates.
I used to think that was it, end of story. Time to throw it out and buy a new bag of brown sugar.
But not only is that a waste of money, it's also totally not true!
Not only is it possible to soften brown sugar, there are multiple ways to do it using things you probably already have in your kitchen.
So next time you're making brown sugar simple syrup or overnight cinnamon rolls (or the famous TikTok cinnamon rolls with heavy cream), don't stress if your brown sugar has hardened.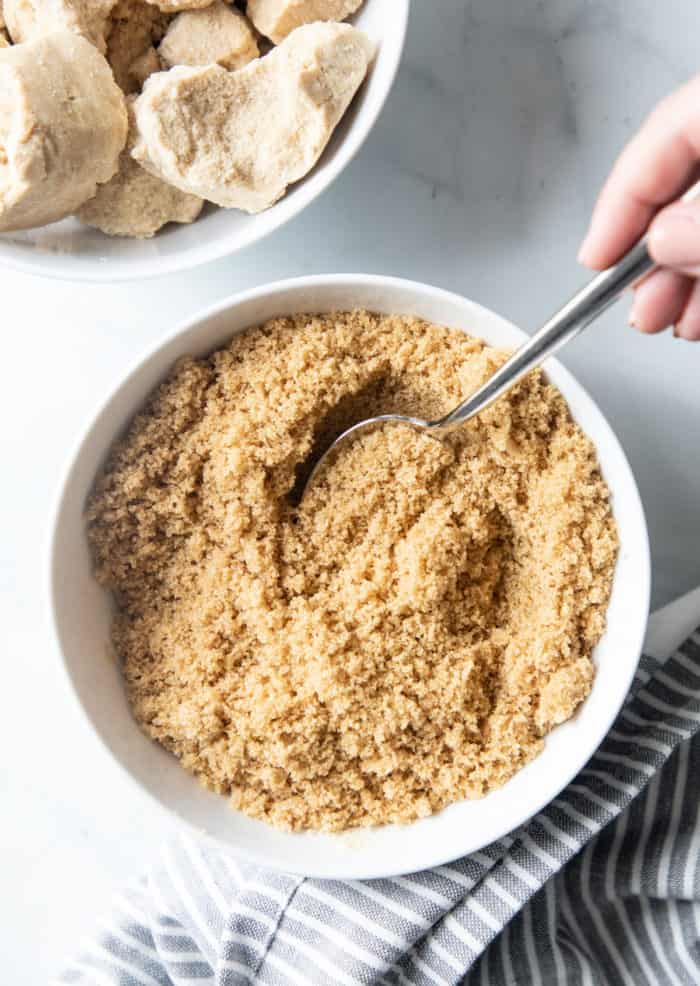 HOW TO SOFTEN BROWN SUGAR
There are 4 methods for softening brown sugar that I really love, plus a bonus 5th method that works with some caveats.
All of these methods bring moisture back into the sugar. Some do so quickly, while others take a bit of time. They all work well, so pick the one that works best based on what you have available and how much time you have to work with.
While there are other methods out there, these are my favorites and the ones I think work best.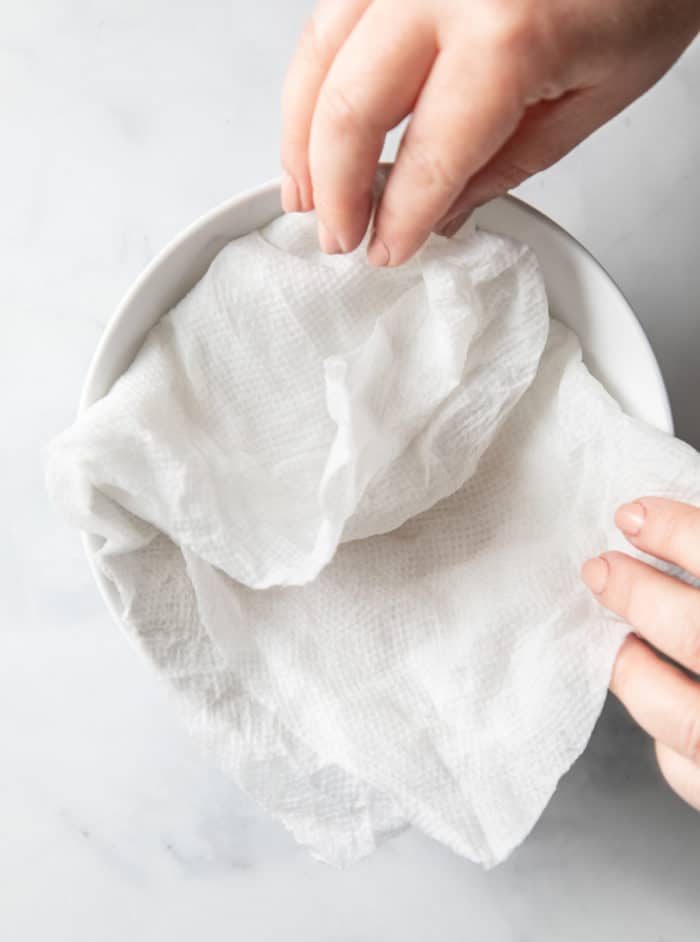 The microwave method
If you need to know how to soften brown sugar quickly, the microwave method is for you. This is definitely the fastest method, so it's great if you need soft brown sugar right now.
Here's how you do it:
Place the hard brown sugar in a microwave-safe bowl.
Wet a paper towel and wring it out so it's slightly damp.
Cover the bowl with the damp paper towel and microwave in 10-second increments until the brown sugar is crumbly again, using a fork between intervals to help break up the sugar.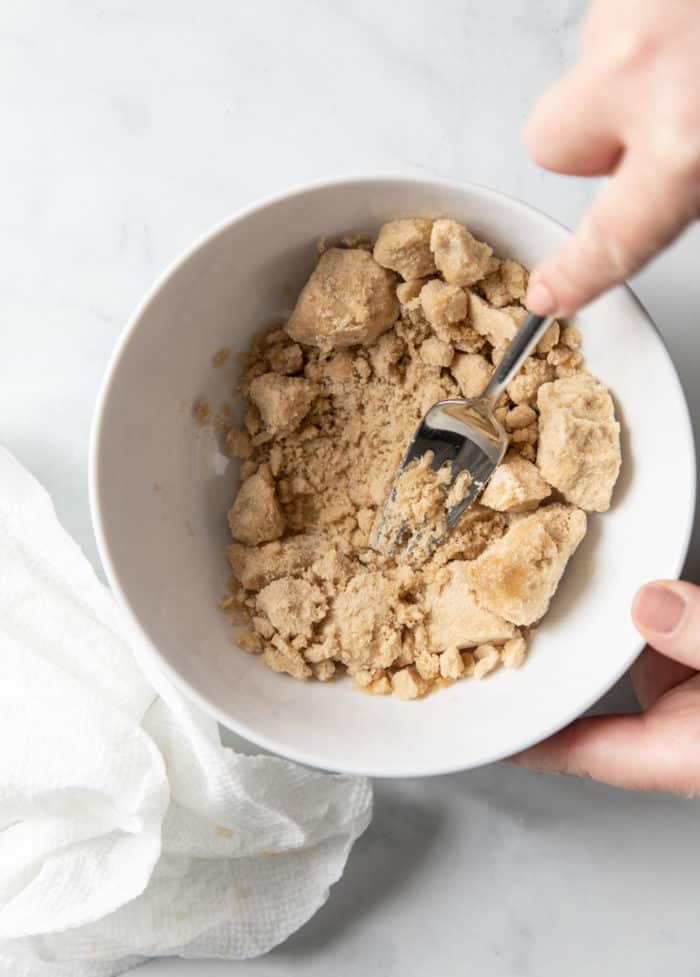 How long will this take? Well, it'll depend on how much brown sugar you're trying to soften and just how hard and dry it is.
Be patient and don't get discouraged if you don't see much progress after the first couple of intervals. Keep going – all of a sudden, you'll find yourself stirring beautifully soft brown sugar again.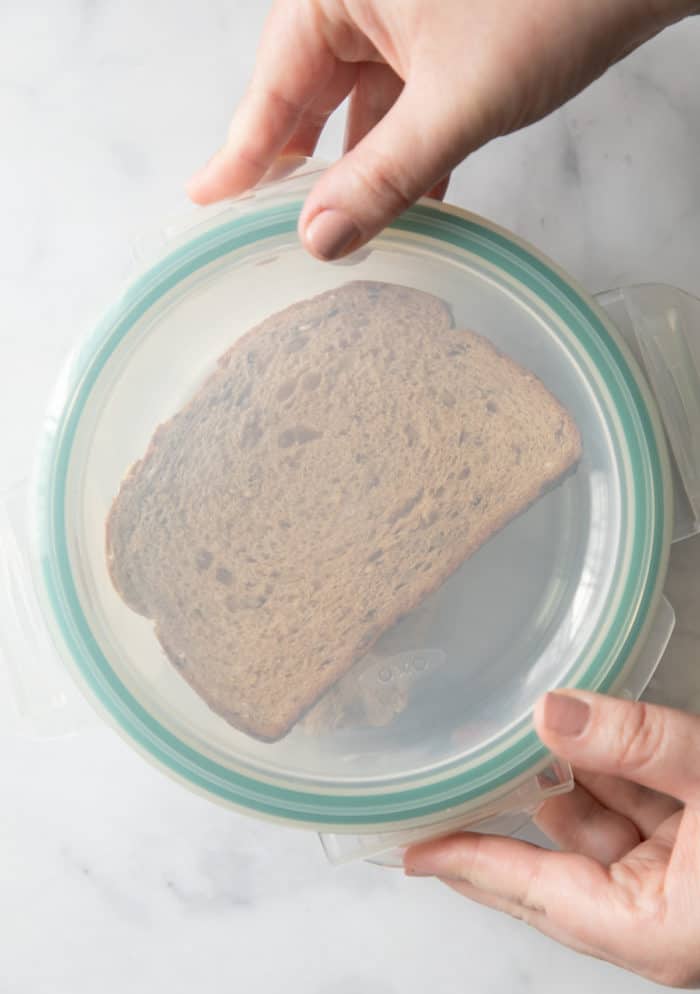 The bread method
This next trick sounds weird, but I promise that it works.
For this one, all you have to do is place a slice of fresh bread in an airtight container with the hardened brown sugar.
Let the bread sit in the sugar container for about a day. At that point, the sugar will have absorbed enough moisture from the bread to become soft again.
Use a fork to break up any remaining clumps of sugar and remove the bread so it doesn't mold.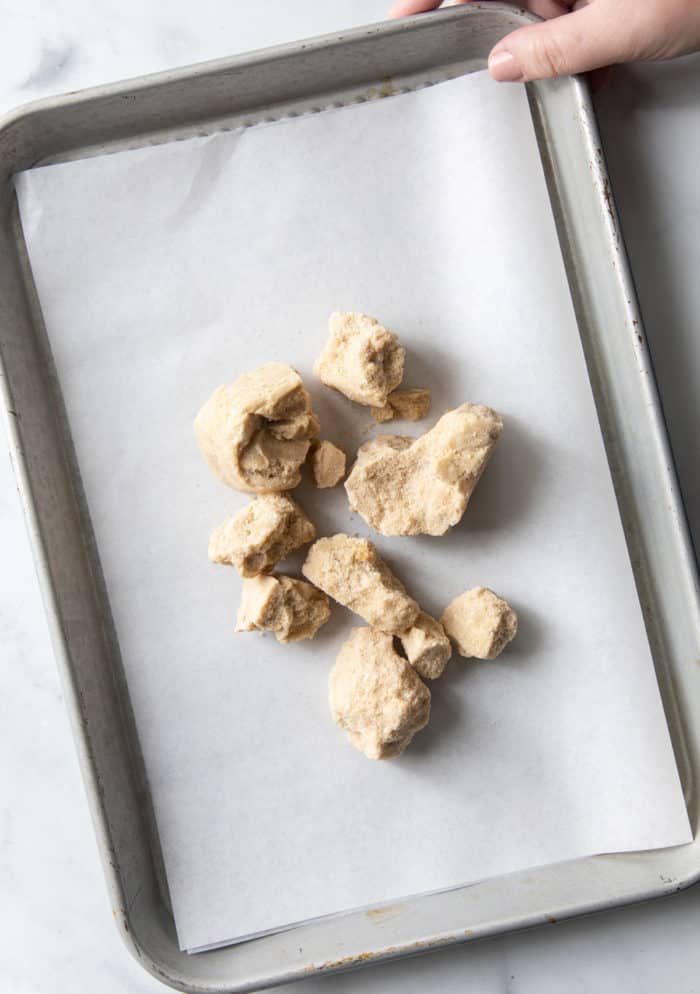 The oven method
The oven method isn't as quick as the microwave method, but it is still a good trick for softening brown sugar pretty quickly. And it works well if you don't have a microwave handy.
Here's how you do it:
Place the hard brown sugar on a parchment-lined baking sheet.
Place the baking sheet in a 250°F oven.
Check on the brown sugar every few minutes and break it up with a fork. Return it to the oven and repeat until the brown sugar is soft.
Let the brown sugar cool slightly before using in your recipe.
DO NOT try to speed up this process by raising the oven temperature! Just like with the microwave method, it's hard to predict how long it will take, so be patient and keep at it.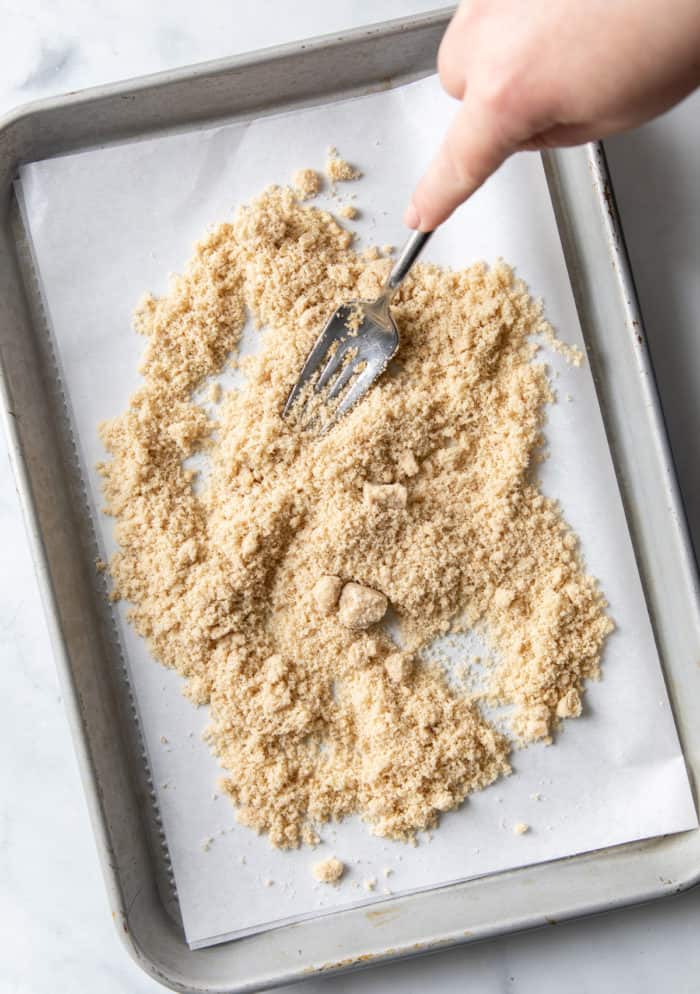 The terra cotta method
This method is the only trick that might require you to buy some special equipment, since it uses a piece of terra cotta.
You can purchase special terra cotta brown sugar savers – disks of terra cotta that are the right size to pop into a container of brown sugar. You can also purchase special brown sugar storage containers that have a spot in the lid made to hold a terra cotta disk.
If you have a small, clean terra cotta plant saucer, you could use that instead, but you want to make sure that it has never been used for plants and that it will fit in your brown sugar container.
I think it's easier to buy the disks made for this purpose, since the size is better and you know they're nice and clean.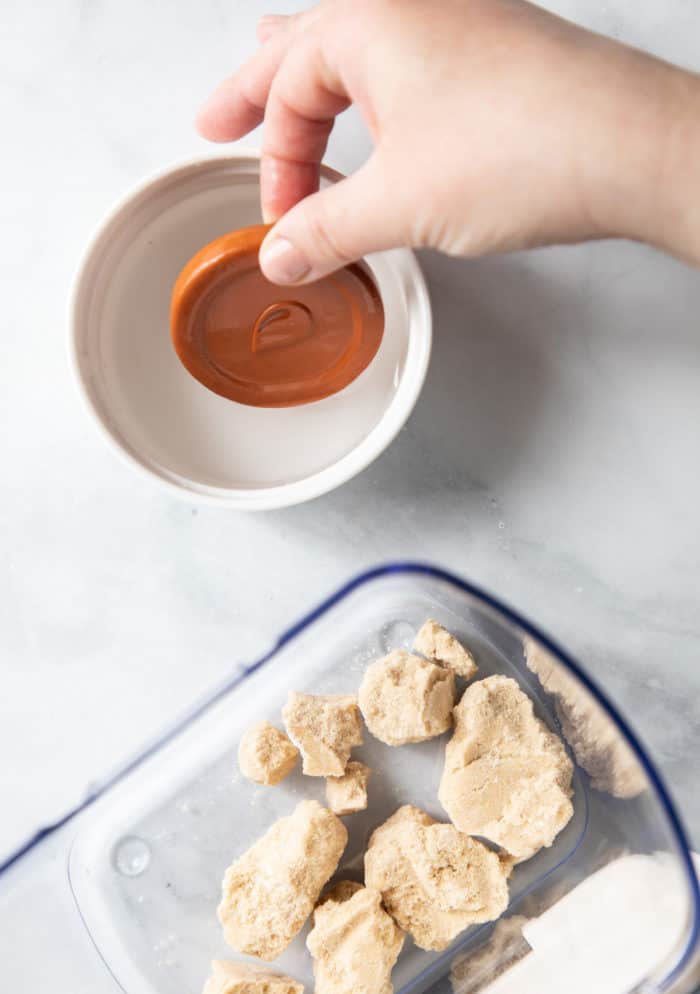 To use terra cotta to soften your brown sugar:
Soak the terra cotta disk in water for 20 minutes.
Pat the terra cotta dry with a clean towel to remove excess water.
Place the dry disk in an airtight container with the brown sugar. The terra cotta will revive the sugar in about a day, or keep new brown sugar from drying out.
BONUS! The apple method
I promised you 4 methods, but here's a bonus 5th method!
I am listing it as a bonus method because it does come with some caveats.
Use the same instructions as the bread method, but use a few apple slices instead of a slice of bread.
Place the apple slices in an airtight container with the brown sugar and give it about a day to do its job. Make sure you remove the apples after the brown sugar has softened.
Here are the caveats: The apples can get pretty mushy and it can transfer some of its flavor to the brown sugar. (So it would be fine for making apple coffee cake but maybe not in other recipes.)
Definitely keep all of that in mind if you plan to give the apple method a try!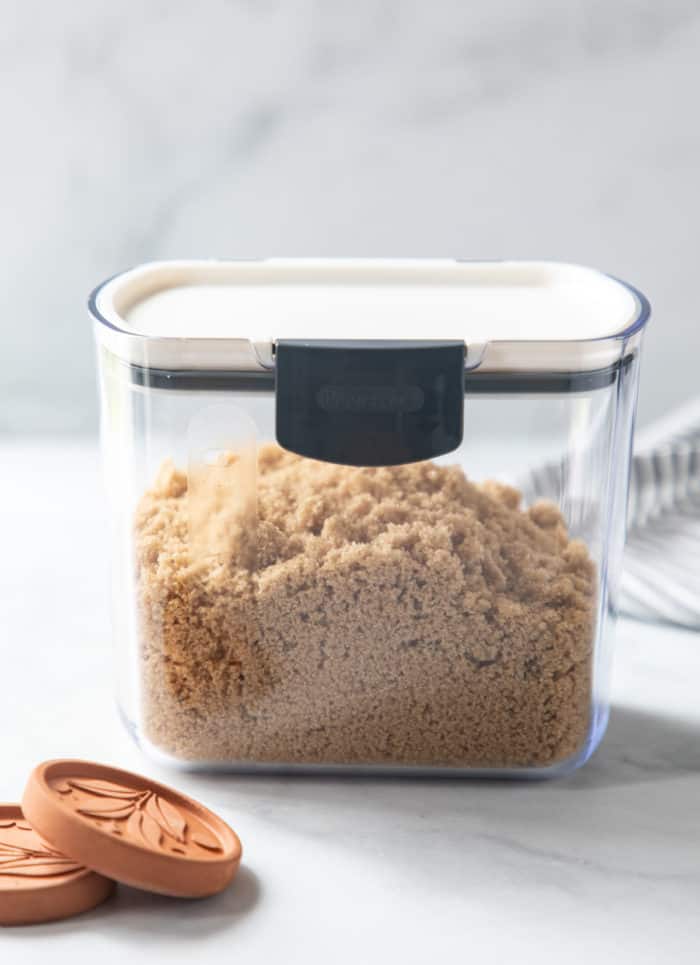 HOW TO KEEP BROWN SUGAR SOFT
It's helpful to know how to soften brown sugar, but it's even more helpful to know how to keep it soft so it never hardens to begin with!
Always store brown sugar in an airtight container, rather than the bag or box it came in. That will help extend its shelf life quite a bit.
Some people will keep a slice of bread in their brown sugar container to keep it soft, but that's a mold situation waiting to happen if you ask me.
In my opinion, the best way to keep brown sugar soft is to use the terra cotta method. The soaked terra cotta kept in an airtight container will help maintain the correct moisture level for your brown sugar.
The terra cotta will keep your brown sugar soft for 3-6 months. Make sure you re-soak it as needed according to the manufacturer's directions.
That way, you never have to worry about rock-hard brown sugar again and you always have perfectly soft brown sugar for all of your favorite recipes!