These Cheesecake Bars with their silky smooth filling and buttery graham cracker crust are a simple way to make classic cheesecake for a crowd. Top these bars with your favorite fruit-based sauce, caramel, or even chocolate ganache for so many ways to customize them.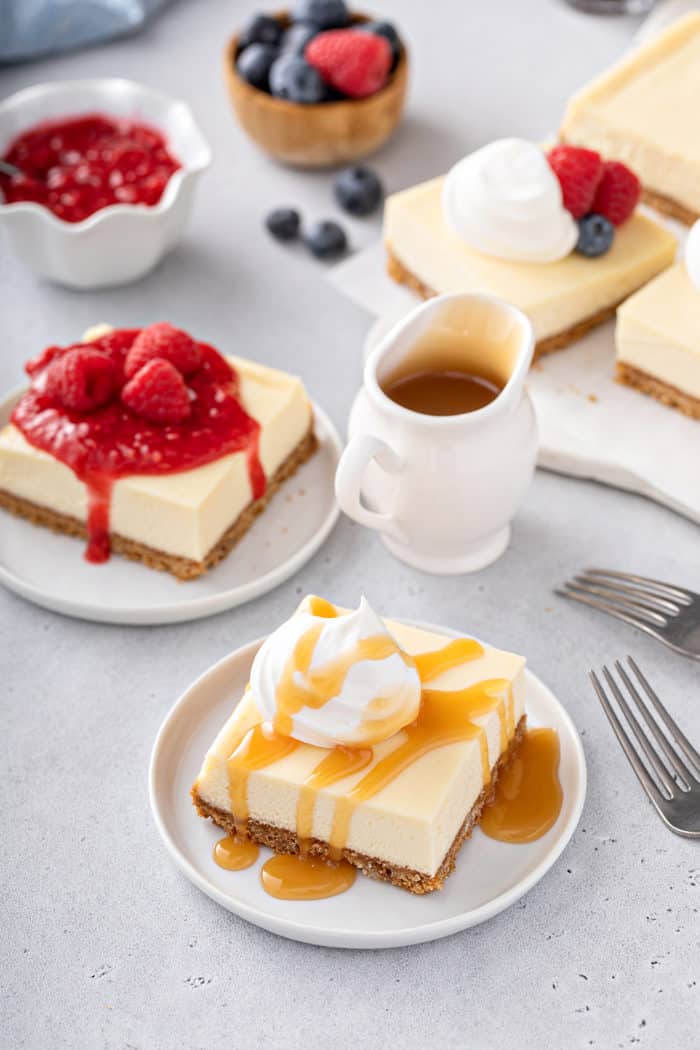 If you happened to catch my recipe for Chocolate Chip Bread Pudding, you might remember me telling you that we like to treat our chiropractor to sweet treats.
Sure, those treats might help us out when we need to be squeezed into his schedule, but he's also the absolute nicest guy. And not to mention, he's very enthusiastic with with his dessert reviews – which is something that I just adore about him.
We took him several pieces of these cheesecake bars a few weeks ago and he hasn't stopped talking about them since. Even proclaiming this cheesecake recipe to be better than his mom's "blue ribbon winning cheesecake." And I think that's saying something.
Although these cheesecake bars are pretty basic, I think the crust is what makes them better than "blue ribbon winning." It's little on the thicker side, extra buttery, and the hint of cinnamon adds just a little something special.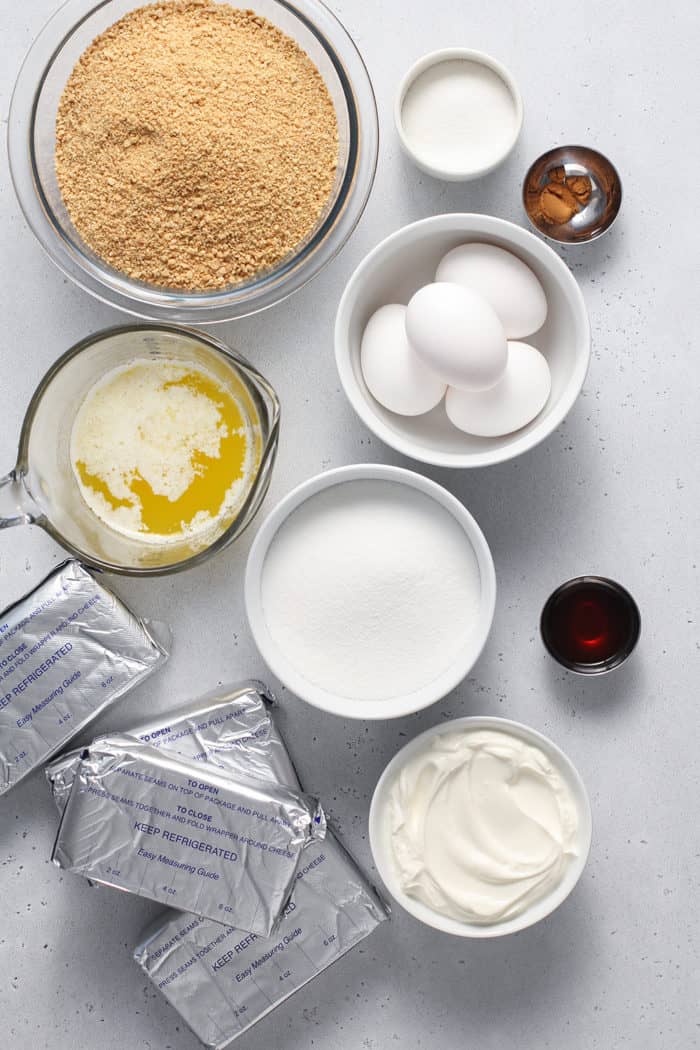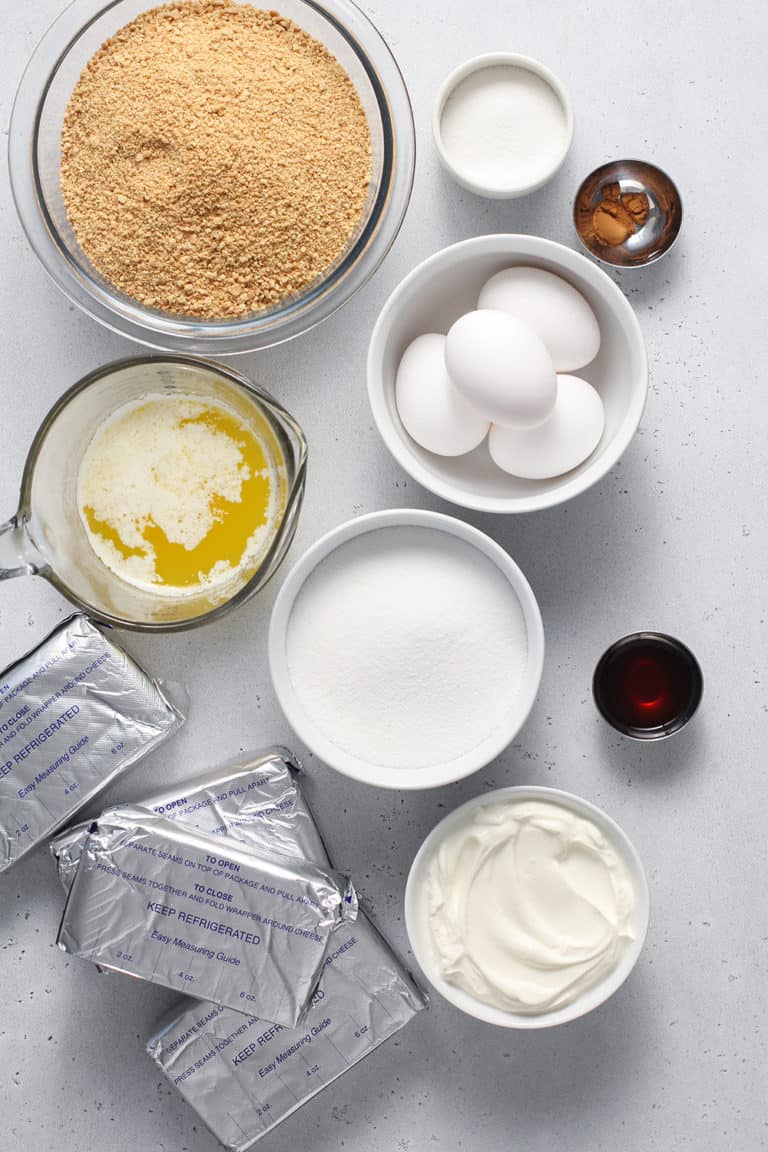 CHEESECAKE BARS FOR A CROWD
If you don't know by now, I have a deep love for making cheesecake recipes. If I have the choice between making a cake or a pie or a cheesecake, I'll pick a cheesecake almost every time.
But as much as I love making cheesecakes, they aren't always as great for feeding a crowd or taking to a gathering. But cheesecake bars? That's where it's at.
Cheesecake bars are great because you can make them in a 13×9-inch pan, they don't require a water bath for baking, and you can easily cut them into as many pieces as you need, whether you want to serve large pieces or a lot of smaller bars.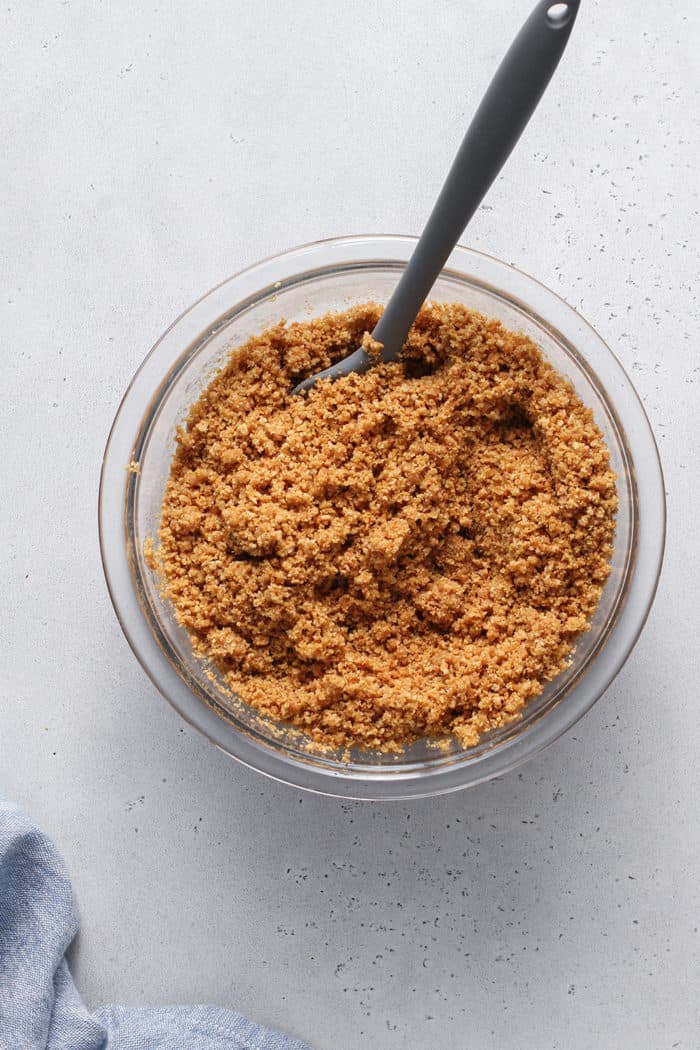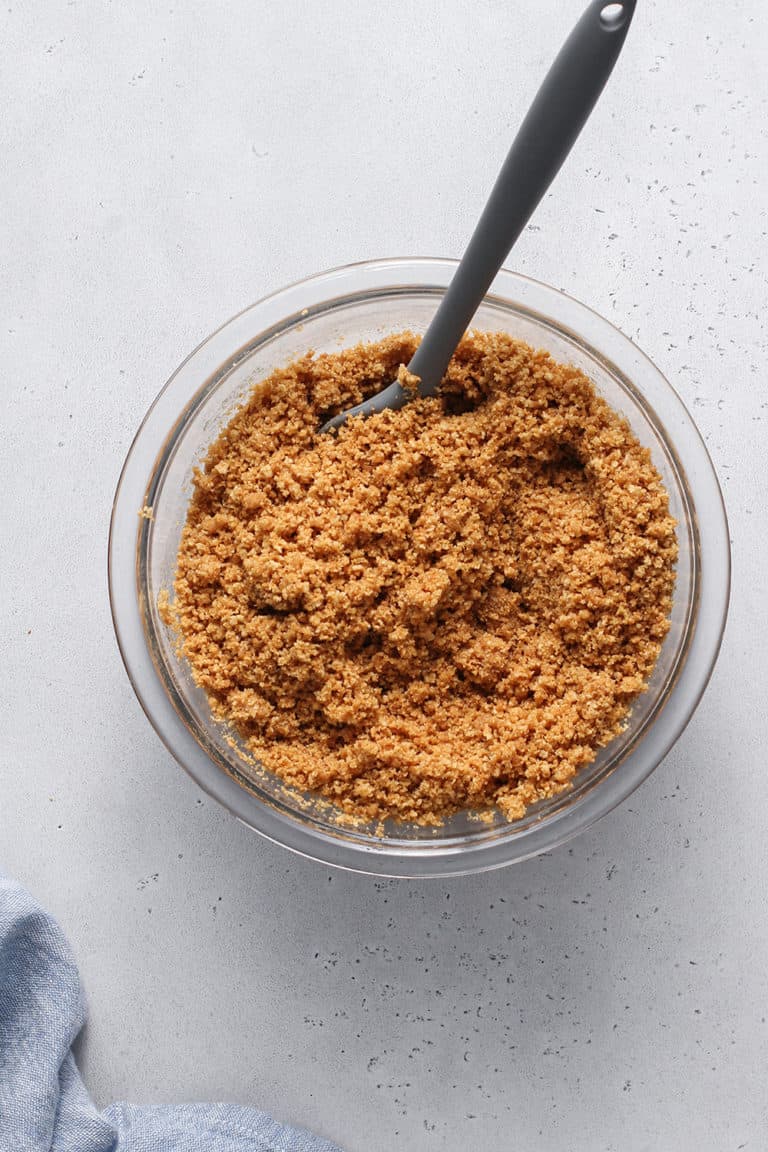 As much as I love making recipes like Pumpkin Cheesecake Bars, No-Bake Cheesecake Bars, Cookie Dough Cheesecake Bars, and Maple Streusel Cheesecake Bars, there's just something about that classic vanilla cheesecake flavor that you can't beat.
These bars take that classic cheesecake filling and graham cracker crust and make them easy to share with as many friends as you like.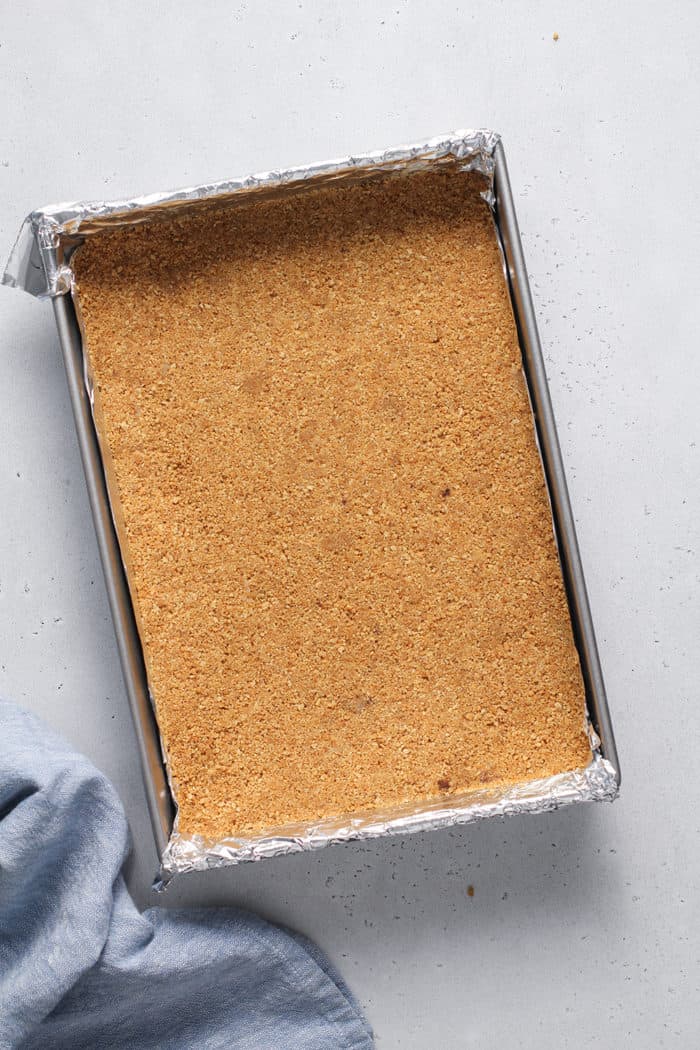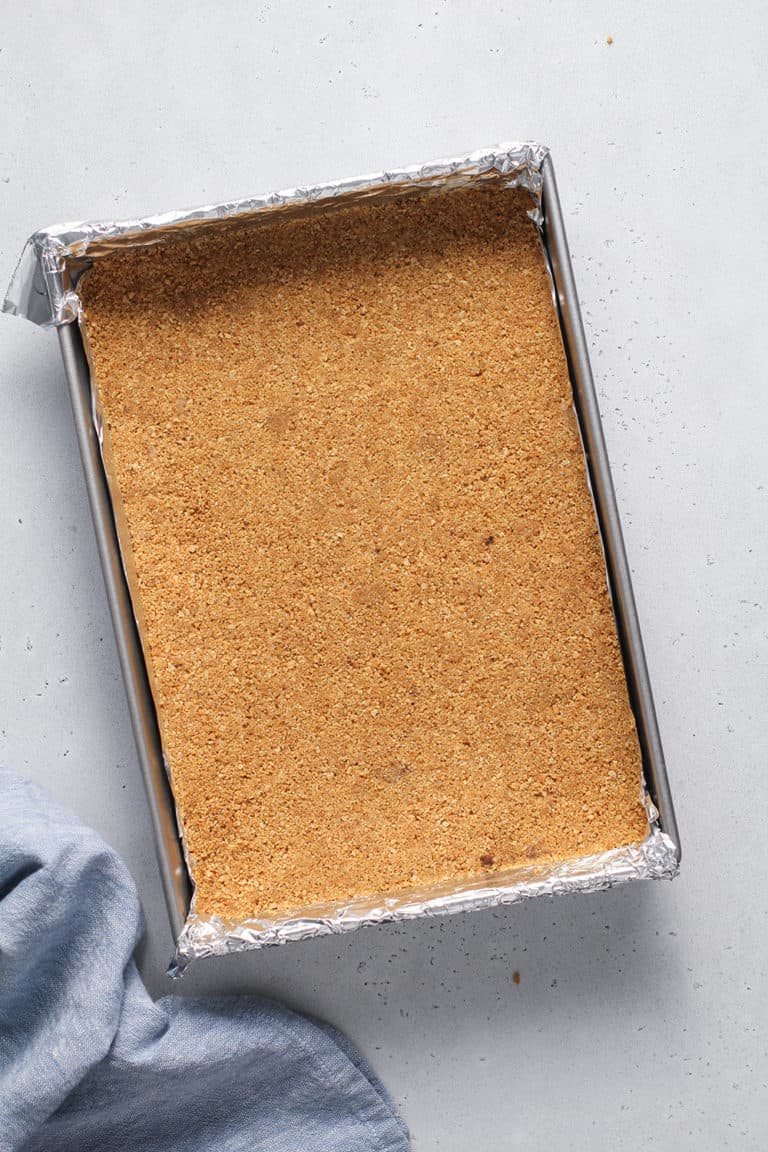 HOW TO MAKE CHEESECAKE BARS
If you've never made a cheesecake before, these bars are a great place to start.
Start by making the crust. Mix together all of the crust ingredients, then press the mixture into the bottom of a prepared 13×9-inch pan. Bake the crust for 10 minutes and let it cool while you prepare the filling.
Using a stand mixer fitted with the paddle attachment or an electric hand mixer, beat the cream cheese and sugar until smooth.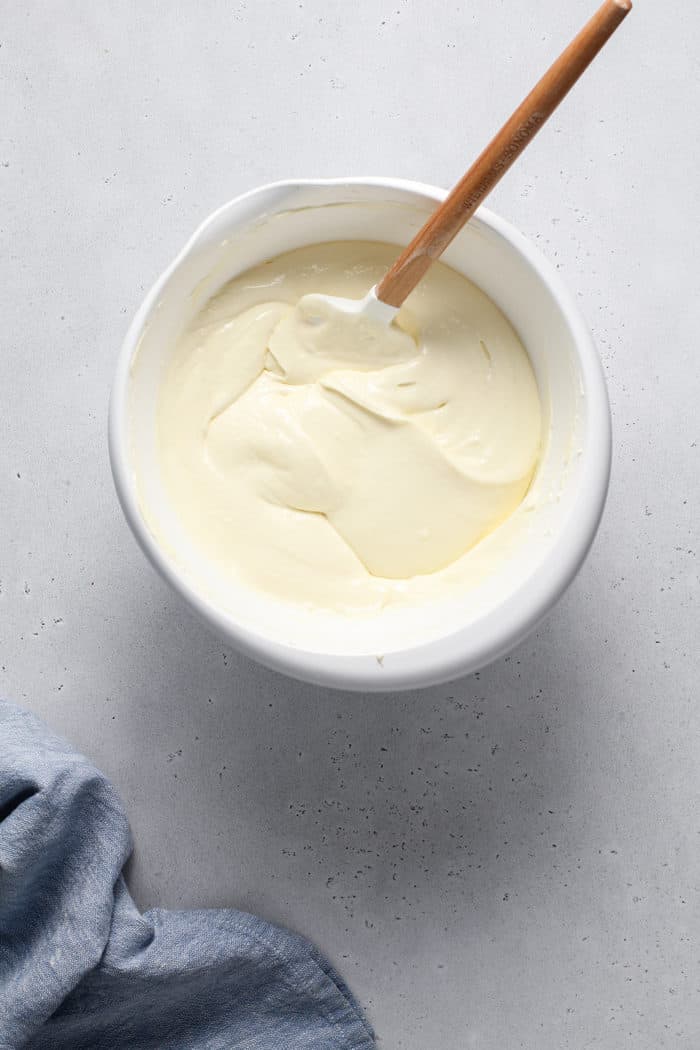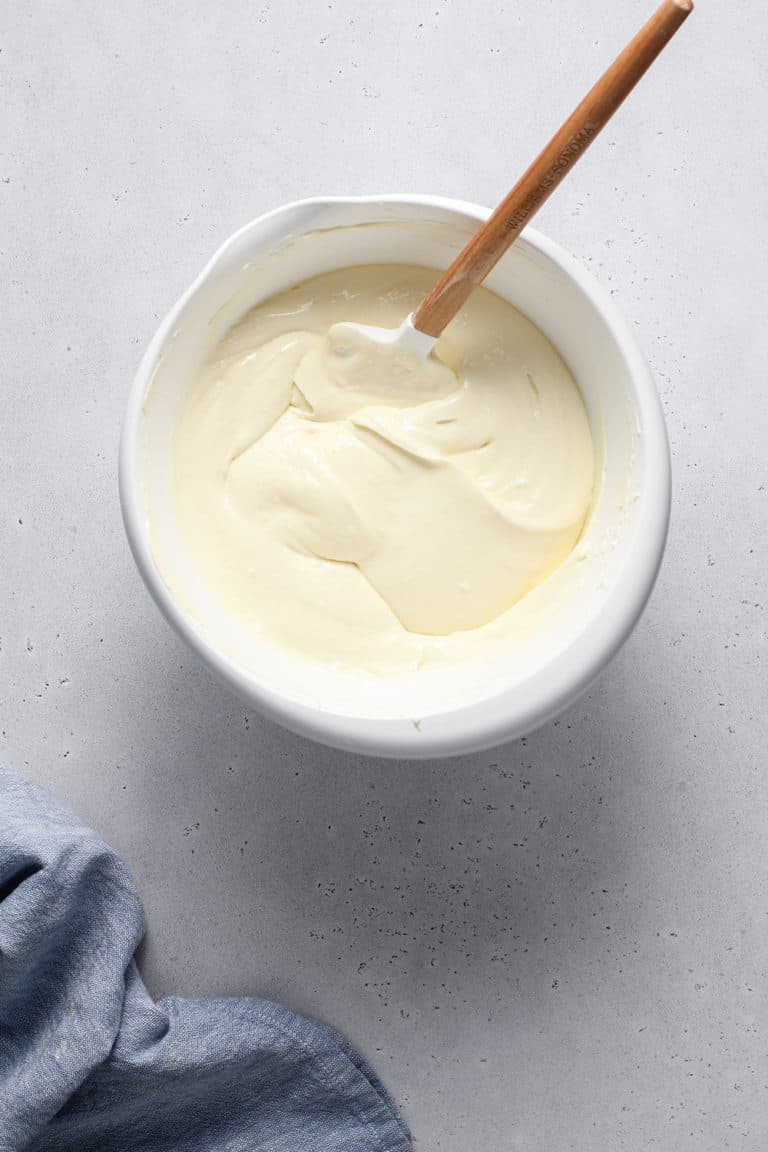 Add the eggs one at a time, making sure to fully incorporate each egg before adding the next one. Scrape down the sides of the bowl with a spatula as needed to make sure the filling gets well mixed.
Add the sour cream and vanilla and mix until the filling is silky smooth and everything is fully combined. Pour the filling directly over the crust and bake until the center is set, about 45 minutes.
You may see some cracks around the edges, but this is normal. And something you can easily cover later with a topping!
Let the bars cool completely on a wire rack. Once they are at room temperature, place the pan in the refrigerator to chill for at least 8 hours before serving.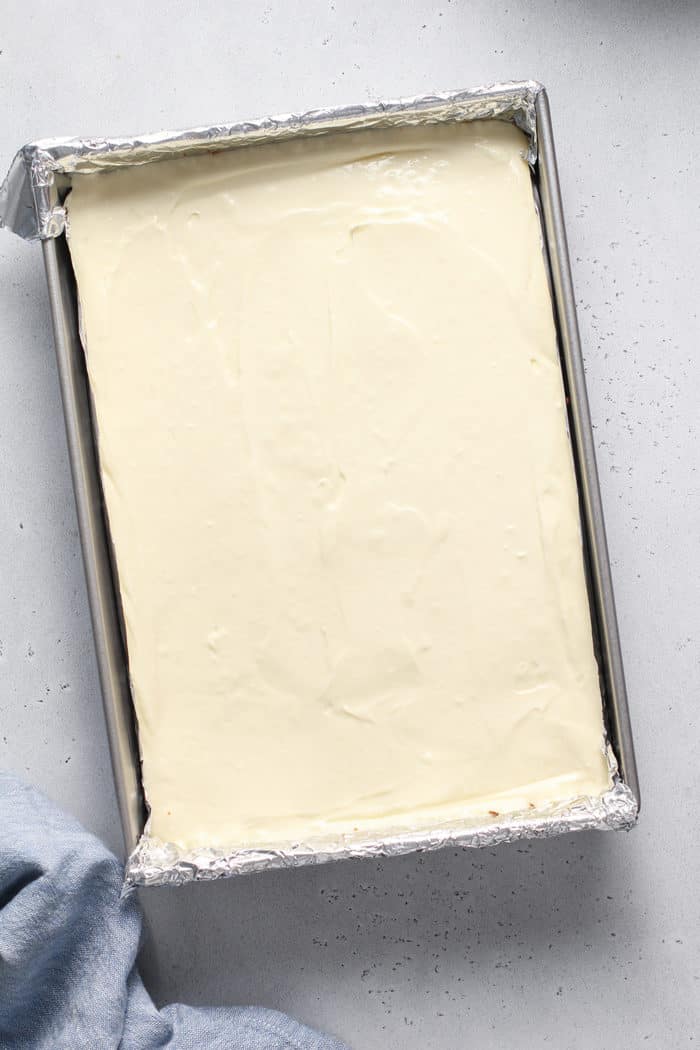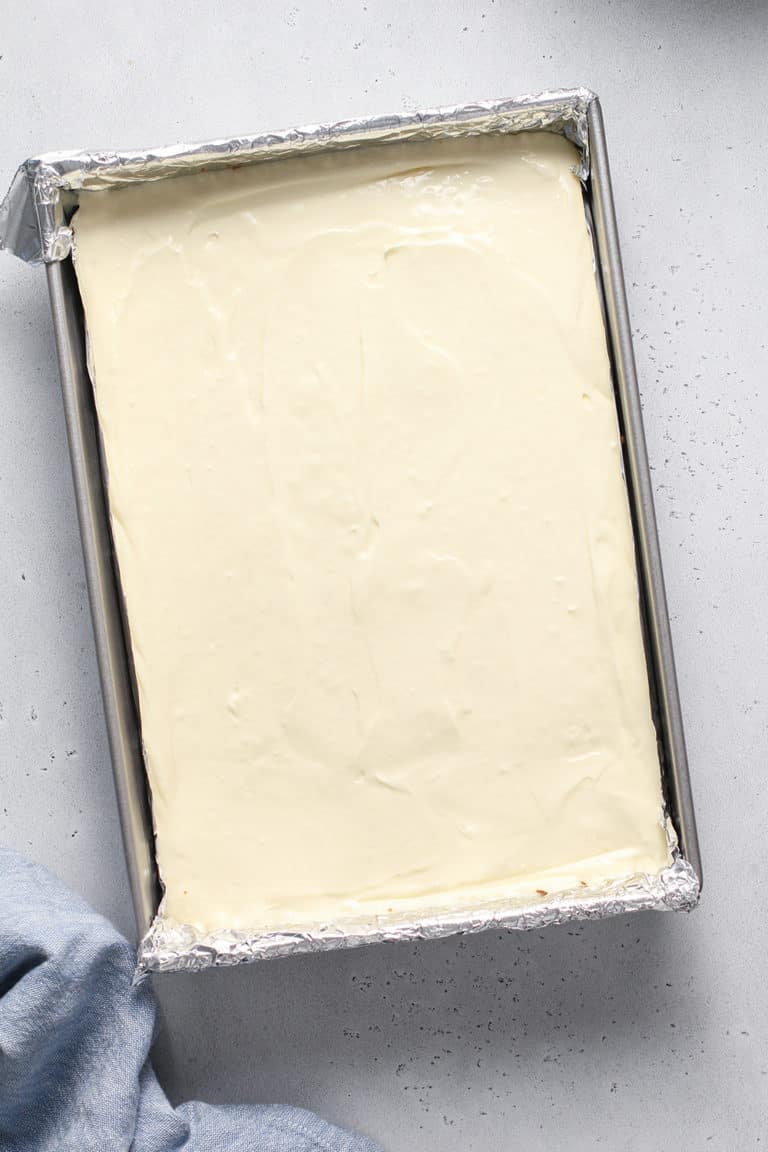 TIPS AND TRICKS
Like I said, I've made a LOT of cheesecake in my life, so I have a few tips and tricks for making the BEST cheesecake bars:
Make sure your ingredients are at room temperature. Yes, really! Set out your cream cheese, eggs, and sour cream ahead of time so they can come up to temp – this will make for a much smoother filling. Forget to set them out early? Learn how to bring eggs to room temperature and how to soften cream cheese.
Line the pan. Line the pan with foil or parchment paper before you add any of the ingredients to it. Once the bars are fully chilled, you'll be able to lift them out of the pan and slice them so much more neatly.
Don't skimp on the mixing. Make sure you take the time to mix everything really well. Don't try to rush this process!
Scrape the sides of the bowl often. Use a spatula to scrape the sides and bottom of the bowl frequently throughout the mixing process. This will make sure you get every little bit of cream cheese and sour cream mixed in – we don't want any lumps in our filling!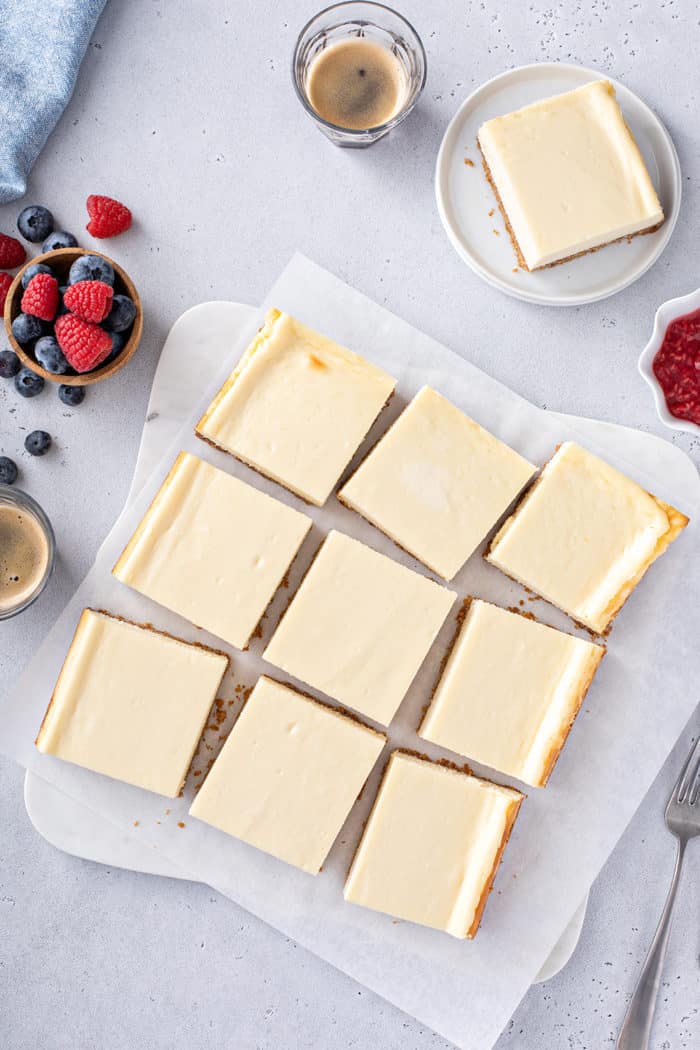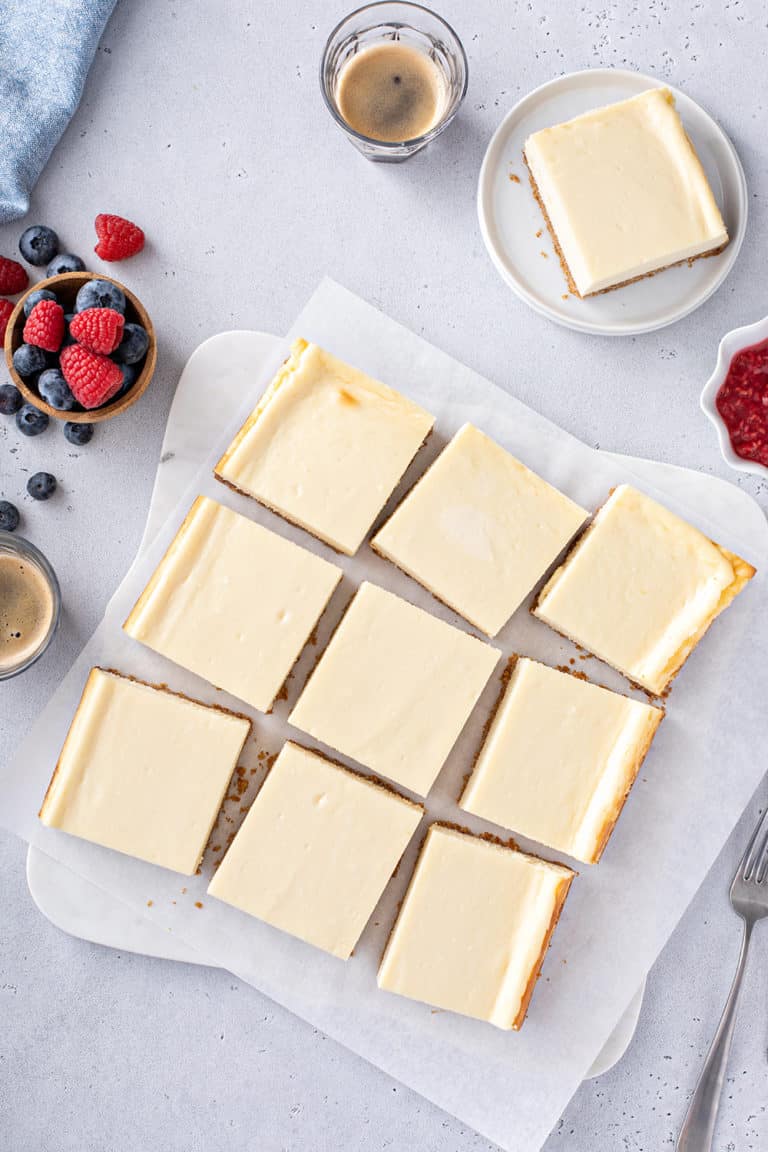 HOW TO CUT CHEESECAKE BARS CLEANLY
If I'm being honest, there has maybe been a time or two when I have dug right into the pan with my fork when eating these cheesecake bars. But I'm guessing that most of you probably want to know how to cut these bars into nice clean slices.
Make sure you let the bars chill in the refrigerator for at least 8 hours before you attempt to slice them. Once they are fully chilled, use the foil or parchment paper overhang to gently lift the bars out of the pan and onto a cutting board.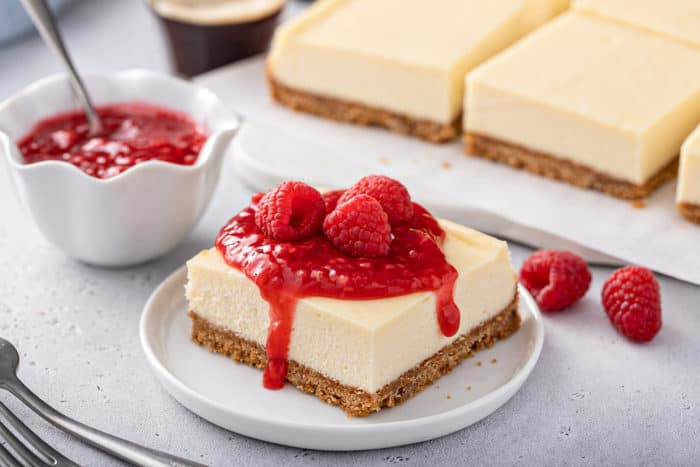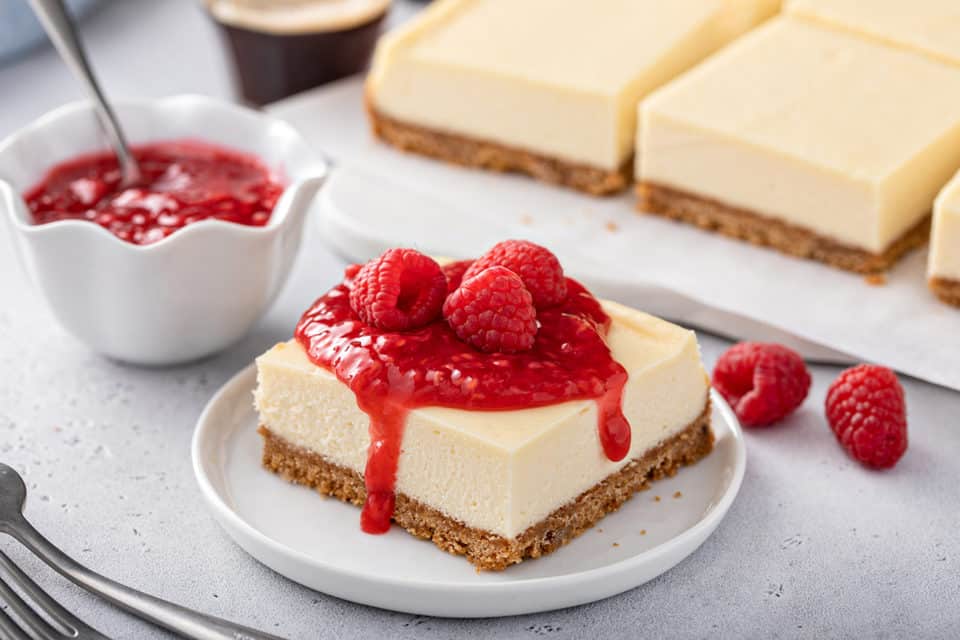 Take a large, sharp knife and run it under very hot water, or dip it into a container of hot water, for a few seconds. Immediately wipe it dry on a clean tea towel, then make a cut into the cheesecake bars.
Use a paper towel to wipe the knife clean and repeat for each cut.
Submerging the blade of the knife in hot water for just a few seconds and wiping it dry will heat up the blade just enough that it will make a nice clean cut though the filling.
It might seem tedious to wipe the blade clean and warm it up for each cut you make, but going slow and not rushing will make sure you get those beautiful slices!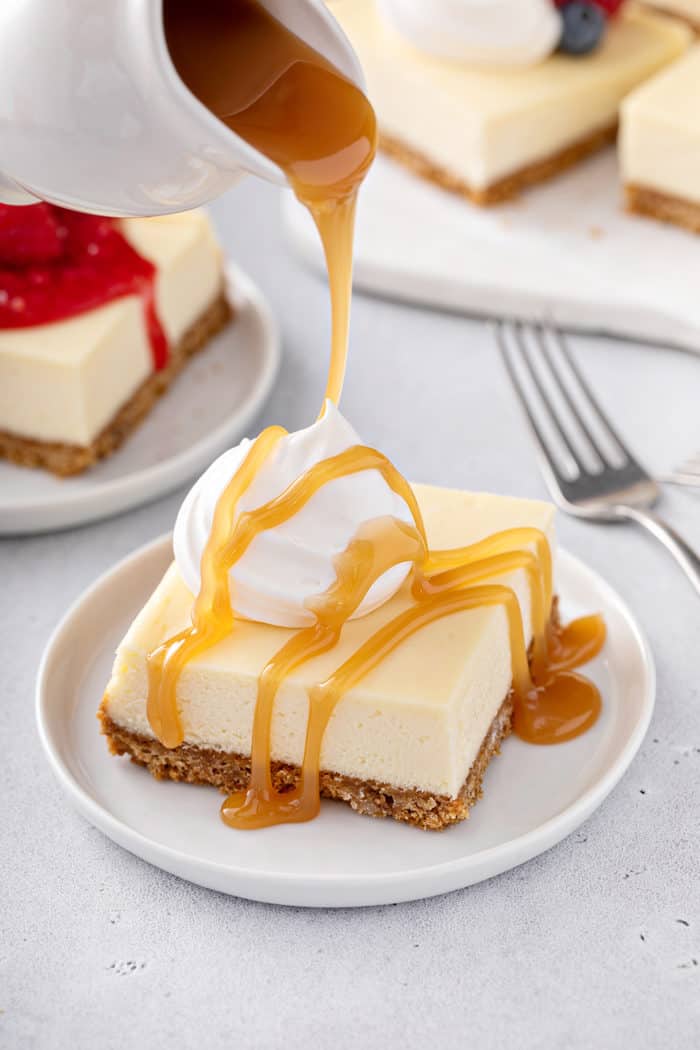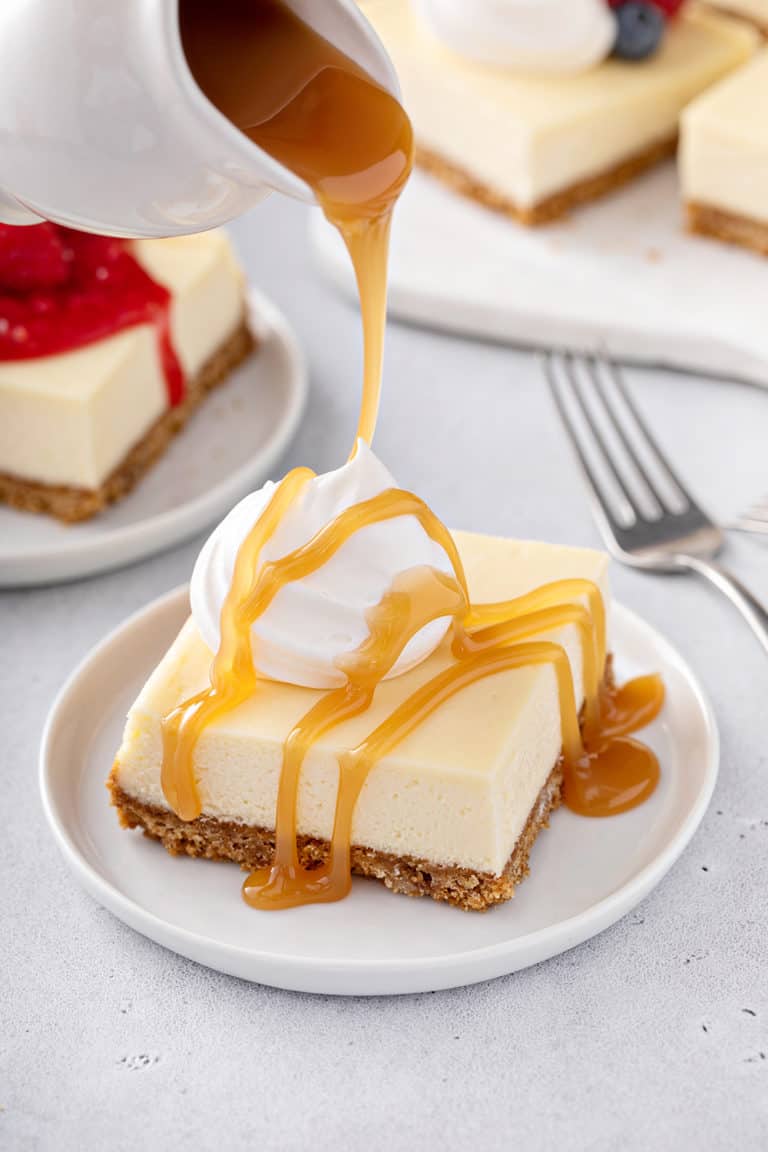 WAYS TO SERVE THESE BARS
These bars are so flavorful on their own, but they are also a blank slate for adding any number of toppings you can think of!
Try them with fresh fruit and a dollop of homemade whipped cream. Or reach for your favorite homemade blueberry sauce or raspberry sauce for a different fruity twist!
Love caramel? You can't go wrong with a drizzle of salted caramel sauce.
Want a chocolatey take? Grab some homemade fudge sauce or a simple chocolate ganache.
You can really let your imagination run wild when it comes to topping these cheesecake bars!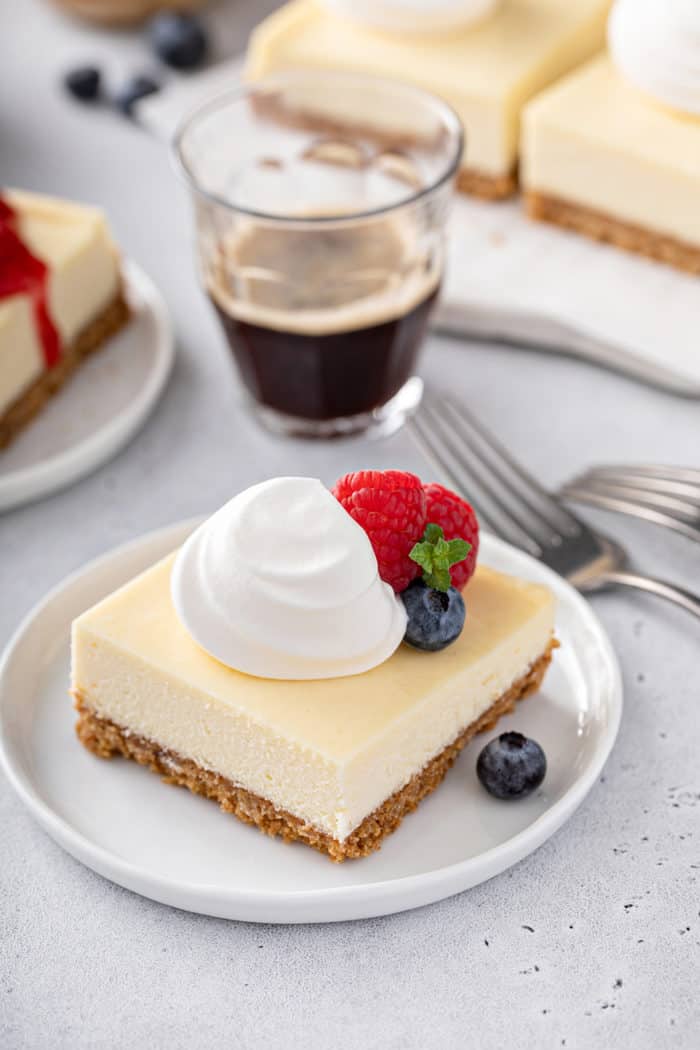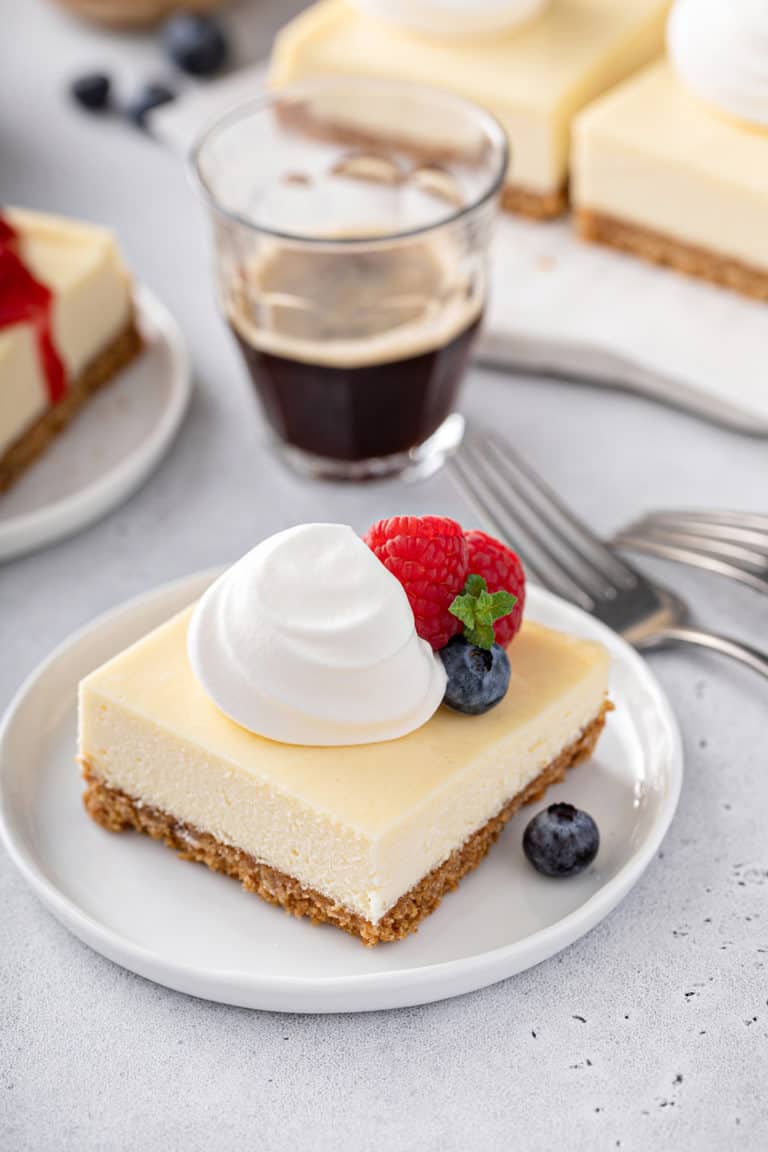 STORING AND FREEZING
Before you cut these cheesecake bars, you can tightly cover the pan and store them in the refrigerator in the same pan you baked them in.
Once you slice the bars, store them in an airtight container in the fridge. If you need to stack the bars in the container, make sure to place a layer of parchment paper or waxed paper between the layers.
The bars will keep in the refrigerator for up to 5 days.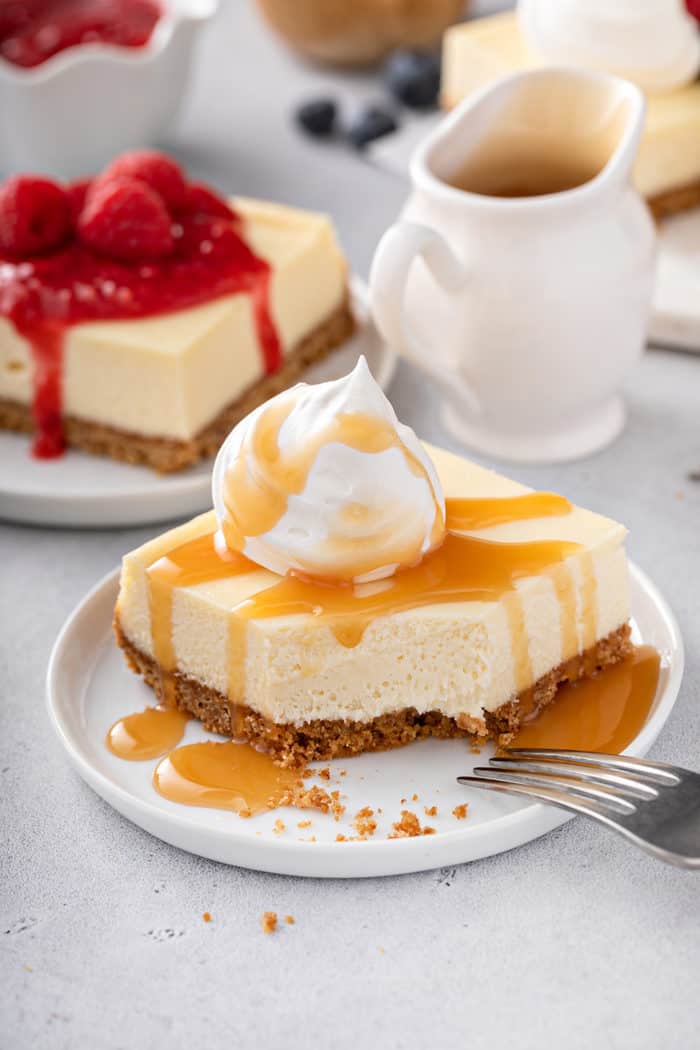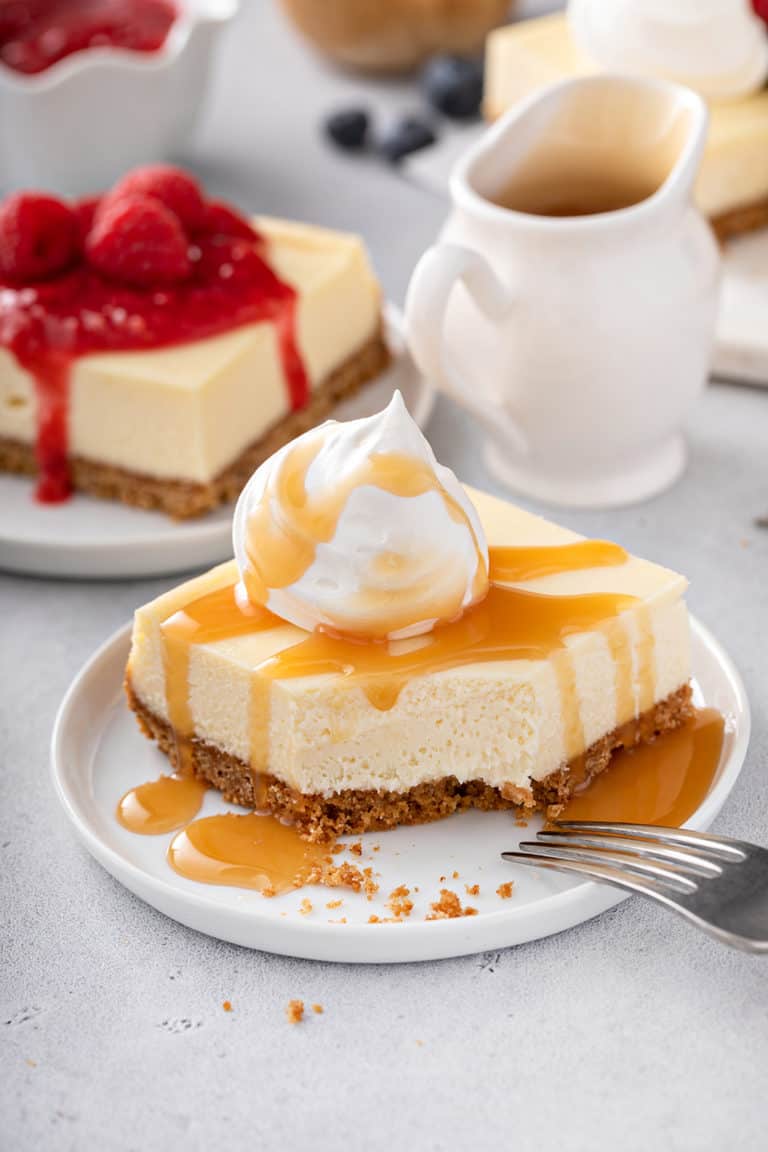 Obviously this recipe makes quite a few servings, so if you want to make cheesecake bars for a smaller group of people, feel free to freeze the leftovers for up to 1 month.
Cut the bars into slices and wrap each one well in a layer of plastic wrap and then a layer of foil. Place in the freezer.
When you want to enjoy a cheesecake bar, let it thaw overnight in the refrigerator, or set out at room temperature for about 2 hours.