Chocolate Chip Bread Pudding combines rich, eggy custard with buttery croissants and melty chocolate chips for a decadent dessert that will have you coming back for just one more bite.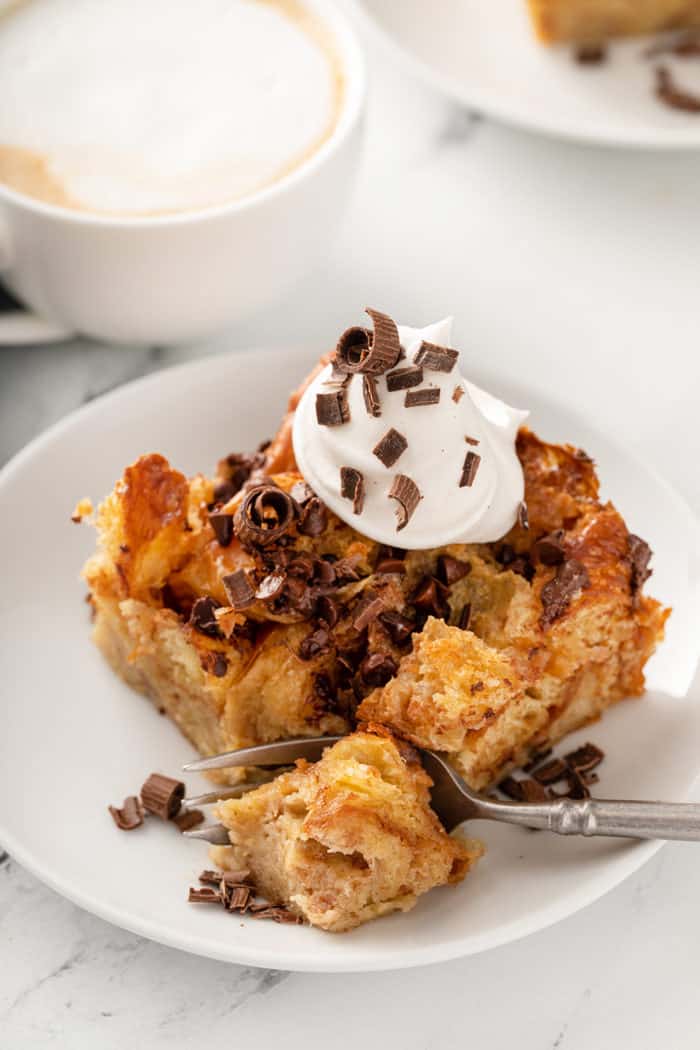 It's probably more than obvious that I bake and cook a lot and I often get asked what I do with all of the recipes that I test.
Most of the time, the goodies head to friends, family, neighbors, and even our chiropractor and Elle's teachers.
Eric doesn't have too much of a sweet tooth for things beyond cereal, chocolate chip cookies or chocolate cheesecake and Elle is pretty picky when it comes to desserts, so we're often left with loads of sweets.
When I was testing this Chocolate Chip Bread Pudding, I had the taste-testers all lined up because I knew I'd be making it several times and assumed that Eric and Elle wouldn't be interested.
I was totally wrong.
They both devoured it thanks to the chocolate chips and crispy, buttery croissant top and it quickly became one of our new favorites!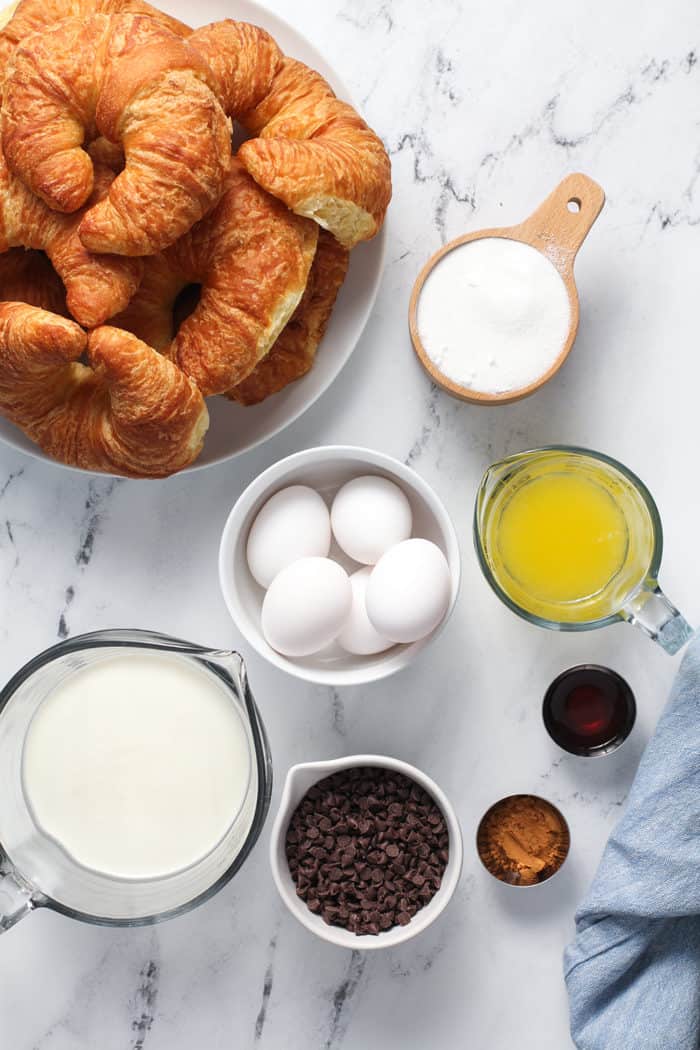 CHOCOLATE CHIP BREAD PUDDING INGREDIENTS
Remember how I have a Costco membership for just a handful of things? One of those things has become their massive, buttery croissants.
I love grabbing a package of these croissants any time I have company and setting them out for a quick breakfast buffet, and the leftovers make amazing croissant bread pudding.
And what could be better than a decadent, buttery bread pudding? A chocolatey bread pudding!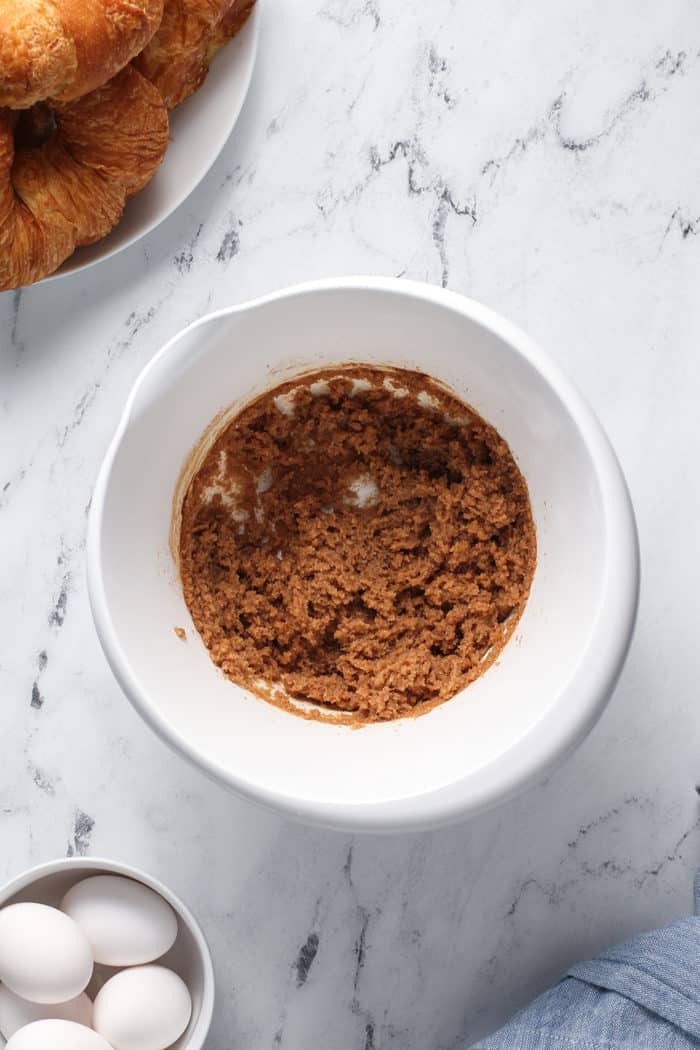 So I took the same ingredients for my classic croissant bread pudding and added chocolate chips for a chocolate version. To make this recipe, you'll need:
6 tablespoons salted butter, melted and cooled slightly
1 cup granulated sugar
2 teaspoons ground cinnamon
5 large eggs
2 1/2 cups heavy cream
2 teaspoons vanilla extract
8 large croissants (about 18 ounces)
3/4 cup semi sweet mini chocolate chips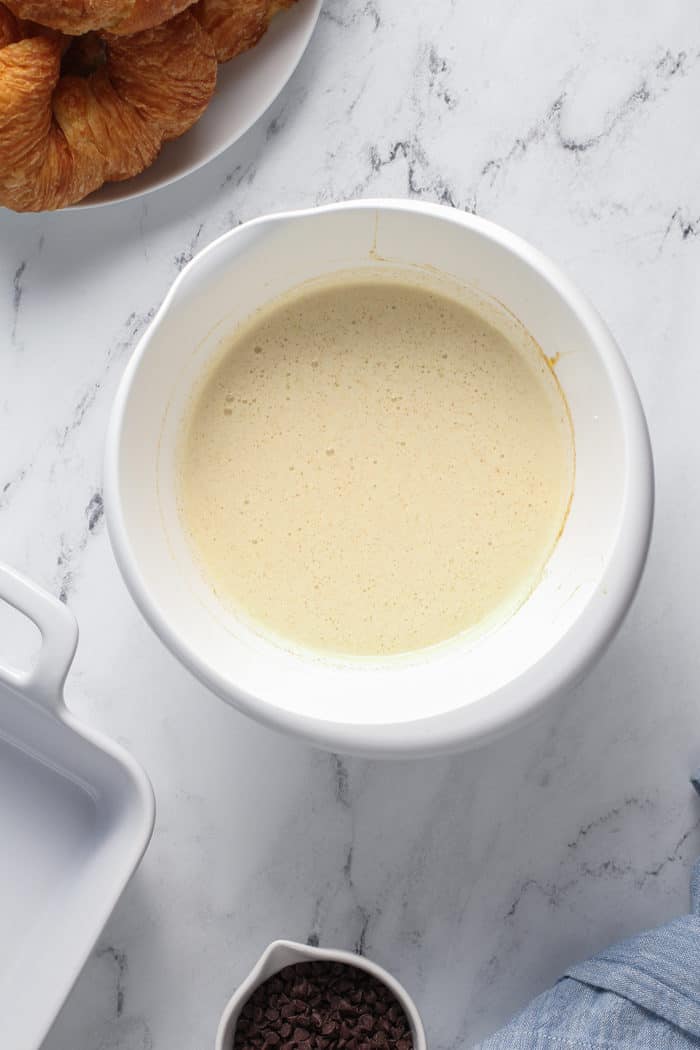 If your croissants are on the big side, you may only need 6 of them. If they're smaller, you may need 9 or 10. Either way, 18 ounces will do the trick!
I like to use semi-sweet mini chocolate chips in this recipe. The mini chocolate chips really get into all the nooks and crannies of the bread pudding, so you get some of that melty chocolate with every bite.
If you only have regular chocolate chips, those will still work! You can also use milk chocolate chips or dark chocolate chips, just remember that the final dessert will be more or less sweet depending on which chocolate you use.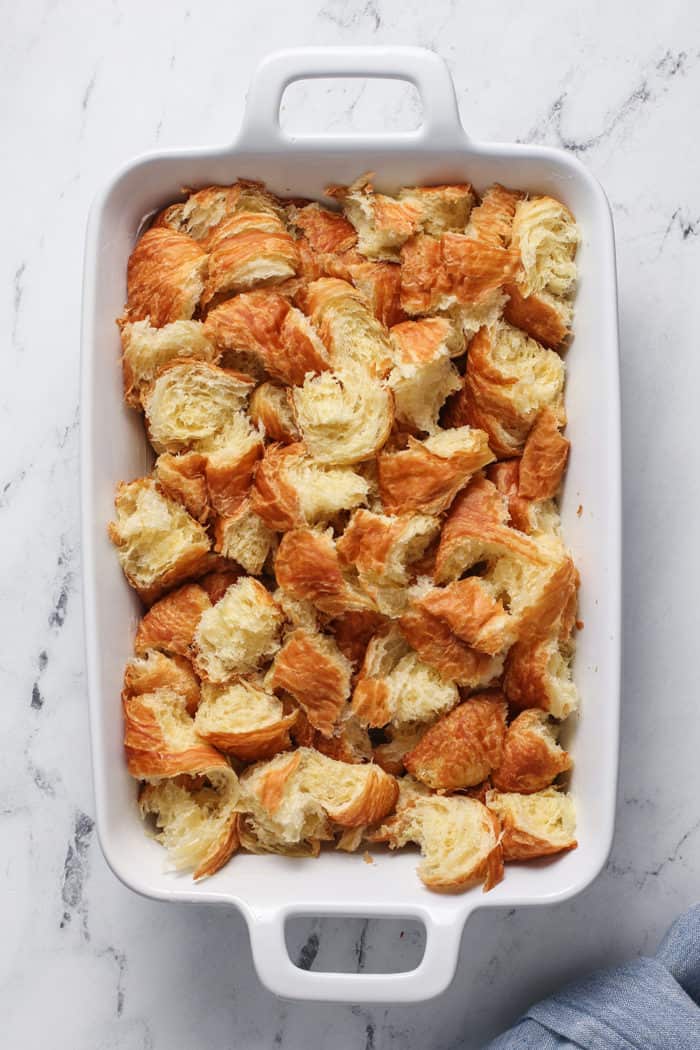 HOW TO MAKE CHOCOLATE CHIP BREAD PUDDING
You can use a stand mixer or electric hand mixer to make this Chocolate Chip Bread Pudding. Don't have a mixer? No worries! You can use a bowl and a good ol' whisk, too.
Start by beating together the melted butter, sugar, and cinnamon. Add in the eggs, followed by the cream and vanilla.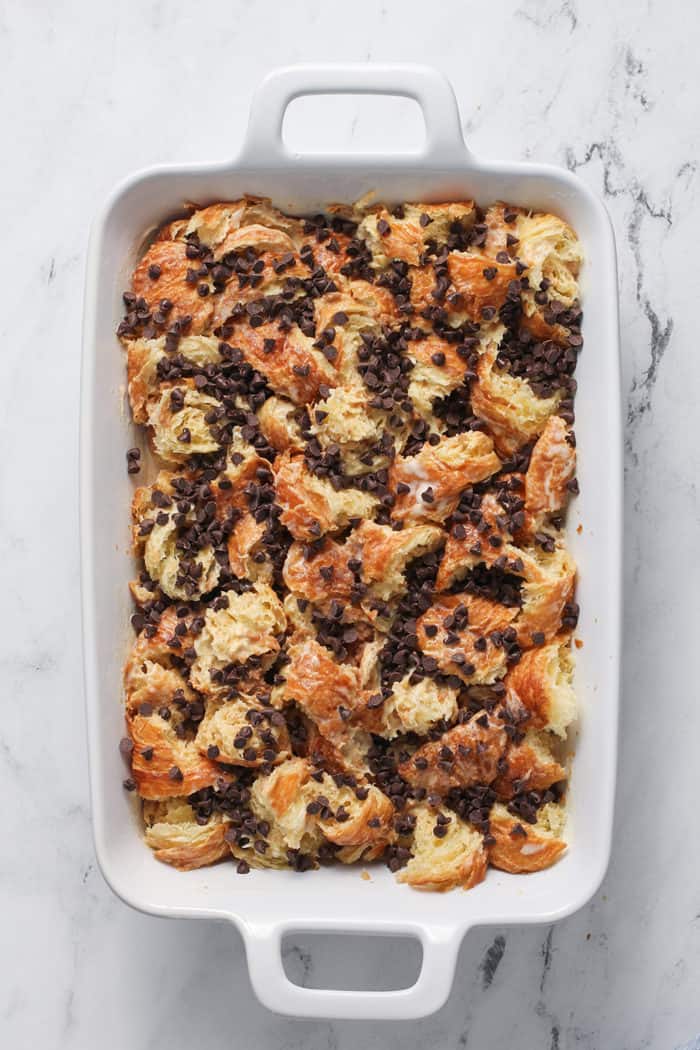 Tear the croissants into 1-inch pieces and place them into a buttered 13×9-inch baking dish. Pour the custard evenly over the top. Use a spatula to gently press the croissant pieces into the custard – you want to make sure they all get covered.
Sprinkle the chocolate chips over the top, then cover the pan with foil and let it rest for 15 minutes at room temperature.
Leave the foil on and bake the Chocolate Chip Bread Pudding for 35 minutes. Remove the foil and bake for another 15 minutes to let the top brown.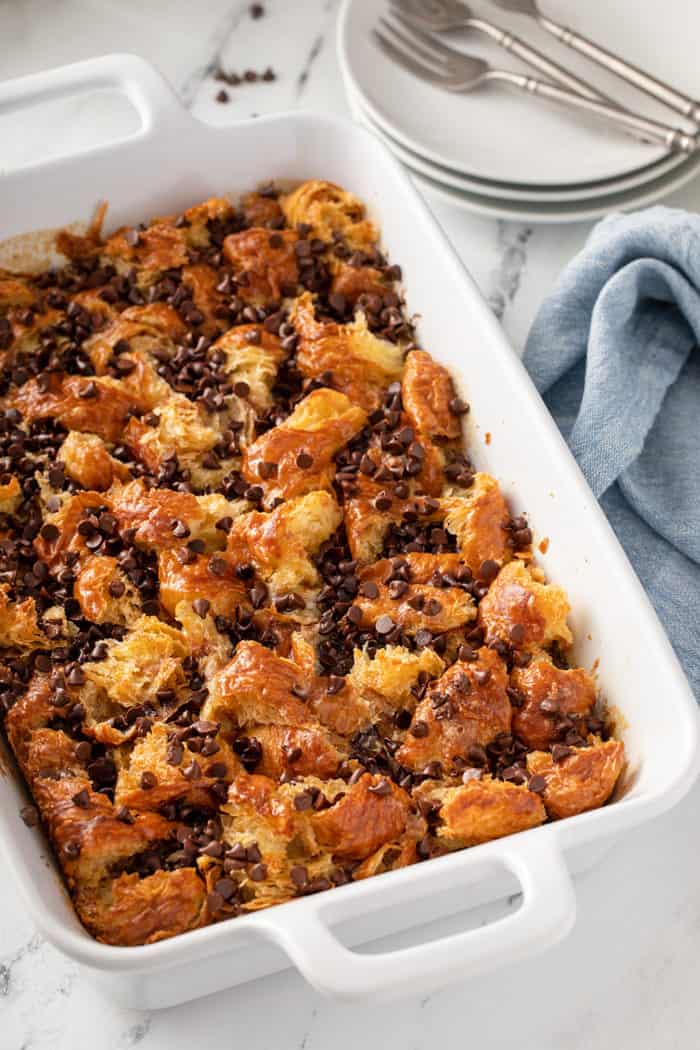 HOW DO YOU KNOW WHEN BREAD PUDDING IS DONE?
You'll know the bread pudding is done when the center of the custard is set, but still soft. If you gently shake the pan, you should just barely see the center jiggle.
Another clue is when the center of the bread pudding is puffed. Because of the eggs in the custard, the bread pudding will puff as it bakes.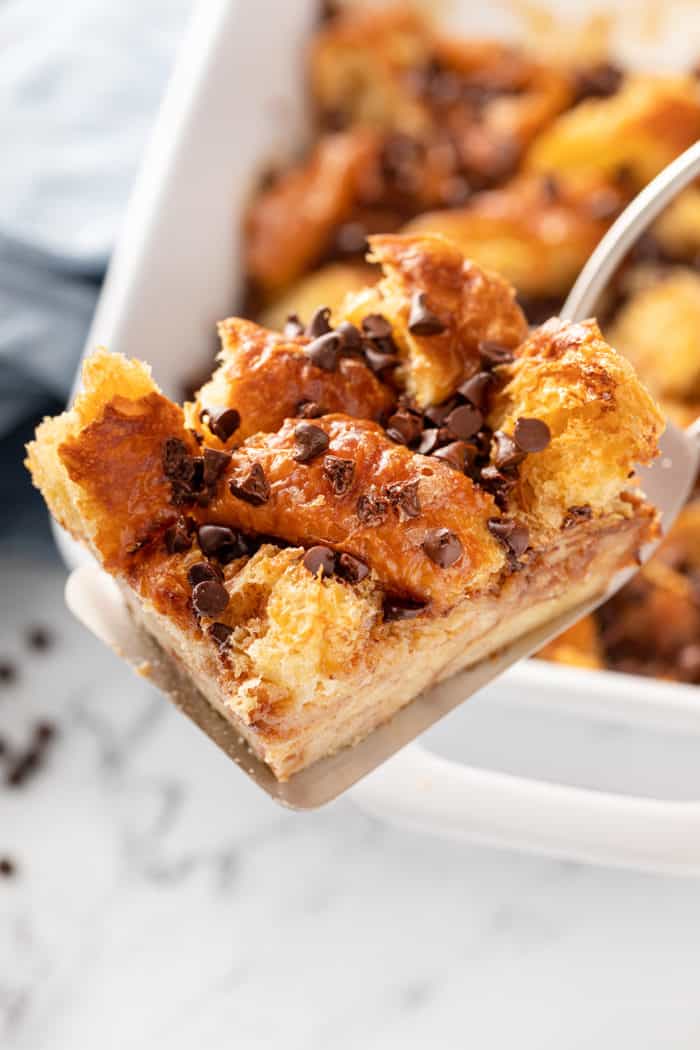 The edges will puff up first, and the center – which is the last part to bake through – will puff up last. This is as true for Chocolate Chip Bread Pudding as it is for pumpkin bread pudding or Irish bread pudding.
If the center has puffed and just barely jiggles and the custard seems set, you're good to go!
Don't forget to top your bread pudding with plenty of homemade whipped cream and chocolate shavings before serving! If you want to get really decadent, you could even try it with rum sauce.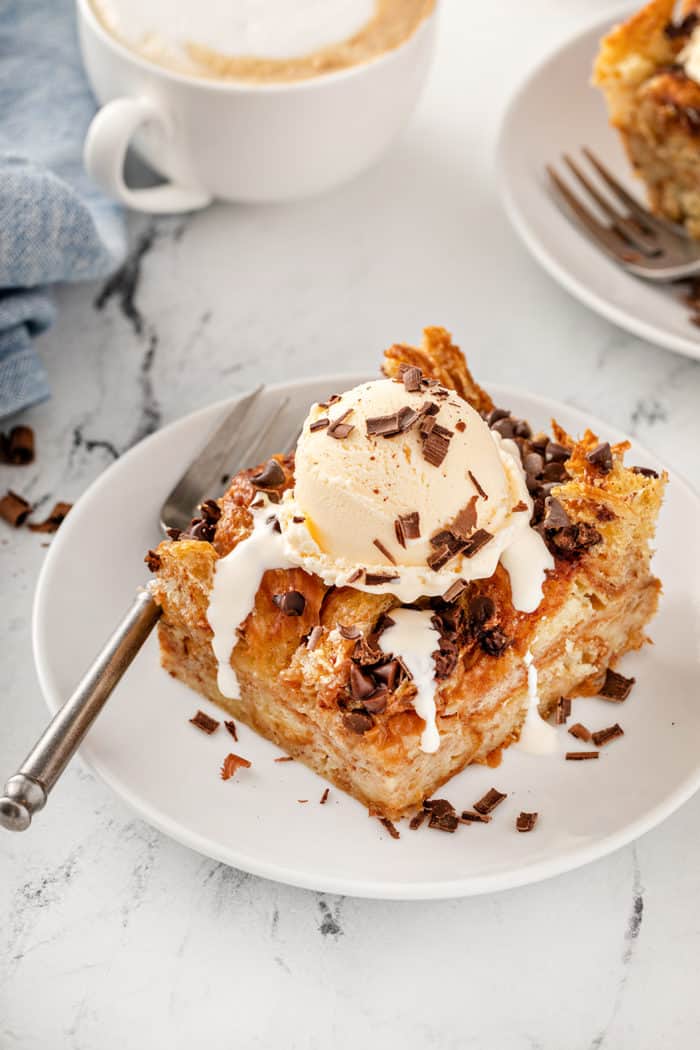 STORAGE AND REHEATING
Because this recipe has lots of dairy and eggs in it, you will want to store any leftovers in an airtight container in the refrigerator.
Reheat individual portions in the microwave for about 30-60 seconds before digging in. After all, you want those chocolate chips to be nice and melty!
You can warm larger portions in a low oven. Make sure the bread pudding is in an oven-safe dish, then cover it with foil. Turn your oven on nice and low – around 300-325°F – and heat just until the bread pudding is warmed through.