Buttery croissants meet rich, eggy custard in this Croissant Bread Pudding! Serve with fresh berries and a dollop of whipped cream for a sweet and decadent bite.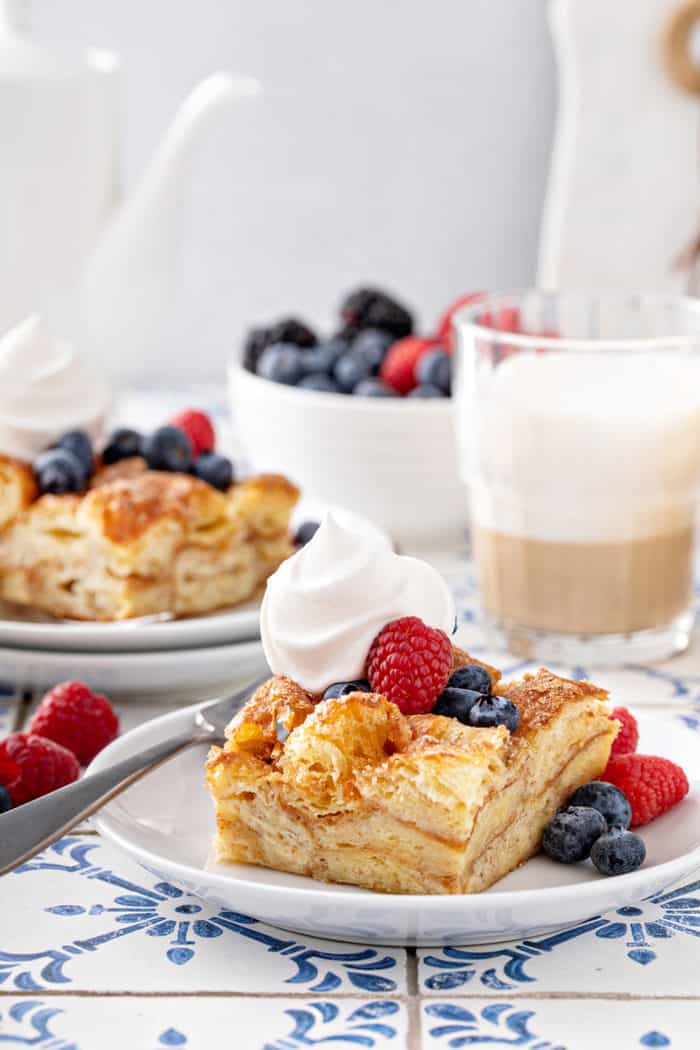 I'm one of those people that has a Costco membership for about 10 things.
Paper towels, protein shakes, fresh flowers, eggs, vanilla, shrimp cocktail and my beloved dill pickle salad mixes are the staples.
Everything else is random like frozen chicken taquitos and almonds that taste like Thin Mint cookies.
However, during the holidays I started picking up their croissants when I was testing recipes and I kind of got hooked on them. I'm not considering them a staple quite yet, but they're getting close.
First of all, they're delicious. They're rich, buttery, flaky and they're massive so they're great for feeding a crowd.
You can use them for chicken salad sandwiches or bacon egg and cheese sandwiches, but my absolute favorite way to use the croissants is in croissant bread pudding.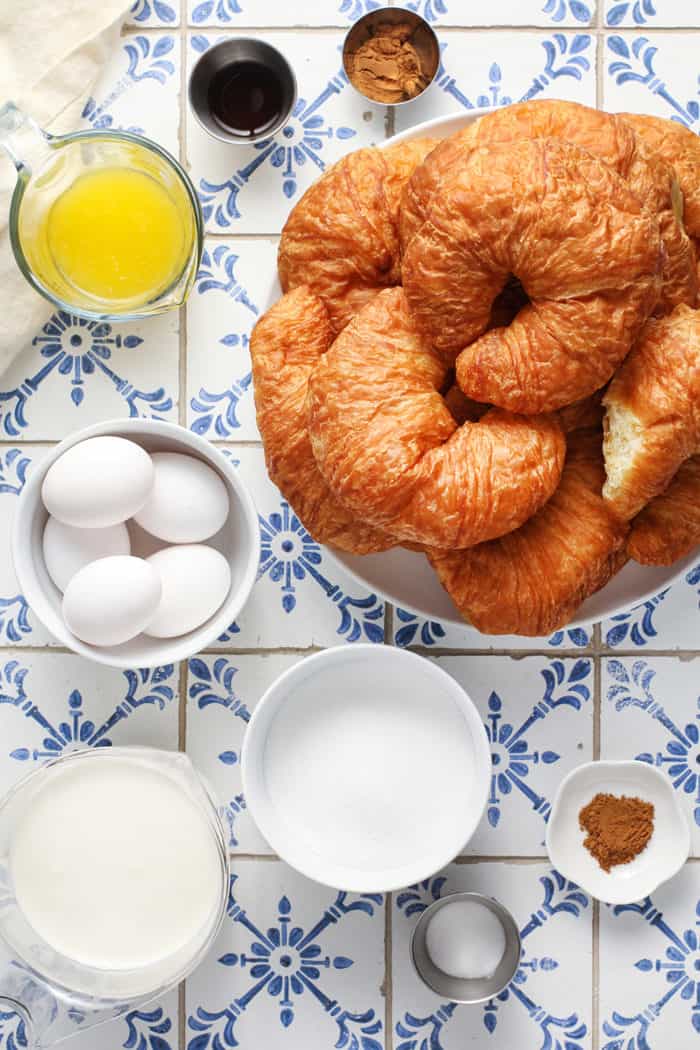 WHAT IS BREAD PUDDING?
Bread pudding is a bread-based custard that is popular in various cuisines around the world.
Even though we usually think of bread pudding as a dessert, such as pumpkin bread pudding, blueberry bread pudding, or Irish bread pudding with whiskey sauce, you can make versions of bread pudding for dessert, such as overnight french toast casserole.
You can even make savory versions, like my croissant breakfast casserole!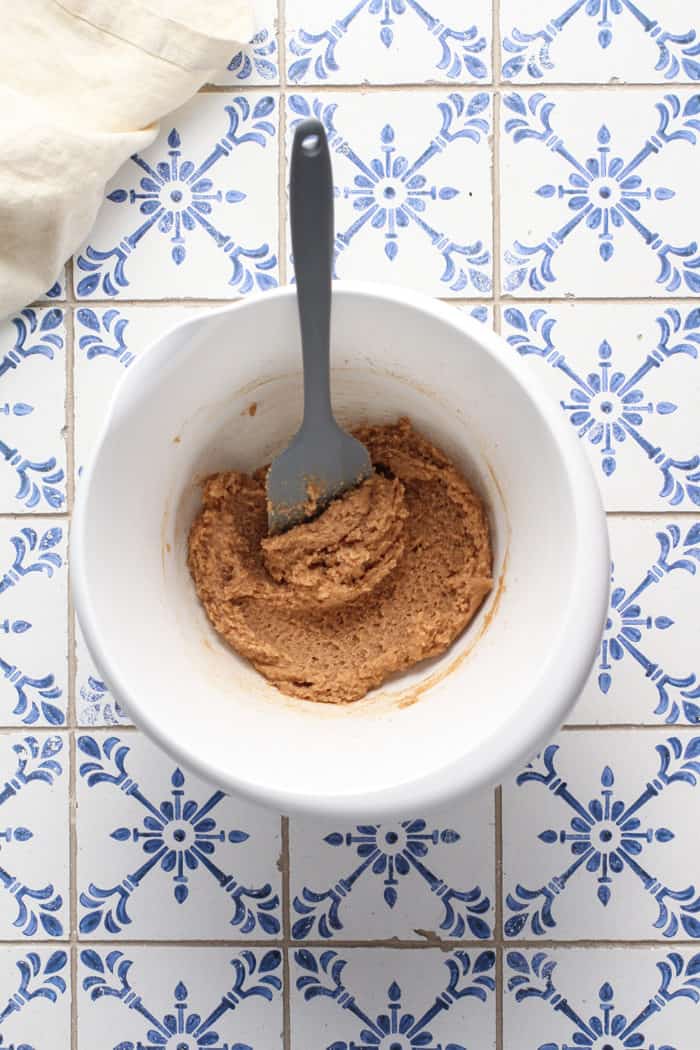 HOW TO MAKE CROISSANT BREAD PUDDING
If you love buttery croissants and you love bread pudding, of course you'll love this Croissant Bread Pudding. And let me tell you, it is so easy to throw together!
The ingredients you'll need are:
Salted butter
Granulated sugar
Ground cinnamon
Eggs
Heavy cream
Vanilla extract
Croissants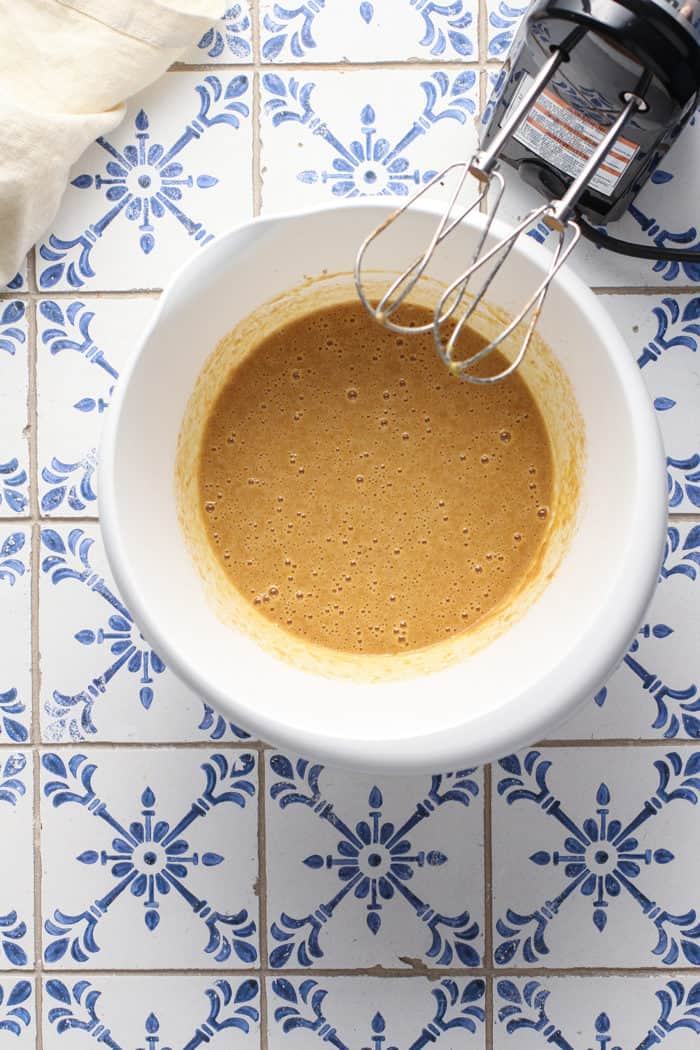 You'll need about 18 ounces of croissants. For me, that is around 6 to 8 large croissants from my grocery store's bakery section. If your croissants are on the smaller side, you may need 8-10.
Start by whisking together the custard. You can use an electric mixer to mix it together, but I usually just grab a whisk and do it all by hand!
Beat together the melted and slightly cooled butter with the sugar and 2 teaspoons of cinnamon. Add in the eggs and mix until fully incorporated, then mix in the heavy cream and vanilla.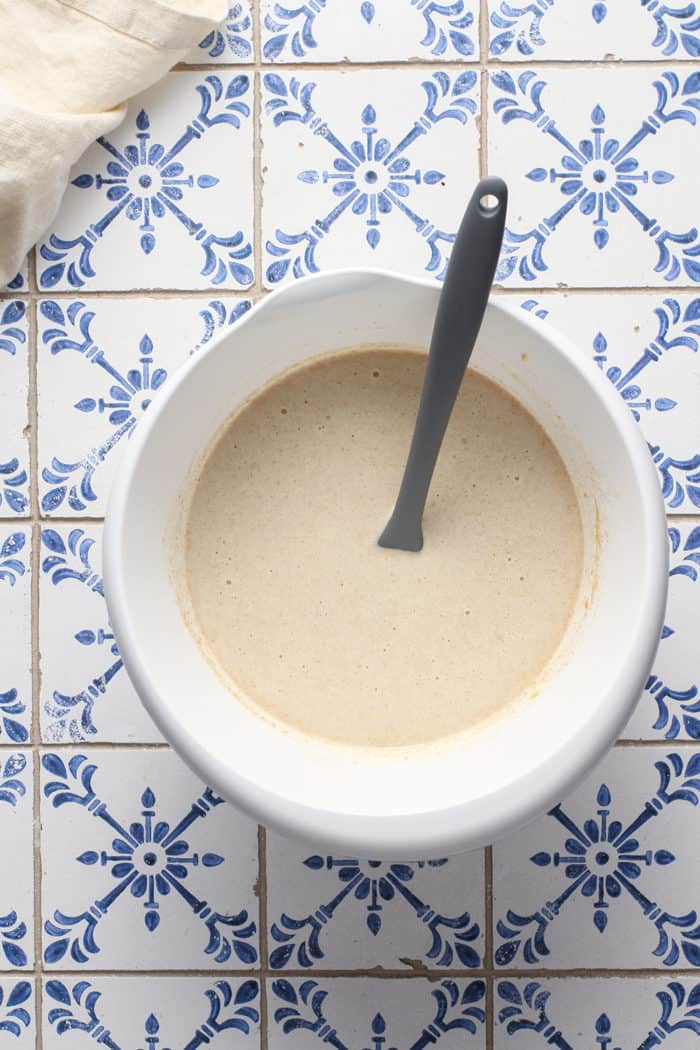 Next, tear the croissants into 1-inch pieces and evenly scatter them into a 13×9-inch baking dish. Pour the custard evenly over the croissant pieces, then use a spatula to make sure all of the pieces are covered in the custard.
Cover the pan with foil and let it rest at room temperature for 15 minutes while your oven finishes preheating.
After the 15-minute rest, remove the foil and sprinkle cinnamon sugar evenly over the top of the bread pudding. Put the foil back over the top and bake the Croissant Bread Pudding, covered, for 35 minutes.
After the 35 minutes is over, remove the foil and bake for another 15-20 minutes.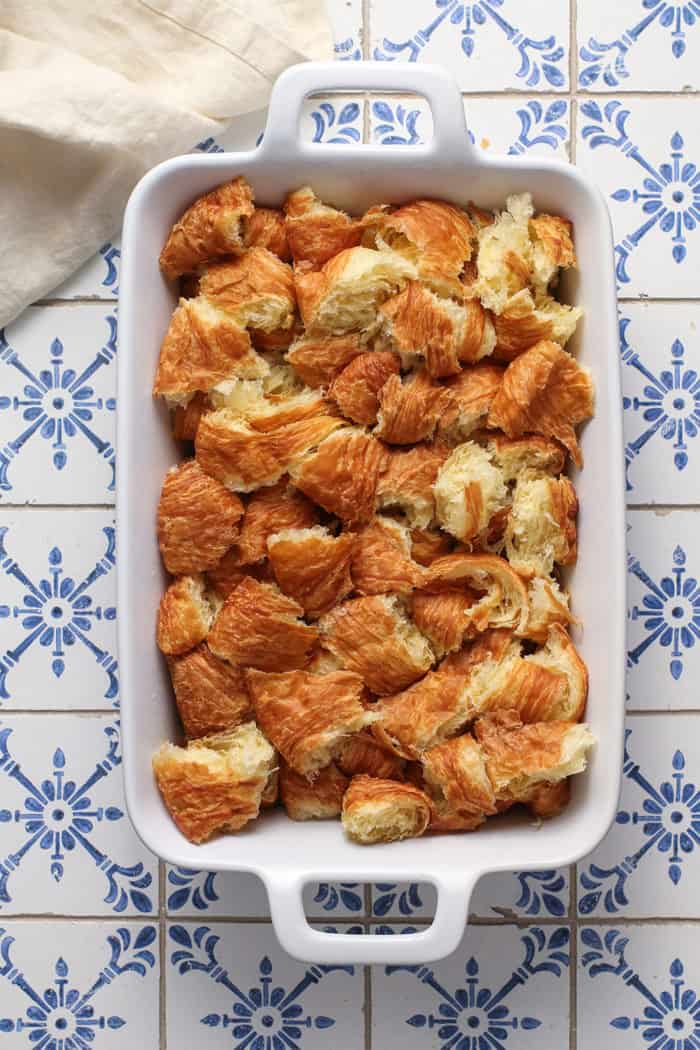 HOW DO YOU KNOW WHEN YOUR BREAD PUDDING IS DONE?
You'll know the bread pudding is done when the center of the custard is set, but still soft. If you gently shake the pan, you should just barely see the center jiggle.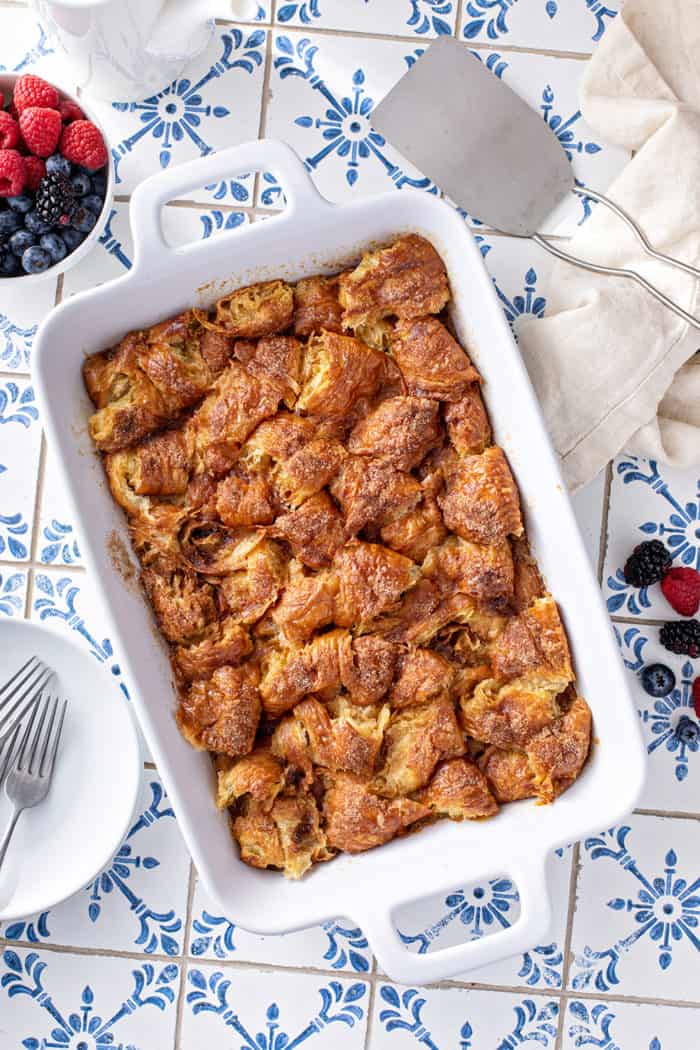 Another clue is when the center of the Croissant Bread Pudding is puffed. Because of the eggs in the custard, the bread pudding will puff as it bakes. The edges will puff up first, and the center – which is the last part to bake through – will puff up last.
If the center has puffed and just barely jiggles and the custard seems set, you're good to go!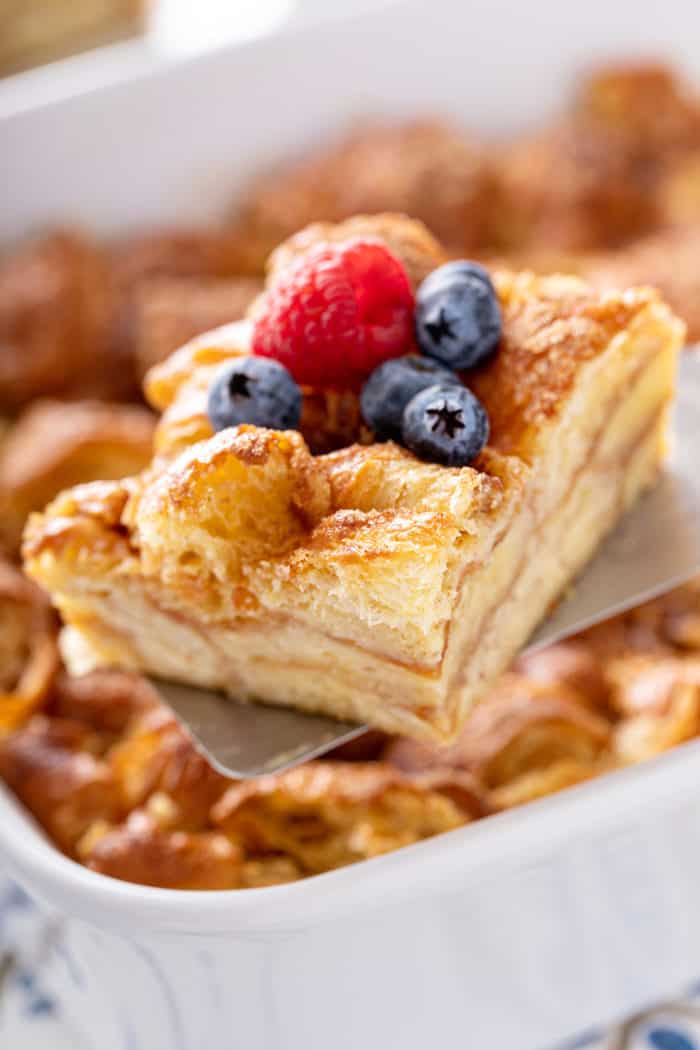 STORAGE AND REHEATING TIPS
Because of the amount of dairy and eggs in this Croissant Bread Pudding, you will definitely want to store any leftovers in the refrigerator.
If you want to reheat the leftovers before digging in, you can warm individual servings for 30-60 seconds in the microwave.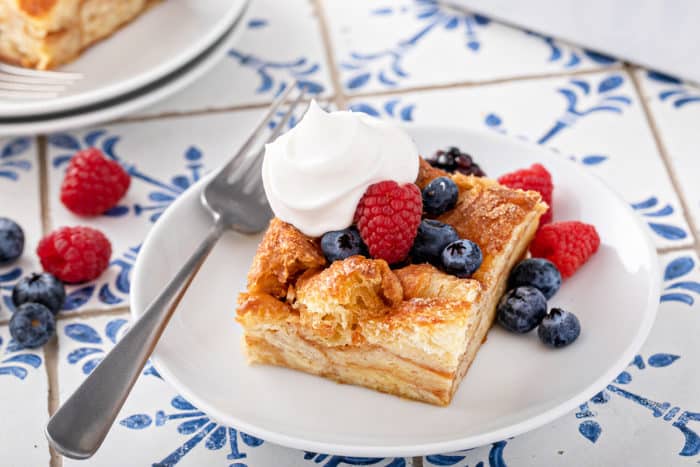 You can warm larger portions in a low oven. Make sure the bread pudding is in an oven-safe dish, then cover it with foil. Make sure the oven is low – around 300-325°F – and heat just until the bread pudding is warmed through.
Serve this Croissant Bread Pudding with a dollop of whipped cream and fresh berries and you'll have one decadent dessert!