Blueberry Bread Pudding is a sweet combination of buttery croissants, tart blueberries, and bright lemon zest for a bread pudding you will crave again and again.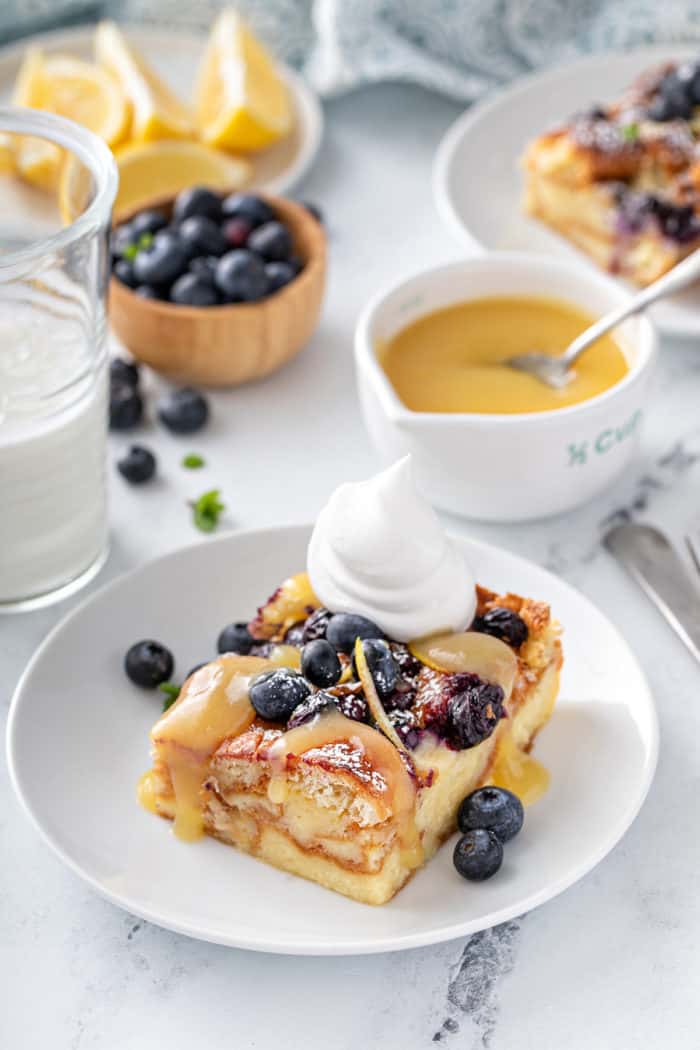 You might not realize this, but all of the recipes that go on this site get thoroughly tested, sometimes multiple times and sometimes by multiple people. It's important to me to make sure that they work and get great reviews before I share them with all of you.
I have a few tried-and-true friends who love to bake and will happily test recipes that I send their way.
One of my friends loves anything lemon or with fruit in it and is obsessed with bread pudding, so she was excited when I sent her this recipe to try out.
Even though she has friends and neighbors she will sometimes share her baked goods with, she said that she refused to share this Blueberry Bread Pudding with them. It was so good, she kept it all for herself.
And you know what? I have to agree. Give it a try and I bet you will, too.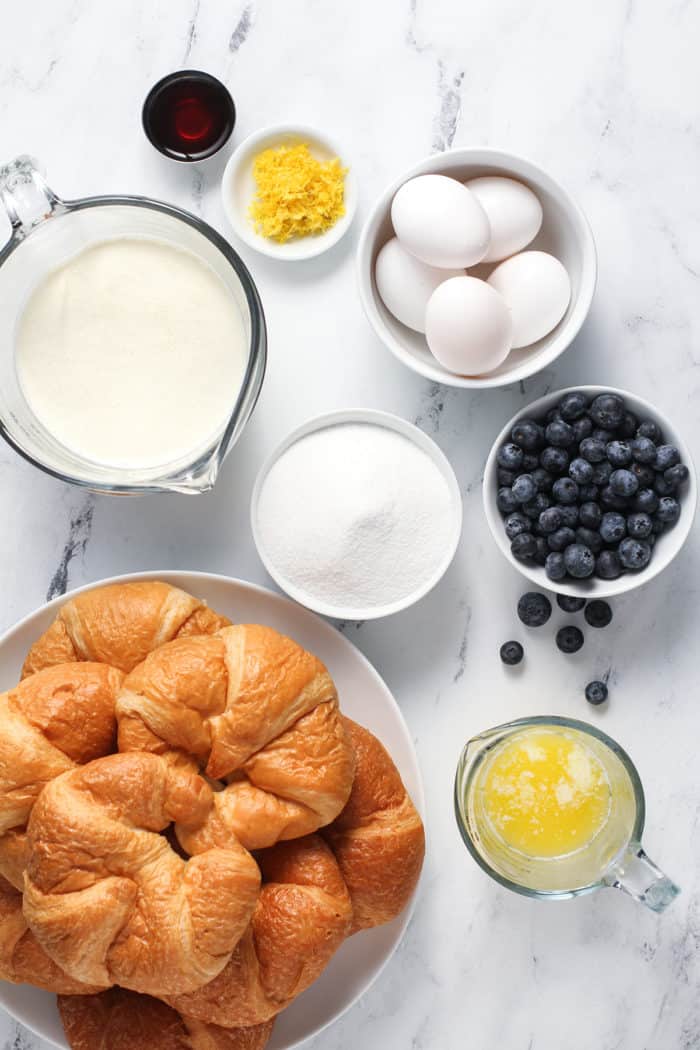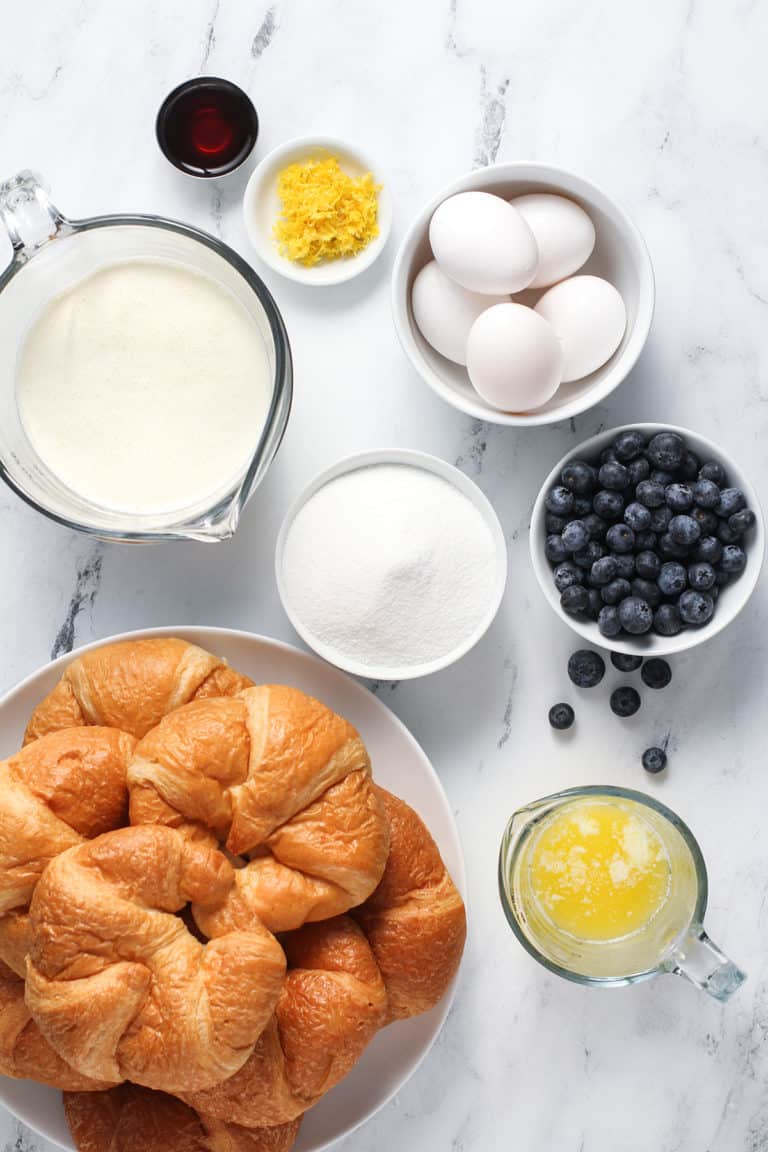 PERFECT LEMON BLUEBERRY BREAD PUDDING
I know that everyone goes crazy for chocolate desserts, and I do, too. After all, I am known for making the best chocolate cake.
But there are times when all I really want is a bright, lemony dessert. We're talking lemon cheesecake, lemon meringue cake, homemade lemon bars, and now this lemony Blueberry Bread Pudding.
When I first thought about adding blueberries to my Croissant Bread Pudding, I knew it would be delicious. After all, how could you go wrong with blueberries and buttery croissants?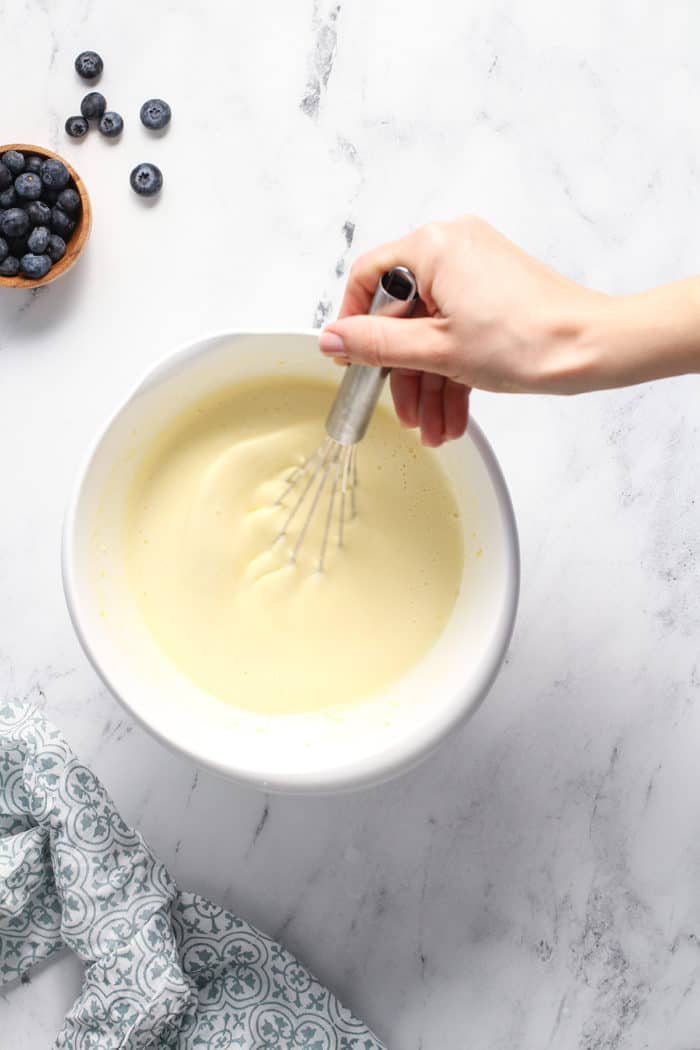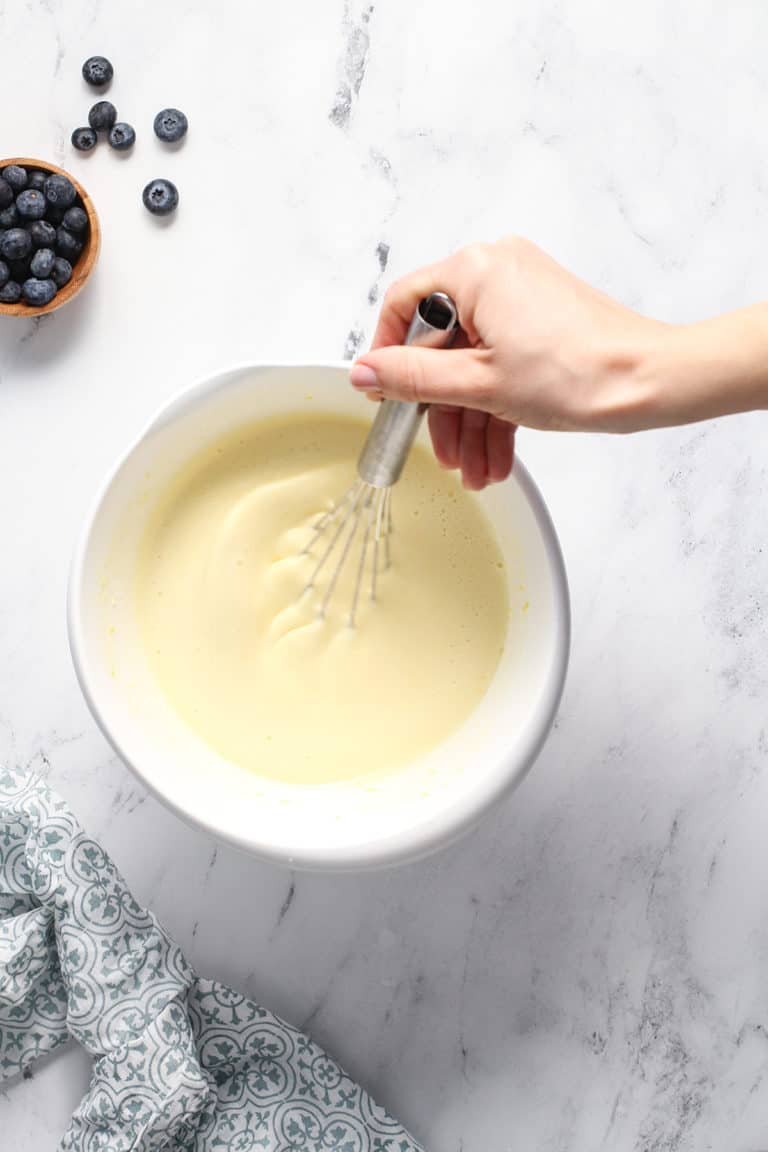 But as I was about to start making it, I decided to grab some lemon zest and throw that into the custard. Why not, right?
Holy cow, was that the best move ever! As much as I love pretty much any bread pudding, and especially ones made with croissants like my Chocolate Chip Bread Pudding, this is maybe my favorite one I've made yet.
We're talking bright, lemony flavor paired with those buttery croissants and tart, fresh blueberries. Topped with a little bit of my Microwave Lemon Curd, this may just be the perfect spring dessert.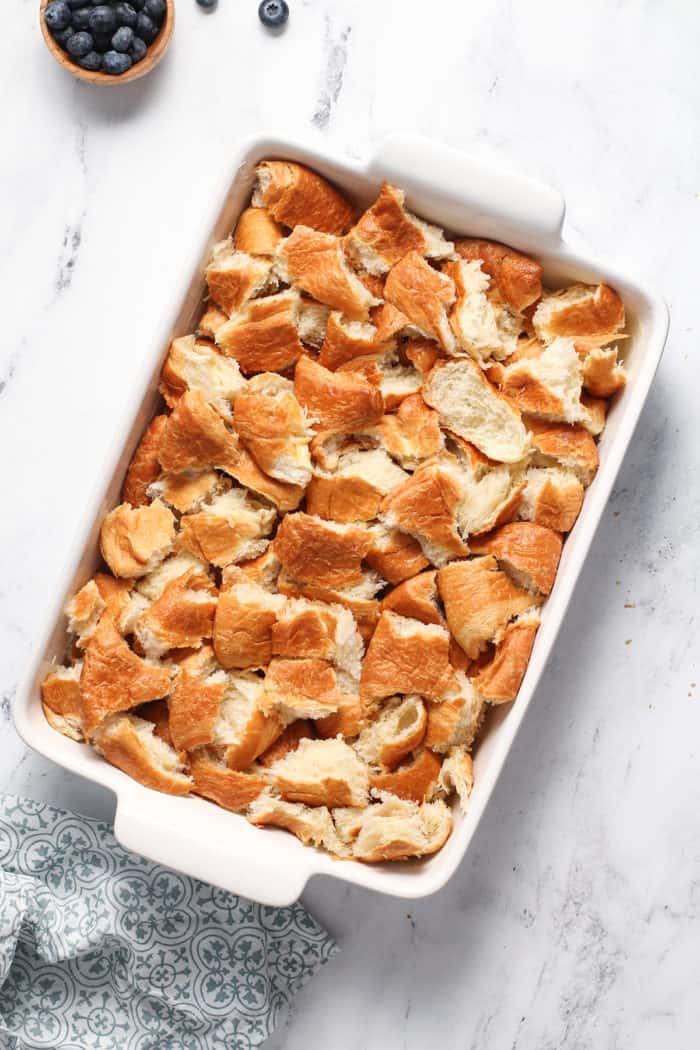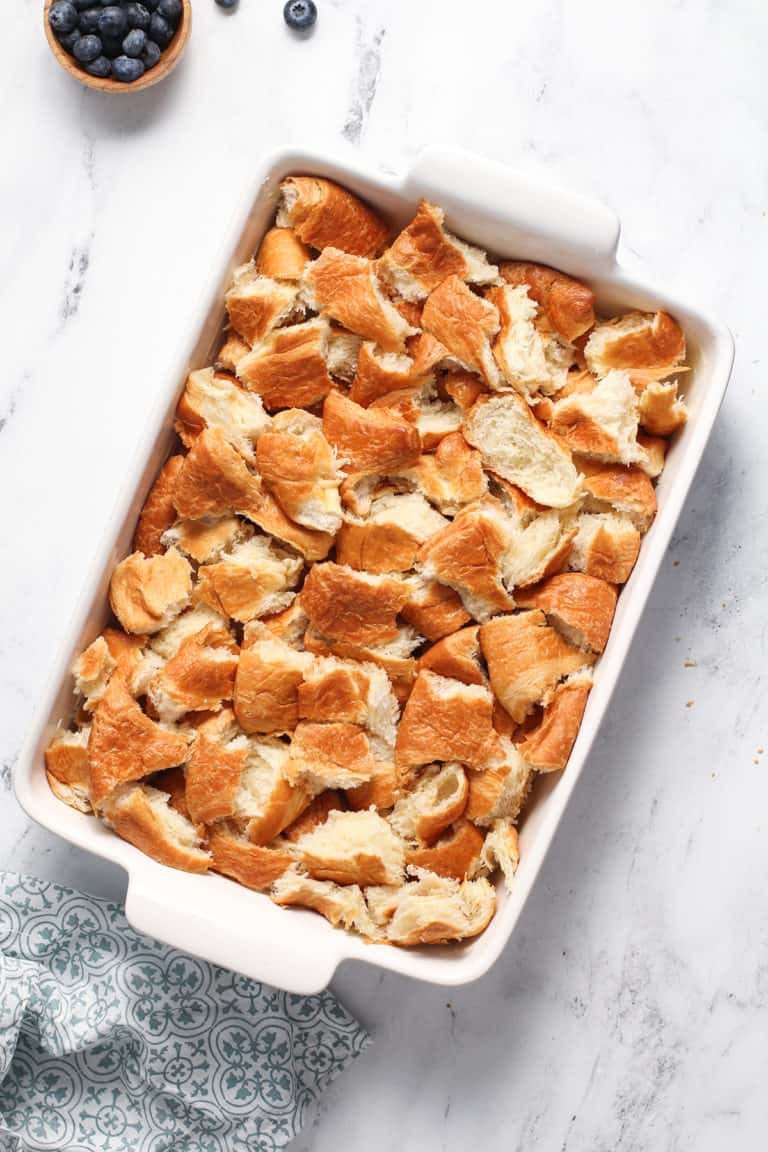 HOW TO MAKE BLUEBERRY BREAD PUDDING
If you've ever made a bread pudding recipe before, this will be a pretty straightforward recipe for you. If you haven't made bread pudding before, don't worry! I promise it's easy.
Ingredients you'll need
Croissants: Instead of a more traditional bread like brioche or sourdough, croissants serve as the base for this recipe. You'll need about 18 ounces – usually 8 large croissants.
Fresh blueberries: You can't have Blueberry Bread Pudding without blueberries, after all! I prefer fresh blueberries, but you could use frozen if that's all you have. If using frozen berries, do not thaw them before adding them to the pudding.
Lemon zest: We're going to use lots of lemon zest, about two large lemons worth, to infuse all of that bright flavor into the custard.
Granulated sugar: For just the right amount of sweetness
Eggs: Custards rely on eggs to help them set. The eggs will also make the bread pudding nice and light.
Heavy cream: I like to use heavy cream in my bread pudding custard for some nice richness.
Salted butter: This will add even more buttery flavor to the bread pudding.
Vanilla extract: Don't forget a heavy splash (or two) of vanilla to help round out those flavors!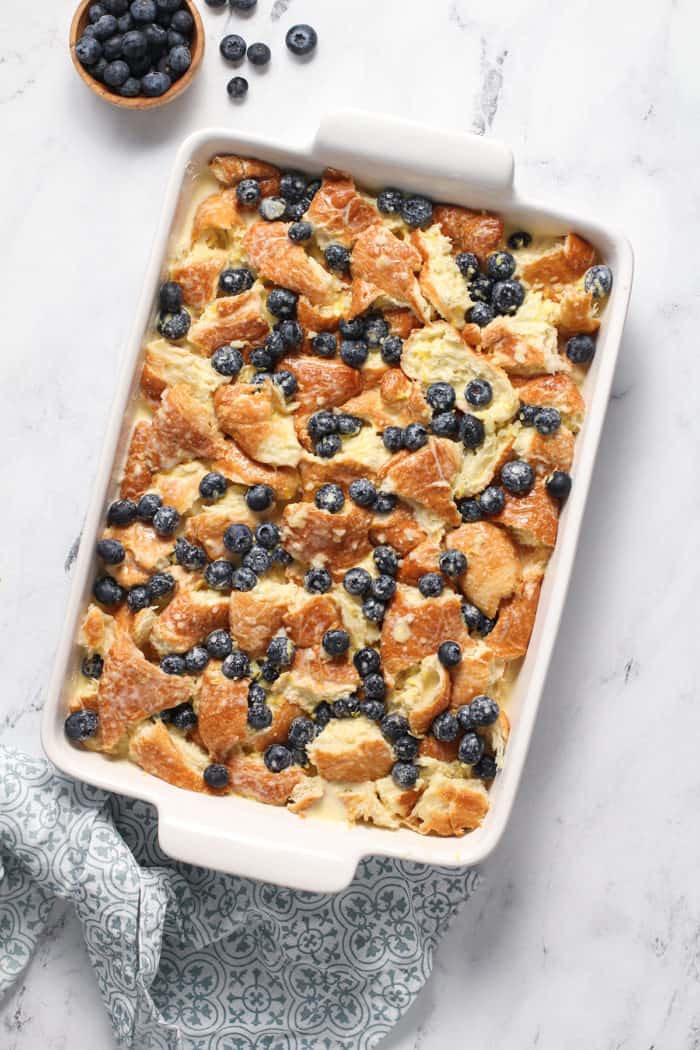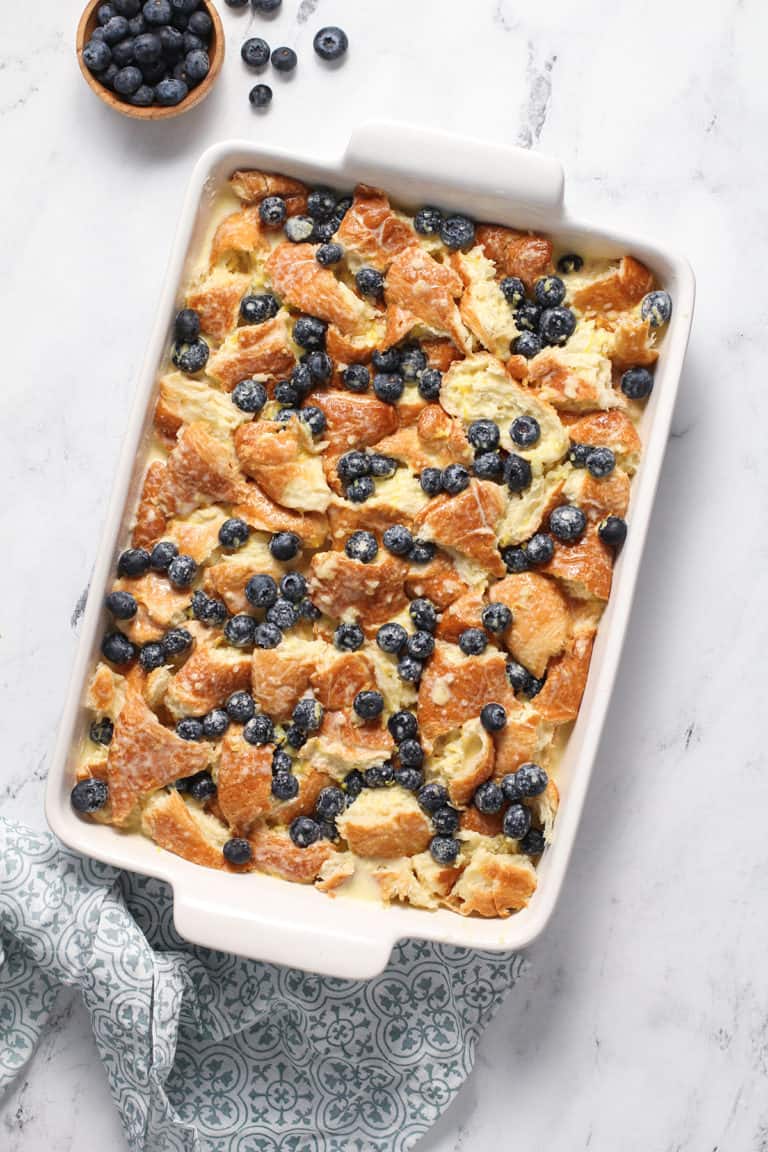 Tools you'll need
In addition to some measuring cups and spoons, you will need:
A whisk
A mixing bowl
A 13×9-inch baking dish
That's it! You can use an electric mixer to mix the custard if you like, but I rarely use it.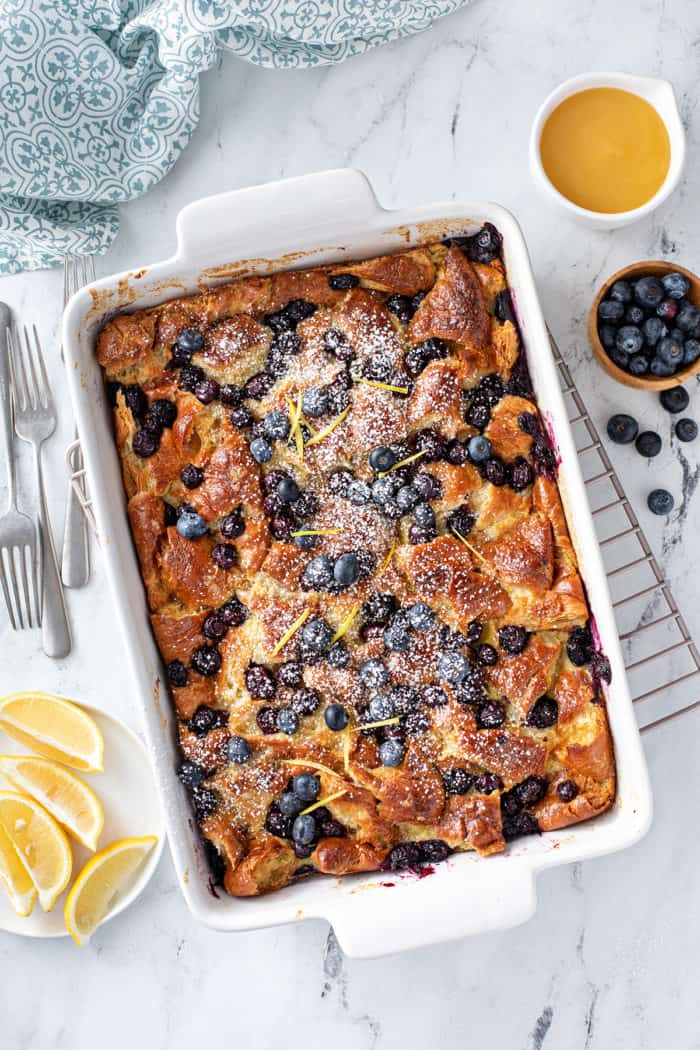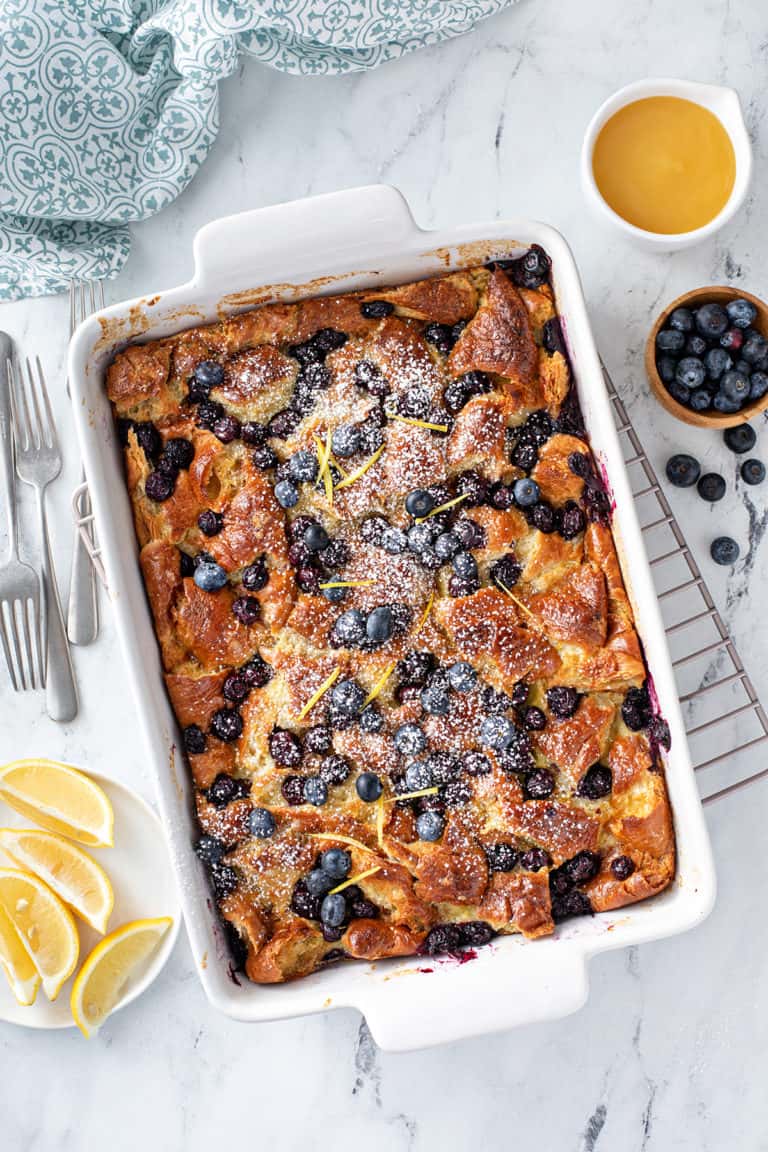 Making this recipe
Do not be intimidated by making custards. I know that they seem fancy and scary, but this is one of the easiest ones you can make.
Start by rubbing the sugar and lemon zest together with your fingertips until the sugar is moistened and very fragrant. This is a small step that will make sure all of the oils from the lemon zest infuse into every part of the Blueberry Bread Pudding.
Whisk in the melted butter, then the eggs. Finally, add the cream and vanilla and whisk until the custard is well combined.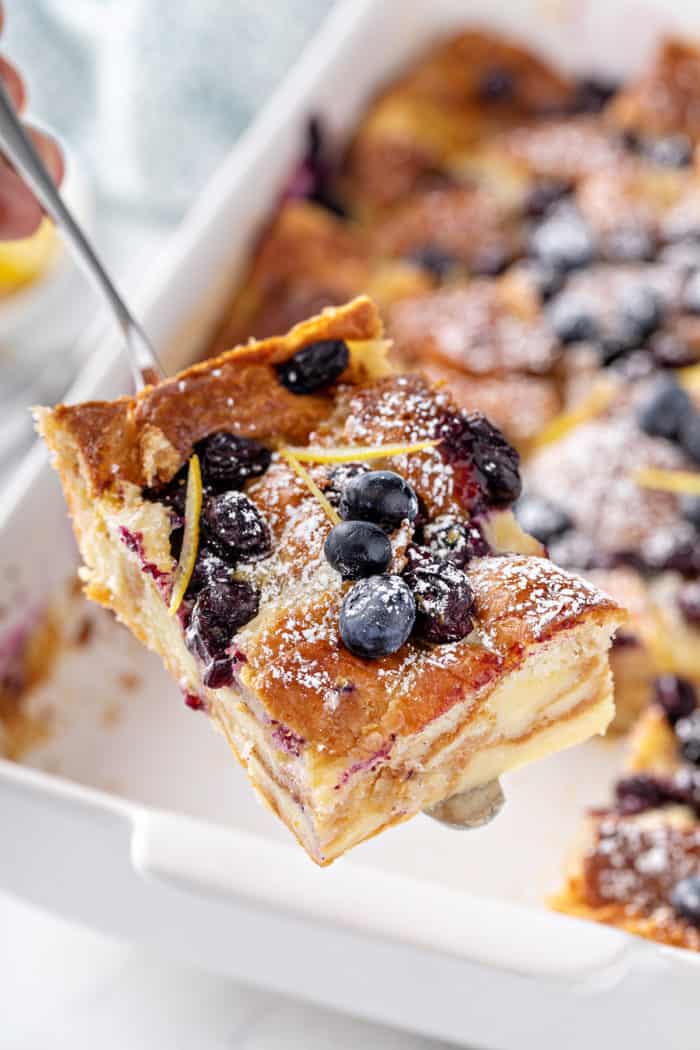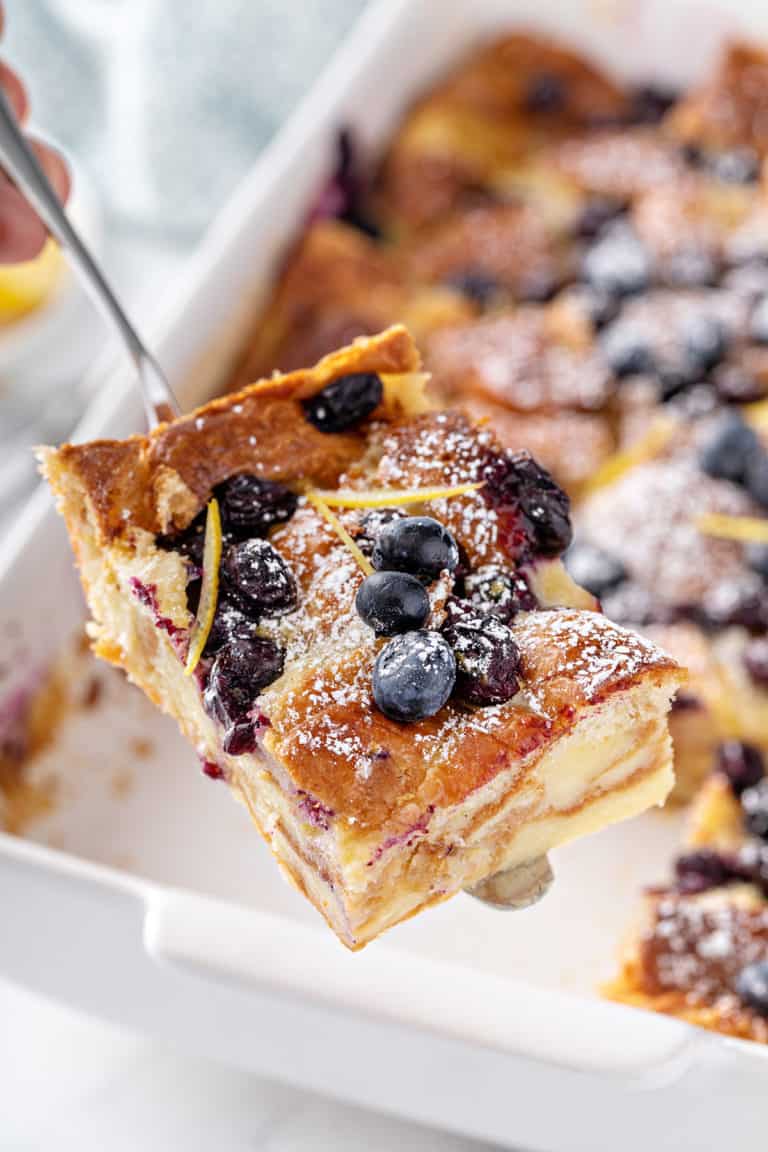 Tear the croissants into 1-inch pieces and layer them into a greased 13×9-inch pan. Sprinkle the blueberries on top.
Evenly pour the custard over the top, gently pushing the croissant pieces down to make sure they get evenly coated with the custard.
Cover the pan with foil and let it sit at room temperature for 15 minutes before you bake it.
After 15 minutes, pop the bread pudding into a 350°F oven, with the foil still on top, for 35 minutes. Remove the foil and let it continue to bake for another 15-20 minutes so the top gets nicely browned.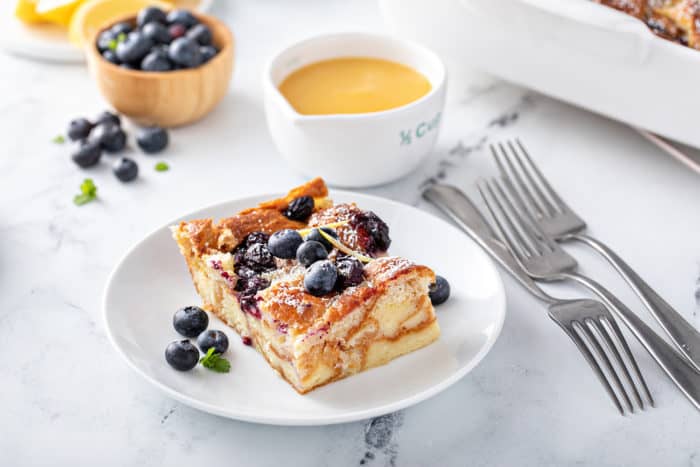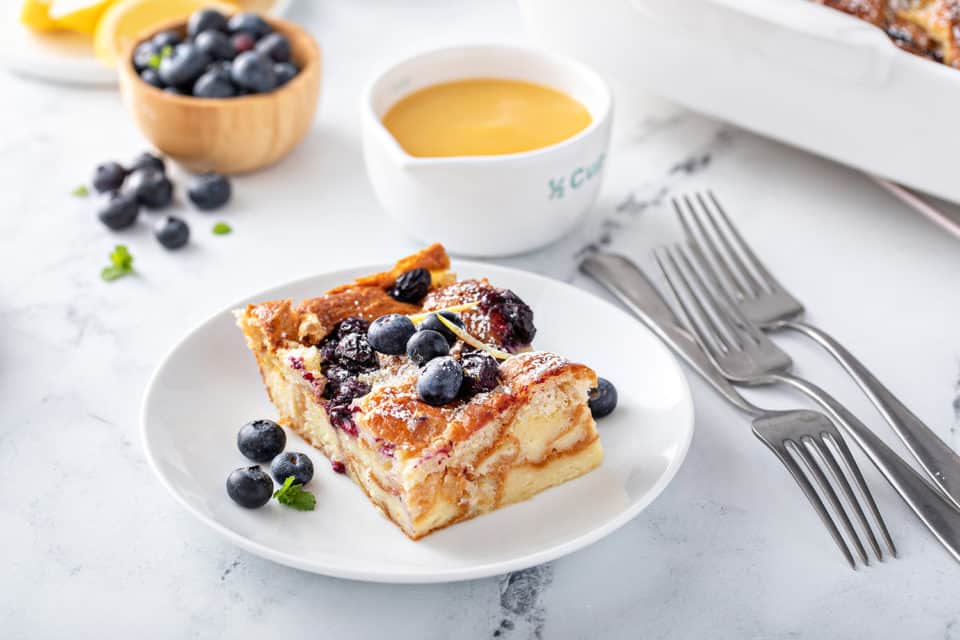 HOW DO YOU KNOW WHEN YOUR BREAD PUDDING IS DONE?
You'll know your Blueberry Bread Pudding is done when the center of the bread pudding is set, but still soft. If you gently shake the pan, you should just barely see the center jiggle.
Another clue is when the center of the bread pudding has puffed up. Because of the eggs in the custard, the bread pudding will puff as it bakes. The edges will puff up first, and the center – which is the last part to bake through – will puff up last.
If the center has puffed and just barely jiggles and the custard seems set, you're good to go! Let it cool for a few minutes before digging in.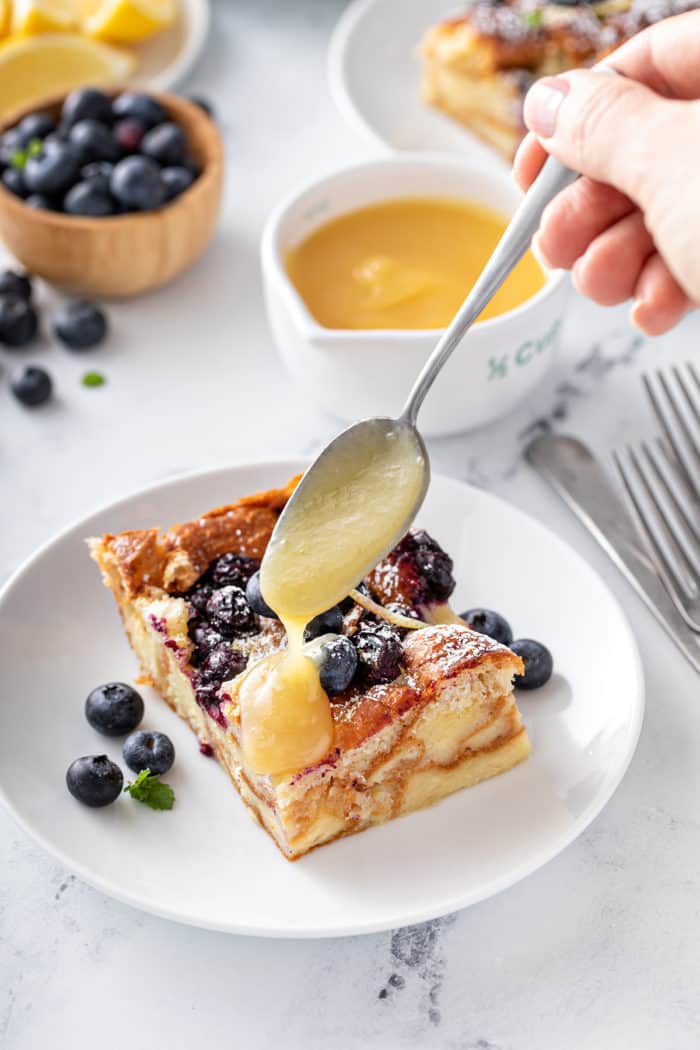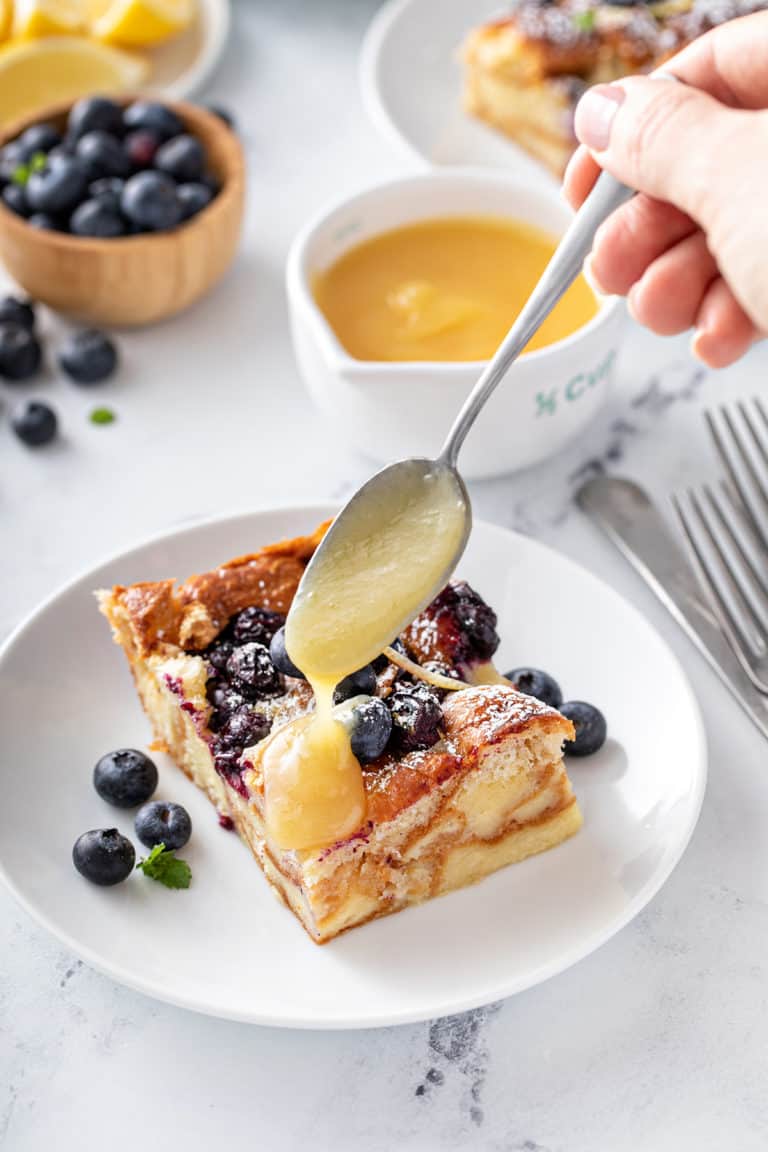 STORAGE AND REHEATING TIPS
There's a lot of dairy and eggs in this recipe, so just like any bread pudding, leftovers should be stored in the fridge. They will last in an airtight container in the refrigerator for up to 3 days.
Want to enjoy the leftovers warm? You can easily reheat them in one of two ways:
Reheat larger portions of Blueberry Bread Pudding in the oven. Make sure the bread pudding is in an oven-safe dish, then cover it with foil. Make sure the oven is low – around 300-325°F – and heat just until the bread pudding is warmed through.
Reheat individual portions in the microwave for 30-60 seconds.
This Blueberry Bread Pudding just gets better with time, so you may enjoy the leftovers even more than you did on day one!