Pumpkin Bread Pudding is a great fall dessert. Leftover bread combines with a pumpkin custard for a luscious way to end a meal!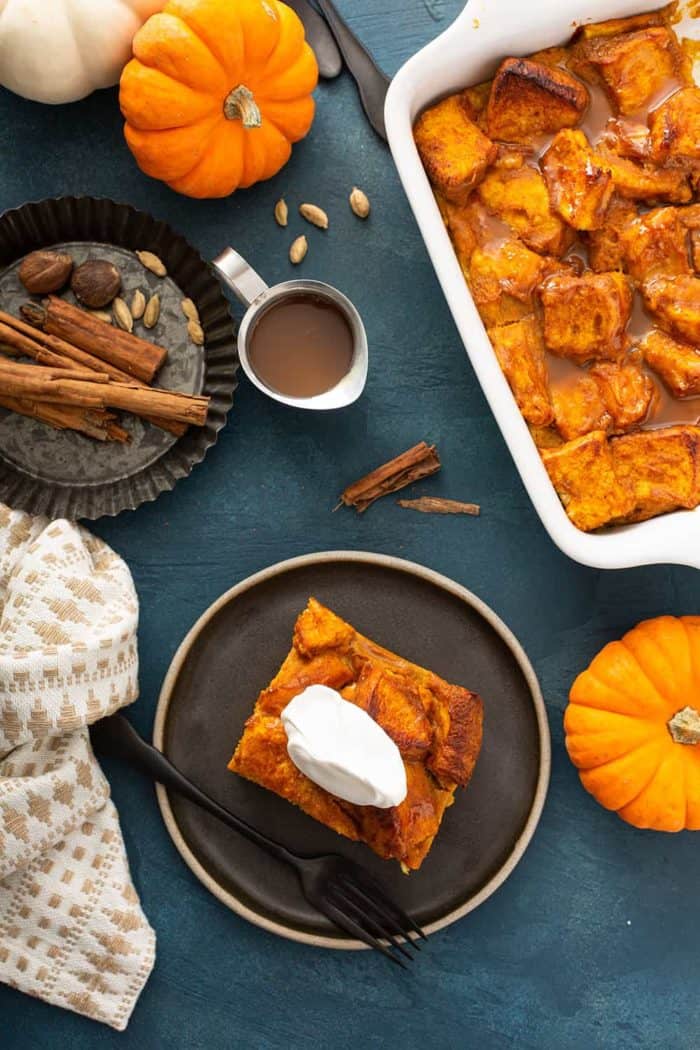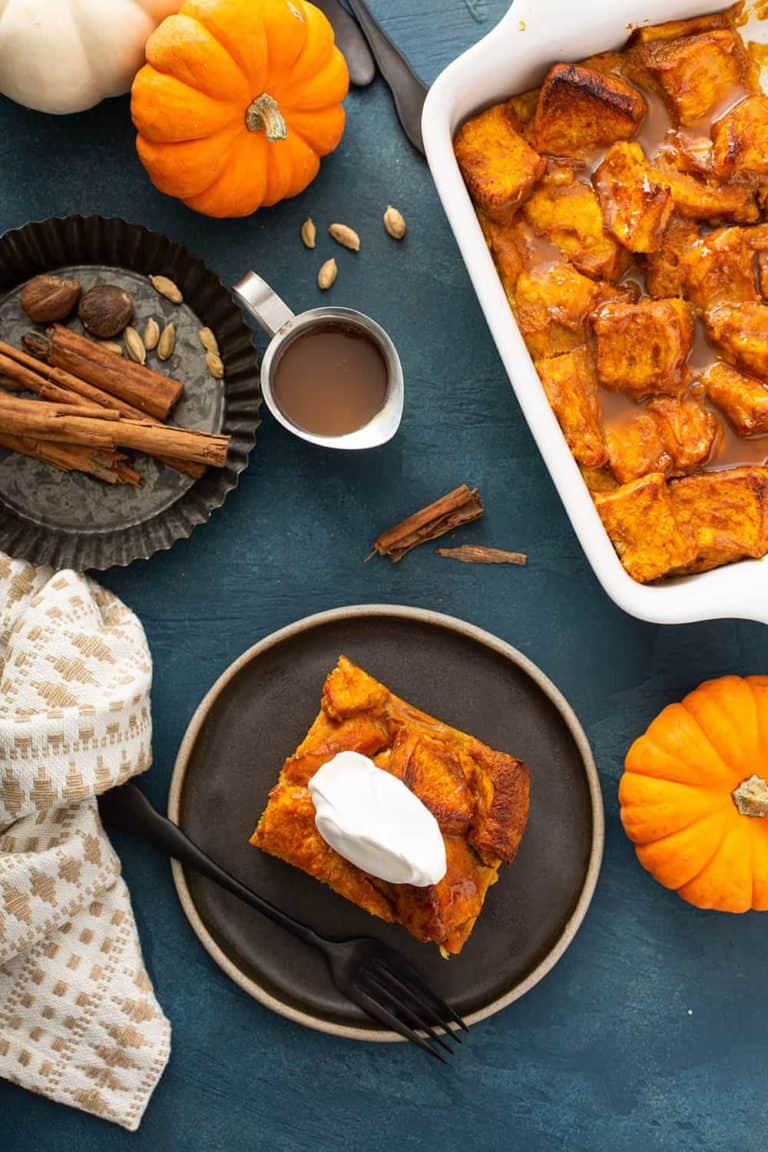 Even though the holidays are looking and definitely feeling very different this year, doesn't mean that I'm not still all about festive fall desserts that are loaded with cozy seasonal spices – and of course pumpkin.
Although we're not having our traditional Thanksgiving family dinner this year, I am still going to whip up one heck of a meal. I will admit though that I am a little behind on planning that meal, but I'm going to get organized this week.
One thing I know for sure is that it will include pumpkin roll, pumpkin crunch cake and quite possibly this Pumpkin Bread Pudding.
I first shared this recipe for Pumpkin Bread Pudding from my friend Megan of the blog Stetted several years ago. I remade it recently and felt it was time to remind all of you how delicious it is as well.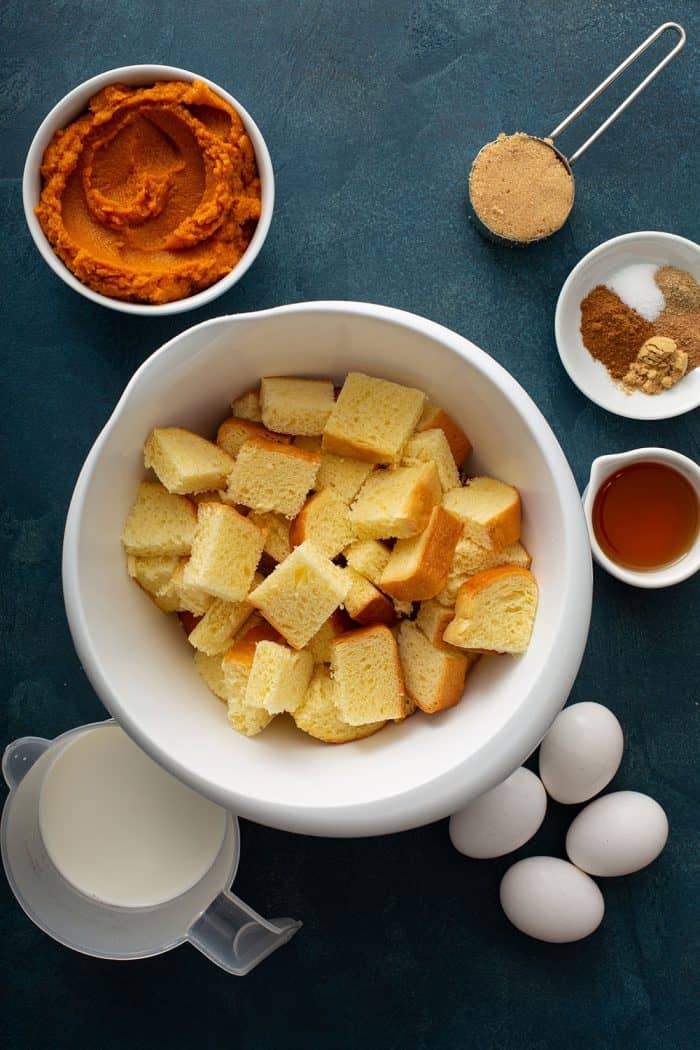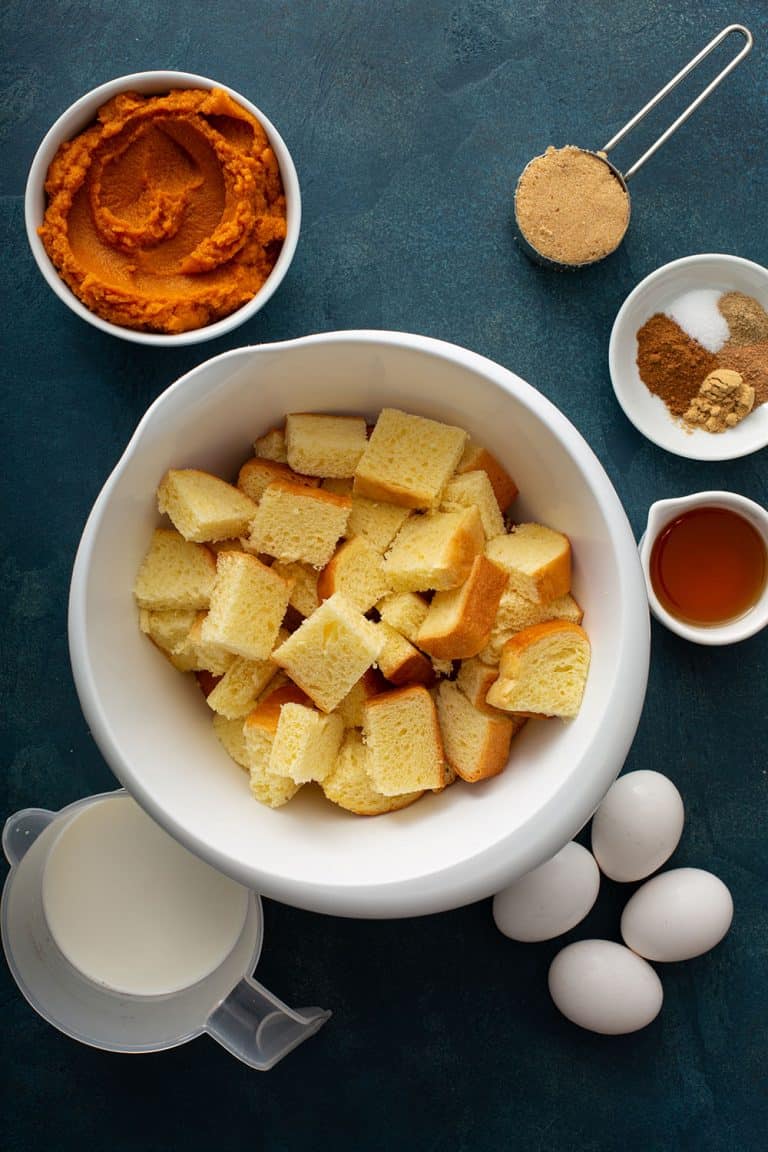 MEGAN'S PUMPKIN BREAD PUDDING
I'm a huge fan of pumpkin, and have been since before those PSLs came around.
I always keep some pumpkin on hand in the pantry, just in case I get a craving for pumpkin charlotte, pumpkin pancakes, or pumpkin cheesecake. (Pro tip: Target always has pumpkin on clearance after Thanksgiving, and it has a long shelf life!)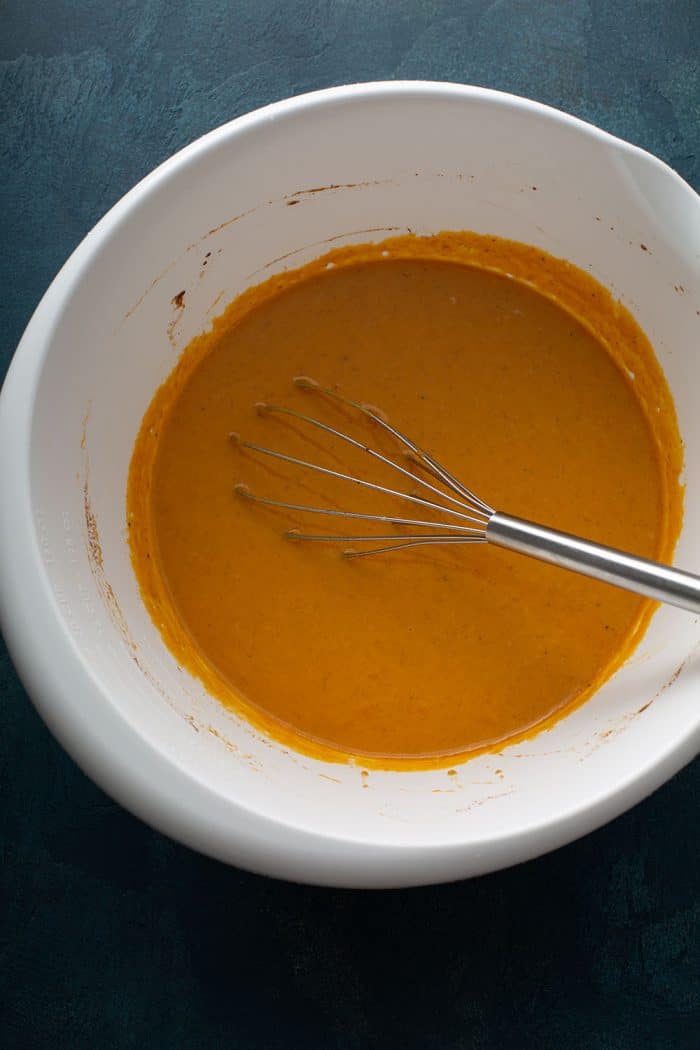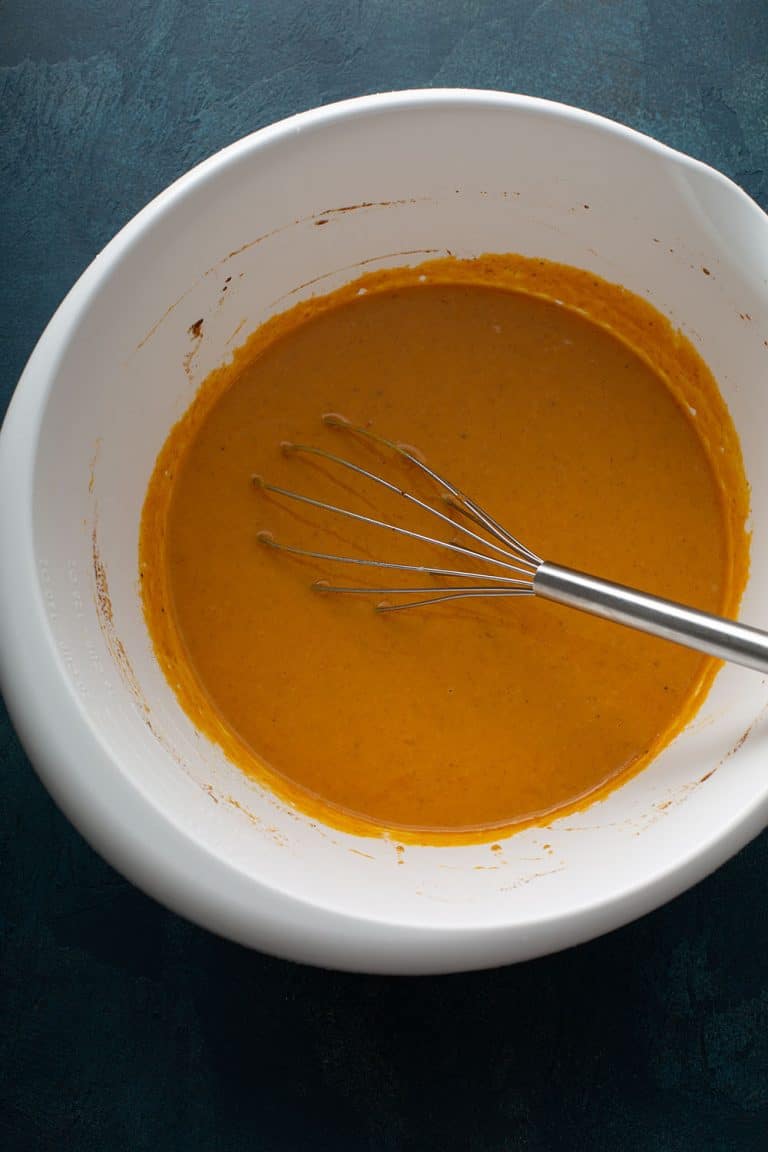 But while I might be craving a nice slice of pie, I don't generally crave making a pie crust. Pie crust and I have a history. Pie crust has made me cry.
So, I allow pie crust into my life every once in a while, but I like to look for alternatives to get that pumpkin fix. This time, I knew just what to do, thanks to the leftover loaf of bread on the counter.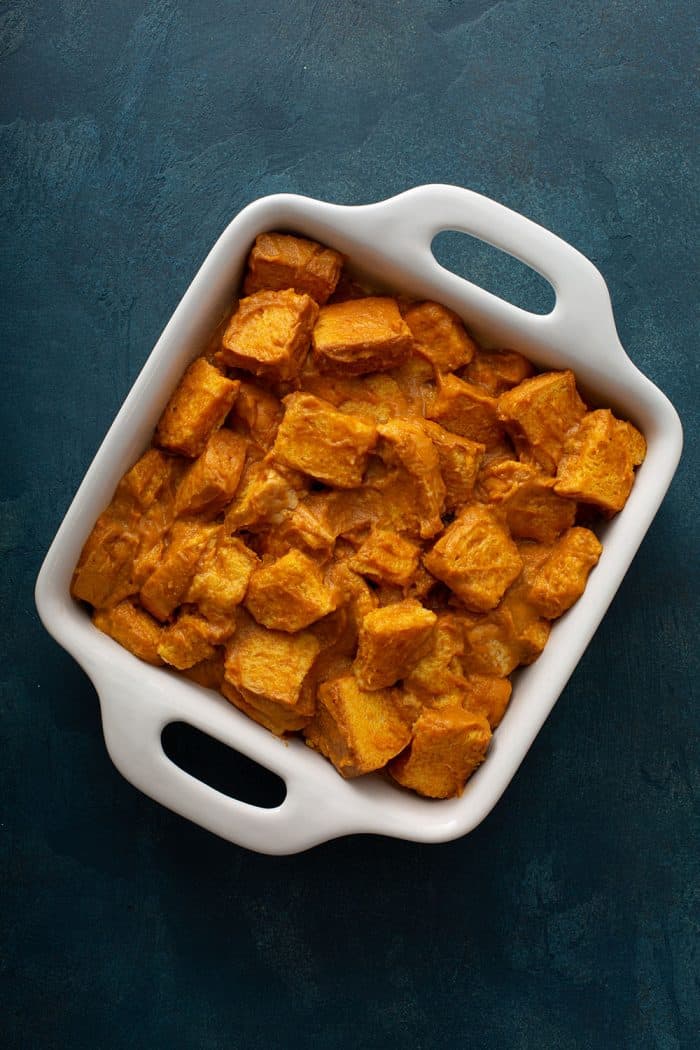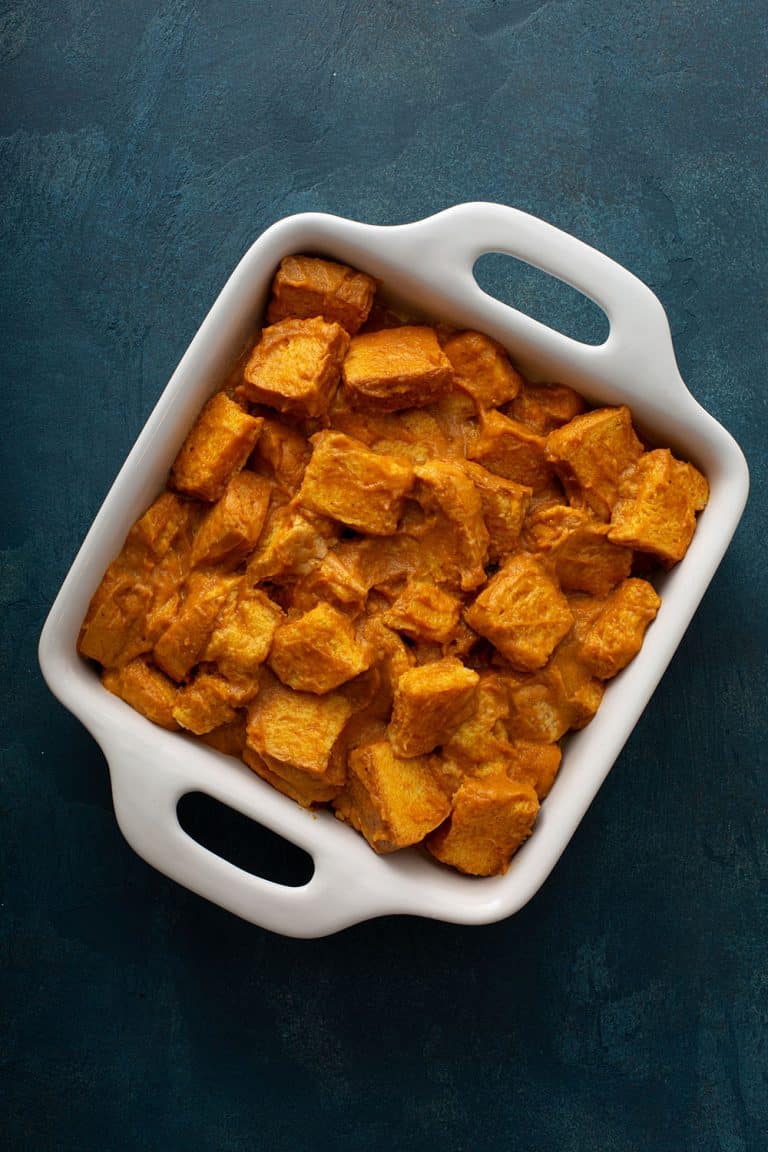 Pumpkin Bread Pudding comes together really easily, and because you have that creaminess already coming from the pumpkin to add to the custard, you don't need to add as much milk or eggs as you would in a regular bread pudding.
I'm not going to call this dessert healthy, but it's healthy-er? Healthy-ish? Let's just go with the fact it's delicious.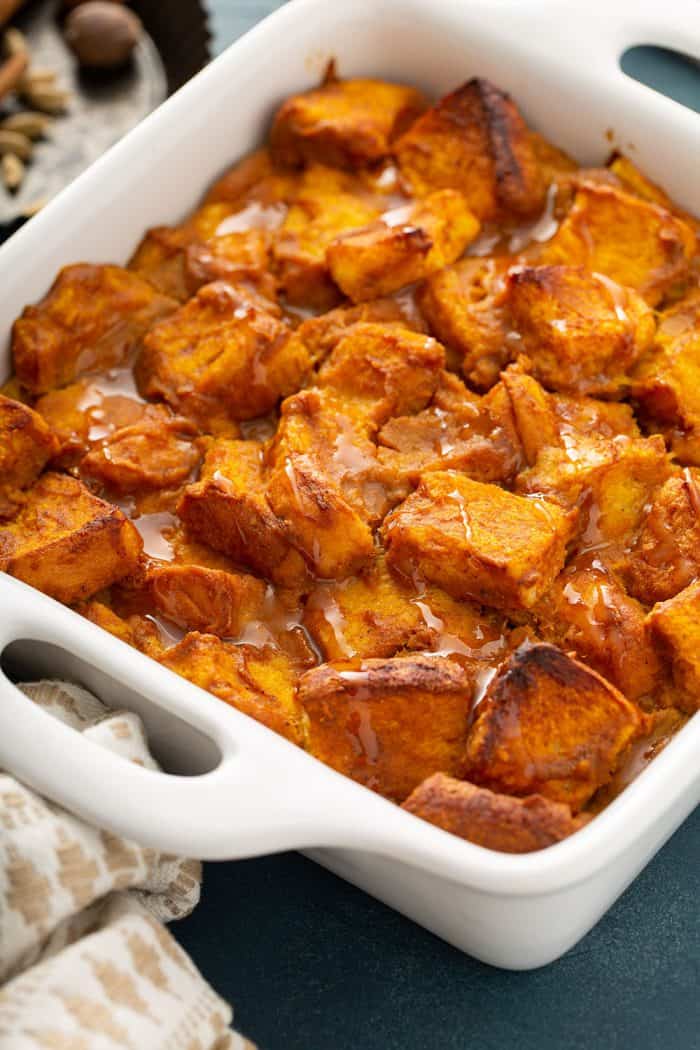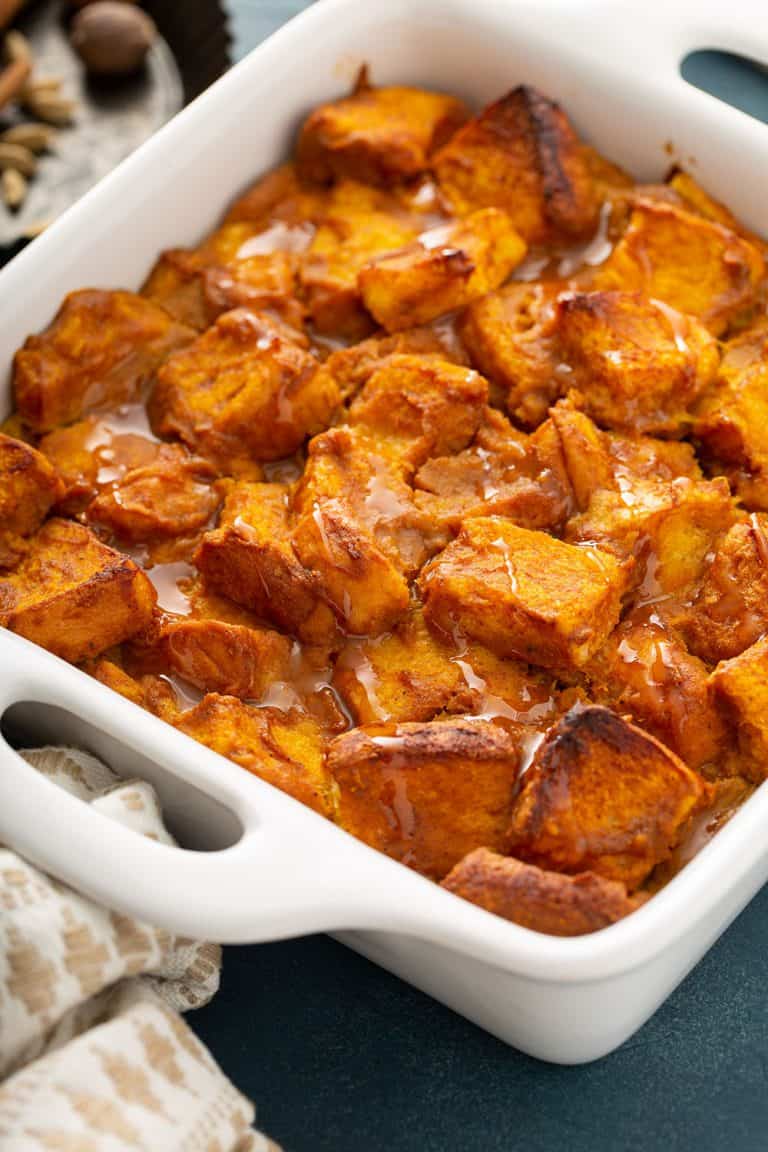 HOW TO MAKE PUMPKIN BREAD PUDDING
You can use any bread you like to make this Pumpkin Bread Pudding. I used an artisan loaf from Costco, but this would be especially good with challah or even a brioche.
Just don't use sliced sandwich bread, please! You need a loaf from the bakery section for this.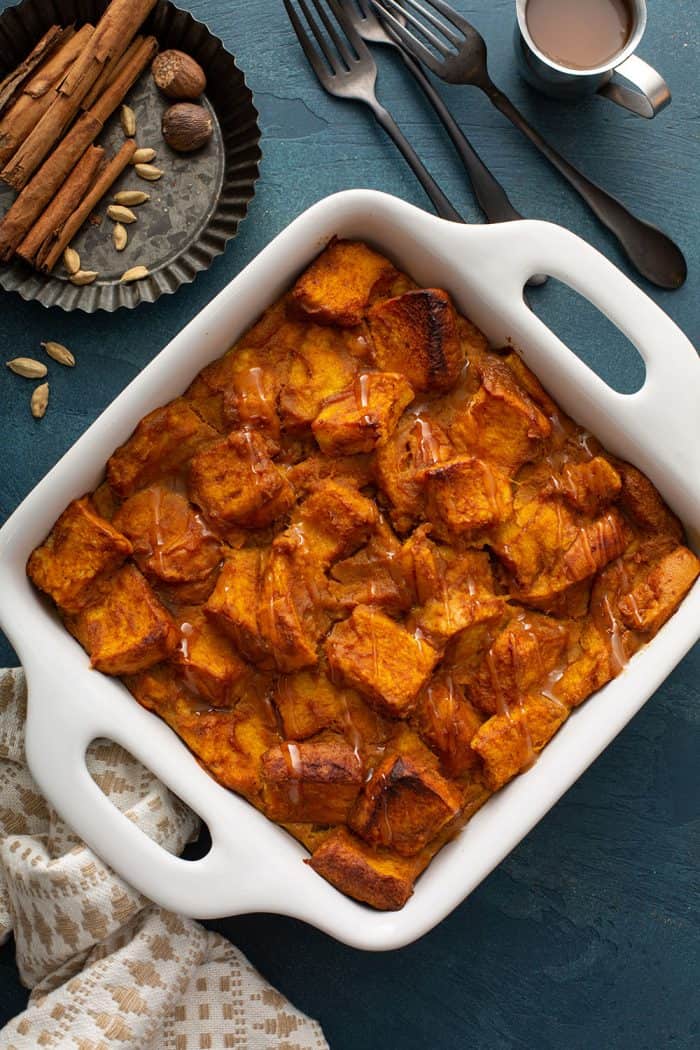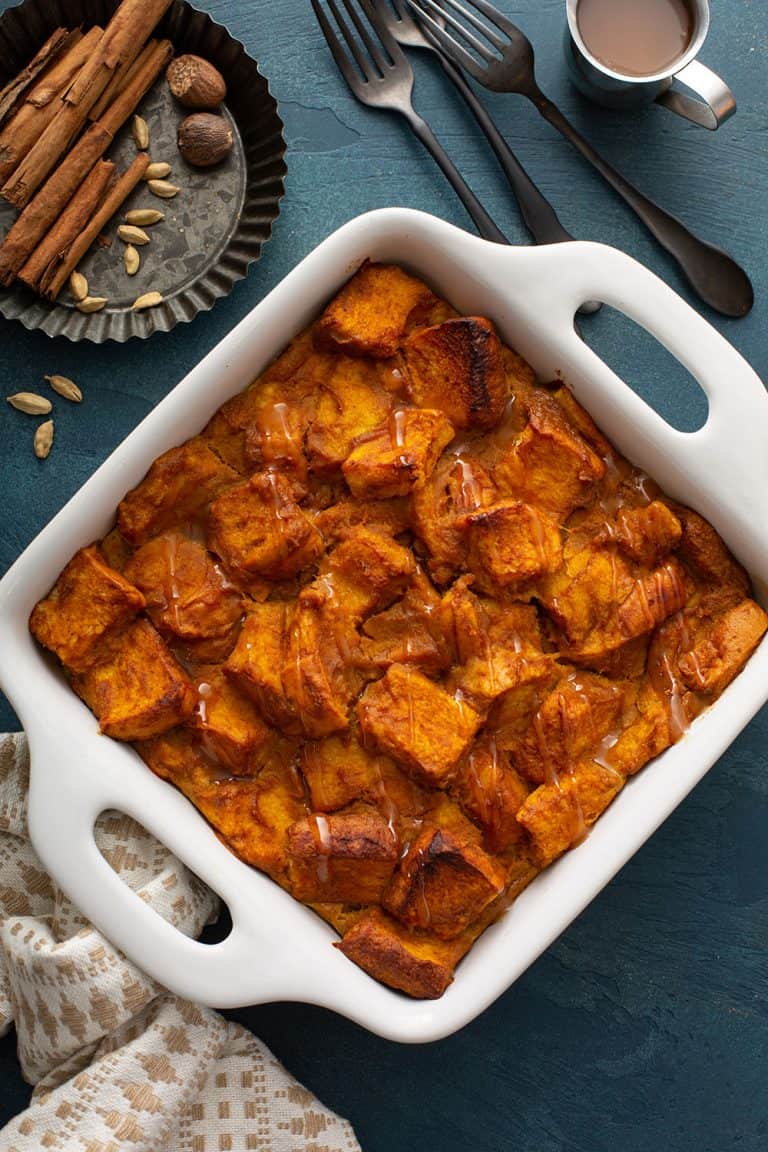 If your bread is a bit stale, that's even better.
Grab a bowl and whisk together these ingredients for the custard:
Milk
Brown sugar
Maple syrup
Eggs
Pumpkin puree
Spices: Cinnamon, ginger, nutmeg, cardamom
Salt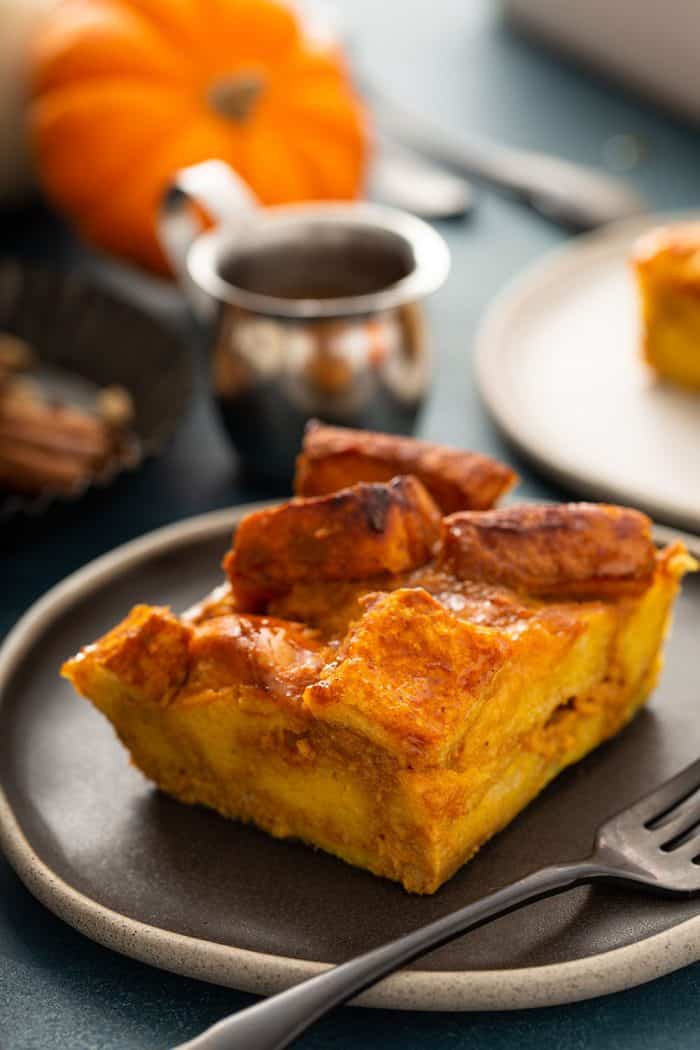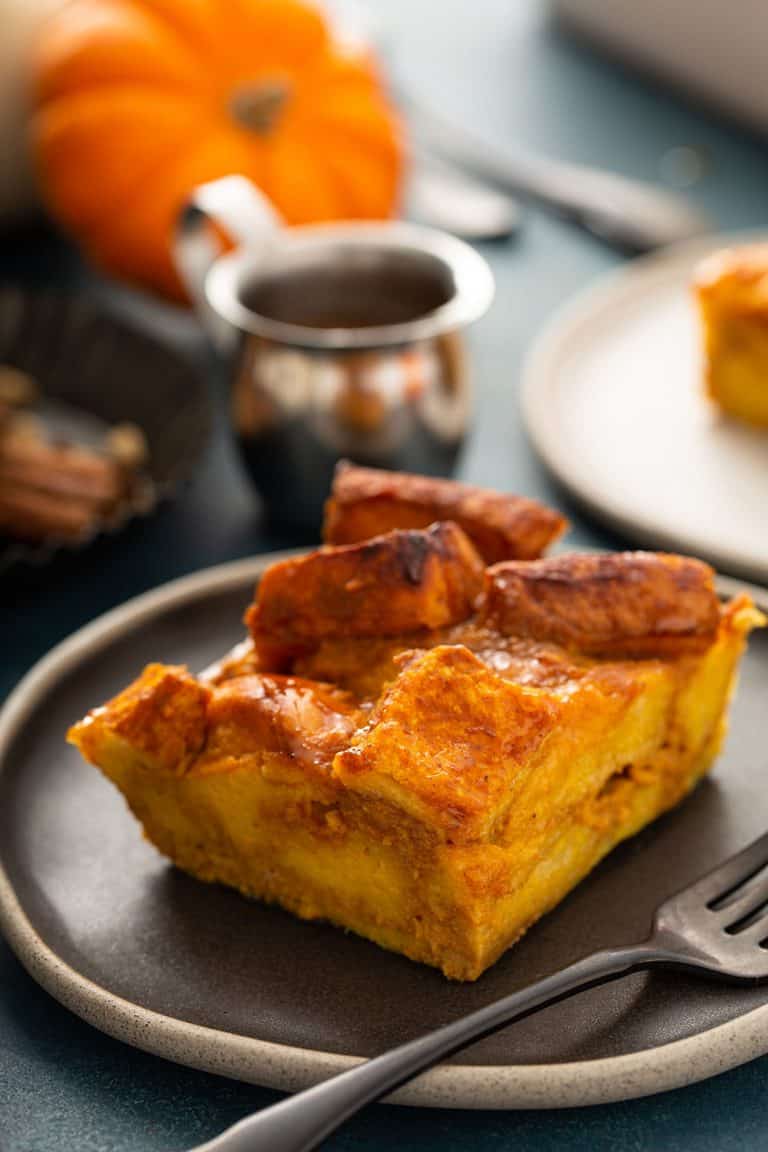 If you don't have all of the individual spices on hand, you could use 2 teaspoons of pumpkin pie spice or apple pie spice instead.
Cut the bread as evenly as possible into 1-inch cubes. Stir with the custard and make sure you don't leave any pieces uncoated with the custard mixture.
Let the whole thing rest for at least 30 minutes. The longer you let it rest, the more the bread will soak up the liquid, so this is a perfect dessert to make ahead and leave in the fridge before baking.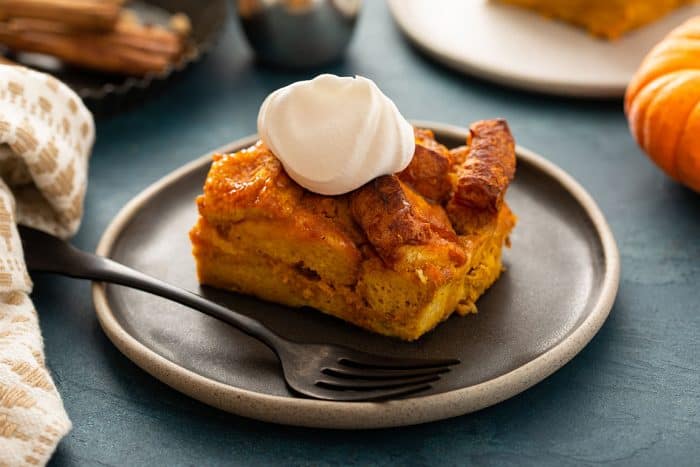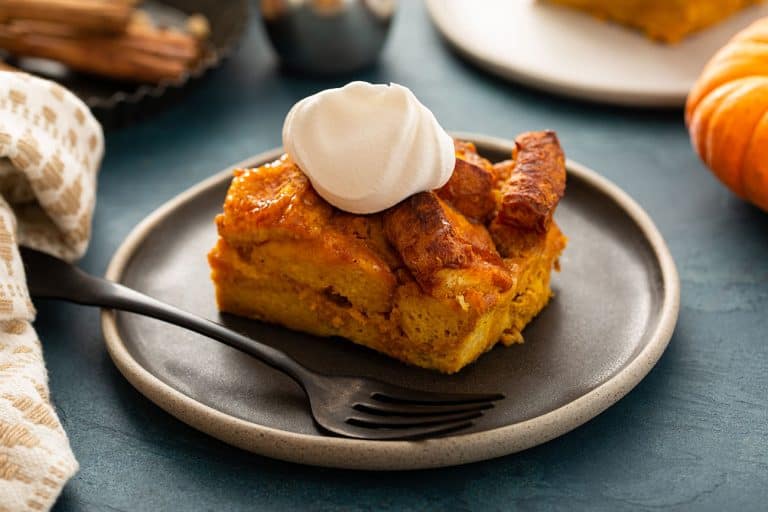 HOW TO SERVE THIS BREAD PUDDING
There's no wrong way to serve Pumpkin Bread Pudding. If you like, you can top it with a tasty whiskey butter sauce that I like to use for waffles. Salted caramel sauce would be delicious as well.
Or just stick with ice cream or homemade whipped cream!
And, just so you know, Pumpkin Bread Pudding is just as good cold as it is warm. Putting that out there just in case there are leftovers.