Pumpkin Cheesecake Bars are a handheld version of a fall favorite, crowned with a buttery streusel topping.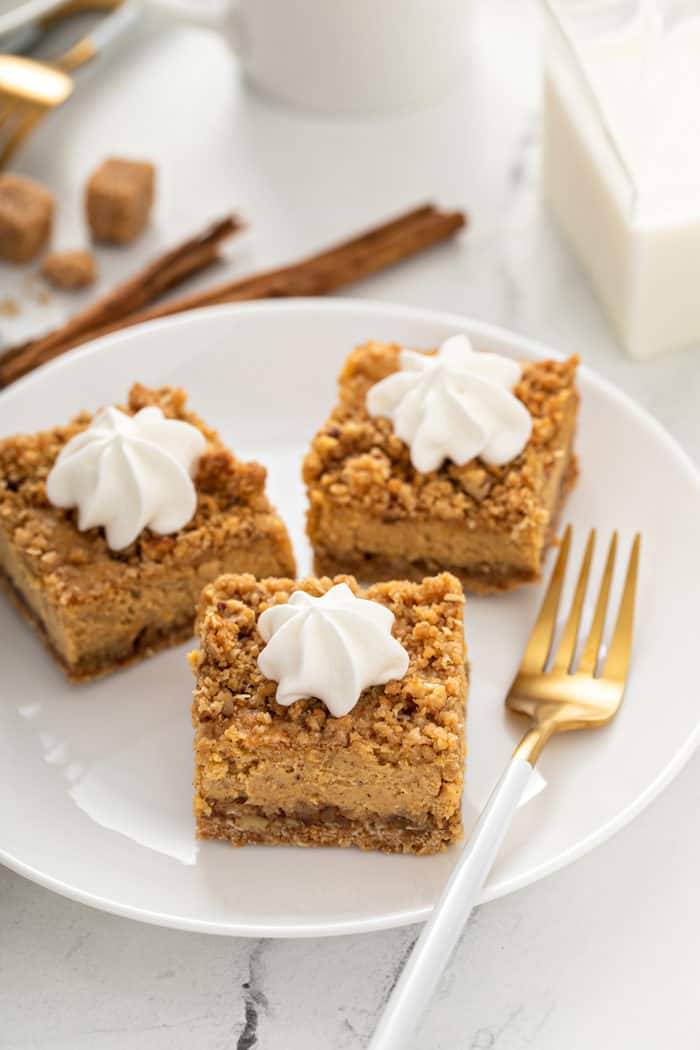 I can't resist pumpkin desserts, but sometimes I want something more than the standard pumpkin pie.
One of my favorite things to eat in the fall is pumpkin cheesecake, so of course I had to make these pumpkin cheesecake bars.
You might be familiar with my cookie dough cheesecake bars, and these are just as scrumptious. Handheld cheesecake with a buttery streusel topping? Sign me up!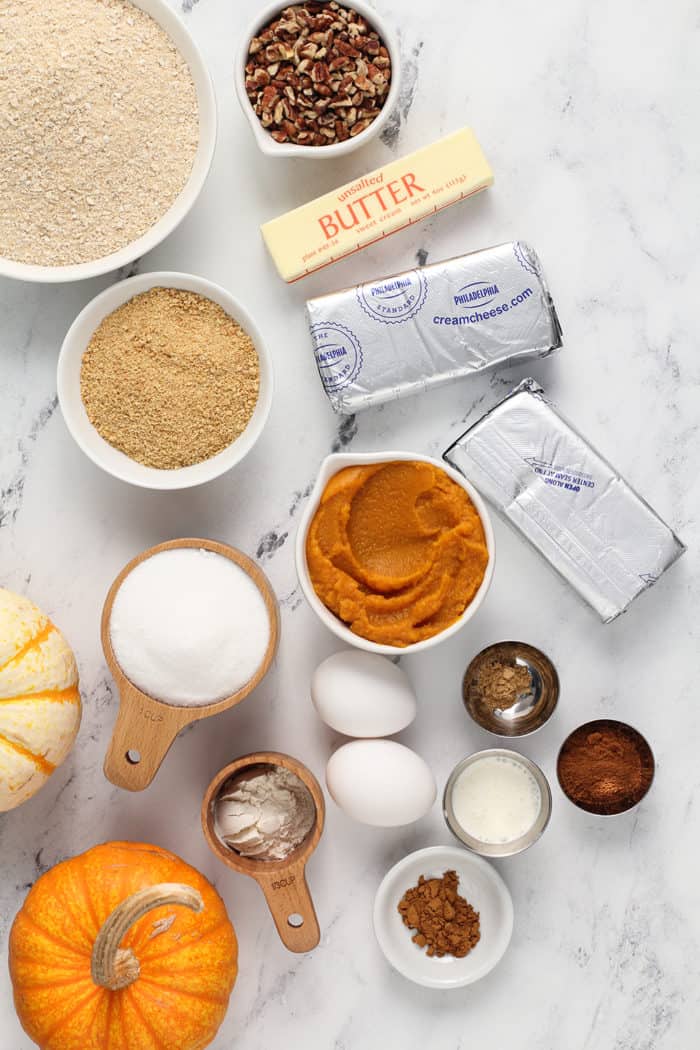 WHAT IS STREUSEL TOPPING?
I'm sure you've had streusel topping on your favorite baked goods, whether it's apple pie or a big bakery muffin.
Streusel is a crumbly topping made with flour, one or more sugars, and butter.
You can use granulated sugar, brown sugar, or a mix of both. Oats are often added, as are chopped nuts, cinnamon, or other spices.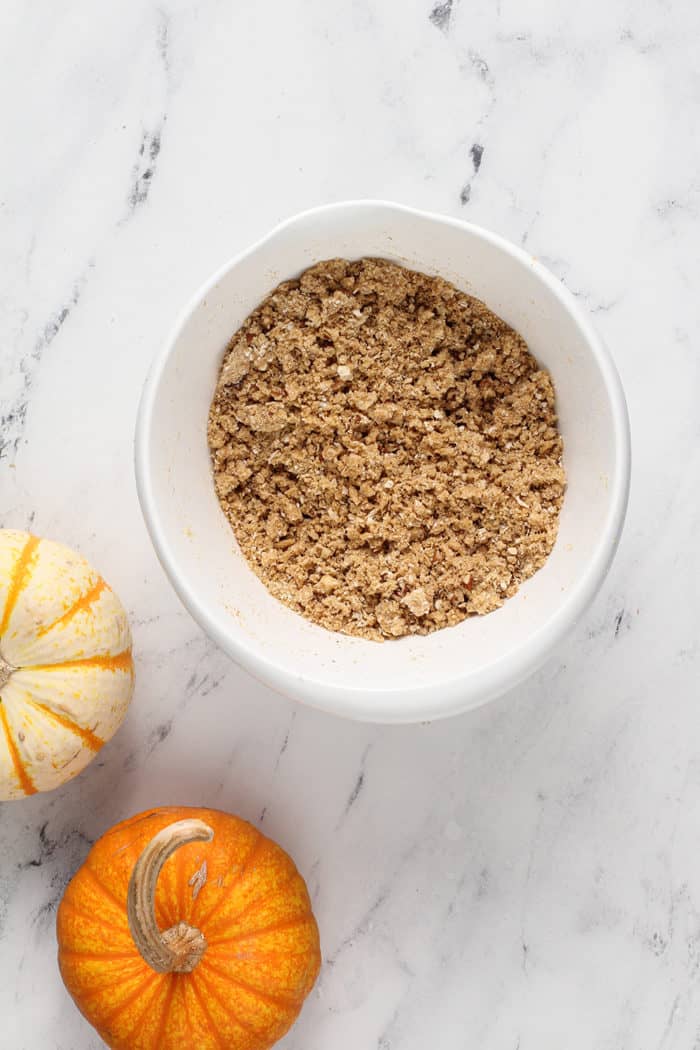 Streusel topping is mixed just until it is crumbly. Depending on what you're making, you might want smaller crumbs, such as for a crust, or larger crumbs for a pie or muffin topping.
Once baked onto your favorite desserts, just try to resist eating all of those buttery crumbs first!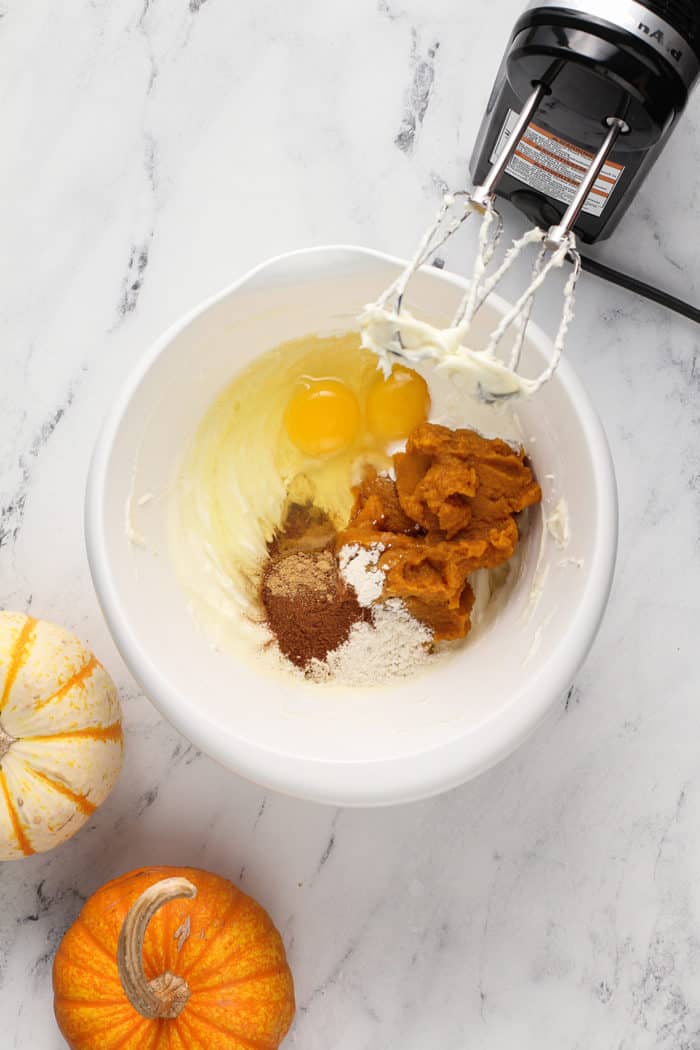 HOW TO MAKE PUMPKIN CHEESECAKE BARS
This pumpkin bars recipe is similar to my maple streusel cheesecake bars, but I've used a shortcut ingredient: oatmeal cookie mix.
Combine the cookie mix with graham cracker crumbs, cinnamon, and pecans. Cut in the butter until it forms crumbles and looks a bit like wet sand.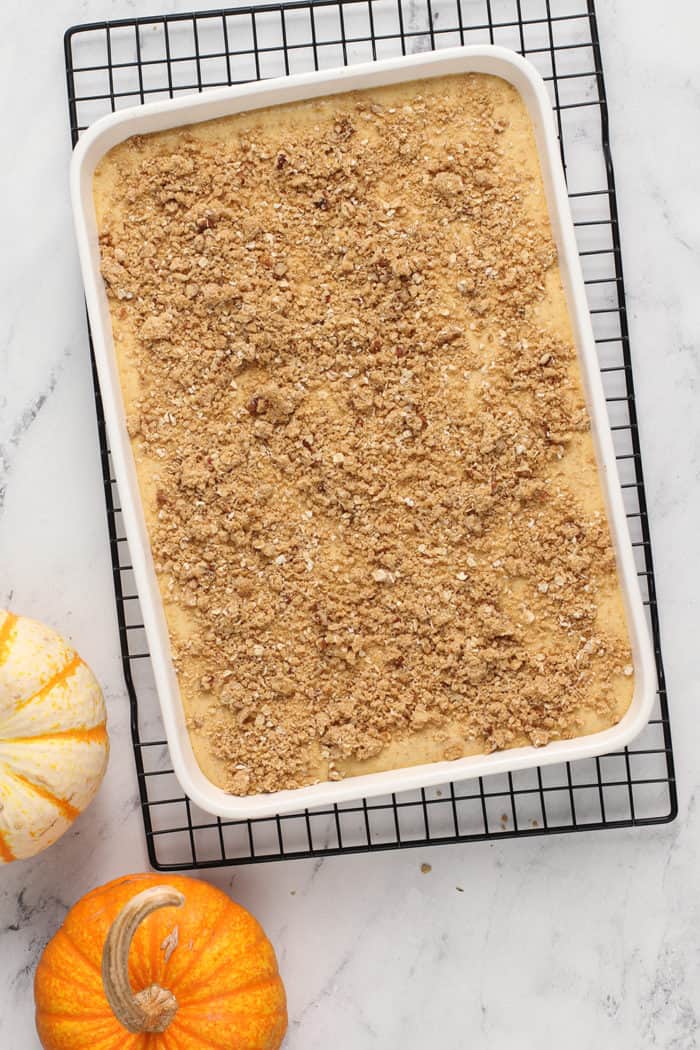 Save 1 cup of the mixture. It will become your crumb topping.
The rest gets pressed into your baking dish. You want to make sure it is evenly pressed so that the crust has the same height all around.
The flat bottom of a measuring cup or even a glass works great for pressing in the crust.
Bake the crust at 350°F for about 10 minutes to firm up and create a sturdy base for the cream cheese filling.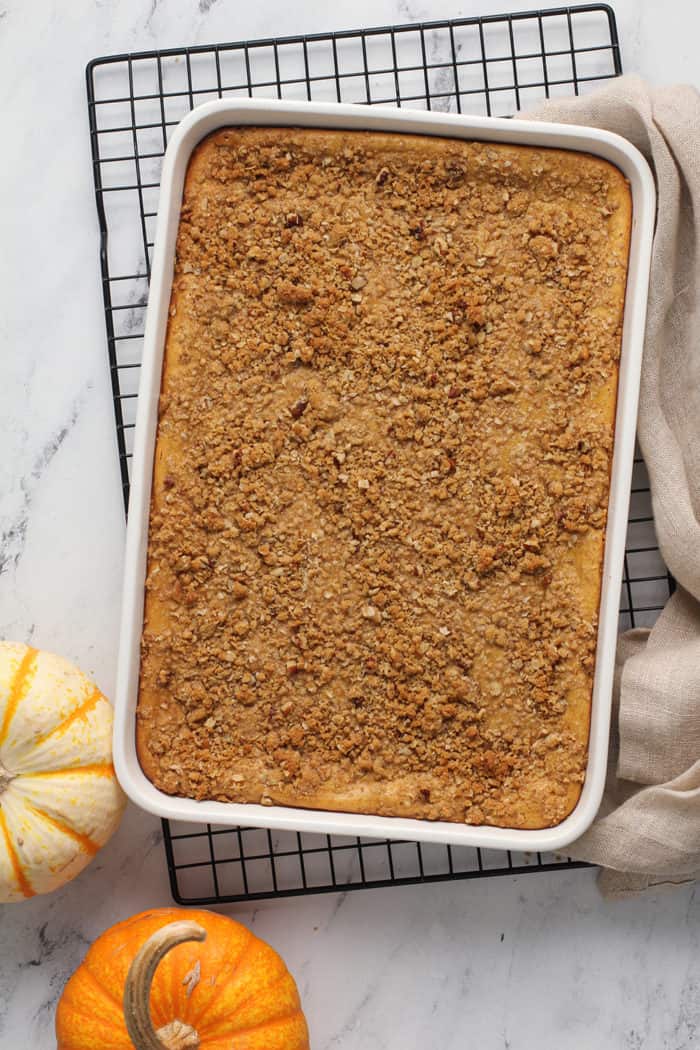 Gather your ingredients for the filling:
Softened cream cheese
Granulated sugar
Pumpkin puree — not pumpkin pie filling!
All-purpose flour
Pumpkin pie spice
Ground ginger
Heavy whipping cream
2 eggs
In a large bowl, beat together the cream cheese and sugar until smooth. You can also beat the cream cheese before adding the sugar, just to break it up a little. This helps the sugar blend in.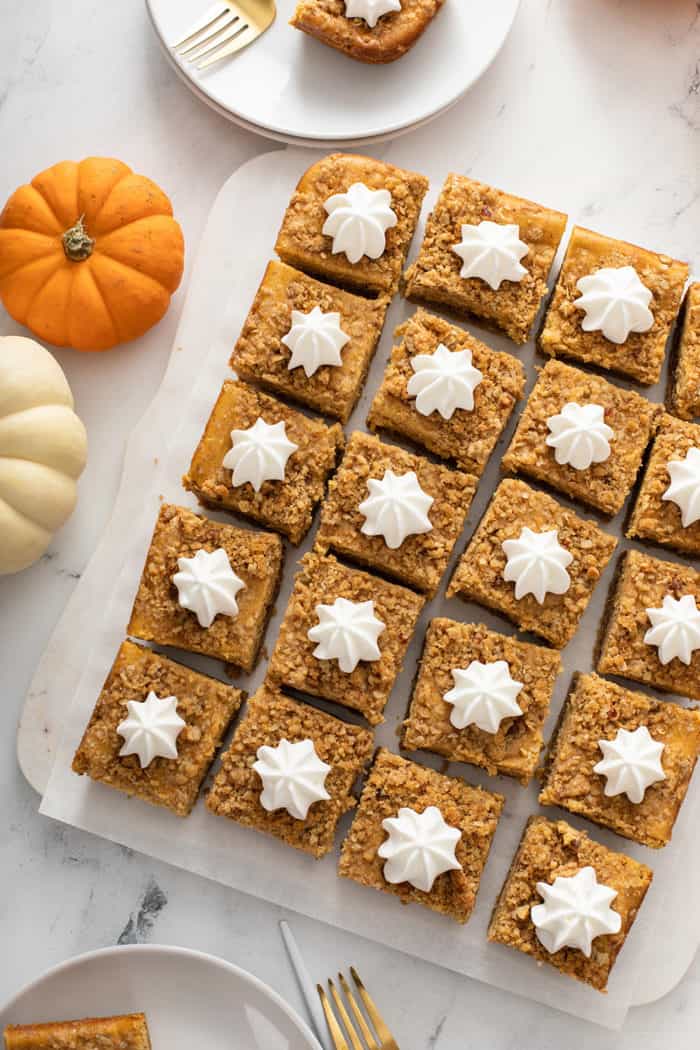 Add the rest of the filling ingredients and beat until blended and smooth. Pour it all over your baked crust and spread to the edges.
Sprinkle on the reserved streusel topping and pop the pan into the oven to bake until set. You'll know it's done when the center is no longer jiggly and the topping is nicely browned.
Let the bars cool for 30 minutes, then cover with plastic wrap and transfer to the refrigerator. Chill for about 2 hours, until completely cooled and firmed up.
When you're ready to serve, slice into squares and top with whipped cream!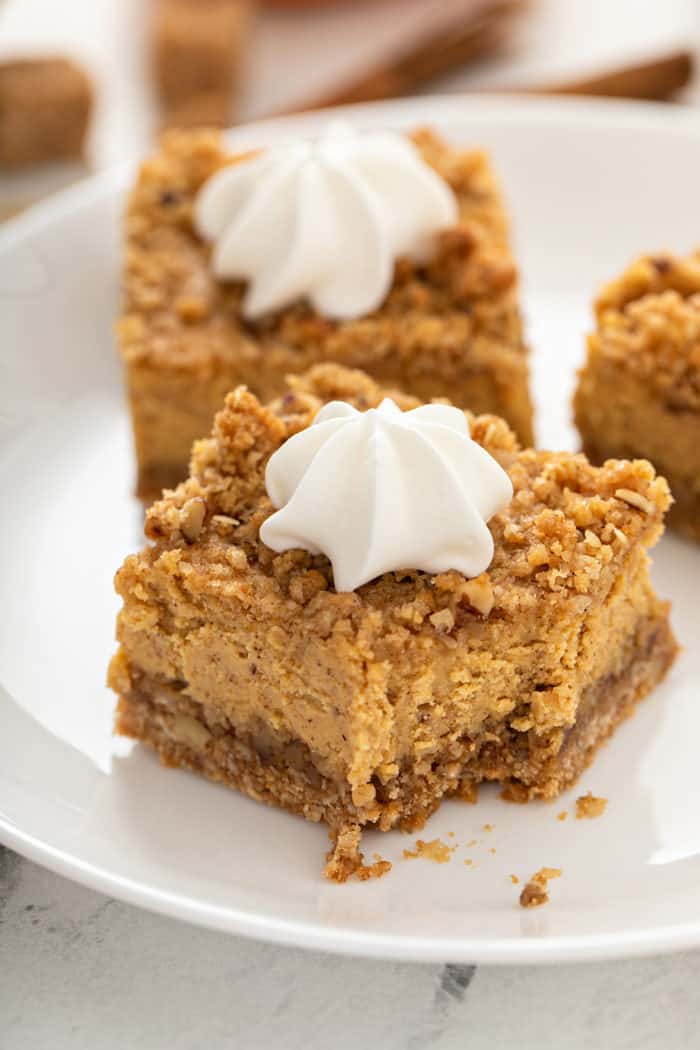 HOW TO STORE PUMPKIN CHEESECAKE BARS
Due to the cream cheese, pumpkin cheesecake bars must be stored in the refrigerator.
Keep the pan covered in plastic wrap, or slice and store in smaller containers. If you need to stack the bars, place a layer of parchment paper or wax paper between layers to prevent sticking.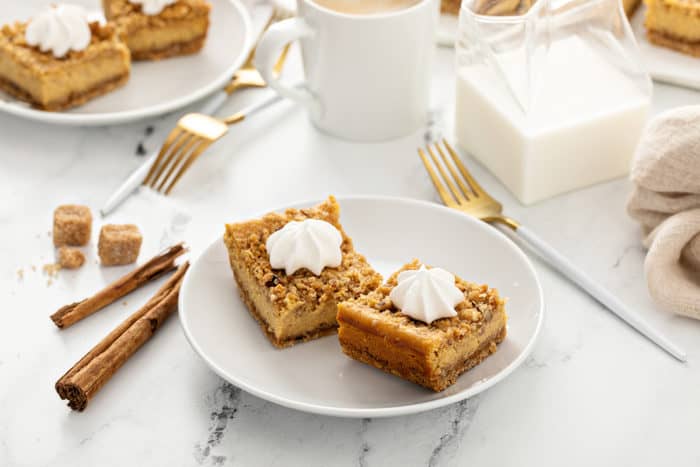 Pumpkin cream cheese bars will last in the refrigerator for about 5 days.
For longer storage, freeze individual slices. Store in airtight containers and thaw in the refrigerator overnight.
If you need an even quicker dessert, try my no bake cranberry cheesecakes or pumpkin eclair cake. Both are great options for entertaining!