If you love easy fall desserts, look no further than this Pumpkin Eclair Cake! Layers of cinnamon graham crackers layered with a creamy pumpkin filling and topped with whipped topping – this no-bake icebox cake is as easy as can be!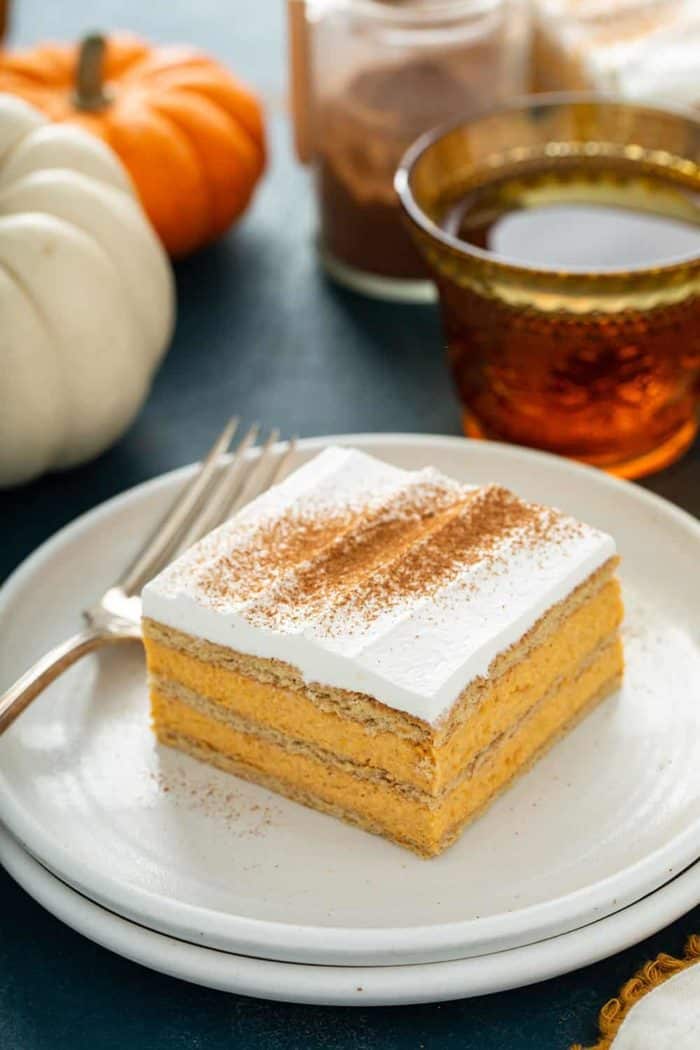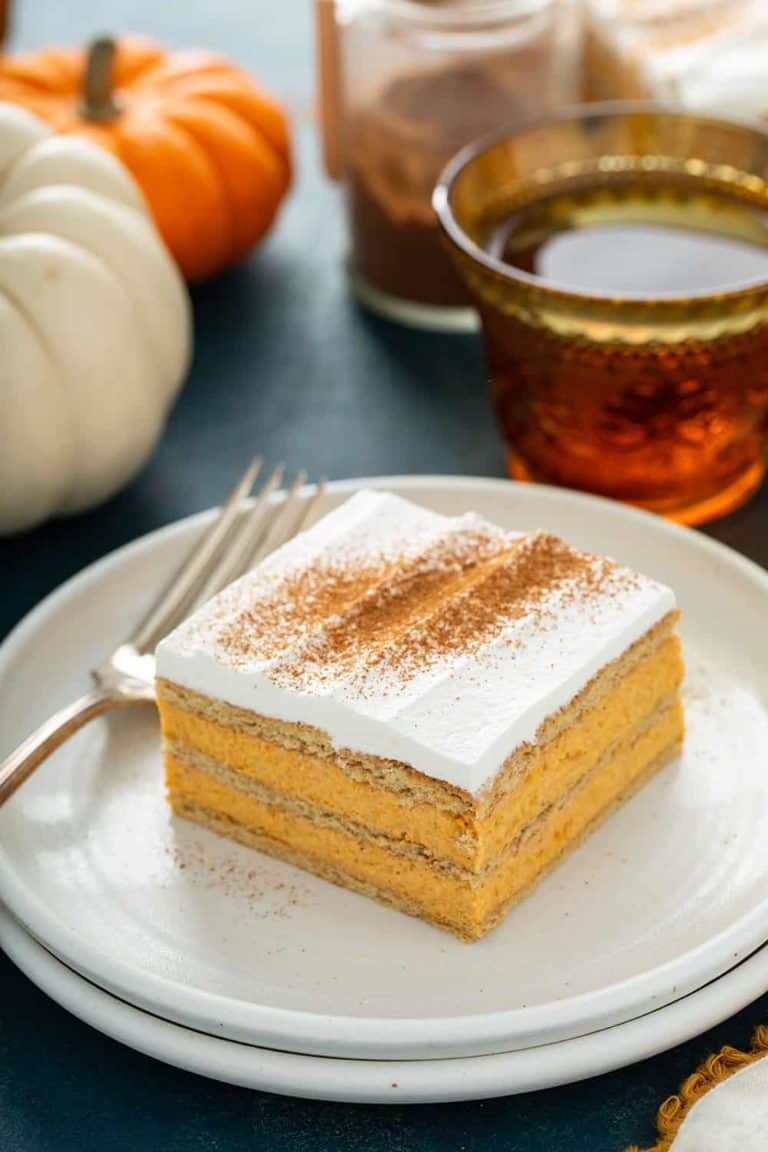 Christmas is totally my husband's thing. Don't get me wrong, I'm also a huge fan, but he is definitely the Clark Griswold of the family and I kind of just let him do his thing.
Even if that thing is coming home with a trunk full of new exterior lights from Lowe's and driving an hour for lantern planters that he wants to flank the doors our not-even-yet-installed backyard shed.
I'll be over here watching him deck the halls while sipping a pumpkin spice latte and nibbling on a piece of this pumpkin eclair cake. Because, hello – it's still November, Clark.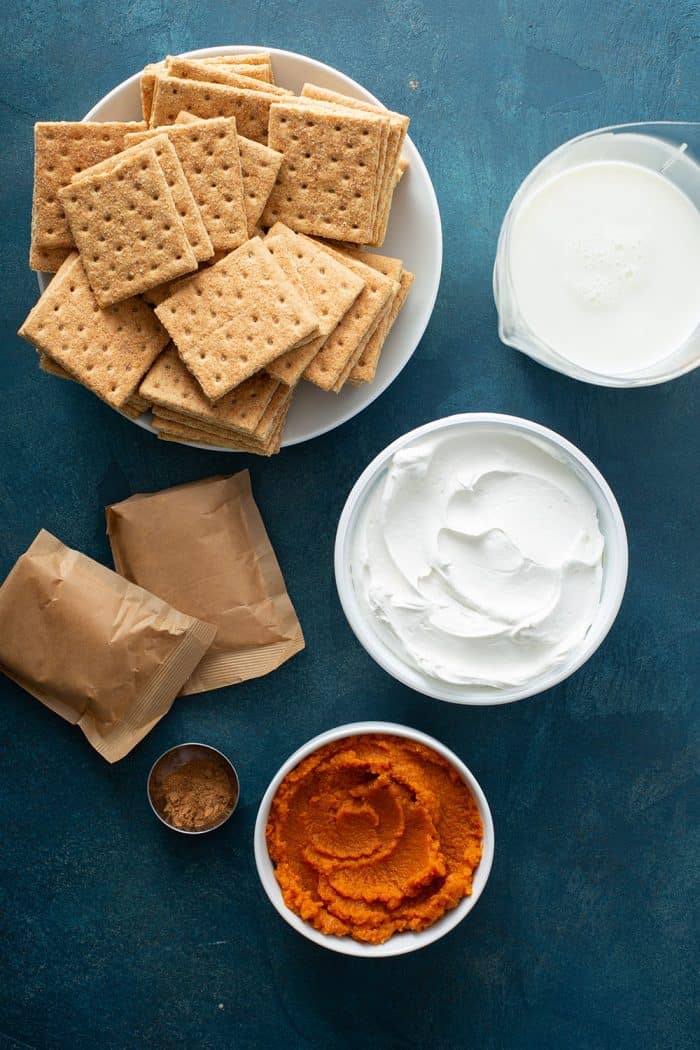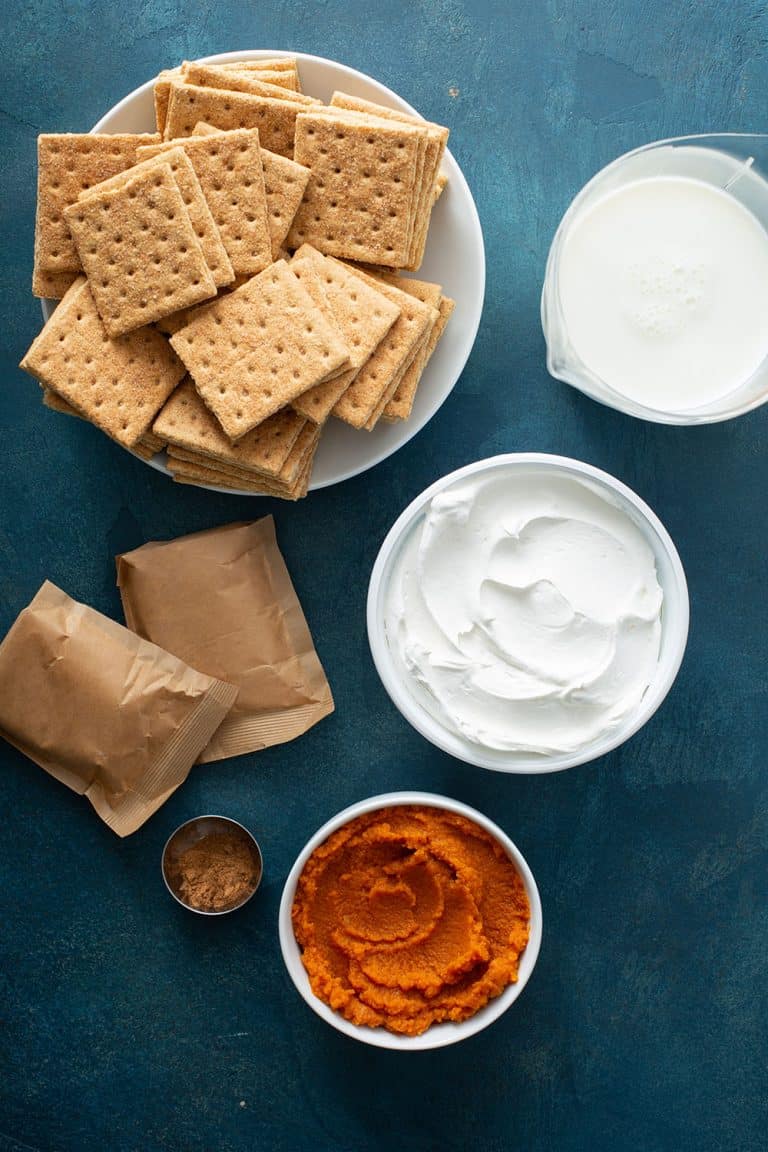 NO-BAKE PUMPKIN ICEBOX CAKE
We've made classic Eclair Cake. We've made Cheesecake Eclair Cake. We've made Banana Cream Pie Eclair Cake.
Did you REALLY think we'd make it through the fall season without a pumpkin version of this fan favorite?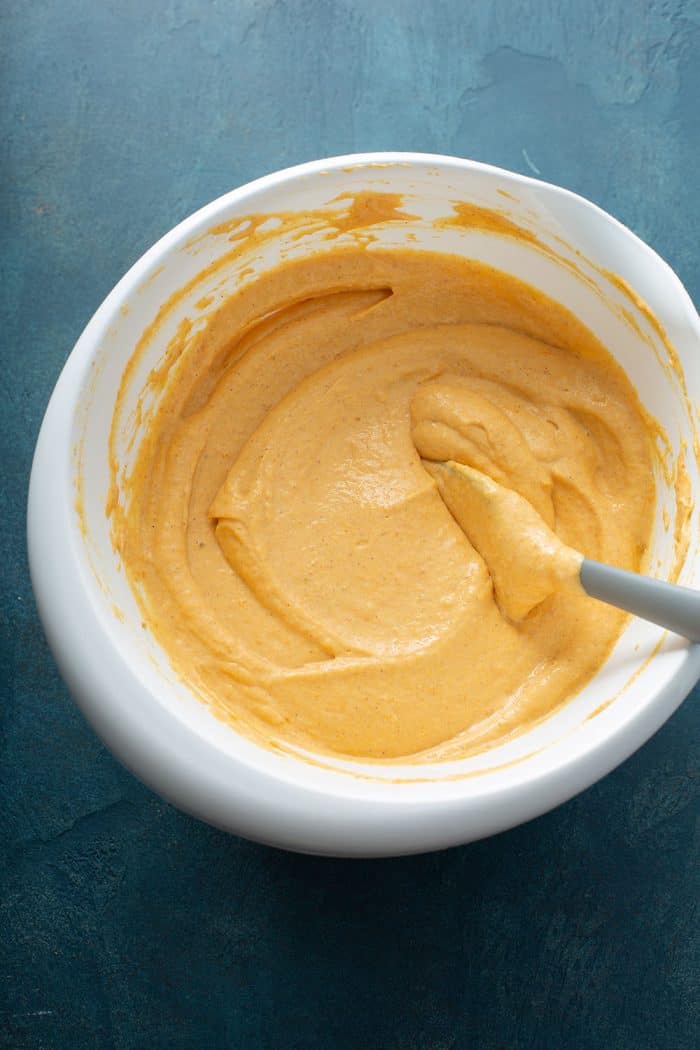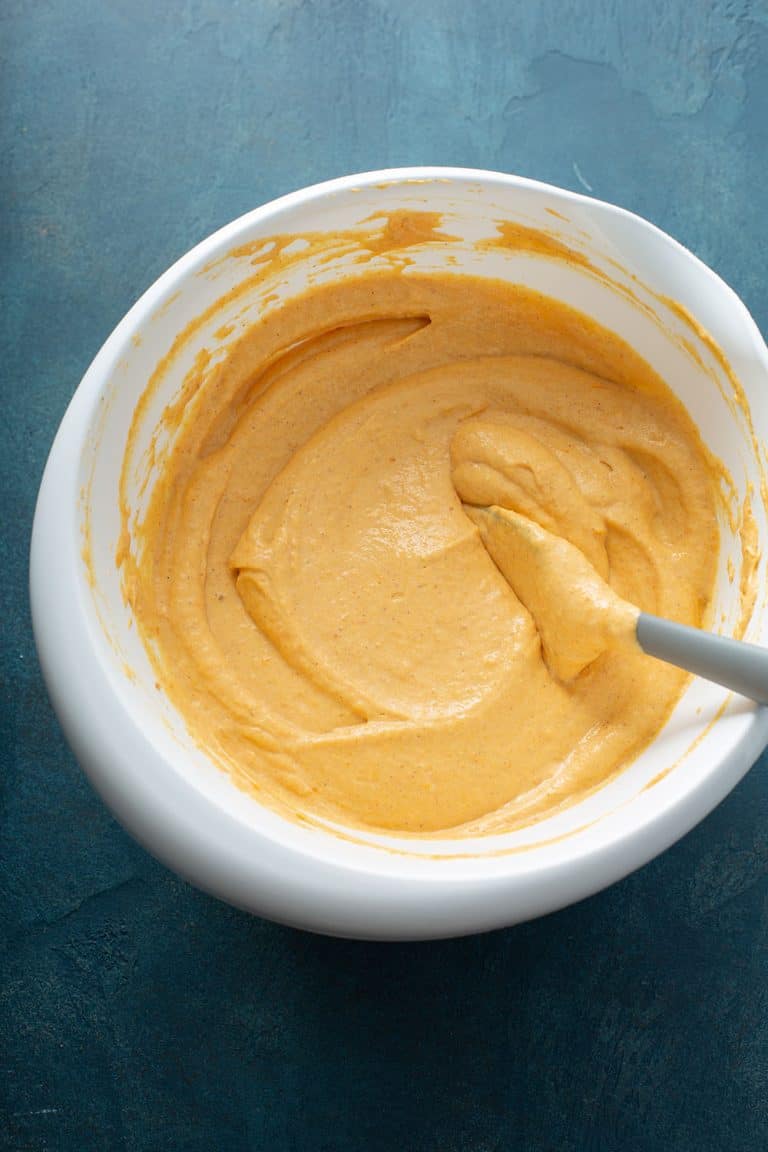 You know my love for pumpkin recipes and no-bake recipes; I can't pass up the chance to combine those two loves.
When I was dreaming up this Pumpkin Eclair Cake, I originally thought I might use pumpkin spice pudding mix in the filling. But as it turns out, that wasn't an easy thing to find this year.
So instead I decided to use a combination of vanilla pudding, pumpkin puree and pumpkin pie spice.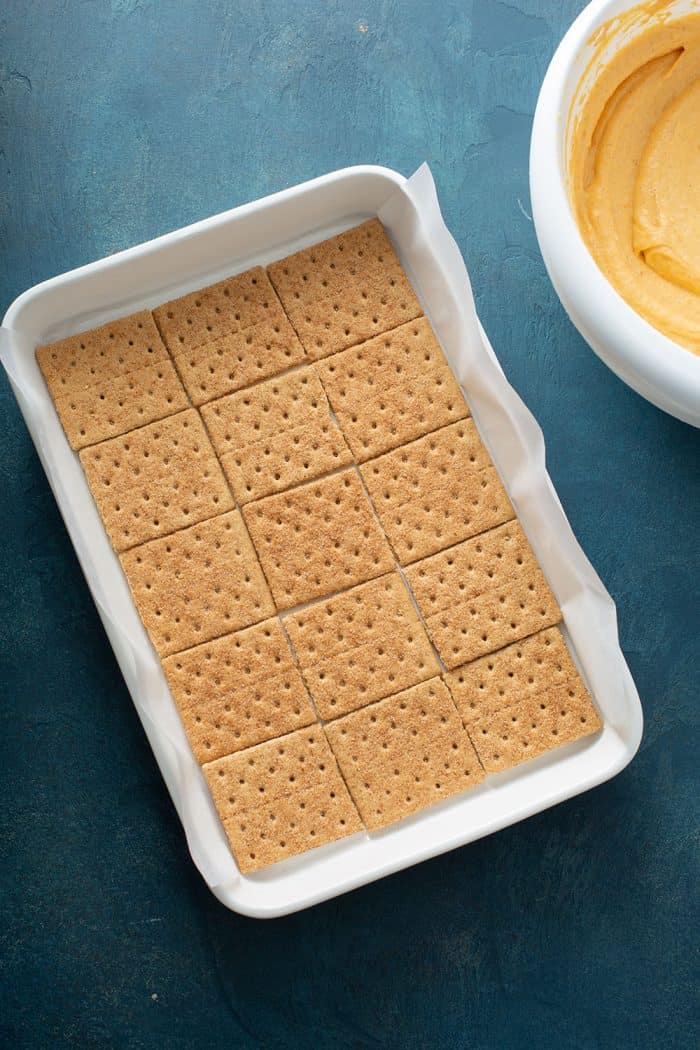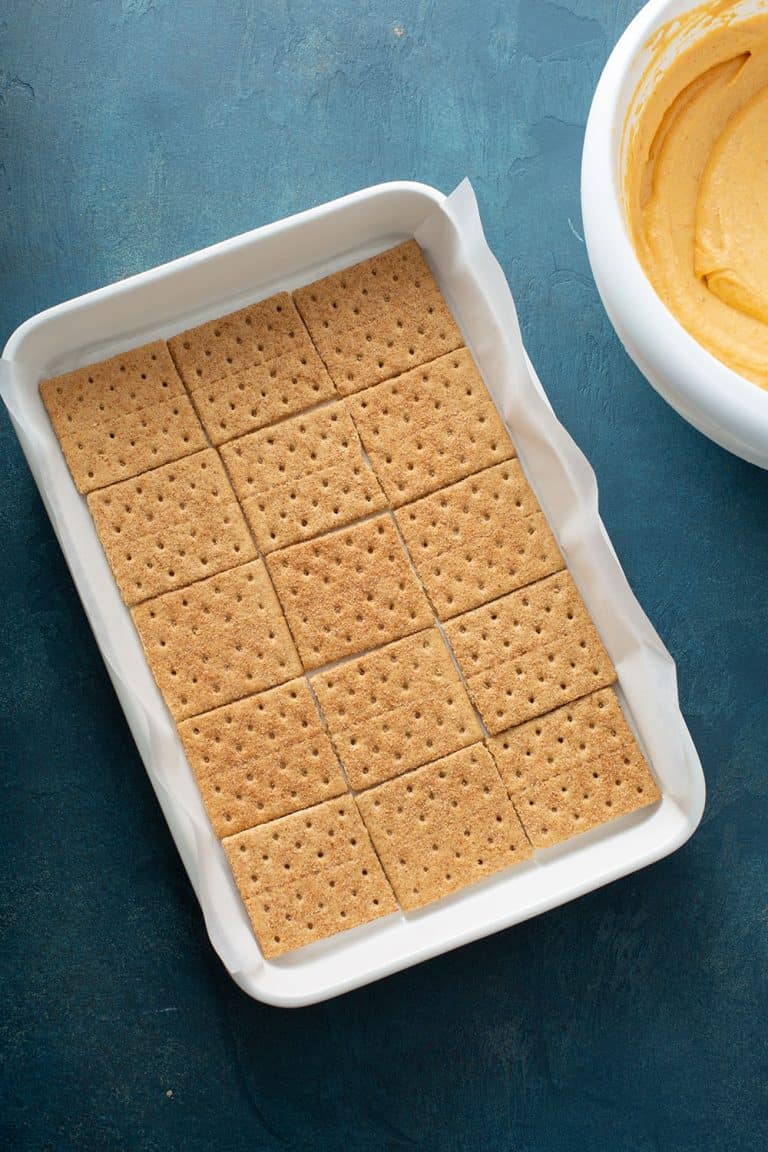 Let me tell you, that was absolutely the right move. I've never been so glad to have to change my original plan, because this stuff is good.
The pumpkin puree adds just the right amount of pumpkin flavor, the vanilla pudding adds just the right amount of sweetness, and the pumpkin pie spice adds just the right amount of warm spices.
It's a regular Goldilocks situation up in here.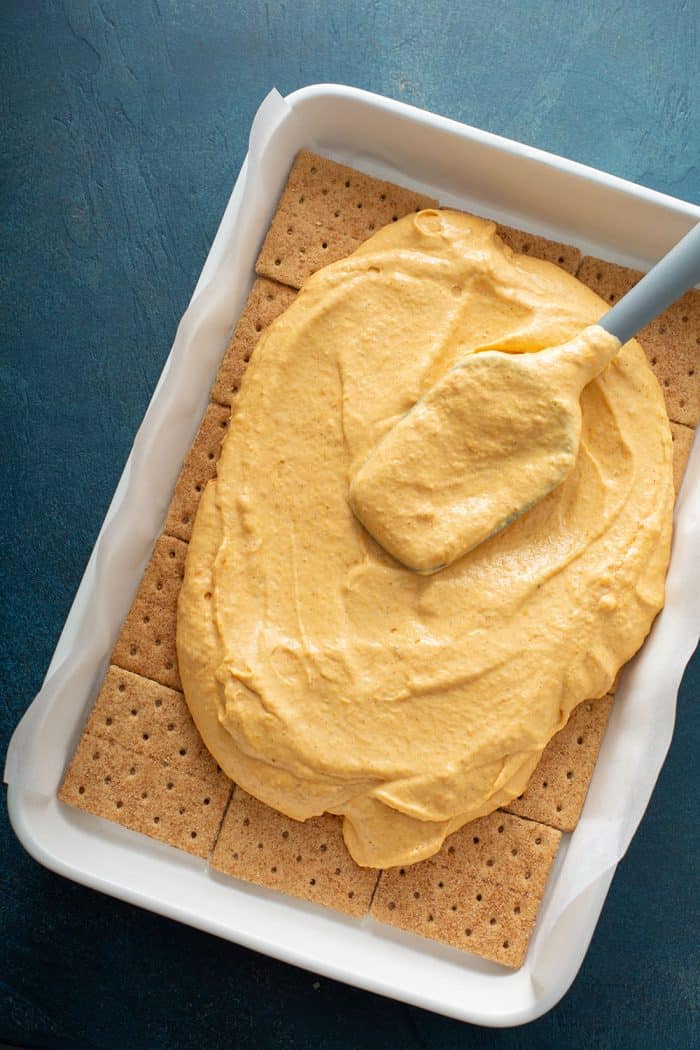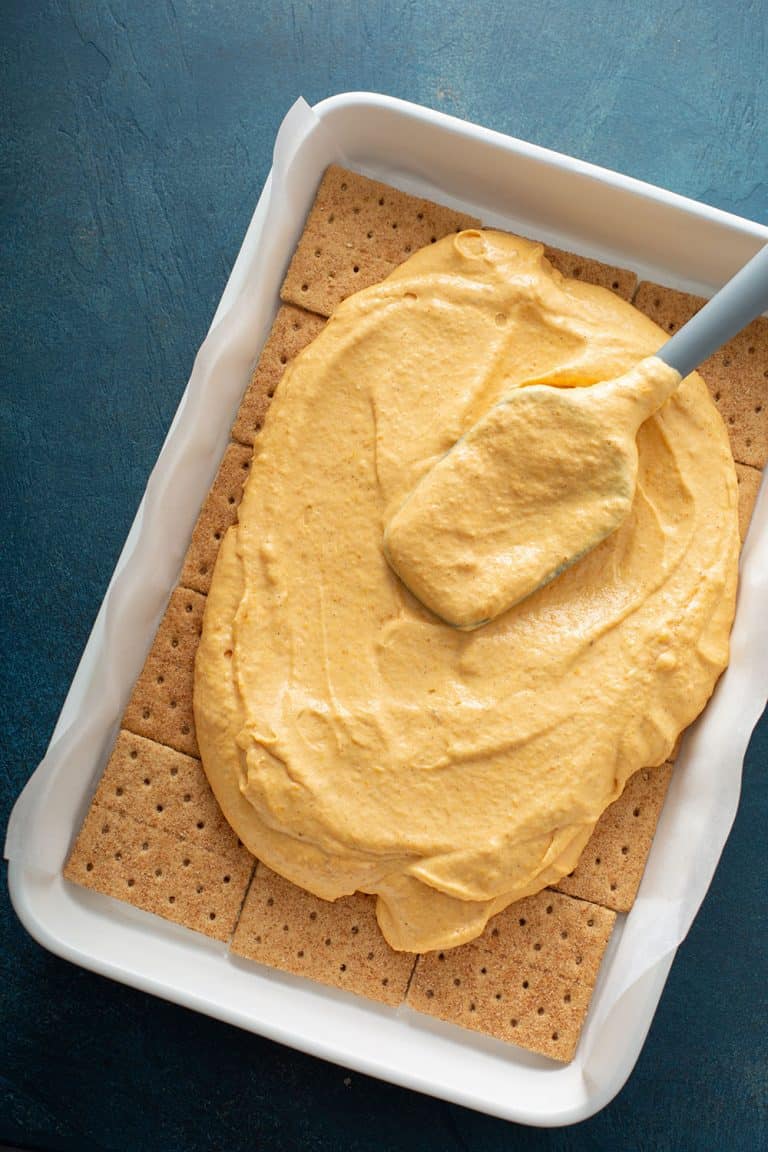 Even though the other eclair or icebox cakes I've made in the past have used regular graham crackers, I decided to use cinnamon graham crackers for this pumpkin version. That little extra hint of cinnamon made a big difference!
Of course, you could get fancy and use homemade cinnamon graham crackers. But I like to keep a box of cinnamon grahams in the pantry for situations just like this one!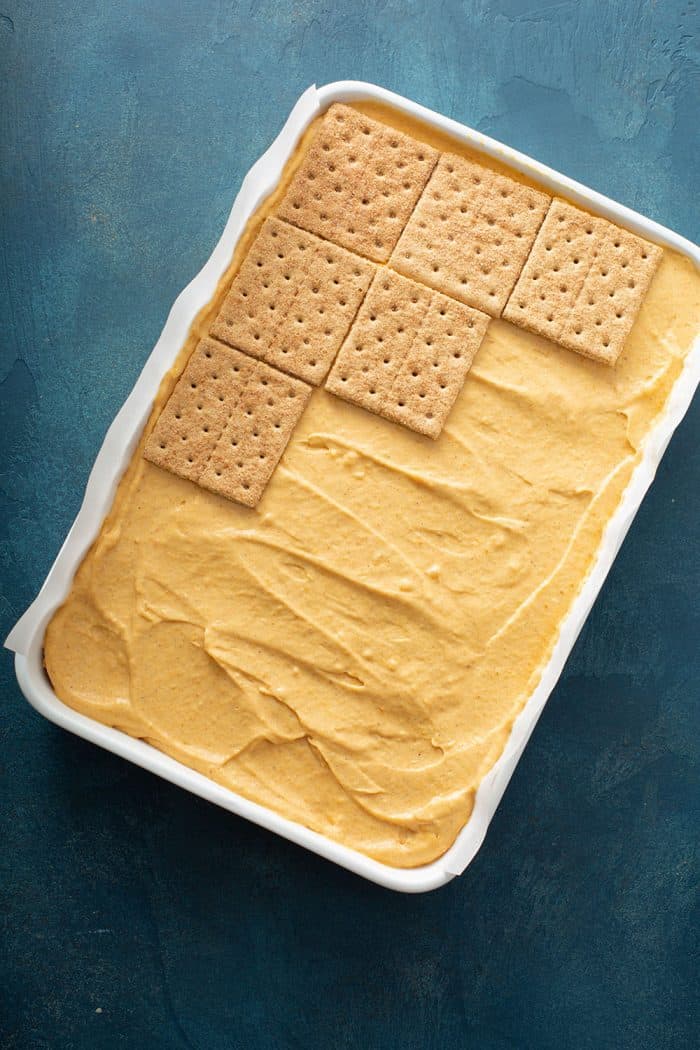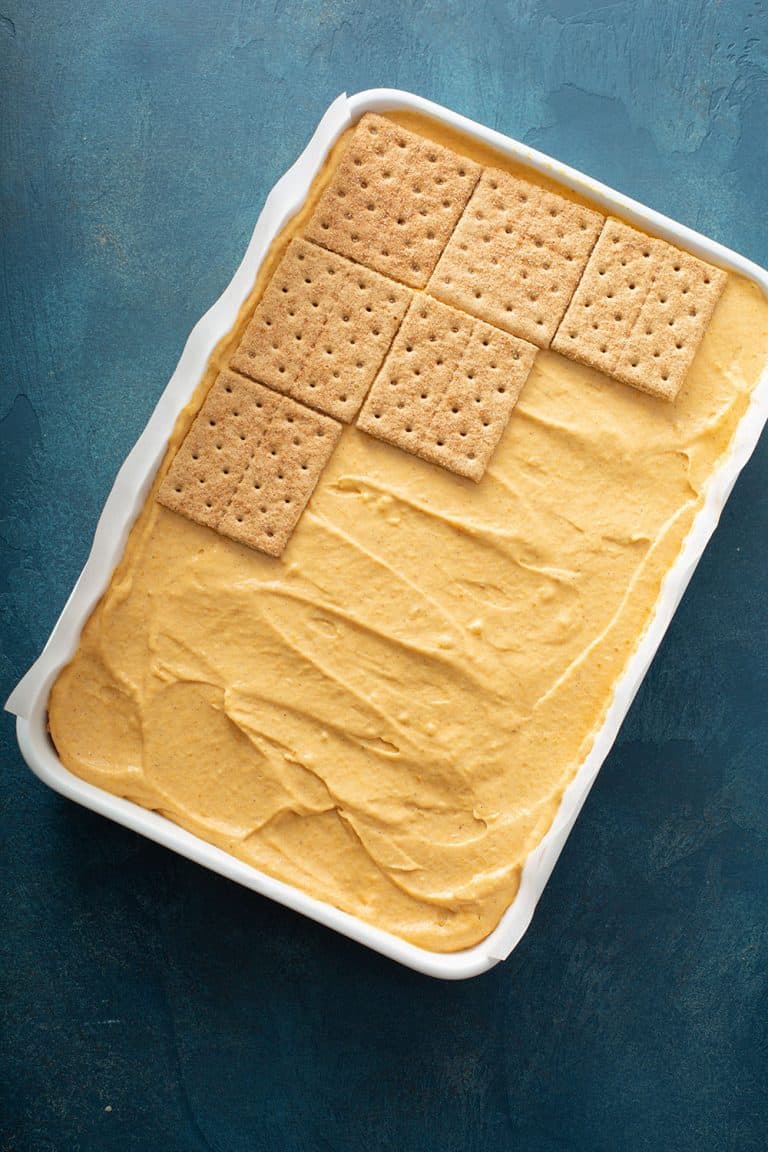 HOW TO MAKE THIS EASY PUMPKIN ECLAIR CAKE
Don't think that because we're changing up our normal eclair cake filling that Pumpkin Eclair Cake is any harder to make.
This version still has 3 super simple steps: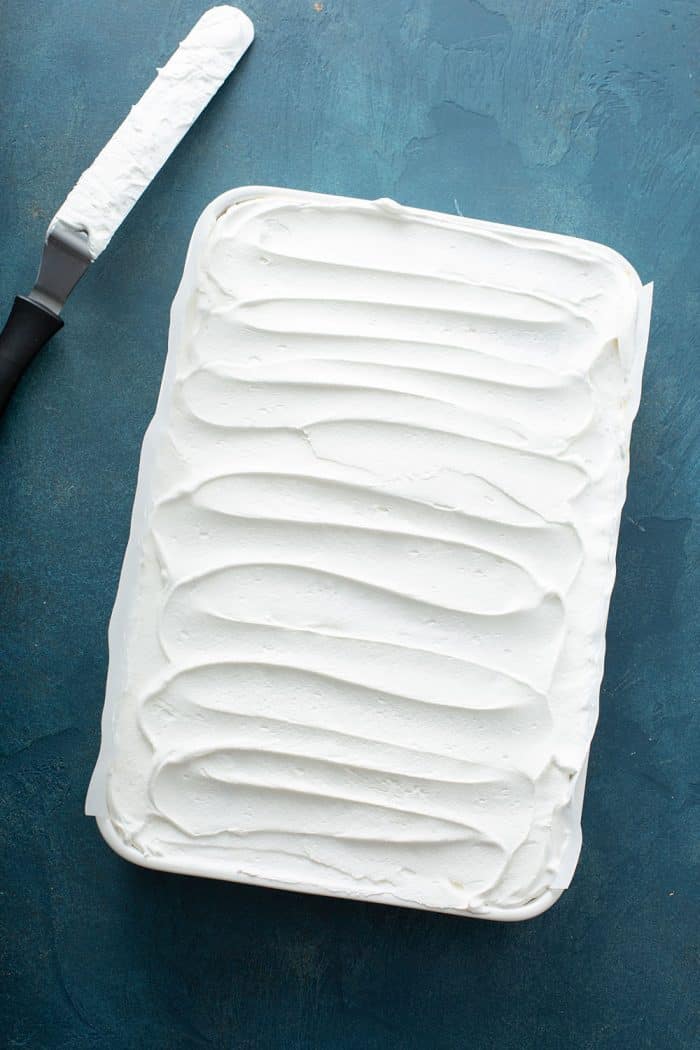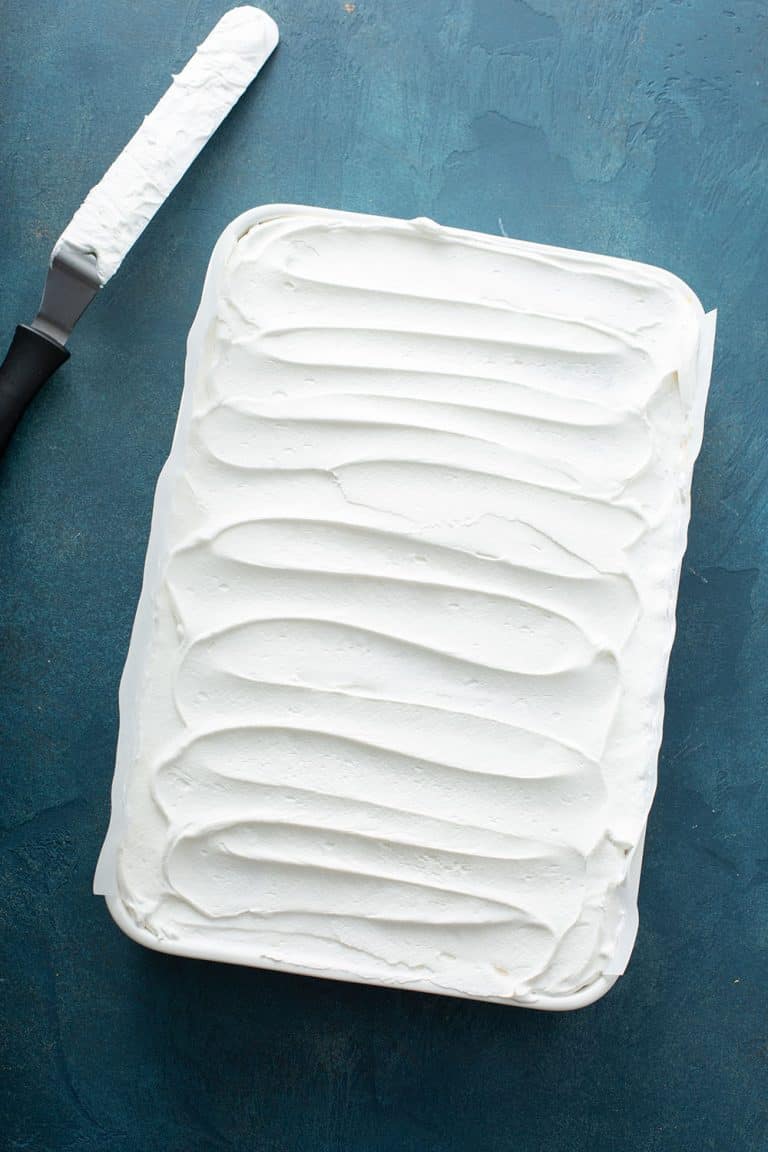 Grab a bowl and whisk together the vanilla pudding mix, milk, one whole can of pumpkin puree, half of the thawed whipped topping and the pumpkin pie spice.
Place a layer of the cinnamon graham crackers in the bottom of a 13×9-inch cake pan. Spread on half of the filling. Top with another layer of cinnamon graham crackers, followed by the rest of the filling.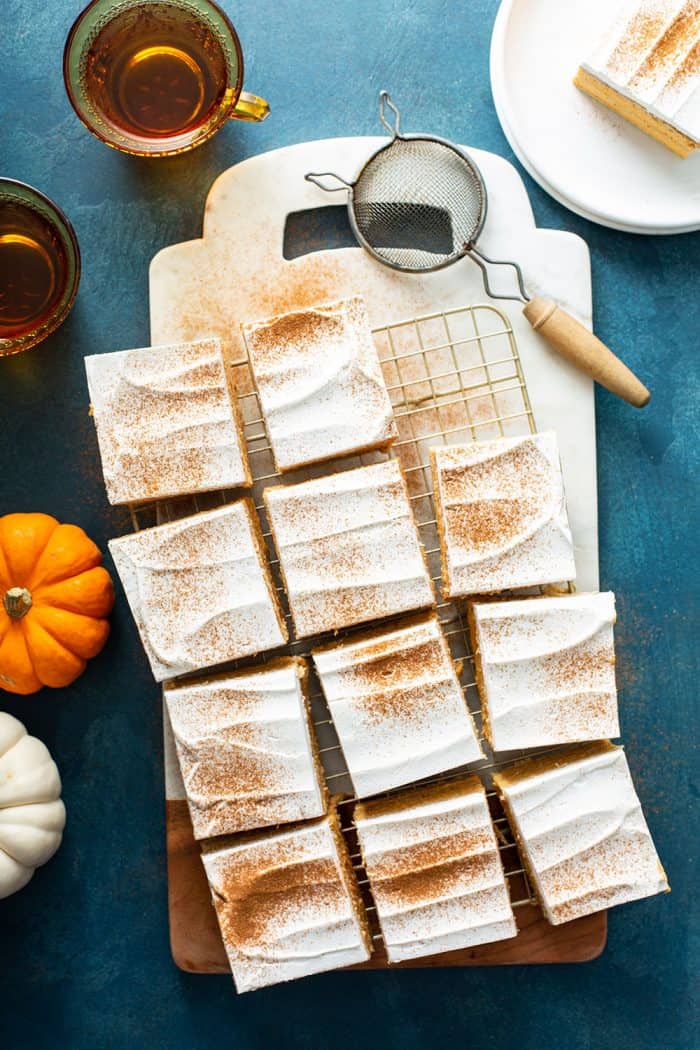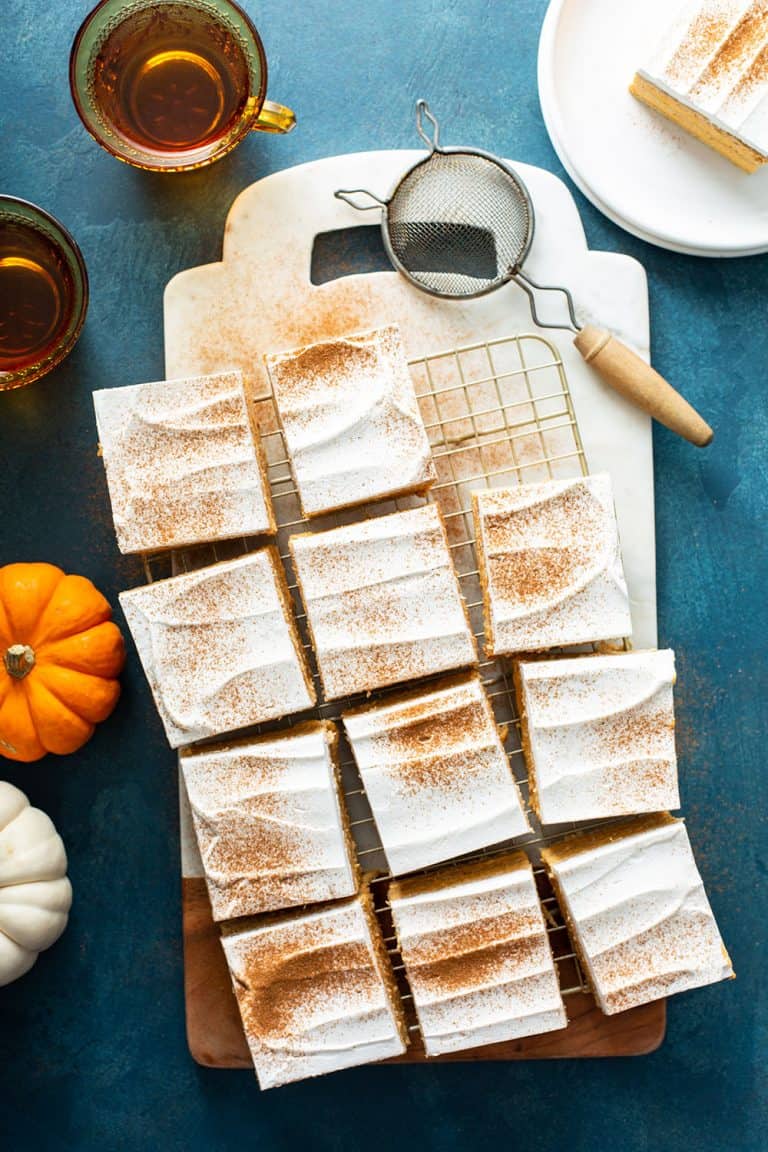 Finish off with one last layer of cinnamon graham crackers and the rest of the whipped topping.
Let the whole thing chill in the refrigerator for at least 4 hours. Before serving, I like to dust the top with a bit more pumpkin pie spice or cinnamon.
And that's it! It tastes like the easiest pumpkin pie you'll ever make.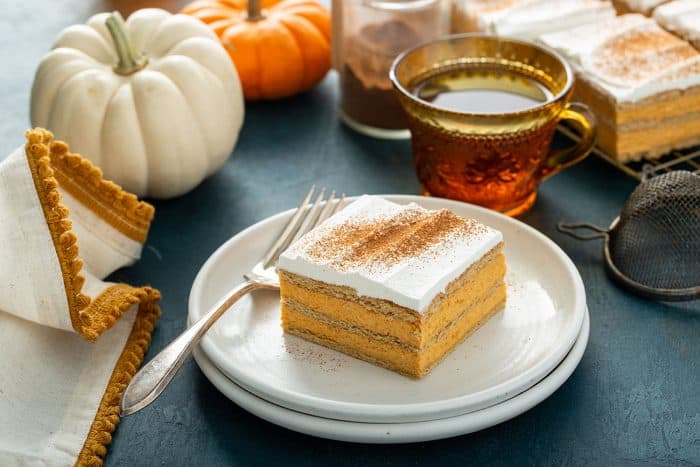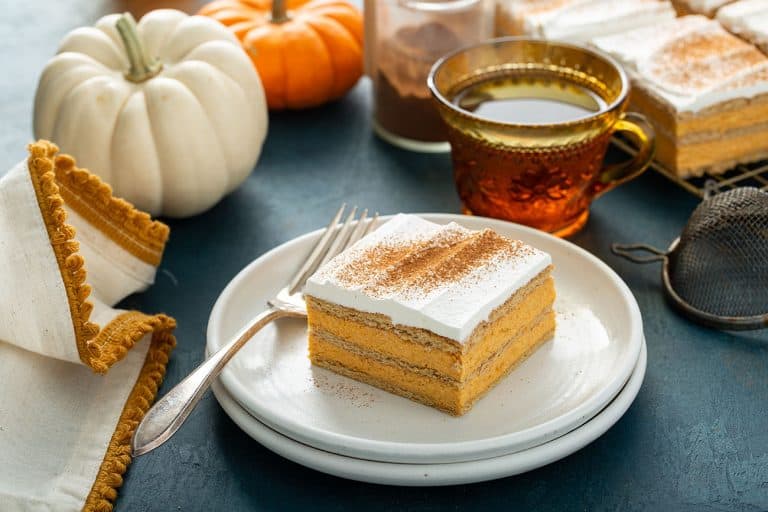 HOW TO GET SUPER SMOOTH LAYERS IN YOUR ECLAIR CAKE
You might be looking at the photos of my Pumpkin Eclair Cake and thinking, "Jamie, how did you get the layers so smooth?!"
Lucky for you, I'm happy to share my secrets with you. Are you ready?? Here it is:
A regular spatula is great for a lot of things, but not for getting super smooth layers, especially at the edges and corners of a cake pan. But an offset spatula solves all of that.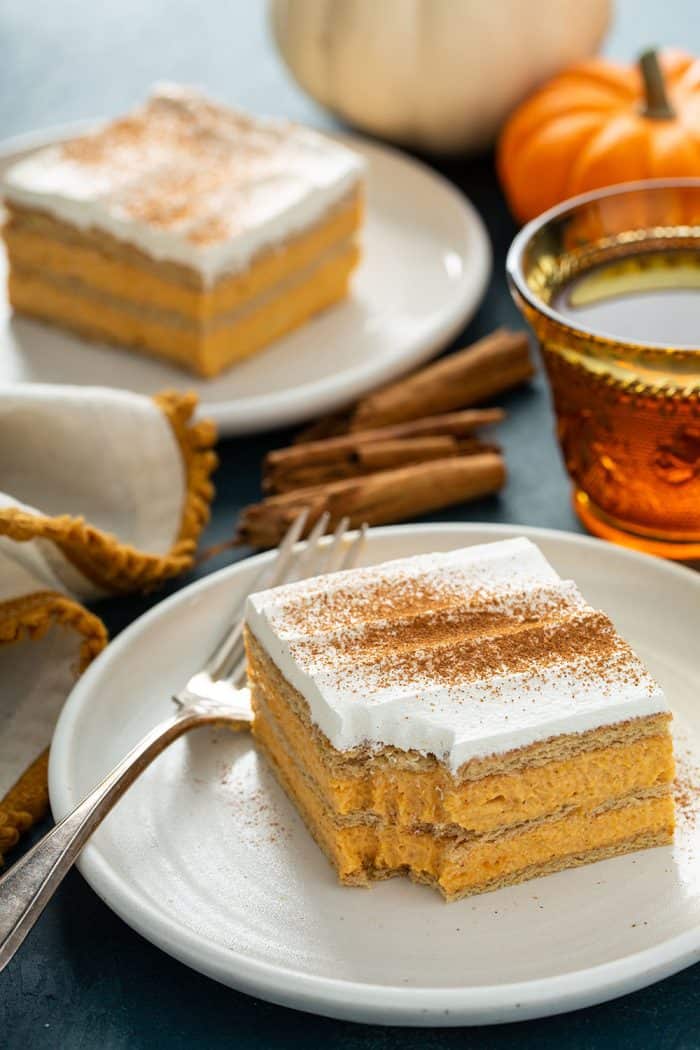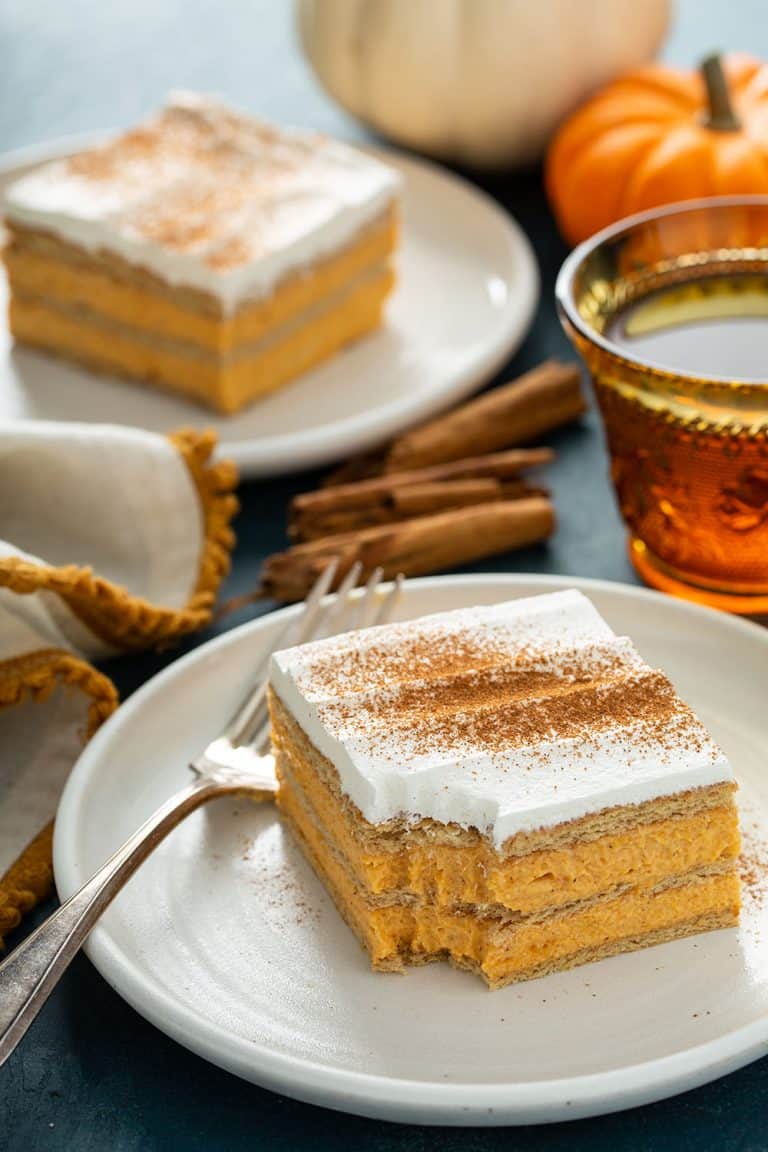 You'll get smooth layers, a smooth topping, and the ability to impress all of your friends with how lovely your cake looks.
They don't have to know that it only took you about 7 minutes to assemble. That's our little secret.