No-Bake Cheesecake Eclair Cake is one ridiculously easy dessert to make! This icebox cake combines layers of graham crackers, cheesecake pudding, and cherry pie filling for a no-bake take on cheesecake everyone will love.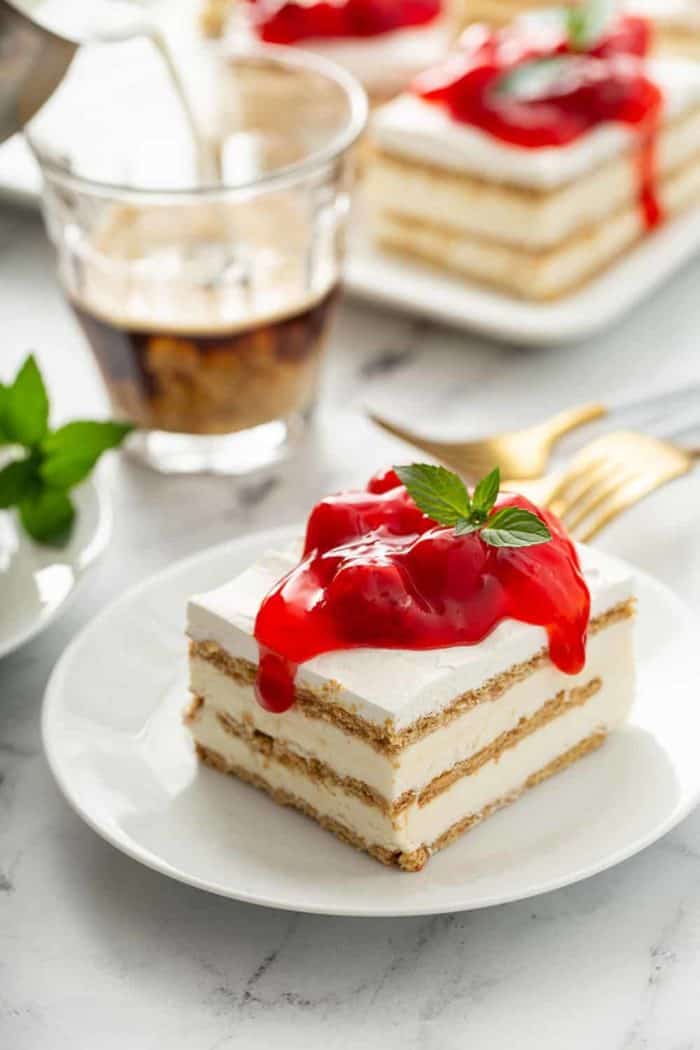 I saw a meme earlier this week about a midwest fall dress schedule and it was as follows:
7am – winter coat
10am – pants and light jacket
1pm – shorts and hoodie
4 pm – bathing suit
7pm – bug spray
10pm – winter coat
And let me just tell you, if you live in Ohio during the month of September this is 100% accurate. I mean, let's be real – this still happens in October.
Two days ago I was out on a morning walk wearing a coat and gloves and by 1pm it was 75 degrees.
Basically I'm trying to tell you that while I'm all bring on all the fall baked goods, I'm also kind of sweaty by 1pm and looking to indulge in simple, delicious no-bake desserts.
Trust me though on those cool mornings, I'll be whipping up pumpkin everything.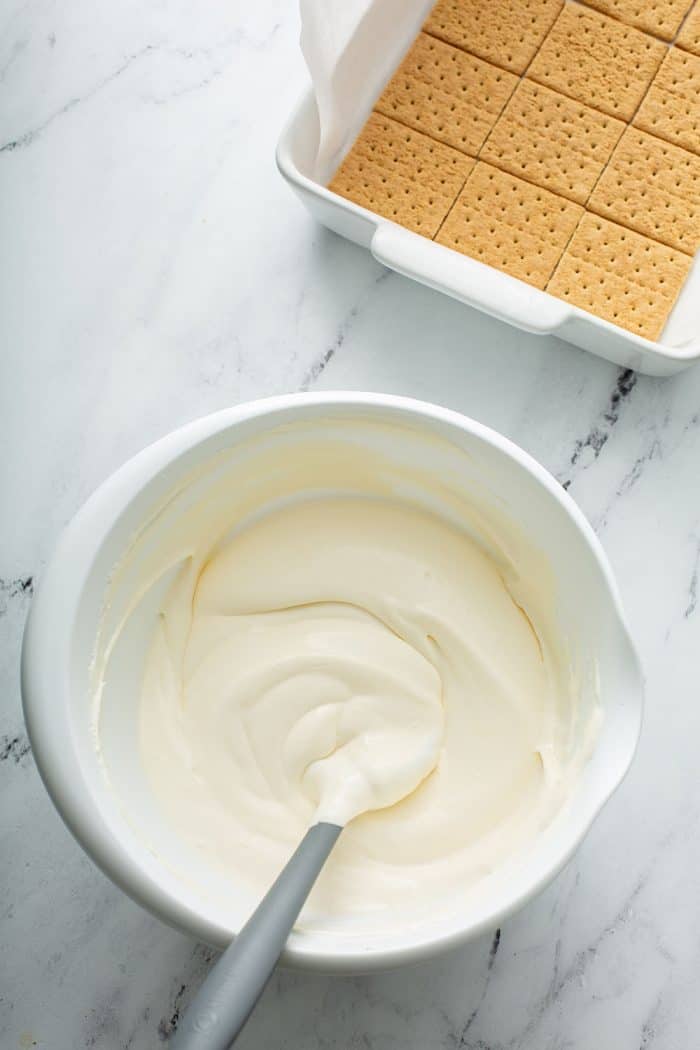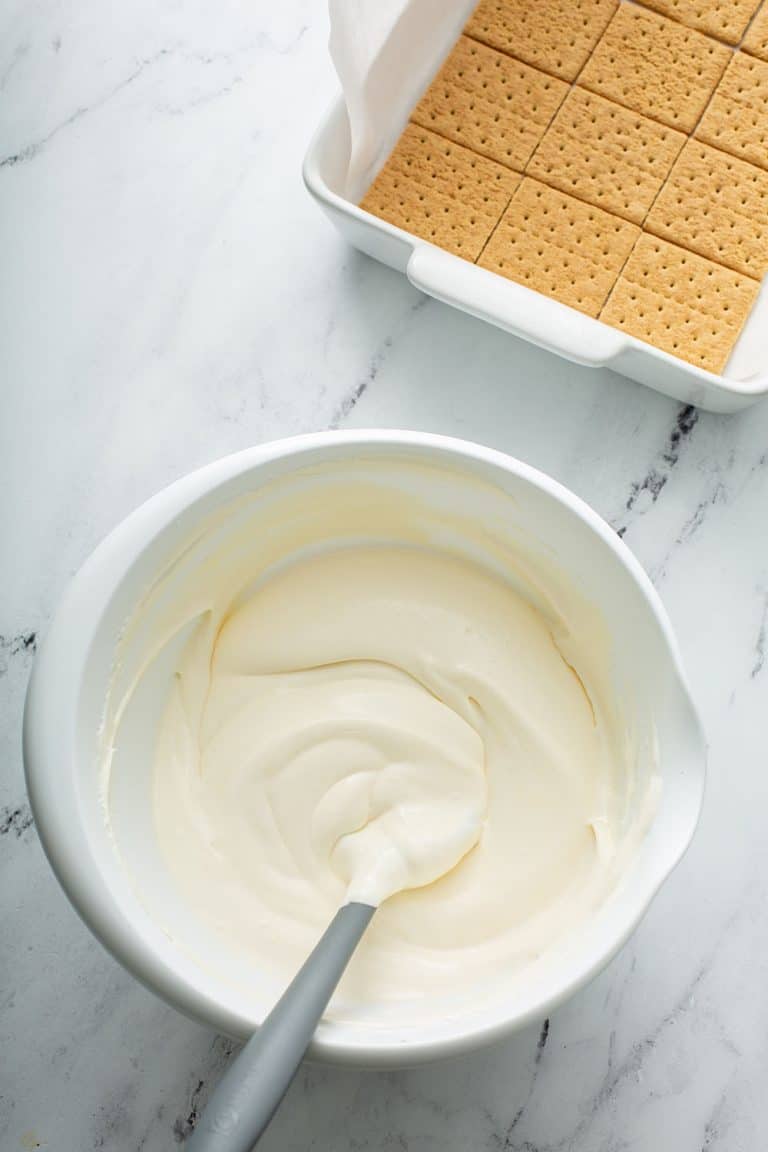 EASY CHEESECAKE ECLAIR CAKE
If there's one thing I know you all love, it's no-bake recipes. So I really wasn't too surprised when everyone went crazy for my Eclair Cake a few weeks ago.
I mean, it combines some of our favorite things: graham crackers, pudding, and chocolate. Pretty hard to go wrong!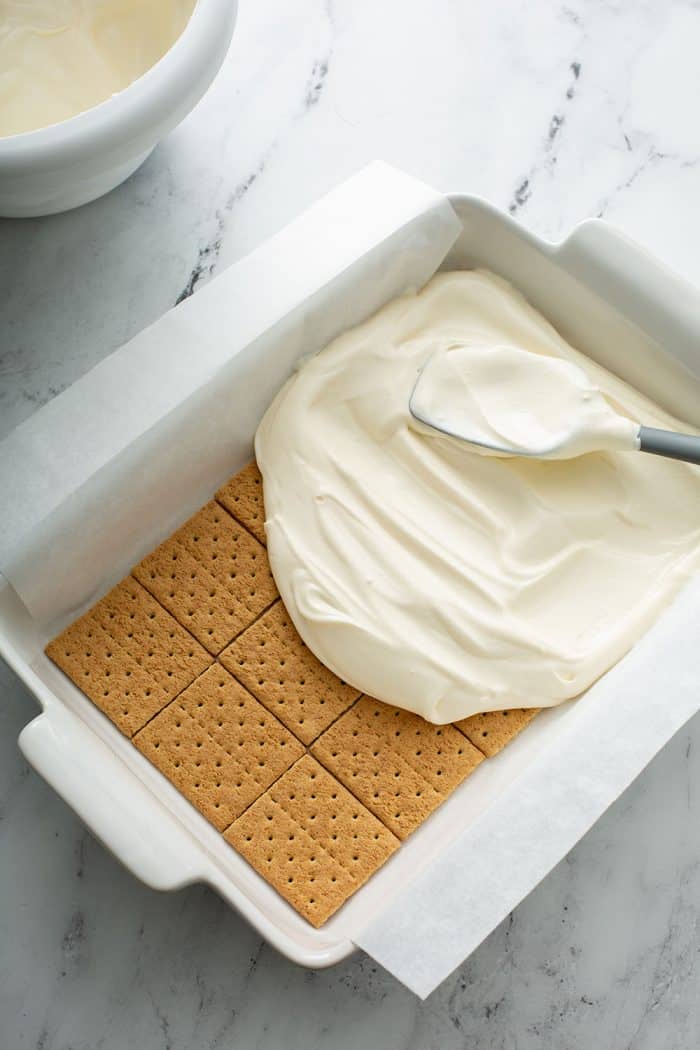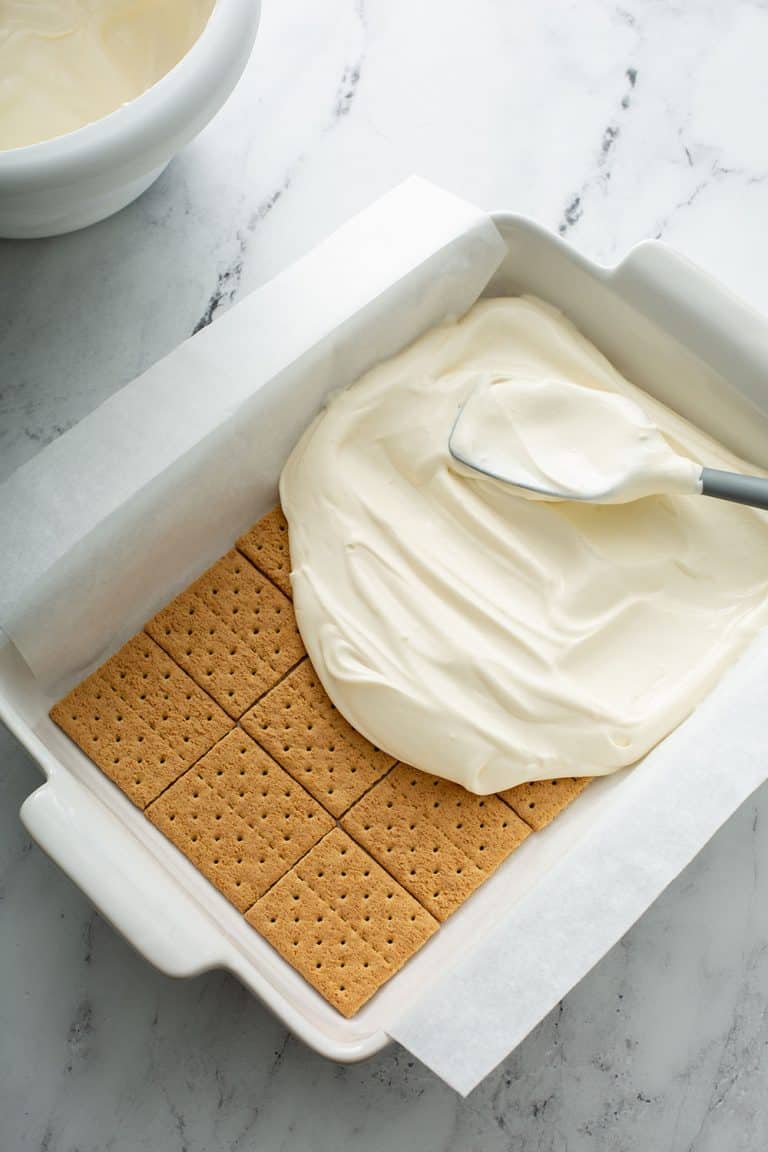 So I immediately started dreaming up some other flavor combinations for future eclair cakes.
Banana cream pie made the list, as did a pumpkin spice version. But first up was this Cheesecake Eclair Cake!
I mean, are you really surprised that I decided to share the cheesecake version first? After all of the cheesecake recipes I share?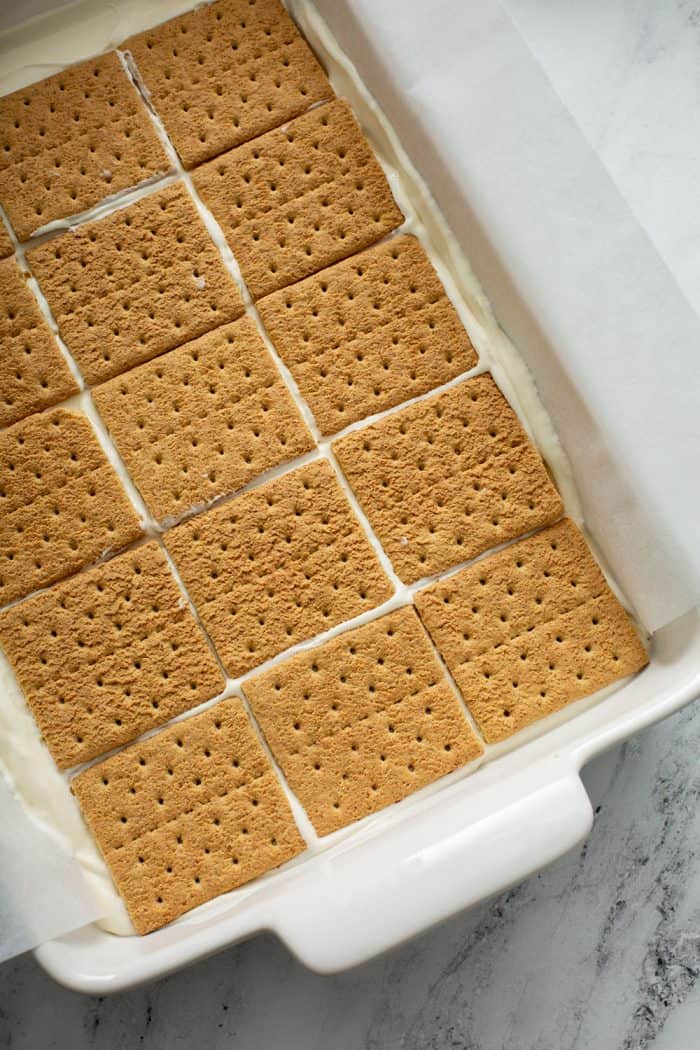 This eclair cake could also be considered an icebox cake.
What's an icebox cake? Really it's just layers of whipped cream or pudding alternated with layers of graham crackers or cookies. After it sets up in the fridge for a few hours, the graham cracker layer softens and turns into a cakey texture.
No baking required, and just a handful of ingredients needed. They're unbelievably easy to make; in fact, they'd be perfect for kids to make.
For this recipe, I used cheesecake pudding mix in the filling and topped the whole thing with whipped topping and cherry pie filling. It totally gives you that cheesecake flavor without actually having to, well, bake a cheesecake.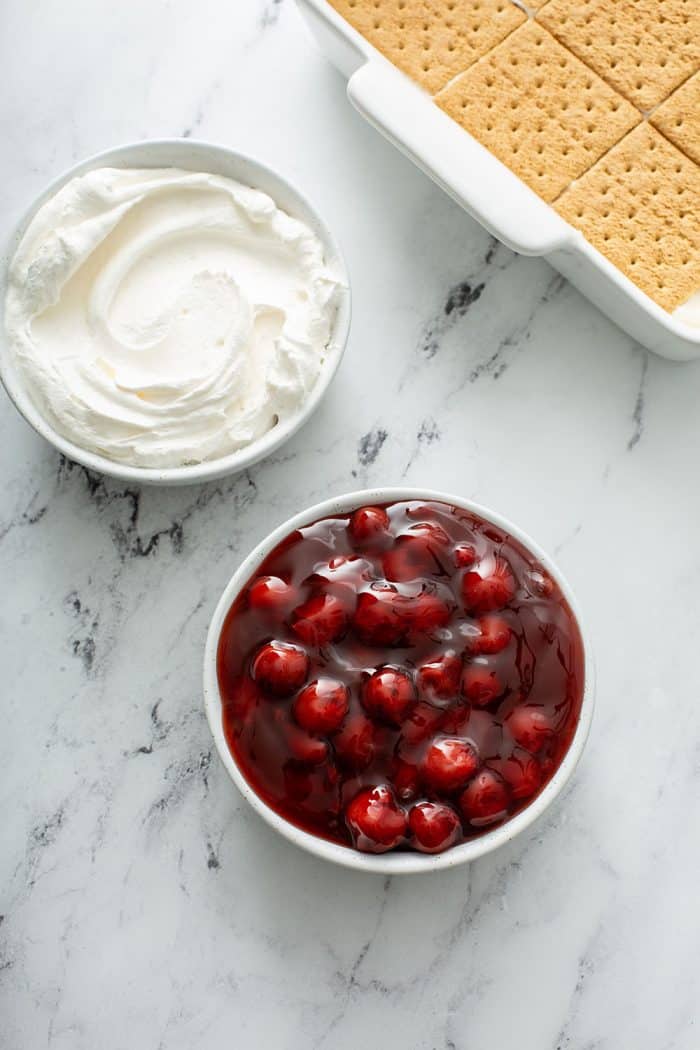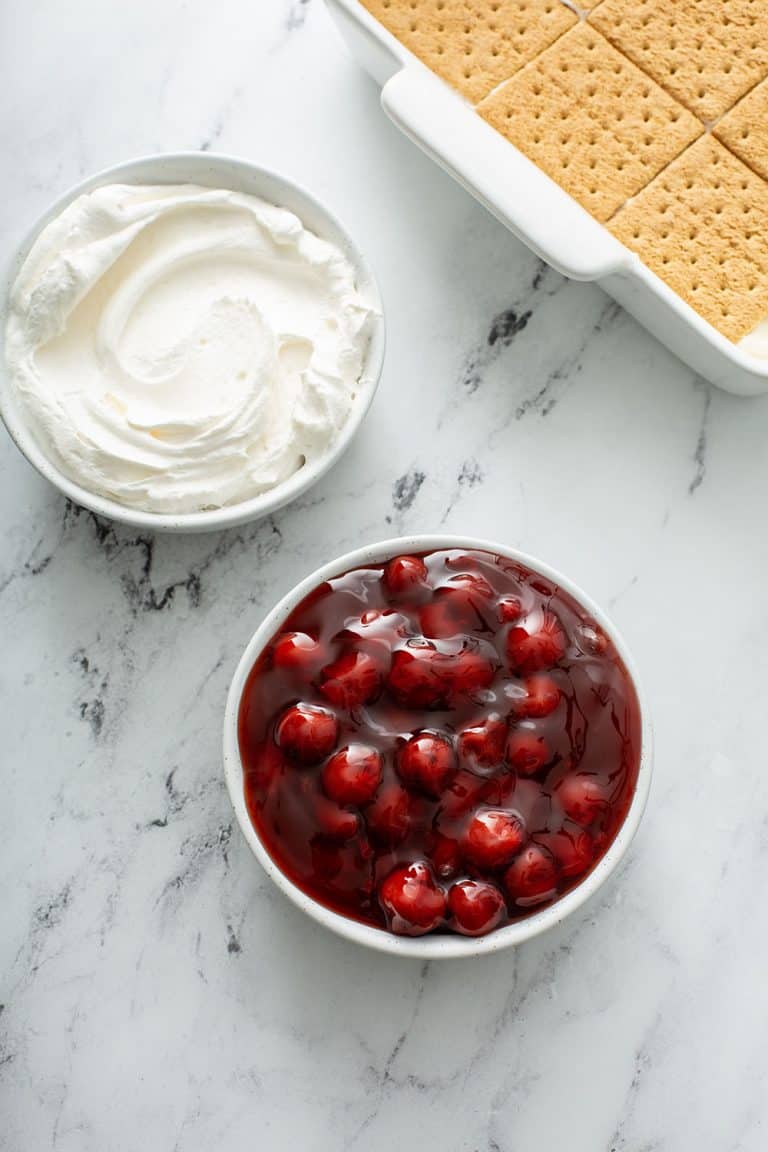 HOW TO MAKE NO-BAKE CHEESECAKE ECLAIR CAKE
Assembling this No-Bake Cheesecake Eclair Cake – or cheesecake icebox cake, if you prefer – takes just a few minutes. You could easily pull it together in 15 minutes or less between running errands or helping your kids with virtual schooling.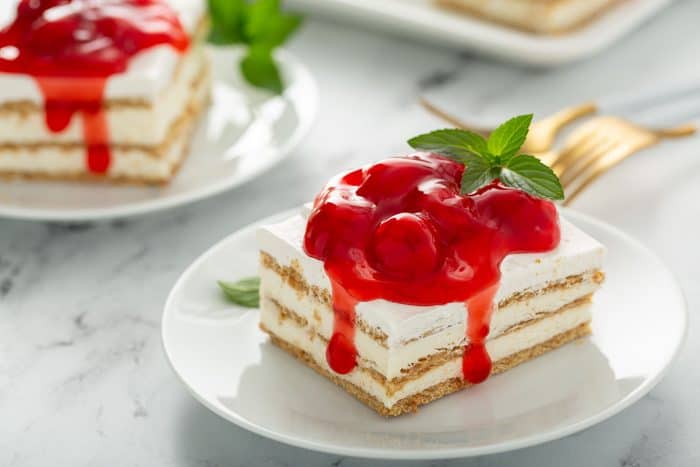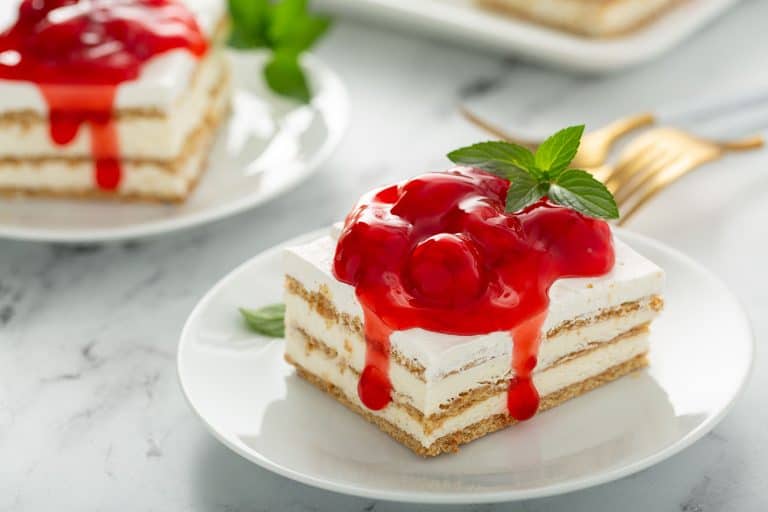 It takes just a few simple steps:
Whisk together the pudding mix, milk, and thawed frozen whipped topping
Layer the cake in the pan, starting with a layer of graham crackers, then half the filling, another layer of graham crackers, the rest of the filling, and finishing with the remaining graham crackers.
Chill for at least 4 hours
Top with more whipped topping and cherry pie filling before serving!
You see? I wasn't kidding when I said it is easy. The hardest part is letting it chill for at least 4 hours before you cut into it and devour it!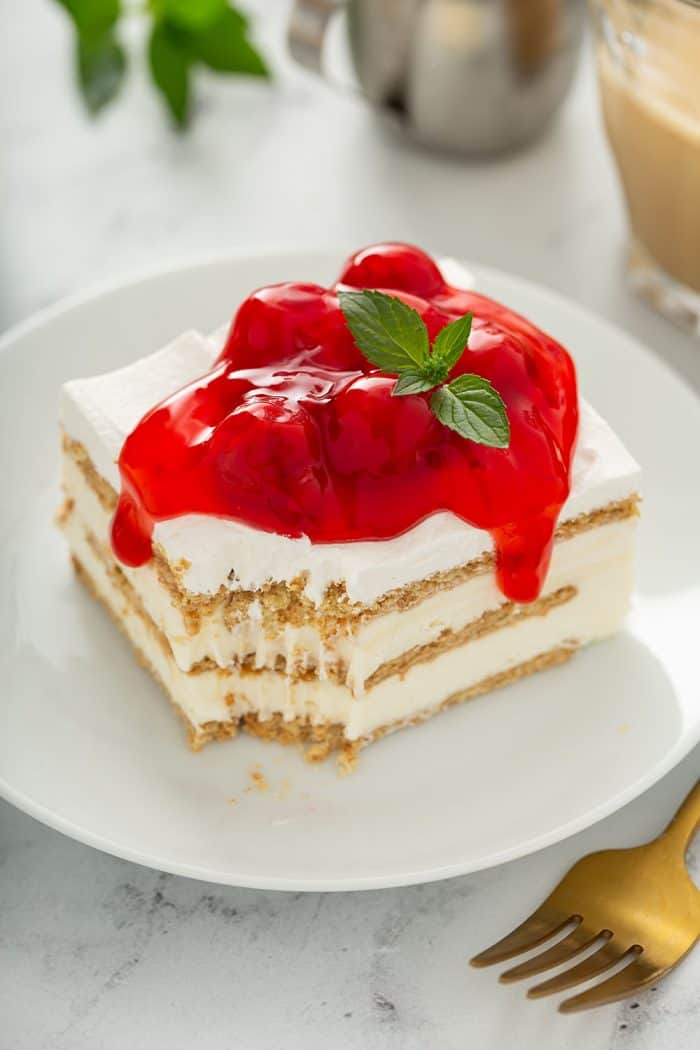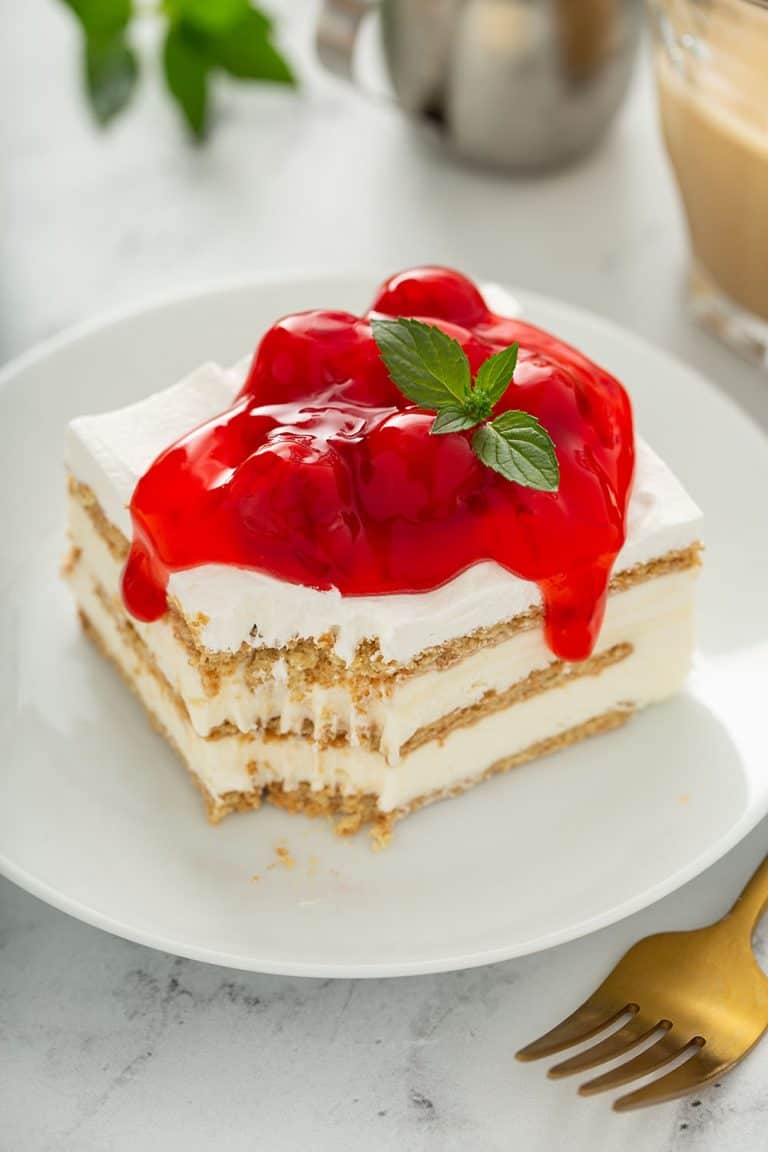 HOW TO SLICE ECLAIR CAKE
I'm the first to admit that it can be hard to get pretty slices of recipes like this. But remember when we made Key Lime Pie Bars? I shared a trick for slicing those that I used here, too.
Grab a large knife and run it under very hot water for a few seconds. Quickly wipe it dry on a clean towel and then slice the cake. The knife will be hot enough to cleanly cut through the whipped topping and filling.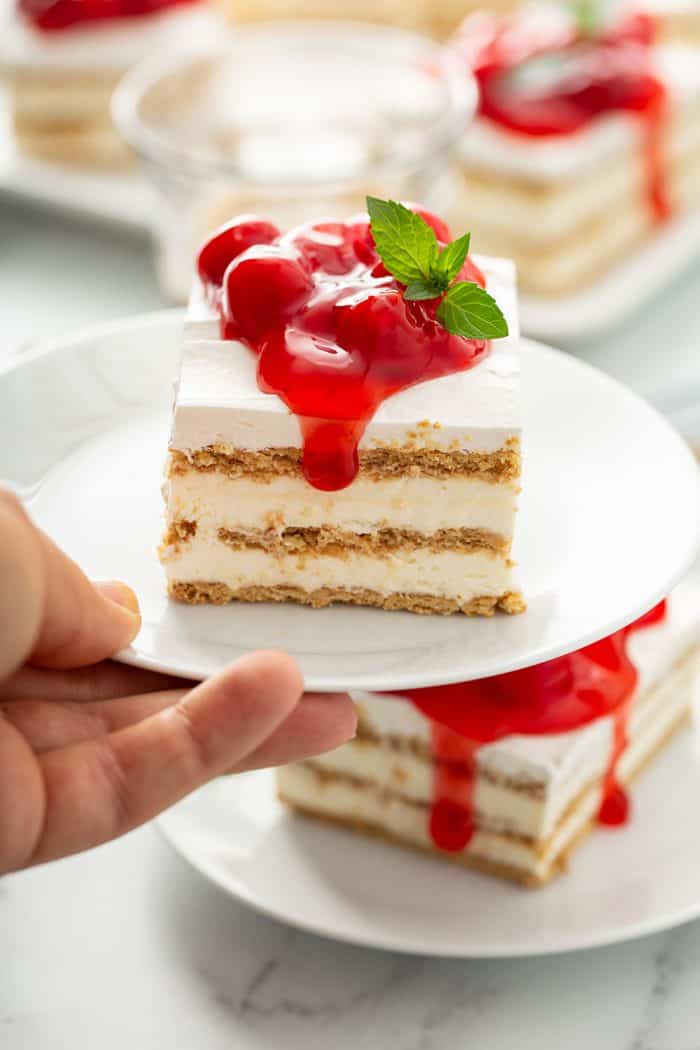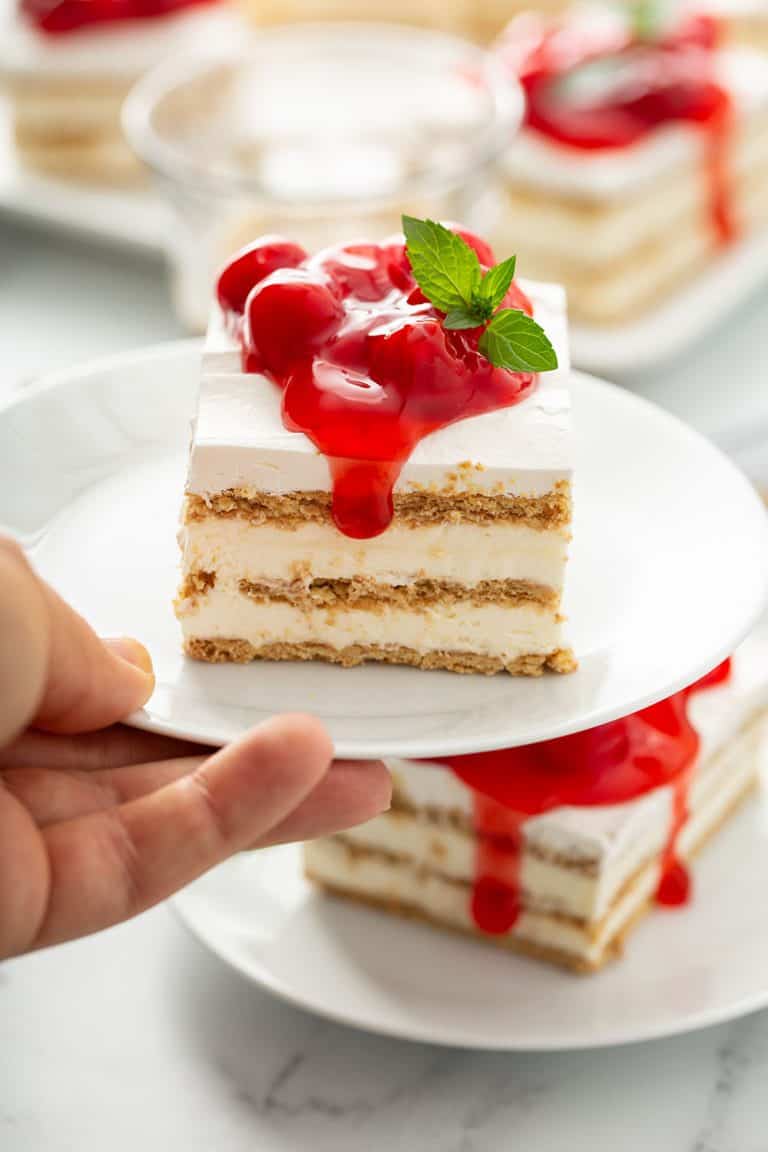 Just clean the knife off between each cut, running it back under the hot water as needed if it starts to cool off.
If you're still having trouble, try popping the eclair cake into the freezer for a few minutes before slicing. It'll help firm things up a bit before you take the knife to it.
But even if you don't have clean slices of this Cheesecake Eclair Cake, I can promise you it'll still taste absolutely delicious. And that's really the point, isn't it?