Pumpkin Spice Marshmallow Dip
Pumpkin Spice Marshmallow Dip is a sweet and fun addition to your holiday table. Grab gingersnaps, graham crackers, or your favorite cookie and dip away!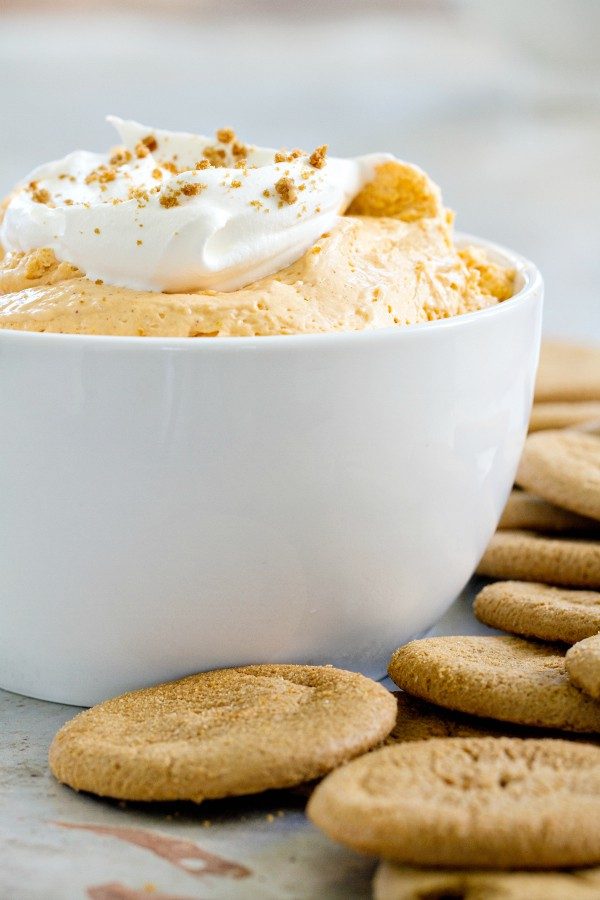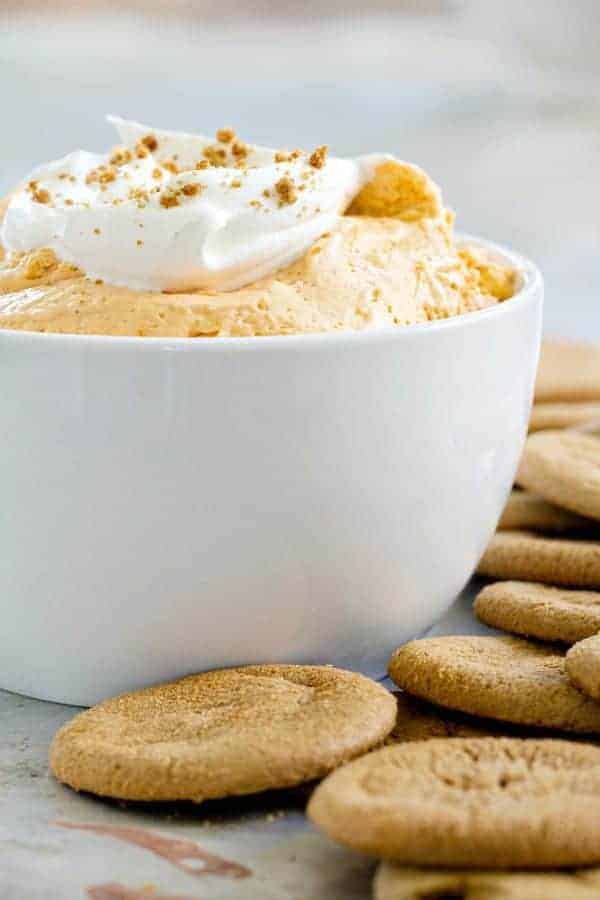 This is a sponsored post on behalf of Campfire® Marshmallows. All opinions are my own. Thank you for supporting the brands that continue to make My Baking Addiction possible.
Are you a dip person? I am very much a dip person. If you take me to a party, and there's a table of dips and a table of "real" food, I'll be standing at the dip table the whoooooole time.
Savory dips, spicy dips, dessert dips… they're all pretty much my jam. Anything I can dip a chip or cookie in? Hello, lover.
This Pumpkin Spice Marshmallow Dip combines everything I love about fall. Cozy pumpkin pie spice, delicious cookies, and a smooth, creamy dip that everyone at your Halloween or Thanksgiving party can adore. It's a total win, my friends.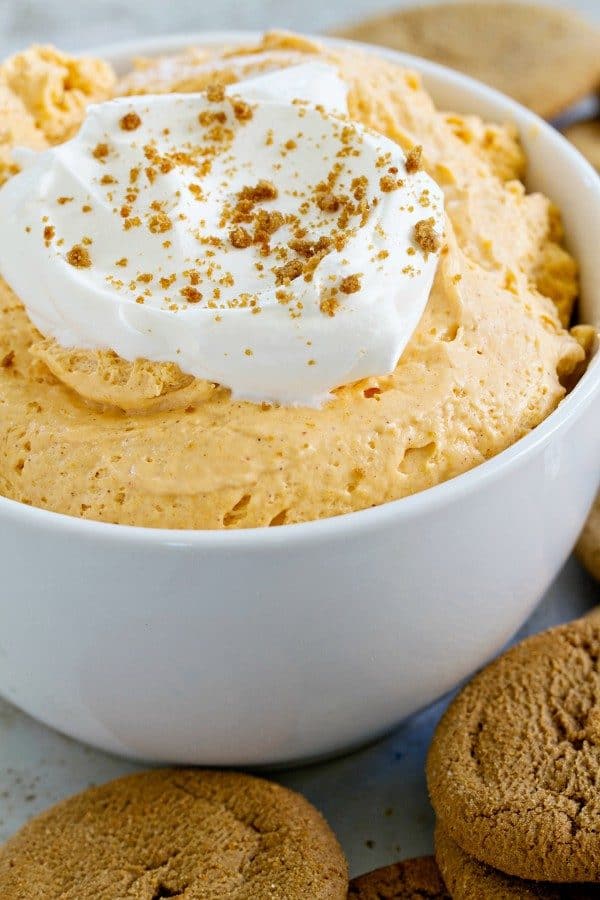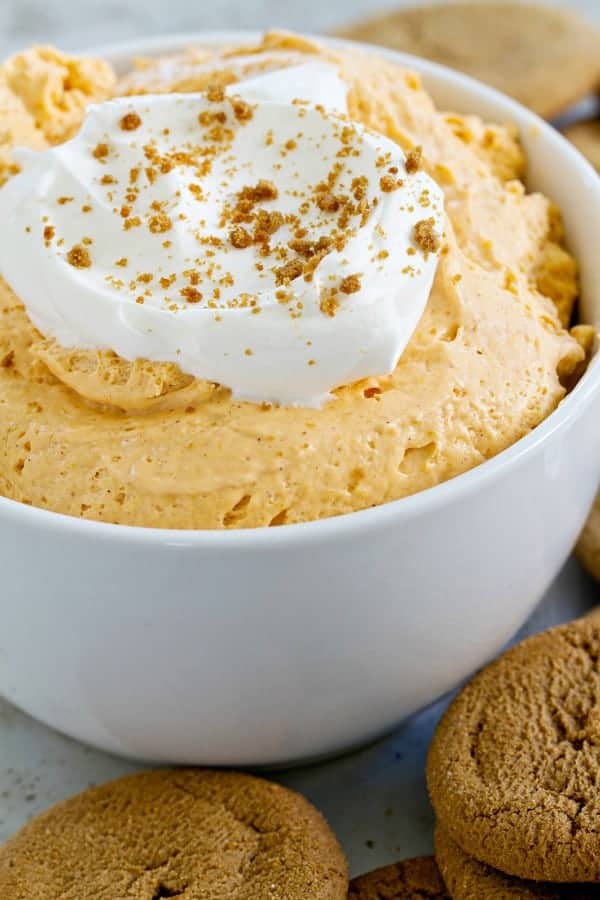 This is a super easy dip to make. Melted Pumpkin Spice Campfire® Marshmallows (sorry, cute little pumpkins, we need you all gooey and melty), cream cheese, pumpkin pie spice, vanilla, pumpkin puree and creamy whipped topping.
Mix them all together, and you've got the perfect dip for gingersnaps or sugar cookies, apple slices, or even pretzels if you like that salty sweet vibe.
Not gonna lie, this is also a delicious dip to whip up even when you don't have a party on the horizon. It'll keep in the fridge for a day or so, and is pretty much snacking nirvana.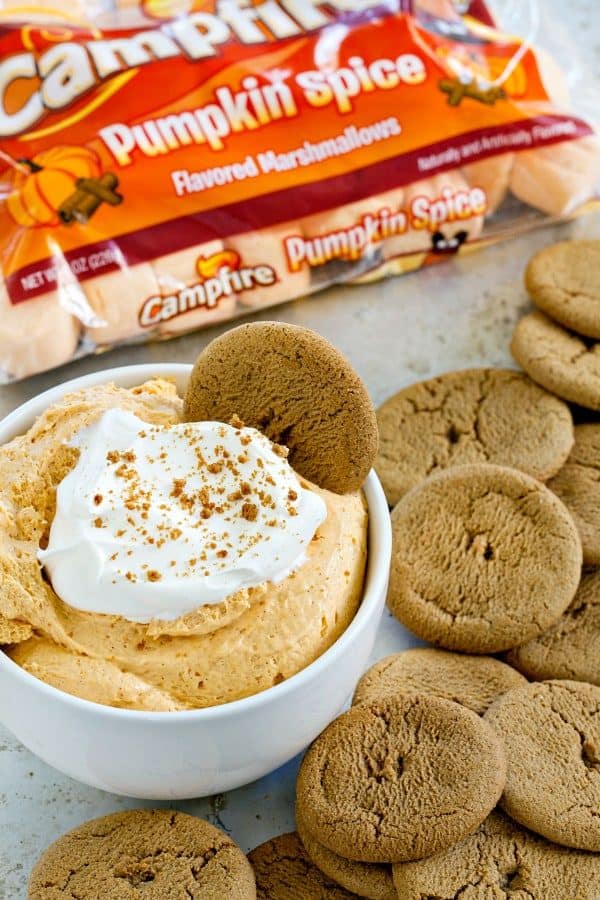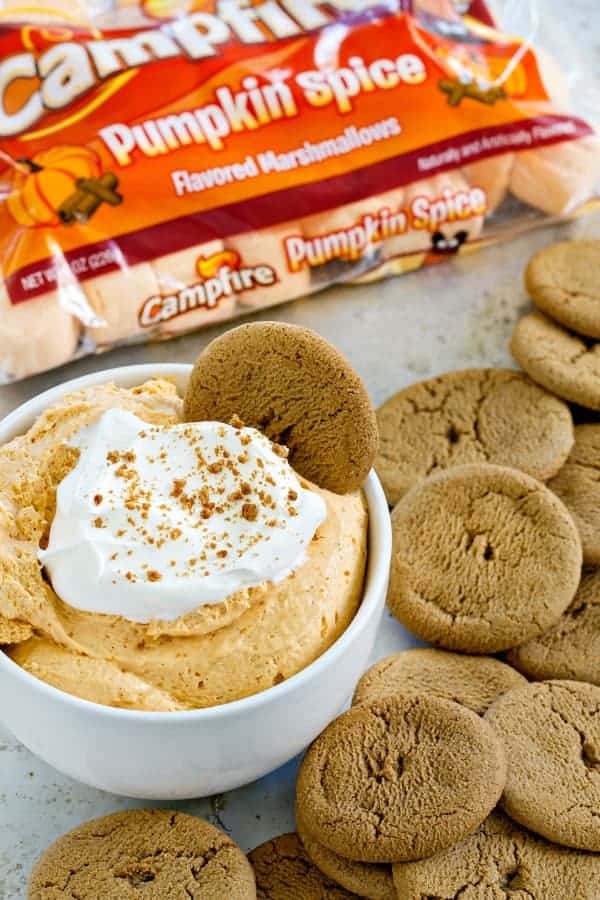 These sweet little Pumpkin Spice Campfire® Marshmallows would also be great tucked in a cup of hot chocolate, melted into a s'mores, or for handing to your littles when they want something sweet in the afternoon.
As you may remember, I'm partnering with Emily from Jelly Toast and Campfire® Marshmallows. You'll see more recipes from us, and even more exciting stuff as the year goes on.
We even created a Marshmallow Madness Pinterest board where we'll pinning loads of delicious marshmallow recipes for the holidays. Just like this delicious Cranberry Fluff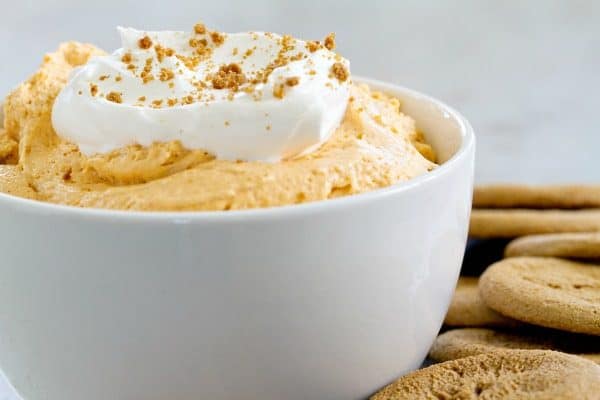 If you love marshmallow-y things as much as I do, be sure to check out my S'mores Cookie Cups and these Pumpkin S'mores Bars.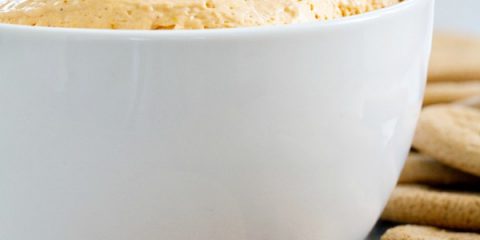 Yield: 12 servings
Pumpkin Spice Marshmallow Dip
Prep Time: 10 minutes
Additional Time: 2 hours
Total Time: 2 hours 10 minutes
Ingredients
1 8-ounce bag Campfire Pumpkin Spice Marshmallows
1 8-ounce package of cream cheese
1 1/2 teaspoons pure vanilla extract
1/2 cup canned pumpkin puree
1 8-ounce container whipped topping
Instructions
Place marshmallows in a large, deep microwave-safe bowl. Microwave on high power for 45-60 seconds. Marshmallows will puff up and begin to melt. Use a buttered spatula to stir the marshmallows until smooth. Set aside to cool for 5 minutes.
In a large bowl with an electric mixer, whip the cream cheese for about 2 minutes. Add in pumpkin pie spice, vanilla, and canned pumpkin puree and beat for an additional minute.
Use a buttered spatula to scoop the melted marshmallows into the cream cheese mixture and beat for an additional minute. Use a rubber spatula to fold in whipped topping.
Cover and refrigerate for at least 2 hours before serving.
Store leftover dip in the refrigerator for up to 2 days.
This post may contain affiliate links. We are a participant in the Amazon Services LLC Associates Program, an affiliate advertising program designed to provide a means for us to earn fees by linking to Amazon.com and affiliated sites.