Candied pecans are sweet, crunchy, bursting with cinnamon flavor, and totally snack worthy. They're perfect for topping salads and desserts or just munching by the handful.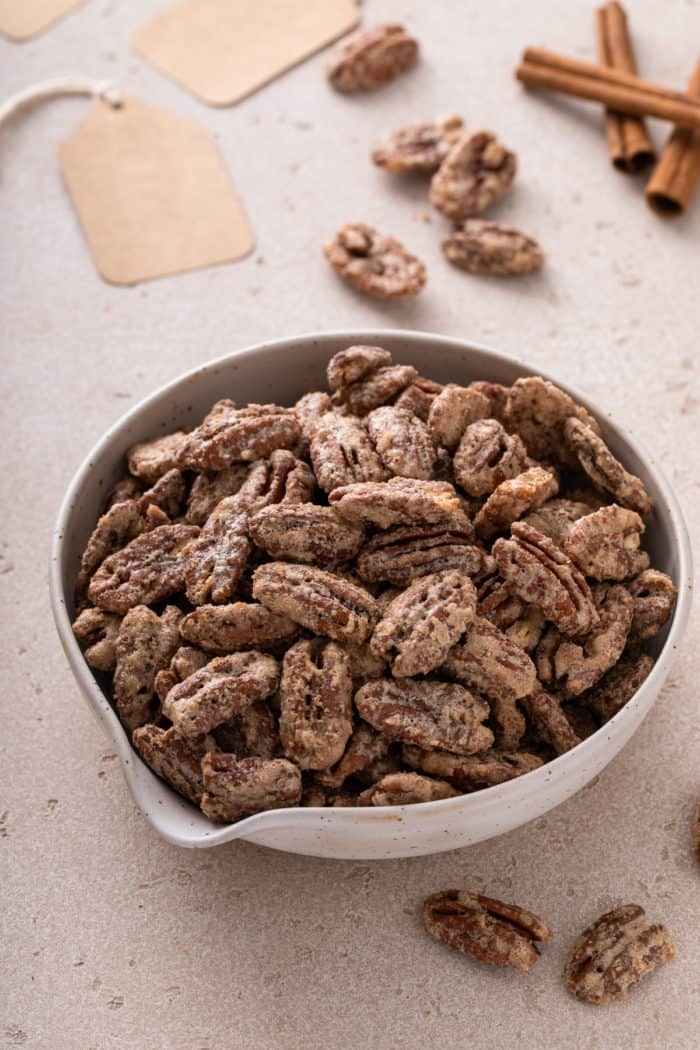 Anyone else remember the days when the mall was *the* coolest place to be?
I remember before being able to drive, getting together with my friends and having one of our parents drop us off to hang out at the mall. Sometimes we shopped, sometimes we hung out in the food court, and we probably always annoyed the adults who were working there.
The holidays were of course the biggest and best time to be at the mall. Aside from getting your shopping done, you could soak in the decorations and music and the best part: the smell of cinnamon nuts roasting in those little kiosks.
To this day, nothing smells quite as much like Christmas as those candied nuts. There were usually a few different types, but pecans were always the most popular.
The mall may not be the cool place to be anymore (if your town even still has one!), but candied pecans? They still make me feel like it's the Christmas season – I just make them at home now.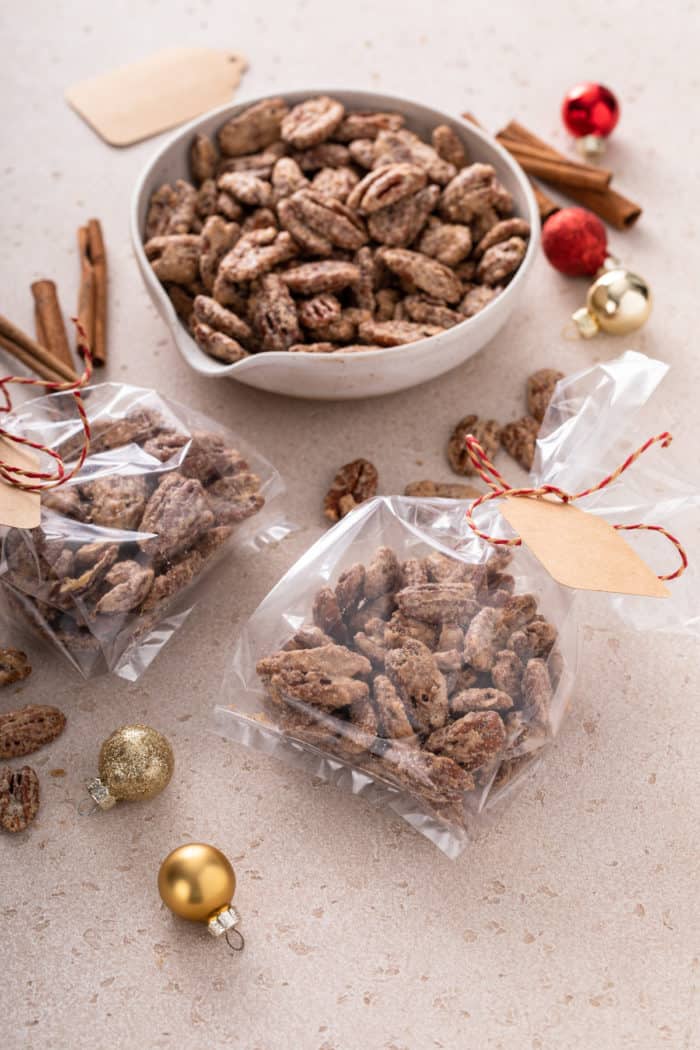 WHAT ARE CANDIED PECANS?
If you weren't a mall rat teenager or you avoided shopping there during the holidays, you might have missed out on the amazingness of these sweet, cinnamony nuts.
Candied pecans are pecans that have been coated in a sweet cinnamon and sugar mixture and are then roasted until the nuts are toasted and fragrant and the sugary coating hardens.
The result is pecans that are super crunchy with just the right amount of sweetness and a ton of cinnamon flavor. Not to mention that they make your house smell amazing!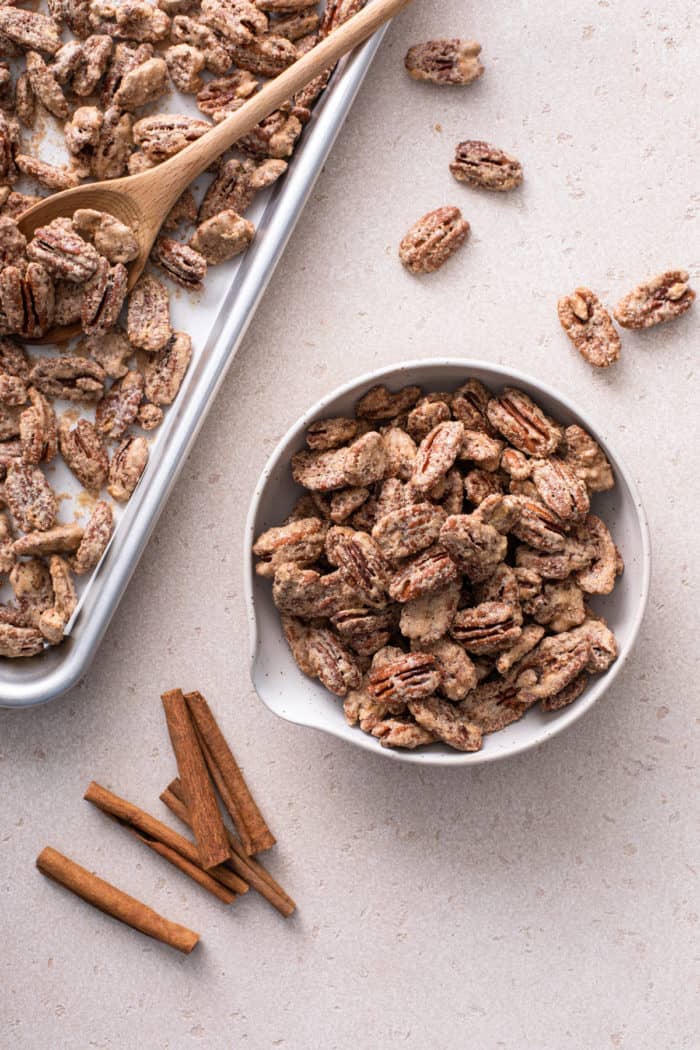 MAKING THIS RECIPE
If you've never made candied nuts before, the process couldn't be easier and it requires just a handful of ingredients that you probably have on hand already.
Ingredients you'll need
You'll only need 6 ingredients to make these candied pecans:
Granulated sugar: For a pound of pecans, we'll use ½ cup of granulated sugar for just the right amount of sweetness.
Ground cinnamon: 1 teaspoon of cinnamon gives us a great flavor and aroma in these pecans. If you want to bring some other spice flavors into the mix, try making chai spiced pecans or make spiced pecans for a less sweet variation.
Salt: Salt helps balance out the sweetness of the recipe and enhance the flavor of the cinnamon.
Egg white: Beating an egg white until it is frothy is what helps the cinnamon-sugar mixture to stick to the nuts while baking.
Vanilla extract: Vanilla makes so many things taste even better! You can use your favorite brand of vanilla or use homemade vanilla extract.
Pecan halves: The heart of this recipe is the pecans! I like to pick up a big bag of pecan halves at Costco prior to the holidays so I can make multiple batches of these candied pecans.
Can you use other nuts?
Don't love pecans? No problem!
This recipe would be amazing with whole almonds or cashews, too! Or grab a pound of your favorite mixed nuts for a combo.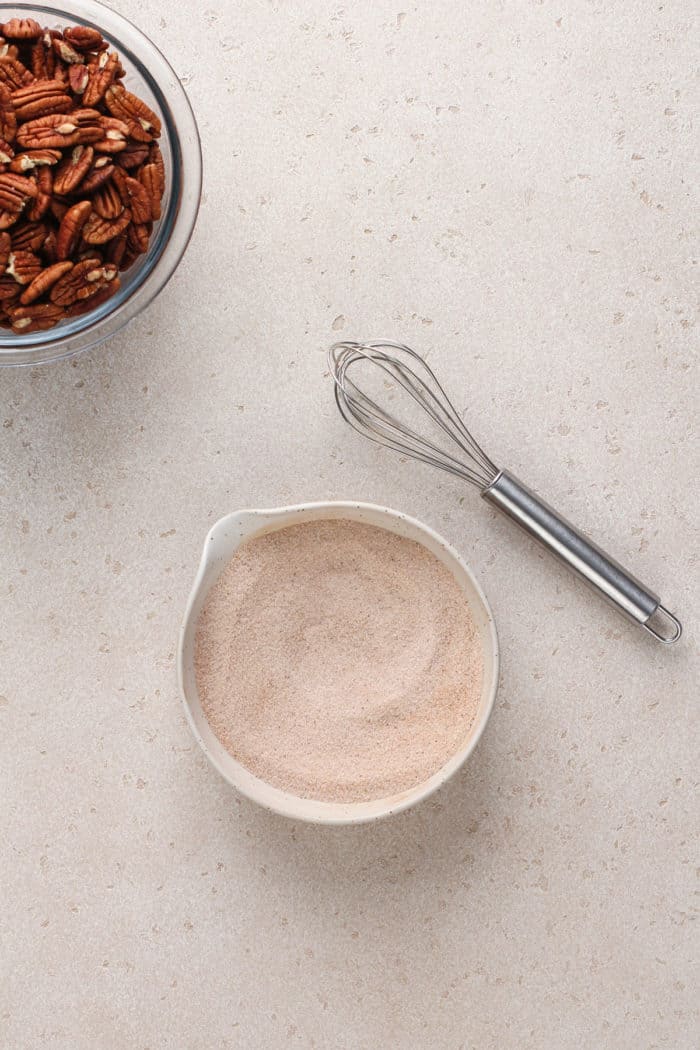 Making candied pecans
First, mix together the sugar, cinnamon, and a pinch of salt. Set this aside.
Whisk together the egg white and vanilla until frothy. You can do this by hand (it should only take a few minutes), or use your electric mixer to do it really quickly.
Fold the nuts into the egg whites, then add in the cinnamon-sugar mixture. Stir until the nuts are really well coated.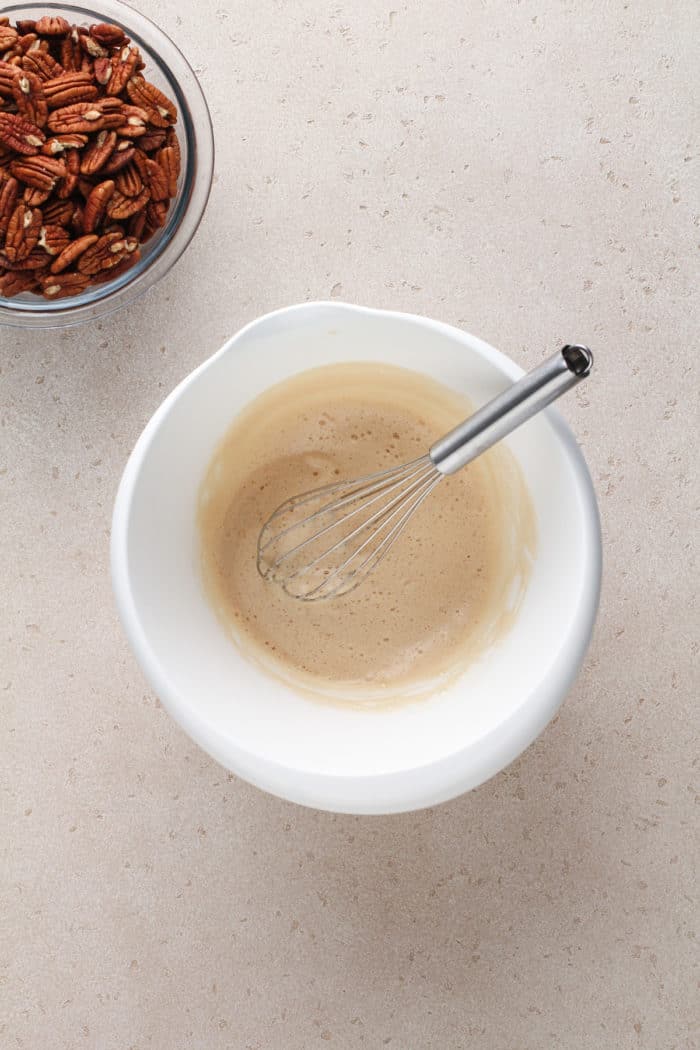 Spread the mixture out onto a lined baking sheet. These bake low and slow – bake them for an hour, stirring them every 15-20 minutes as they bake.
The pecans will still be sticky while baking, but when they are done they will be super fragrant and the sugar coating will be dry.
These are very hot when they come out of the oven, thanks to the sugar coating, so make sure you let them cool before digging in.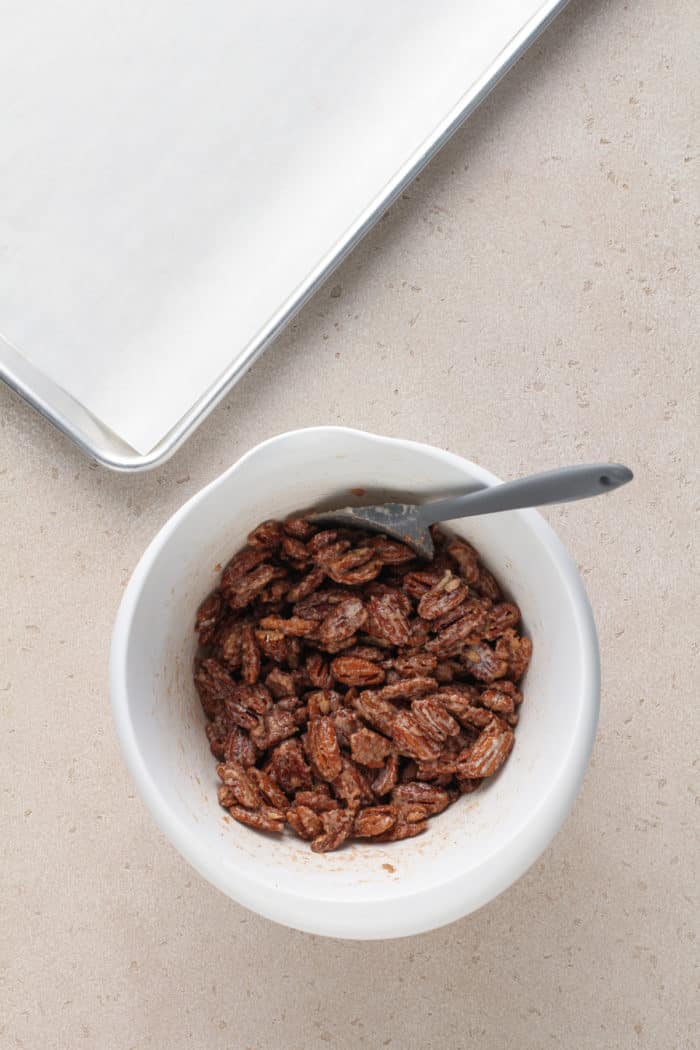 WAYS TO ENJOY CANDIED PECANS
If you're like me, you'll eat the entire batch straight from the container into your mouth over the course of 2 days. But I have some other ideas for you, too!
Candied pecans make a great topper for salads, yogurt parfaits, ice cream sundaes, or even your morning peanut butter toast or with cream cheese on a bagel.
They also make a great gift! Package them up in a jar and pop them into a basket alongside some homemade peanut brittle and homemade marshmallows for a gift perfect for anyone with a sweet tooth.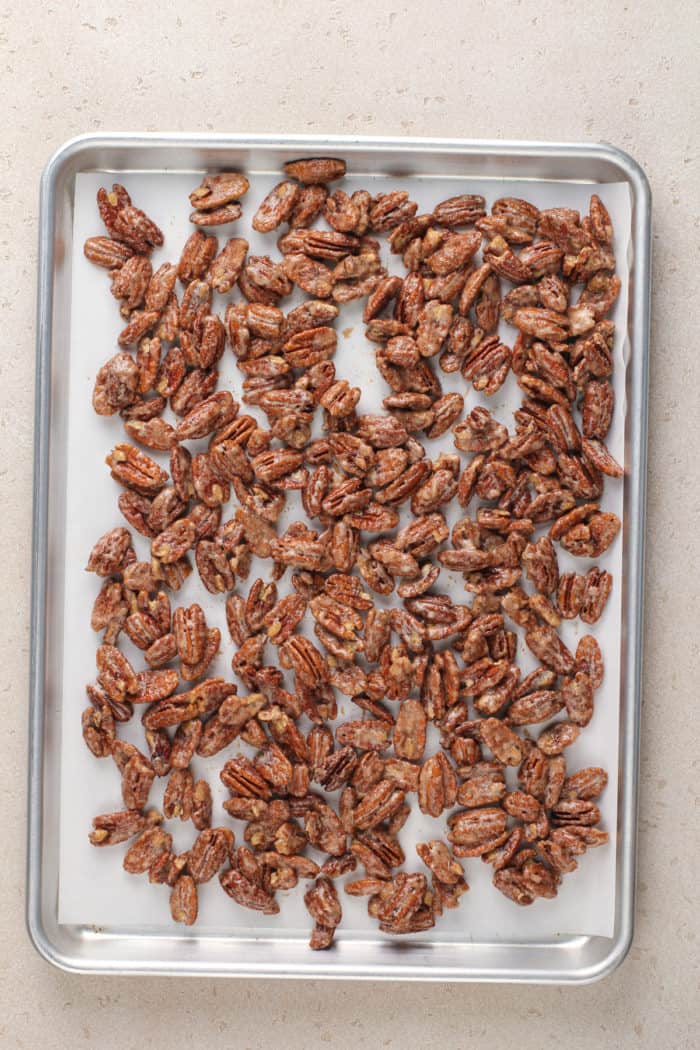 STORAGE
Store your candied pecans in an airtight container. They will last for about a month at room temperature, or for about 3 months in the freezer.