Candied Pecans are sweet, crunchy and totally snack worthy. They're perfect for topping salads, desserts, or just munching by the handful.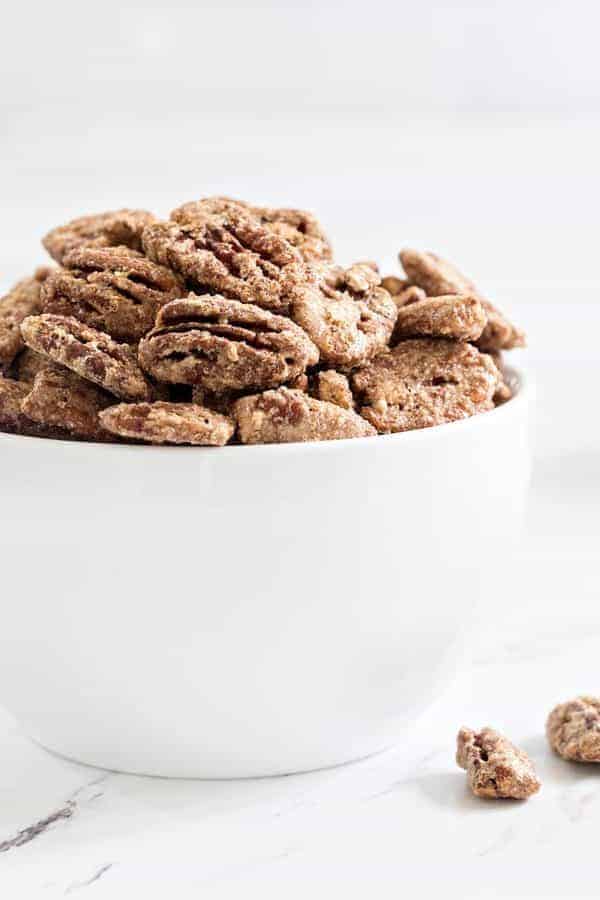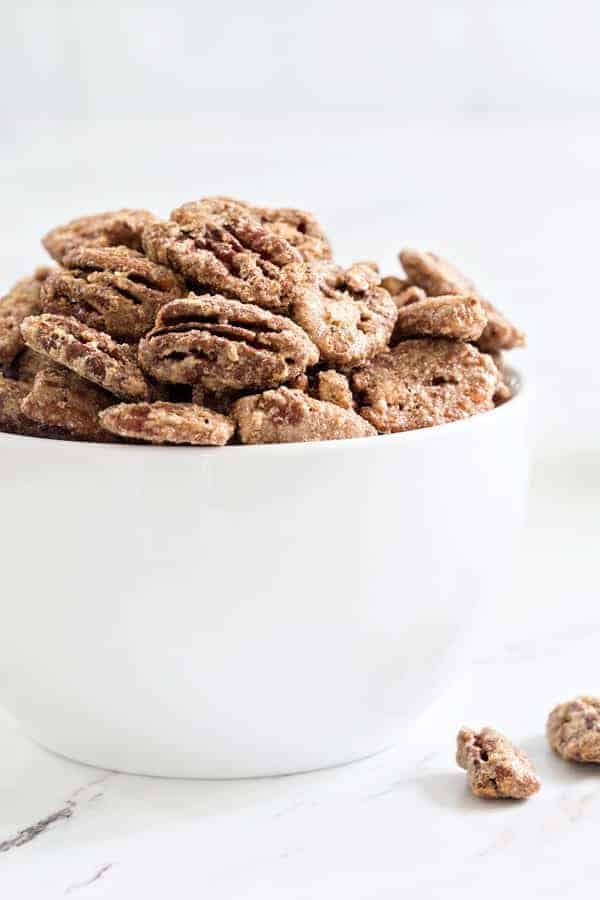 I am not sure what the weather is like in your neck of the woods, but we've been experiencing fall-like weather here in Ohio for the last 3 days.
The temperature hasn't been above 65 degrees and the breeze is definitely crisp. Meanwhile, my step-mom is in Las Vegas and said it was almost 120 degrees the other day.
If I'm being honest, I'm kinda lovin' the cooler temps even though it means we're taking a break from hanging by the pool.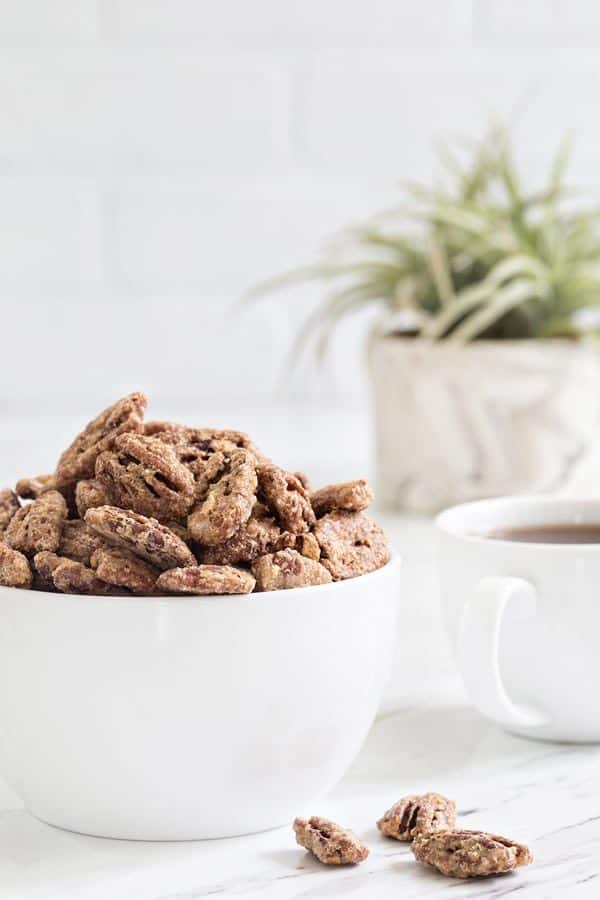 Instead we're able to enjoy Elle's new playset without sweating our booties off. Although, now that I'm thinking about it, I could definitely stand to sweat off a bit of my bootie.
It's so interesting how the weather can completely shift the foods I'm craving. Instead of my morning iced coffee, I've been having a cup of my favorite cinnamon tea which I'm pretty sure played a part in me also craving candied pecans on allthethings.
If you've never made candied nuts before, the process couldn't be easier and it requires just a handful of ingredients that you probably have on hand already.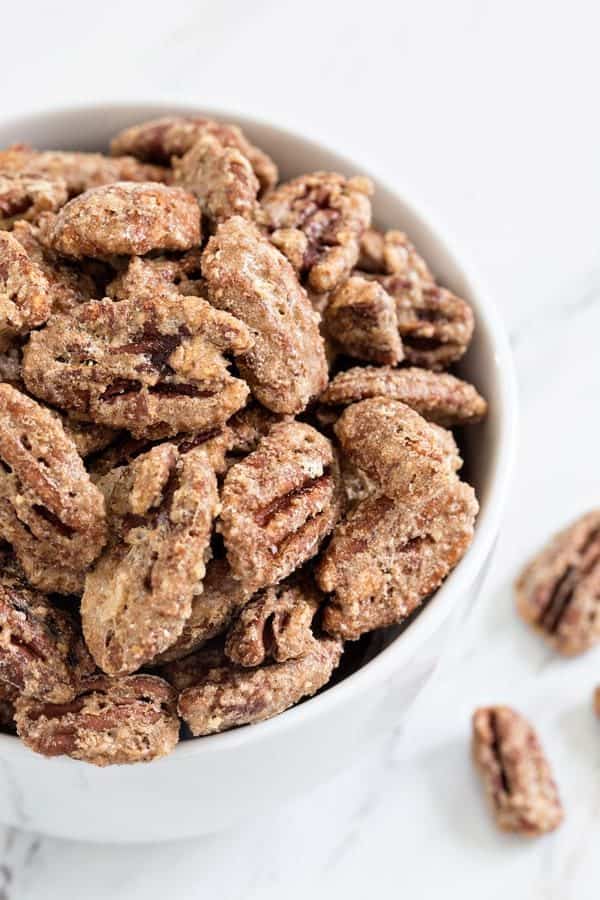 You start by mixing up some sugar, cinnamon and a pinch of salt. If you want a really delish sweet and salty combo, just increase the salt a bit.
Then you whisk up an egg white with some vanilla, stir in the nuts, and toss them in the yummy cinnamon and sugar mixture. Then you bake them at a low temp for about an hour until they're perfectly sweet and crunchy.
Let them cool and add them on top of everything you can think of. From yogurt parfaits and ice cream sundaes to spinach salad and pasta salad, these candied pecans are sure to become one of your new favorite toppers.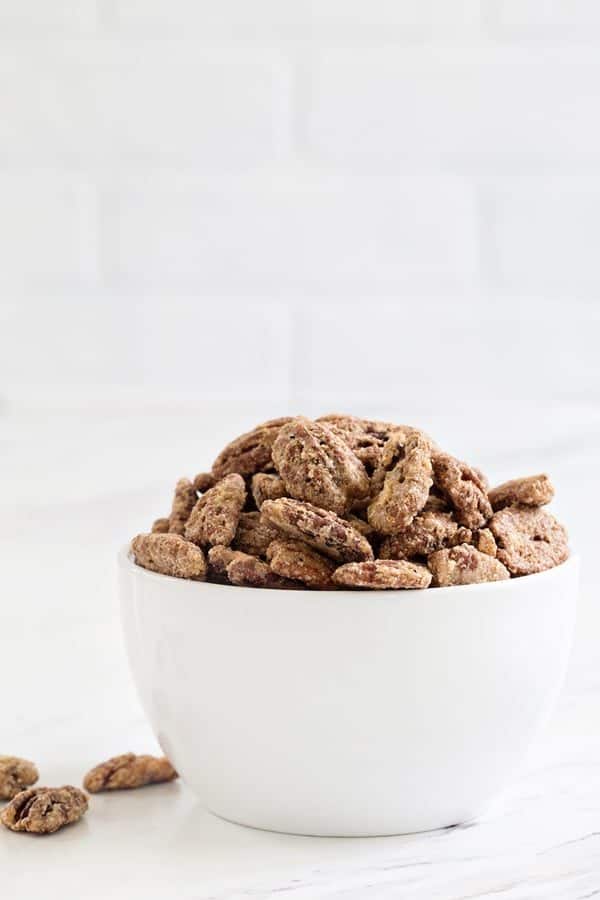 And no judging here if you eat the entire batch straight from the container into your mouth over the course of 2 days, because I pretty much did just that!
These are also a really fantastic way to add crunch on top of your morning peanut butter toast or with cream cheese on a bagel. If you're feeling spicy, you could even add a pinch of cayenne and give your candied nuts a kick in the pants.
These will last for about a month in an airtight container, or three in the freezer – if you don't eat them all first!
For more delicious snack recipes, be sure to check out this Sweet & Spicy Snack Mix and this Coconut Pecan Granola.