Homemade Vanilla Marshmallows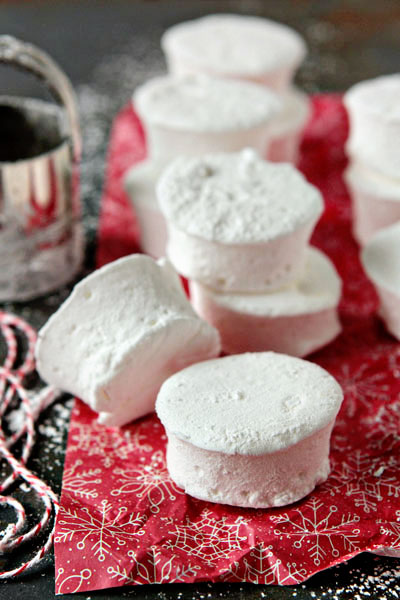 I have been enjoying marshmallows since I've been old enough to chew. I've never been really picky as to what types of marshmallows I'll indulge in. I'm content with them straight out of the bag or melted between two graham crackers. And I'm pretty much a self-professed Peeps addict – as long as they're stale – yep, you read that right – stale.
When I decided to make my own hot chocolate mix as an edible gift idea, I thought that homemade vanilla marshmallows were only a natural accompaniment. I mean what's hot chocolate without the marshmallows, right?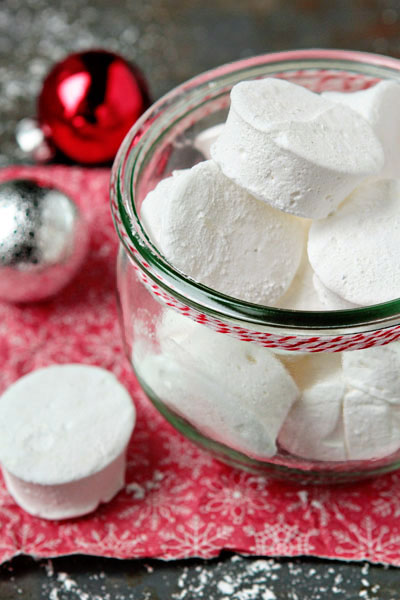 I always anticipated that making marshmallows would result in sticky catastrophe and that I'd end up with less than delicious marshmallows. However, I can honestly tell you that after having one – or 5 of these homemade vanilla marshmallows, it may be a little difficult going back bagged version from the grocery store.
These marshmallows had such a rich and velvety texture – I couldn't stop making hot chocolate as an excuse to eat more! Also, the recipe is easily adapted just in case you're interested in adding a little something-something into the mix. Really the possibilities are endless, but I'm thinking some peppermint extract would be the perfect, festive twist.

Homemade Marshmallows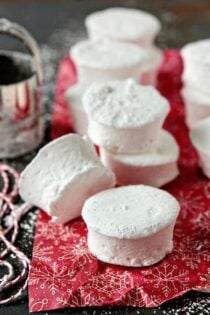 Ingredients:
3/4 cup water, divided
3 (.25 ounce) packages unflavored gelatin
2/3 cup light corn syrup
2 cups white sugar
1 tablespoon *vanilla extract
1/4 cup cornstarch
1/4 cup confectioners' sugar
Directions:
1. Line a 9x9 inch baking dish with plastic wrap and spray with non-stick cooking spray. Spray another piece of plastic wrap to cover the top, and set aside.
2. Place 1/2 cup of water in the bowl of an electric mixer fitted with the whisk attachment, and sprinkle gelatin on top of water to soak.
3. While gelatin is soaking, combine 1/4 cup of water, corn syrup, and sugar in a saucepan. Bring the mixture to a boil over medium heat. Boil the mixture hard for 1 minute.
4. Carefully pour the hot sugar mixture into the gelatin mixture and beat on high for 12 minutes with electric mixer, until the mixture is fluffy and forms stiff peaks. Add in vanilla extract and beat until just combined.
5. Pour the marshmallow mixture into the prepared baking dish, using a greased spatula to smooth the top. Cover the candy with the piece of prepared plastic wrap, pressing it down lightly to seal the covering to the top of the candy.
6. Allow the marshmallow candy to rest for 4 hours or overnight. Mix together cornstarch and confectioner's sugar in a shallow dish. Using oiled scissors or an oiled kitchen knife, cut the marshmallow candy into strips, then into 1 inch squares. Dredge the marshmallows lightly in the cornstarch mixture and store in an airtight container.
Notes:
- For a peppermint twist, add in 1/2 teaspoon of peppermint extract with the vanilla extract.
- I used clear vanilla extract because I wanted to maintain a bright white color.
- I used a small, round, biscuit cutter to cut my marshmallows.
Source: My Baking Addiction adapted from allrecipes.
All images and text ©
Follow Jamie on Instagram. We love to see what you're baking from MBA! Be sure to tag @jamiemba and use the hashtag #mbarecipes!
This post may contain affiliate links. We are a participant in the Amazon Services LLC Associates Program, an affiliate advertising program designed to provide a means for us to earn fees by linking to Amazon.com and affiliated sites.