Homemade Marshmallows will absolutely change the way you view marshmallows. These sweet, flavorful, soft candies are infinitely better than what you'd buy at the grocery store. They make a great gift or addition to any s'more or cup of hot cocoa.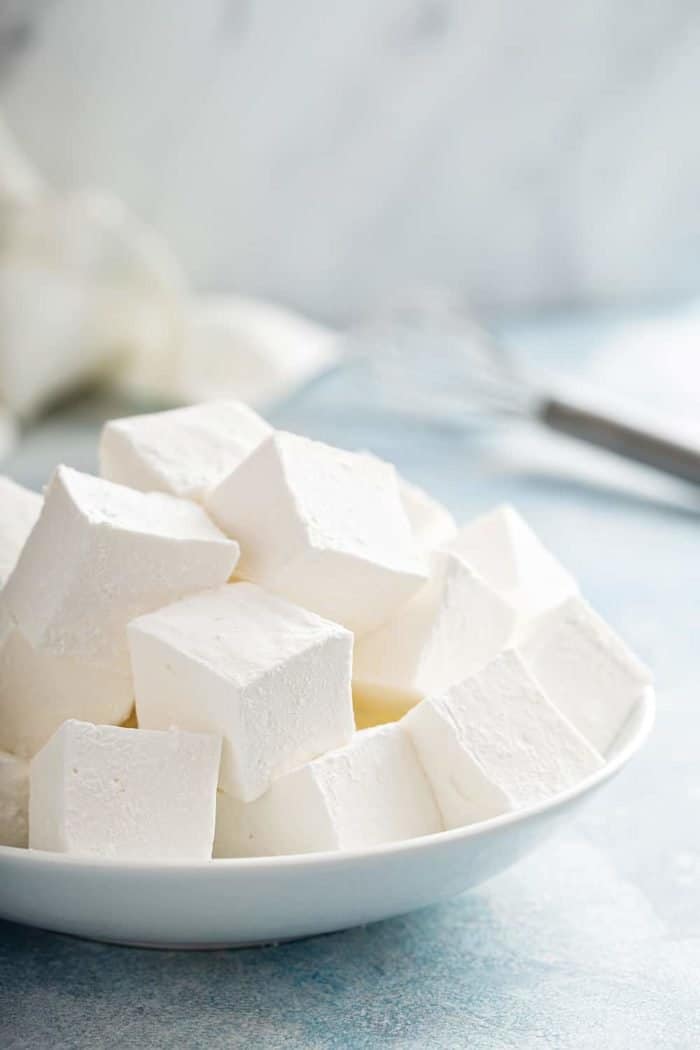 If you happened to catch my post yesterday for Citrus Poppy Seed Cake, you may remember me telling you guys that Elle is going through quite the phase with fresh oranges.
Well, she's also in a serious hot cocoa phase as well – 'tis the season. We've even made hot cocoa bombs, which are actually way easier than they may seem. And they're a great little project on a cold afternoon.
The other day I came downstairs to find Elle in the kitchen filming a tutorial on her iPad so she could "teach people how to make her FAMOUS peppermint hot cocoa." I mean, the girl was taking it pretty seriously and even pulled out the mallet to crush the candy canes to make her "secret topping" – which is basically candy cane dust.
So what better way to indulge her hot cocoa phase than with a batch of homemade marshmallows?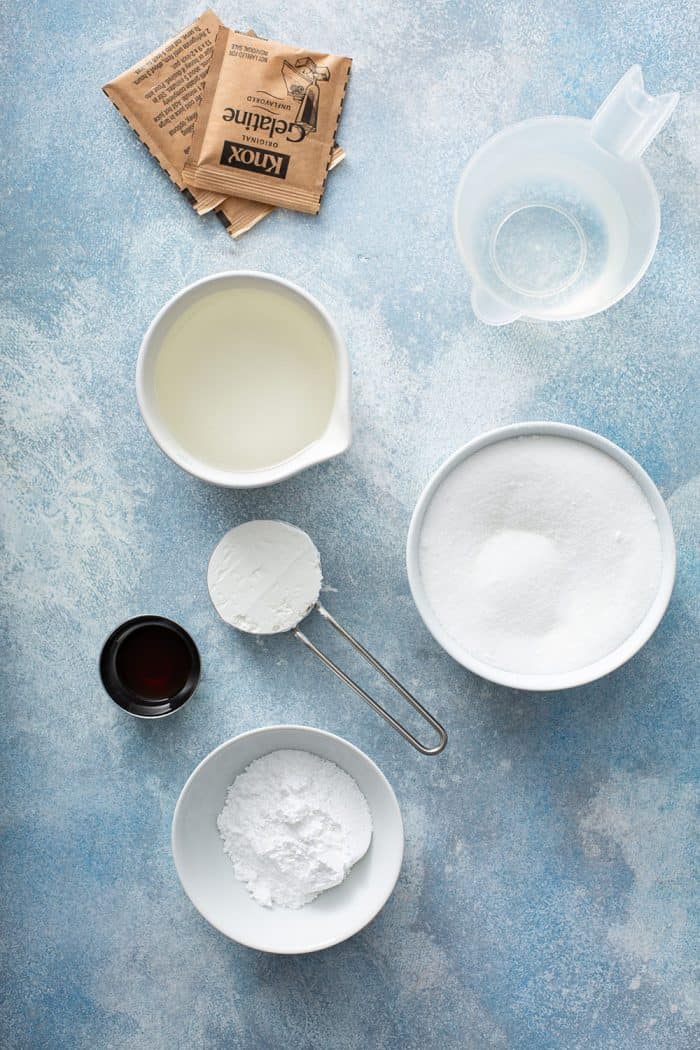 ARE HOMEMADE MARSHMALLOWS WORTH IT?
I have been enjoying marshmallows since I've been old enough to chew. I've never been really picky as to what types of marshmallows I'll indulge in.
I'm content with them straight out of the bag or melted between two graham crackers. Or between two cookies for salted caramel s'mores.
And I'm pretty much a self-professed Peeps addict – as long as they're stale. Yep, you read that right. Stale.
When I decided to make my own hot cocoa mix to gift to friends, I thought that homemade vanilla marshmallows were only a natural accompaniment. I mean what's hot chocolate without the marshmallows, right?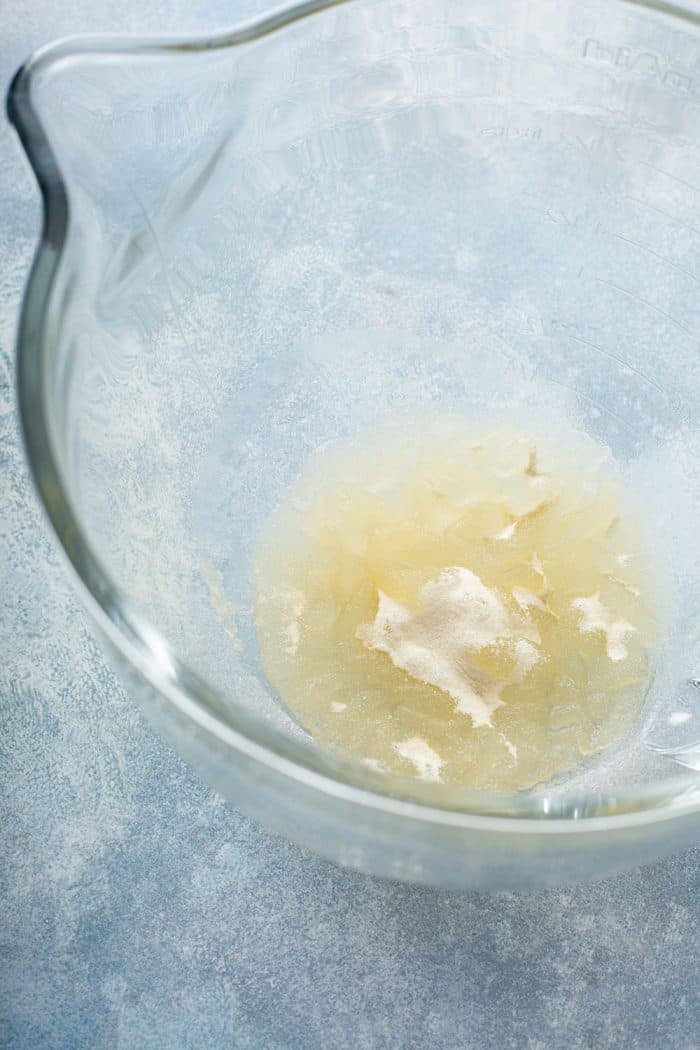 I always anticipated that making marshmallows would result in sticky catastrophe and that I'd end up with less-than-delicious marshmallows. How could it be worth the effort?
However, I can honestly tell you that after having one – or 5 – of these homemade marshmallows, it may be a little difficult going back to the bagged version from the grocery store.
These homemade marshmallows have such a rich and velvety texture. I couldn't stop making hot chocolate as an excuse to eat more!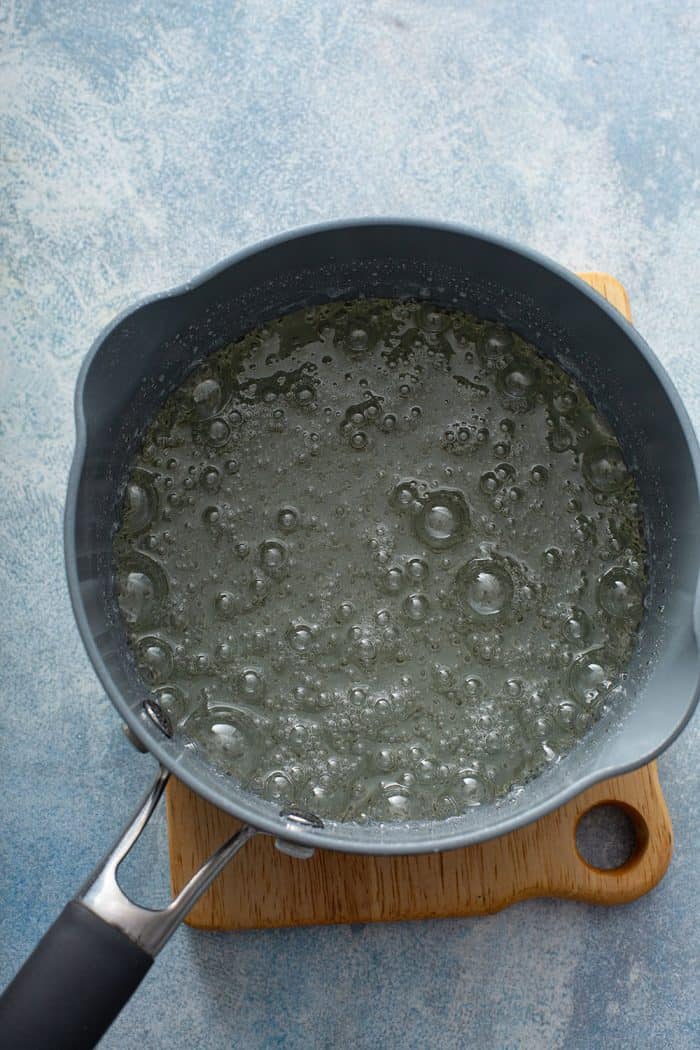 HOW TO MAKE MARSHMALLOWS
Making these marshmallows isn't hard. You just have to know the steps to take.
Any time I make candy, whether it's Pecan Brittle or these soft bites of heaven, I always measure out all of my ingredients and have them ready to go before I get started:
3/4 cup water, divided
3 (.25 ounce) packages unflavored gelatin
2/3 cup light corn syrup
2 cups granulated sugar
1 tablespoon vanilla extract
1/4 cup cornstarch
1/4 cup confectioners' sugar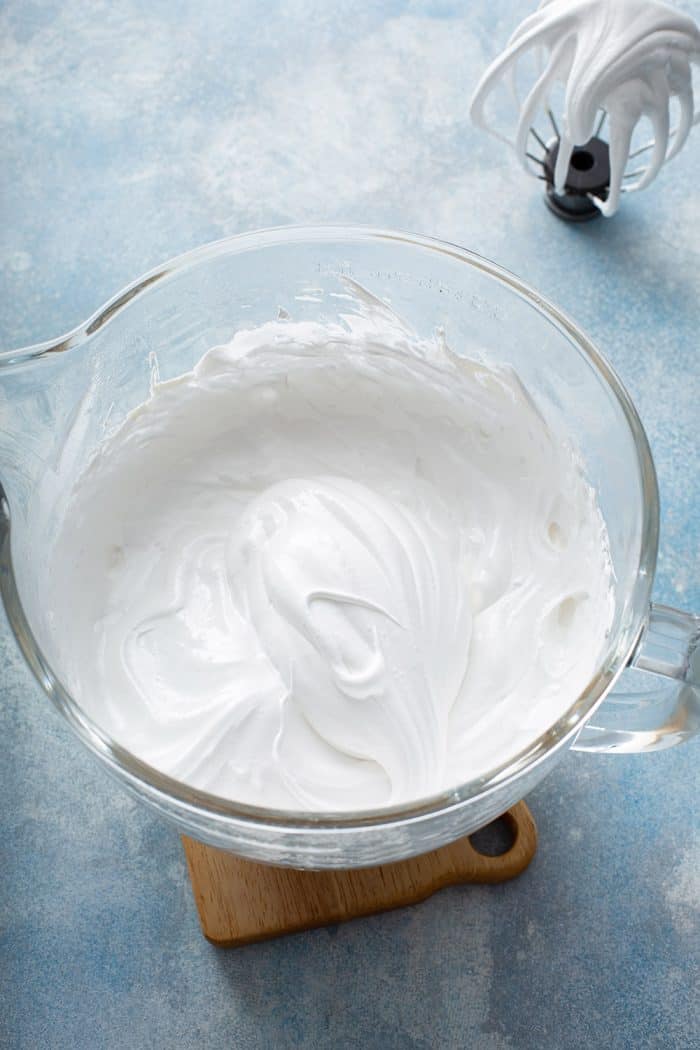 Start by lining a 9×9-inch baking dish with plastic wrap and spray it liberally with nonstick cooking spray.
Put ½ cup of the water in the bowl of a stand mixer fitted with the whisk attachment. Sprinkle the gelatin over the top of the water to soak. Don't stir it!
While the gelatin is soaking, add the other ¼ cup of water, corn syrup, and granulated sugar in a saucepan over medium. Bring the mixture to a boil and then let it boil hard for 1 minute.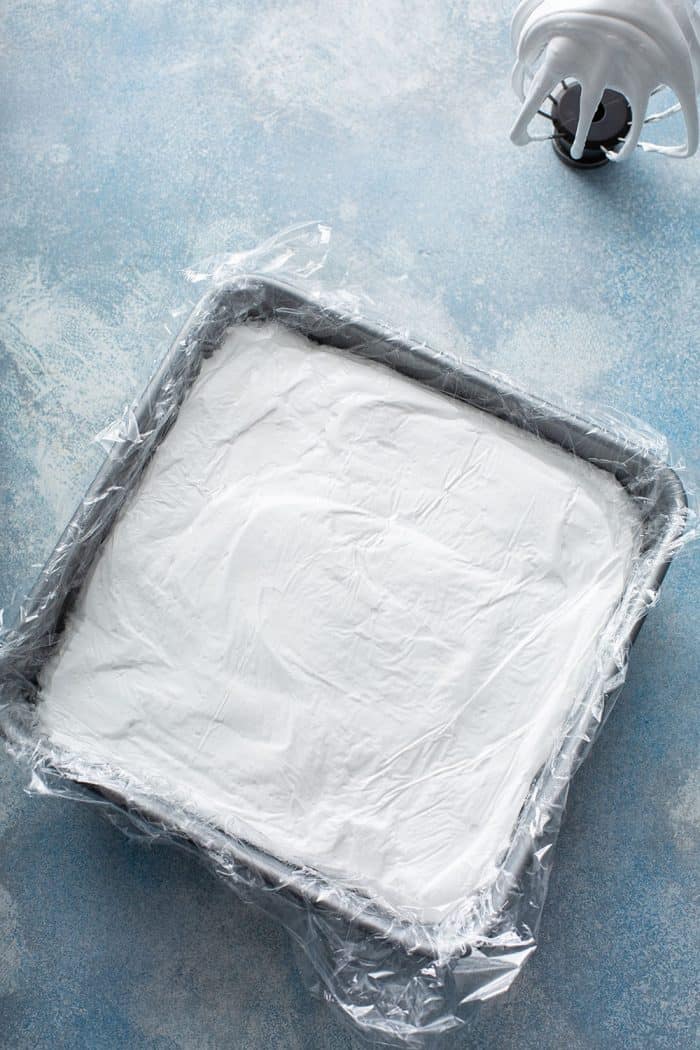 Here's where you need a bit of coordination and a steady hand!
VERY carefully pour the hot sugar mixture into the gelatin mixture and beat on high speed for 12 minutes. Yes, 12 minutes!
Beat until the mixture is fluffy and forms stiff peaks. Add in the vanilla extract and beat until just combined.
Pour the marshmallow mixture into the prepared baking dish and use a greased spatula to smooth the top. The mixture is super, super sticky, so make sure anything you touch it with is greased with the nonstick spray.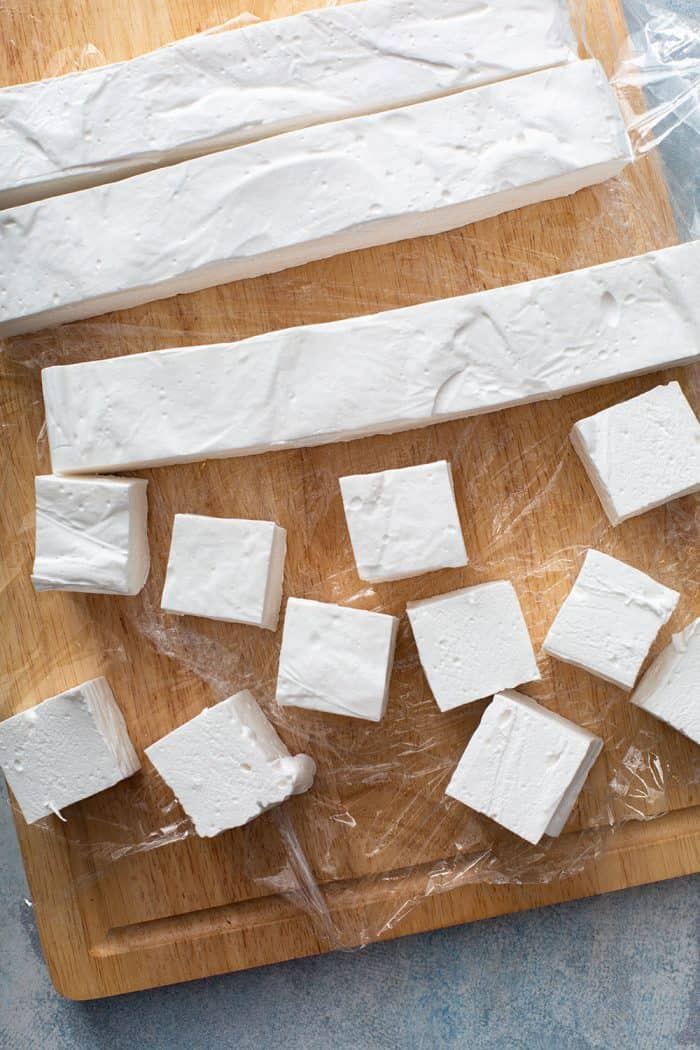 Place a piece of greased plastic wrap on top of the candy, pressing it down lightly to seal it to the top of the marshmallow.
And now we wait! Let the candy rest for at least 4 hours or overnight.
Later that evening (or the next day), mix together the cornstarch and confectioners' sugar in a shallow bowl. Use oiled scissors, an oiled knife, or even an oiled pizza cutter to cut the marshmallow into strips and then into 1-inch squares.
Dredge the candies lightly in the cornstarch mixture and store in an airtight container.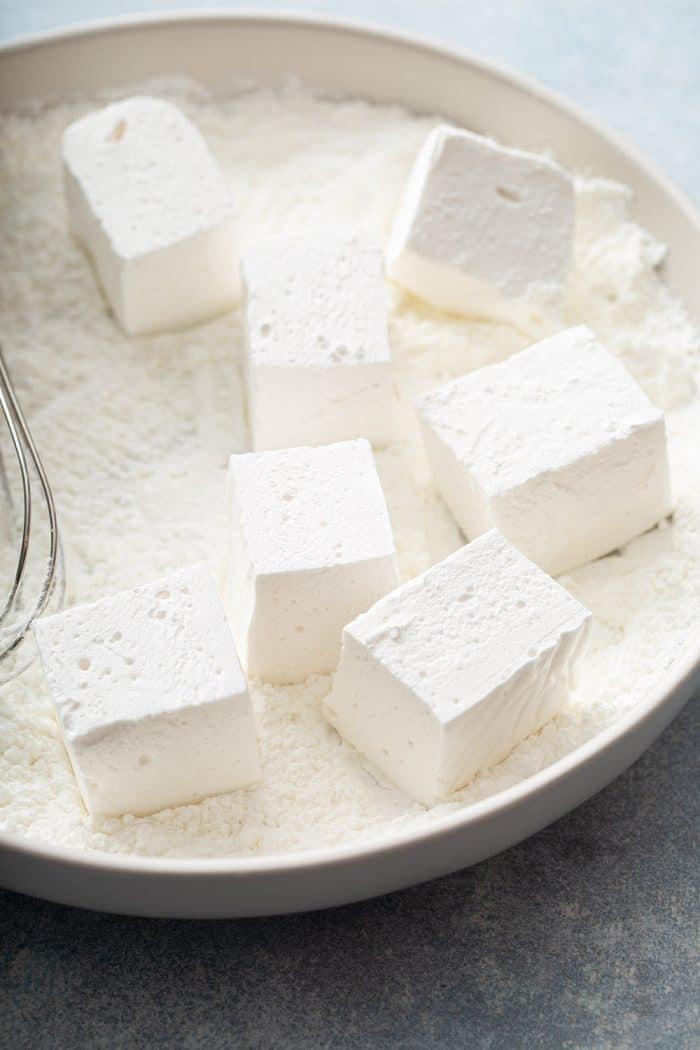 HOW TO CHANGE UP THIS RECIPE
I love these marshmallows just the way they are. They're sweet and the vanilla flavor is just perfect.
But because they are a bit of a blank slate, it's easy to make them your own by adapting the recipe a bit!
Here are some fun ways to change up this recipe:
Add ½ teaspoon of peppermint extract along with the vanilla extract for a festive touch.
Add powdered freeze-dried strawberries or raspberries to the cornstarch and confectioners' sugar dredge for a fruity twist, like in strawberry marshmallows.
Add a few drops of food coloring for some pretty pastel colors.
Add in confetti sprinkles with the vanilla to coordinate with any holiday or occasion.
Use small oiled cookie cutters to cut them into shapes such as hearts or stars.
Dip them in chocolate for chocolate-covered marshmallows.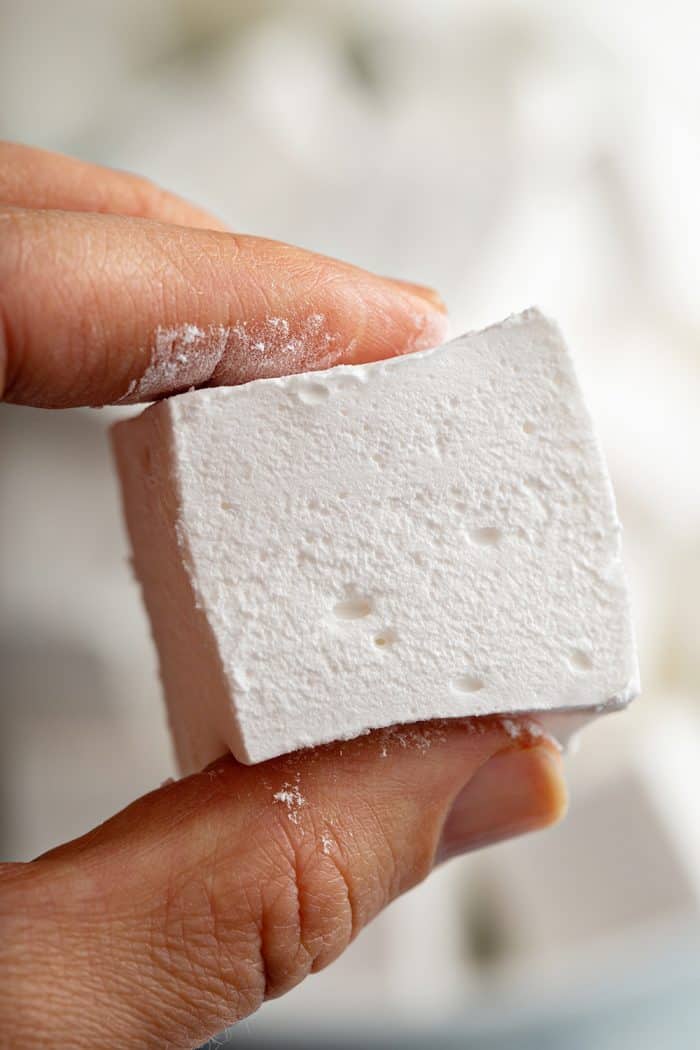 WHAT TO DO WITH HOMEMADE MARSHMALLOWS
So what do you do with homemade marshmallows?
I mean, eating them straight from the container is always an option!
They also make incredible s'mores and would be heavenly on top of a s'mores cheesecake or marshmallow strawberry shortcake.
And they'll make the best cup of hot chocolate you've ever had.
Don't forget that they'd make a super special holiday gift! Package them up – either on their own or along with the fixings for hot chocolate or s'mores – and ruin all of your friends for marshmallows, too.