Pecan Brittle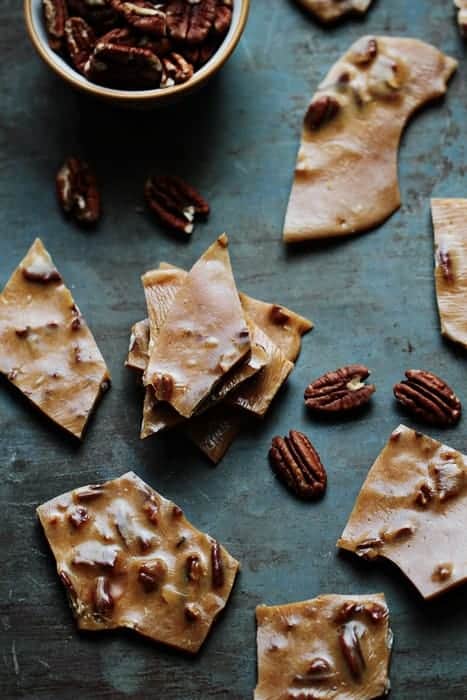 A delicious, sweet and buttery homemade brittle that is loaded with pecans and a hint of cinnamon.
Although I don't make or indulge in peanut brittle very often, there's something incredibly nostalgic about the sweet, buttery confection that takes me back to holiday baking with with my grandma. She would always have tins of peanut brittle and ribbon candy to snack on while we baked cookies, pies and pumpkin rolls. Definitely the recipe for a pretty intense sugar coma, but as a kid, I loved every single second of it.
As I've progressed through the 3rd trimester of my pregnancy, I've started having random cravings for sweets that I associate with my childhood. From rainbow sherbet floats and salt water taffy to – you guessed it – peanut brittle. Instead of sending Eric to the store for a box of brittle, I decided to get in the kitchen, arm myself with my favorite thermometer and a Silpat and make my own.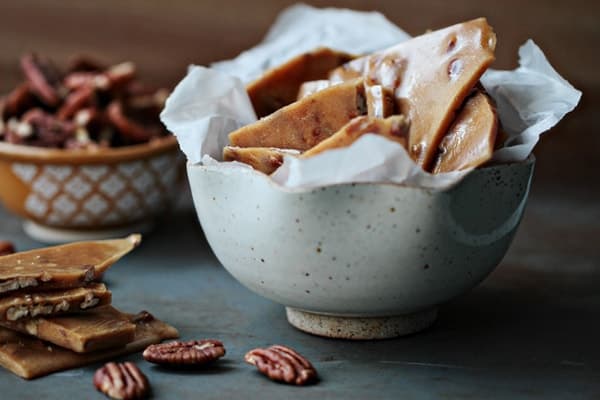 After ransacking our baking cabinet for peanuts, I came up empty handed, but this pregnant girl wasn't giving up so easily. I honed in on a bag of Fisher Pecans and all was well in my world. I ended up with a perfect batch of sweet, buttery brittle loaded with pecans and a hint of cinnamon.
Pecan brittle may just be my new favorite thing. I love the woodsy notes from pecans. If you wanted, you could even add some cayenne for pecan brittle with a kick.. Mexican Pecan Brittle, if you will. No matter which way you make it, just make it and relive your childhood with me!
Pecan Brittle Recipe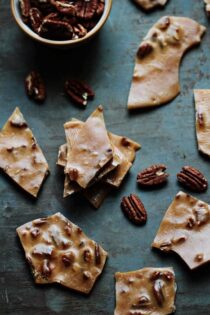 Ingredients:
1 cup granulated sugar
1/2 cup light corn syrup
1/4 teaspoon salt
1/4 cup water
1 cup chopped Fisher Pecans
2 tablespoons salted butter, softened
1 teaspoon pure vanilla extract
1/4 teaspoon ground cinnamon (optional)
1 teaspoon baking soda
Directions:
Special Equipment:
silcone baking mat or parchment paper
candy or digital thermometer
Line a large baking sheet with a silicone baking mat or parchment paper. Set aside.
In a heavy 2 quart saucepan, over medium heat, bring to a boil sugar, corn syrup, salt, and water. Stir until sugar is dissolved.
Add in pecans, stirring until combined.
Place a candy thermometer into the mixture and continue cooking. Stir frequently until temperature reaches 300°F.
Immediately remove saucepan from heat and quickly stir in butter, vanilla, cinnamon, and baking soda.
Immediately pour onto prepared baking sheet. Using a rubber spatula, spread the mixture into rectangle about 14x12 inches.
Cool completely.
Snap candy into pieces and store in an airtight container at room temperature.
Recipe adapted from allrecipes.com
All images and text ©
Follow Jamie on Instagram. We love to see what you're baking from MBA! Be sure to tag @jamiemba and use the hashtag #mbarecipes!
Disclosure: My Baking Addiction has teamed up with Fisher Nuts to develop recipes using their products. This is a sponsored post written as part of that program. All opinions about Fisher Nuts are my own.
This post may contain affiliate links. We are a participant in the Amazon Services LLC Associates Program, an affiliate advertising program designed to provide a means for us to earn fees by linking to Amazon.com and affiliated sites.