Cranberry Orange Bundt Cake is an easy and beautiful cake to feed the whole family during the holiday season. This tart and sweet bundt cake is topped with an orange glaze for the perfect finish.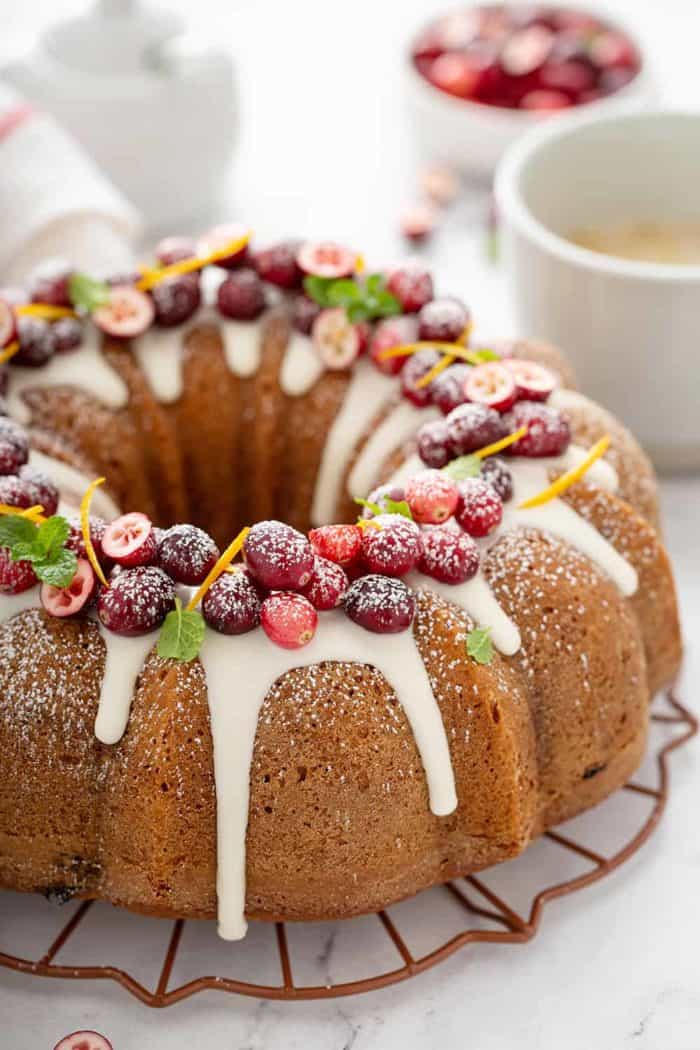 I don't know what it is about this year, but I am so far behind with holiday shopping right now. I was really ahead, but then I kind of just gave up. And if I'm being honest, just the thought of entering a mall right now gives me anxiety, so I'm thinking it's going to be the year of the gift cards for quite a few people on my list.
One thing I'm not behind with is holiday baking. In fact, today I'm planning on making peanut butter blossoms and mint chocolate cookies with my girl today.
We may even whip up a couple of batches of snowflake sugar cookies because they are current favorite cookie recipe at the moment.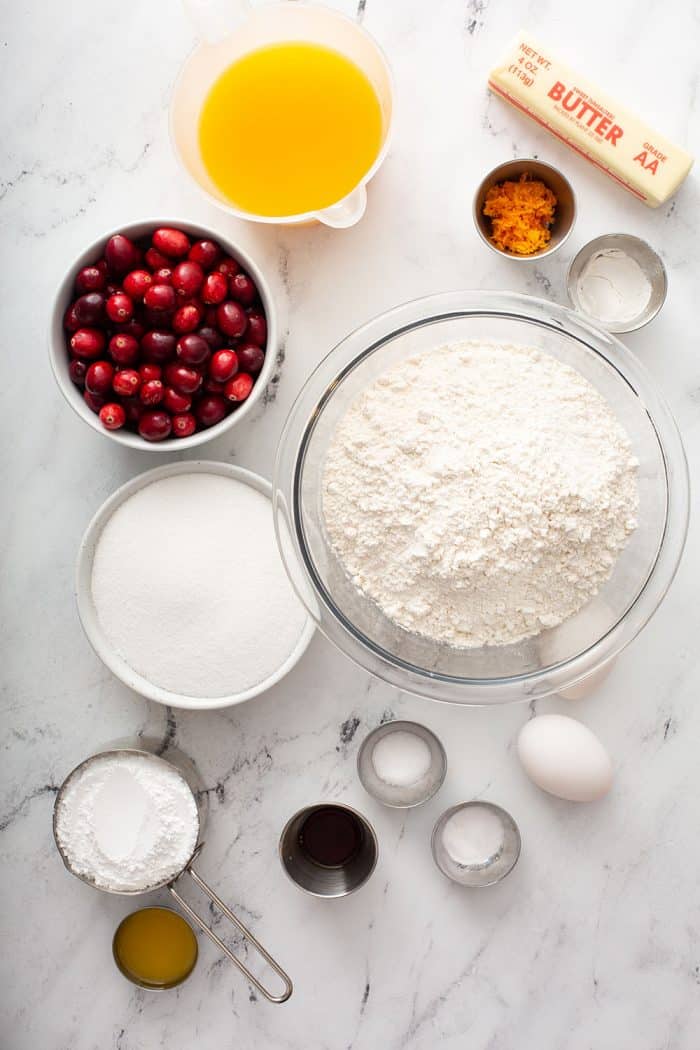 GLAZED CRANBERRY ORANGE CAKE
As Christmas gets closer and closer, I'm starting to look at the piles of cranberries in my freezer and realizing I might have gone overboard.
But it's so easy to grab a bag of fresh cranberries every time I'm at the grocery store! And I do love making homemade cranberry sauce and cranberry orange scones, so having extras on hand is always nice.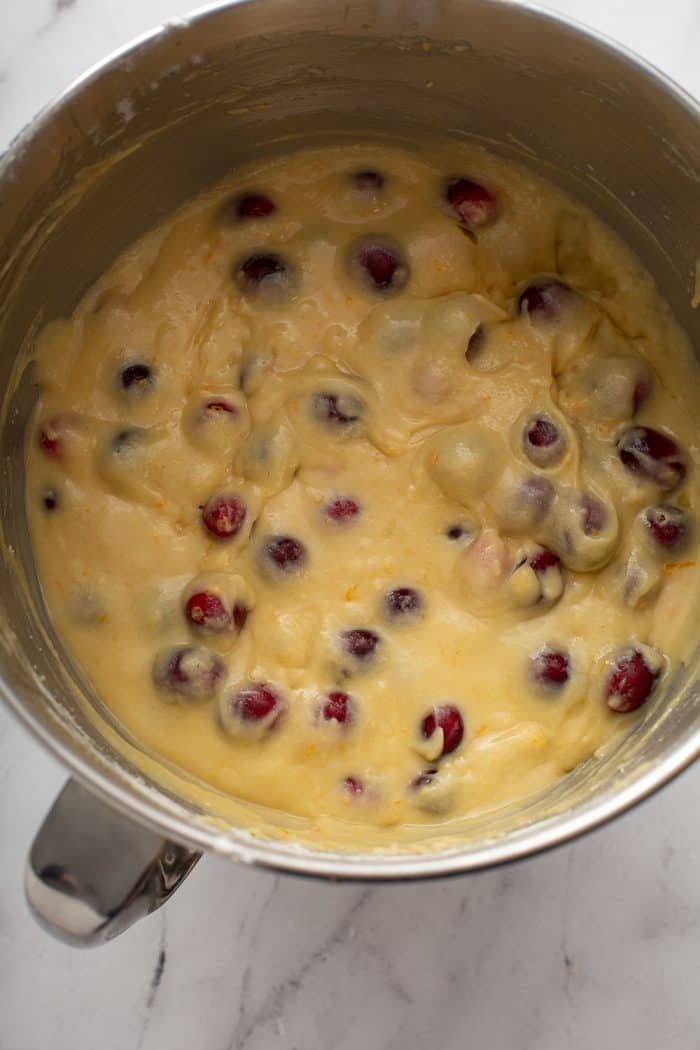 But…I should probably use some of them up.
So I grabbed my stand mixer, a bag of cranberries, and my zester and put together this easy Cranberry Orange Bundt Cake.
Bundt cakes are great for the holidays because they easily feed as many people as you need, and what better flavor combination for Christmas than cranberries and orange?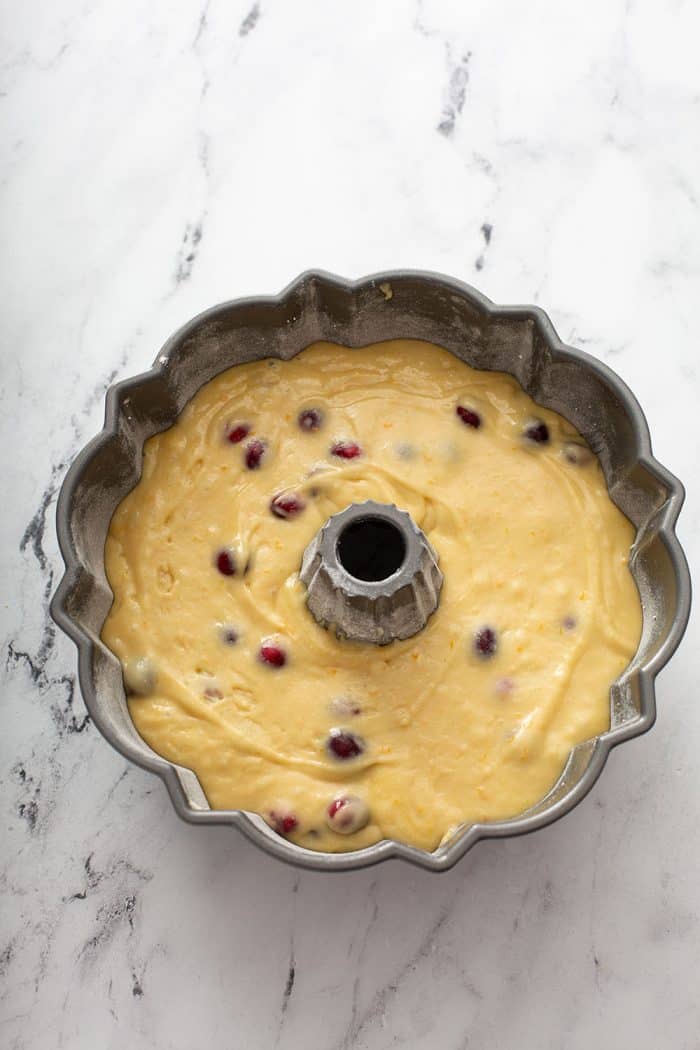 This cranberry orange cake is sweet, full of orange flavor, and bursting with fresh cranberries.
The cake is topped with an easy powdered sugar and orange juice glaze for a simple finish. You could even top the cake with sugared cranberries if you want to make it look super fancy.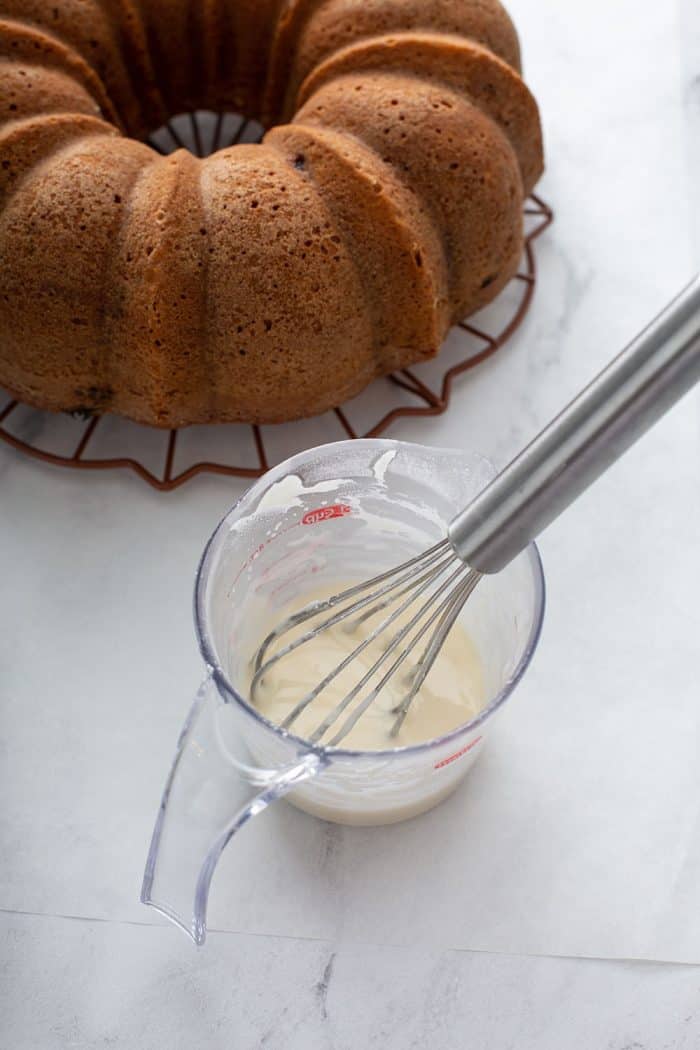 HOW TO MAKE THIS BUNDT CAKE
As far as made-from-scratch cakes go, this Cranberry Orange Bundt Cake recipe is pretty simple. You'll need:
4 cups all-purpose flour
1 tablespoon baking powder
1 teaspoon baking soda
1 teaspoon salt
2 tablespoons grated orange zest
2 cups granulated sugar
1/2 cup unsalted butter, softened
2 eggs
1 tablespoon of vanilla extract
1 ½ cups orange juice
2 cups fresh or frozen cranberries
Start by whisking together the dry ingredients. Set those aside while you prep the wet ingredients.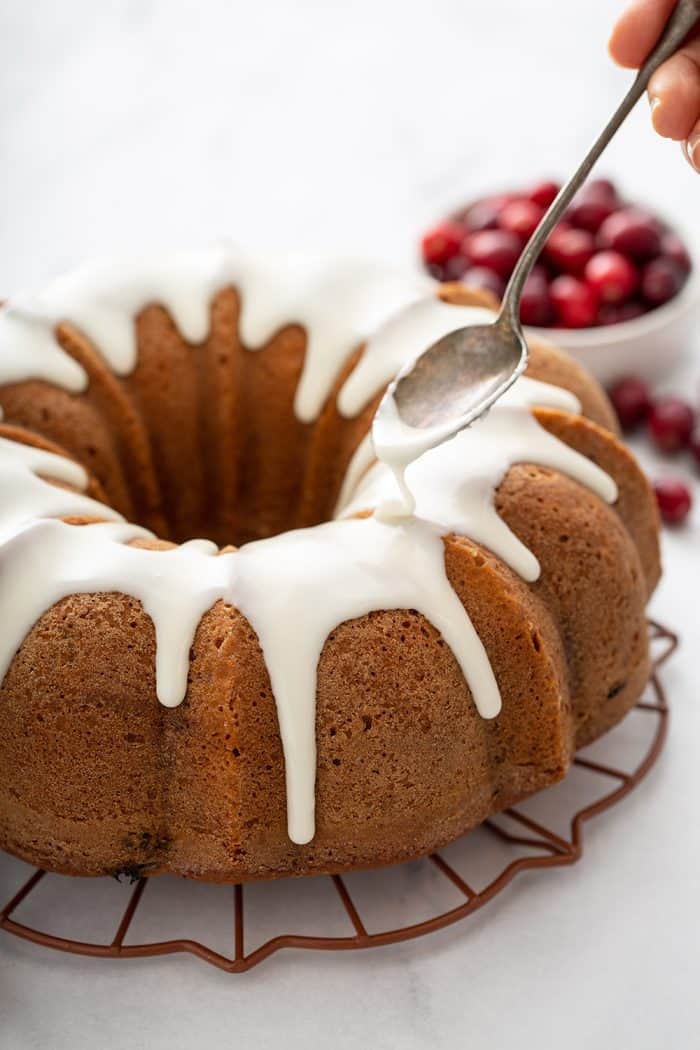 In a large bowl, mix together the orange zest and sugar until the sugar is moistened and fragrant. This is my favorite trick to get the flavor of citrus zest to really shine through in baked goods.
Mix in the softened butter, followed by the eggs, vanilla, and orange juice.
Stir in the dry ingredients, then gently fold in the cranberries.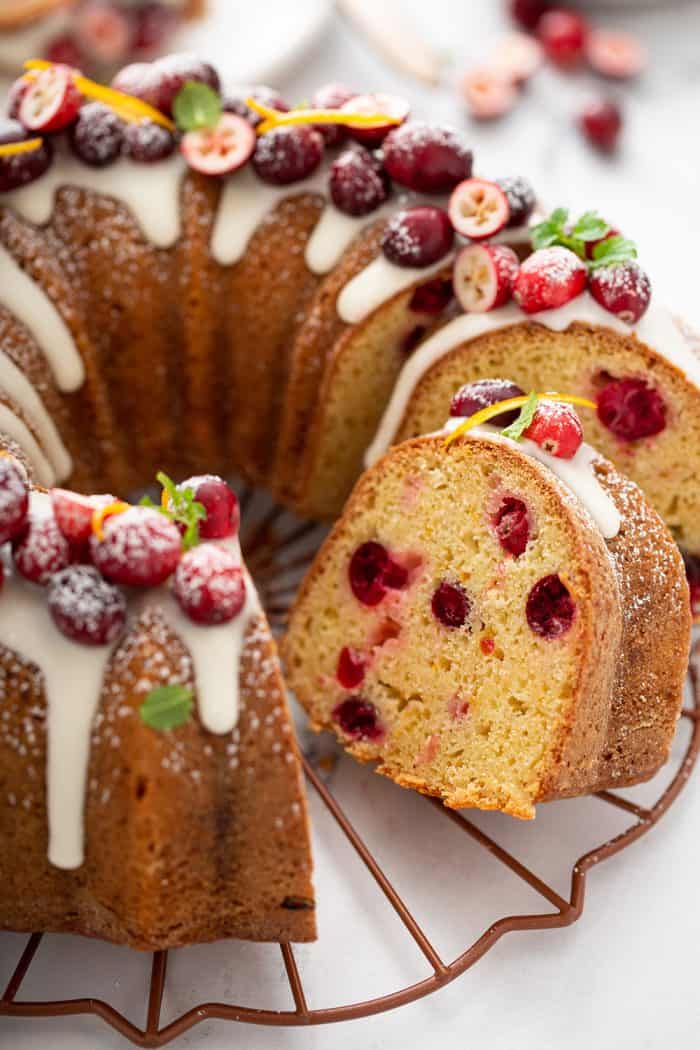 Spread the batter into a greased and floured bundt pan and bake for 70-75 minutes, or until a skewer inserted into the center of the cake comes out clean.
I always let my bundt cakes cool at least 10-15 minutes in the pan before turning them out onto a wire rack to cool completely.
Once the cranberry orange cake has completely cooled, whisk together the powdered sugar and a bit more orange juice. Drizzle the glaze over the cake and serve!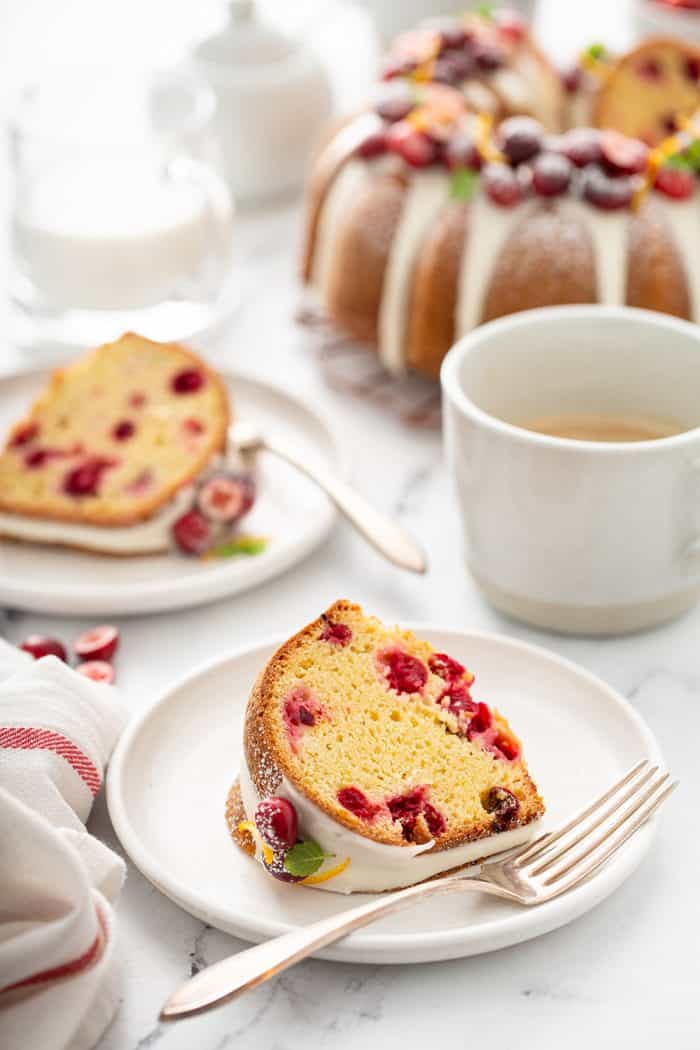 MORE BUNDT CAKE RECIPES FOR YOUR HOLIDAY TABLE
If you have a large family, bundt cakes are a great cake option for the holidays. They're easy to make, look pretty without a lot of frosting or decorating, and feed a crowd.
Check out these festive bundt cake recipes that would be perfect for your Christmas dessert table.