Chocolate Peppermint Mini Bundt Cakes are a fun and delicious dessert for any holiday party. A drizzle of peppermint ganache and sprinkling of crushed candy canes makes them super festive!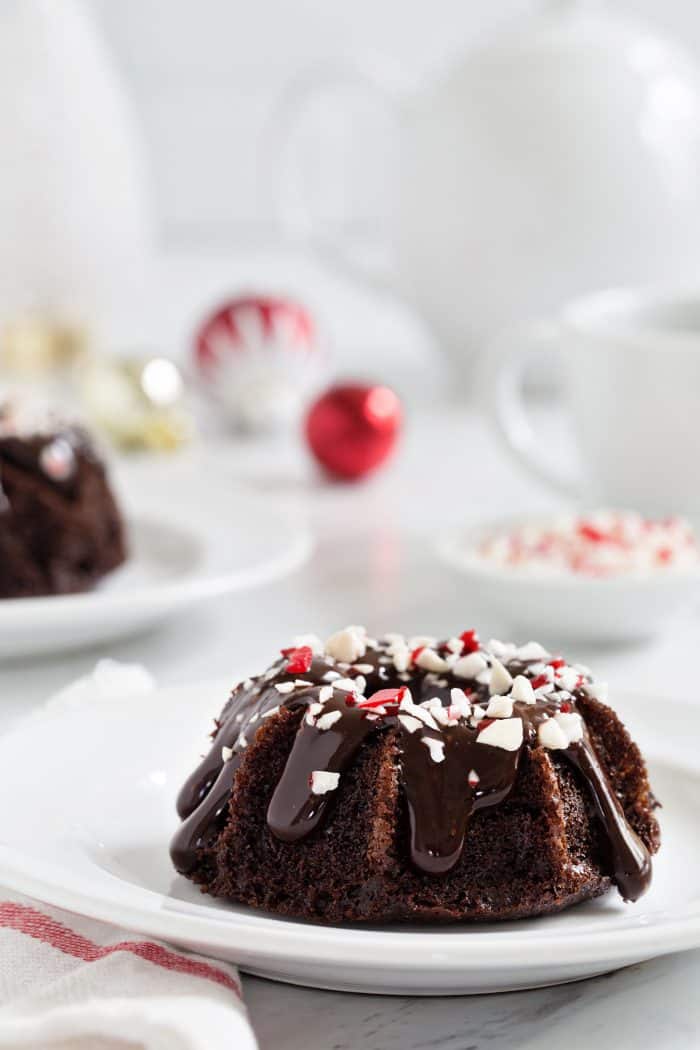 If you're at all like me, you might be feeling the pressure of the holiday season creeping in.
As I'm staring at a closet full of unwrapped gifts and a to-do list no less than 1 mile long (okay, slight exaggeration there) the daily hustle and bustle has me feeling like I need to book an 8 hour massage.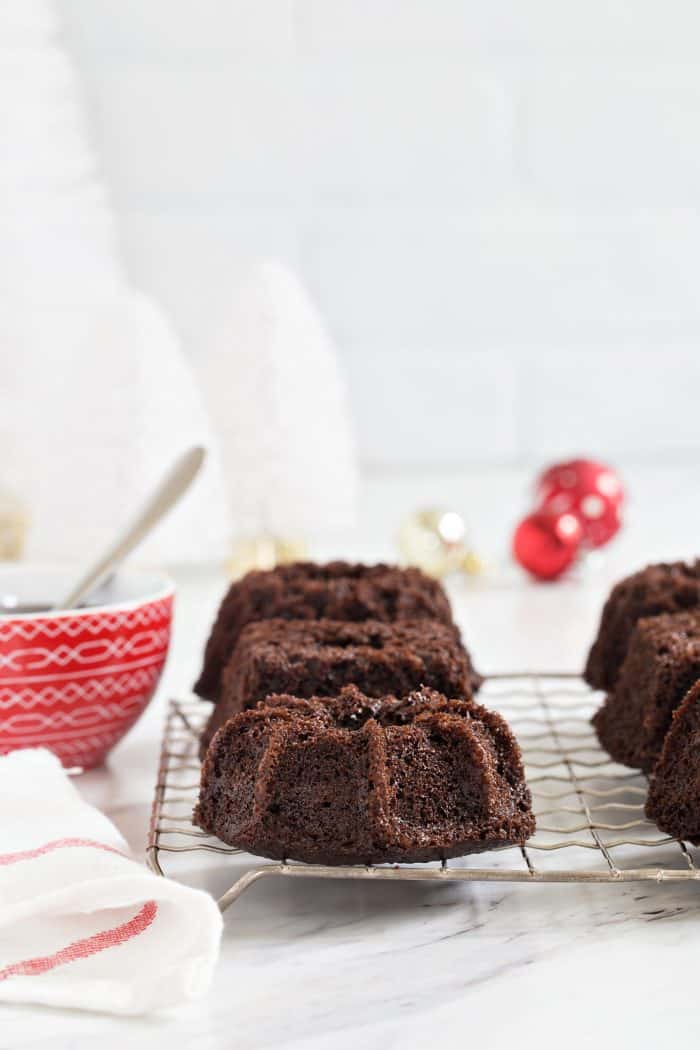 I am one of those people that tends to make the same recipes over and over again each holiday season. Because, A) I'm a creature of habit and B) I want my little babe to have sweet memories of food traditions that she can pass on for years to come.
Baking, especially during the holiday season, is the ultimate expression of love, as far as I'm concerned. And that leads to true happiness.
Tell me, how could anyone possibly be unhappy taking a bite of one of these decadent little cakes? They couldn't. That's what baking does. Happiness-bringers.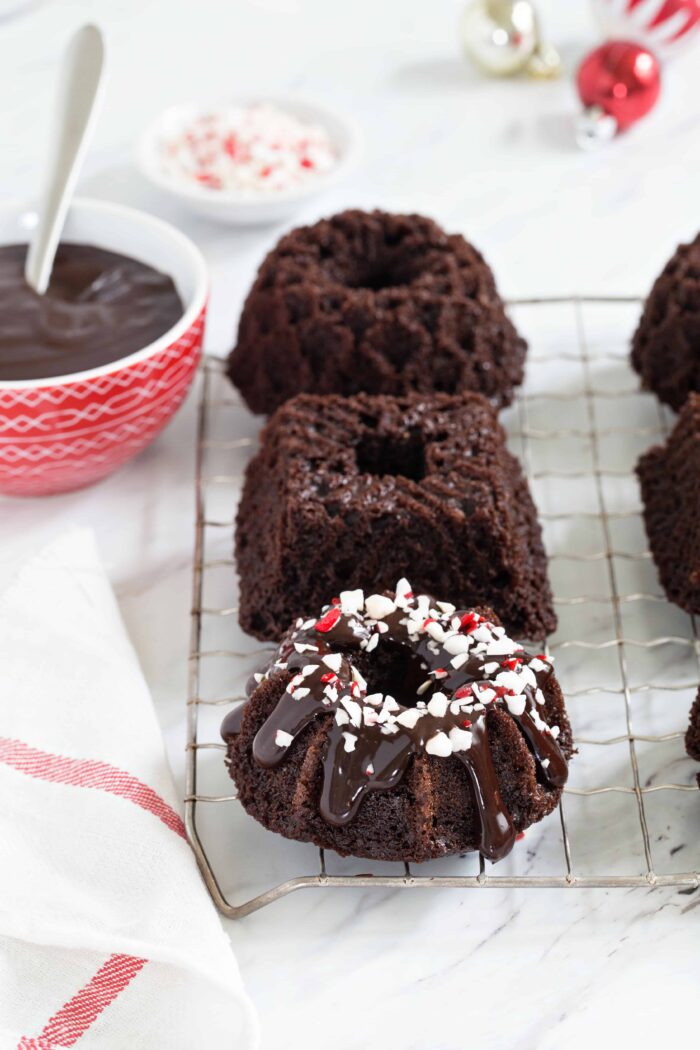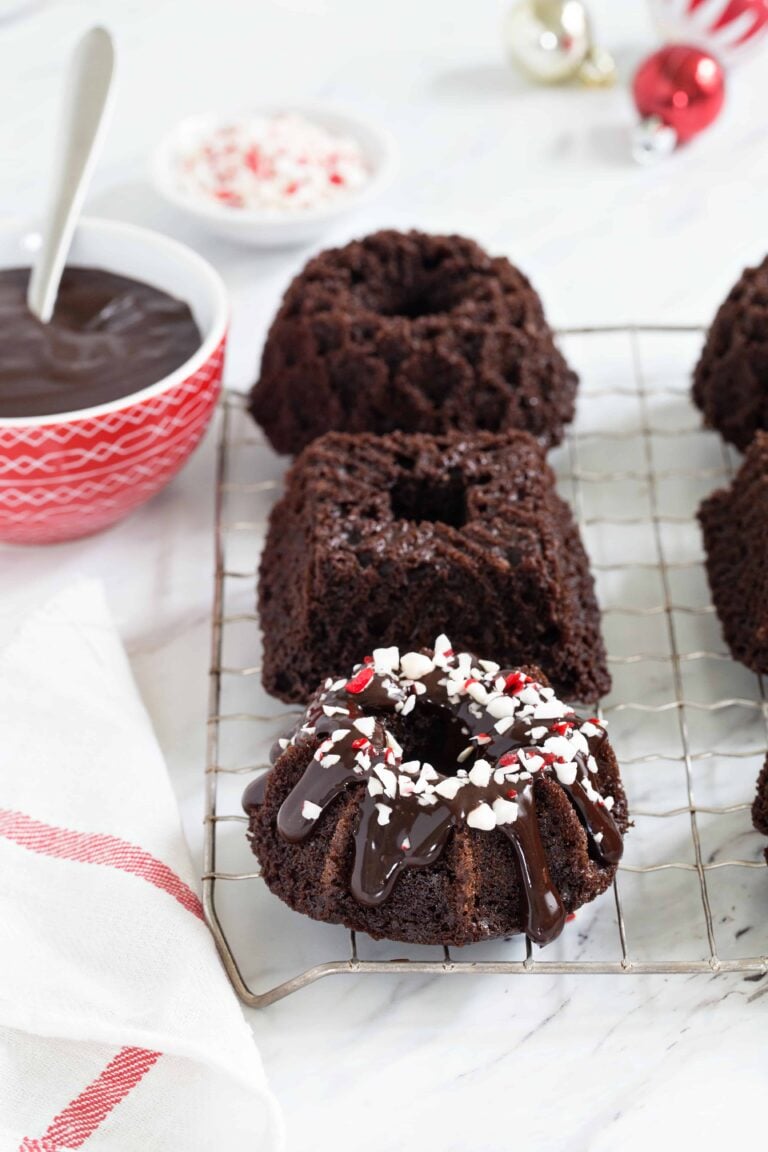 It's like when I tell Elle (at her grumpiest moments) that she better not smile. It becomes impossible not to smile. And in my mind, it's the absolute same when you take a bite of chocolate-y, peppermint-y bliss.
And I do mean bliss. It's one of my favorites, so this lovely flavor combination graces our holiday dessert table year after year.
But instead of chocolate-peppermint brownies or cupcakes, this year I decided to kick my chocolate-peppermint game up a notch with these Chocolate Peppermint Mini Bundt Cakes.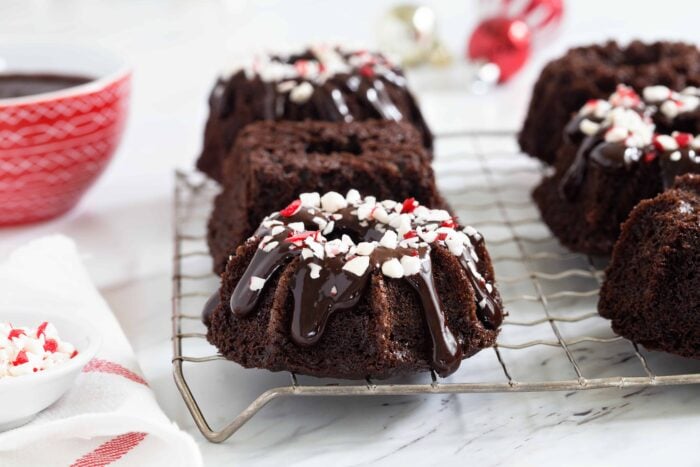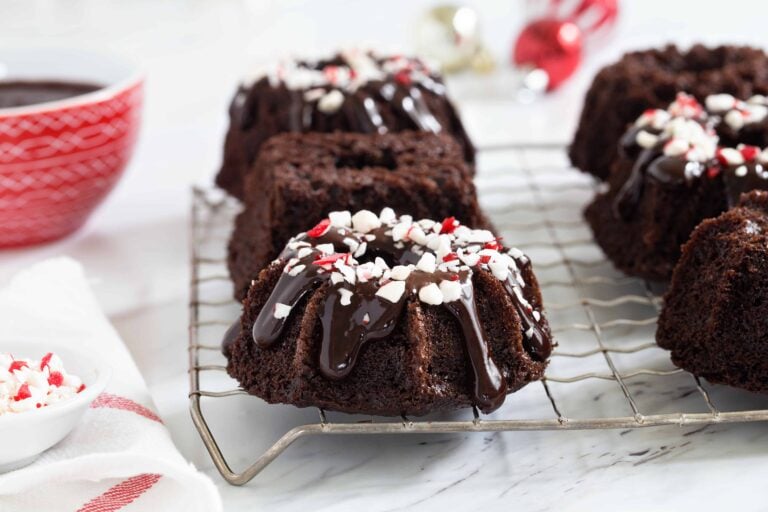 I think bundt cakes are a pretty underrated dessert. And while truthfully I can say they've never a holiday go-to for me, I think that's about to change.
I'm normally not a fan of specialty pans. Typically, that's because they don't get used often enough. But I make the exception for a beautiful mini bundt cake pan.
I feel like they allow you to take a simple, unassuming cake recipe and turn it into something really special. And let's be real here, I've always been a sucker for mini desserts – especially when there's a rich, silky ganache involved.
No fancy frosting here. Let the beauty of the cake shape shine, and enhance it with a glossy, gorgeous chocolate ganache. Making things look elegant with minimal effort – this is my jam!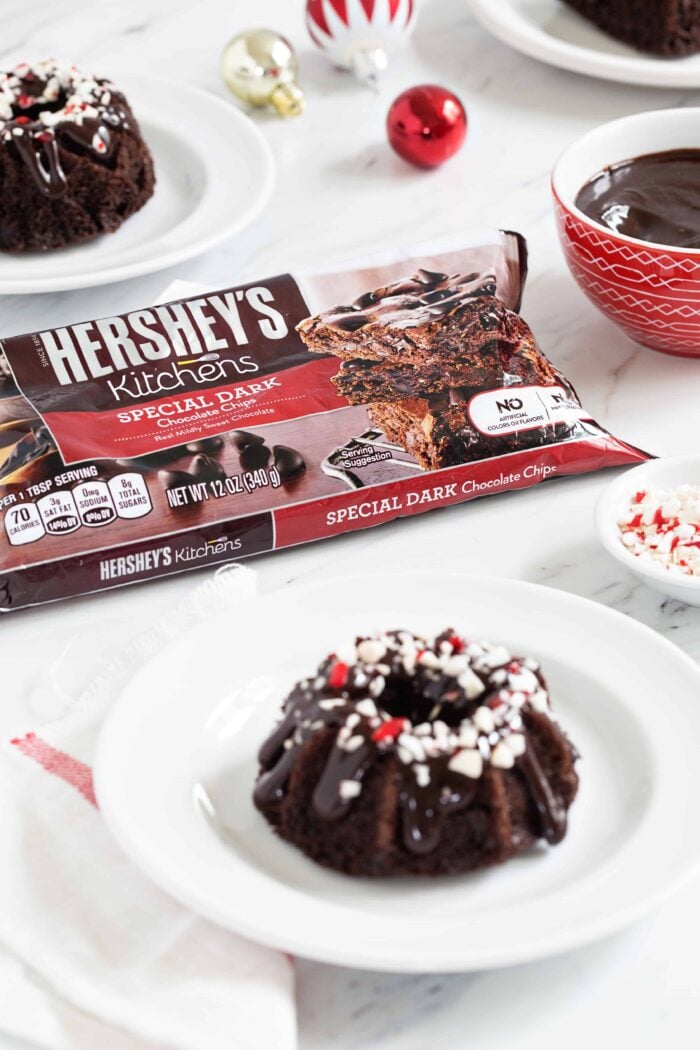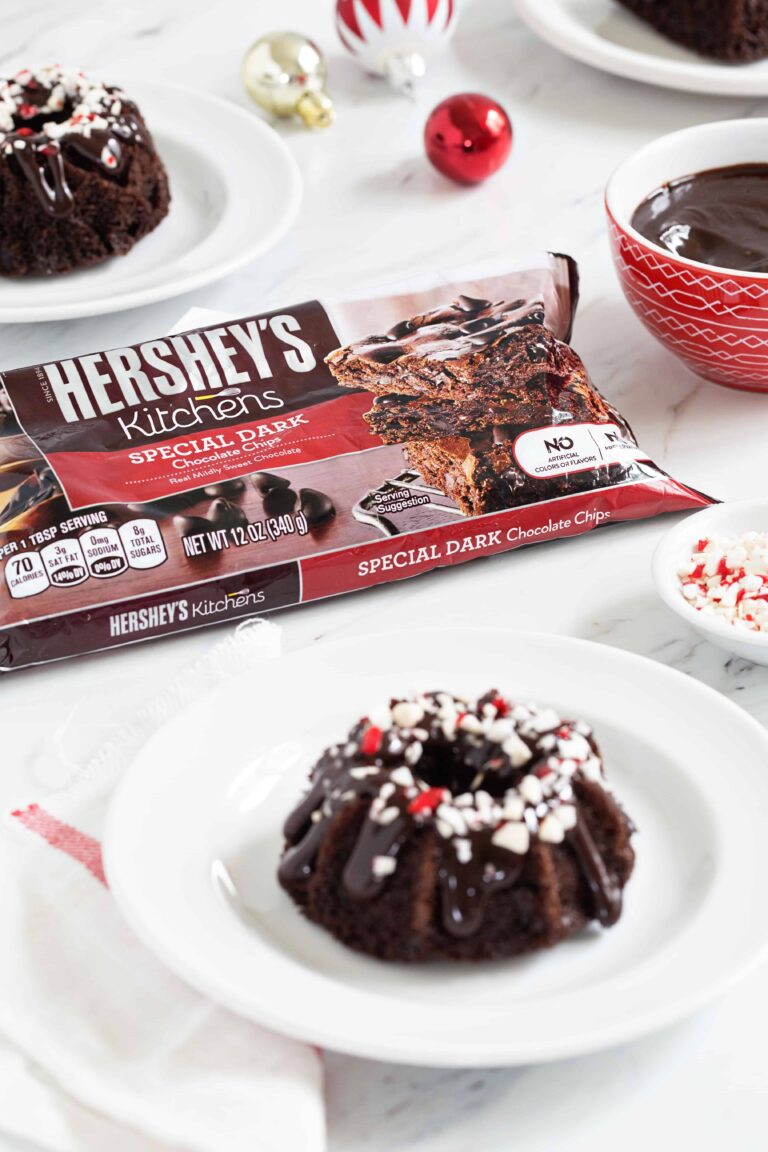 To make the ganache, I used HERSHEY'S SPECIAL DARK Baking Chips. They melt so easily and when combined with heavy cream and a little peppermint extract, they create the easiest "frosting" you could ever try.
Bundt cakes, especially, mini bundt cakes, are perfect for just about any occasion. But especially for the holidays season.
Who could possibly resist an adorable mini chocolate cake drenched with peppermint ganache and a sprinkling of crushed candy canes? Certainly not this girl, and I bet not any of your favorite party guests either.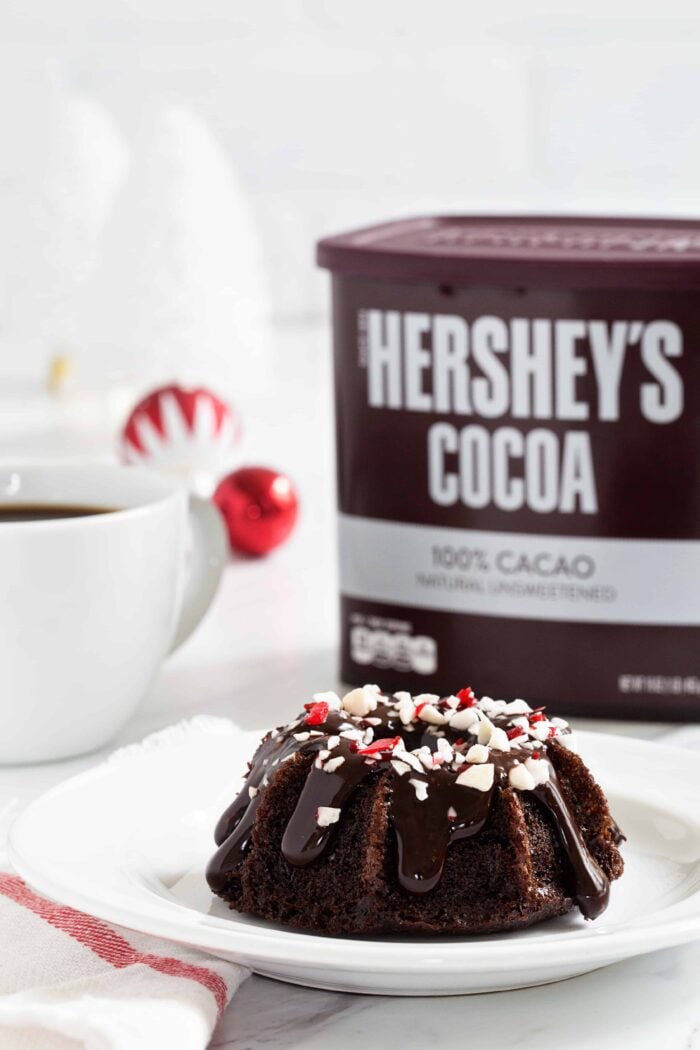 Taking that classic can of HERSHEY'S Natural Unsweetened Cocoa Powder, its flavor the pure definition of all baked chocolate things in my mind, and turning it into a beautiful dessert? That's baking happy, my friends.
Looking for a few extra tips to make your holiday baking a total success? I've got you covered! Check them out over on the HERSHEYS Kitchens Blog.
I hope you enjoy these Chocolate Peppermint Mini Bundt Cakes as much as we do! Happy Holidays to you and yours!