Do you remember a couple of weeks ago when I shared these Whoppers Brownies with you? I had made them in honor of my dad's birthday, but since I didn't make it to town on his special day, I just had to bake them again. Only this time he got the entire batch to himself along with a huge banana bundt cake.
My dad is pretty much a chocolate fanatic – the darker and richer the better. He loves bananas too. So it only seemed natural to finish his belated banana birthday cake with a satiny chocolate ganache.
I've never been one to try my hand at elaborately decorated cakes. Don't get me wrong, I think they're pretty darn stunning. It's just that I have an attention span that rivals a cupcake eating, Mountain Dew chugging 4-year-old. Seriously.
Instead of towering cakes with beautiful piping details, I like to keep things a little more simple – okay, more like easy – and it doesn't get much easier than a bundt cake. Only this Banana Cake is not just any bundt cake. It's incredibly flavorful and undeniably moist.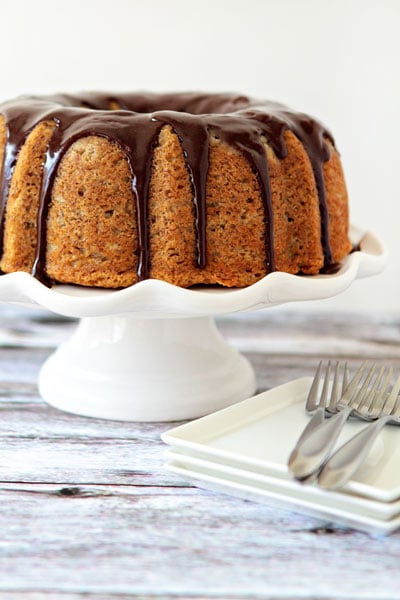 The secret seems to be in the unusual method which calls for baking the cake at 275 °F for about 1 hour and 40 minutes and then immediately placing the cake into the freezer for an hour.
Kind of odd? Absolutely.
However, after one delicious bite, you'll be convinced that this banana bundt cake is second to none.
Whether you're baking a cake for a special day or simply trying to use up the overly ripened bananas on your counter, I'm betting this will quickly become one of your go-to recipes for any occasion.
[pinit]

Banana Bundt Cake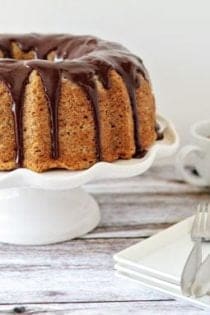 Ingredients:
For the Cake
1 1/2 cups bananas, mashed, ripe
2 teaspoons lemon juice
3 cups all-purpose flour
1 1/2 teaspoons baking soda
1/4 teaspoon salt
3/4 cup unsalted butter, softened
2 cups sugar
3 large eggs
2 teaspoons pure vanilla vanilla
1 1/2 cups buttermilk
For the Ganache
4 ounces semisweet chocolate, chopped
1/2 cup heavy cream
Directions:
1. Preheat oven to 275°. Thoroughly grease and flour a 12-cup non-stick bundt pan or use PAM spray for baking.
2. In a small bowl, mix mashed bananas with the lemon juice; set aside.
3. In a medium bowl, mix flour, baking soda and salt; set aside.
4. In the bowl of a stand mixer fitted with the paddle attachment or in a large bowl with an electric mixer, cream butter and sugar until light and fluffy, about 3 minutes. Beat in eggs, one at a time until fully incorporated. Stir in the vanilla.
5. Add in the flour mixture alternately with the buttermilk, mixing until combined. Stir in banana mixture.
6. Pour batter into prepared pan and bake in preheated oven for about 1 hour and 40 minutes or until a toothpick inserted in center comes out clean.
7. Remove from oven and place directly into the freezer (still in pan) for 45-60 minutes. This will make the cake very moist. Remove cake from freezer to a cooling rack for at least 3 hours.
8. When ready to serve, invert the cake onto a serving platter and prepare the chocolate ganache.
9. To make the ganache, pour the chopped chocolate into a medium mixing bowl, set aside. Pour the heavy cream into a microwave safe measuring cup (Pyrex) and microwave on high for about 1 minute or until bubbles begin to form on the surface. Take care to not overheat because the cream will boil over. Pour the hot cream over the chocolate and allow it to sit for about 3 minutes. Use a small whisk to combine the mixture into a smooth chocolate glaze. Drizzle over cooled cake.
Notes:
- Cake can be made in a 9x13 inch pan and will bake for approximately 1 hour or until toothpick inserted in the center comes out clean.
- Store the cake covered in the refrigerator for up to 3 days. Remove to room temperature one hour before serving.
My Baking Addiction adapted from Food.com.
All images and text ©
Follow Jamie on Instagram. We love to see what you're baking from MBA! Be sure to tag @jamiemba and use the hashtag #mbarecipes!