Did you forget to pick up buttermilk at the store? Once you know 4 easy methods for how to make buttermilk, you'll be able to whip up a quick and easy substitute in just a few minutes.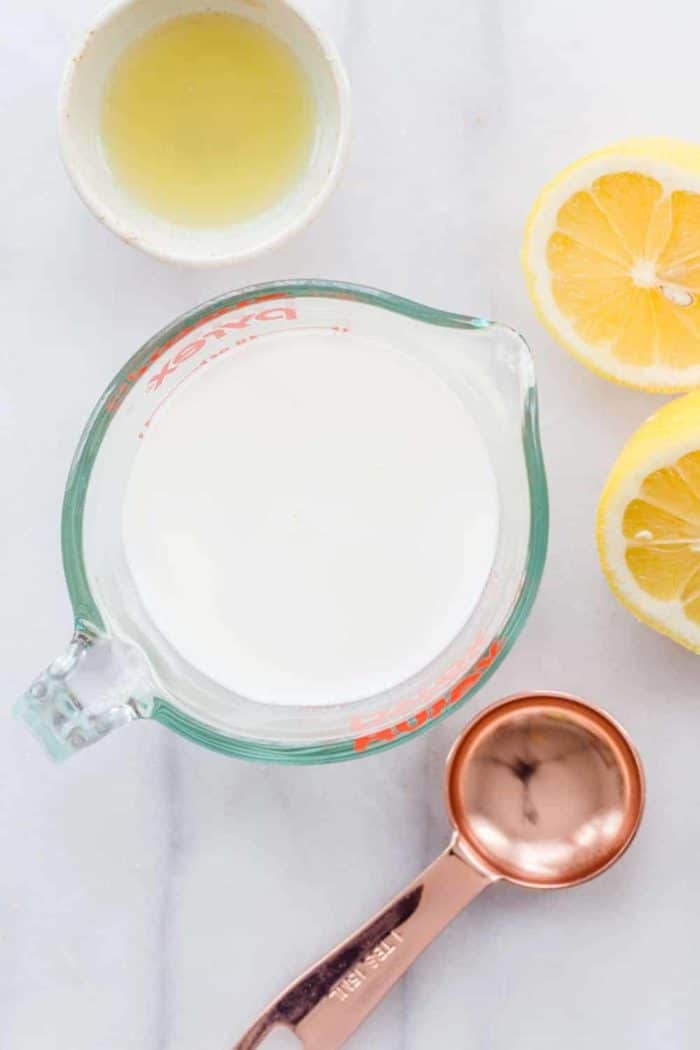 Do you ever just get a dessert craving and have to make something right then?
Obviously I'm a little baking obsessed, so it shouldn't surprise you that I will often decide to make something randomly.
Whether it's Fresh Strawberry Bread, Moist Banana Cake, or The Best Chocolate Cake, there's nothing more disappointing than getting halfway into making a recipe and realizing that I'm out of buttermilk.
It's even worse when it happens after I have put on my comfy clothes for the evening and do NOT want to go to the store.
Luckily, I've got a few quick and easy buttermilk substitute tricks in my back pocket just for times like this. Once you know how to make this tangy baking staple, you'll be able to whip up any number of baked goods on the fly no matter what you have in your fridge!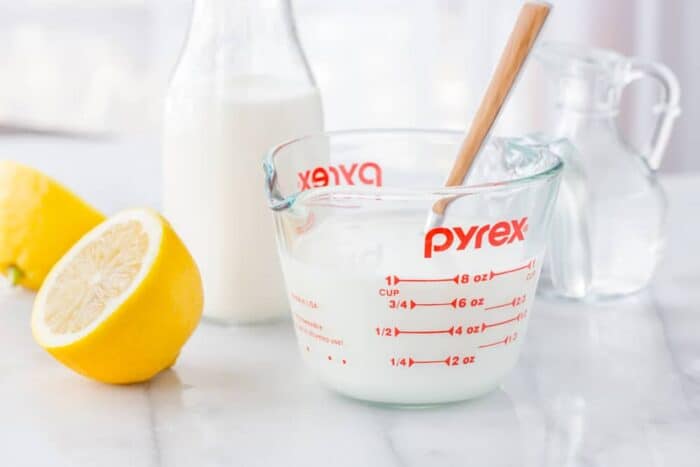 WHAT IS BUTTERMILK?
Once upon a time, buttermilk referred to the liquid that was left after making butter from cultured cream. There are still areas of the world where this traditional version is easy to find, but most modern buttermilk is pretty different.
What you're most likely to find at your average grocery store now is cultured buttermilk. It is milk that has been cultured after being pasteurized and homogenized.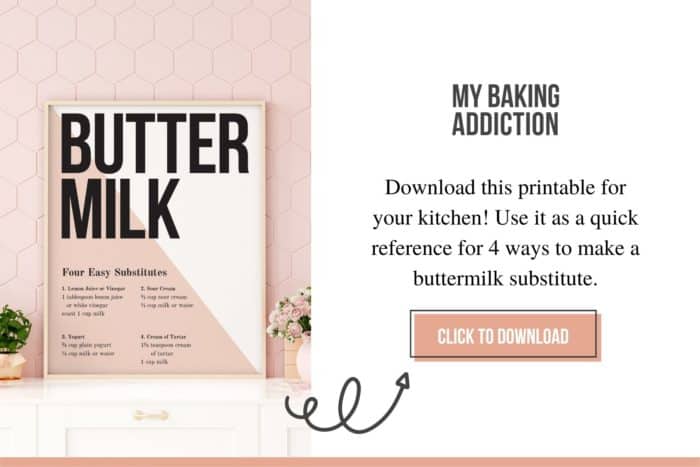 Buttermilk contains lactic acid, which makes it thicker than regular milk and, as you might guess, more acidic.
This acidity makes it creamy and tangy, bringing beautiful flavor and tenderness to sweet and savory recipes.
The acidity is really important in baking. It activates the baking soda for a delightfully light texture and lends a nice, tangy flavor.
It can be used in bacon cheddar biscuits, cakes, buttermilk pancakes, waffles, apple pie bread, and so much more.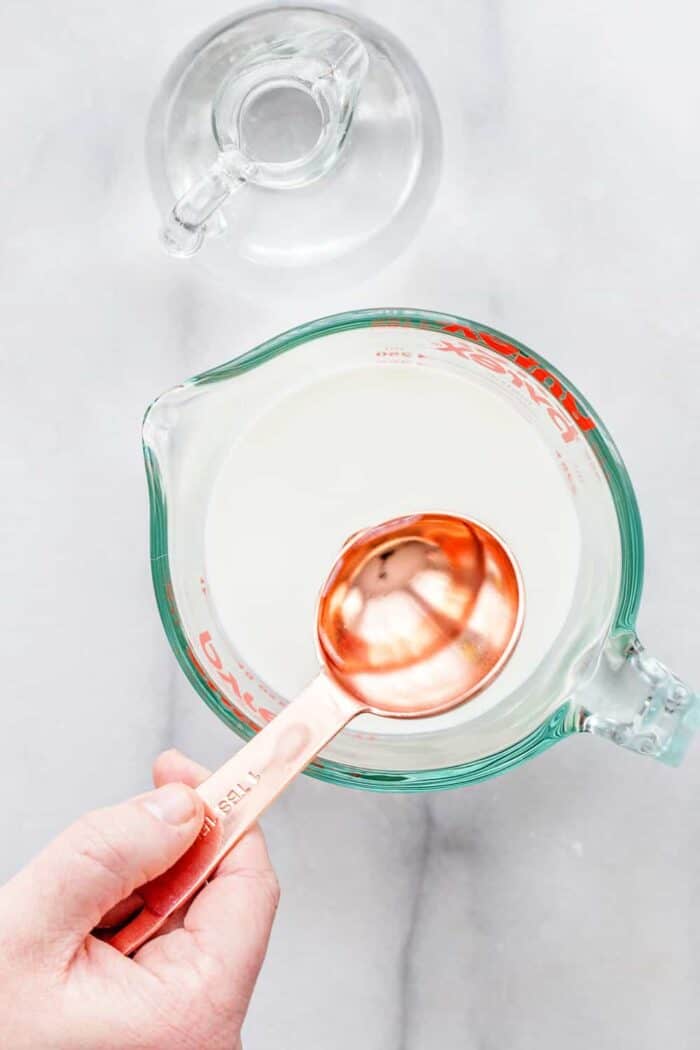 BUTTERMILK SUBSTITUTE 1: LEMON JUICE OR VINEGAR AND MILK
The most common way to make buttermilk at home is to use 2 ingredients almost everyone already has available:
Milk
Lemon juice or vinegar
To make this version, add 1 tablespoon of white vinegar or lemon juice to a liquid measuring cup. Pour in enough milk to fill to the 1 cup measurement line.
Stir the mixture together and let it sit for 5-10 minutes while you get the rest of your ingredients ready.
While the mixture rests, the acid in the vinegar or lemon juice will slightly curdle the milk. It won't get thick like the buttermilk you'd buy at the store, but it will be acidic enough to work its magic in your baked goods.
You can technically use this method with any milk you have on hand, but I personally think that it works best with whole milk.
If you use nondairy milk, such as almond milk, just know that it won't curdle like dairy will. But using this method will add the acidity your recipe needs to rise and for a tender crumb.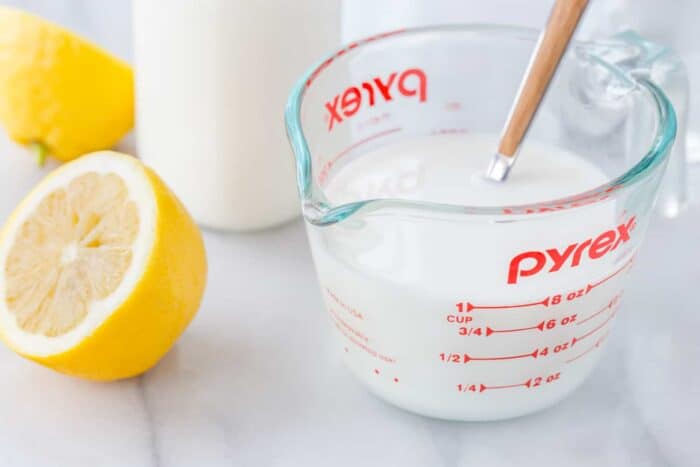 SUBSTITUTE 2: SOUR CREAM AND MILK OR WATER
Sour cream has 2 things in common with buttermilk: it's tangy and it's full of lactic acid. This makes it a great ingredient to use in your recipes.
But sour cream is obviously pretty thick – a lot thicker than buttermilk is. In order to use sour cream in the same way, we need to thin it out with milk or water.
For every 1 cup of buttermilk called for in a recipe, mix together ¾ cup of sour cream with ¼ cup water or milk.
SUBSTITUTE 3: PLAIN YOGURT AND MILK OR WATER
Just like sour cream, yogurt contains (you guessed it) lactic acid that makes it nice and tangy. Just like buttermilk!
But like sour cream, yogurt is too thick to use as-is in most baking recipes, so we'll thin it out with milk or water.
For every 1 cup of buttermilk called for in a recipe, mix together ¾ cup of plain yogurt with ¼ cup of water or milk.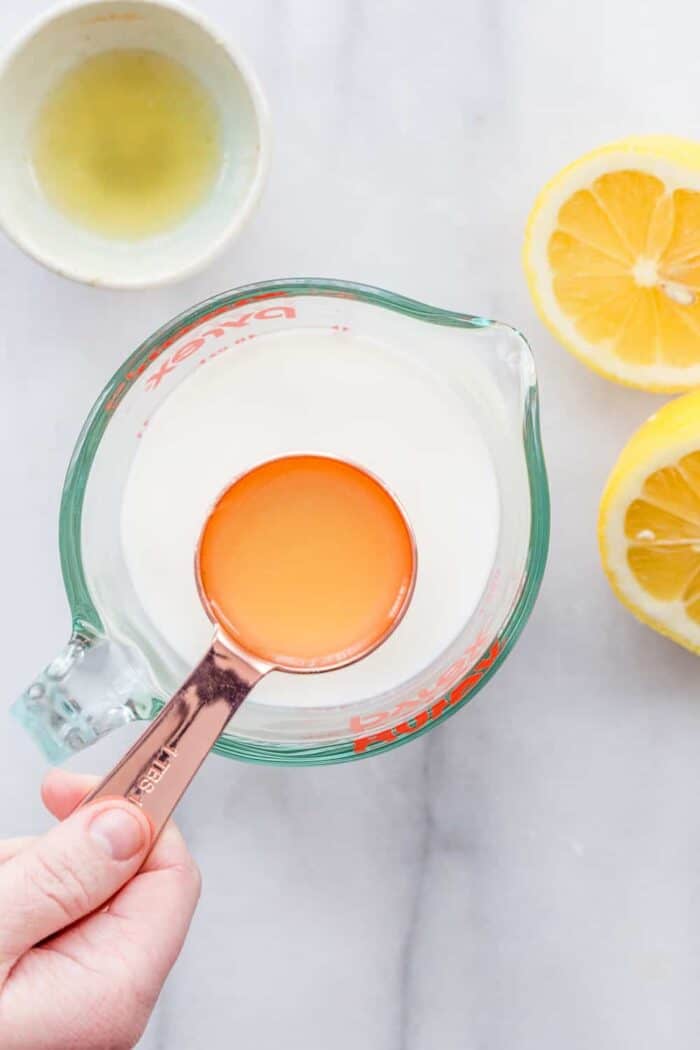 SUBSTITUTE 4: CREAM OF TARTAR AND MILK
If you've ever made snickerdoodle cookies, you may be familiar with cream of tartar. But you may also not have used it in many other recipes.
Cream of tartar is actually the byproduct of turning grapes into wine. Its chemical name is potassium bitartrate and it is a white, powdery acid that can be used in baking or even around the house for cleaning.
Because it is acidic, you can add a bit of cream of tartar to your recipe to give it the acidity to activate the baking soda.
To use cream of tartar as a substitute, for every 1 cup of buttermilk called for in the recipe, use 1 cup of milk and add 1 ¾ teaspoon of cream of tartar to the other dry ingredients.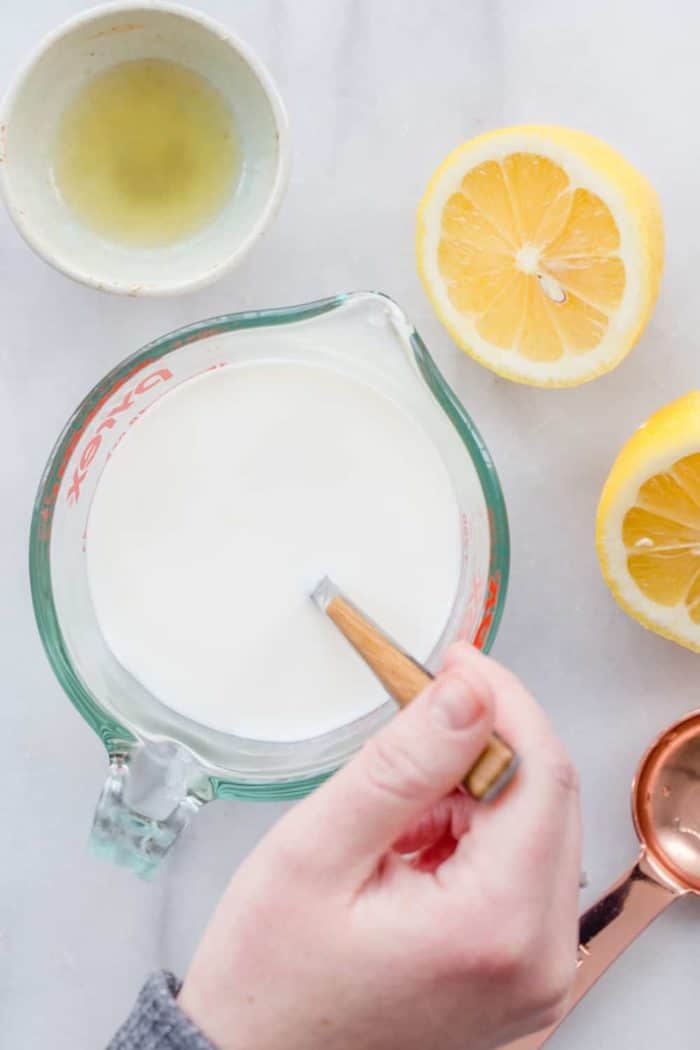 HOW TO SUBSTITUTE BUTTERMILK
For methods 1-3, simply use your chosen substitute as a one-to-one replacement for buttermilk in your baking recipes. If your recipe calls for 1 cup of buttermilk, use 1 cup of homemade buttermilk, ½ cup for ½ cup and so on.
For the cream of tartar method, use milk one-to-one in place of the buttermilk and add the appropriate amount of cream of tartar as noted above to the other dry ingredients in the recipe.
Even though knowing how to make buttermilk is a great trick to have in your back pocket for baking, these homemade versions aren't the same as making cultured buttermilk.
The sour cream and milk method is the closest in flavor and texture, but even that isn't 100% the same.
That means that these methods really work best for baking. If you are making salad dressing or recipes like buttermilk fried chicken, the sour cream method may work in a pinch but I really recommend buying cultured buttermilk from the store.