Easy Snickerdoodle Cookies are a fun holiday classic to make with friends and family. They're always a hit at holiday cookie exchanges and are so easy to make with the KitchenAid® Sifter+Scale Attachment.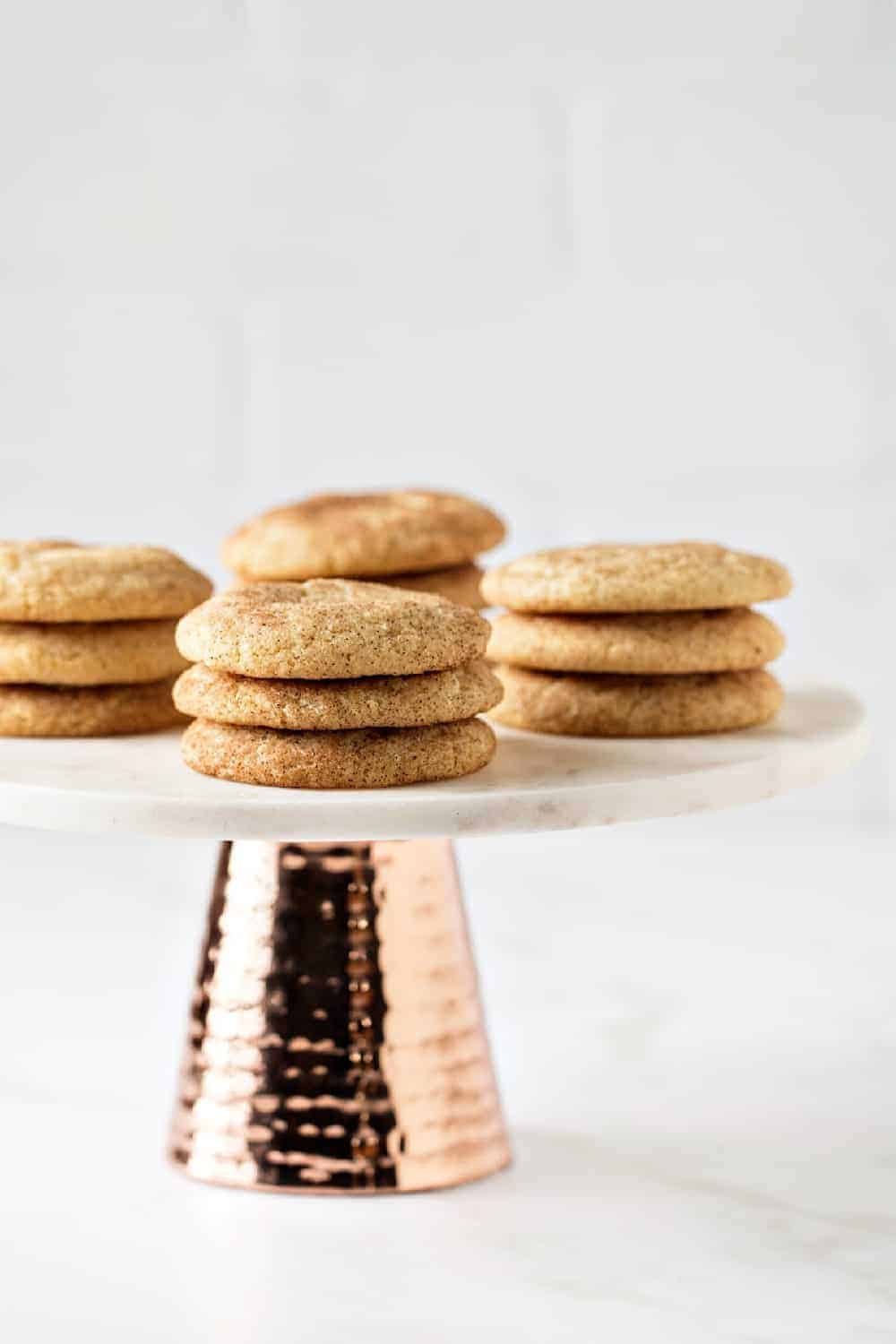 I've said it before and I'll say it again: expecting me to leave my house during the holidays is just a big fat no.
At this point I'm going to need a whole team of Santa's elves to help me finish my holiday shopping, not to mention the wrapping. Holiday cards will go out, but they might be Happy New Year cards, is what I'm saying.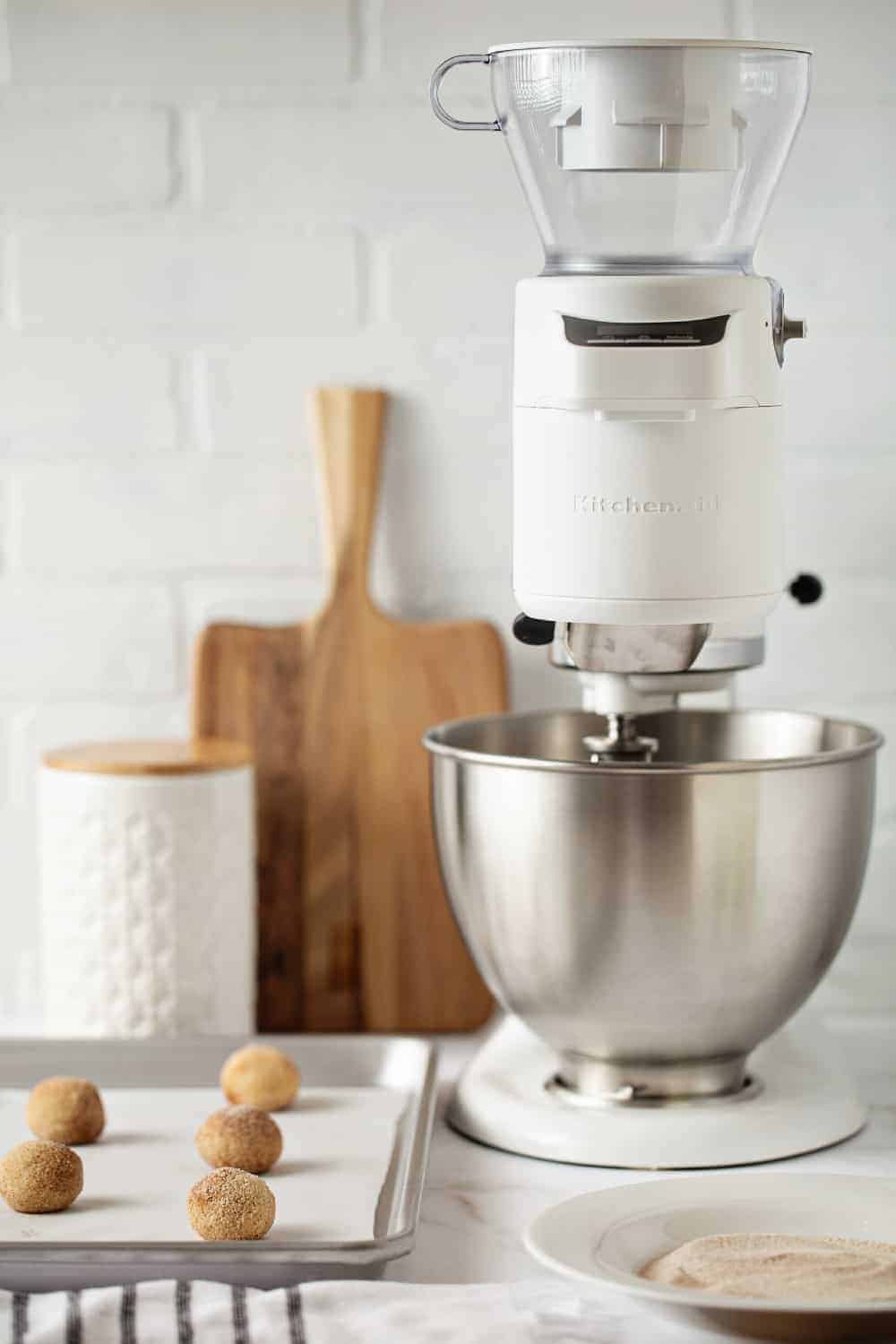 And I might as well apologize in advance to my in-person friends for flaking out on plans with them to stay home and finish my holiday decorating and baking.
Actually, my friends probably know that about me by now – if we make tentative plans, there's a pretty good chance I'm going to flake out on them to bake instead. It's just one of the things that makes me…well, me.
It's just that, come this time of year, I am more than a little obsessed with the epic list of treats and posts that I want to make happen before the year comes to a close.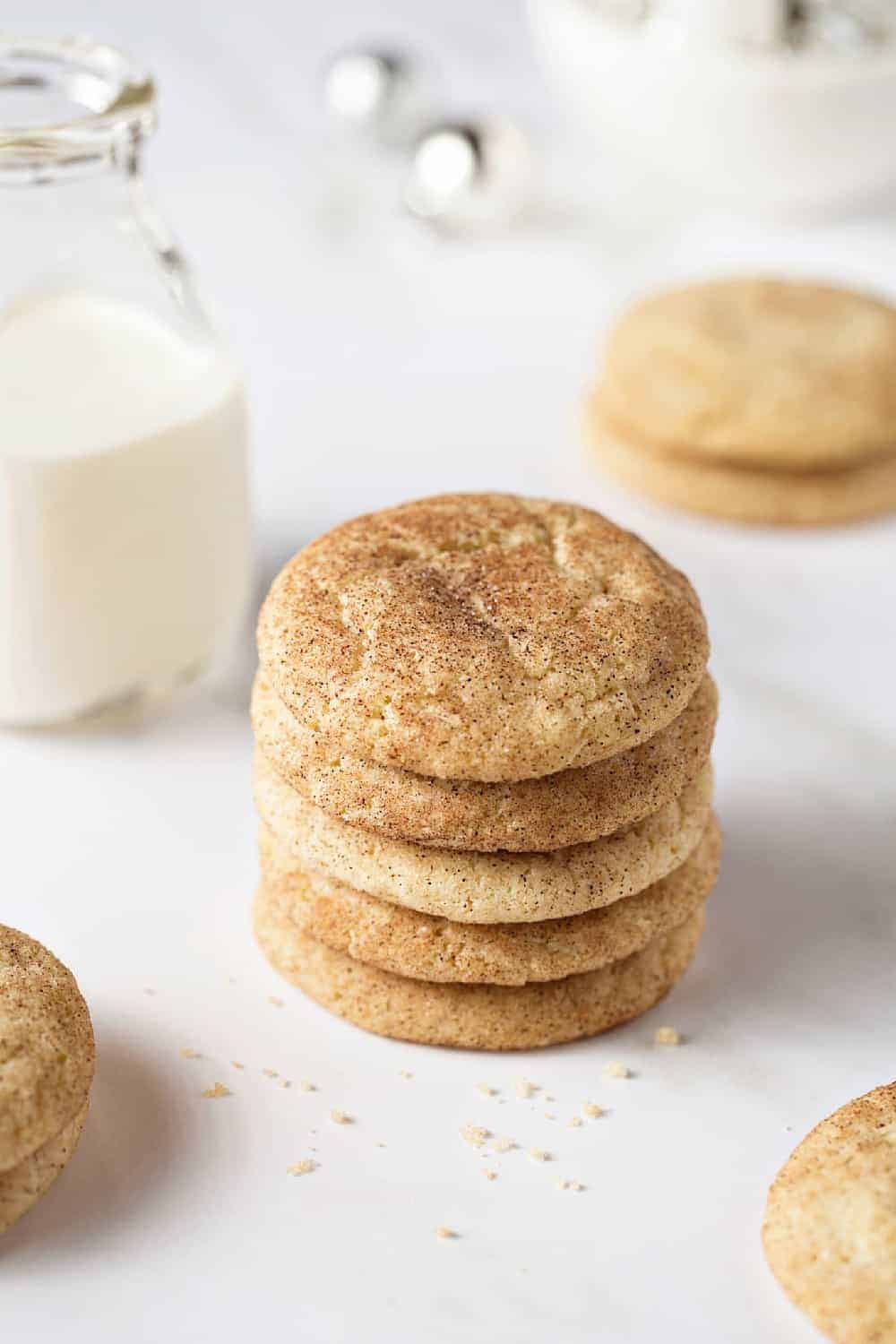 I've been thinking about them since January, you know?!
This time of year, I don't just bake at night–I often get up early to bake before anyone else in the house is awake. It's my quiet time – just me, my KitchenAid® Stand Mixer, and a cup of coffee.
I don't think I'm crazy, though, and Eric is kind enough to let me go on believing that. I like to think he finds it endearing.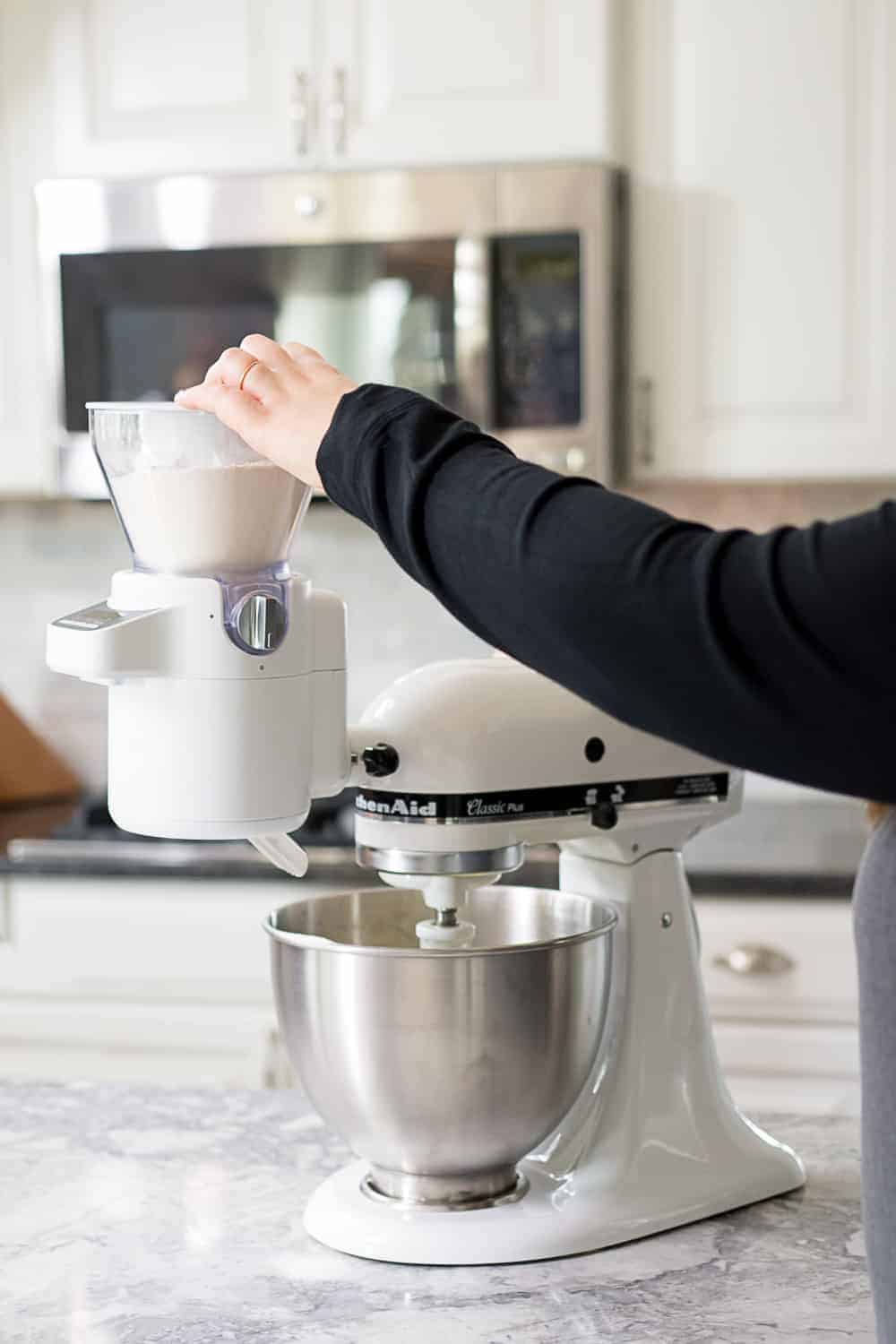 Luckily for me, I have a trusty partner in KitchenAid who won't let me down in this two-months-long baking session.
Because you know if I'm whipping up something in my kitchen, there's a good chance I'm using at least one KitchenAid appliance or tool in the process, and this year I've added their new Sifter+Scale Attachment to my arsenal.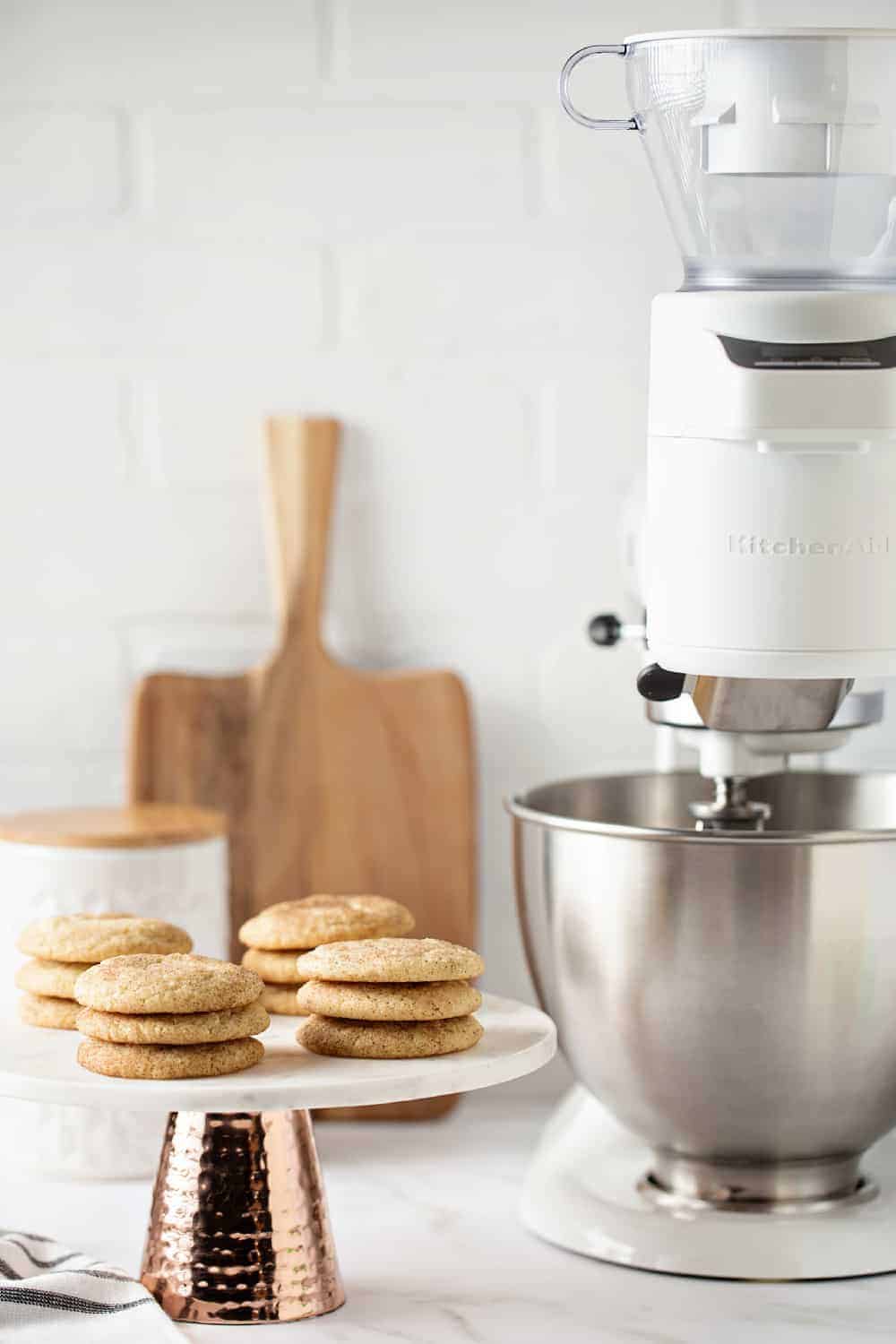 BEST SNICKERDOODLE RECIPE
Several years ago, back in my teaching days, my co-worker Jo-Lynn gifted me a recipe, claiming that it was for the "Best Snickerdoodle Cookies."
Well, with that kind of endorsement, I couldn't not try them immediately. So I gave them a whirl and let me tell you, Jo-Lynn was right! They are tender, soft, and full of that classic cinnamon flavor.
These Easy Snickerdoodle Cookies are seriously the best snickerdoodles I have ever had.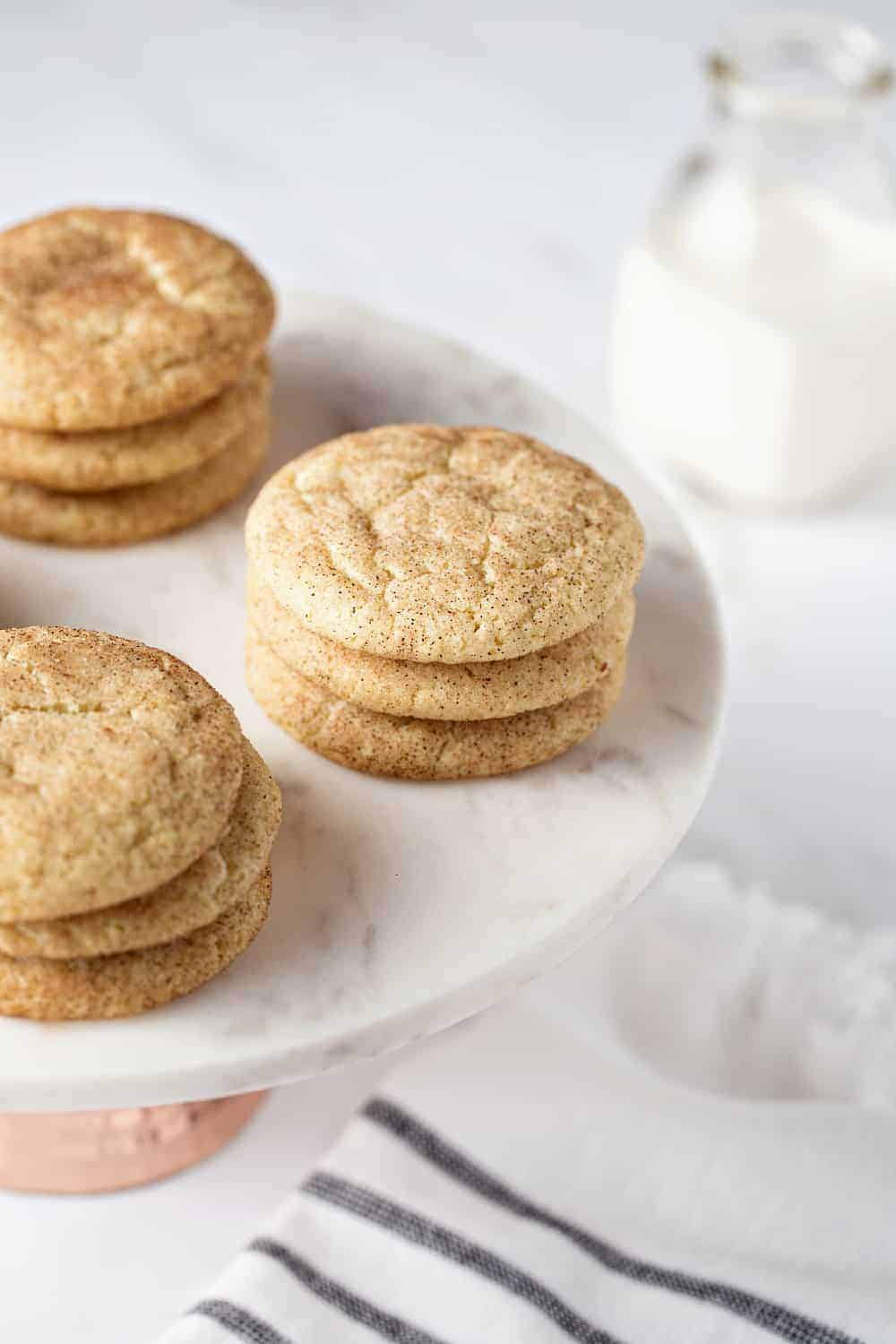 Apparently this is a recipe that has been passed down among a series of friends and neighbors, and Jo-Lynn said the secret to them was the cream of tartar; it's what apparently keeps them soft!
Any time I make these Easy Snickerdoodle Cookies for a holiday party or cookie exchange, they disappear in no time. They're a holiday classic and everyone always loves them.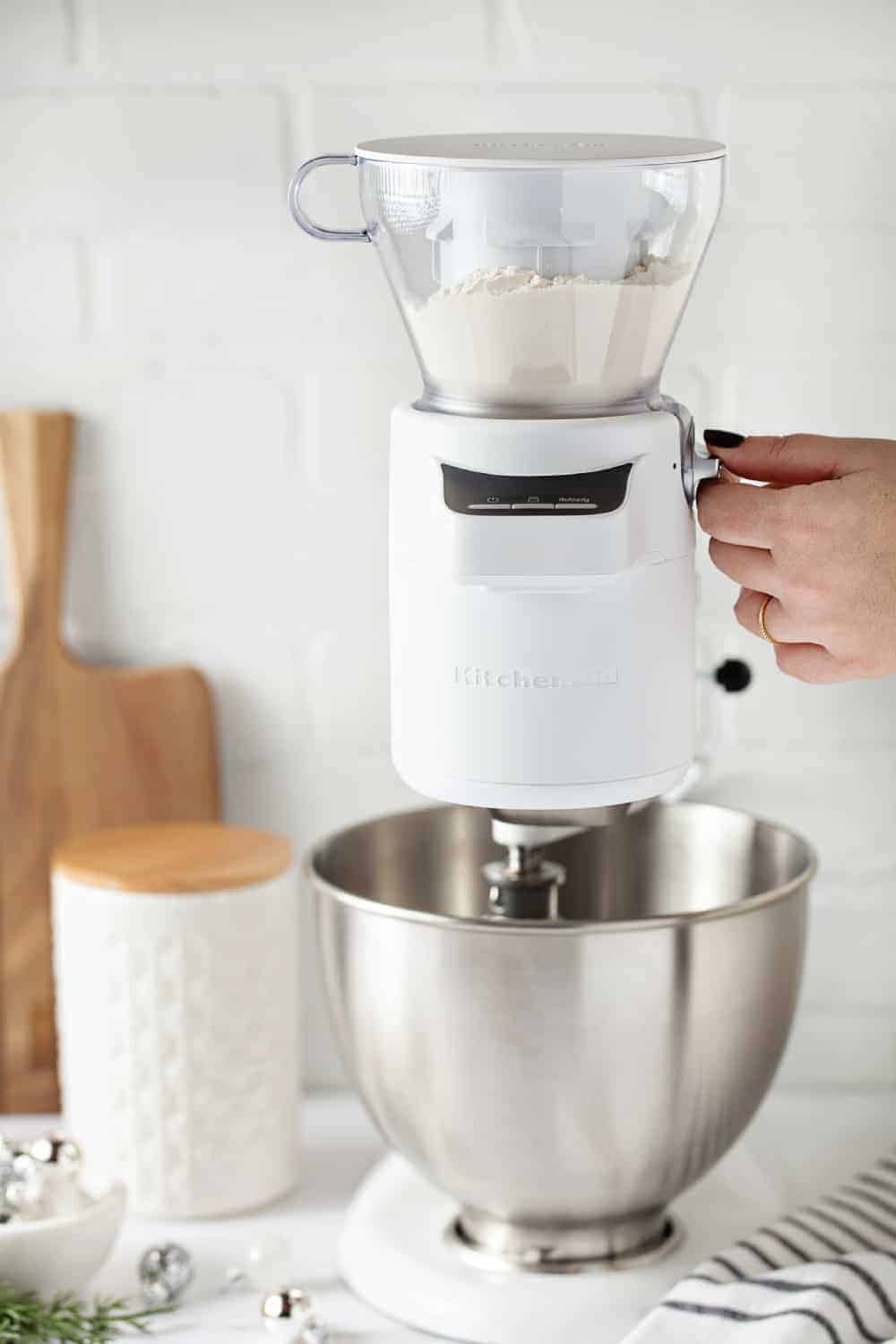 HOW TO MAKE SNICKERDOODLES
One of the things I love about this snickerdoodle recipe is how easy it is to make, and this year it was made even easier with my new KitchenAid® Sifter+Scale Attachment.
All I had to do was attach the Sifter+Scale Attachment to the power hub of my KitchenAid® Stand Mixer and let it do the work for me of mixing and sifting the dry goods right into the bowl. I didn't have to measure and mix the dry ingredients separately. How cool is that?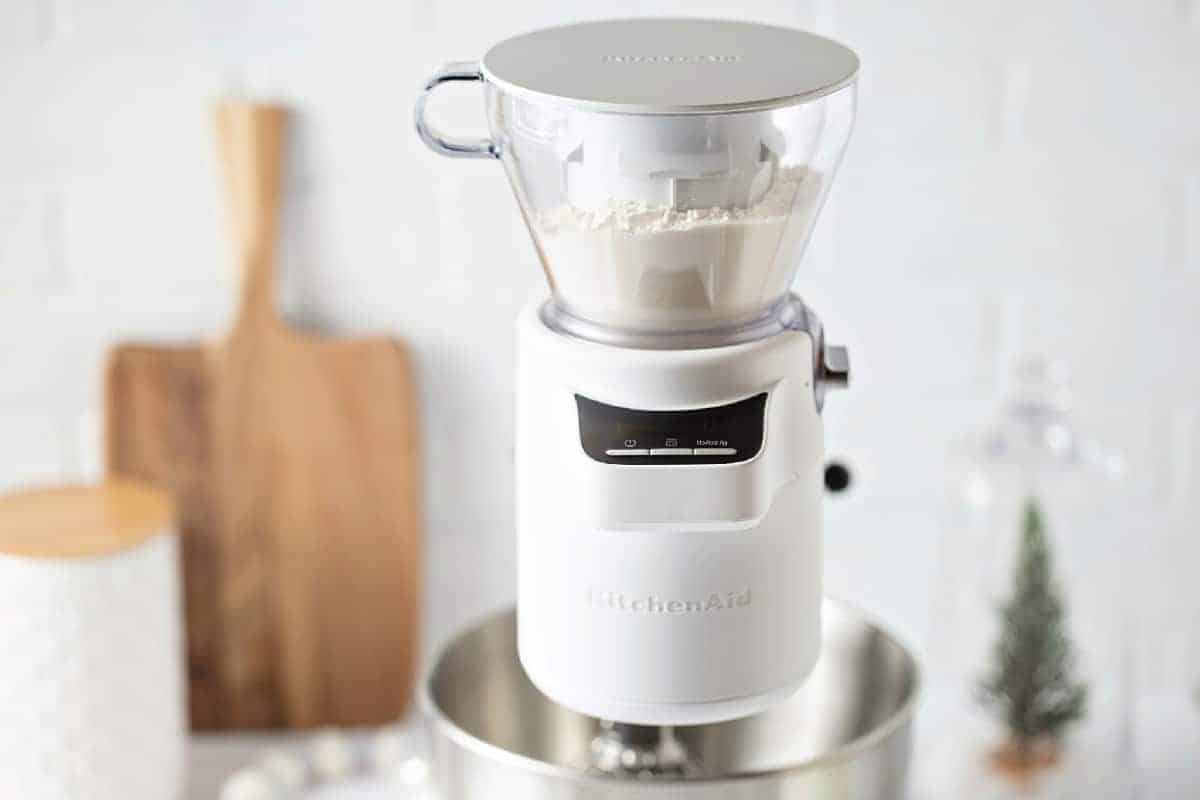 Using it also helps me easily weigh out my ingredients. Precision is so important in baking, and this time of year I don't have time to remake a batch of cookies because I didn't measure out my flour correctly the first time.
Thank goodness the folks at KitchenAid took the guesswork out with this new attachment so I can always know my ingredients are going to be measured accurately with the easy-to-use digital scale.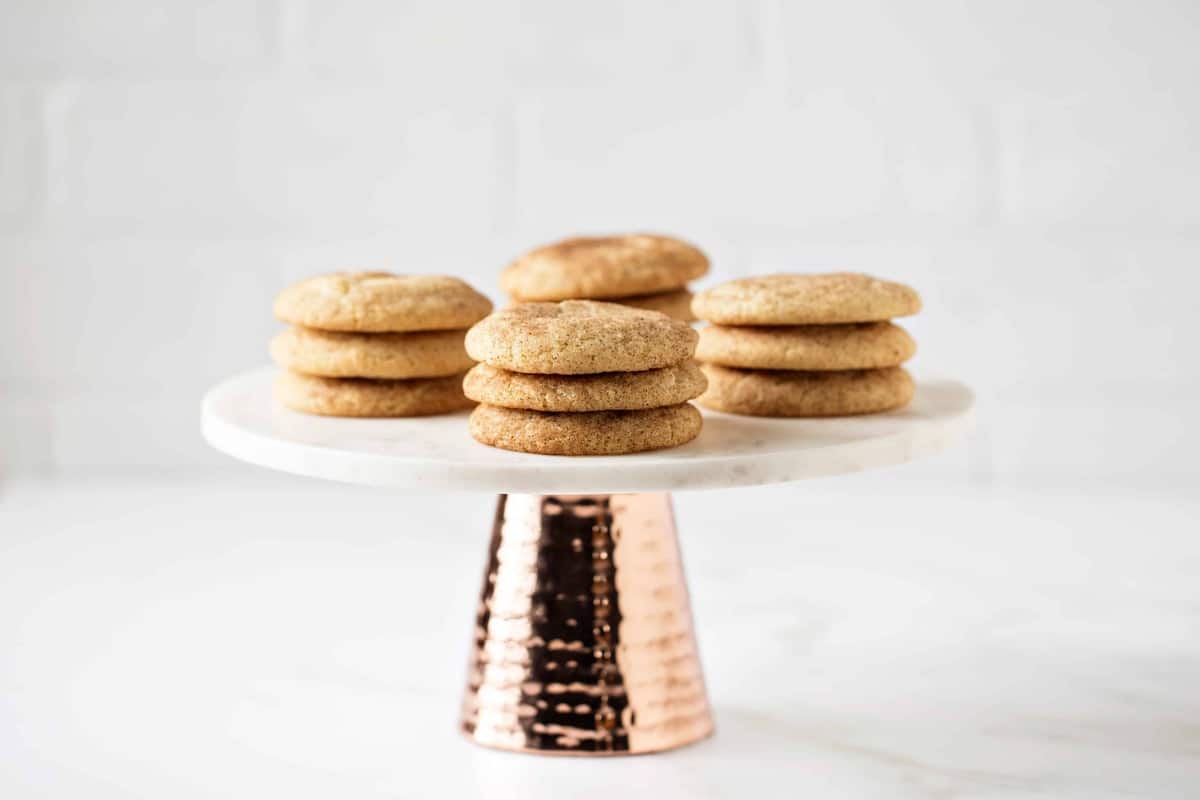 (Psst! Scroll down to the end of this post to grab a coupon code to use when gifting yourself or your loved ones your favorite KitchenAid products.)
To get started making Easy Snickerdoodle Cookies, cream together the butter, sugar and eggs in the bowl of your KitchenAid® Stand Mixer.
Once those are combined, use the Sifter+Scale Attachment to measure out your flour, add in the baking soda, cream of tartar and salt, and sift them right into the bowl with your wet ingredients.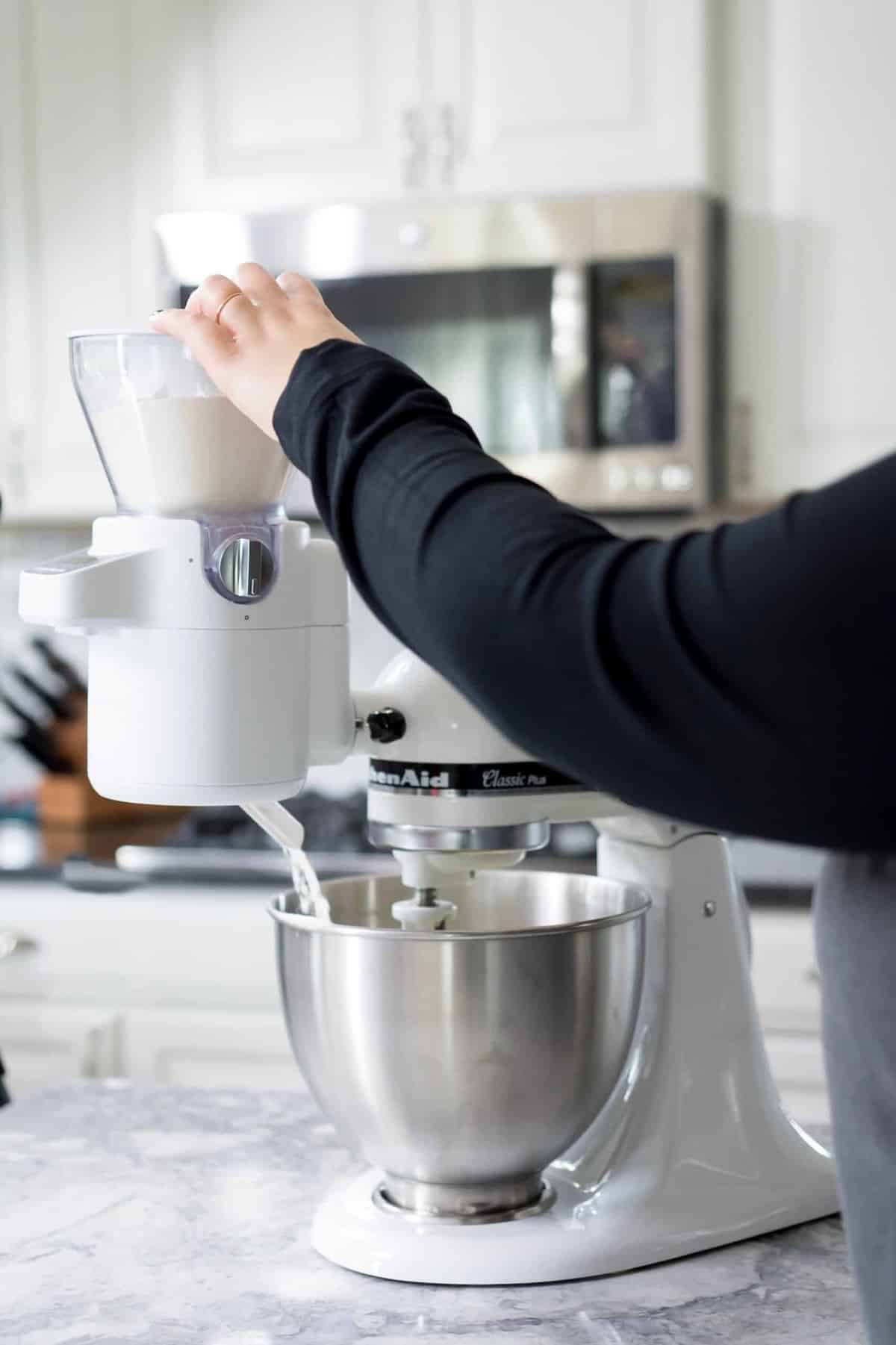 Then, simply mix until everything is incorporated before scooping the dough into balls, rolling them in cinnamon-sugar, and baking!
(Hint: Rolling the dough into balls and rolling them in cinnamon-sugar is a great way to get little hands involved in the snickerdoodle-making process. Elle loves helping with this step!)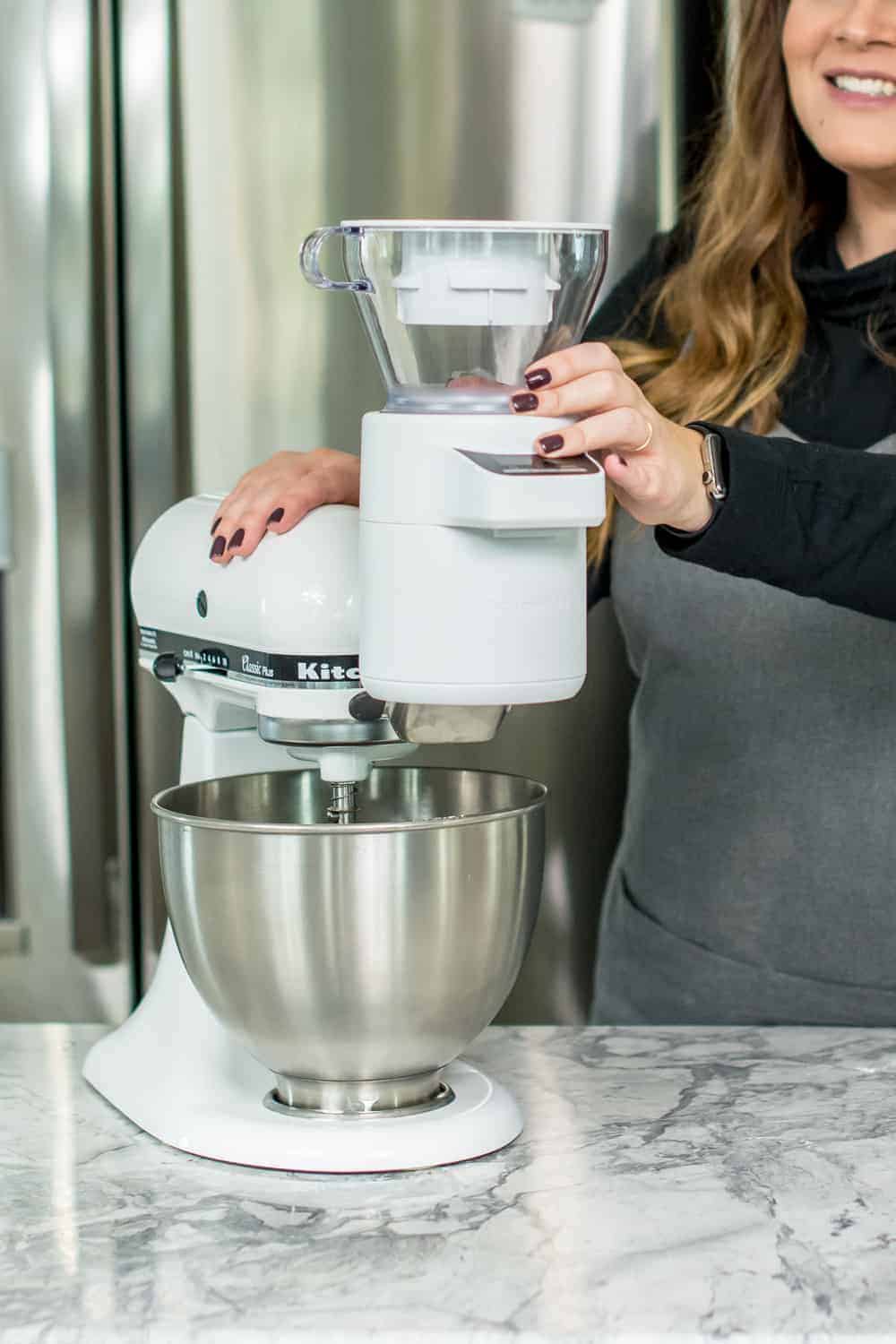 Even though this recipe was already pretty easy, I couldn't believe how much faster and easier the Sifter+Scale Attachment made the process.
Not to mention how much easier it makes both early morning baking and late night baking.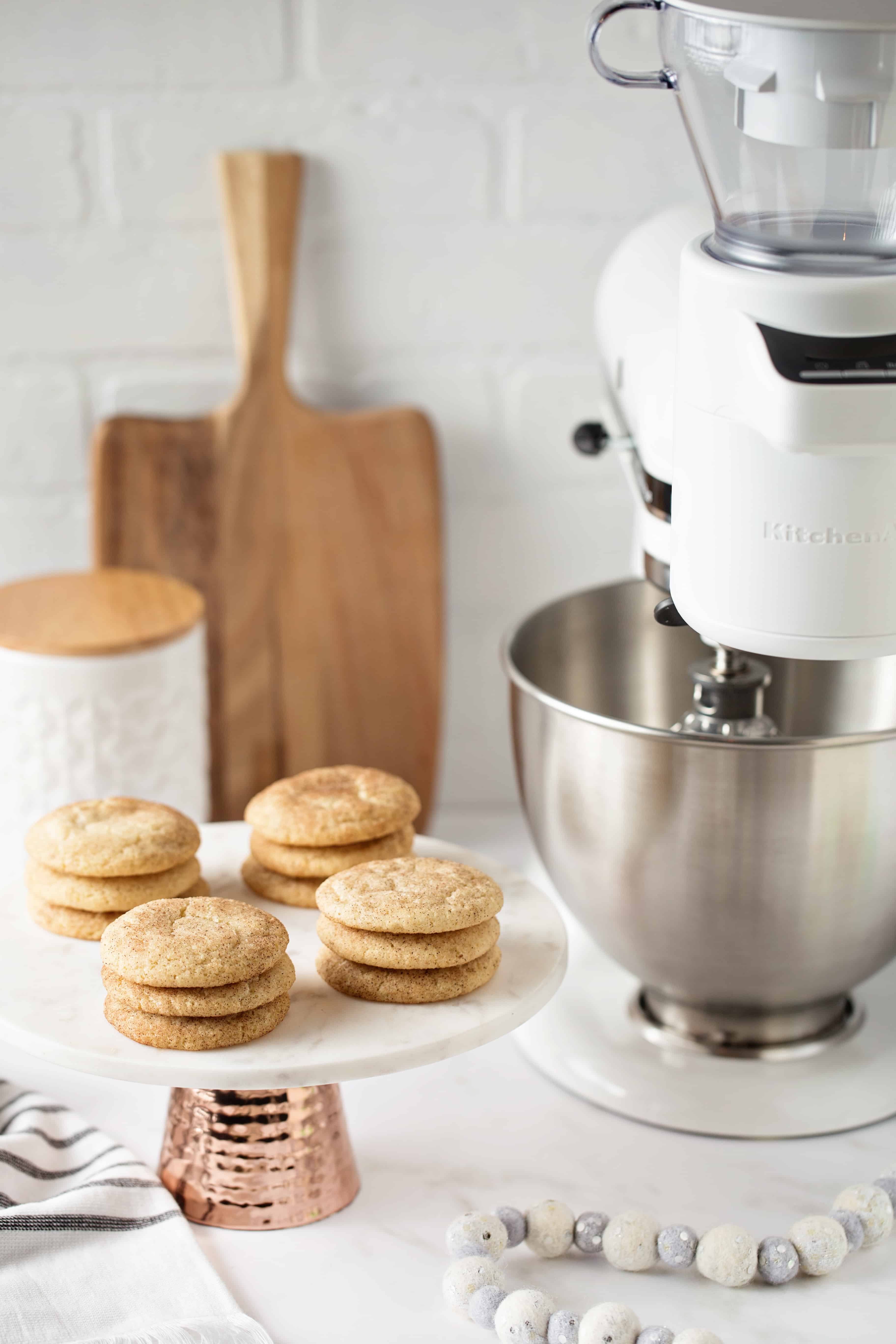 Sorry in advance for cancelling, friends! I promise to bring you a plate of Easy Snickerdoodle Cookies next time to make up for it.
Add these Easy Snickerdoodle Cookies to your holiday cookie platters this year – I know you'll love them as much as we do!
Want to freeze your snickerdoodle dough so you can bake up the cookies any time? Simply follow my instructions for how to freeze cookie dough!
Purchase your own KitchenAid® Sifter+Scale Attachment at KitchenAid.com. And now through 12/31/2018, use the code BAKING18 to get 10% off sitewide! Just add the code to your cart when checking out on KitchenAid.com.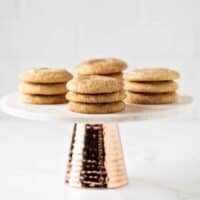 Easy Snickerdoodle Cookies
Easy Snickerdoodle Cookies are a fun holiday classic to make with friends and family. They're always a hit at holiday cookie exchanges!
Print
Pin
Servings: 50
Ingredients
1 cup butter softened
1 ½ cups granulated sugar
2 large eggs
2 ¾ cups all-purpose flour
1 teaspoon baking soda
2 teaspoons cream of tartar
½ teaspoon fine sea salt
For the Cinnamon Sugar:
½ cup granulated sugar
2 teaspoons ground cinnamon
Instructions
In the bowl of a stand mixer fitted with the paddle attachment, cream together the butter and sugar until well blended and mix in the eggs.

Sift together the flour, baking soda, cream of tartar and salt.

Gradually add dry mixture to the creamed mixture and mix until thoroughly combined.

In a separate bowl, mix together the 1/2 cup of sugar and 2 teaspoons of cinnamon.

Form into balls (I used my medium cookie dough scoop) and roll in the cinnamon-sugar mixture.

Place the dough balls on an ungreased cookie sheet about 2 inches apart.

Bake at 350°F for 12 minutes.
Nutrition
Serving: 1cookie | Calories: 92kcal | Carbohydrates: 13g | Protein: 1g | Fat: 4g | Saturated Fat: 2g | Cholesterol: 17mg | Sodium: 81mg | Sugar: 8g
The default measuring system on My Baking Addiction is US Customary. Unit conversions are provided as a courtesy; please be aware that there may be some discrepancies.
Card may contain affiliate links. As an Amazon Associate and member of other affiliate programs, I earn from qualifying purchases.