Salted Caramel Chocolate Chip Cookies are loaded with caramel bits and sprinkled with sea salt to create a deliciously sweet and salty cookie.
Guys, I have an issue. If you keep up with My Baking Addiction on a regular basis, you may already know what I am talking about.
I have become addicted to all things salted caramel. It's pretty much the only flavor combination that I want to bake right now. From Salted Caramel Brownies and Salted Caramel Blondies to these Salted Caramel Chocolate Chip Cookies – I'm obsessed.
My recent infatuation with this sweet and salty flavor came about after a trip to Whole Foods when, against my better judgement, I picked up a container of their Dark Chocolate Sea Salt Caramels. Have you tried these little bites of caramel bliss? They're incredible – like can't keep my fingers out of the container incredible.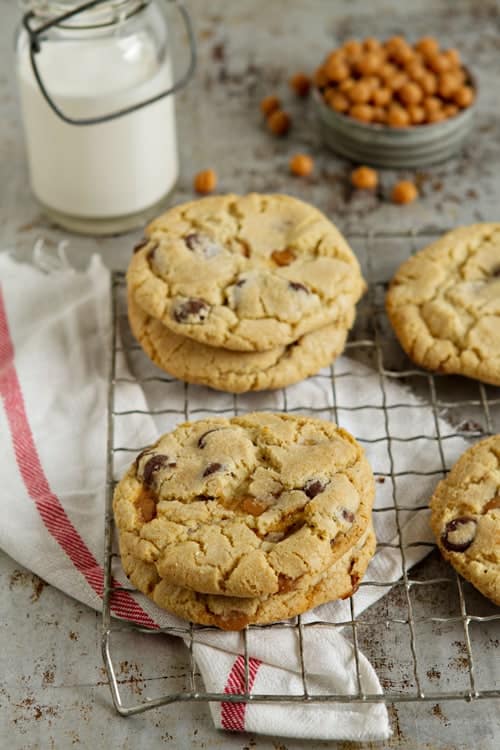 Trust me, you should buy them and then have your significant other hide them from you – not that I had Eric do that or anything. We also picked up an amazing watermelon – which we happily noshed on for days. It's all about balance, my friends – at least that's what I am telling myself.
Whole Foods Market is honestly one of our favorite places on the planet – we actually make the 40 minute drive about twice a month. Eric has a serious thing for their cheese pizza (which he typically eats in the car before we even leave the parking lot) and I'm a sucker for their mini milk chocolate covered graham crackers. We actually mapped the nearest Whole Foods to our potential vacation rentals before we made our final decision. Ridiculous? Maybe, but priorities!
Salted Caramel Chocolate Chip Cookies start with my absolute favorite Chocolate Chip Cookies recipe, but they get kicked up a notch with the addition of caramel bits and a sprinkling of sea salt. These cookies are my new go-to recipe for summer barbecues, family get togethers and just overall cookie eating. Make them, make them, MAKE THEM – you can thank me later.
Salted Caramel Chocolate Chip Cookies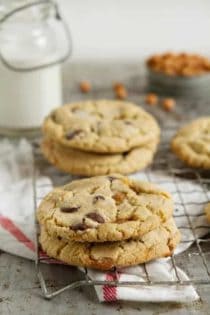 Ingredients:
2 cups minus 2 tablespoons (8 1/2 ounces) cake flour
1 2/3 cups (8 1/2 ounces) bread flour
1 1/4 teaspoons baking soda
1 1/2 teaspoons baking powder
1 1/2 teaspoons coarse salt
2 1/2 sticks (1 1/4 cups) unsalted butter (I used Challenge Butter)
1 1/4 cups (10 ounces) light brown sugar
1 cup plus 2 tablespoons (8 ounces) granulated sugar
2 large eggs
2 teaspoons pure vanilla extract
1 pound dark chocolate chips
1 cup Kraft Caramel Bits
Sea salt
Directions:
Sift flours, baking soda, baking powder and salt into a bowl. Set aside.
Using a mixer fitted with paddle attachment, cream butter and sugars together until very light, about 5 minutes.
Add eggs, one at a time, mixing well after each addition. Stir in the vanilla.
Reduce speed to low, add dry ingredients and mix until just combined, 5 to 10 seconds.
Add in chocolate chips and caramel bits and mix on low speed until just combined.
Press plastic wrap against dough and refrigerate for 24 to 36 hours. Dough may be used in batches, and can be refrigerated for up to 72 hours.
When ready to bake, preheat oven to 350 degrees. Line a baking sheet with parchment paper or a nonstick baking mat. Set aside.
Scoop 6 2-ounce mounds of dough (about the size of golf balls) onto baking sheet. Sprinkle lightly with sea salt and bake until golden brown but still soft, 13-15 minutes.
Transfer sheet to a wire rack for 10 minutes, then slip cookies onto another rack to cool a bit more.
Repeat with remaining dough, or reserve dough, refrigerated, for baking remaining batches the next day.
Notes:
For regular sized cookies, use a heaping tablespoon and bake for approximately 8-10 minutes.
Adapted from the New York Times
All images and text ©
Follow Jamie on Instagram. We love to see what you're baking from MBA! Be sure to tag @jamiemba and use the hashtag #mbarecipes!