Sweet, springy Lemon Raspberry Scones make a delectable way to start your day. Paired your morning coffee or tea, they're the boost you need to kick your day into overdrive!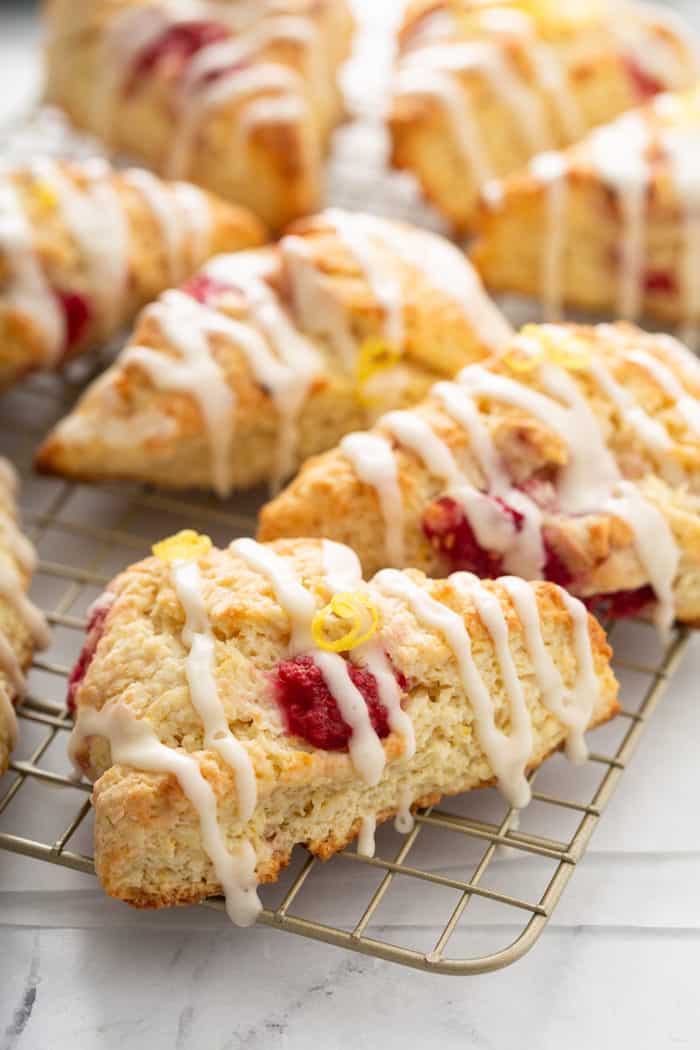 Even though Ohio weather is pretty much the worst – I mean it's 39 degrees as I type this – I am finally starting to see little glimmers of spring even though the weatherman said there's a chance of flurries next week.
Come on, Mother Nature it is MAY.
I even went against my better judgement and planted a bunch of Superbells this past weekend. And now I am just over here hoping that I don't have to cover them due to said flurries.
But despite the cold temps and dreary skies, I am craving all things sweet, tart and summery. And let me tell you, even if the weather is less than ideal where you're located, these Lemon Raspberry Scones are sure to brighter up your day and maybe even your mood!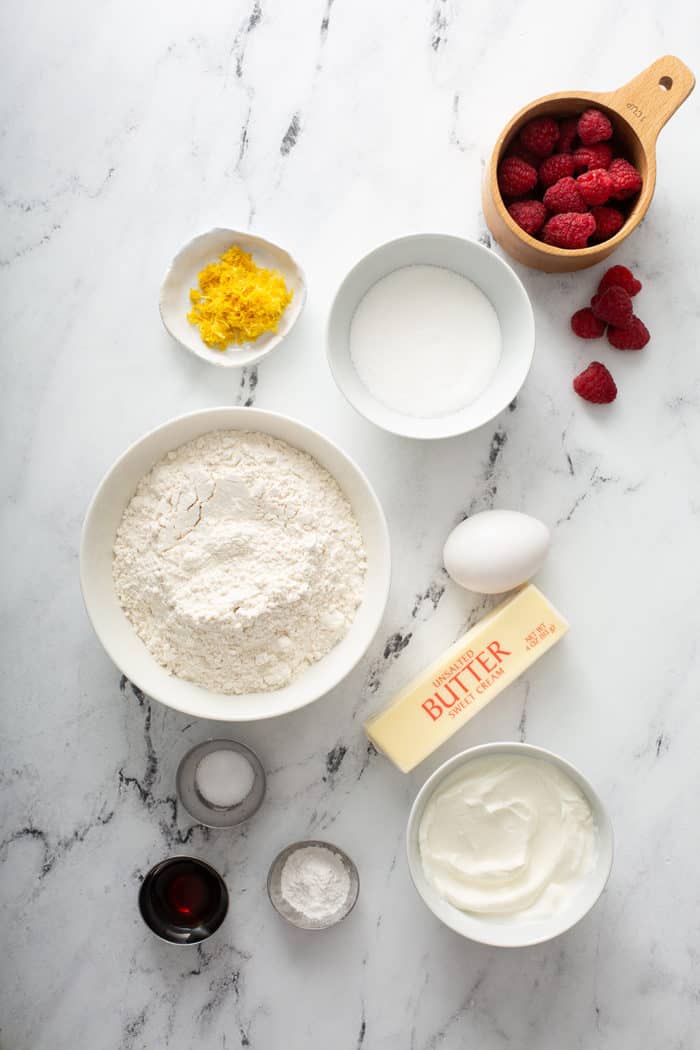 TART AND SWEET RASPBERRY SCONE RECIPE
When Elle was little, I loved introducing her to new flavor combinations through baked goods. I remember sharing these Lemon Raspberry Scones with her and introducing her to that perfect combination of tart lemon and sweet raspberries.
I love pairing raspberries with lemon. Raspberry Lemonade, Raspberry Lemon Streusel Muffins, and No-Bake Raspberry Lemon Cheesecake are some of my favorite ways to use fresh raspberries.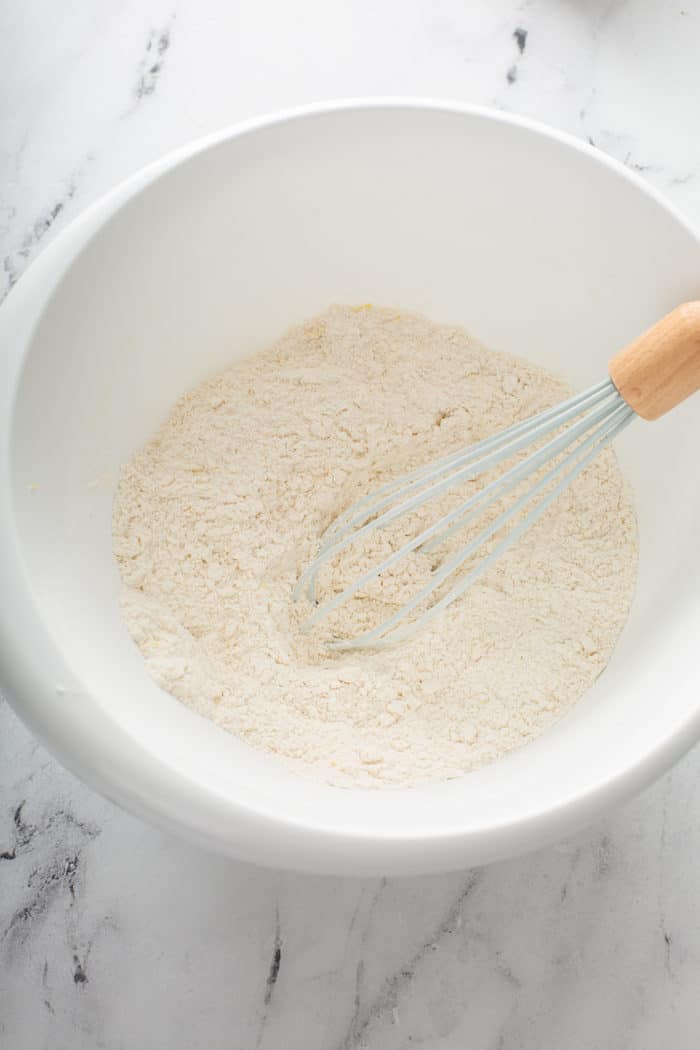 So of course using that combo in scones had to happen!
These scones are bursting with fresh raspberries and I added lemon in 3 different ways:
Lemon zest in the scones
Lemon-flavored Greek yogurt in the scones
Lemon juice in the glaze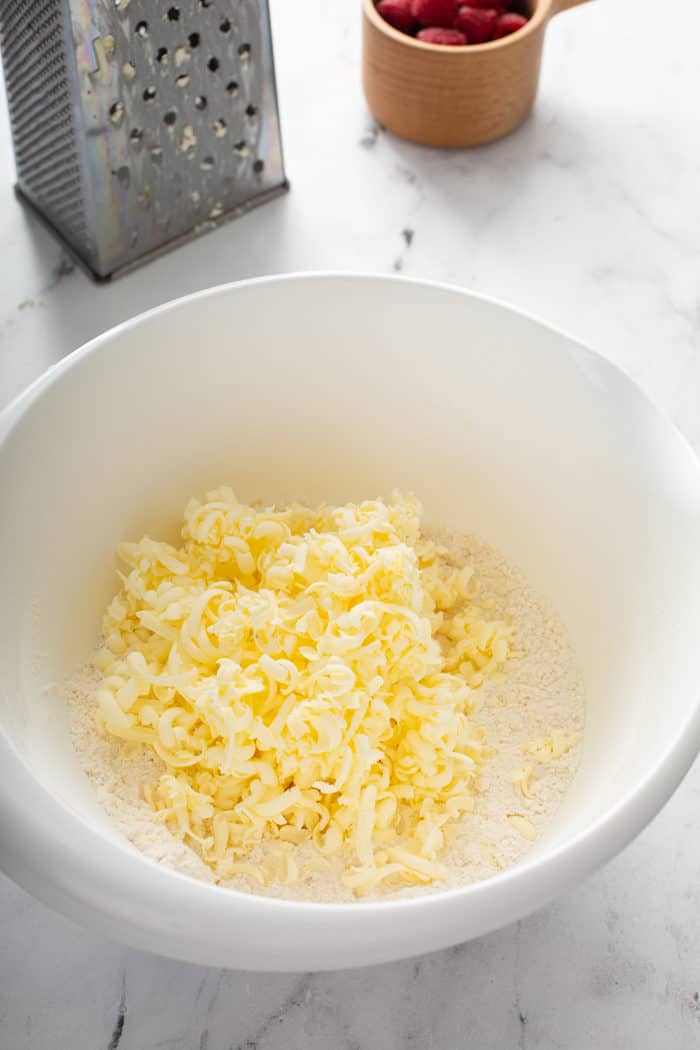 A lot of scone recipes use buttermilk, but since Greek yogurt makes a great buttermilk substitute, I like to use the opportunity to add extra lemon flavor by using the lemon Greek yogurt instead.
If you can't find lemon Greek yogurt, you could use plain Greek yogurt or sour cream instead.
These scones are tender and perfect and definitely one of the best breakfasts you could dream up.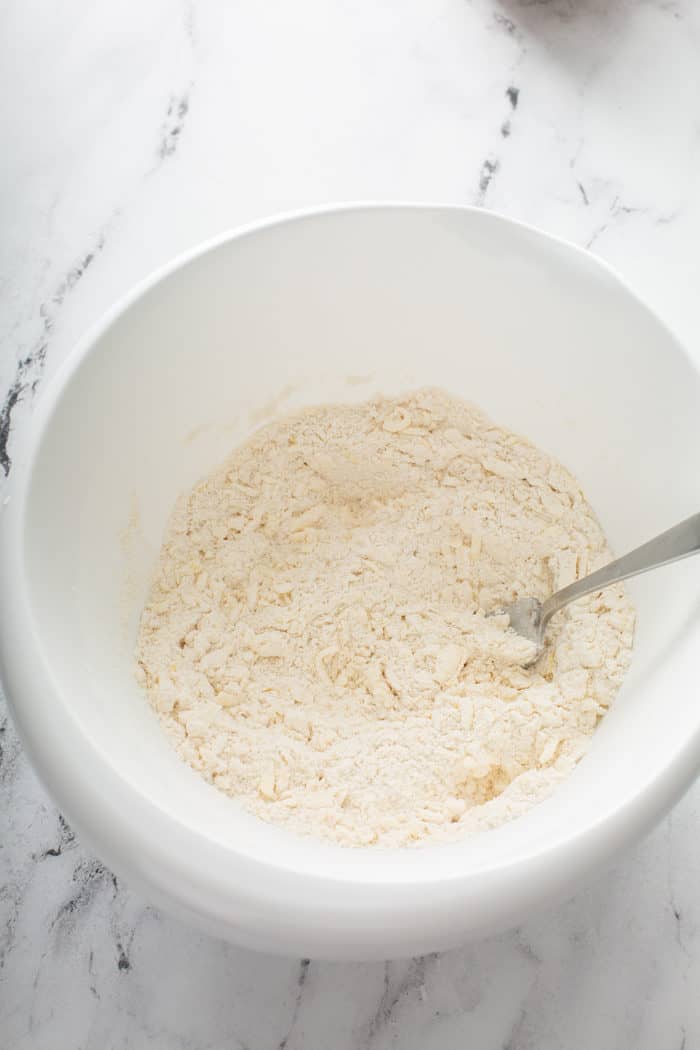 HOW TO MAKE LEMON RASPBERRY SCONES
If you've made my Orange Scones or my Cranberry Orange Bundt Cake, then you can probably guess the first step of this recipe.
That's right, combining the lemon zest with the sugar! This step releases all of the oils in the lemon zest and really boosts the flavor and aroma of the zest in the scones.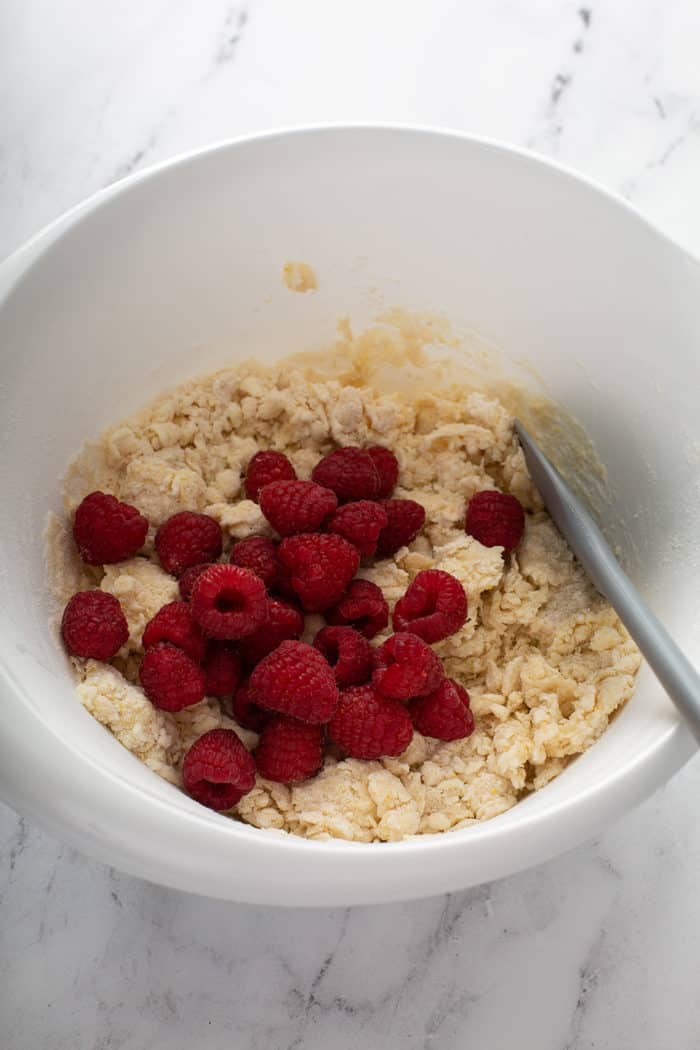 Add in the rest of the dry ingredients, then grate in the frozen butter. Use a fork or pastry blender to work the butter into the flour until the mixture resembles a coarse meal.
Whisk together the yogurt, egg and vanilla, then use a fork to gently stir the wet ingredients into the flour and butter mixture. Once a dough starts to form, fold in the raspberries. It's ok if the berries break up a bit!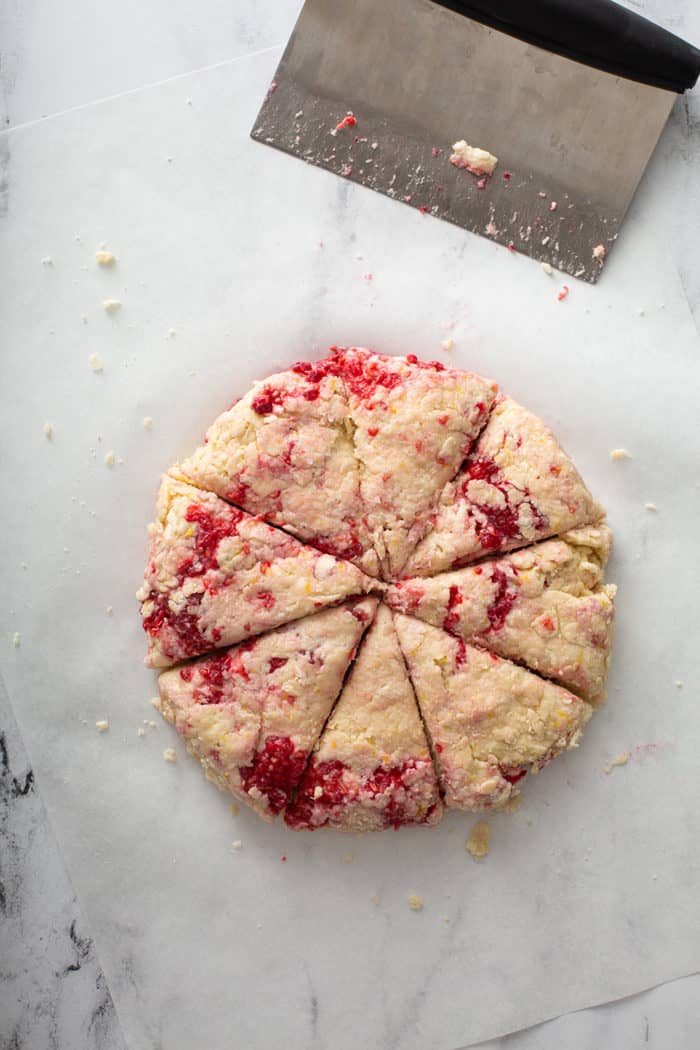 Use your hands to gently bring the dough together into a ball, then press it into a 7-inch circle on a floured surface. Cut the dough into 8 triangles; move the triangles to a lined baking sheet to bake.
After the scones have baked, let them cool for 10 minutes, then whisk together the glaze. You can dip the top of the scones into the glaze or drizzle the glaze over the scones, whichever you like best!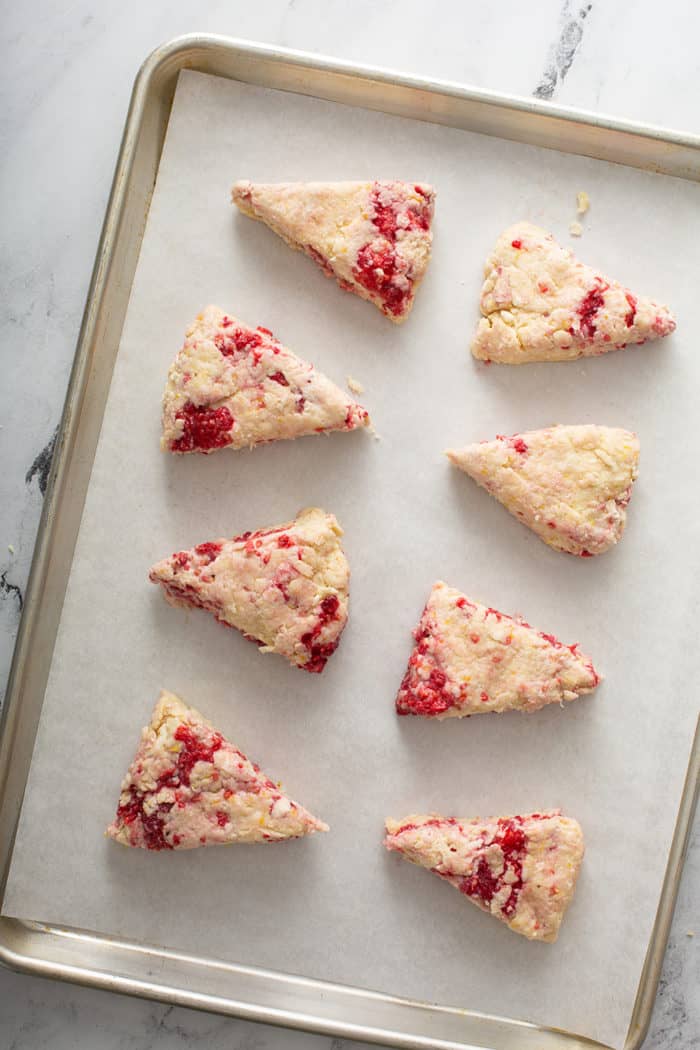 CAN YOU FREEZE RASPBERRY SCONES?
Once you've made your scones and they have cooled completely, pop them in an airtight container in the fridge OR freezer.
That's right, these Lemon Raspberry Scones freeze beautifully! They'll keep for 3 days in the fridge or up to 2 months in the freezer.
That means you can enjoy a Lemon Raspberry Scone long after raspberry season is over, deep into the heat of summer.