Sweet, spring-y Lemon Raspberry Scones make a delectable way to start your day. Paired with vibrant, sweetened iced coffee, it's the boost you need to kick your morning into overdrive!
This is a sponsored post on behalf of Starbucks®. All opinions are my own. Thank you for supporting the brands that continue to make My Baking Addiction possible.
The weather is finally, FINALLY turning from frigid to warm. We're in that sweet spot where it's not quite tropical, but you definitely still want light breakfasts and cold drinks to refreshingly begin the day.
Little Elle is really getting into the fact that Mama's a baker, and that kid can eat, man. I'm loving introducing her to new flavor combinations by creating fun baked goods, like these Lemon Raspberry Scones. There's pucker-y lemon yogurt and fresh lemon zest right in the scone, along with fresh raspberries that were so sweet I had to stop myself from popping them all directly into my mouth.
Top it all off with a sweet lemon glaze, and O-M-G have you got one gorgeous breakfast bread on your plate. Elle is definitely a big fan.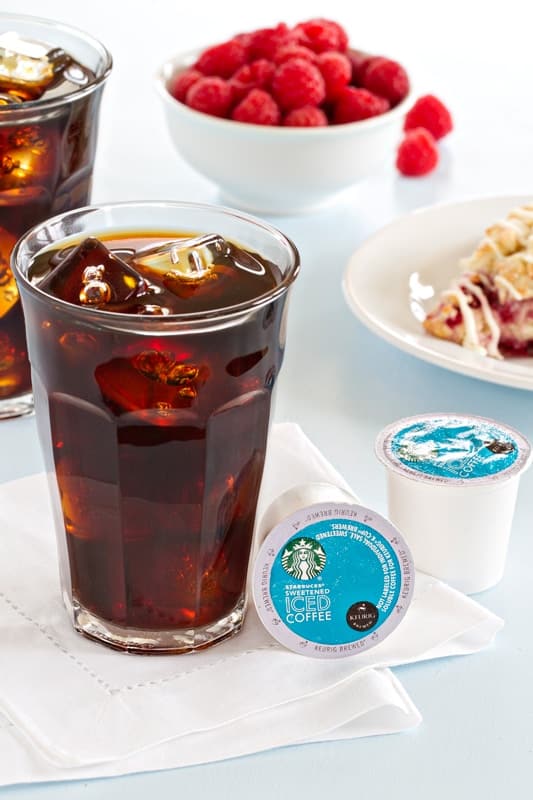 Now, as much as I love a sweet scone on my plate, I need a little more than sweet fruit to get myself kickstarted in the morning. Enter Starbucks® Iced Coffee K-Cup® Packs in Sweetened – the perfect fairing to our breakfast of lemon-y raspberry-filled scones.
I'm a girl that loves coffee (iced or hot) with heft. And that's a perfect description for any of the Starbucks® Iced Coffee K-Cup® Packs. It's like having a barista right here in my kitchen, whipping up my favorite customized iced coffees. What more could you ask for to start Monday (or any day) off right?
I love scones as a quick and easy breakfast, especially when paired with iced coffee, because they don't require a lot of effort to eat. Once you've made them, just pop them in an airtight container in the fridge OR freezer. They keep for several days at least, and in the freezer for up to two months – you can enjoy a Lemon Raspberry Scone long after raspberry season is over, deep into the heat of summer – which is 100% iced coffee season. See? Perfect pairing, all spring and summer long!