If you love the flavor combination of lime and coconut, this cake is for you! Lime Coconut Cake is a tropical take on the classic whipping cream cake. Topped with lime glaze and toasted coconut, this cake will transport you to the beach with one bite!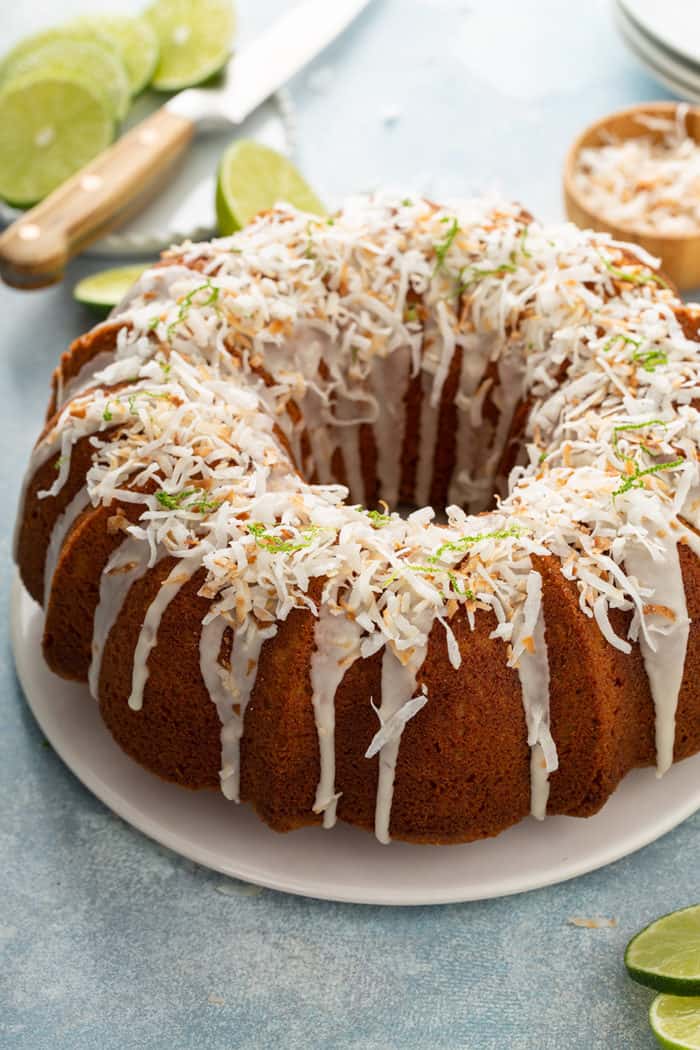 I'm starting to get the end of summer blues over here as we prepare for our little babe to head back to school.
And while I'm seeing pumpkin and apple recipes take over my social feeds, I'm not quite ready to move on from the bright flavors of summer just yet. We'll give it at least until September 1st.
This Lime Coconut Cake is the absolute perfect way to celebrate the end of summer. It's sweet, tart and incredibly delicious.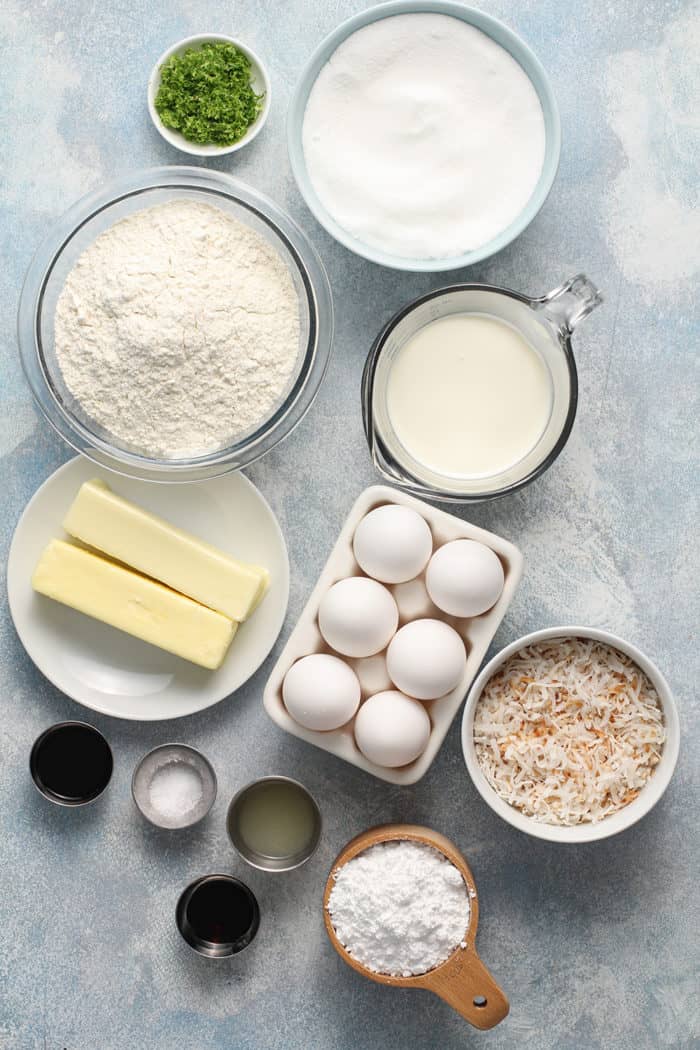 MY TROPICAL TWIST ON WHIPPING CREAM CAKE
I already told you guys how obsessed my family is with Whipping Cream Cake. After discovering it and trying out this classic cake recipe, I made it…well, I'm embarrassed to say how many times.
Just trust me, it was a lot.
I've been working on some fun flavor variations of the original recipe. Is it mostly to justify making this cake so often?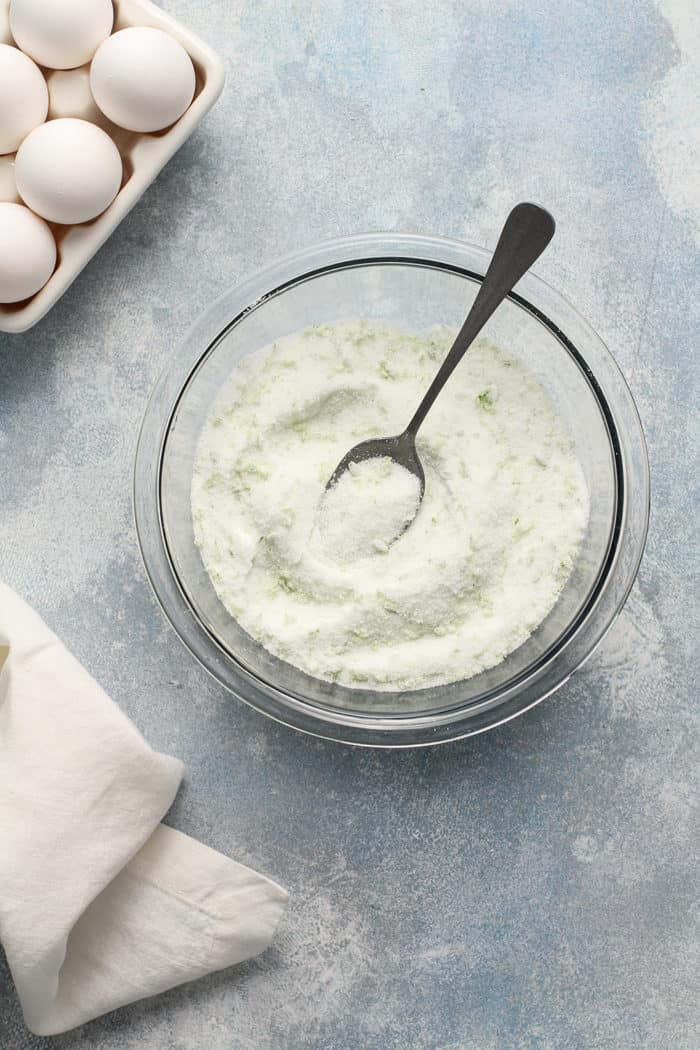 Maybe. I'm not admitting to anything.
I still have some more flavors that will be coming soon, but we are going to start with this Lime Coconut Cake.
I infused the cake with lots of lime zest and mixed in plenty of toasted coconut. Then I made a lime glaze and garnished the cake with extra toasted coconut and lime zest.
We're not shying away from flavor here!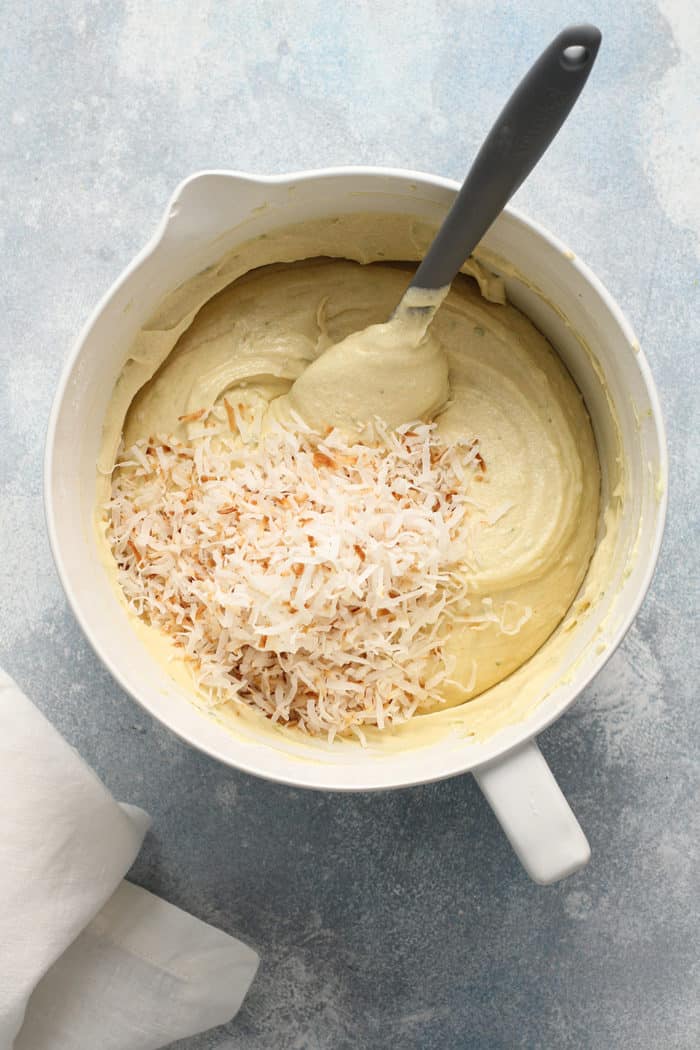 HOW TO MAKE LIME COCONUT CAKE
If you've made my Raspberry Lemon Scones, Orange Scones, or Cranberry Orange Bundt Cake, then you're probably familiar with the first step in making this Lime Coconut Cake:
In a medium bowl, mix together the sugar and lime zest with your fingertips until the sugar is moistened and fragrant.
Why? This really releases all of the oils from the lime zest and really infuses the lime flavor throughout the cake batter.
Next, use a stand mixer or electric hand mixer to beat the butter and sugar until nice and fluff, for about 5 minutes. Don't skimp on this step!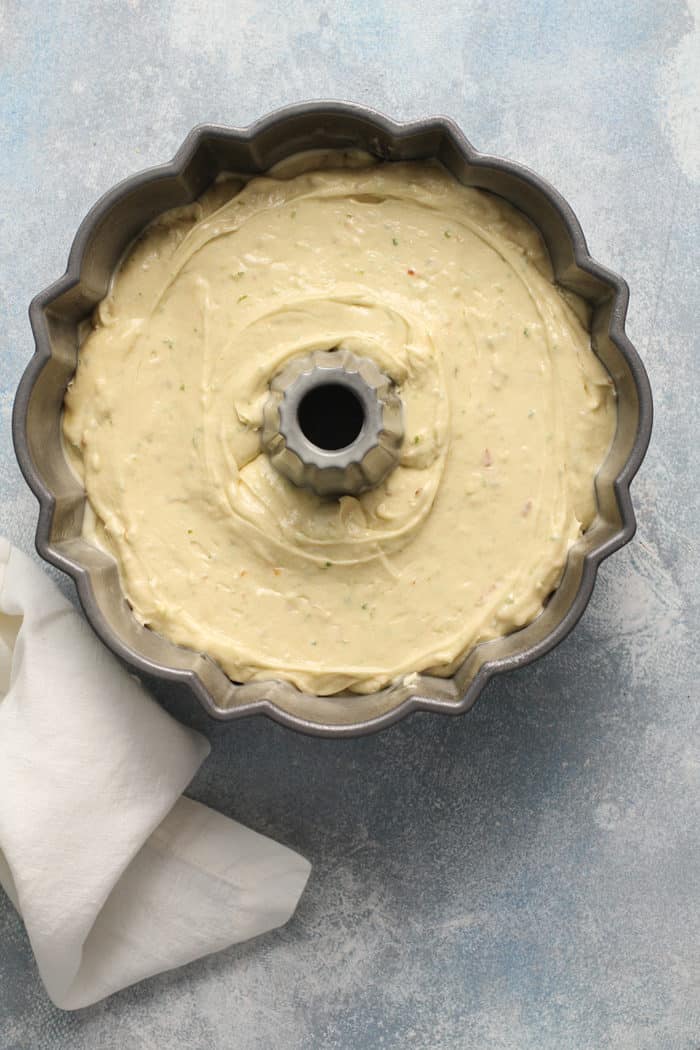 Add one egg at a time, beating after each egg. Whisk together the flour and salt, then alternately add the flour and heavy whipping cream, starting and ending with the flour.
Add the vanilla and mix until incorporated, then fold in 1 cup of toasted coconut. Add the batter to a prepared bundt pan, then place the cake in a COLD oven. Close the door and turn the oven to 325°F.
Bake for 1 hour and 15 minutes. Let the cake for 45 minutes before inverting onto a serving plate.
Once the cake has cooled, mix together the glaze. Spoon the glaze over the cake and garnish with lime zest and coconut.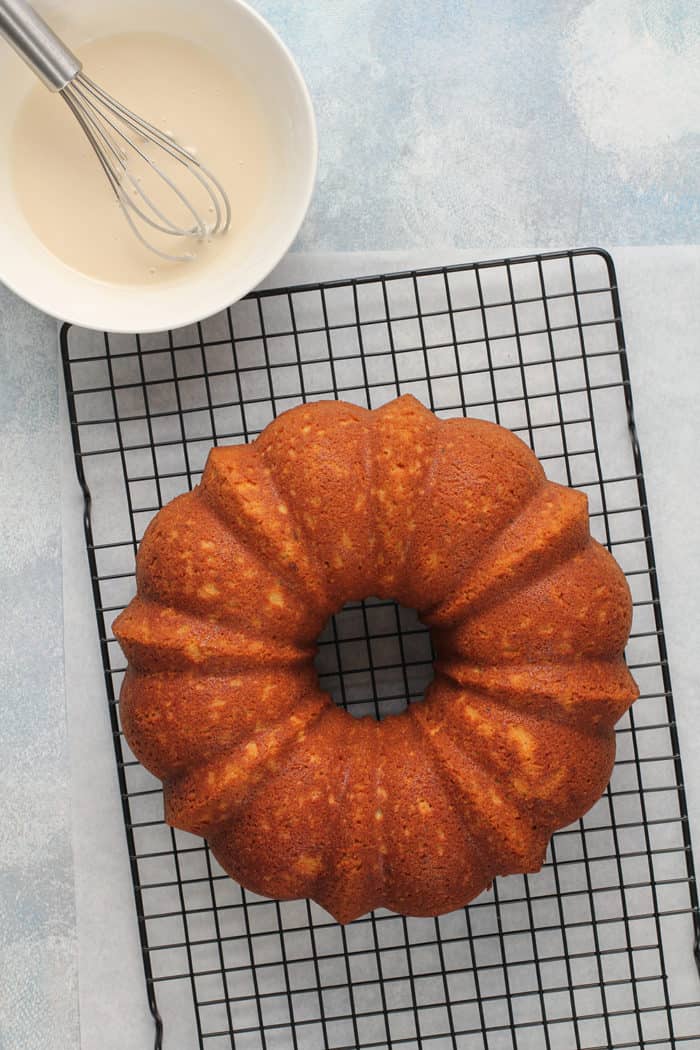 WHY DO YOU START THIS CAKE IN A COLD OVEN?
For most cake recipes (and baking recipes in general), you preheat the oven before you put the cake in to bake.
But for this recipe, you put the cake in a cold oven, then turn the heat to just 325°F while it bakes. There's actually a reason for this weird step, though!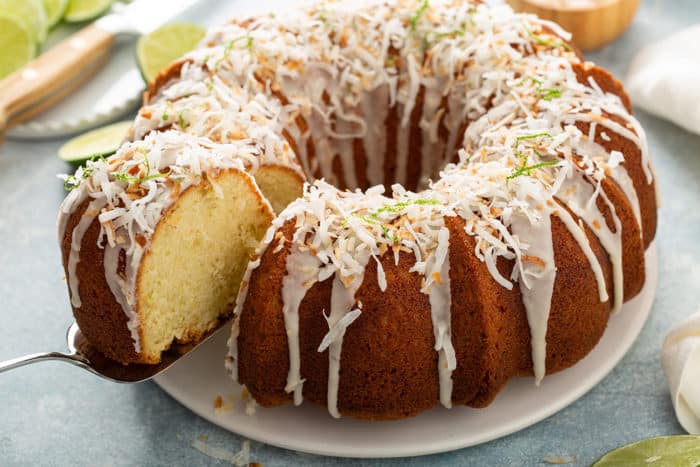 This cake is so dense, if you started it in a hot oven or baked it at a higher temperature, the outside would burn before the inside baked all the way through.
By starting the cake in a cold oven and letting it slowly warm up, it makes sure the inside of the cake and the outside of the cake are done at the same time.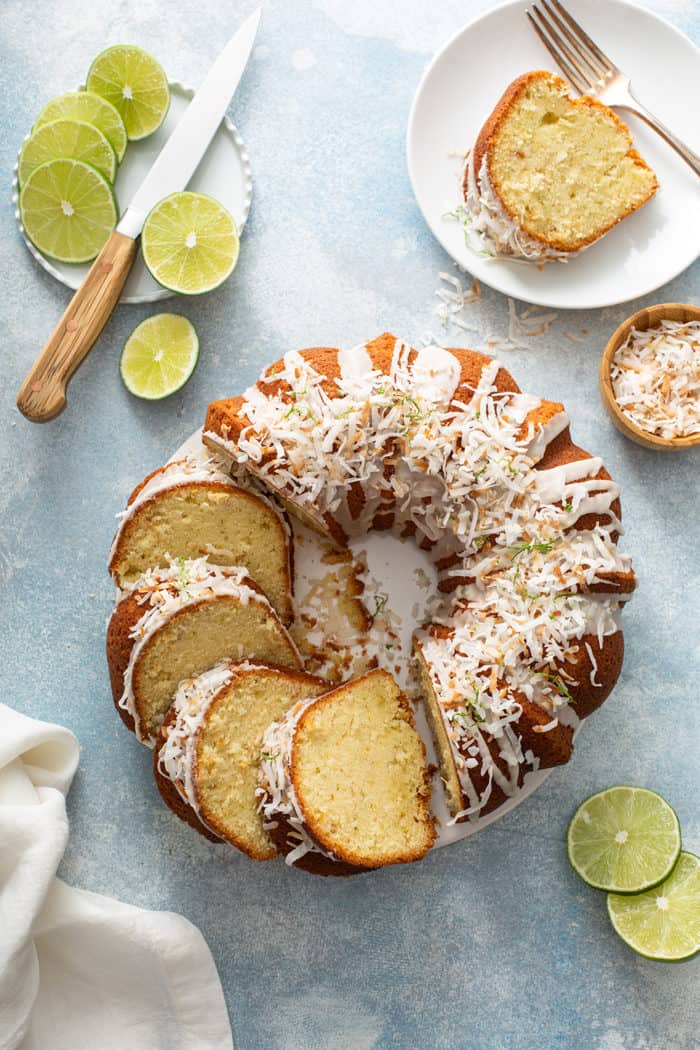 CAN YOU FREEZE THIS CAKE?
Lime Coconut Cake would absolutely freeze well. If you want to freeze it whole, freeze it before you glaze it.
Wrap the cake in plastic wrap, followed by foil. Glaze the cake before serving it, after it has thawed.
If you have leftover cake that you want to freeze, cut it into slices, then wrap them in plastic wrap and pop them into a zip-top freezer bag.
You'll be able to grab a slice of Lime Coconut Cake any time you want! It might be every night, but that's just to be expected with a cake this good.