These blueberry crumb muffins are the ultimate breakfast or snack with a cup of coffee. Bursting with fresh blueberries and topped with cinnamon crumbs, these tender muffins are a bakery-worthy treat.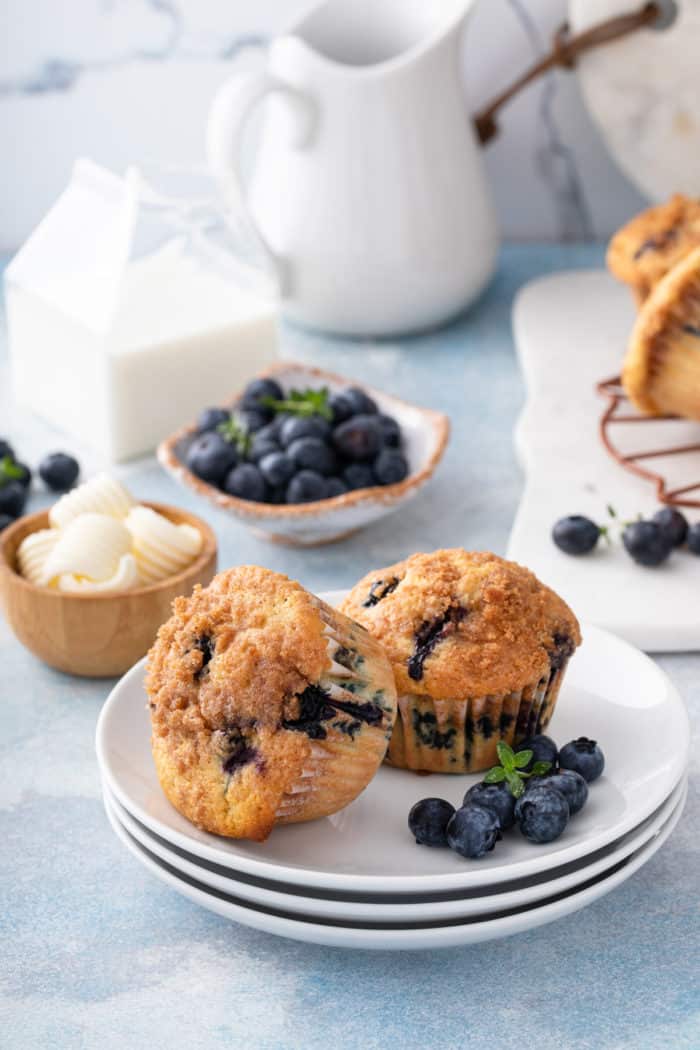 This post contains affiliate links.
There is nothing better than enjoying a slow morning after getting Elle off to school.
Once she's at out the door, it's time to pour a cup of coffee (or maybe make myself a vanilla chai latte) and give myself a few minutes to scroll through social media while sipping on my drink at a leisurely pace.
The only thing that makes this better is when I have a baked good to snack on.
I don't care what time of year it is, there is never a wrong time to enjoy a blueberry crumb muffin. These are some of my favorites to enjoy on my slow fall mornings right now!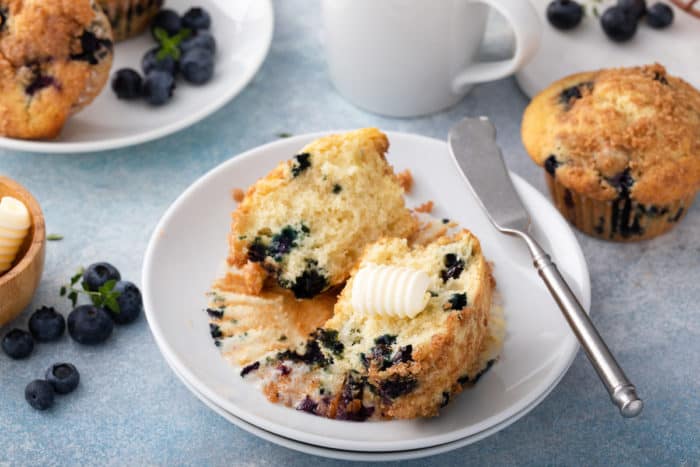 MY FAVORITE BLUEBERRY CRUMB MUFFINS
We all know that the top is the best part of the muffin, right?
I realized that my favorite muffin recipes all have something in common: they all have some kind of topping.
I'm all about the glaze on top of my lemon poppy seed muffins. I like adding pumpkin seeds to the tops of my pumpkin muffins for some crunch. And the crumb topping on my apple cinnamon muffins and my banana crumb muffins is what takes them over the top.
So it only makes sense that we'd make blueberry muffins with a crumb topping, right?
The muffins themselves are super tender and moist. They have just the right amount of sweetness and are packed with fresh blueberries.
It would be easy to overpower the flavor of the blueberries with too much crumb topping, but the one in this recipe is juuuuust right. It's got a hint of cinnamon and adds a bit of extra sweetness and texture to the tops of the muffins.
I've eaten a lot of blueberry muffins from various bakeries and coffee shops over the years, and this blueberry crumb muffin recipe is right up there with the best I've had.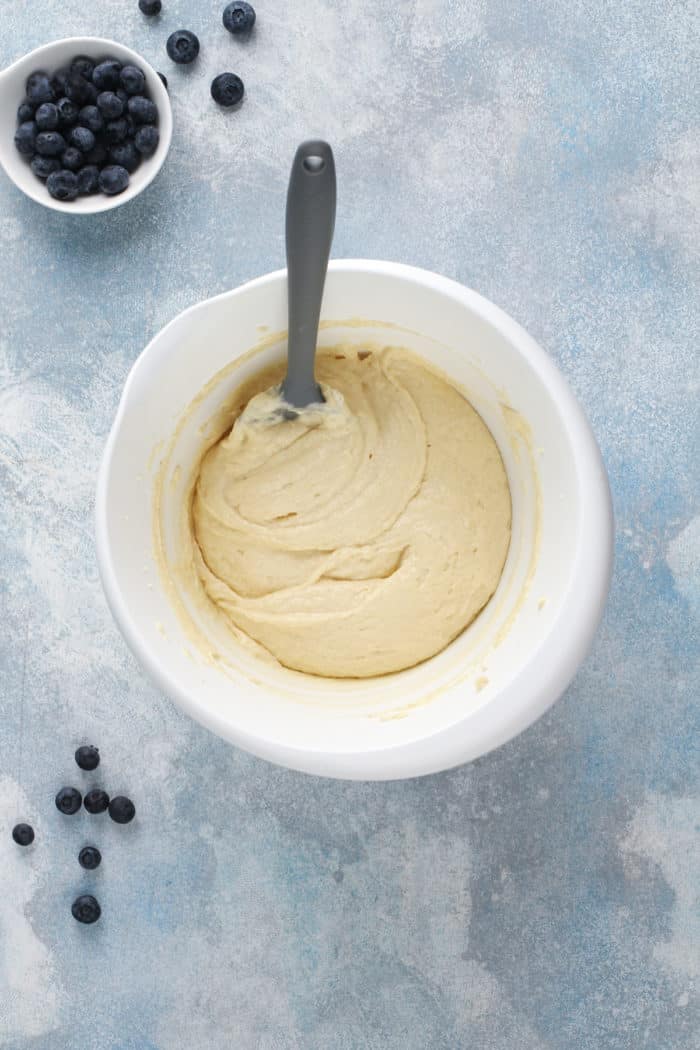 HOW TO MAKE BLUEBERRY CRUMB MUFFINS
This particular recipe comes together more like a cake than typical quick bread recipes. But that doesn't mean they're hard to make!
Ingredients you'll need
One of the most important ingredients in these muffins is buttermilk. The buttermilk is important for keeping the muffins moist and tender and adding a slight tang to the final muffin.
If you don't have buttermilk on hand, feel free to use my buttermilk substitute.
And of course you'll need blueberries! You can use fresh or frozen blueberries. If using frozen, do not thaw them before adding them to the batter.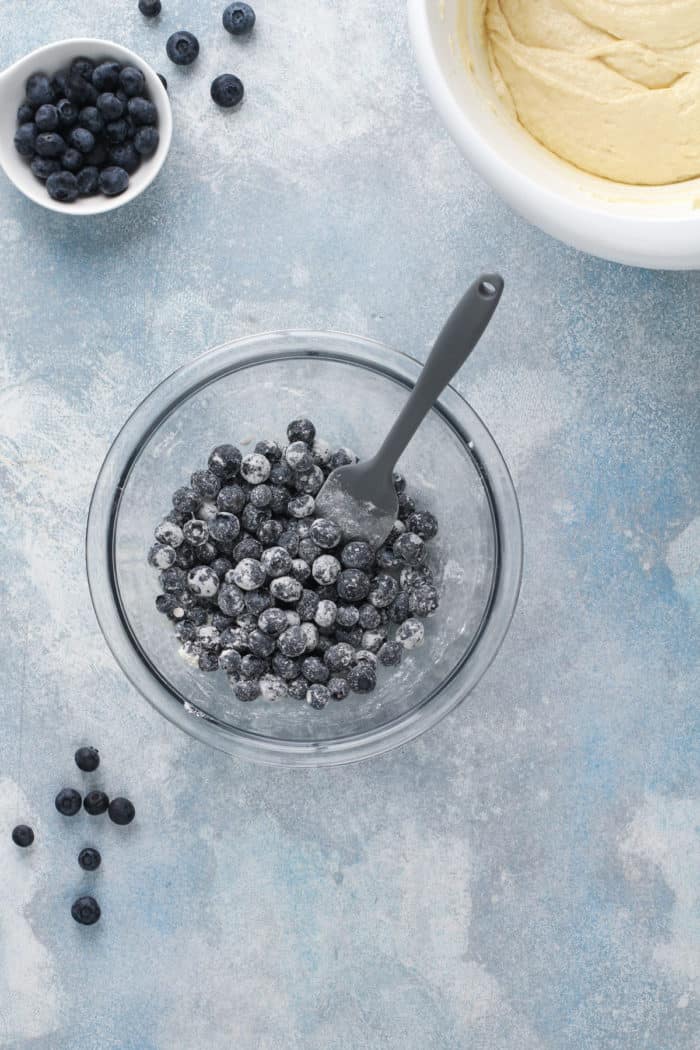 Other ingredients you'll need are:
2 cups plus 1 tablespoon flour, divided use
1 ½ teaspoons baking powder
½ teaspoon baking soda
½ teaspoon salt
½ cup (8 tablespoons) unsalted butter, softened
⅔ cup granulated sugar
2 large eggs
1 ½ teaspoons pure vanilla extract
For the crumb topping, you will need:
1/3 cup packed brown sugar
2 tablespoons all-purpose flour
1/2 teaspoon ground cinnamon
1 tablespoon butter, cold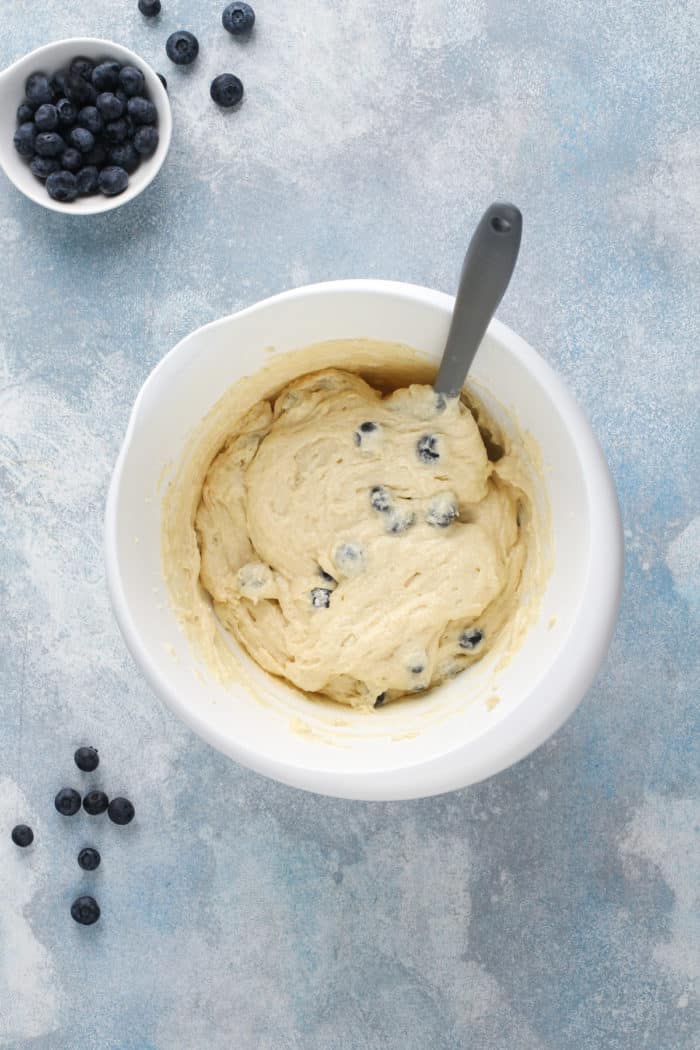 How to keep the blueberries from sinking
If you've ever baked with blueberries before, you may have noticed that sometimes the berries sink to the bottom of your baked goods.
It doesn't necessarily mean the final product is ruined, but it is a bummer not to be able to get blueberries in each bite!
The best way to keep this from happening is to gently toss the blueberries with a bit of flour before adding them to the batter. This will help them to stay in place instead of sinking right to the bottom.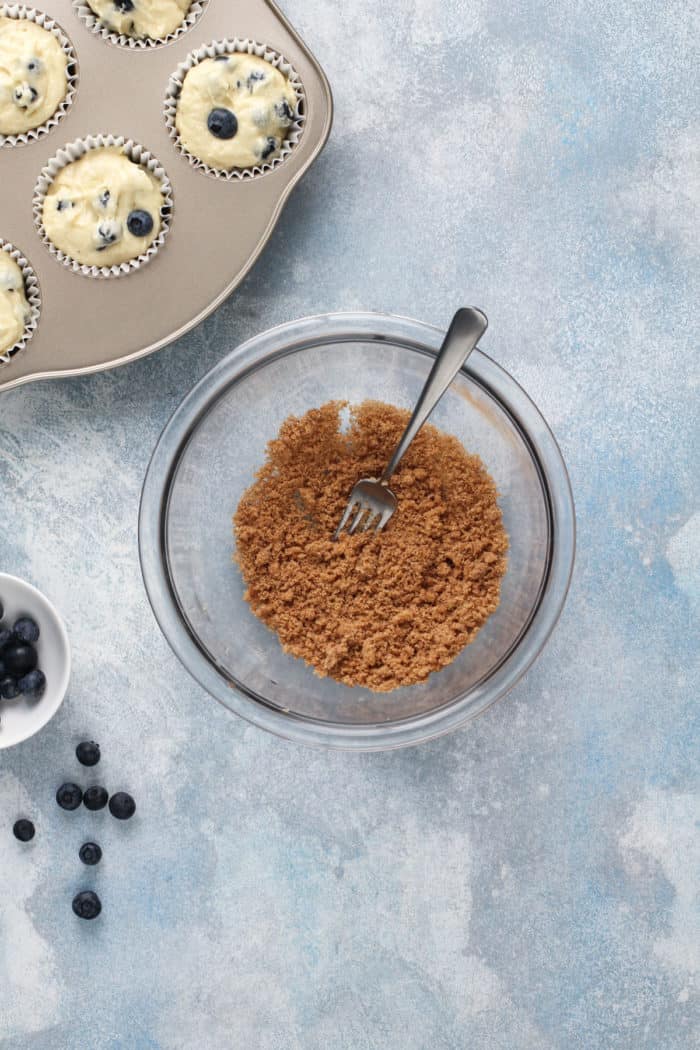 Making this recipe
As I mentioned, the method for making these muffins is more like a cake than most quick breads.
Start by whisking together the flour, baking powder, baking soda, and salt. Set that aside.
Using a stand mixer or an electric hand mixer, cream together the butter and granulated sugar for about 3 minutes. You want this mixture to be light and fluffy before moving on to the next step.
Add the eggs one at a time, mixing after each addition, and then add the vanilla extract. (You can also use vanilla bean paste if you prefer.)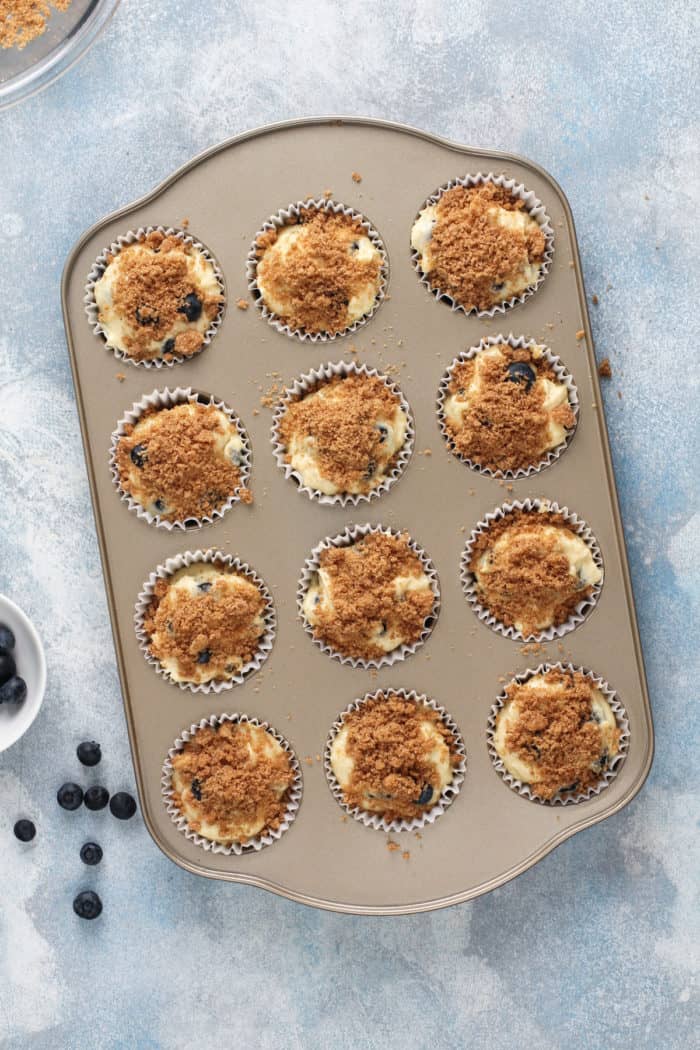 Gently mix in half of the dry ingredients. Mix in all of the buttermilk, then add the rest of the dry ingredients. Make sure to only mix until just combined.
In a small bowl, toss the blueberries with 1 tablespoon of flour, then gently fold the blueberries into the muffin batter.
Line a muffin tin with cupcake liners and use a large cookie scoop or a measuring cup to divide the batter evenly among the lined cups.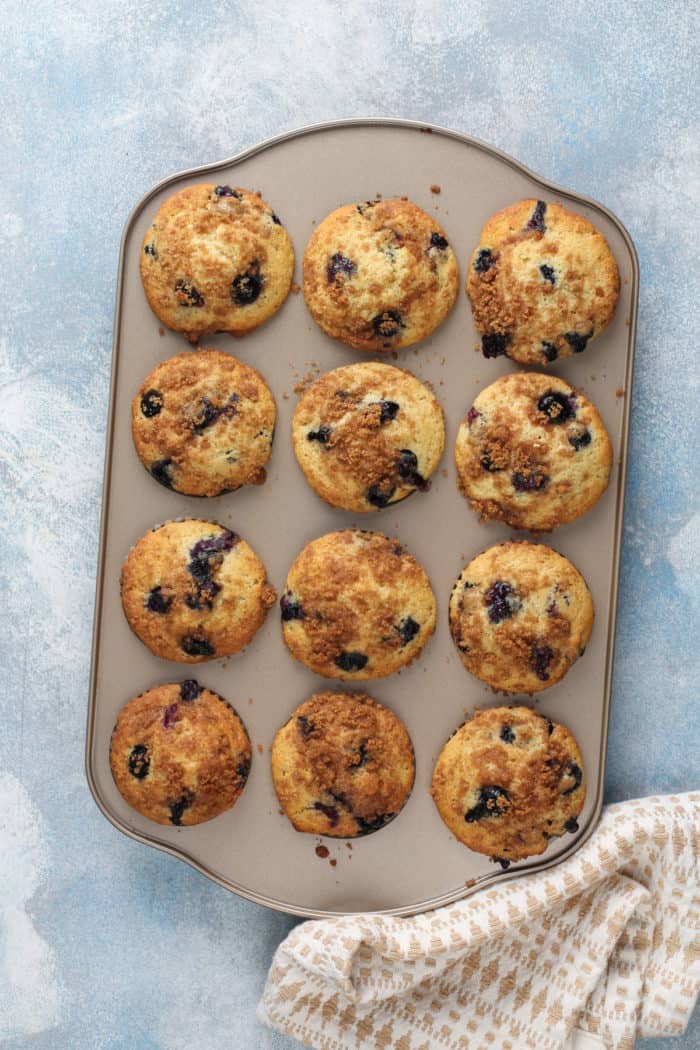 Mix together the crumb topping by mixing together the brown sugar, flour, and cinnamon, then cutting the butter in evenly until well combined and crumbly in texture. Sprinkle this evenly over the muffins before baking.
Bake the blueberry crumb muffins for 22-27 minutes. Let the muffins cool slightly before removing them from the pan to a wire cooling rack.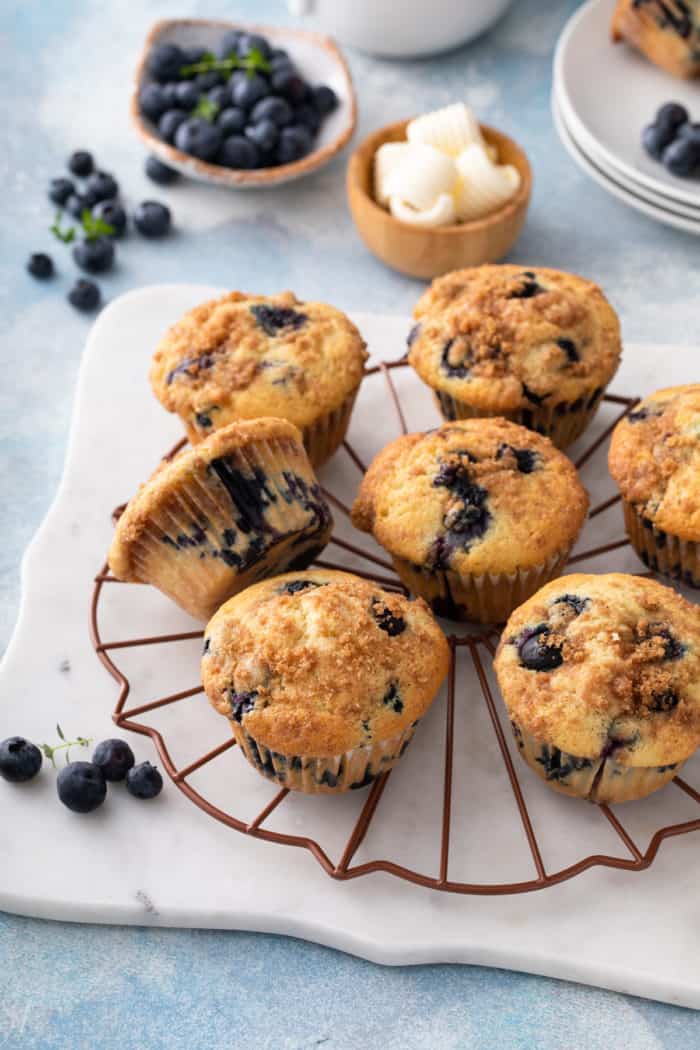 STORAGE AND FREEZING
Store blueberry crumb muffins in an airtight container at room temperature for up to 3 days.
If you want to freeze the muffins for quick breakfasts and snacks later on, you totally can. Place the muffins in an airtight container or zip-top freezer bag and freeze for up to 3 months.
When you're ready to enjoy a muffin, you can microwave it for 30-60 seconds to thaw and reheat it.