Pumpkin French Toast Casserole is a seasonal twist on the classic overnight French toast! This casserole is easy to throw together at night and bake in the morning for a delicious breakfast that feeds a crowd.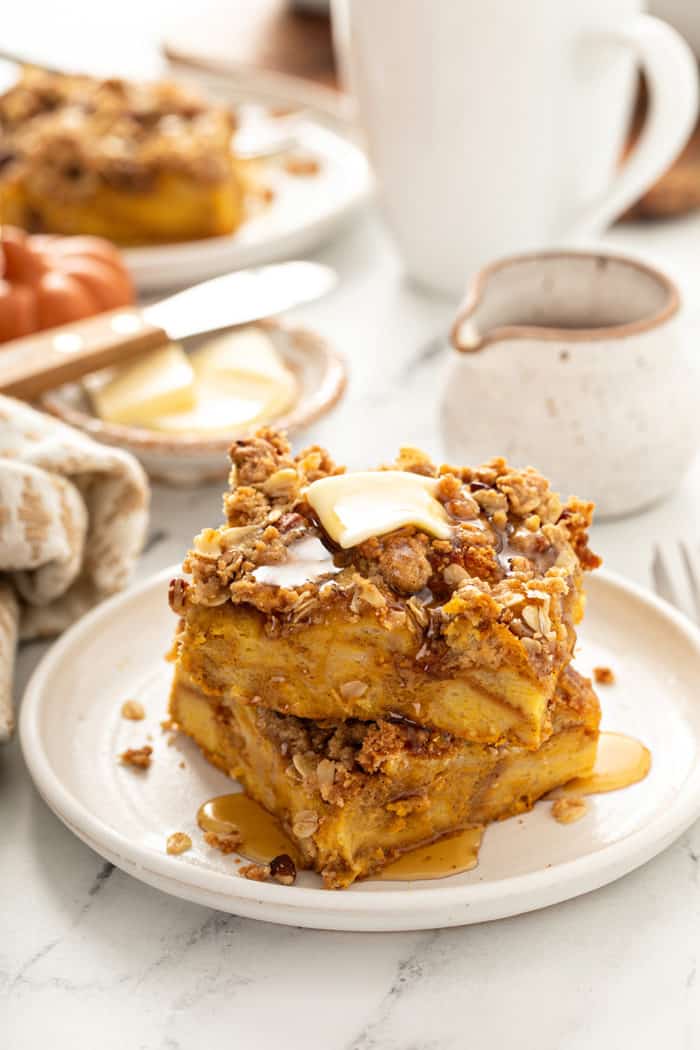 One of my favorite breakfasts is overnight french toast casserole, so of course I had to put a pumpkin spin on the dish for autumn!
Whenever I am craving french toast, I know the best way to make it is to turn it into a baked french toast casserole. Who wants to stand at the stove cooking individual slices?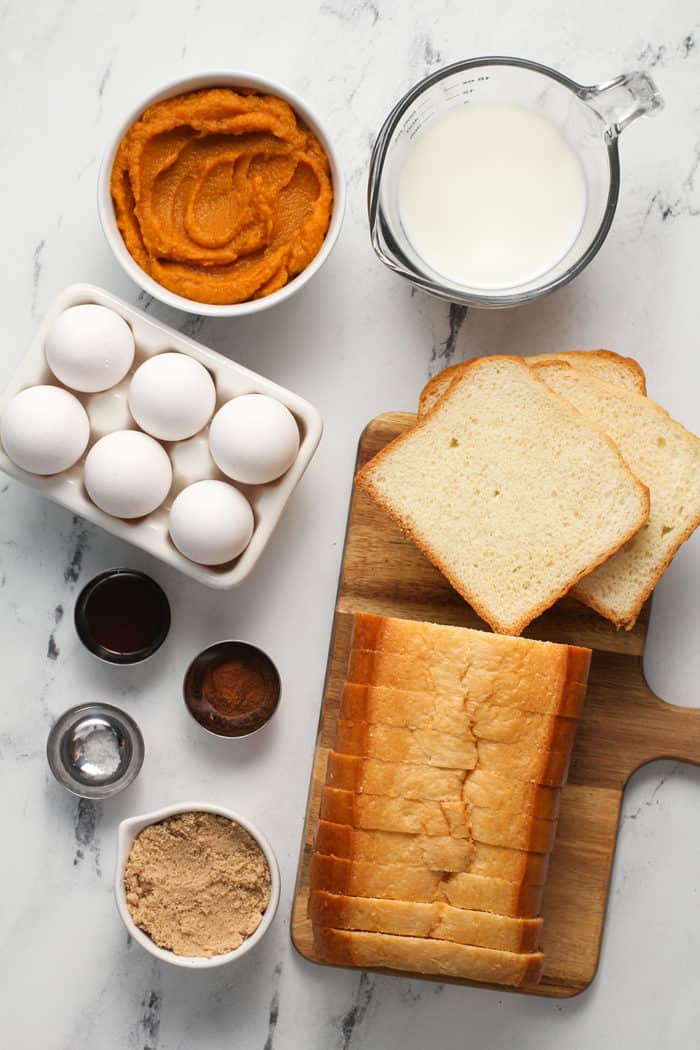 WHAT'S THE BEST BREAD FOR FRENCH TOAST?
Whether you're making french toast casserole or classic french toast, you want to make sure you get really good bread.
Rich bread like brioche and challah are the best! The tender, eggy bread holds up well even after a long soak in custard.
Brioche and challah are also sold as a loaf, so you can cut it into cubes easily. You'll end up with a wonderfully soft interior and crispy edges. Perfection!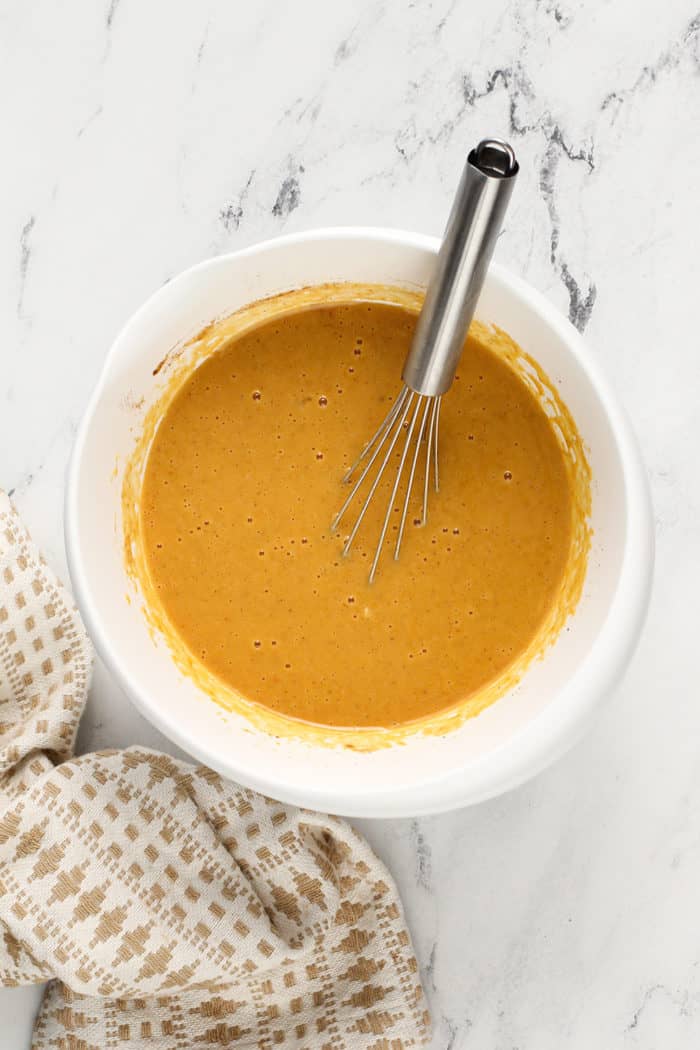 WHAT'S THE DIFFERENCE BETWEEN BREAD PUDDING AND FRENCH TOAST CASSEROLE?
Pumpkin bread pudding is a wonderful dessert, and it's very similar to this casserole!
Bread pudding has more milk or cream in the custard, while french toast casserole recipes have more egg.
Because it's a dessert, bread pudding also has more sugar than french toast.
Typically bread pudding is also served with a delicious sauce, but we stick to butter and syrup for baked french toast casserole.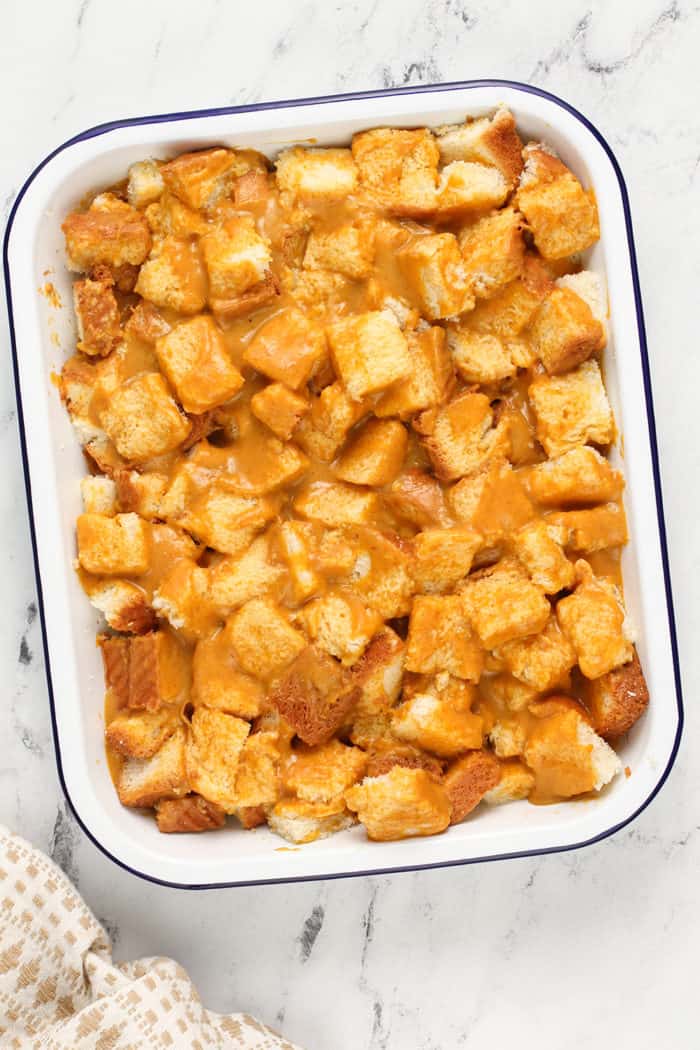 HOW TO MAKE PUMPKIN FRENCH TOAST
Like my make-ahead breakfast casserole, the prep work for this dish is done the night before.
To get started on making this recipe, coat your baking dish with butter or nonstick spray. You'll need a 9×13-inch baking dish or a 3-quart casserole.
Cut the bread into 1-inch cubes and place it into the pan, arranging evenly.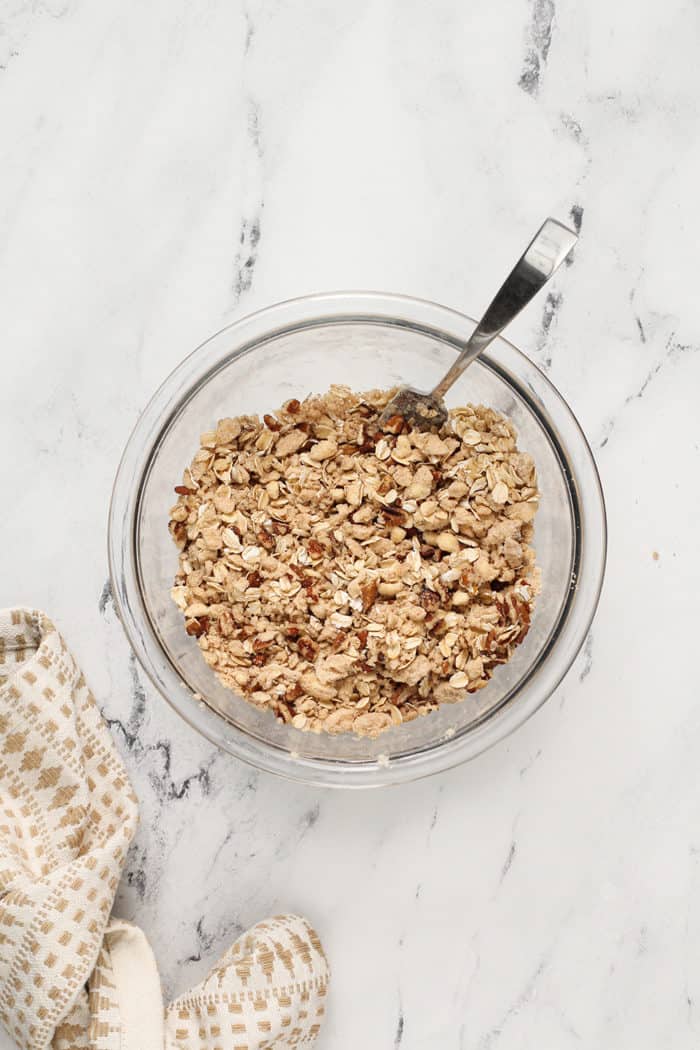 Add the eggs to a large bowl and whisk until beaten, then whisk in milk, pumpkin puree, vanilla, pumpkin pie spice, salt, and brown sugar.
Be sure to use pumpkin puree, not pumpkin pie filling. I always use homemade pumpkin pie spice for the absolute best flavor!
When the custard is completely blended, pour over the bread cubes. Cover with plastic wrap and place in the refrigerator.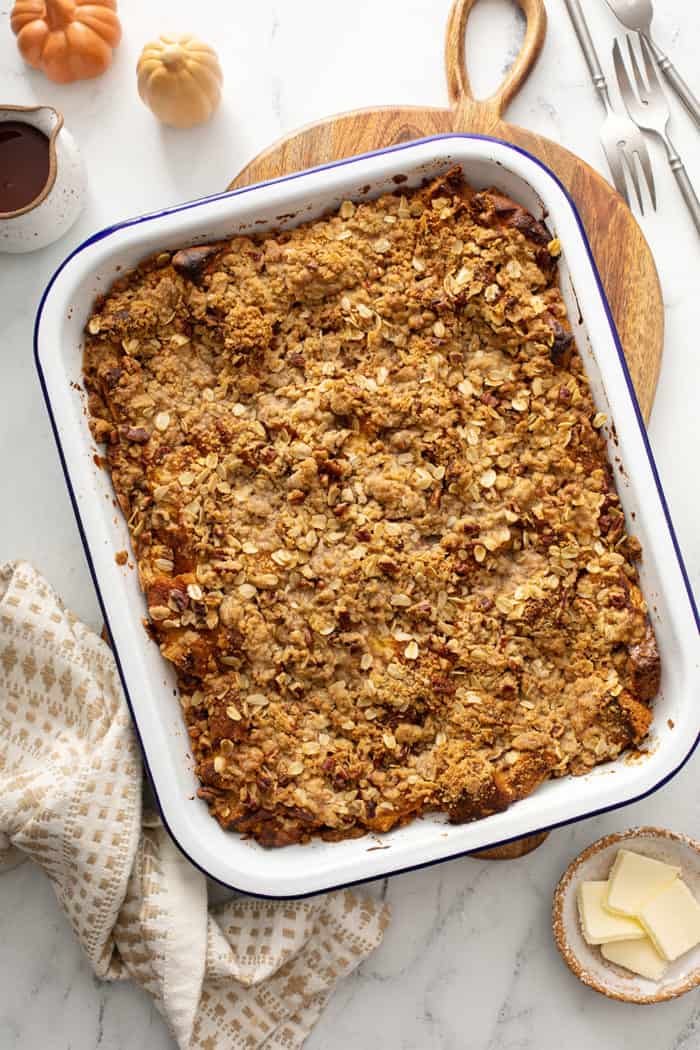 You'll want it to chill for at least 4 hours for the bread to be fully soaked, and up to 12 hours.
The topping can be made in advance, too. In a bowl, combine flour, brown sugar, pumpkin pie spice, and salt.
Cut in the butter with a pastry blender or two forks until you get small clumps forming, then stir in the oats and pecans.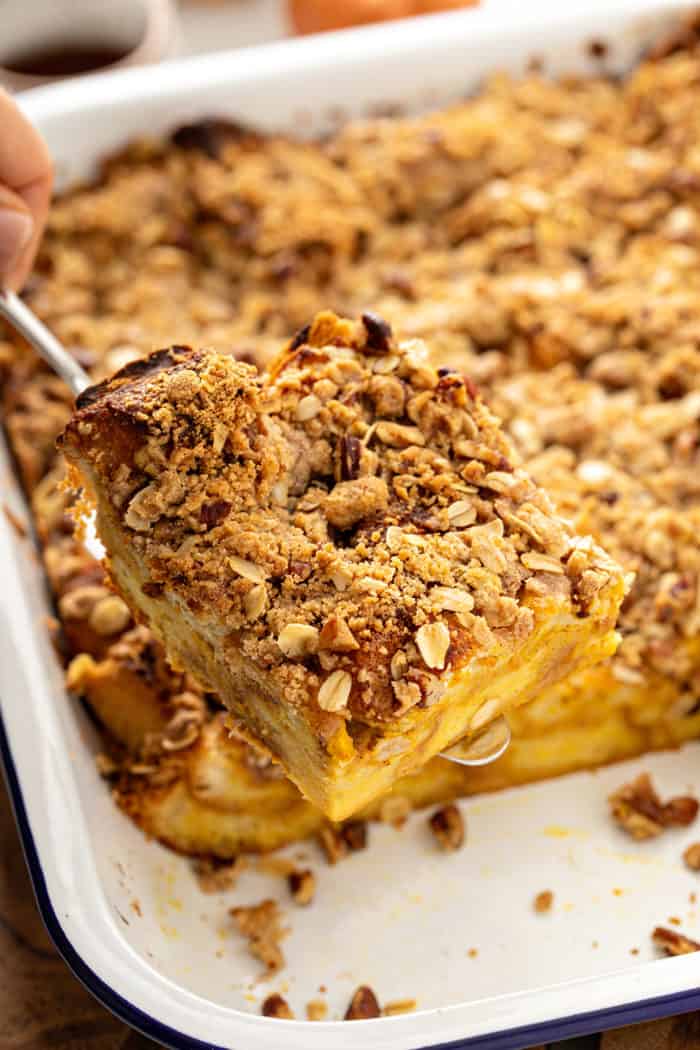 If you prefer, you can swap out the pecans for walnuts, or simply use more oats! Cover and chill until ready to use.
When you're ready to bake, preheat the oven to 350°F and remove the french toast from the fridge. Don't forget to take off the plastic wrap!
Sprinkle on the crumble topping and bake for 50-60 minutes. Let cool a few minutes before serving and then serve with butter and syrup!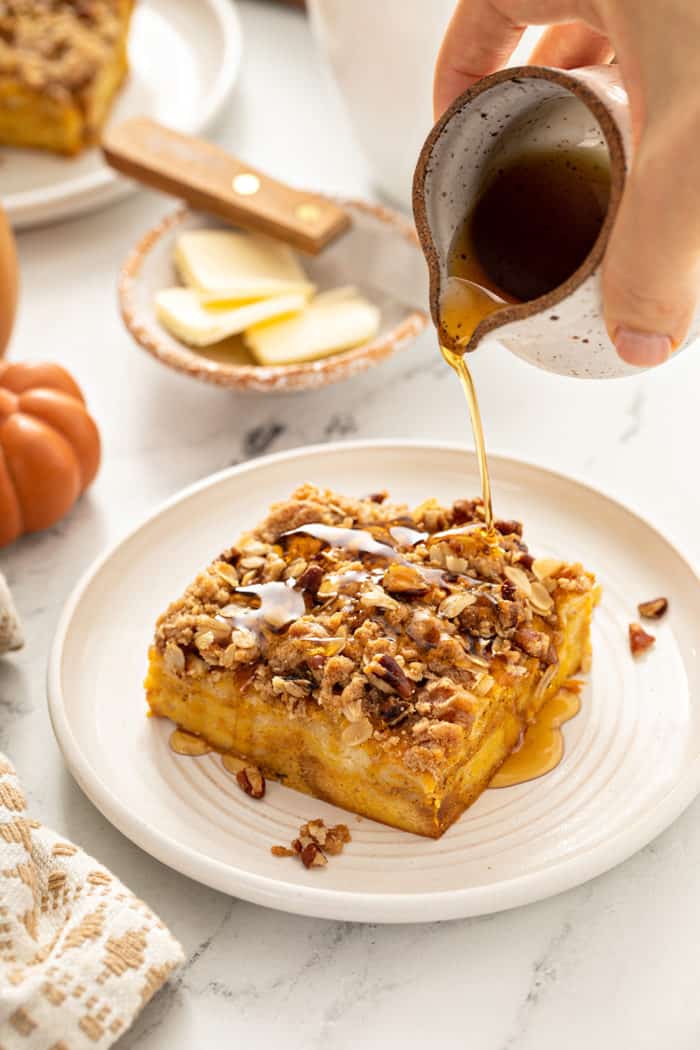 MORE MAKE-AHEAD BREAKFASTS
If you're a streusel fan, try make ahead banana bread coffee cake. It's perfect for enjoying before heading out for a busy weekend.
Or, make my overnight chai spice sweet rolls. Pillowy soft, they're an incredible breakfast treat.
If you're low on oven space, try using your Crockpot to make my friend Megan's slow cooker pumpkin french toast! All of the same fall flavors cooked overnight in the slow cooker.
You're going to love this pumpkin french toast casserole!