Last month I confessed my fear of yeast bread, but after a somewhat successful attempt at Rum Raisin Bread – I gained a little confidence and before long, I was a yeast bread making machine.
Amber encouraged me to broaden my yeast skills and graciously put together a list of her must-have bread making tools. Coincidentally, King Arthur Flour released a free shipping code the following day. It was fate – fate I tell ya. I put everything that Amber recommend into my KAF cart (see below for her list) and tossed in a 10 pound bag of flour because hey, free shipping is a good thing.
While impatiently awaiting my KAF loot, I combed the web for yeast recipes – bookmarking too many to count, but I kept returning to this Cinnamon Swirl Bread from King Arthur Flour. I am a lover of all things cinnamon – well, except fake cinnamon like Big Red Gum, that kind of cinnamon makes me cough something fierce.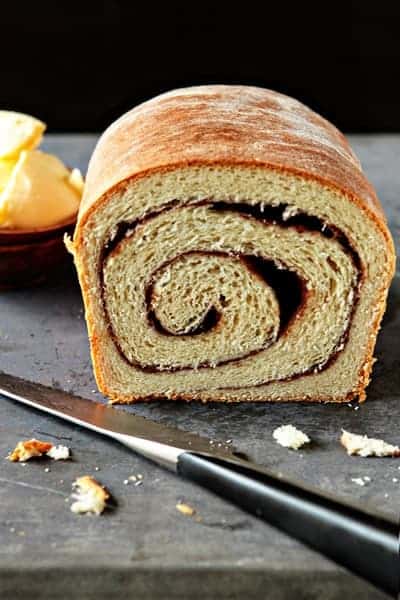 This bread is pretty simple to make – so simple in fact that I made it two days in a row and let Brian's daughter do most of the work. We didn't roll our first loaf tight enough, so it had a couple of gaps within the swirls, but it was incredibly tasty. The following morning we sliced it up super thick and made the most delicious French Toast ever. Serving it alongside some thick cut bacon made for an incredible Sunday morning feast.
By now you may have skimmed down to find the recipe – but it's not here. I really didn't change one thing about the KAF recipe AND they have step by step photos and if you're at all like me – you need all the help you get! For these reasons, I thought it was best to link you directly to their recipe. Plus, I figured you'd be heading to their site to check out the goods on Amber's Must-Have List! You can thank Amber later for your newly developed KAF addiction!
All in all my yeast fear is quickly fading and I can't wait to share some of my other yeast successes with you.
Do you have a fear of yeast baking? How about we go on this journey together? Surf on over to the King Arthur Flour site and pick a recipe or print this one. I'd love to hear about your experiences making it in the comments.
Amber's Must-Have List
SAF Red Instant Yeast
King Arthur Flour bakers use this yeast in their bakery on location in Norwich, VT. I was personally told by several of the bakers that it is the best they've found.
Baker's Special Dry Milk
Dry milk from the grocery store is just fine for yeast baking. But if you aren't quite getting the rise out of your bread that you expected, or the tastiness, give the specially formulated KAF dry milk a shot. They had it created just to their specifications, for their bakers. When I visited KAF, they showed me a loaf baked with it and without it, and the loaf with it definitely rose higher and looked prettier.
Bowl and Dough Scraper
At the King Arthur Flour Baking Education Center, they use these little dough scrapers for *everything* from mixing dough by hand to scraping down kneading surfaces to slicing dough into desired sizes. I've found myself using it at home constantly, and not just for bread baking. It's a cheap "food mover" from my island to my stovetop, and it cleans the heck out of sauces that dried and stuck to my countertop without a ton of elbow grease.
Dough Whisk
You may look at this item and go, "What the..", but as the KAF Bakers told us at the BEC, just try it. It mixes dough well, and easily, without a lot of exertion. Plus, when you're working dough by hand or with wooden spoon, you can have a tendency to overmix because it takes so much work to get it through the thick dough. This tool prevents that.
The Perfect Beaker
Something I didn't know before attending classes at King Arthur Flour – dry ingredients and wet ingredients should not be measured in the same containers. Metal measuring cups are for dry ingredients. These beakers are for wet. They are lightweight, easy to clean, easy to see measurements in all sorts of increments, and incredibly accurate. So much of baking is science, and you'll have a better result if you're accurate from the start.