Made with a simple cinnamon roll dough, filled with sweet strawberry jam, and topped with tangy cream cheese frosting, these strawberry rolls are about to be your new favorite breakfast treat!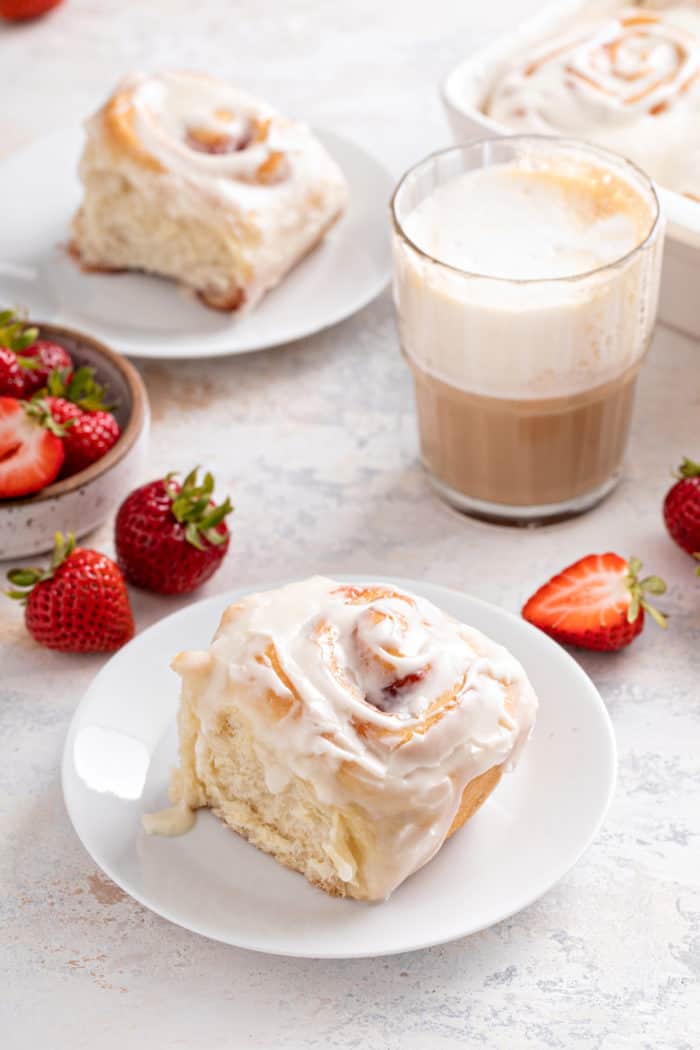 This post contains affiliate links.
Is there anything better than waking up to freshly baked sweet rolls on a weekend morning?
School starts up again soon and even though I'm not sure I'm totally ready for summer to be over, I figured we could celebrate Elle's last weekend of the summer with a special breakfast.
And let me tell you, these strawberry rolls with cream cheese frosting are just the way to do that.
The best part for me is that I can prep them the night before and pop them in the oven the next morning before everyone else wakes up. A yummy, special breakfast for my girl and I still get to sleep in a bit.
I call that a win-win.
SIMPLE STRAWBERRY SWEET ROLLS
I am obsessed with these super simple strawberry sweet rolls right now.
I love making cinnamon rolls and have shared so many variations on them over the years. From cranberry orange cinnamon rolls to maple chai cinnamon rolls, it's so fun to get creative with the filling and frosting combinations.
But I can promise you that this is my simplest cinnamon roll filling yet. Except we can't really call it a "cinnamon roll" filling because it doesn't have any cinnamon in it at all!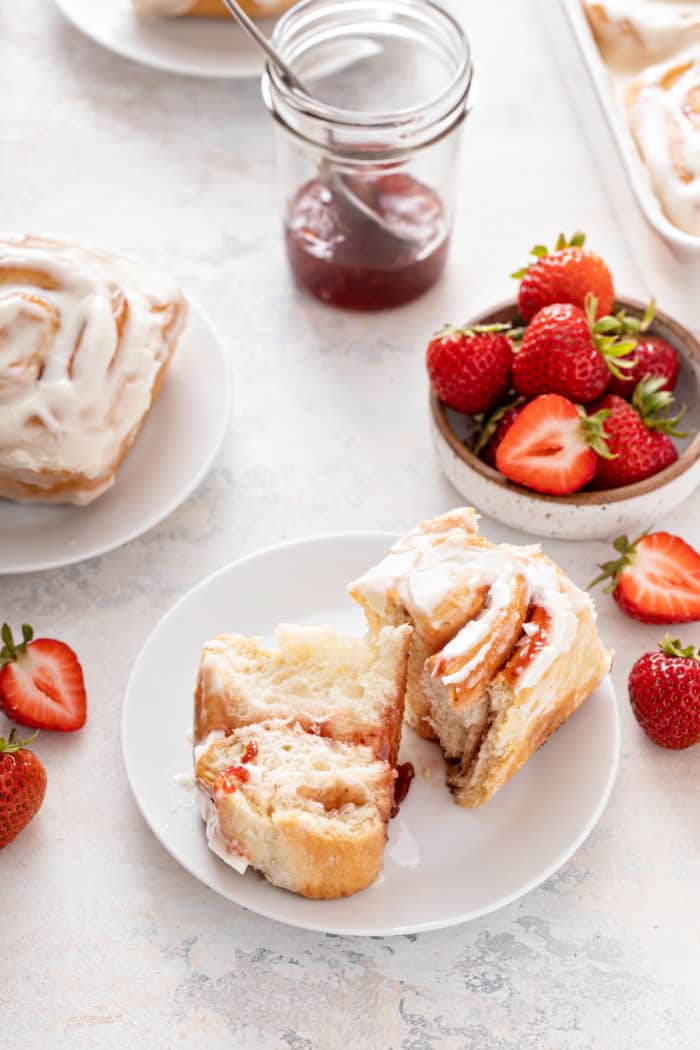 Are you ready?
We're going to use a jar of strawberry jam.
That's it! A really good strawberry jam (I love using the Bonne Maman Strawberry Preserves) is all you need for the perfect strawberry roll filling.
Pair the jam with a light and fluffy dough and a tangy cream cheese frosting and you have the perfect sweet roll to pair with an iced coffee (don't forget the vanilla coffee syrup!), breakfast potatoes, and million dollar bacon on a slow weekend morning.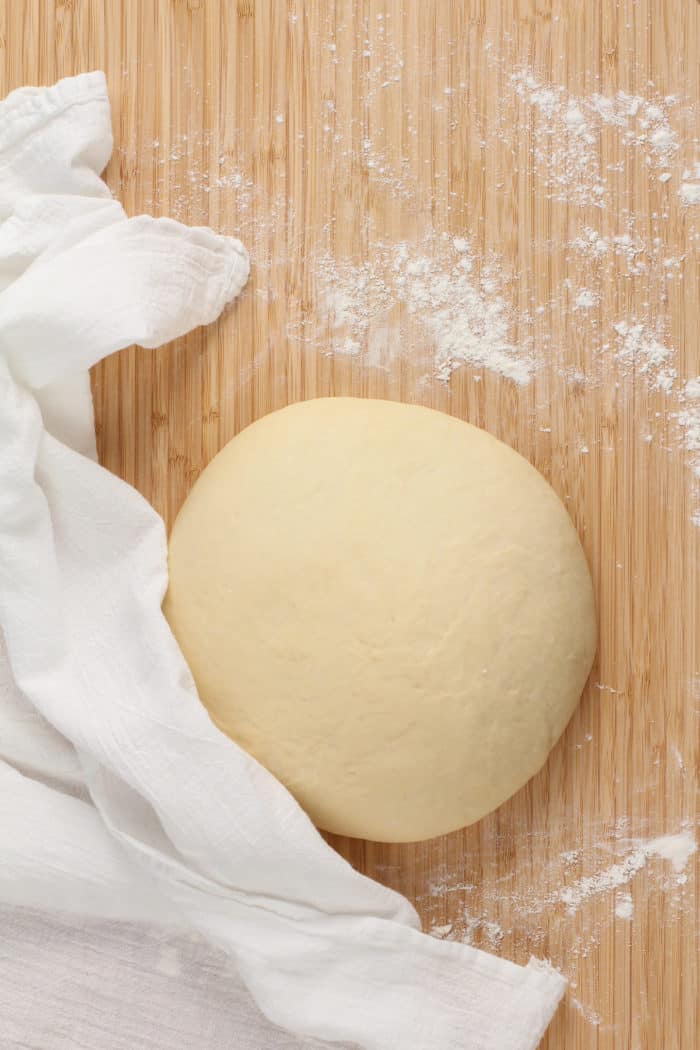 HOW TO MAKE THESE STRAWBERRY ROLLS
Don't be intimidated by making your own dough for these strawberry rolls. It's much easier to make than you might think!
Making the dough
This recipe will be super easy to make with a stand mixer. Don't have a stand mixer? Don't worry – you can make the dough by hand instead.
To make the dough for the strawberry rolls, mix together 2 cups of the flour with the yeast, sugar, and salt. Set this aside.
Warm the water and butter in the microwave until the water is very warm but not hot. The butter won't melt completely – that's ok!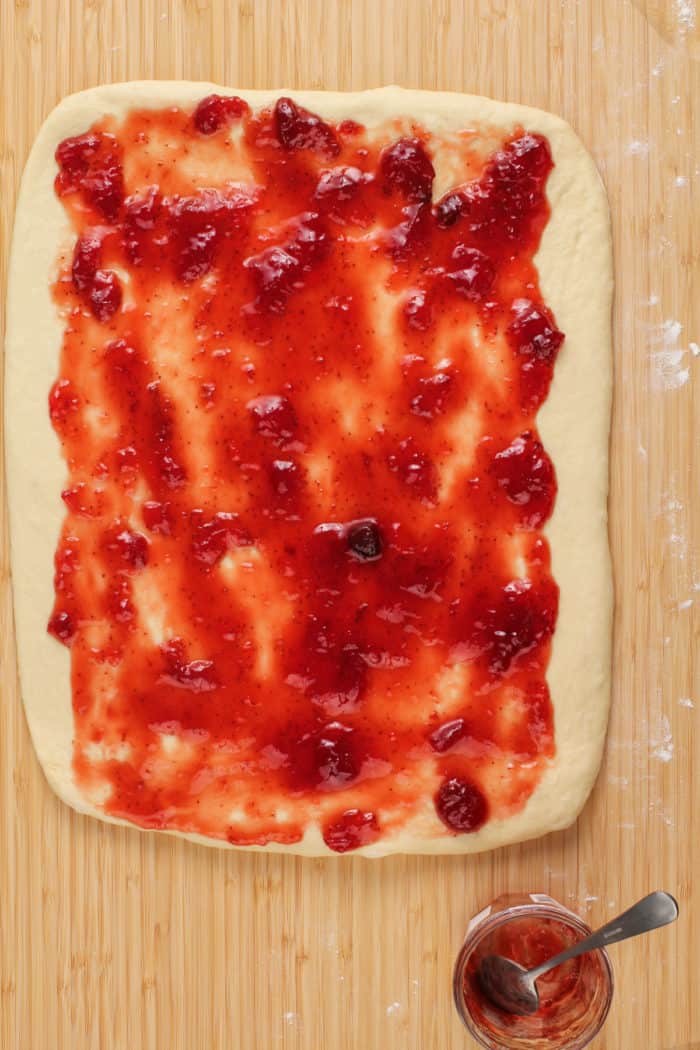 Add the water and butter mixture to the dry ingredients, followed by the egg. Beat for 2 minutes, then add another cup of flour.
Beat for another 2 minutes, then add just enough of the remaining flour so the dough comes into a ball.
Knead the dough on a floured surface until it is smooth and elastic. You'll know it's ready when it springs back when you press it lightly with 2 fingers.
Cover the dough with a clean tea towel and let it rest for 10 minutes before filling and shaping.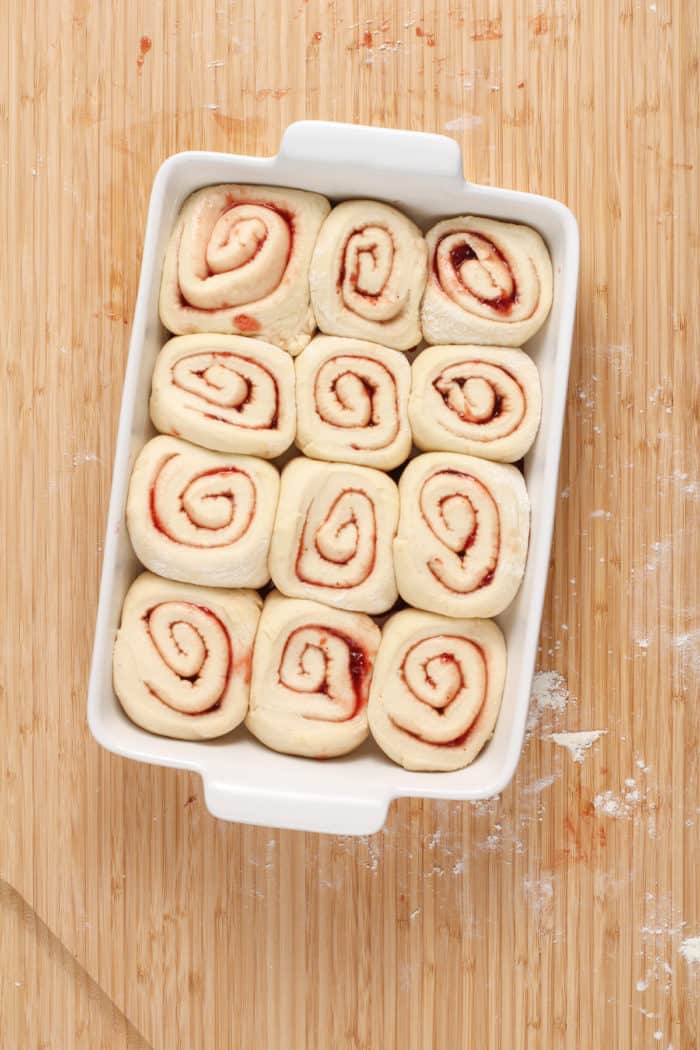 Filling and shaping
This is where things really start to get good!
After the dough has rested for 10 minutes, roll it into a 10×15-inch rectangle.
Spread on the strawberry jam. You'll use the whole jar; trust me, you want all of that strawberry goodness swirled into these strawberry rolls!
Next, tightly roll the dough, starting at the long end. Make sure to pinch the seams really well!
Cut the dough into 12 pieces and place those cut-side down in a greased baking dish. Let them rise for about an hour – until they have doubled in size – before baking for 25-30 minutes.
Let the strawberry rolls cool for a few minutes while you make the cream cheese frosting.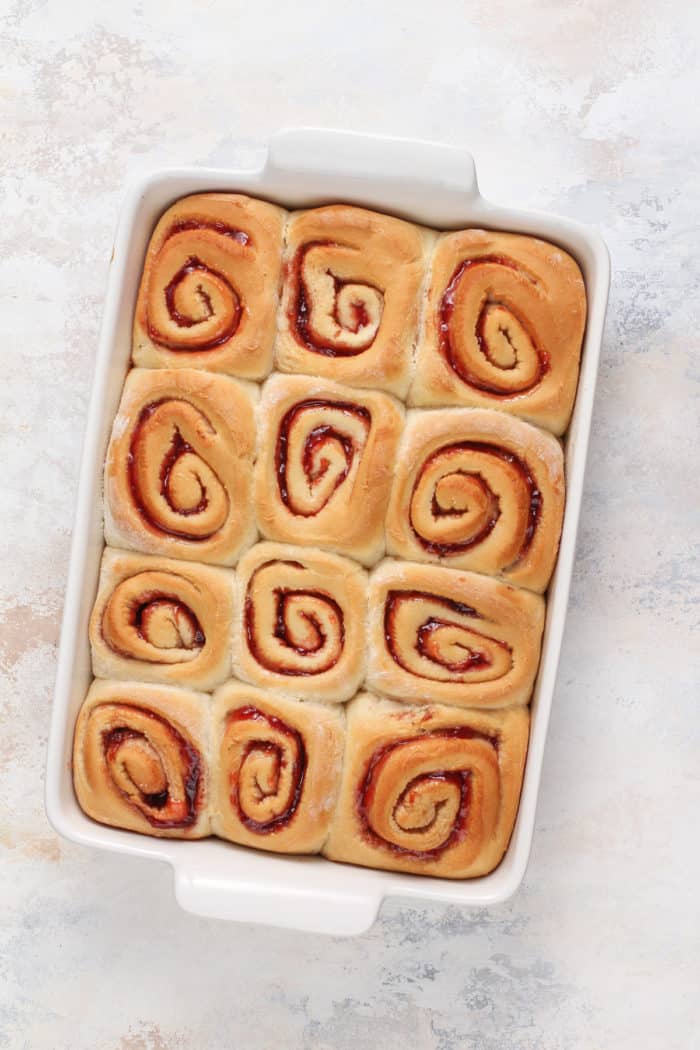 Frosting the rolls
I just think that cream cheese frosting is the perfect pairing for these strawberry rolls. After all, strawberries and cream cheese are a match made in heaven! Try my easy strawberry cake, strawberry pretzel salad, or strawberry tart if you don't believe me.
To make the frosting for these rolls, beat the butter, cream cheese, and vanilla in a bowl. Slowly add the powdered sugar, 1 cup at a time. Make sure to beat well after each addition.
Add milk a bit at a time until the frosting is the consistency you want.
I like to spread the frosting over the strawberry rolls while they're still warm. The frosting melts into the rolls just a bit and that is maybe the best part.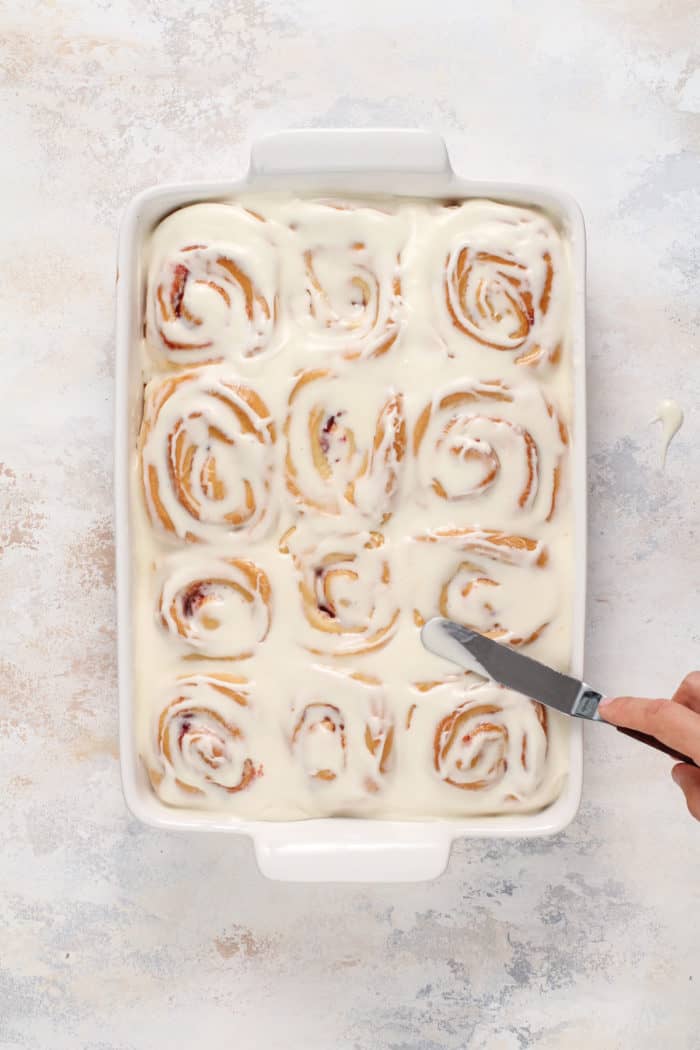 MAKE-AHEAD
I used the dough from my overnight cinnamon rolls as the base for this recipe, so it's another great make-ahead breakfast recipe!
If you want to make, fill, and shape the rolls the night before, follow the recipe instructions up through placing the cut rolls in the pan.
Cover the pan with plastic wrap and place it in the refrigerator overnight. The rolls will do their rise in the fridge and be ready to bake the next morning.
In the morning, let the rolls sit at room temperature for 30 minutes while the oven preheats. Then you can bake and frost them as normal!
Voila! Strawberry rolls that you didn't have to get up at the crack of dawn to make!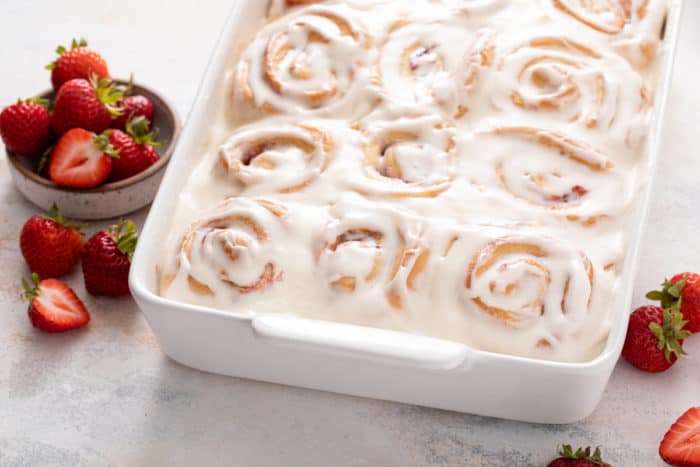 STORAGE AND REHEATING
Since these strawberry rolls are covered with cream cheese frosting, be sure to store any leftovers in the refrigerator. They'll keep in an airtight container for up to 3 days.
Of course, a cold strawberry roll isn't as good as a warm one, so I definitely recommend reheating leftovers before you eat them!
Place one of the rolls on a microwave-safe plate and microwave for 30-45 seconds. The strawberry roll will be nice and warm and the frosting will be perfectly gooey.