One-Pot Spaghetti is an easy weeknight dinner and one the whole family will love! No need to dirty multiple pots with this recipe; simply cook the pasta and sauce together for a one-pot meal.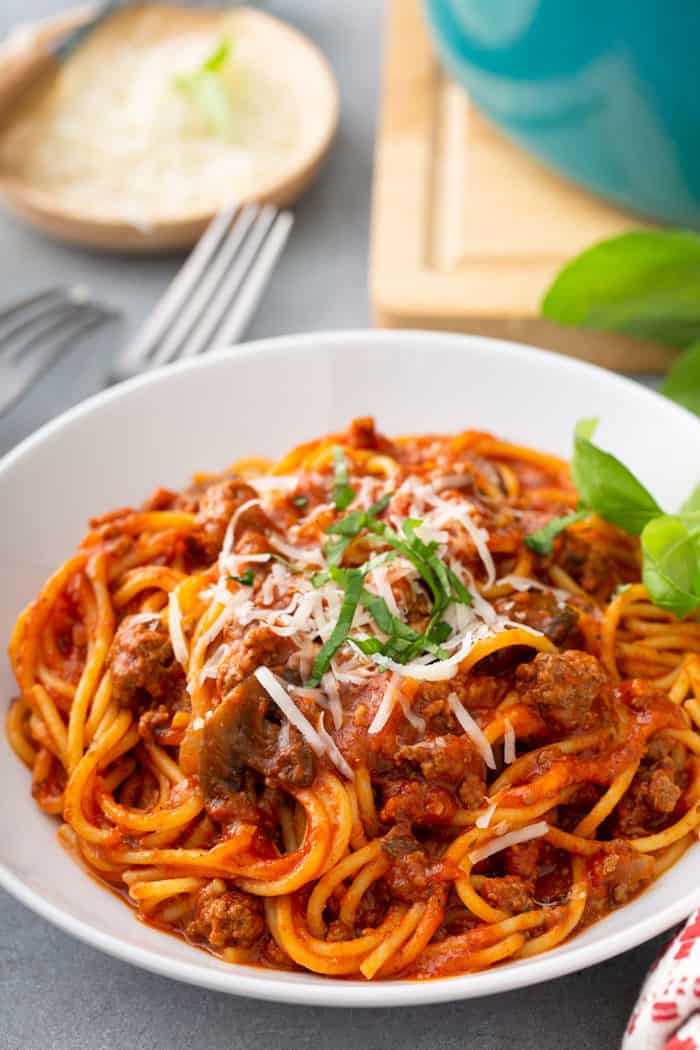 I don't know if I've mentioned this before, but we got a Blackstone griddle for Christmas from my dad and stepmom. If you happen to ever find yourself on the food side of TikTok, you know the hype.
I mean, come on, hibachi at home? Breakfast for 10 people made all at one time? Yes, please. I promise you, the hype is real.
We absolutely love our Blackstone. So much so that we gave our new-ish gas grill to my mom because we just weren't using it enough to justify the space it was taking up.
Only we haven't been able to use the Blackstone much in recent weeks because it's done nothing but rain here in Ohio. So it was back inside the kitchen to cook easy summer dinners like this One-Pot Spaghetti.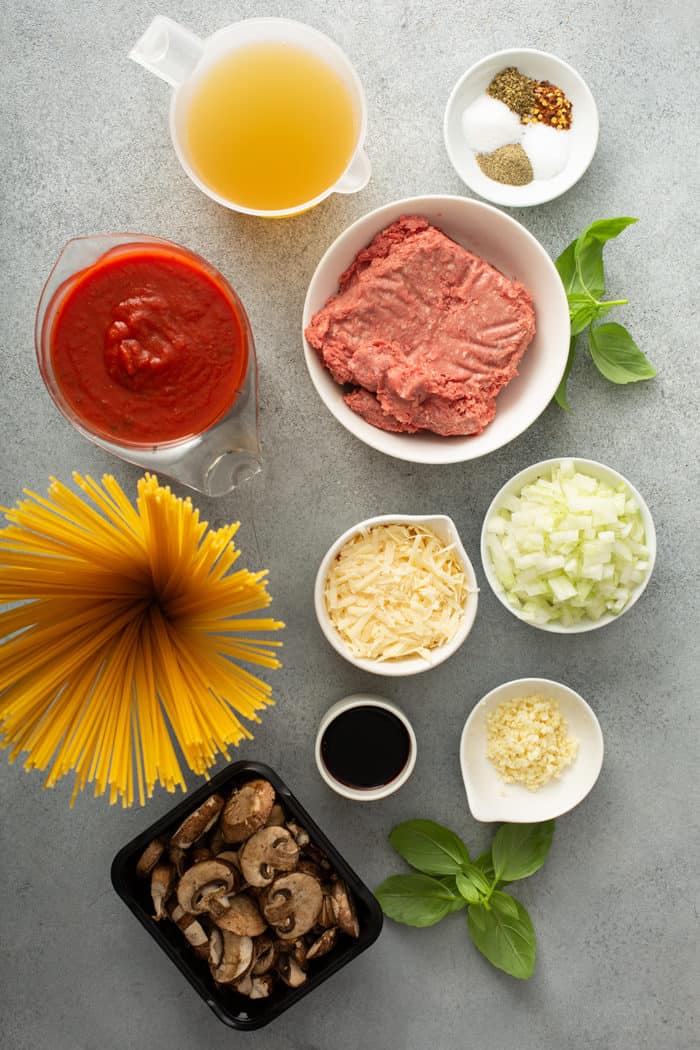 WHAT IS ONE-POT SPAGHETTI
If you're like me, at some point you've been in the middle of cooking spaghetti sauce on the stove and boiling a huge pot of water for cooking the pasta and wondered:
Why can't I just cook the pasta in my spaghetti sauce?
Well, I've got news for you: You can.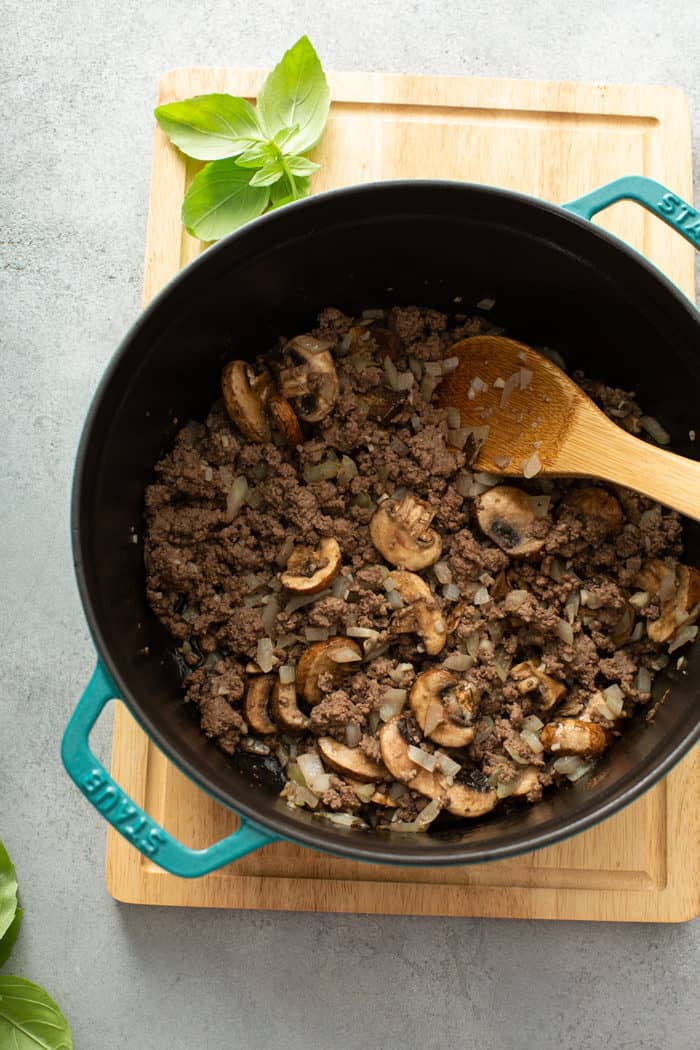 Italians, please don't come for me. I know this isn't traditional and I'm ok with it. Because sometimes I just don't want to bother with cleaning multiple pots after cooking dinner.
If you've made my One-Pot Beef Stroganoff, then you know. Just having one pot to clean at the end of a long weekday is totally my jam.
I love this recipe because you can make the sauce on the spot as written in the recipe or you can use a batch of my Easy Homemade Meat Sauce that you've made ahead and frozen.
Don't worry, I'm going to show you exactly how.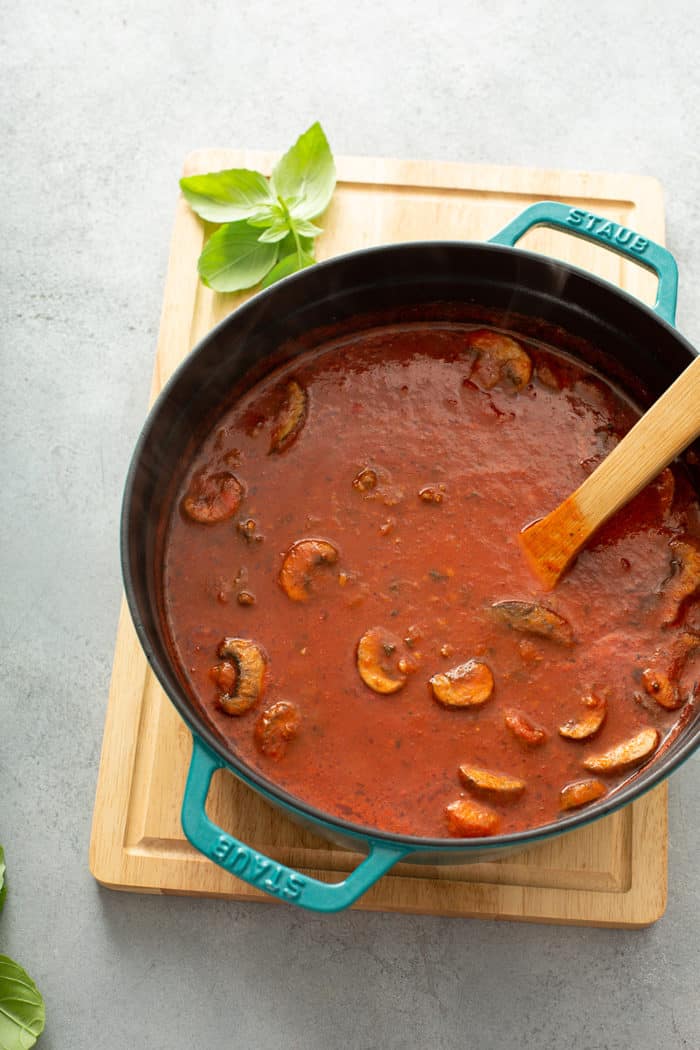 HOW TO MAKE THIS EASY WEEKNIGHT SPAGHETTI
If you have time and want to make your spaghetti sauce on the spot, you'll need:
1 pound ground beef OR ground beef and ground pork mix OR mild Italian sausage
1 large yellow or sweet onion, finely diced
8 ounces cremini/baby bella mushrooms, sliced (optional)
3-4 large cloves of garlic, finely minced
¼ cup dry red wine
2 (24 ounce) jars of red pasta sauce OR 5-6 cups of homemade pasta sauce
½ teaspoons oregano
½ teaspoon red pepper flakes
1 teaspoon salt
½ teaspoon black pepper
1 teaspoon sugar
3 cups low-sodium chicken stock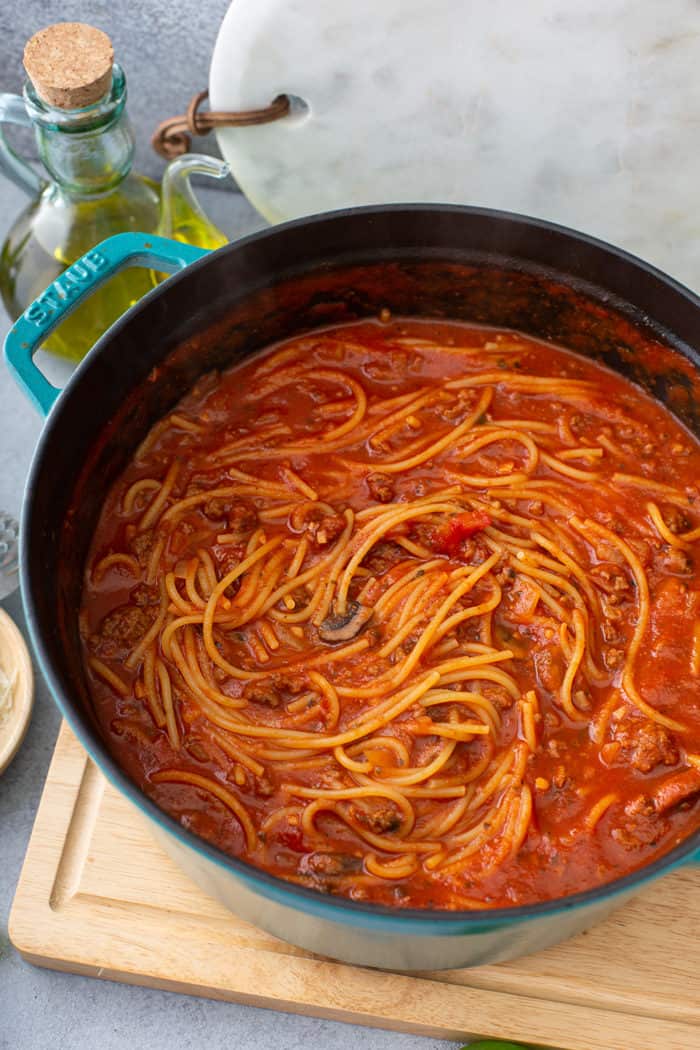 This spaghetti sauce recipe is really simple but is still flavorful without having to simmer it for hours and hours.
Because let's be real: we don't have time for that on a weeknight.
Start by cooking the ground beef, pork, or Italian sausage in a large dutch oven with the onion, mushrooms, and garlic. If your meat was really fatty, drain off most of the fat.
Deglaze the pan with the red wine. This will get any of the yummy brown bits off the bottom of the pot. There is so much flavor there that you don't want to leave behind!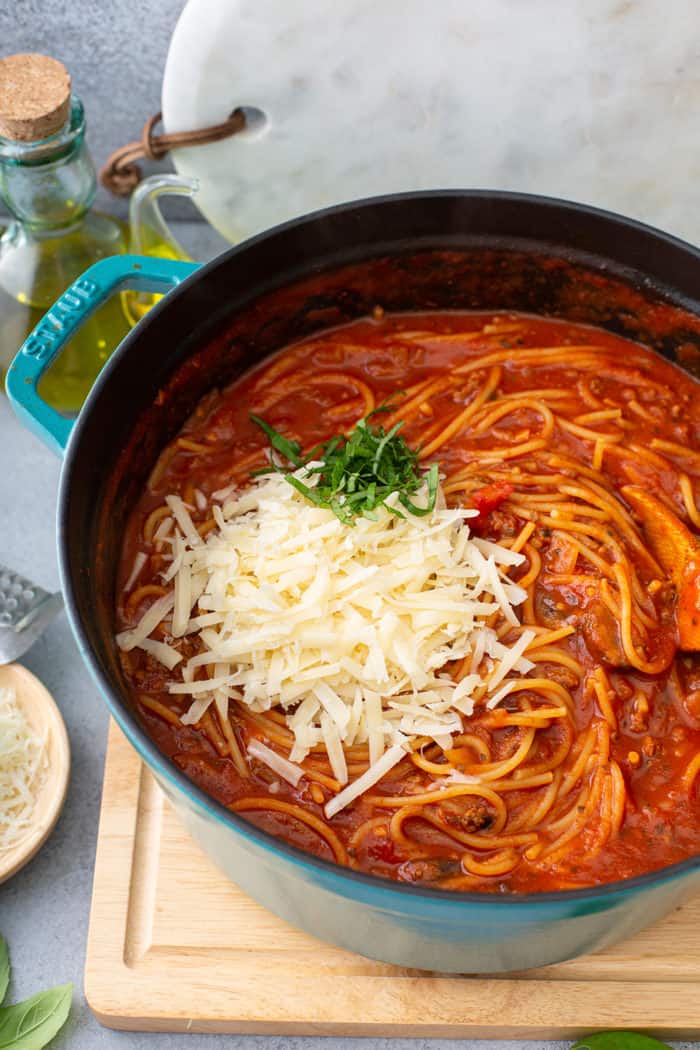 Add the pasta sauce, oregano, red pepper flakes, salt, black pepper, and sugar. Stir in the chicken stock and let it simmer for about 10 minutes, adjusting seasoning if needed.
Why add the chicken stock? The stock thins out the sauce enough for the pasta to cook in it, but doesn't water down the flavor like just adding water would.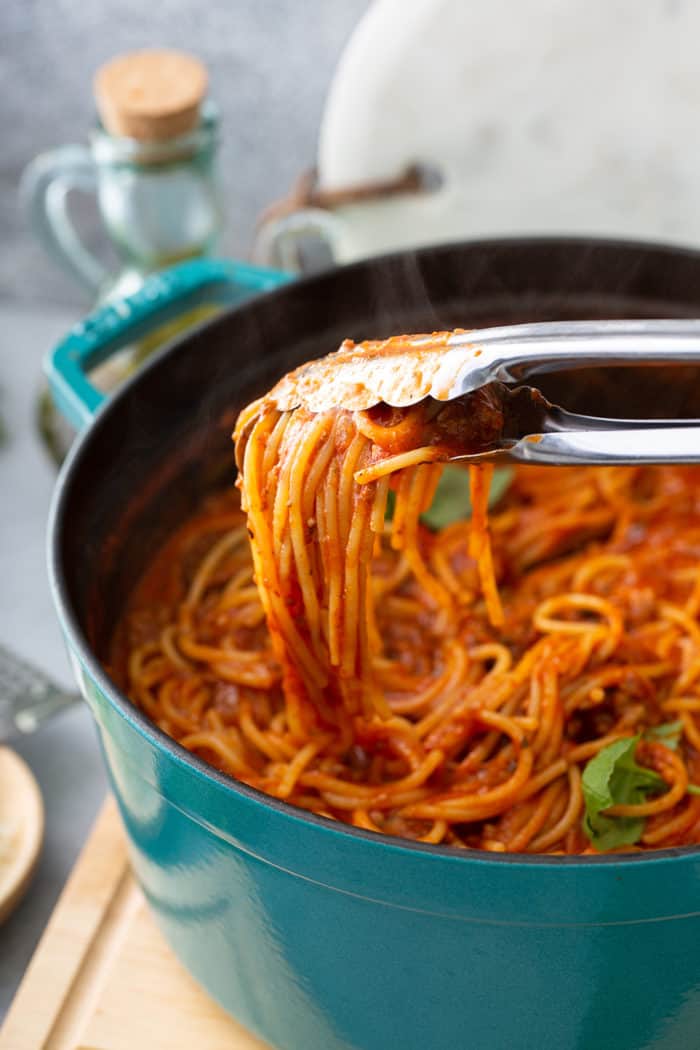 When you're ready to add the pasta, bring the sauce to a boil and add the noodles to the sauce. Stir to combine, reduce the heat to a simmer, cover and cook for 12-15 minutes. Stir often to prevent the noodles from sticking together.
Once the noodles are al dente, turn off the heat and stir in some fresh parmesan, basil, and top with some fresh parsley and extra cheese for serving.
Serve with salad and Homemade Ranch Dressing and Garlic and Herb Parker House Rolls for a meal everyone will devour.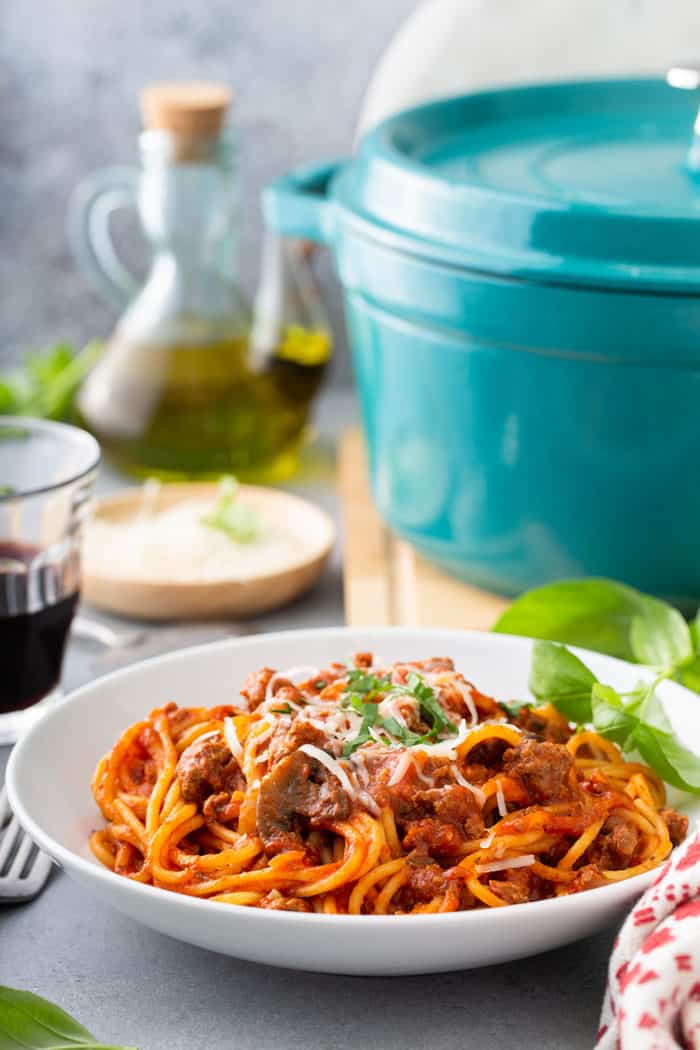 WAYS TO CHANGE UP THIS RECIPE
Don't want to make your sauce on the spot, or don't have time?
If you have a batch of my Homemade Meat Sauce in the freezer, bring that to a boil with 3 cups of chicken stock, then add the spaghetti noodles to the sauce and continue with the recipe as written.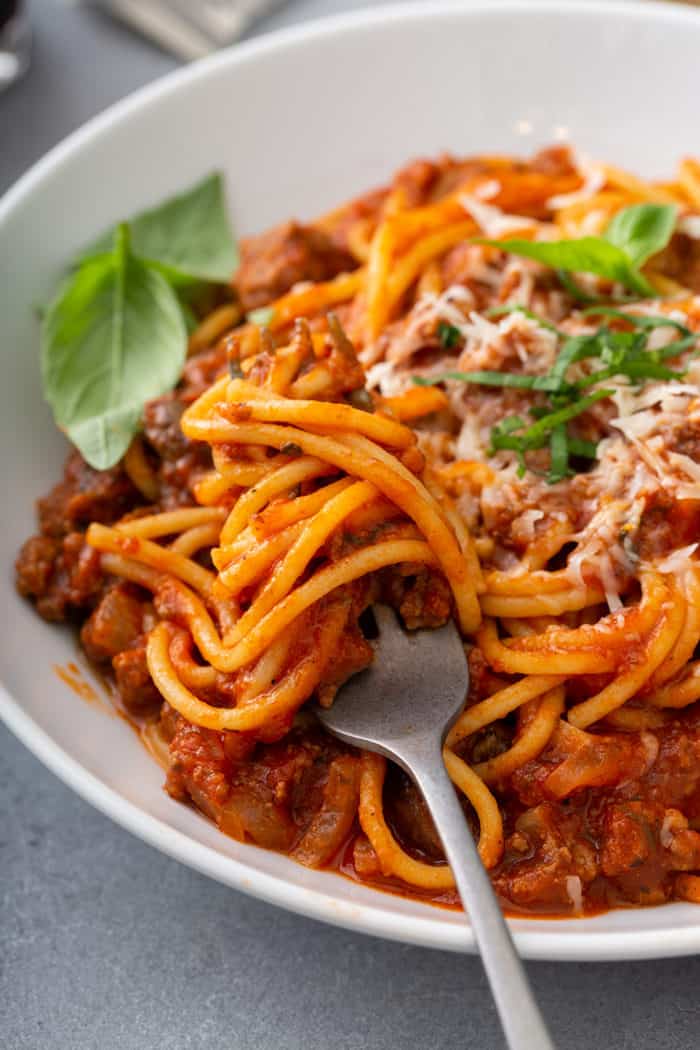 If you don't mind a little heat, use hot Italian sausage in the sauce and add more red pepper flakes!
If your family is vegetarian, omit the meat and use vegetable stock instead of the chicken stock.
This recipe may not be a traditional way to make pasta, but I know it'll be a favorite on busy days when you need to feed a crowd and just don't have a lot of time on your hands.