Turkey Noodle Soup and 8 Easy Recipes Using Leftover Turkey
Worried about being buried in a mountain of leftover Thanksgiving turkey this week? Use those leftovers to whip up an easy Turkey Noodle Soup or any of these 8 easy recipes for using leftover turkey!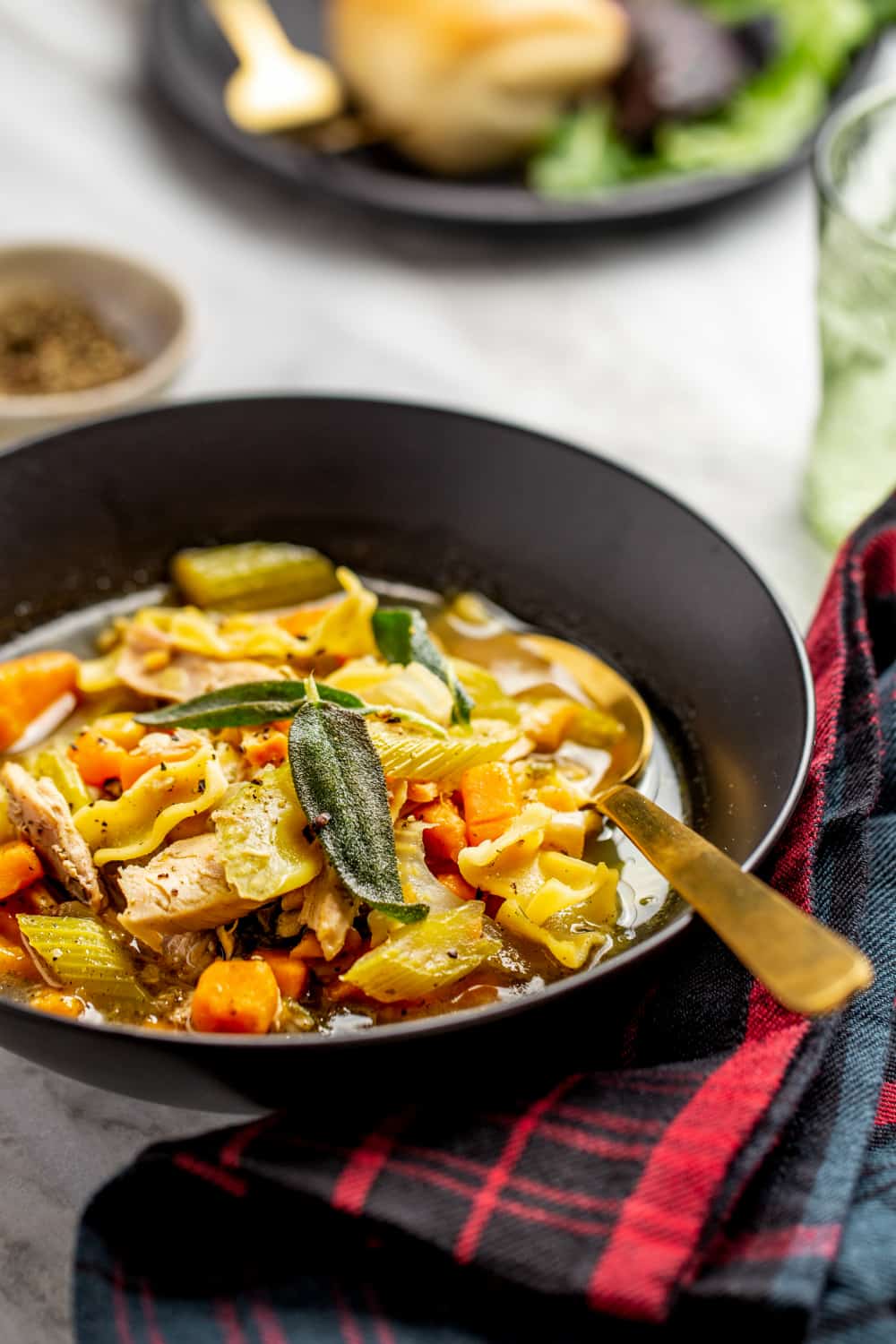 This post is sponsored by Anderson House™ and contains tracking links. For more information about tracking links and how to opt out, please visit All About Do Not Track prior to clicking any links found in this post. Thank you for continuing to support the brands that make My Baking Addiction possible.
If you're anything like me, preparing for Thanksgiving goes something like this:
Determine how big of a turkey you need to buy based on the number of guests you will be hosting.
Go to the store, stare at the size turkey you decided on and wonder if it's really going to be big enough.
Decide to buy a turkey that's just a little bit bigger. You know, just in case.
After everyone goes home, take stock of your kitchen situation only to realize you have mountains of turkey left over. Not to mention the leftover Sweet Potato Casserole, Parker House Rolls, and Classic Pecan Pie.
I do it every year. You'd think I'd learn, but I don't.
So instead I have started coming up with ways to use that leftover turkey that aren't just turkey sandwiches. I mean, I love turkey sandwiches, but I can only eat so many of them, ok?
First up: a quick and easy Turkey Noodle Soup.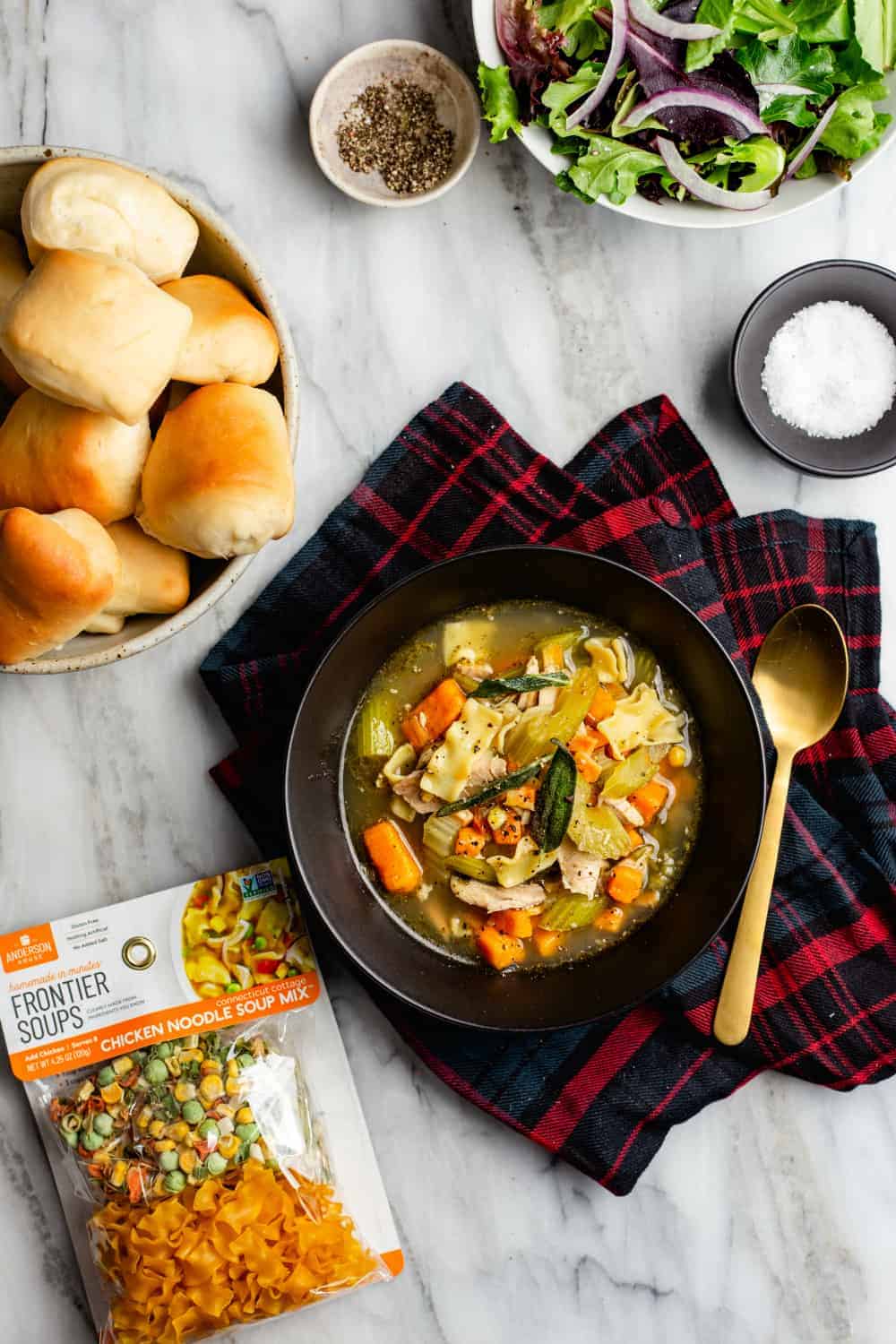 EASY TURKEY NOODLE SOUP
If you love chicken noodle soup, then Turkey Noodle Soup will be right up your alley.
But after a full day (or more!) of cooking in preparation for Thanksgiving, no one really wants to spend hours simmering a homemade soup. That's when I like to grab a package of Frontier Soups™ Connecticut Cottage Chicken Noodle Soup Mix.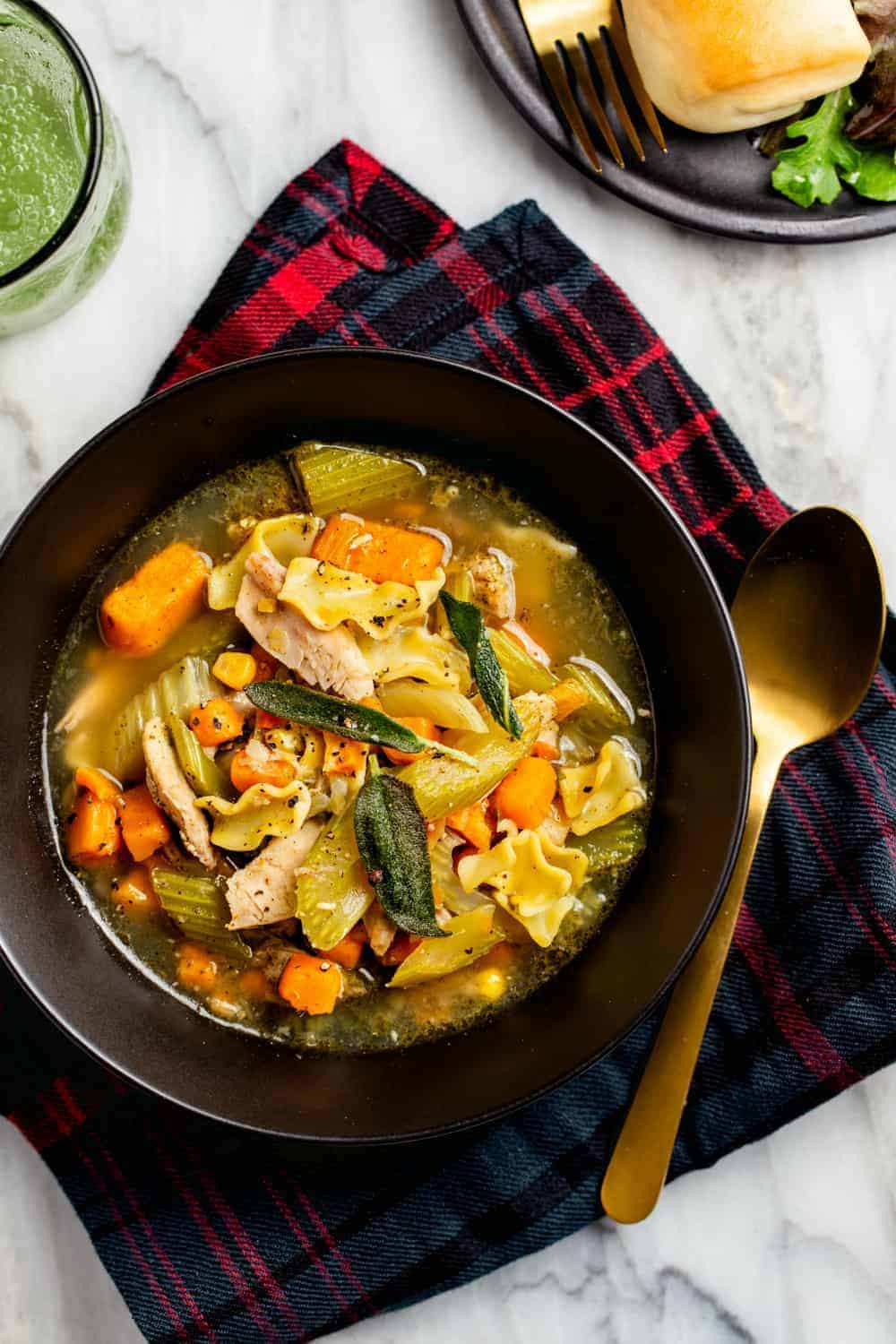 These mixes from Frontier Soups™ are all-natural, without any added salt or artificial stuff. Plus, they make a delicious soup in less than 30 minutes!
I also really love that the Chicken Noodle Soup Mix is certified gluten-free – including the noodles! – and all of the products are made in a nut-free facility, making this a safe choice if you are trying to feed any family members with food allergies.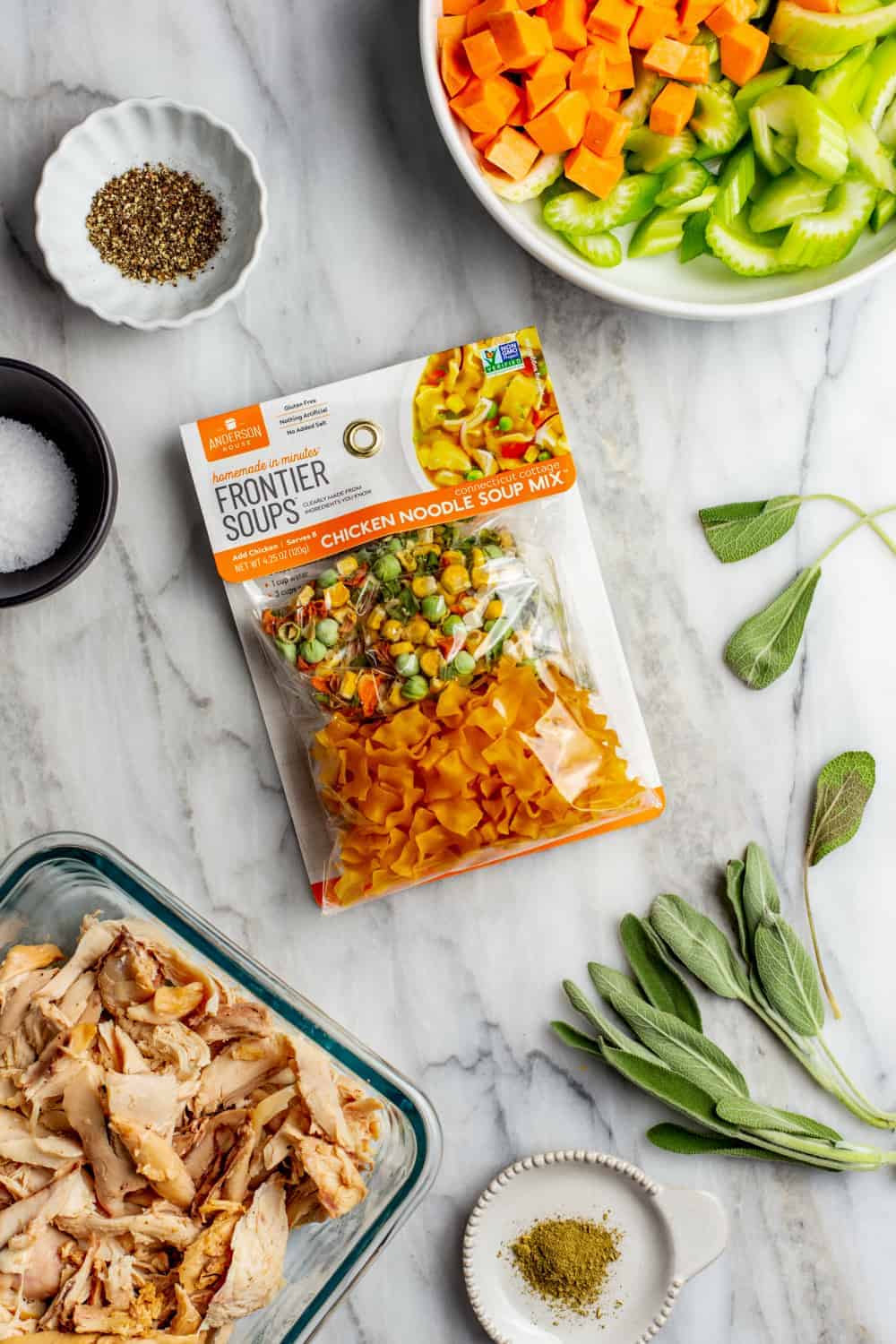 Using leftover turkey and turkey stock in place of the cooked chicken and chicken broth when making the soup makes for an easy way to use leftover turkey and have lunch for any lingering visitors.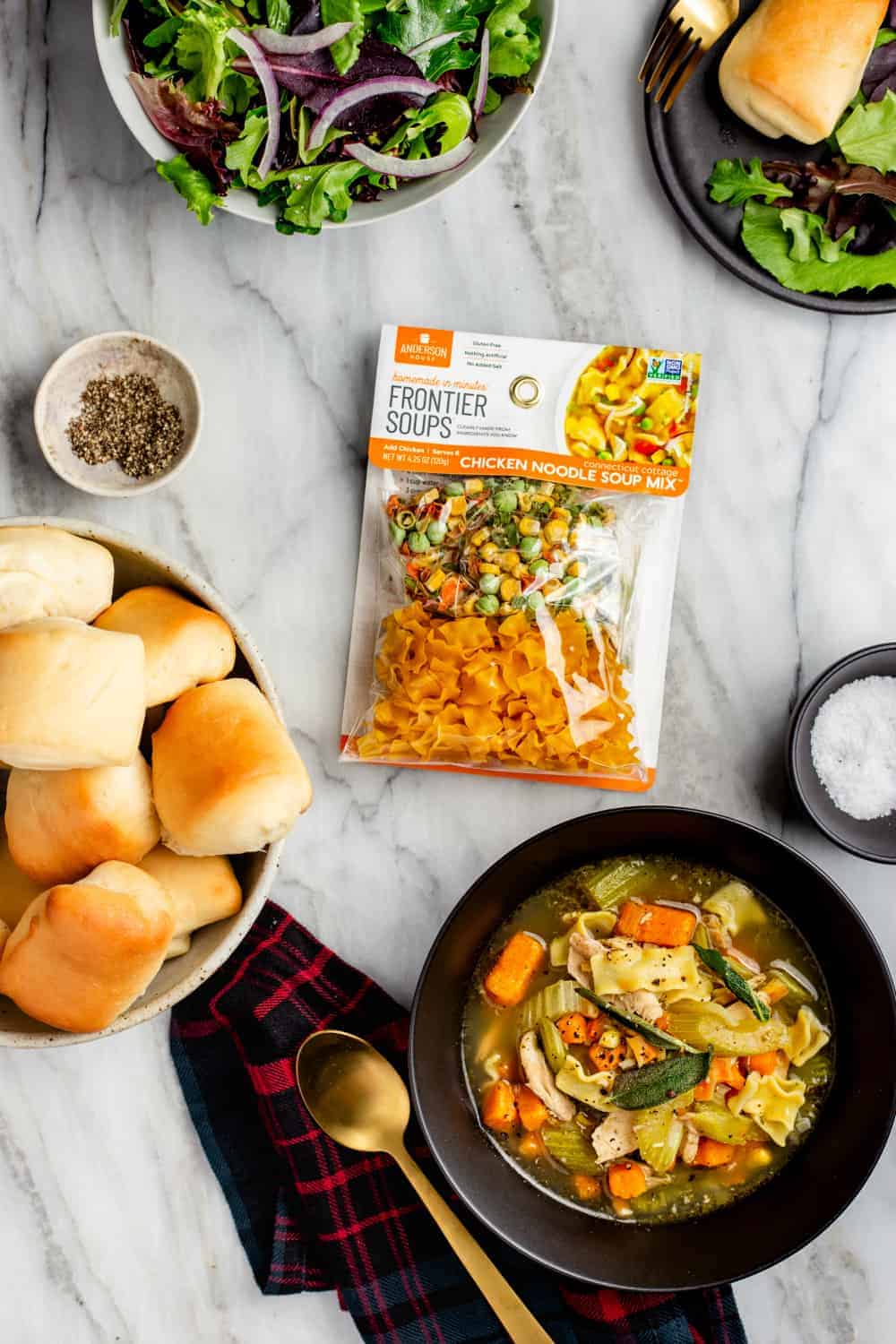 HOW TO JAZZ UP YOUR TURKEY NOODLE SOUP
The mix for this soup already has some great veggies already in it, but adding even more vegetables is an easy way to jazz up your Turkey Noodle Soup and add even more nutritious value to it.
And let's be honest: You probably have some extra veggies floating around in your fridge and pantry from Thanksgiving dinner anyway.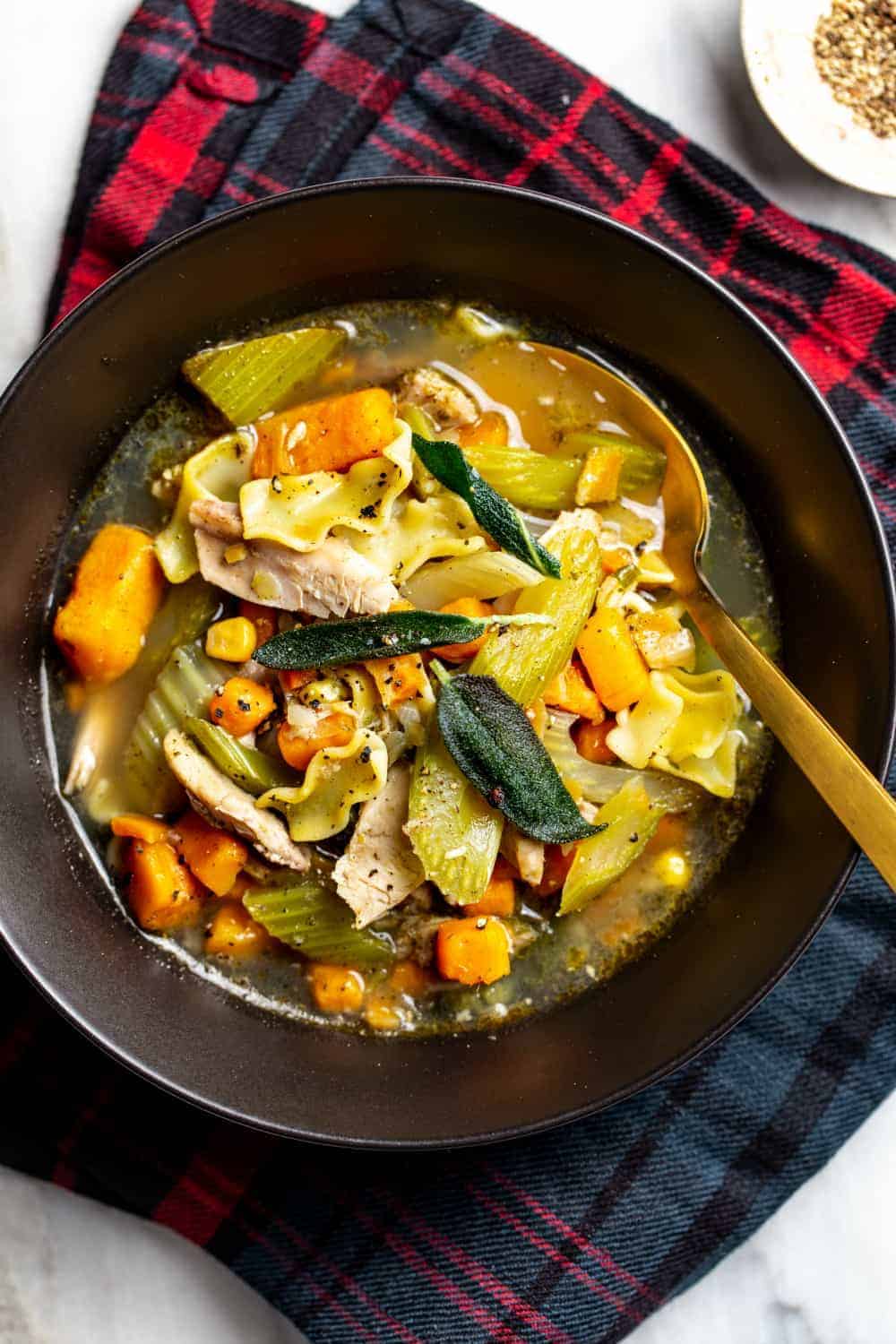 I added fresh celery and a peeled and diced sweet potato to my soup and also threw in some additional poultry seasoning for even more flavor.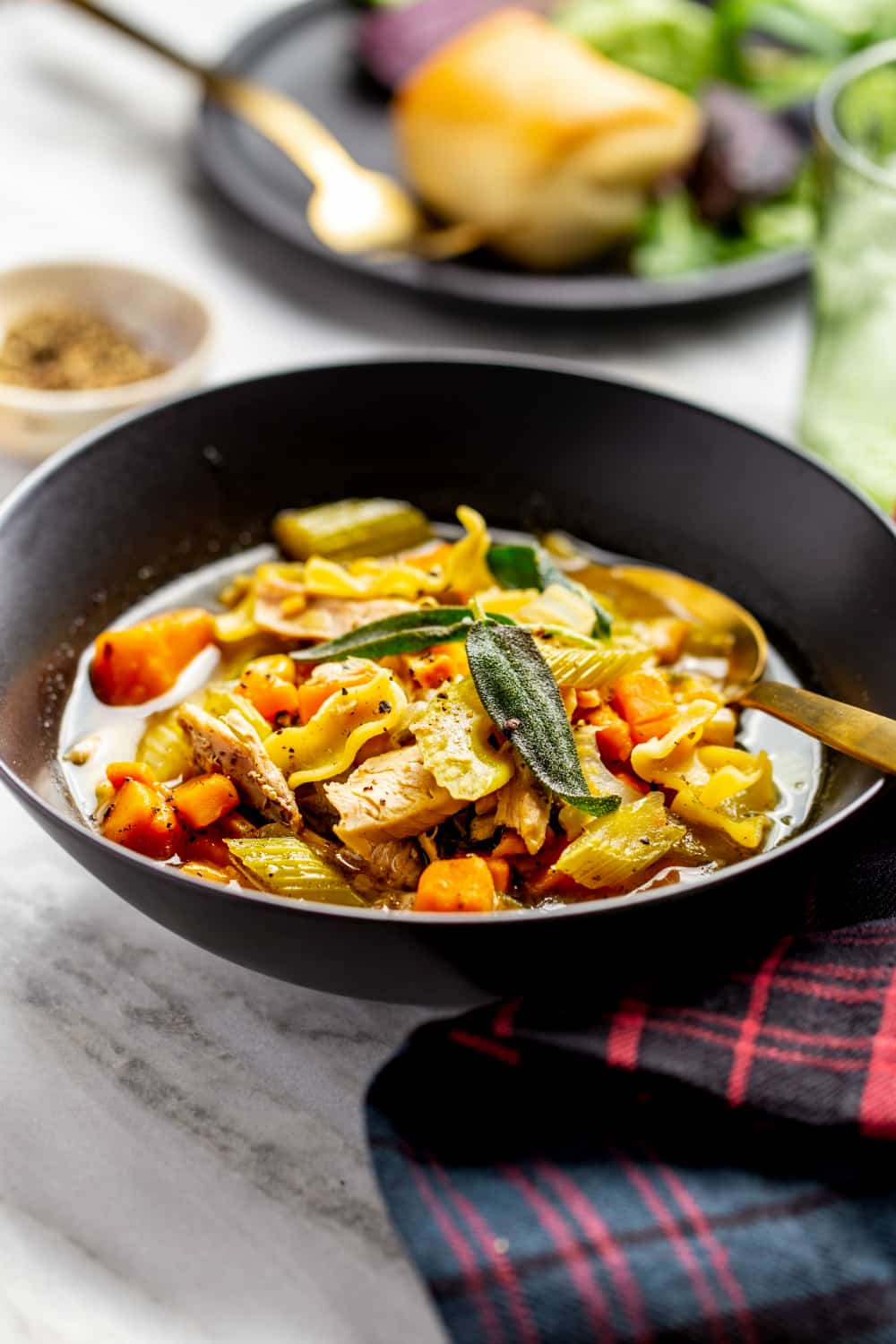 But you could add fresh carrots, parsnips, broccoli, green beans, or any other veggies or herbs you have left in your fridge!
This Turkey Noodle Soup is easy to customize with whatever flavors you like. Serve it alongside leftover rolls for an easy post-Thanksgiving meal that will leave you feeling warm and cozy.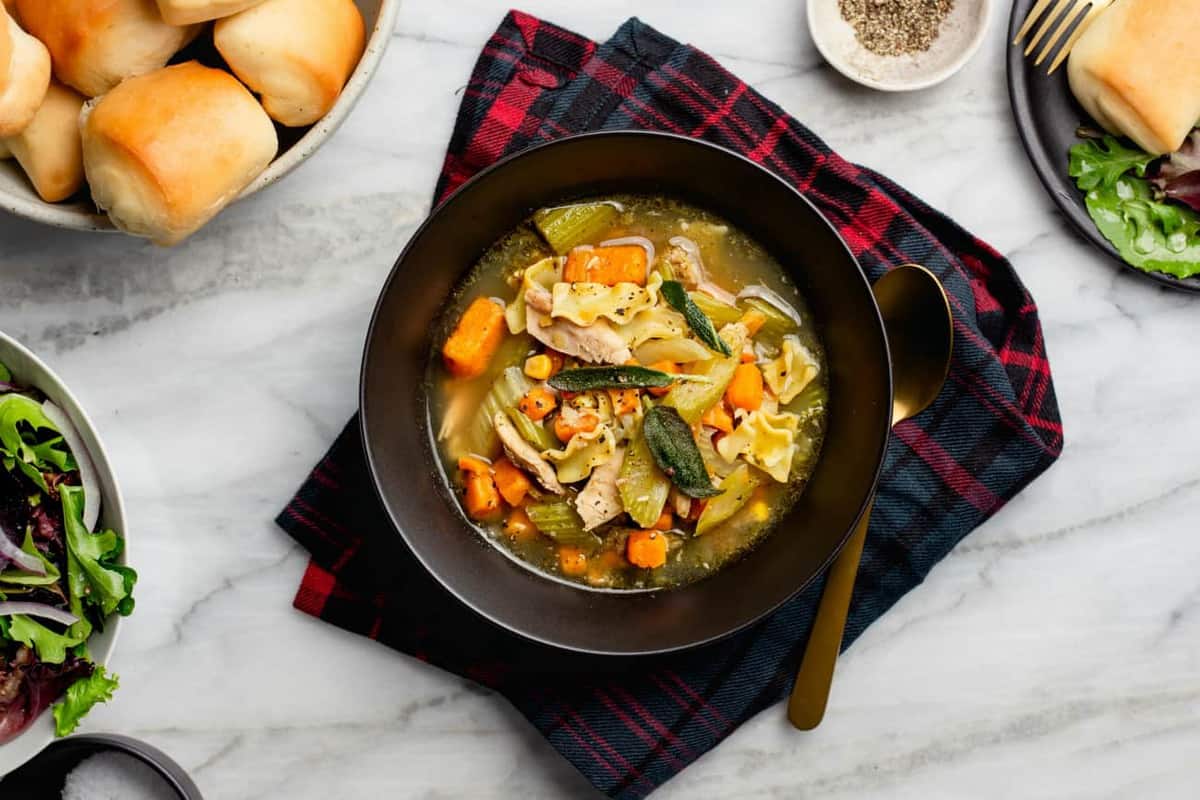 8 MORE EASY RECIPES USING LEFTOVER THANKSGIVING TURKEY
Looking for even more easy ways to use up leftover Thanksgiving turkey? Here are 8 more of recipes you can whip up with very little effort, since we all know that energy is in short supply during the holiday season.
This post may contain affiliate links. We are a participant in the Amazon Services LLC Associates Program, an affiliate advertising program designed to provide a means for us to earn fees by linking to Amazon.com and affiliated sites.