This creamy Goat Cheese Pasta with Chicken and Rosemary is simple enough to make for a weeknight dinner but elegant enough for a special date night in.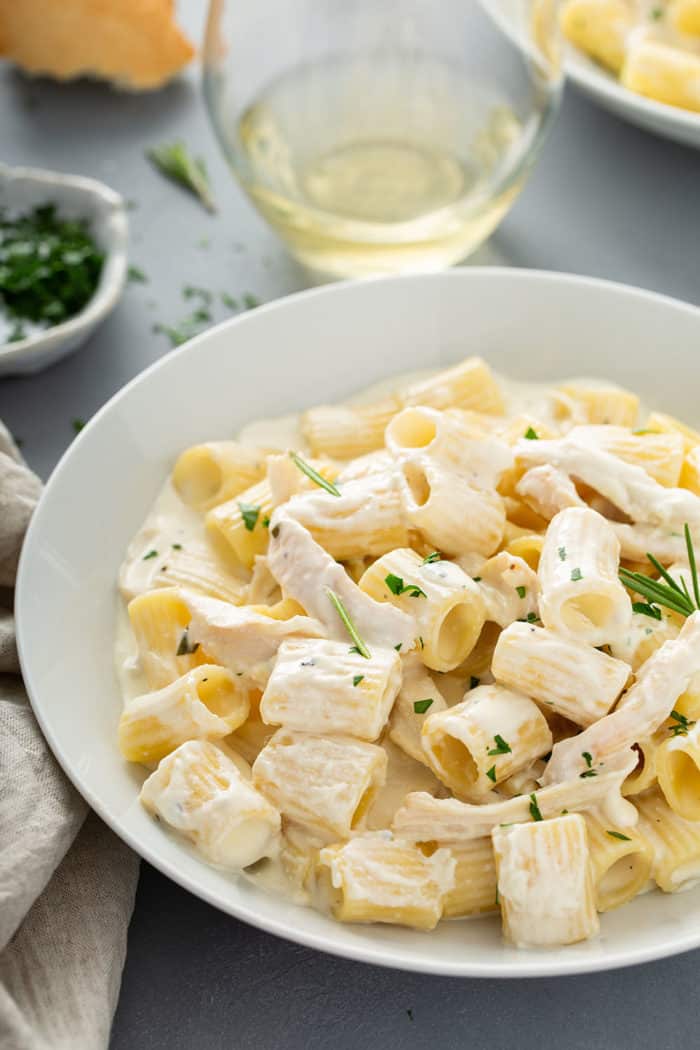 INTRO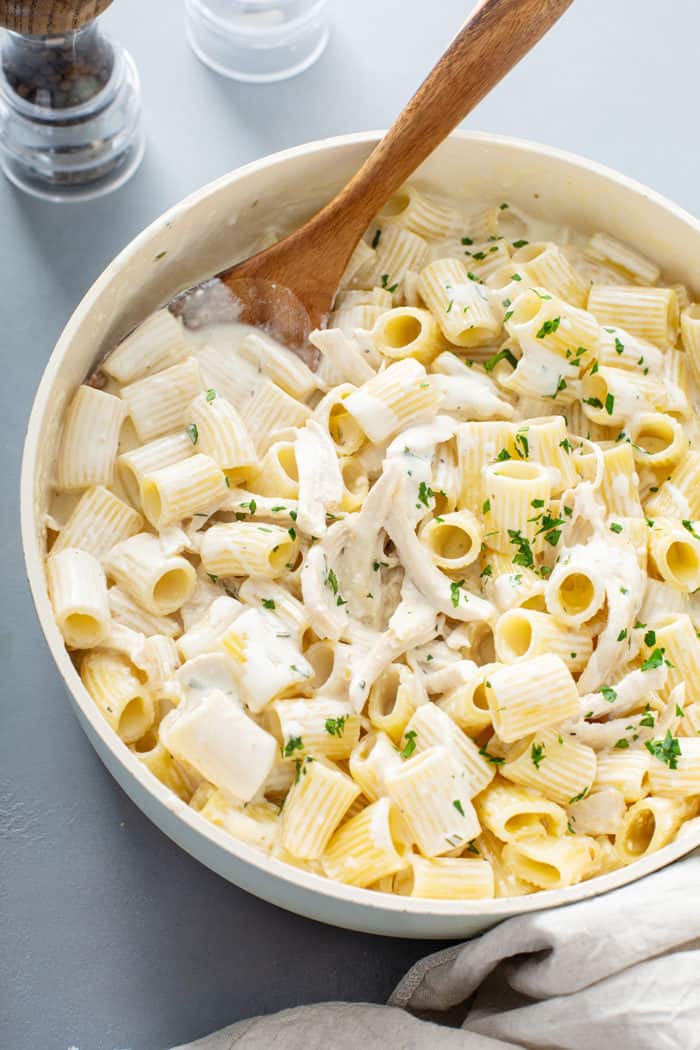 CREAMY GOAT CHEESE PASTA
Years and years ago, I used to frequent Michael Symon's former restaurant, Bar Symon, in my hometown.
It was there that I discovered this pasta recipe. From the first time I had it, I was hooked. The goat cheese sauce was creamy, tangy, and perfectly infused with fresh rosemary, while the chicken made it hearty enough for a main course.
It's one of those dishes that forces you to instinctively close your eyes and truly enjoy what is dancing around in your mouth. It was love at first bite and I knew I had to find a way to replicate it at home.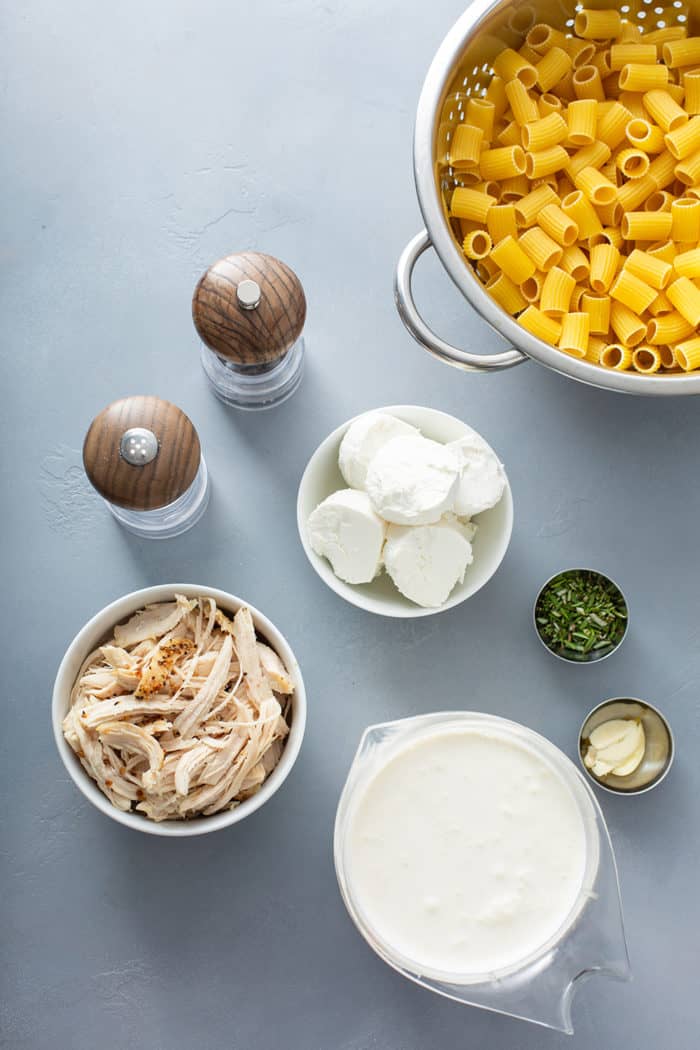 I expected to need a long list of ingredients to make such a gorgeous plate of food. I was pretty amazed that it actually consisted of such a short list of ingredients:
Rigatoni
Heavy cream
Fresh rosemary
Fresh garlic
Goat cheese
Shredded roast chicken
Salt and pepper
I know what you might be thinking. No, this isn't a low-calorie recipe. But sometimes you just have to go a bit decadent, especially for a celebration or a date night in.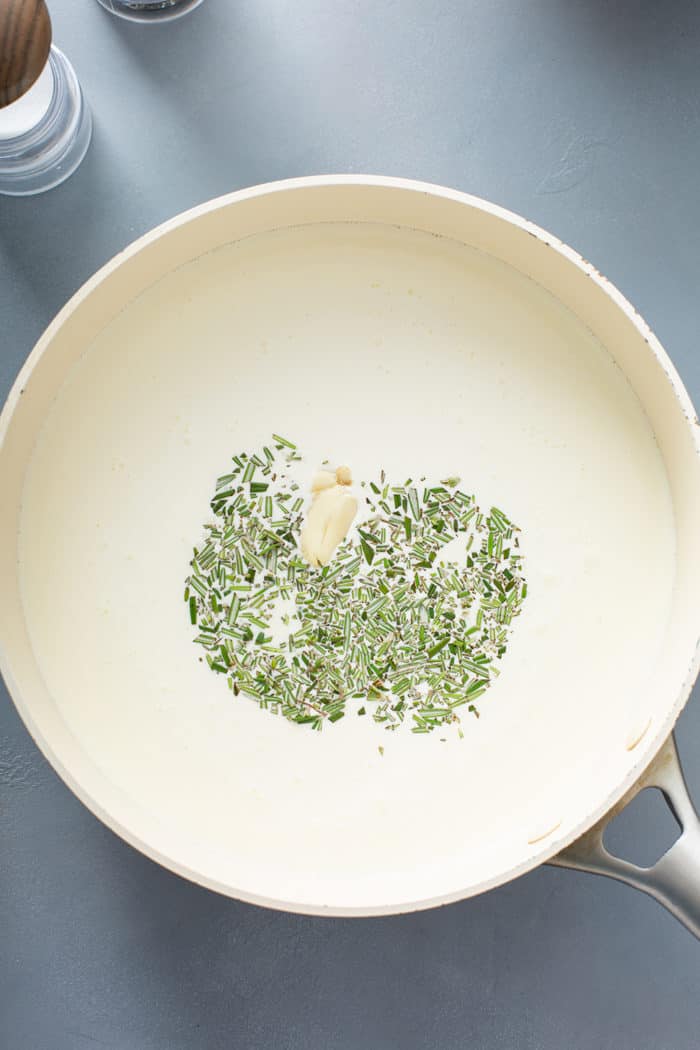 HOW TO MAKE GOAT CHEESE PASTA SAUCE
The ingredients are not the only thing that's simple about this recipe – the prep work is also a breeze.
Sometimes I use leftover roast chicken, but you can make it even more simplistic by picking up a rotisserie chicken from your local market.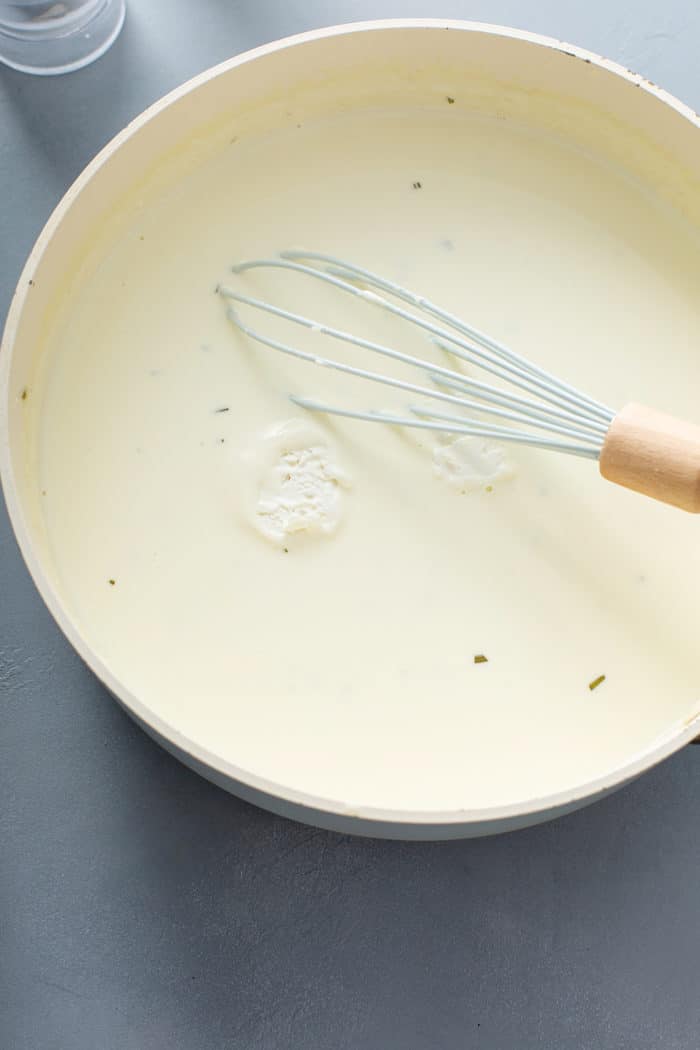 To make the goat cheese pasta sauce, pour the cream into a large saucepan and add the crushed garlic cloves and chopped rosemary. Bring the cream to a simmer and let it reduce by about half.
Simmering the cream with the garlic and rosemary in it infuses the cream with way more flavor than just adding them at the end!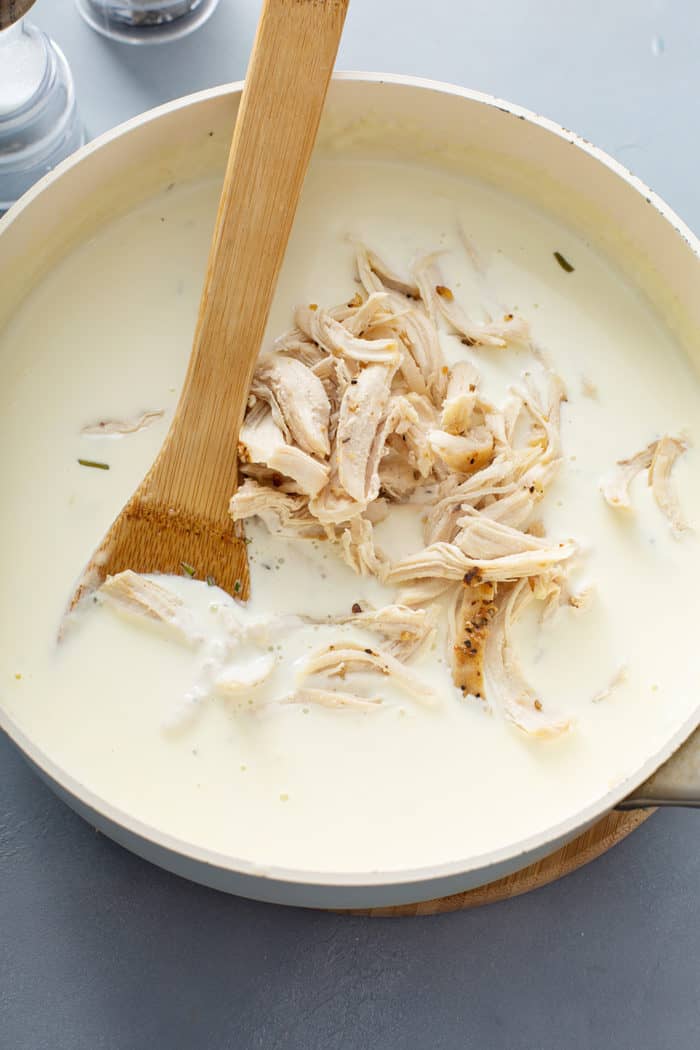 Once the cream has reduced, stir in the goat cheese and chicken and let the sauce simmer until it coats the back of a spoon.
When the sauce is ready, season with salt and pepper to taste and stir in cooked rigatoni pasta.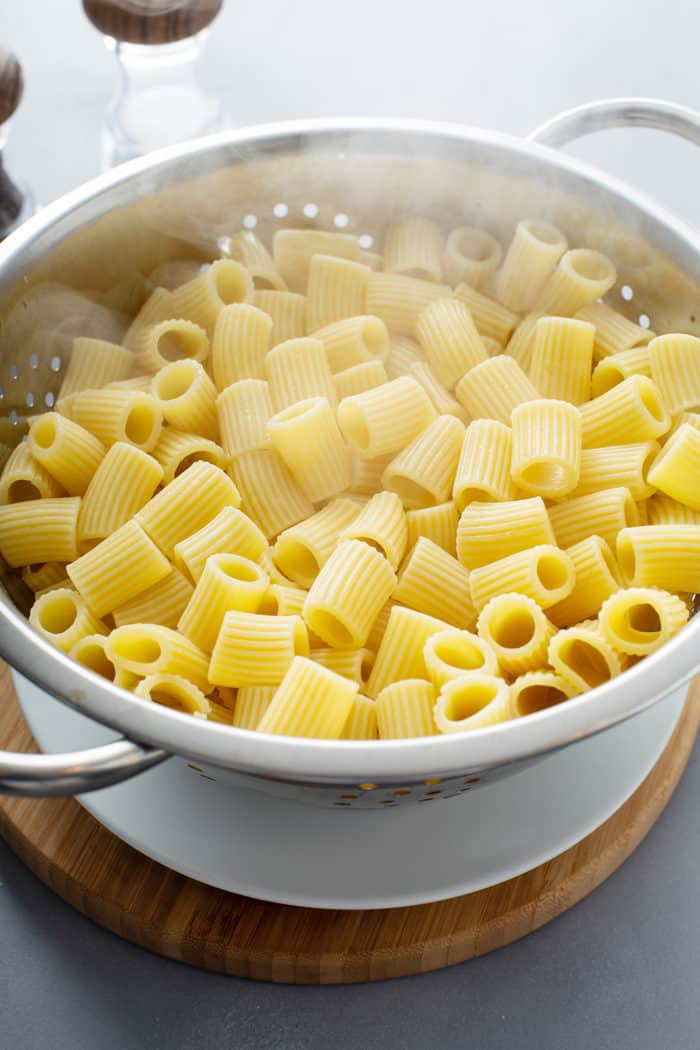 WHAT TO SERVE WITH THIS PASTA
The chicken in this Goat Cheese Pasta really helps to make this a dish that can stand on its own as an entree. I like to serve mine alongside a green salad (usually with homemade blue cheese dressing).
If you want some bread, try making buttery Parker House Rolls or grab a loaf of crusty bread and make some Extra Virgin Olive Oil Herb Dip.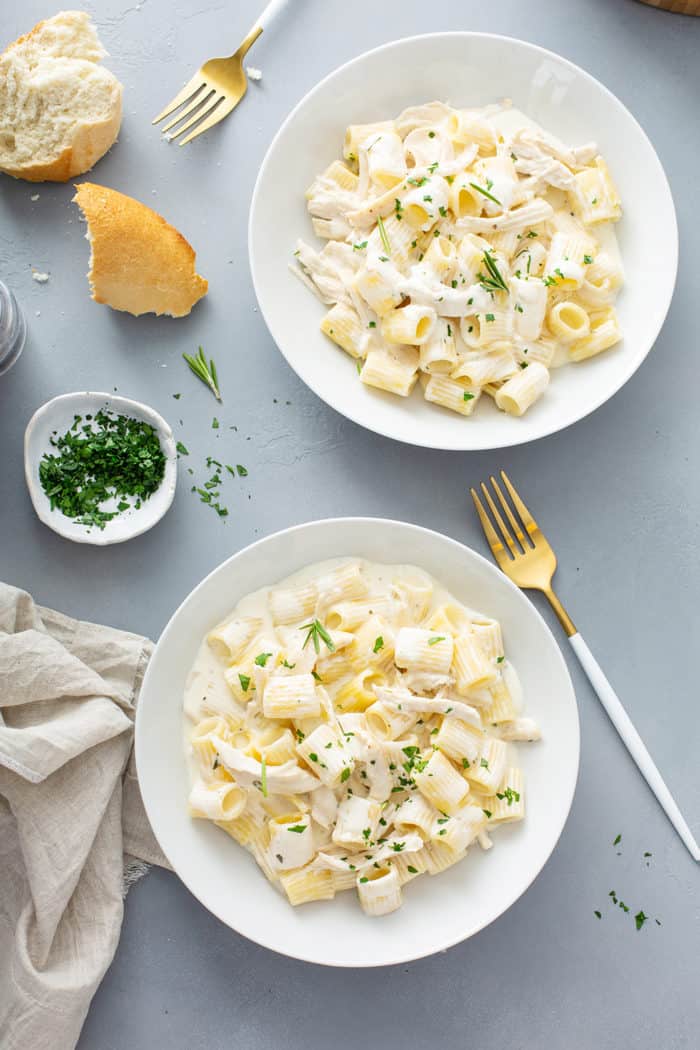 If I'm making this for a dinner party or a special date night, I like to wrap up the meal with dessert. Classic tiramisu would be just special and elegant, or you could go with something bright and tart like Lemon Cheesecake to balance some of the richness from the pasta.
If you love goat cheese, I know you'll adore this creamy, simple pasta recipe!