Chicken Bacon Ranch Pizza tops a quick and easy 30-minute pizza crust with ranch dressing, rotisserie chicken, crumbled bacon and melty cheese. Make this pizza for a pizza night that is better than any delivery you can get!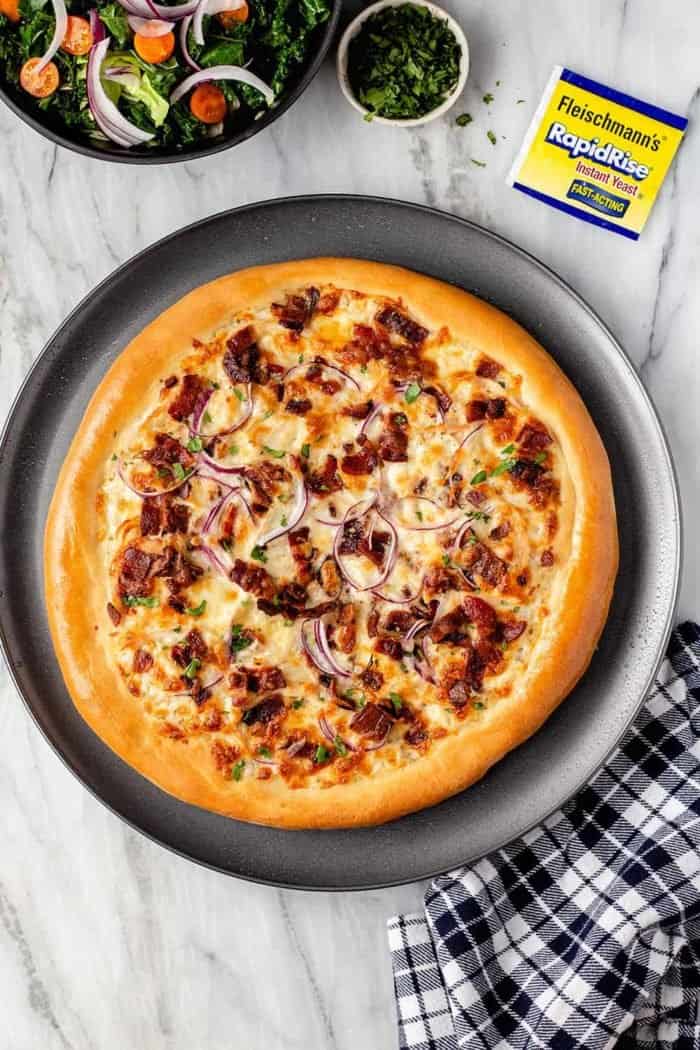 If you've ever visited the Midwest, you know that Midwesterners love adding the flavors of ranch dressing to anything and everything.
We love ranch on potatoes, in dips, as part of wraps and sandwiches, in pasta, on chicken…you get the idea. As far as we're concerned, ranch is not just for salad!
When I was growing up, there was a local pizza place that made an amazing chicken bacon ranch pizza, and it was our family's absolute favorite.
Now, as an adult, Chicken Bacon Ranch Pizza is still one of my favorites, but I prefer to make it at home with my husband and daughter – because homemade is always better.
And bonus? This easy homemade pizza can be ready, start to finish, in the time it takes to get pizza delivered!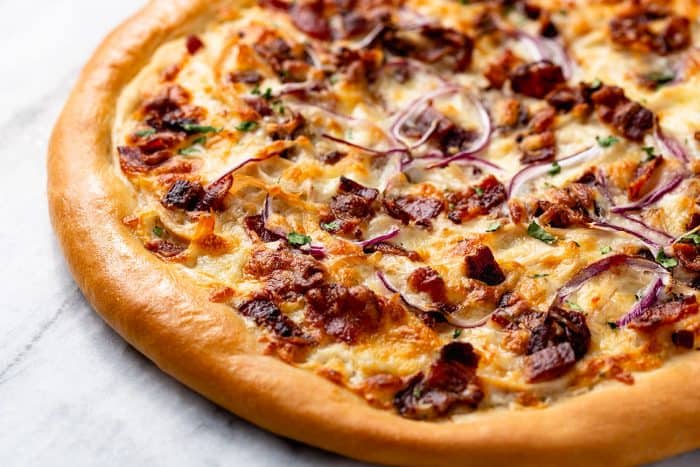 WHAT IS CHICKEN BACON RANCH PIZZA?
If you've never had Chicken Bacon Ranch Pizza, it's a pizza version of the perfect combination of ranch dressing, chicken, and crumbled bacon.
Most of the time this pizza uses ranch dressing as the pizza sauce, instead of a traditional tomato sauce. I also like to use shredded rotisserie chicken; using the rotisserie chicken is a huge time-saver and makes this homemade pizza even easier.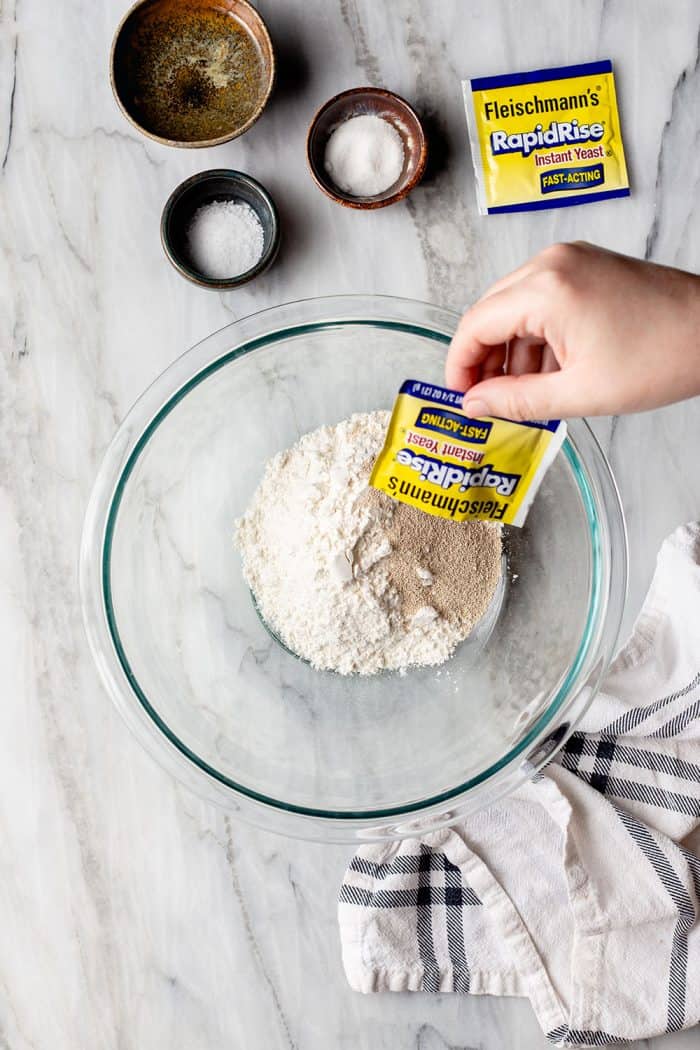 Sometimes you'll see this pizza topped with thinly sliced red onion or red bell peppers, too, but that's totally optional if your family doesn't like red onions or bell peppers.
Serve this pizza alongside a salad with homemade blue cheese dressing (or ranch dressing, if you really want to go all-in on the ranch) and a pitcher of homemade strawberry lemonade and you'll have a meal better than anything you can get delivered!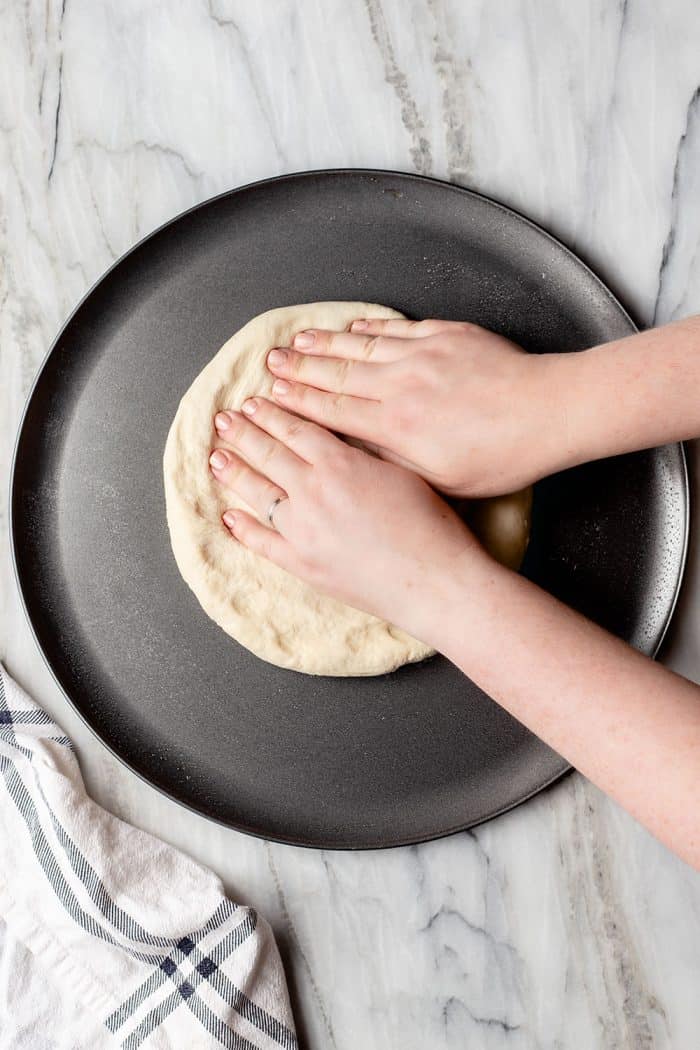 HOW TO MAKE CHICKEN BACON RANCH PIZZA
"But Jamie, doesn't homemade pizza take a long time to make? Isn't it faster to order delivery?"
Not for this pizza!
To make this Chicken Bacon Ranch Pizza, I start with the same 30-minute pizza crust recipe that I like to use when I do DIY Pizza Bars. The recipe comes from my friends at Fleischmann's® Yeast and uses Fleischmann's® RapidRise® Yeast to completely eliminate the rising time.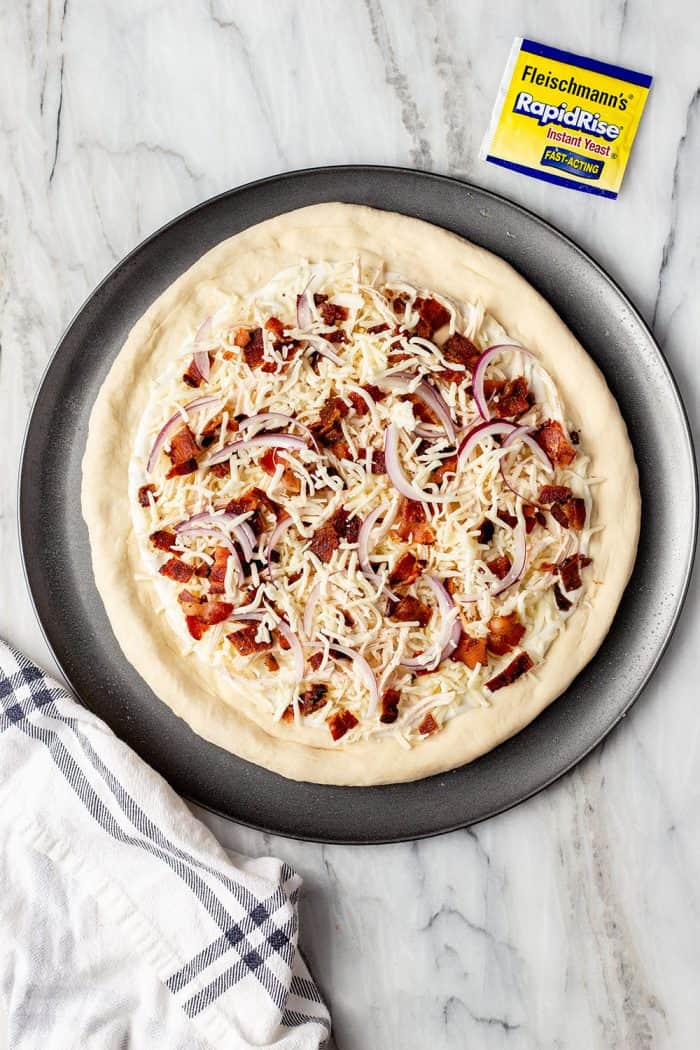 That's right! No rising time. After you mix the dough together, just let it rest for 10 minutes before patting or rolling it onto the pan. Thanks to RapidRise® Yeast, this homemade pizza dough is easy and fast enough to even make on a busy weeknight.
After the pizza dough is on the pan or baking sheet, spread some ranch dressing onto the dough – make sure to leave about an inch around the edge so you can get that gorgeous golden crust!
Then top with the rotisserie chicken, cooked and crumbled bacon, red onion, and top with the cheese.
Then it's time to bake! 12 to 15 minutes in a 425°F oven should give you a pizza with melty, bubbly cheese and a beautiful, golden crust.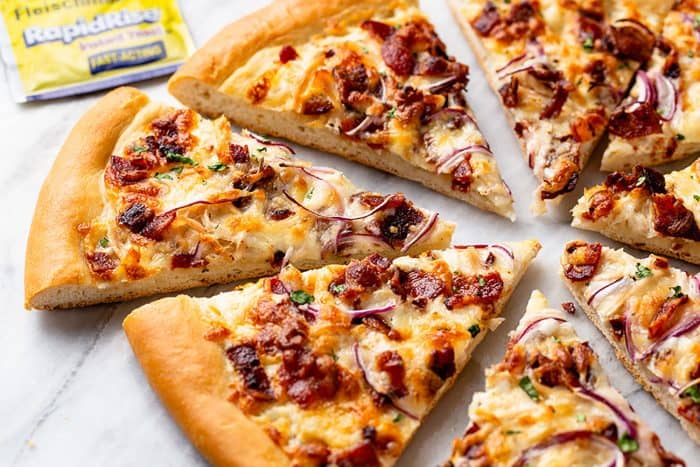 HOW TO GET HOMEMADE PIZZA CRUST CRISPY
One of the things that I hear a lot about homemade pizza is that the crust isn't as crispy as what you might get at your local pizza place. This is because home ovens don't get as hot as the ovens at pizza places.
Luckily, if you're really craving that crispy bottom on your homemade pizza, there are a few tricks you can try.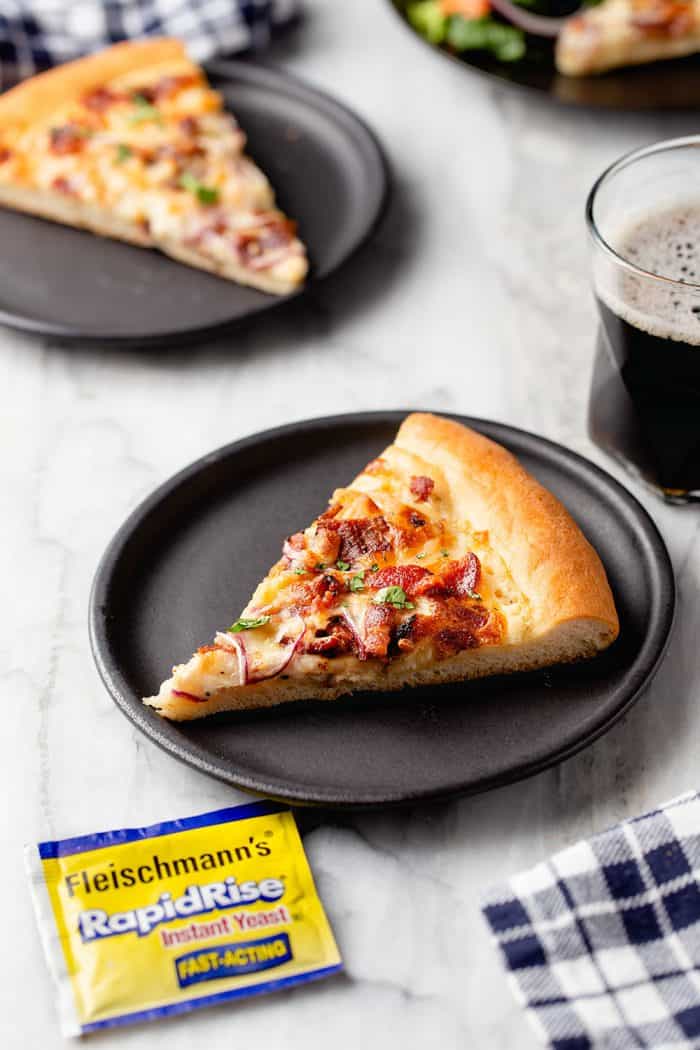 Bake your pizza on the bottom rack of the oven. The bottom is usually the hottest part of the oven, so getting the bottom of the pizza as close to the bottom of the oven as possible helps it crisp up more.
A pizza stone can also help with a nice crispy crust! Lots of people actually keep a pizza stone on the bottom rack of their ovens all of the time to help the oven heat more evenly.
If you have a pizza peel, you can use it to transfer the pizza directly onto the pizza stone to bake, but even if you bake the pizza on a pan, setting it on top of the pizza stone can add a little extra crisping power.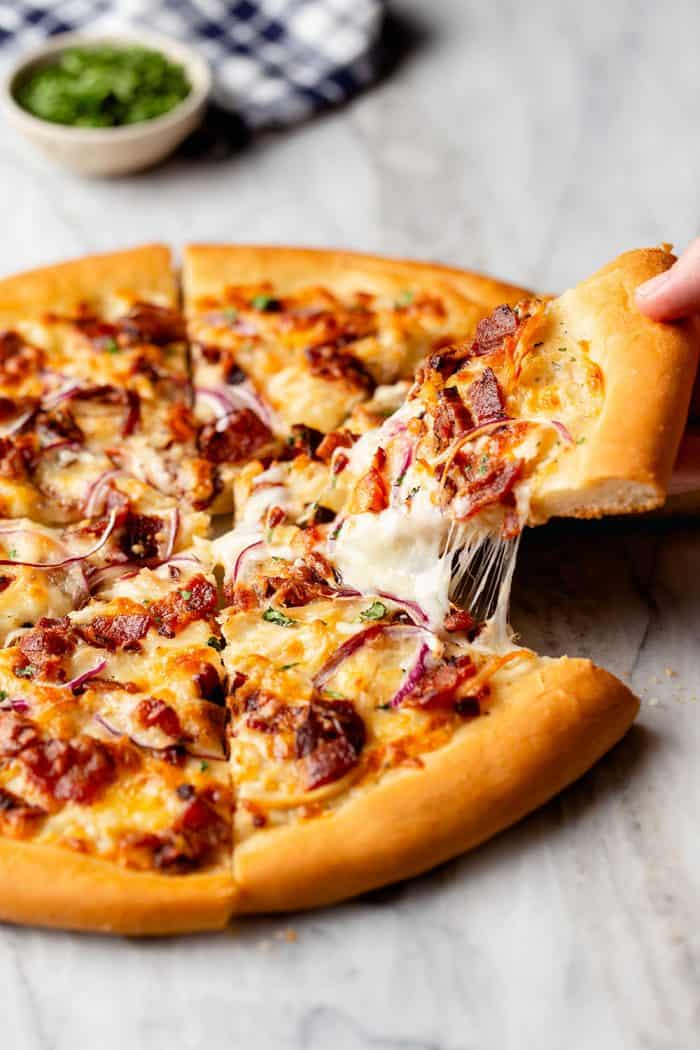 CAN HOMEMADE PIZZA CRUST BE FROZEN?
This Chicken Bacon Ranch Pizza is so quick and easy to make, you will totally have time to make a second batch of dough to pop into the freezer for later.
To freeze, prepare the dough following the recipe up to and through the kneading process. Form the dough into a disk, tightly wrap first with plastic wrap and then with aluminum foil and pop it into a zip-top bag.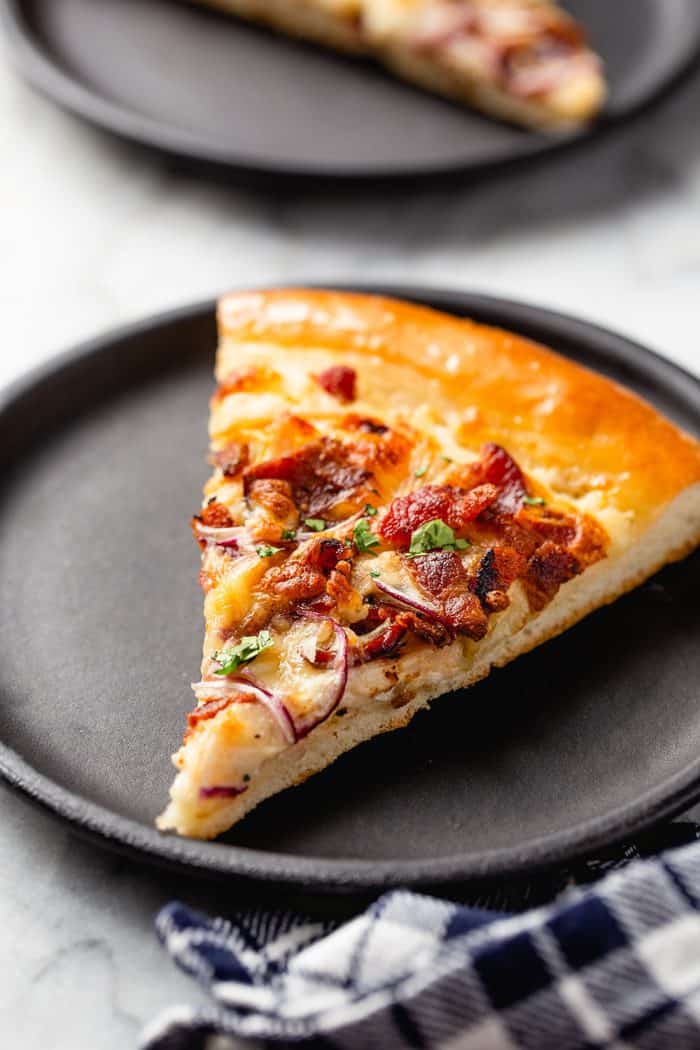 The dough will taste best if used within one month.
Next time you're ready to make pizza, remove the dough from the freezer and thaw it in the refrigerator for 24 hours before shaping and baking according to recipe directions.
Because I know if you make this Chicken Bacon Ranch Pizza once, you'll want to make it again and again!