Ambrosia Cookies combine coconut, oats, pecans, dates, and citrus zest into a chewy, fruity cookie that you'll want to eat year round.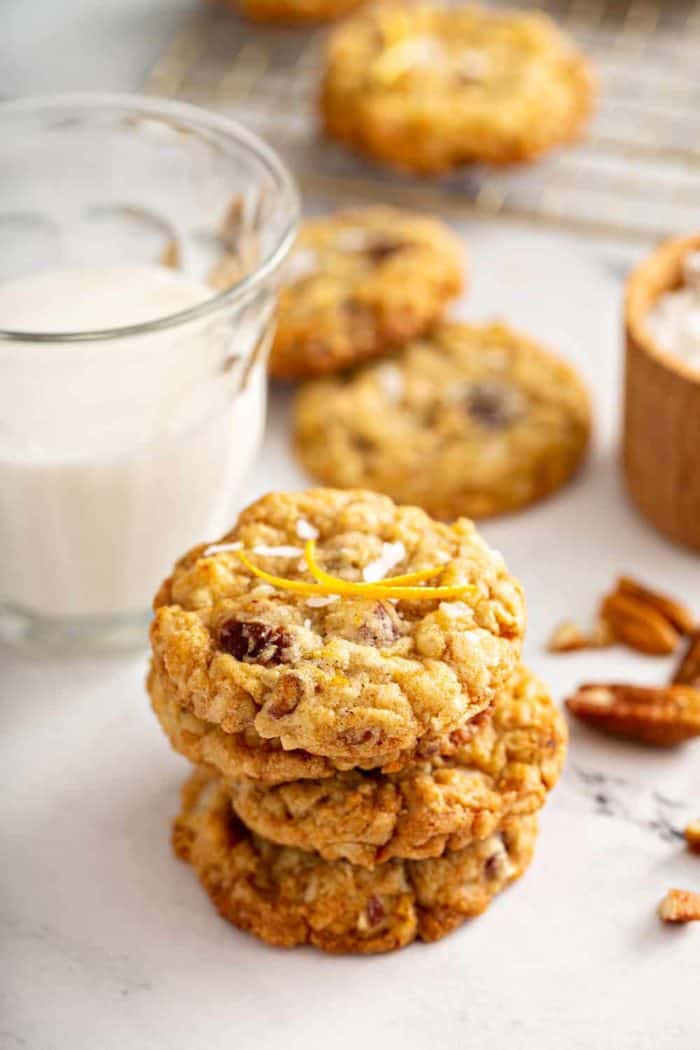 I told you guys yesterday in the coconut macaroons post that I was in cookie mode and I wasn't kidding.
I'm actually thrilled with the fact that it's pretty cold in Ohio right now because I can store all the cookies I'm baking in tins inside the garage instead of cramming the tins into our garage freezer.
Because if I'm being honest, our garage freezer is a mess and still full of summer popsicles, ice cream sandwiches and various flavors of mochi that no one ever ate.
I should really clean that thing out.
But instead, here I am baking up ambrosia cookies and thinking about what's next on my cookie to-do list!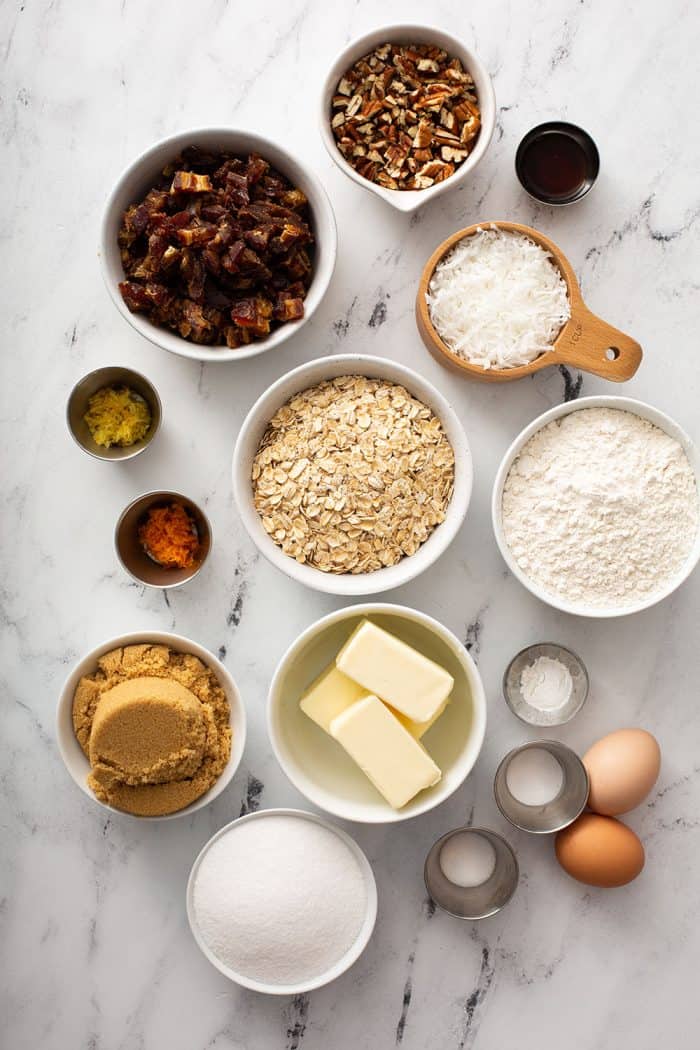 WHAT ARE AMBROSIA COOKIES?
If you're a fan of my Ambrosia Salad, you might be wondering if Ambrosia Cookies are related to that at all.
Remember how we talked about how there are lots of ways to make ambrosia, but pretty much all of the recipes have citrus fruit and coconut in them?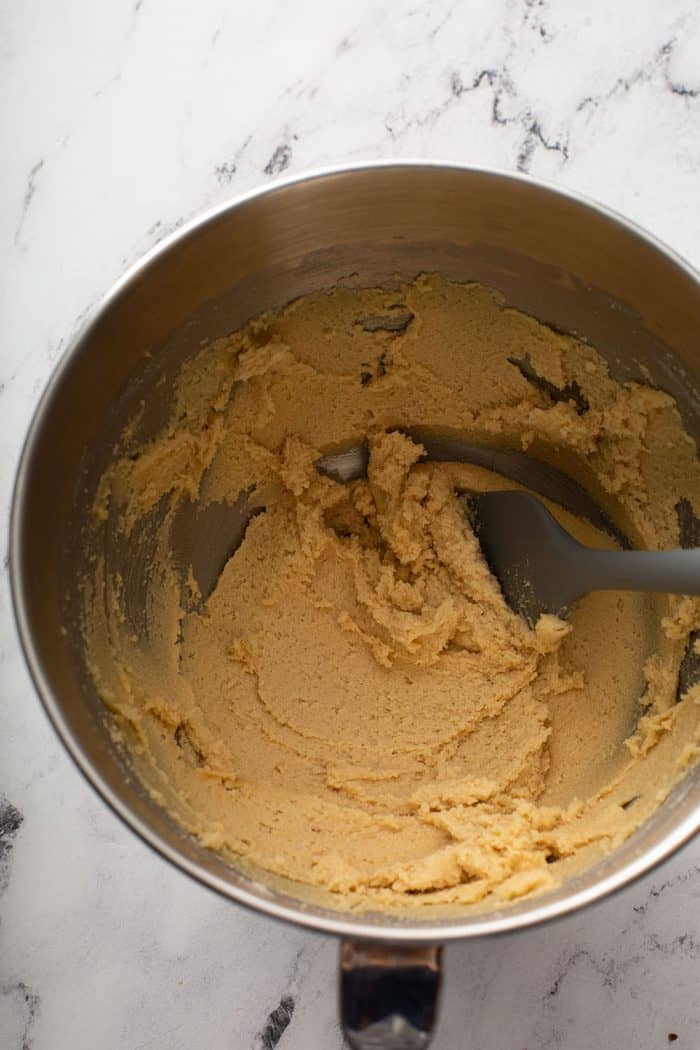 Well, these cookies have those same flavors in them!
The base of this recipe is really similar to Cornflake Cookies. But then these cookies are loaded with coconut, rolled oats, chopped pecans, chopped dates, and lemon and orange zest.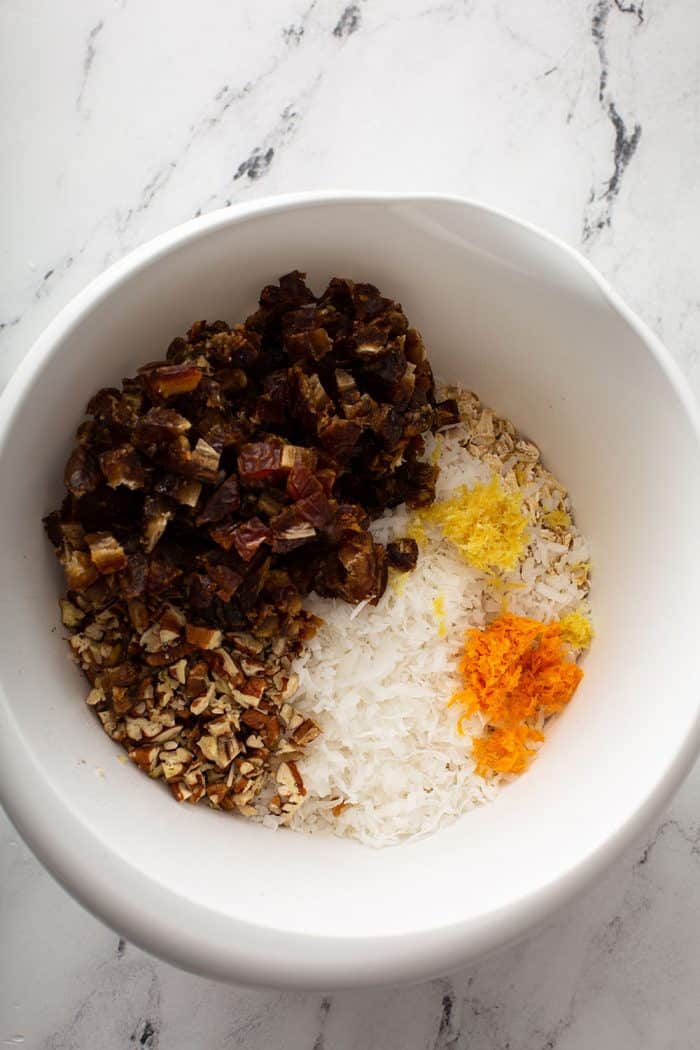 The end result is a super chewy cookie that reminds me a bit of fruitcake cookies. The citrus zest really shines through and pairs so well with the coconut. The dates makes them chewy and the pecans add a pleasant crunch.
They're the type of cookie where you can eat 5 of them without even realizing it. Ask me how I know.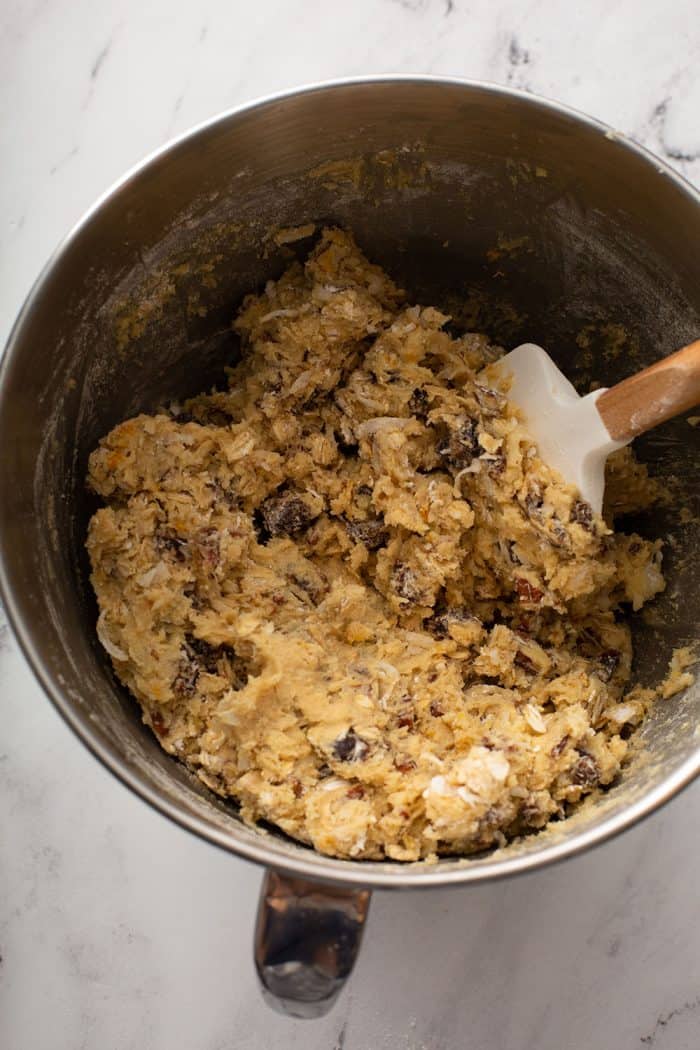 HOW TO MAKE THESE COOKIES
If you can make my favorite chocolate chip cookies, you can make these Ambrosia Cookies.
First, cream together the softened butter with the brown and granulated sugars. Beat in the eggs and the vanilla.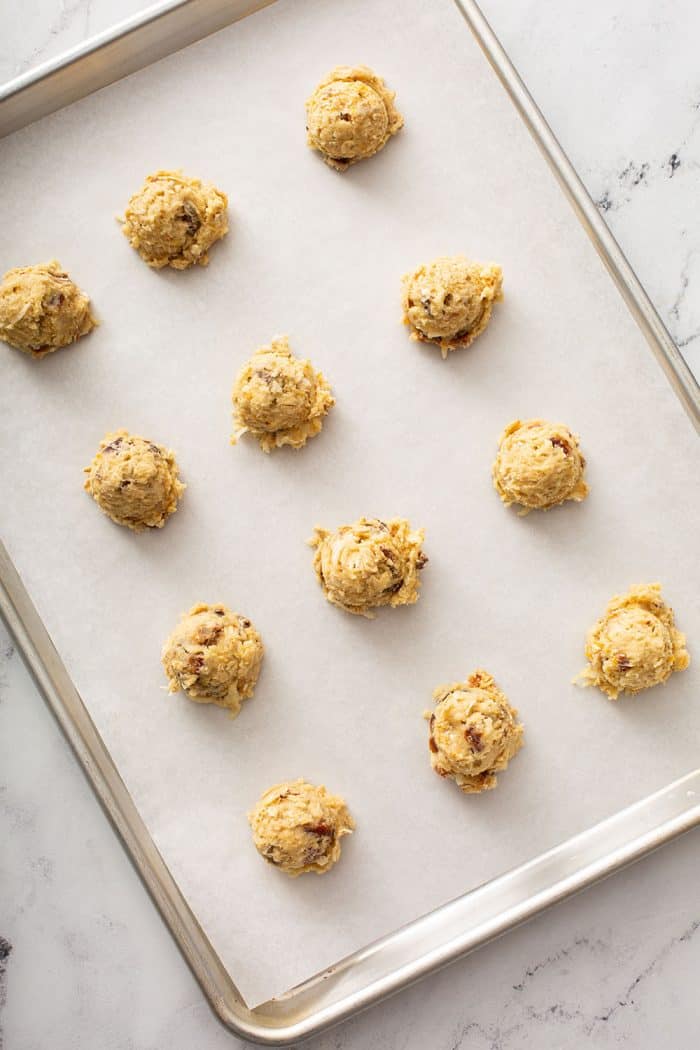 From there, you'll mix together the flour, baking powder, baking soda, and salt with all of the extras:
1 cup sweetened flaked coconut
1 ½ cups rolled oats
1 cup chopped pecans
2 cups golden raisins or chopped dates (I prefer dates)
1 tablespoon grated lemon zest
1 teaspoon grated orange zest
If you don't like dates, you can always use golden raisins instead. I just happen to prefer the dates in these cookies!
(If you find yourself with any extra chopped dates on hand, you can always whip up my Date Cake!)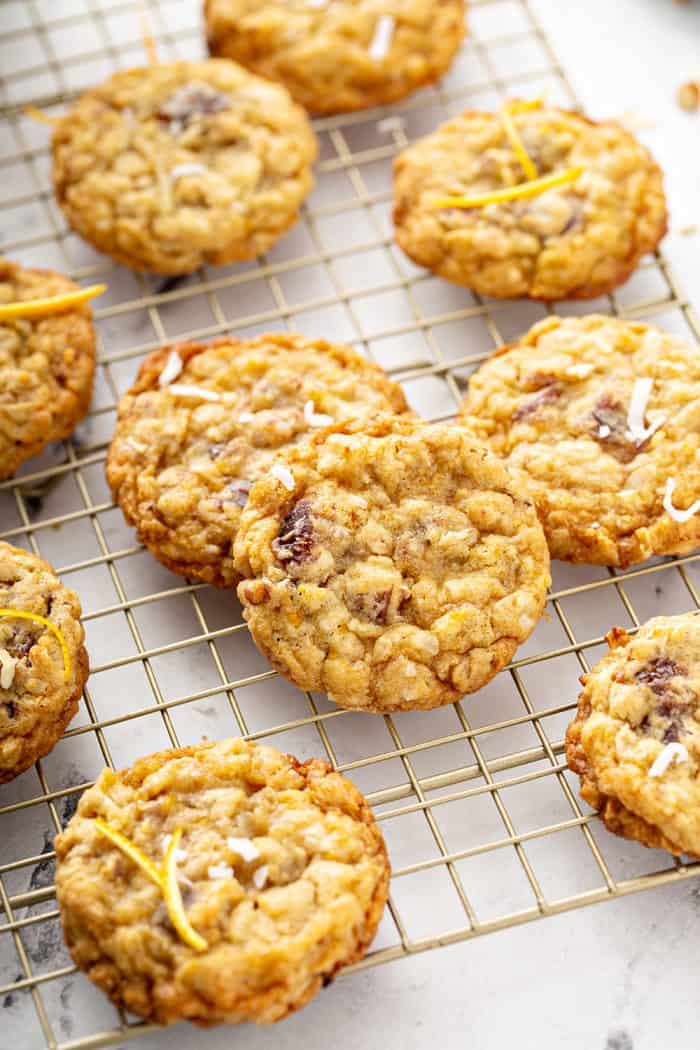 Stirring the dry ingredients and all the mix-ins into the butter mixture can be a little cumbersome to do by hand, so I prefer to make these in a stand mixer. But it's definitely not a requirement to make these cookies.
Use a cookie scoop to portion the dough onto lined baking sheets. Bake for 10-12 minutes before moving them to a wire rack to cool completely.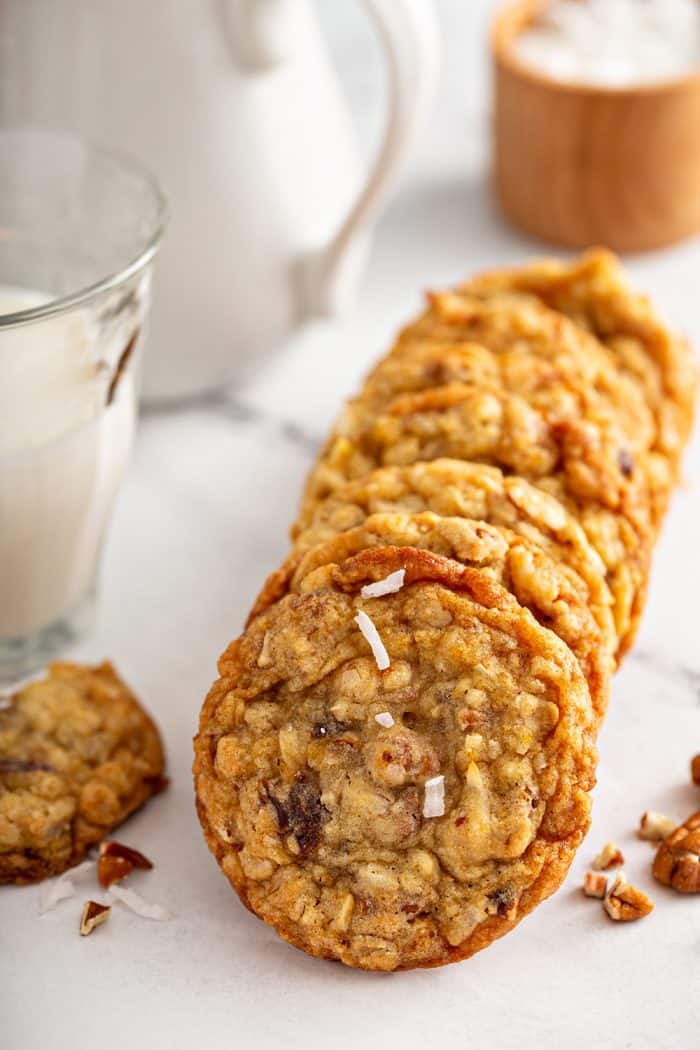 HOW LONG DO AMBROSIA COOKIES LAST?
I have a little secret: I made these cookies, accidentally ate 5 of them in one sitting, and immediately packed the rest up and sent them in a care package to a friend a few states over.
So I know that they last a long time and are still good! The dates help keep them from going stale too quickly. And I think the flavors actually get better after a day or two.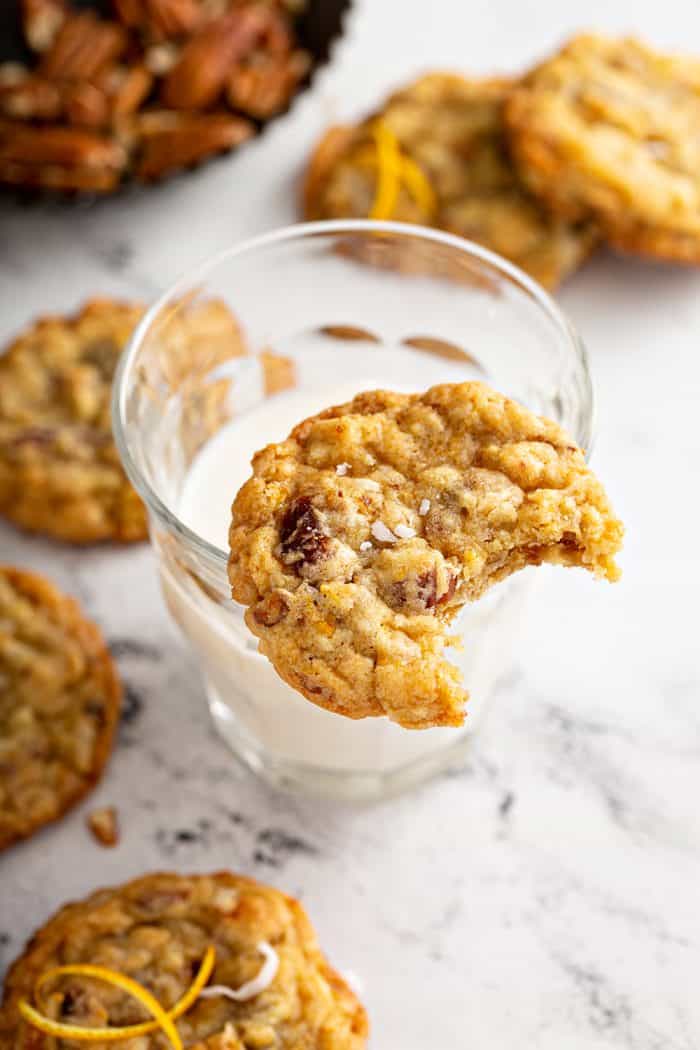 Keep them in an airtight container and they'll easily last 5 days.
Well, as long as you don't eat them all before then. But I can't make you any guarantees about self control when Ambrosia Cookies are around.