Date cake is a simple and delicious dessert. Flecked with chocolate chips and walnuts and topped with sparkling sugar, this cake is an old-fashioned holiday favorite.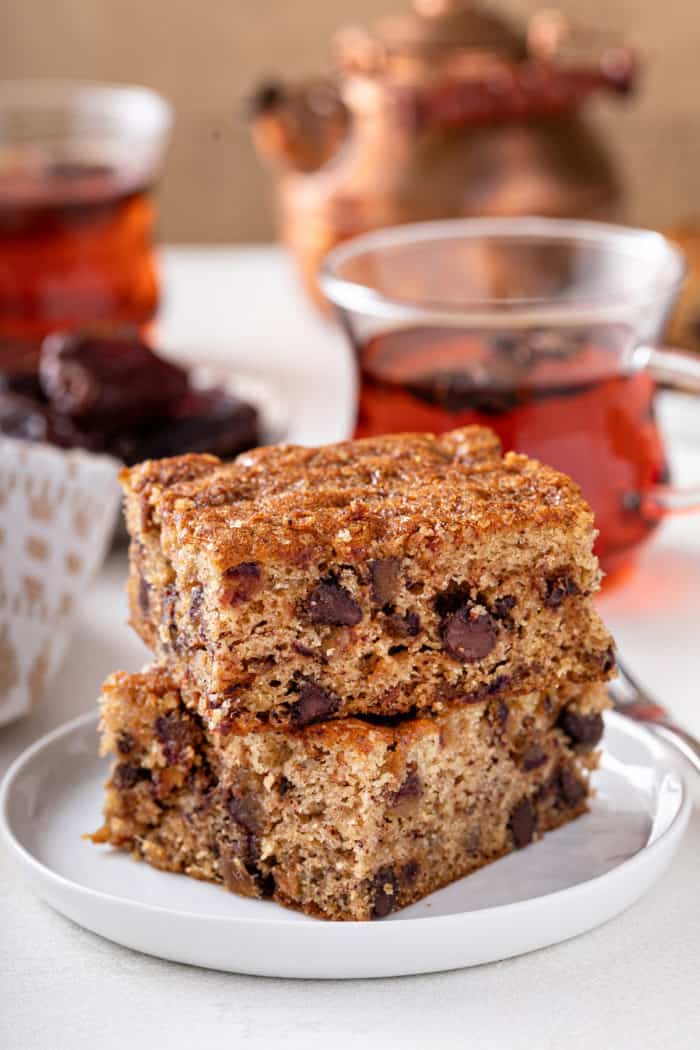 At our house, we love recipes that remind us of family and bring back childhood memories, like my nana's pumpkin crunch cake or the no-bake cookies my mother used to make my brother and me.
This recipe for date cake has been in Eric's family for years and it's one of his absolute favorite desserts because it reminds him of his grandma.
In the very early stages of our relationship, Eric sent me a photo of this cake and asked me to go on a date with him. Looking back, I think his little pun and love for cake might be what sealed our fate.
Eric has such fond memories of his grandma making the holiday season extra special – merrier, brighter.
One of his fondest memories is her Christmas Eve buffet featuring a delicious array of food like sweet meatballs, pumpkin roll, cranberry chicken and this date cake, all made with grandma's TLC.
This is such a special recipe in our family that I can't help but share it with all of you. Perhaps it will even become a part of your own family's holiday traditions!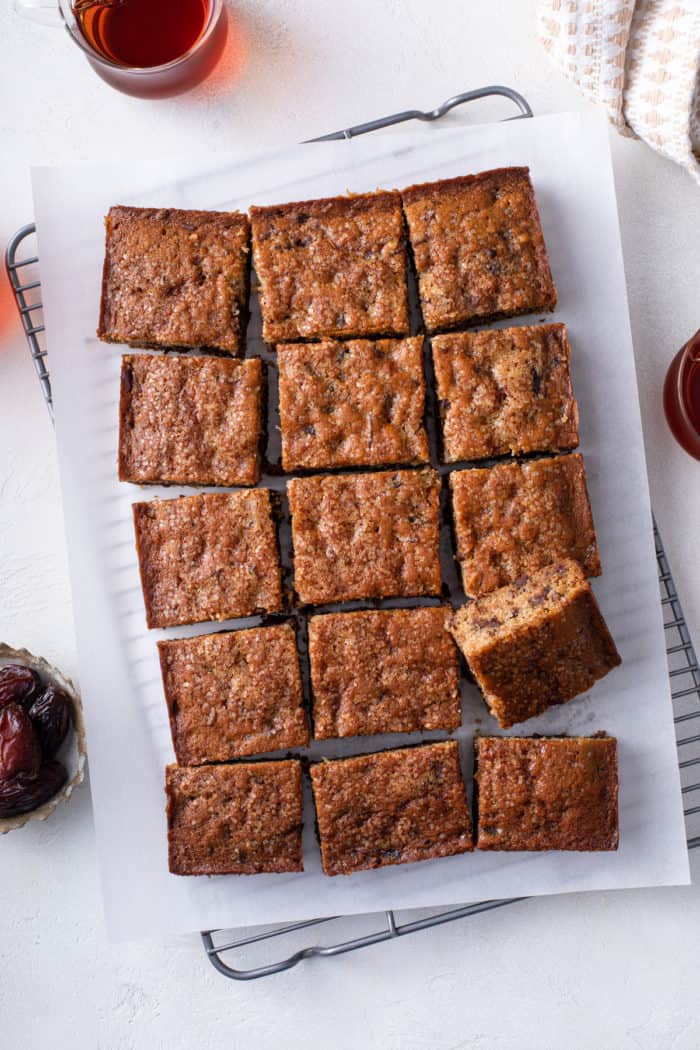 WHAT IS DATE CAKE?
There are lots of different types of desserts made using dates, especially outside of American cuisine.
A lot of American desserts using dates are a little on the old-school side, and this date cake recipe is definitely one of those.
This cake is super simple, but the addition of chopped dates throughout the cake makes it super moist, especially after it's covered and sits for a day. Just add it to the roster of perfectly moist fruit-based cakes, right alongside banana cake.
The addition of sweet chocolate chips and crunchy walnuts gives the cake extra flavor and texture, and a little coarse sugar on top adds a sparkle that is perfect for the holiday season.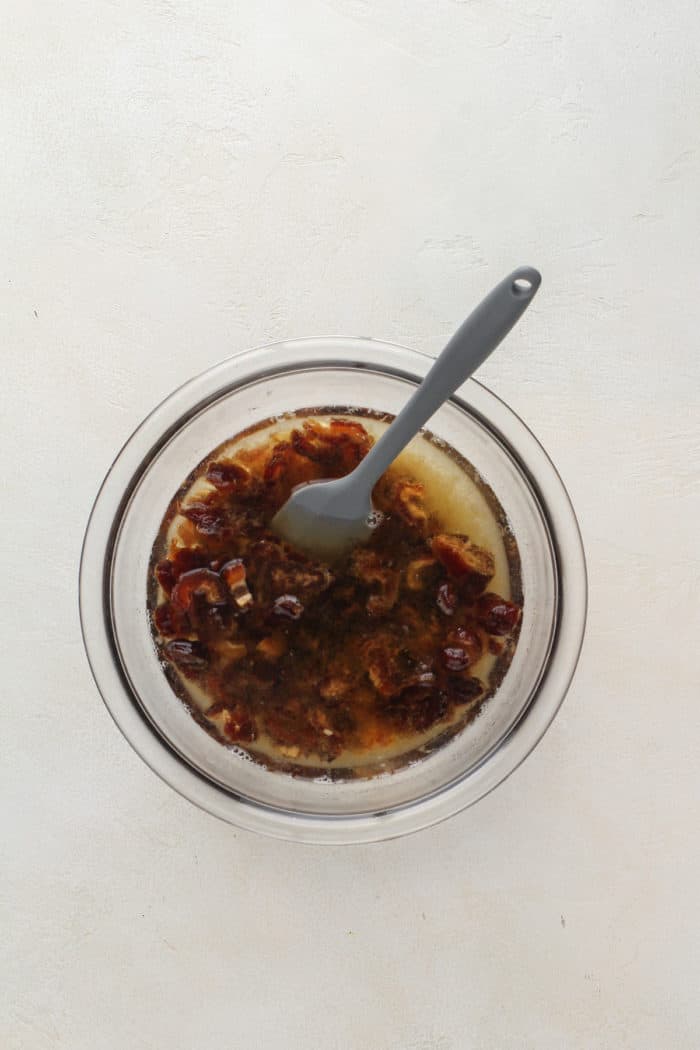 HOW TO MAKE THIS DATE CAKE
Eric's grandma's date cake could not be simpler to make. It really is a great dessert to make for the holidays because it's not fussy at all. Who has time for that?
Ingredients you'll need
Like so many of my favorite classic desserts, this one has a pretty simple list of ingredients. You'll need:
1 (8-ounce) package chopped, pitted dates
1 1/2 cups boiling water
1 1/2 teaspoons baking soda
3/4 cup vegetable shortening (I use butter-flavored Crisco)
1 cup granulated sugar
2 large eggs, lightly beaten
2 teaspoons pure vanilla extract
2 cups all-purpose flour
1 teaspoon baking powder
1/2 teaspoon salt
1 1/2 cups semi-sweet chocolate chips
1/3 cup chopped walnuts or pecans
1/4 cup coarse sparkling sugar, optional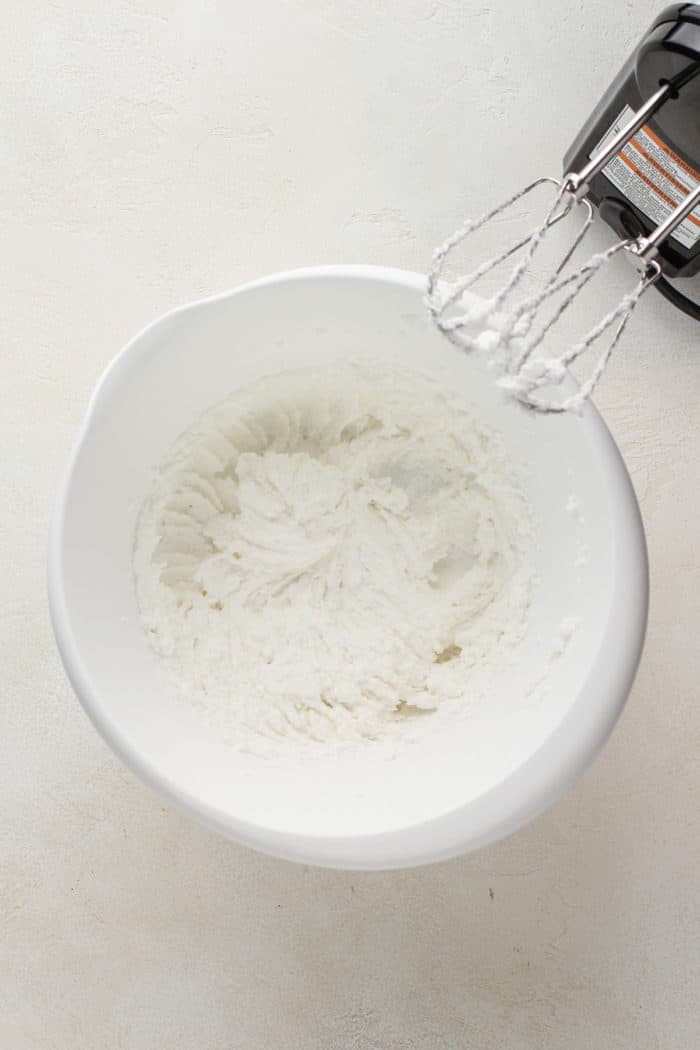 Look for chopped dates with the other packaged dried fruits. If you can't find chopped dates, you can buy 8 ounces of pitted dates and chop them into small pieces before beginning the recipe.
If you do not wish to use shortening, you can substitute it for ¾ cup softened unsalted butter.
This cake is equally delicious without the chocolate, so feel free to leave out the chocolate chips if you prefer.
We like to use walnuts in this cake, but pecans are just as good! If you can't have nuts, leave them out altogether – the cake will still be delicious.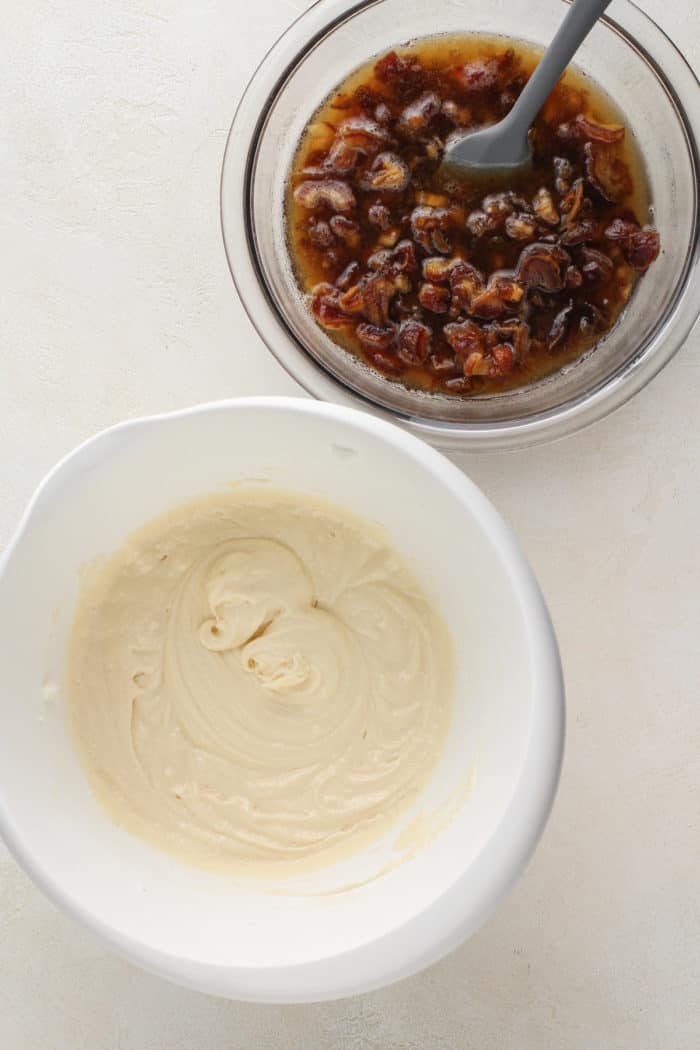 Making this recipe
A lot of baked goods using dates, including this date cake and date bread, start with a kind of funny step: Mix the chopped dates with boiling water and baking soda.
There are a few theories about what this does, but the one that seems most likely is that this step helps break down the dates so that they distribute evenly throughout the cake.
Let this mixture cool for 15-20 minutes before continuing on with the recipe.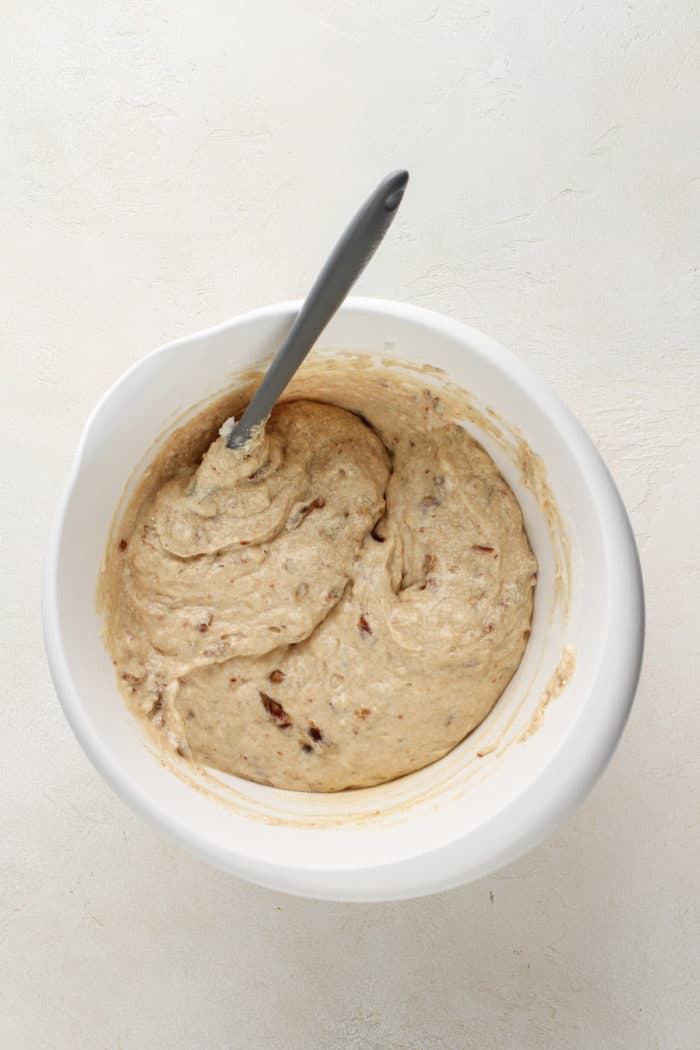 Once the dates have cooled, use an electric mixer or stand mixer fitted with the paddle attachment to cream together the shortening and sugar. Mix this until light and fluffy – this should take about 3 minutes.
Add the eggs and vanilla, then stir in the dates with their liquid.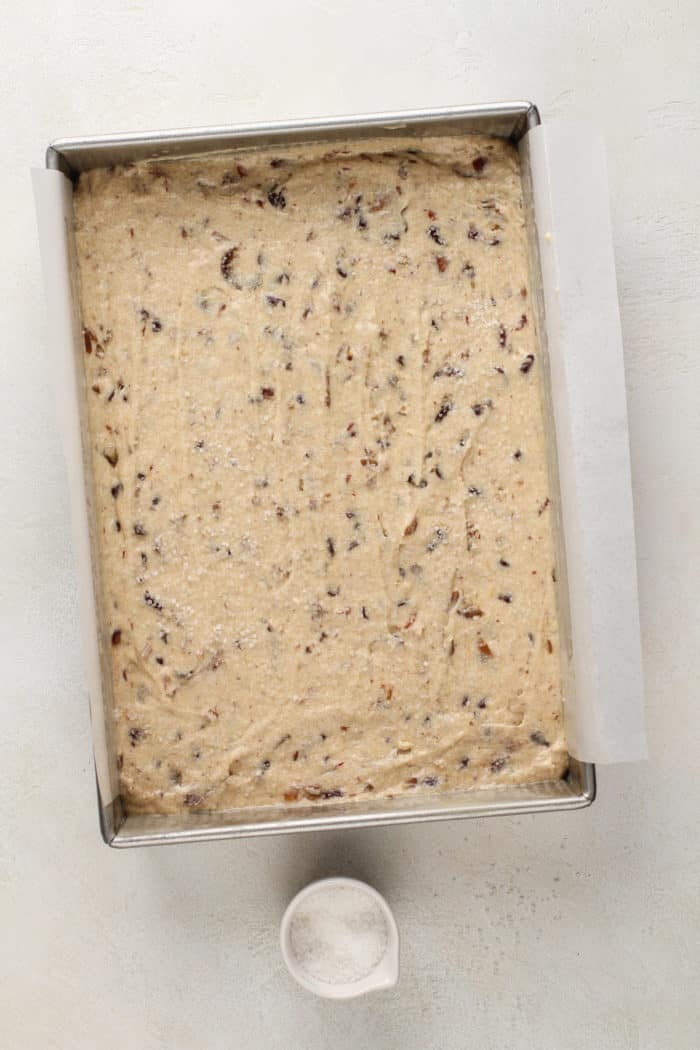 In a separate bowl, whisk together the flour, baking powder, and salt. Gradually add this mixture to the wet ingredients, mixing until just combined.
Fold in the chocolate chips and chopped nuts. Spread the batter into a greased 13×9-inch cake pan and sprinkle the top with coarse sugar.
Bake the cake for 35-40 minutes.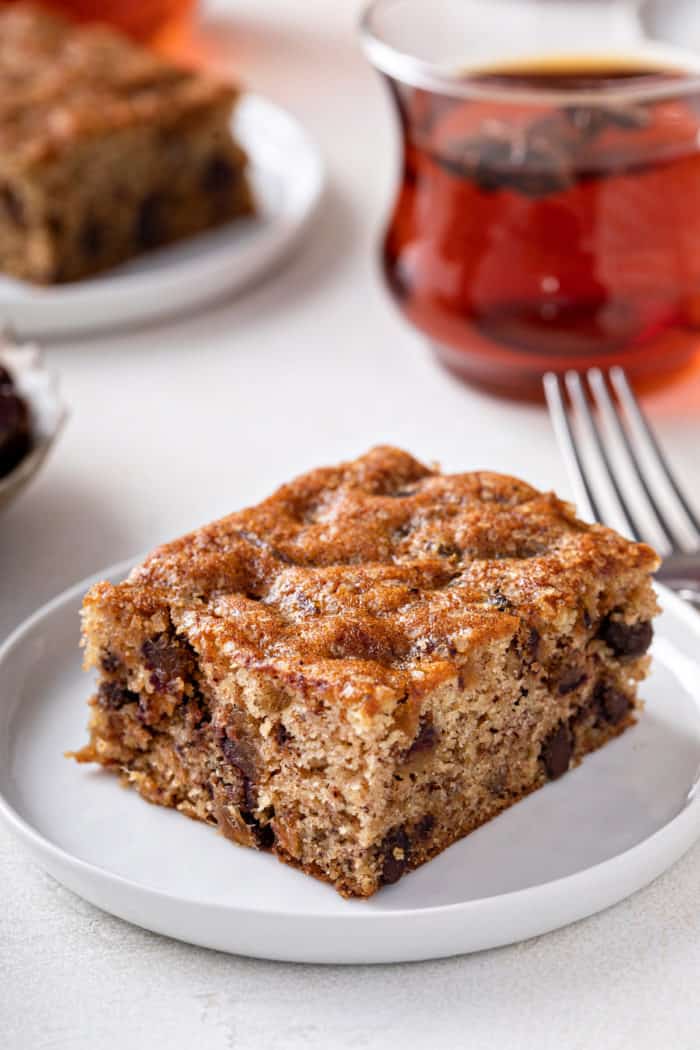 CAKE STORAGE
You can serve this date cake right away, but I actually think it's better after it has sat at least overnight.
Let the cake cool, then cover the cake pan tightly and store it at room temperature. The cake will keep for up to 3 days.
You can freeze leftover cake as well. I recommend wrapping the slices in plastic wrap, then storing them in a zip-top freezer bag for up to 3 months.
By individually wrapping the slices, you can pull out as many slices as you like. Either let them thaw at room temperature or microwave them for 30-60 seconds for a warm bite of date cake any time!