If you love snacking on veggies and dip, this Homemade Ranch Dip recipe is for you! It's easy to make and goes great with everything from fresh veggies and chips to wings.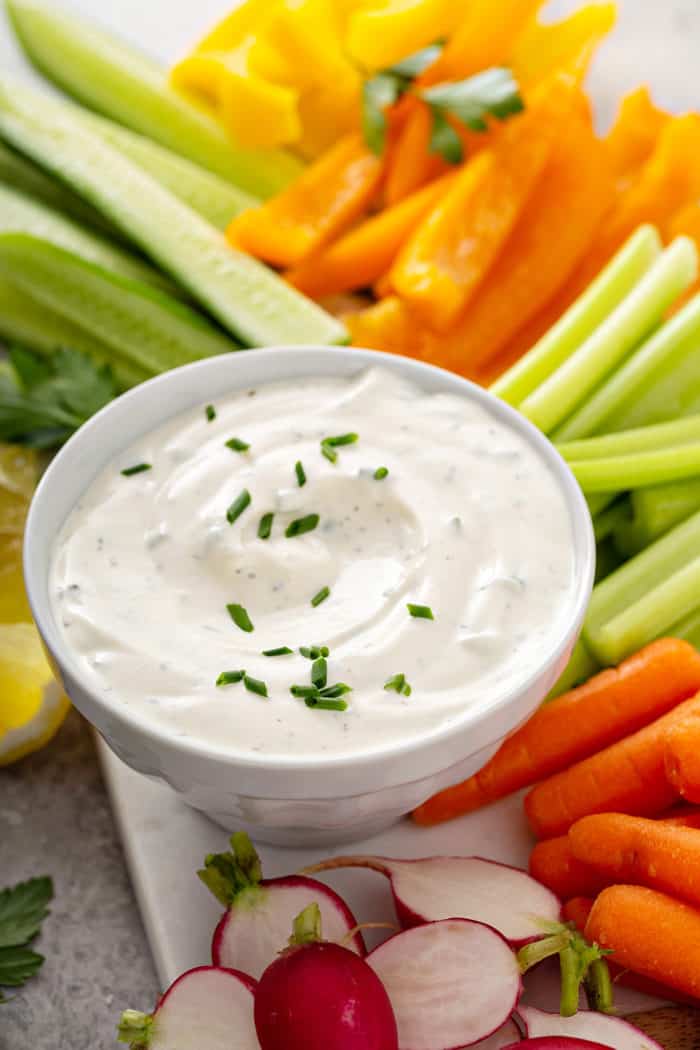 During the summer months, I love have a bunch of pre-cut veggies on hand for snacking. That way when Elle says she's hungry for a snack, she can pull the veggies out of the fridge and help herself to fresh carrots, celery, broccoli, bell peppers and cucumbers.
And while Elle loves ranch dressing with her veggies, she's recently started to develop a love for dips – especially this Homemade Ranch Dip.
Whip this Homemade Ranch Dip together and store it in the fridge all week as the perfect accompaniment to your favorite fresh veggies.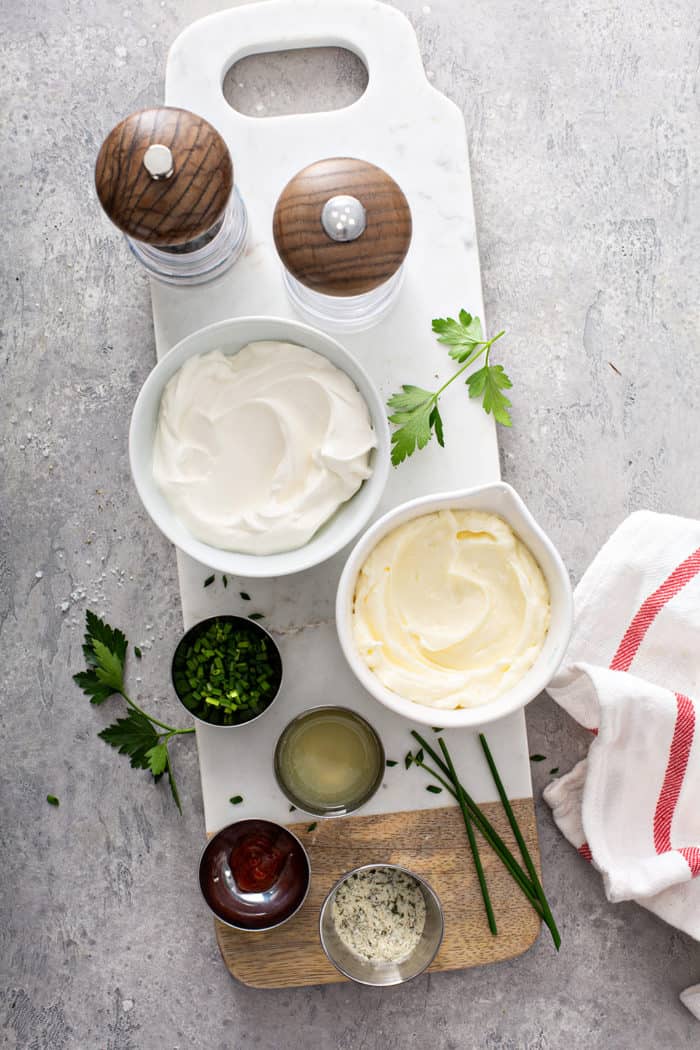 MY SUPER EASY RANCH DIP RECIPE
You know when I made my Homemade Ranch Seasoning and turned it into Homemade Ranch Dressing that I had to come up with a dip recipe, too.
I love dips of all kinds. Whether it's French Onion Dip, Cranberry Cream Cheese Dip, Buffalo Chicken Dip, Jalapeño Popper Dip…I love them all.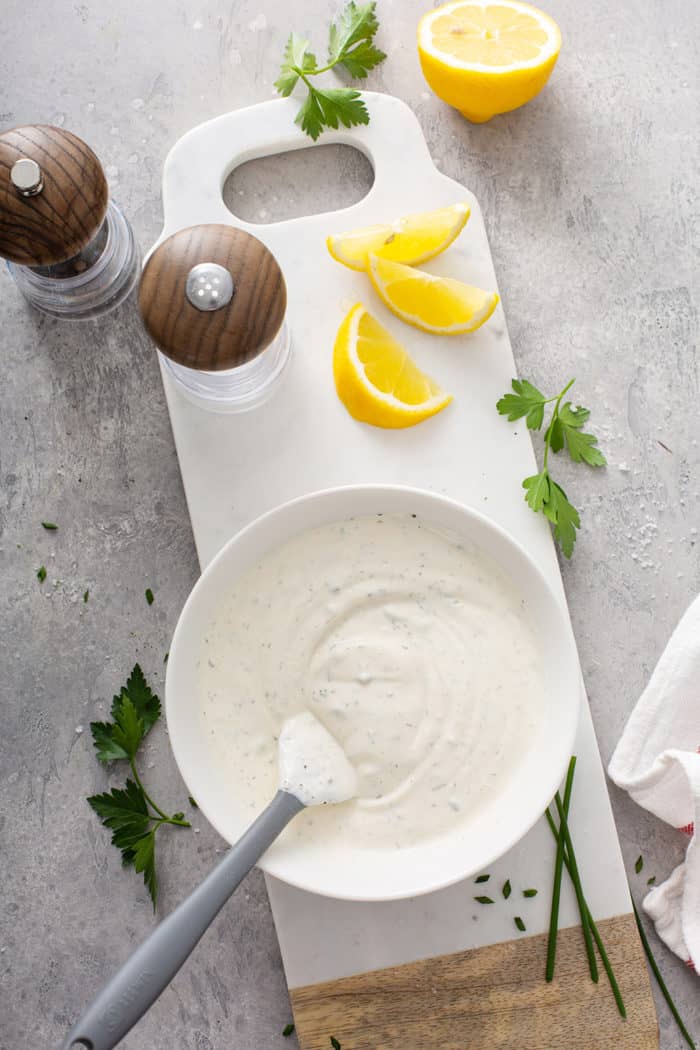 And let me tell you, this ranch dip is totally perfect for snacking on with fresh veggies. Any kid would be happy to munch on some carrot sticks if they had this dip to go with them!
It's also great with chips and chicken wings, and I bet it would be really good with fried pickles, too. Honestly, I wouldn't say no to it with some fried cheese balls, either.
Because this dip uses my Homemade Ranch Seasoning as a base, it's really quick and easy to throw together, too. No need to have all of the fresh herbs on hand; just mix together the seasoning with a handful of pantry staples!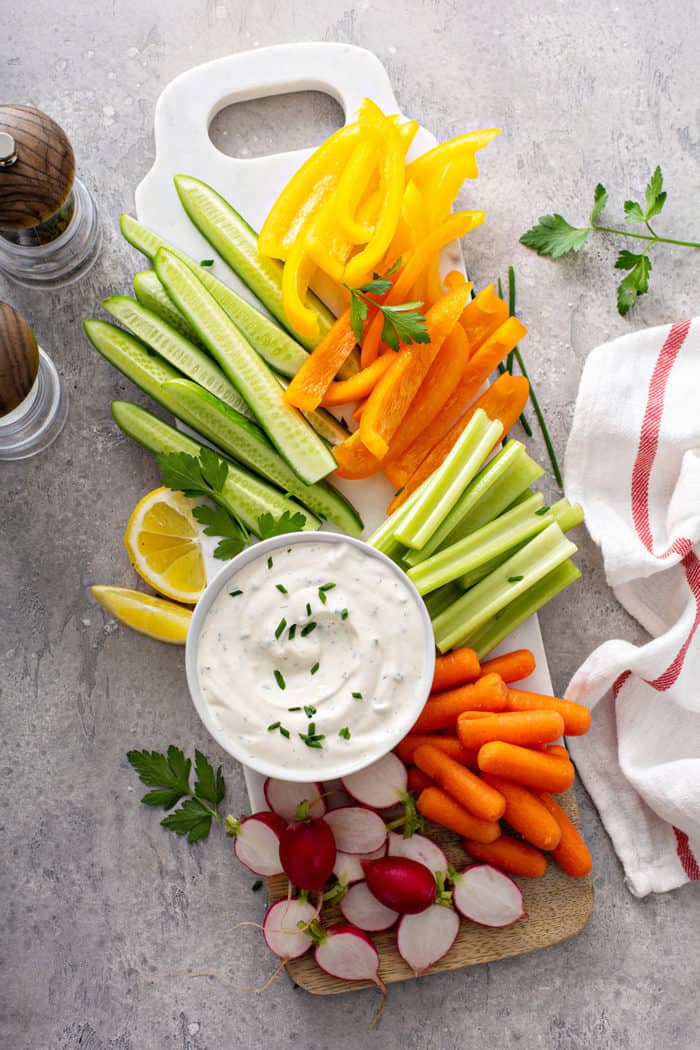 HOW TO MAKE THIS HOMEMADE RANCH DIP
To make this Homemade Ranch Dip, you will need:
¾ cup mayonnaise
¾ cup sour cream
2 tablespoons homemade ranch seasoning
1-2 tablespoons fresh lemon juice
¼ teaspoon fine sea salt
¼ teaspoon black pepper
Couple dashes of hot sauce (optional)
1 tablespoon chopped fresh chives (optional)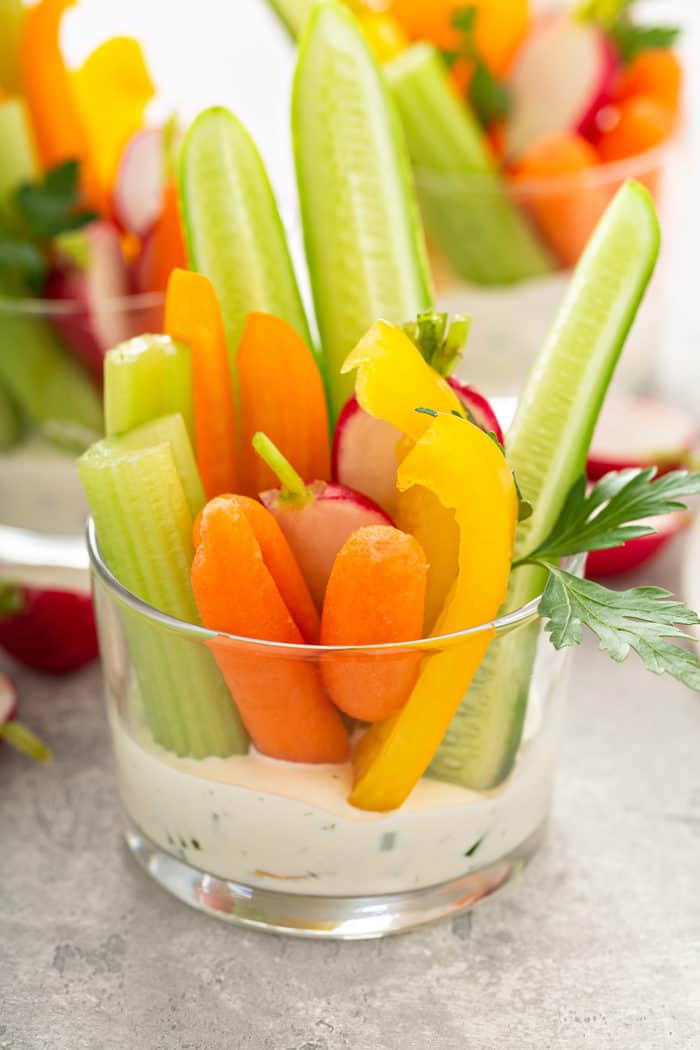 Could you get a totally fine dip with just the mayo, sour cream, and ranch seasoning? Yep.
Will it be way better with the extra squeeze of lemon juice? Totally will. So don't skip it if you have a lemon on hand!
The hot sauce and fresh chives are totally optional, but highly recommended. They just add a little extra depth to the dip.
To make this dip, just mix together all of the ingredients. Cover and refrigerate the dip for 2-3 hours and then dig in!
It's so easy and I promise this ranch dip is WAY better than anything you can buy in a tub at the store!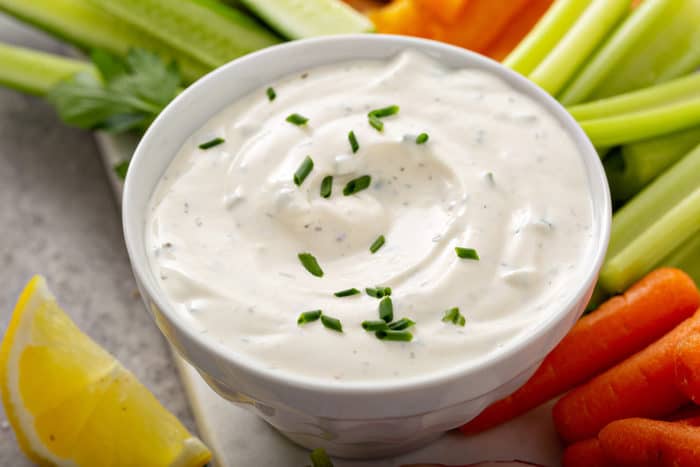 HOW LONG IS THIS DIP GOOD FOR?
Kept in an airtight container in the refrigerator, this dip will keep for up to a week.
Although I dare you to make it last that long. You'll be looking for anything you can possibly dip into it and might just resort to a spoon – it's that good.