Buttery, crunchy, and sweet from plenty of cinnamon sugar, these cinnamon tortilla chips are the perfect partner for summery fruit salsa, ice cream, or any sweet dip.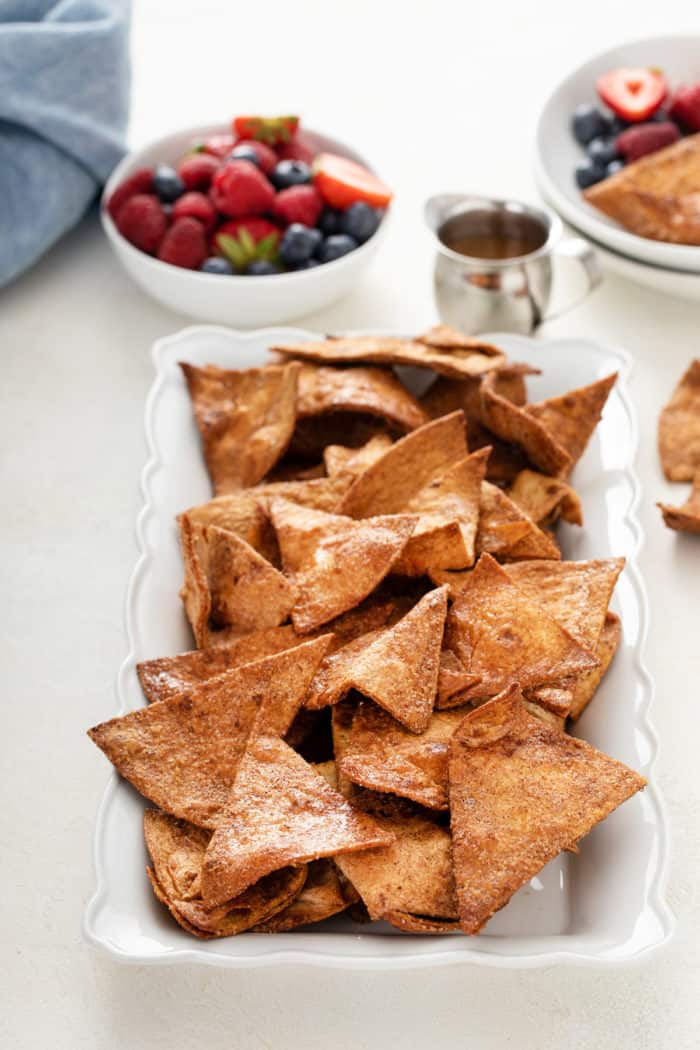 This post contains affiliate links.
When I was in college, the Mediterranean restaurant that I worked at had a pretty long list of desserts ranging from Baklava to bakery-style slices of chocolate cake.
Although I love both of those options, the dessert that I remember and miss the most was a simple sundae with vanilla bean ice cream, triangles of fried pita bread tossed in cinnamon sugar, whipped cream and the sauce of your choice. I typically opted for caramel sauce and a few maraschino cherries.
As simple as it is, I have never thought about recreating this simple sundae at home until recently when I picked up a bag of store-bought cinnamon pita chips from the grocery store on a whim.
I decided I wanted to try that simple dessert with cinnamon-sugar tortilla chips, too, but couldn't find any. No worries – I knew I could make them at home!
Plus, I knew they'd be the perfect pairing with the fruit salsa I've been obsessed with! Win-win.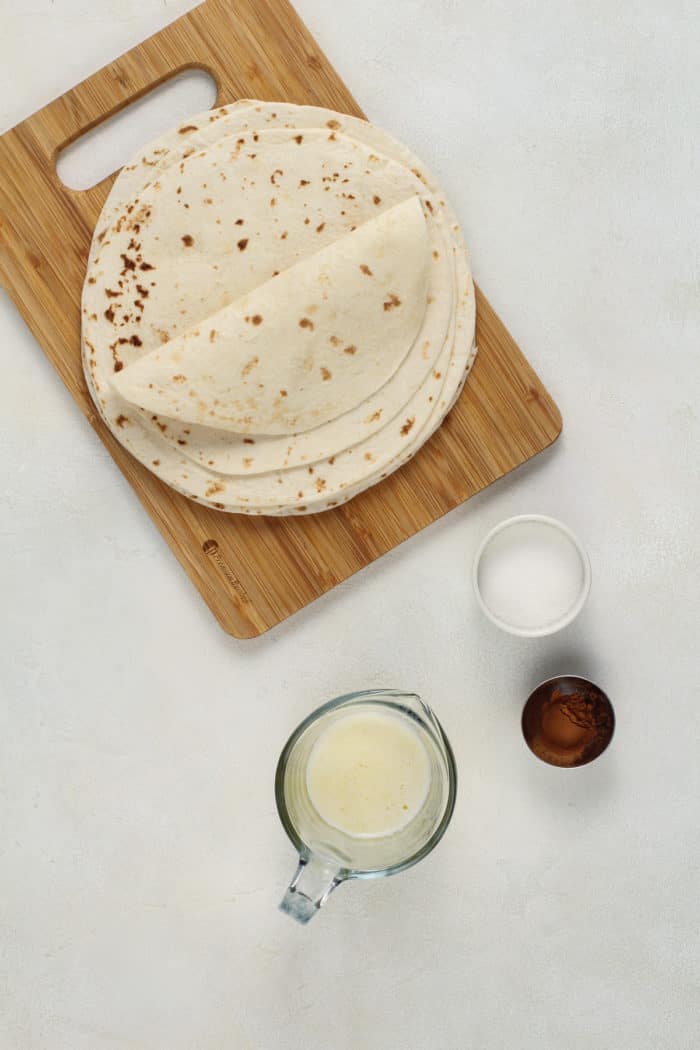 AIR FRYER CINNAMON TORTILLA CHIPS
Let's be honest about something: You can't have fruit salsa without cinnamon tortilla chips.
I mean, I've definitely eaten fruit salsa straight out of the bowl with a spoon, but it's about 100 times better when you scoop it up with a sweet, perfectly spiced tortilla chip.
Stacy's makes the yummy cinnamon-sugar pita chips that I get at my local grocery stores, but cinnamon-sugar tortilla chips are a lot harder to find. Luckily, they're really easy to make at home.
Because I didn't want to turn the oven on, I threw these chips in my air fryer and they came out perfectly crisp.
But don't worry, you can also bake them in the oven if you don't have an air fryer!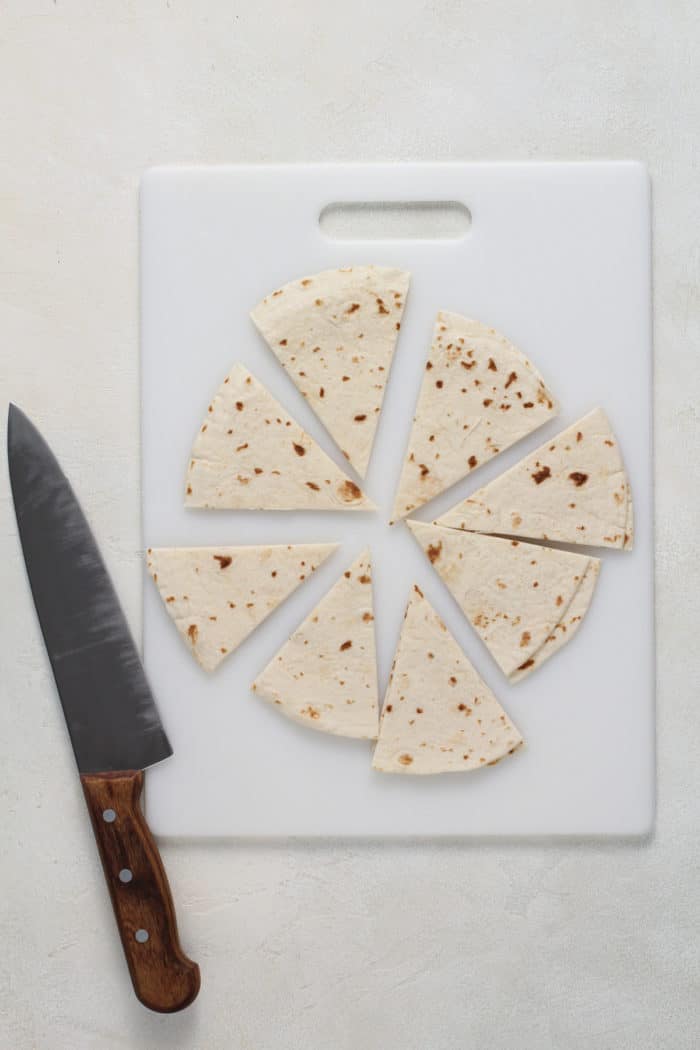 HOW TO MAKE CINNAMON-SUGAR TORTILLA CHIPS
You only need a few simple ingredients to make these chips. I usually throw a batch in the air fryer and let them cook while I'm making dinner or working on another recipe – they're that simple!
Ingredients you'll need
You'll only need 4 ingredients to make your cinnamon tortilla chips:
Taco-size (8-inch) flour tortillas: The taco-size tortillas are just the right size for making what I would consider to be pretty standard-sized tortilla chips. You can always use smaller tortillas if you want mini chips. (Which would be so cute for a kids' party!)
Granulated sugar: Sugar adds just the right amount of sweetness to these dessert chips.
Ground cinnamon: To get that churro-esque flavor, we've gotta add cinnamon! Make sure your cinnamon is fresh to get the best flavor out of it.
Melted butter: The butter helps the cinnamon-sugar to stick to the tortillas and helps make the chips super crispy. Not to mention, it adds tons of flavor!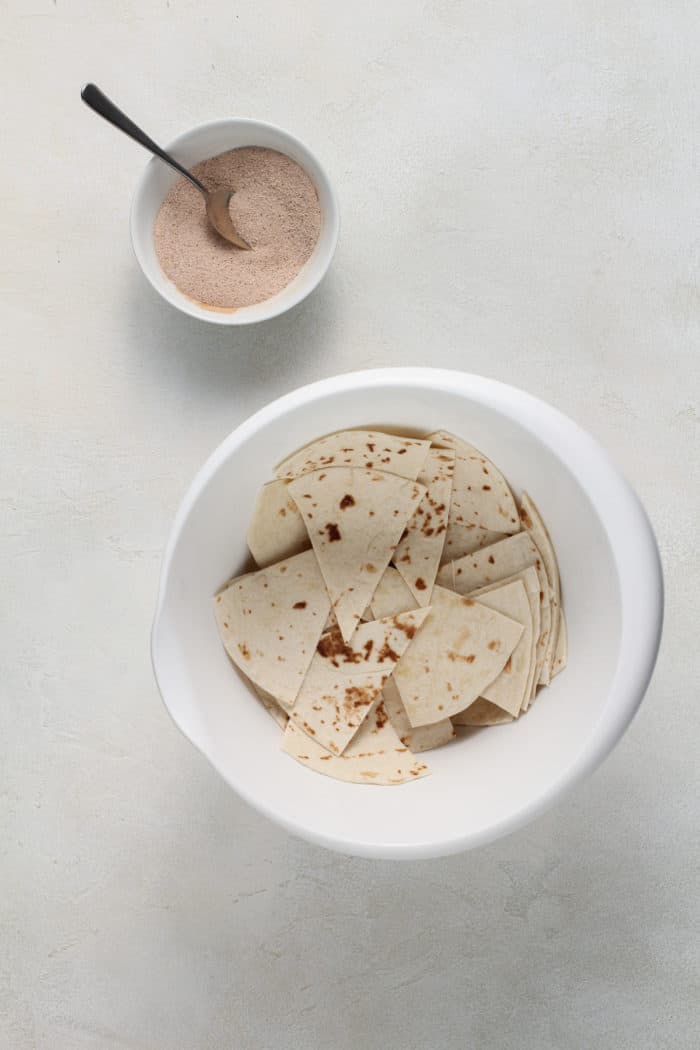 Tools you'll need
You don't need a lot of equipment to make this recipe, either. You'll really just need:
If you decide to make these in the oven instead of the air fryer, you'll need a large sheet pan.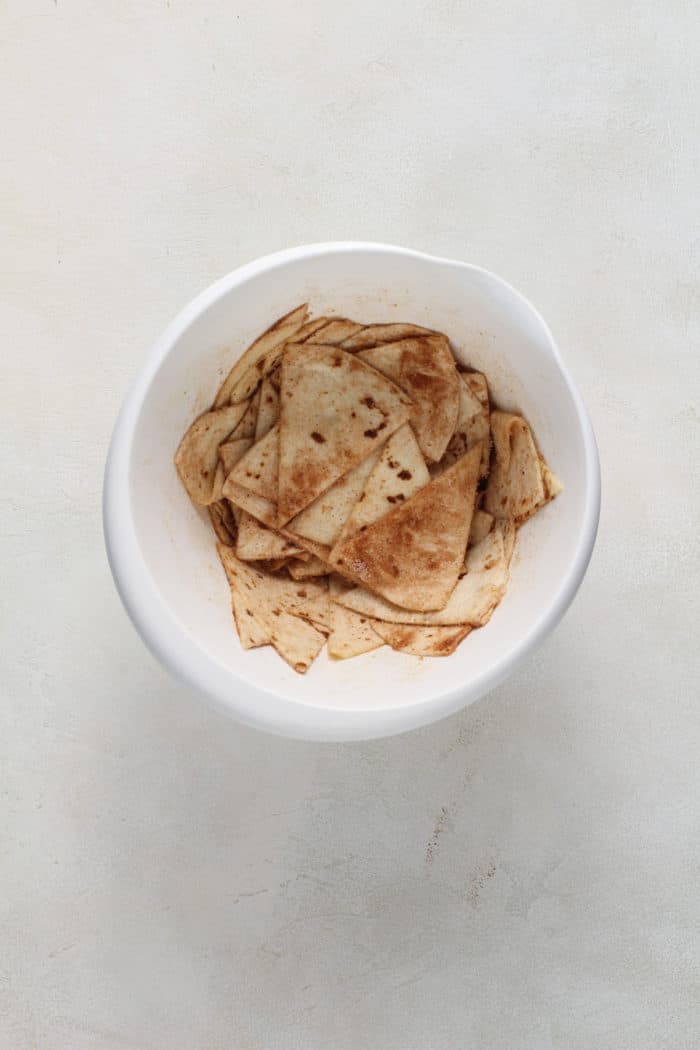 Making this recipe
First we need to cut our tortillas into chips!
I like to use a large knife or a pizza cutter to cut all of the tortillas into 8 wedges. I usually stack half of the tortillas up at a time and cut them at once, instead of cutting each tortilla individually.
If any of the wedges are stuck together, separate them and then add all of the pieces to a large bowl.
Stir together the cinnamon and sugar and set this aside.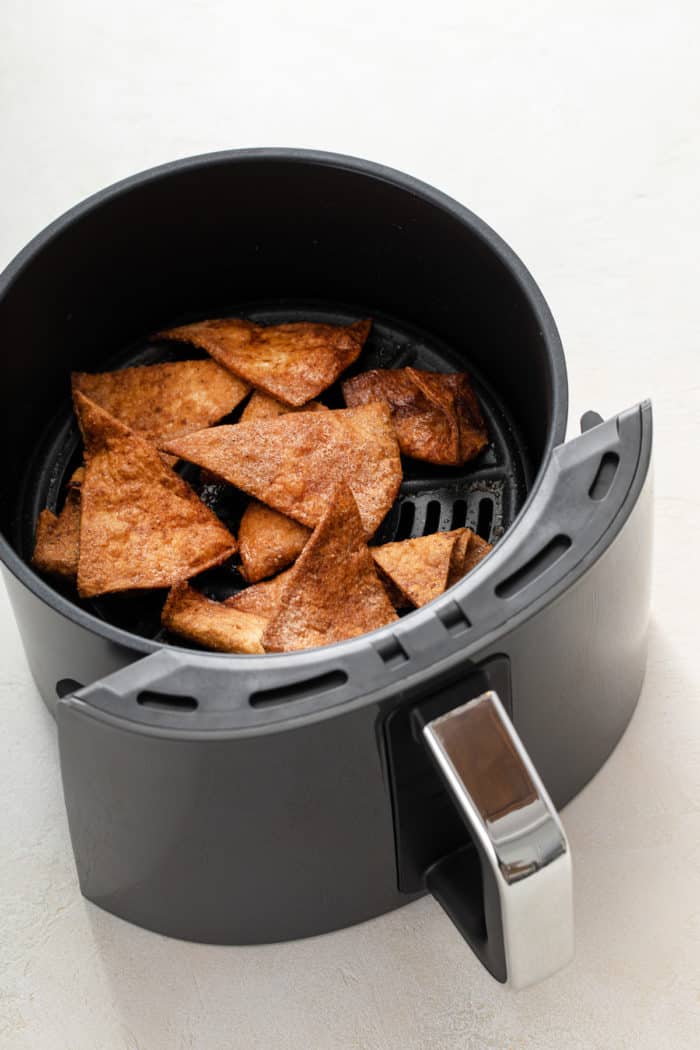 Drizzle the butter over the tortilla pieces and toss to evenly coat them. Add as much of the cinnamon sugar as you'd like and toss again to evenly coat. You may not use all of the cinnamon sugar.
Preheat your air fryer to 350°F for 3 minutes. Once it has preheated, add as many tortilla pieces as your air fryer can comfortably fit – it's ok if they overlap.
Air fry the chips at 350°F for 12-15 minutes, tossing them every few minutes, until the chips are golden brown. Note that they won't seem crispy yet!
Spread the cooked chips onto a baking sheet to cool. The chips will crisp up as they cool.
If you need to work in batches due to the size of your air fryer, continue to do so until all of the chips are cooked.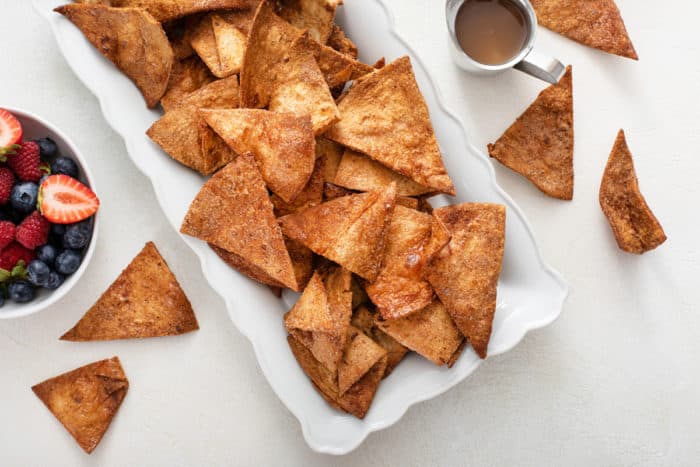 Can you make these in the oven instead of the air fryer?
If you don't have an air fryer or prefer to make your cinnamon tortilla chips in the oven, you certainly are welcome to do so!
Spread the coated chips in an even layer onto a large sheet pan and bake them at 375°F for about 10 minutes, until they're golden. Flip them halfway through.
Once again, they will crisp as they cool, so let them cool on the pan before serving.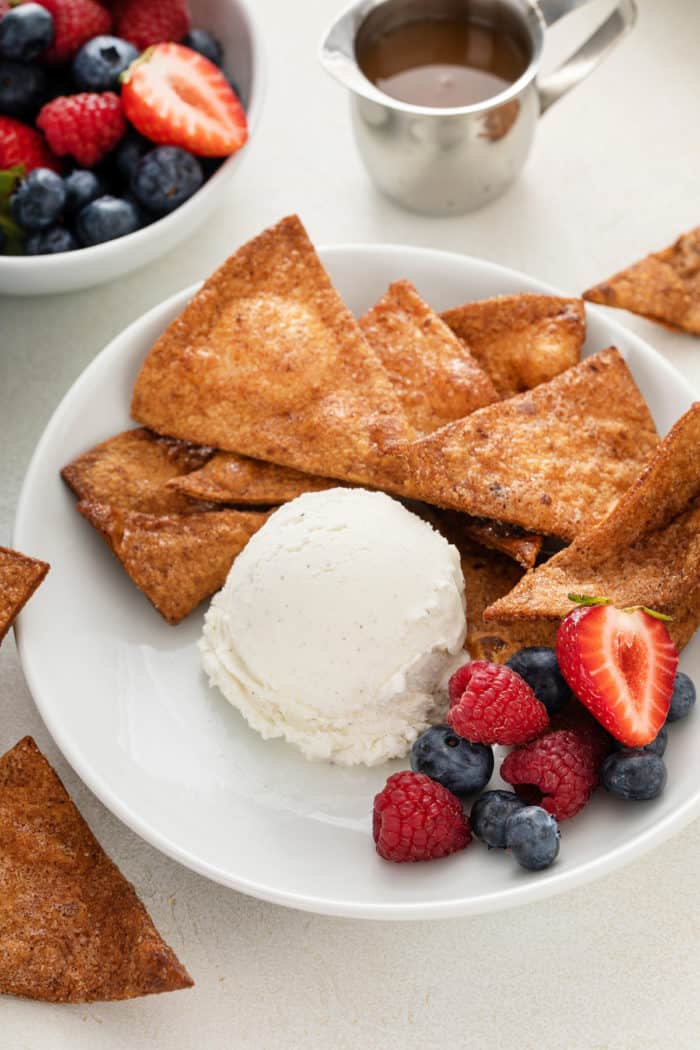 WHAT TO EAT WITH THESE CHIPS
Obviously cinnamon tortilla chips are to die for with fruit salsa, but that doesn't mean that's the only thing you can serve them with!
Put them out alongside fresh fruit with cream cheese fruit dip, cake batter dip, or toffee apple fruit dip.
Or tuck them into a bowl of no-churn ice cream for a little crunchy bite with your creamy ice cream!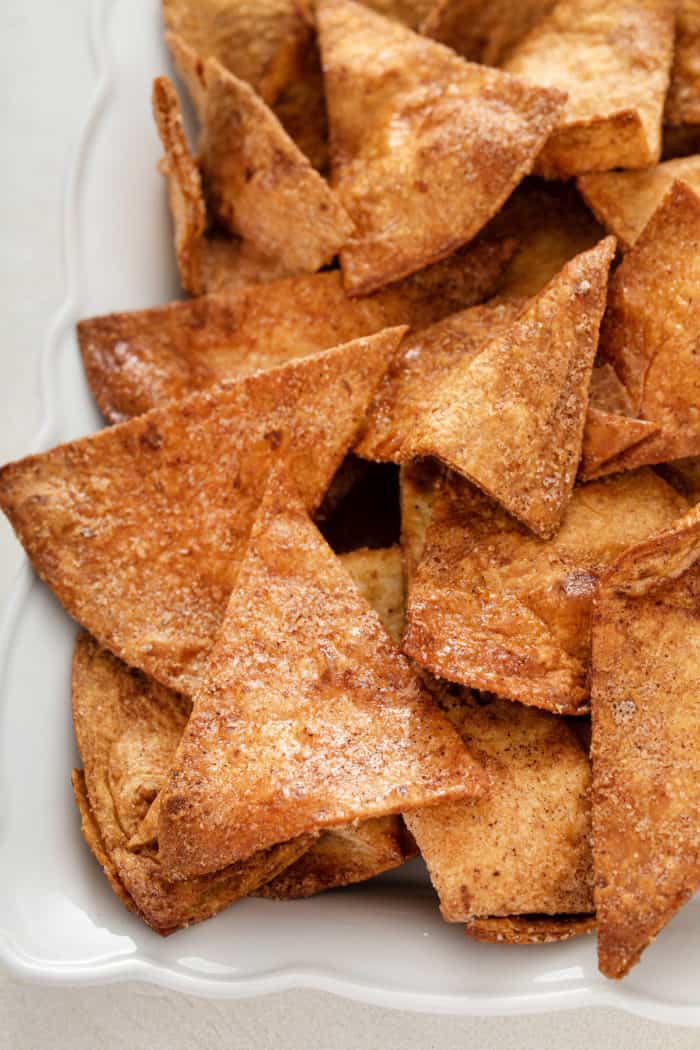 STORAGE
I don't recommend making any homemade chips super far in advance, as they tend to go stale pretty quickly.
If you're making these for a party, I would recommend making them the same day. Leave them on the sheet pan they cooled on and cover them with a clean tea towel until you're ready to serve them.
If you have any leftovers, close them up in a paper bag for up to a day. If you store them in plastic, they are more likely to get soft.
Whether you serve them with a fruity salsa, a creamy dip, or a bowl of ice cream, you really can't go wrong with homemade cinnamon tortilla chips!